Delicious Peach Bread Recipe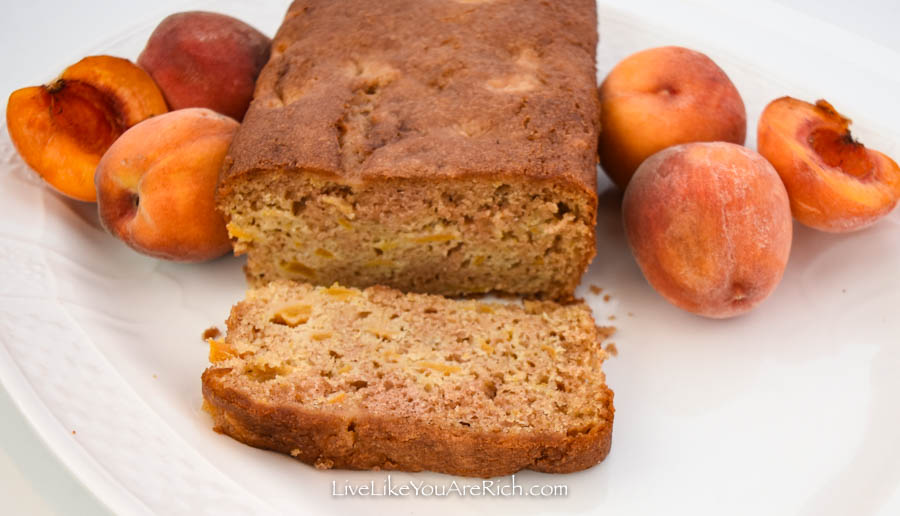 ¾ C. vegetable oil
¼ C applesauce (or additional ¼ C. oil if you don't have applesauce)—Omit this ¼ C liquid if you are using canned peaches
1¾ C. sugar
2 teaspoons vanilla extract (I always use Mexican vanilla—it's seriously the best!)
3 eggs
3 C. (8 full fresh peaches) diced fresh or 3 C diced canned & drained peaches
3 C. all-purpose or bread flour
1 teaspoon baking soda
1 teaspoon baking powder
2 teaspoons cinnamon
1 teaspoon salt
½ Cup chopped walnuts (optional)
Dice peaches and set them to the side.
Beat eggs in a mixer on low for a minute. Then mix in oil, sugar, and vanilla on medium speed.
In a separate bowl, use a whisk to sift flour, baking soda, baking powder, cinnamon, and salt together.
Gradually add the dry ingredients to the mixer on medium speed; mix just to combine.
Stir in peaches. Stir in optional ½ C chopped nuts if desired.
Pour into greased and floured bread pans. This recipe makes two loaves.
Bake 1 hour at 350 F until toothpick comes out clean. After 40 minutes of baking, add tinfoil over the top of the loaves/pans for the last 20 minutes.
Recipe by
Live Like You Are Rich
at https://livelikeyouarerich.com/delicious-peach-bread-recipe/