How to Make a Mermaid Cake and Mermaid Coral Cupcakes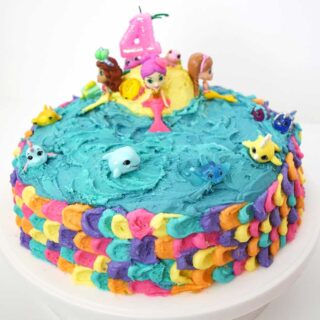 2 Funfetti box mix ca
For frosting:
3 sticks salted butter, softened
1 tsp vanilla bean paste (or seeds scraped from 1 vanilla bean)
3¼ teaspoons clear vanilla extract (or normal, if you don't have clear)
7 ½ cups confectioners' sugar
8 tablespoons heavy cream or milk
Make the cake mix as instructed for the cake.
Before pouring in the pan, spray the cake pans with cooking spray. I spray a lot of cooking spray at the bottom of the pan and then use a paper towel spread it around and to make sure it is fully coated—even in the edge and on the sides. Then lightly flour the bottom, edge, and sides so the cake can come out without crumbling.
Make the Cake mix as instructed for cupcakes. Pour into 24 cupcake liners and bake.
Let both cakes and cupcakes cool completely. Place cake on rotating cake stand if desired.
Make this full recipe (don't half it): best vanilla bean frosting here. Both the Mermaid cake and coral cupcakes were frosted from this one recipe. Keep the frosting at room temperature.
Divide the frosting into 6 bowls and mix in the food coloring. Use the Wilton Neon Gel food coloring pack to achieve these same colors PLUS yellow and blue food coloring. The following are the colors I achieved:
Combine both layers of cake by putting a little frosting in the middle (if you baked 2 rounds). Don't use too much frosting combining the layers as you may run out.
Frost the top of the cake with the blue and teal frosting alternating and mixing it just a little as you go. Lift the spatula as you ice so it forms wave-like designs.
Next, add the top ⅔'s of one cupcake for an island.
Ice the island in yellow icing.
Put all the icing into 6 separate ziploc bags or piping bags. If using ziploc bags, cut the tips off so there is a small-medium sized hole for piping.
Ice starting on the side of the cake working your way across the front and ending in the back. Going in this direction is in case you run out of one color of frosting toward the end, it will not be as noticeable on the back.
When done with one color/one mermaid scale, wipe the excess frosting from the piping bag and the excess icing from the rounded small spatula or tool on to the un-iced cupcakes. Alternating colors on the cupcakes as well.
Once the cake has been completely frosted, decorate it with figurines.
Use the left over frosting to make small little icing blobs/mounds all over the cupcakes alternating colors.
I put the cupcakes in and topped them with these Coral Cupcake Topper Picks and wrappers found here.
Put them in this cupcake stand or similar for display. I wrapped blue streamers in it to resemble water.
Recipe by
Live Like You Are Rich
at https://livelikeyouarerich.com/how-to-make-a-mermaid-cake-and-mermaid-coral-cupcakes/