Hawaiian Haystacks Recipe Ready in 15 Minutes or Less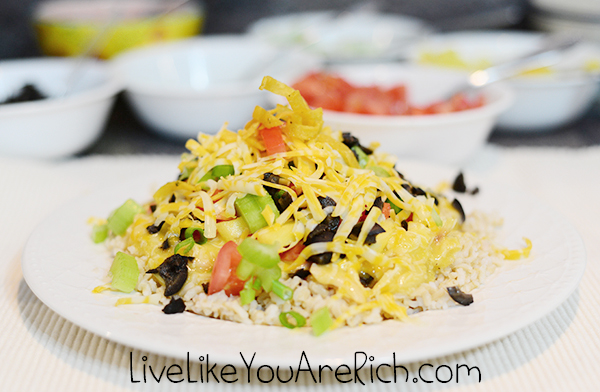 Author:
Anita @ LiveLikeYouAreRich.com
1 Cup of Minute® Rice White or Brown Rice (PER PERSON served)
2 Cans Campbells Cream of Chicken Soup
⅔ Cup chicken broth or milk
2 Can canned chicken or 4 chicken breasts cooked and shredded
¼ teaspoon pepper
salt to taste (if you use milk instead of chicken broth, you may want to add salt)
Toppings (all are optional serve based on preference):
1 Can pineapple bits or chunks (or half of fresh pineapple, chopped)
2 tomatoes, chopped
½ Cup celery chopped
¼ Cup green onion, chopped
½ can chopped olives
2 Cups cheese, shredded
¼ cup slivered almonds or cashews, chopped
1 Cup chip strips or chow mien noodles
1 can mandarin oranges
Put the rice in the microwave, make them and pour them into a bowl or pot. I used the wheat variety. Rice really makes this meal much quicker than regular rice would which cooks in 60 seconds! Further, I really liked the texture of the rice, it was not sticky or dry, it was the perfect texture and easy to make.
Put the cream of chicken soup, the canned or shredded chicken, chicken broth, and pepper in a different pot and stir occasionally on medium heat until hot, turn off heat, and set aside.
Chop toppings and set them in bowls with spoons.
Serve.
Recipe by
Live Like You Are Rich
at https://livelikeyouarerich.com/hawaiian-haystacks-recipe-ready-15-minutes-less/