Skinny Chocolate Raspberry Protein Shake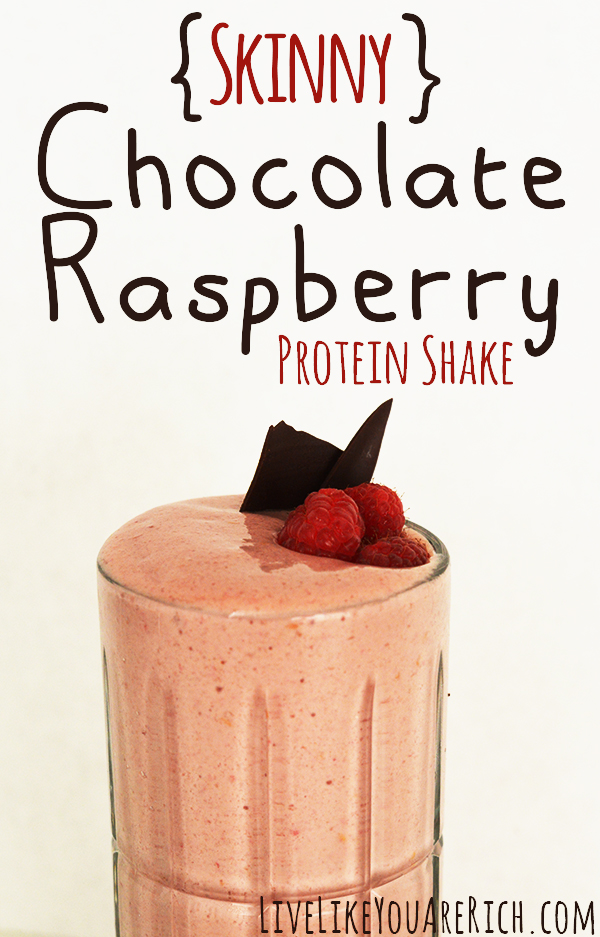 Author:
Anita @ LiveLikeYouAreRich.com
2 scoops- Slender FX Meal Replacement Shake (Chocolate). I love this brand. It's better (in not only taste but also in healthy quality) than many other protein powders I've tried! It's got a really great mix of vitamins and minerals. And Slender FX doesn't contain oils, a bunch of sodium, and artificial flavors (like most other protein powders do). It took me awhile to find a protein powder that I actually like the taste of (or can mask the taste of it well) and is healthy, but I'm glad I found it. You can find it here. The container is 30 servings which is just over $1 per serving. There are Chocolate and Vanilla flavors. 2 scoops contain 105 calories, 14 grams of protein, and 3 grams of fat.
1 Cup fresh raspberries, washed. 64 Calories, 1.5 protein, 0 fat
1 Banana- Use a nice yellow one (not under or overly ripe). 105 calories, 1.5 protein, 0 fat
¼ C. water
2 Cups crushed Ice
Optional: (If you want it thinner you can add ½ C water).
Put it all in a blender and mix on a lower speed for 30 seconds. Then mix on high for 1 minute (or until completely blended well).
Recipe by
Live Like You Are Rich
at https://livelikeyouarerich.com/skinny-chocolate-raspberry-protein-shake/