Slow Cooker Lemon Chicken Piccata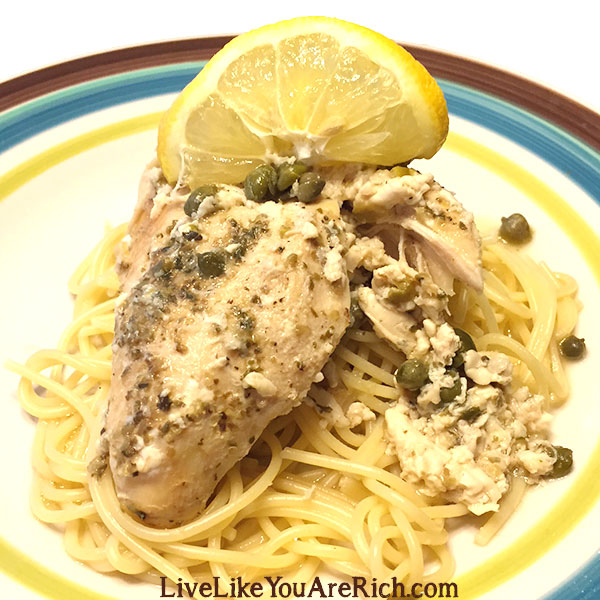 Author:
Anita @ LiveLikeYouAreRich.com
2 pounds frozen boneless skinless chicken breasts (if using defrosted add ½ Cup water to broth)
2 lemons (one and one half juiced, one half sliced) or ½ Cup lemon juice and one half lemon sliced
3 Tablespoons capers
2 Tablespoons butter
½ teaspoon salt
½ teaspoon pepper
½ teaspoon garlic powder (or 3 cloves, minced)
2 Cups chicken broth
1 Cup water
1½ teaspoons dried oregano
1½ teaspoons dried parsley
2 Tablespoons corn starch and ¼ Cup cold water (for broth thickening)
Spaghetti, linguini, rice noodles, or mashed potatoes (optional)
Turn slow cooker on to high heat.
Add liquid ingredients and butter in the bottom of a crockpot. Stir.
Place frozen (or defrosted) chicken breasts in slow cooker. Sprinkle seasonings evenly on top of chicken. Cook on high for 3 hours.
Separate chicken (if frozen) into individual breasts, make sure they are mostly submerged in the broth. Add capers. Place thinly sliced lemons on top of chicken.Cook on medium for 1 hour until chicken is cooked through and capers are soft.
Remove chicken from broth/crockpot.
Turn crockpot to high heat.
Stir corn starch into cold water and add to broth. Stir to thicken broth allow to cook for 10-30 minutes.
Serve chicken on: spaghetti, linguini, rice noodles, or mash potatoes. Pour broth over the top. Garnish with a lemon slice. Enjoy.
Recipe by
Live Like You Are Rich
at https://livelikeyouarerich.com/slow-cooker-lemon-chicken-piccata/