Below you will find my monthly stats for the Spring 2016 quarter and the advertising options and rate estimates I offer. Email me specific ideas or offers. I typically answer my emails within 2 business days.
If interested in getting your brand noticed to my readership, simply email me [email protected] and let me know what your ideas are. I'm happy to work together to find an opportunity that will accomplish your marketing goals.  If I think we could make something work, I'll reply with my ideas and suggestions. Together we will make sure it's a good fit. I would love to help get your brand/company noticed by my readers while maintaining my integrity and unique writing style.
Media Kit Spring 2016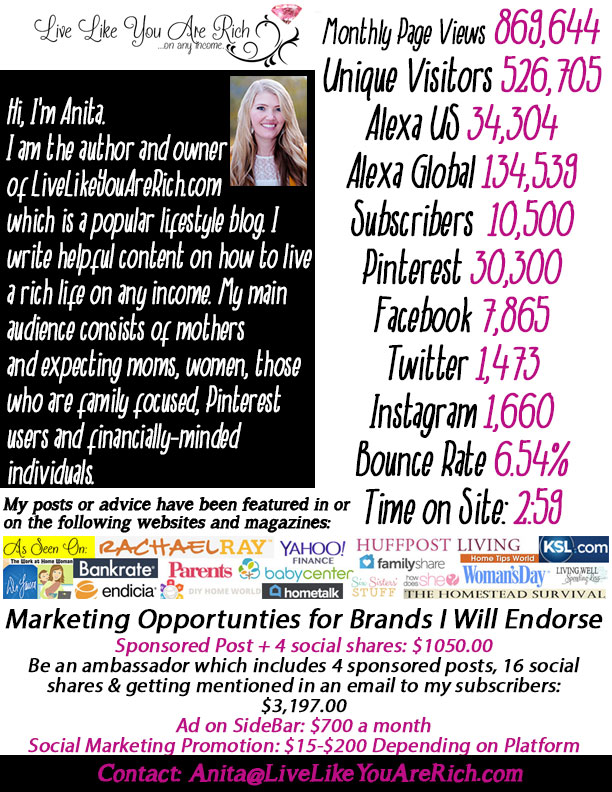 Speaking Opportunities:
I've always loved public speaking. If you are interested in having me speak, please shoot me an email. Topics I would love to speak about would be: Finances, pregnancy, postpartum, motherhood, getting great deals on things, couponing, thrifting, cooking, homemaking, writing a book, and more.
Media
Please email me specific inquires.
Policy
No MLM (Multi-Level Marketing Companies) promotions or mentions, No Crowdfunding or Kickstarters promos, and no political posts.