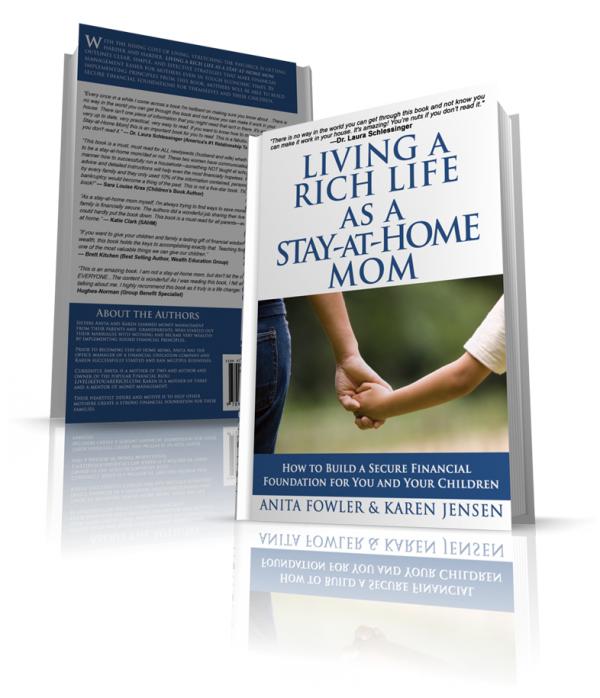 About the Book
We (Karen and Anita) have spent the past 10 cumulative years as Stay-at-Home moms living on middle class incomes. We've struggled through this last recession and know just how difficult living in this economy on a modest income is! Yet, besides our home mortgages we've managed to remain debt free, are enjoying life, and are saving and investing for retirement.
We know that many families have been hurt by the horrible economy and the lack of sound financial guidance there is out there. Our mission is to assist mothers who want to learn how to help their family's financial position and their children's economic futures.
Our parents and grandparents each started out their married lives with zilch, zero, nada. Yet, by consistently applying sound financial principles they have all become very wealthy. They have taught us from a very young age and what they have taught us has helped us create a secure financial foundation for our families. We want to help you do the same.
What is shocking to us is that what we have been taught at home is a completely comprehensive and effective way to think about and manage money compared to the very limited and ineffective fiscal education that was taught to us in school.
Thus, we have put together our years of financial education and experience into a quick, easy to read book, so we can help families get off the unstable foundation of debt that most Americans are on, save for emergencies, teach their children how to manage money, and learn how to grow wealthy.
Here are just a few of the valuable secrets you'll discover in the book:
Since Stay-at-home-moms are so busy, it is important to learn to maximize income efficiently. You will learn how to save in a convenient and practical manner.
Debt is extremely binding. If you are in debt, rest assured that it is possible for you to get out of it, set aside money in savings, and retire rich. We'll show you how.
With the precarious financial economy, teaching children about money management and hard work while they are at home has never been more important. We share many ideas on how to implement a strong work ethic and when and how to start teaching your children about money.
Money can make marriage even more complex than it already is. Some couples have very similar beliefs on money management, but most do not. Discussed are some perspectives on how to make money management in marriage work.
Excellent credit is very important for life-long financial stability. Learn how to improve a less than good credit score and what age to start building one for your child's financial future.
A lot of families wonder whether they should rent or buy. Before deciding, there are many factors to consider. You may be surprised with what our advice is. If you already have a mortgage, you will learn how you can save tens of thousands on the life of your home loan.
Budgeting comes easy for some but for others it is very difficult. You will see many ways to budget for different types of marriages, families, and personalities. (If you have already tried and failed at sticking to a certain budget plan, don't miss out on this chapter!)
At times life will give us a lemon… sometimes they are major and devastating lemons. A popular saying is, "If you fail to plan, you plan to fail". So in order to plan for the lemons in life, we illustrate some simple ways a mom can prepare her family for catastrophes, natural disasters, income loss, and economic depressions.
You may be surprised at some of the things you learn in "Living a Rich Life as a Stay-at-Home Mom" which are completely opposite of the current financial mentality in our debt-laden society.
And if you are anything like the majority of moms, you're probably tired of expensive health insurance premiums, food prices going up, steep gas prices, and the overall cost of living. With all of this AND the ever-present costs of having kids, things can get tricky. But don't let this deter you from the most rewarding and fulfilling job there is…motherhood!
As mothers, we have the most important occupation in the world…raising our kids. That said, stay-at-home moms also have the ability to improve the quality of their family's financial life and their children's economic futures simply by changing very small behaviors which we cover in the book.
"Living a Rich Life as a Stay-at-Home Mom" will illustrate financial pitfalls to avoid, easy ways to save, and great ways to set your children up to succeed. If you are always trying to stretch the paycheck, living with financial anxiety, or concerned about your child's financial future, don't miss out on this book.
In the book you'll see the importance of the mother blessing the family financially:
The financial contributions a mother makes at home are significant. We show how important the role of being a mother in the home really is!
The TRUTH about emotional spending…why savvy marketers who work for large businesses use a lot of tactics to get mothers to keep buying what they are selling (once emotional spending is mastered, life improves).
Why those who GIVE are the richest of all. How charity, contentment, and donations actually STRENGTHEN you financially. (Anita had a hard time learning this at first, but she and Karen will show you how being selfless and giving monetarily comes back to you exponentially).
WHERE TO INVEST? You'll get your questions answered about what the unsafe, good, better, and best vehicles are for investing extra savings.
Thinking about becoming a stay-at-home-mom? (Calculating your expenses vs. what you could save by being at home may surprise you!) You'll see what three women found when they tallied the numbers up.
Changing or refining your mind set. A lot of what we learn and believe about money stems from our parents. If your parents weren't the best examples financially, you can still become a great example for your kids by applying what you learn in this book.
Have you crunched the numbers time and time again and you find that you need to help bring in money but still want to stay at home? You'll receive access to 30+ interviews of real mothers who contribute financially working legitimate jobs while staying at home.
Do the endless homemade meals, loads of laundry, and cleaning sometimes feel meaningless? Although these actions may feel like just a tiny drop in the bucket, we'll show you how important they are and how much they SAVE your family in the long-run.
Learn to Save Thousands on Food Costs
Food is often a family's largest monthly non-fixed (variable) expense. By learning to save on food, stay-at-home-moms can significantly impact the budget for good. In the book we cover many ways to save on food including:
The Anti-Couponer: Learn how to save money without clipping a coupon. We cover saving through meal planning, sales shopping, price comparing, and creating a food storage base to rotate through.
The Efficient-Couponer: See how you can save $200+ a month on your grocery bill by couponing! Efficient couponing (a few hours OR LESS a week) can save you thousands each year. We'll show you many great websites and apps that match up sales, coupons, and discounts to maximize your hard-earned cash!
The Whole-Sale Shopper: Is wholesale shopping really saving you money? We feature an eight month test of couponing vs. wholesale shopping and have reached a conclusion which may help you save considerably on food.
Our Children Are Our Future
As you read this book you will find tips on:
Helping your children prepare for college and pay for a good amount or all of it on their own.
Introducing a very simple but effective way to teach your children to save and manage money with a few jars and a shoebox.
Getting rid of the entitlement attitude. Too many young adults suffer today because they believe they are entitled to things without working for them. We'll suggest how to instill a work ethic in your child so that they do not suffer from this mentality that will handicap them throughout life.
Encouraging your child's interest and talents. Entrepreneurialism does not have an age limit. As you will be shown in the book even children can be business-minded and make income. Even if they aren't entrepreneurs at heart, nurturing your child's individual interests and/or talents can lead to amazing economic opportunities for them now and in the future.
With the depressing economy and rising costs of living, it is getting harder to stretch income to where it needs to go. As a result, it is easy to complain about how bad things are. But that's what is so exciting about the book – there are clear, simple, and easy to implement strategies to help your family get financially secure and even grow wealthy.
If you have an Amazon account and a Kindle or the Kindle app click here to own the eBook for $5.99! (Have an Amazon account but no Kindle? You can get the Kindle app for free here).
-Anita & Karen