My toddlers got these Candy Free Toddler Easter Baskets this year.
The Easter bunny knows that we are swamped with candy at our house.
From the Easter Egg hunts at Grandpa's assisted living facility to Easter parties at school, and birthday parties we host, we have more than enough candy in our home.
I like to tell my kids that I ask the Easter Bunny to bring candy-free Easter baskets to our house.
This is what my 2-year-old and 3-year-old received this year.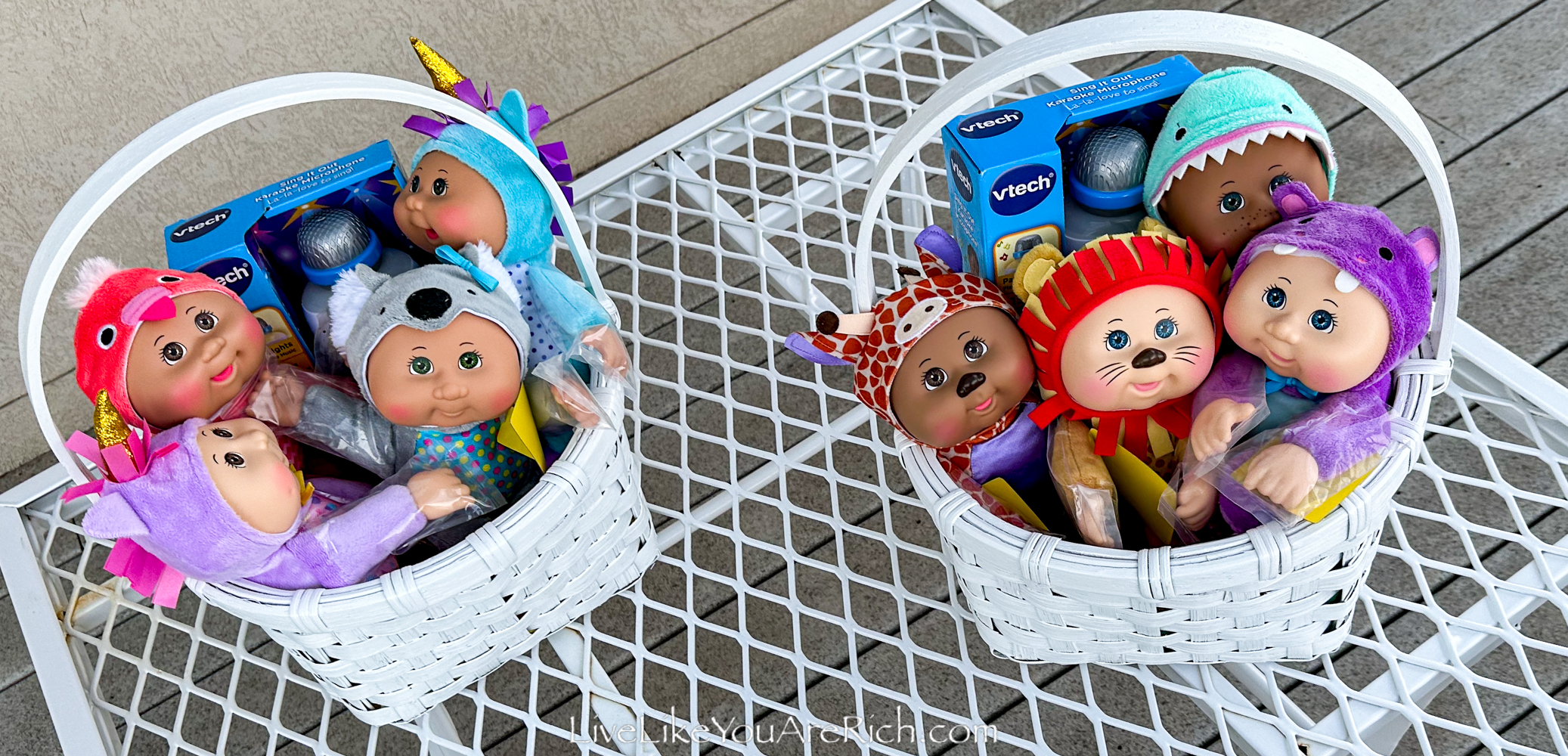 They were Easter baskets full of Cabbage Patch Cuties/dolls/babies and a VTech singing microphone that you can stream songs on via Bluetooth.
My kids have loved just singing and screaming into the microphones, having me stream songs they know through the mic, or playing some of the songs that come programmed in the microphone like, "Twinkle Twinkle Little Star" and others.
This was the perfect combination because they both love babies and dolls and they love singing to babies.
Candy Free Toddler Easter Baskets Supply List and Cost of Easter Baskets
They liked their Easter baskets and I know that the Easter Bunny was able to buy everything for them for $25.00 per basket.
The Cabbage Patch Kids were on sale at Costco—3 dolls for $12.00.
Three packs were bought and divided up between the two. The extra baby went to my older daughter's basket so she would have one too to play with the littles too. Total the dolls cost $15.00 in each basket.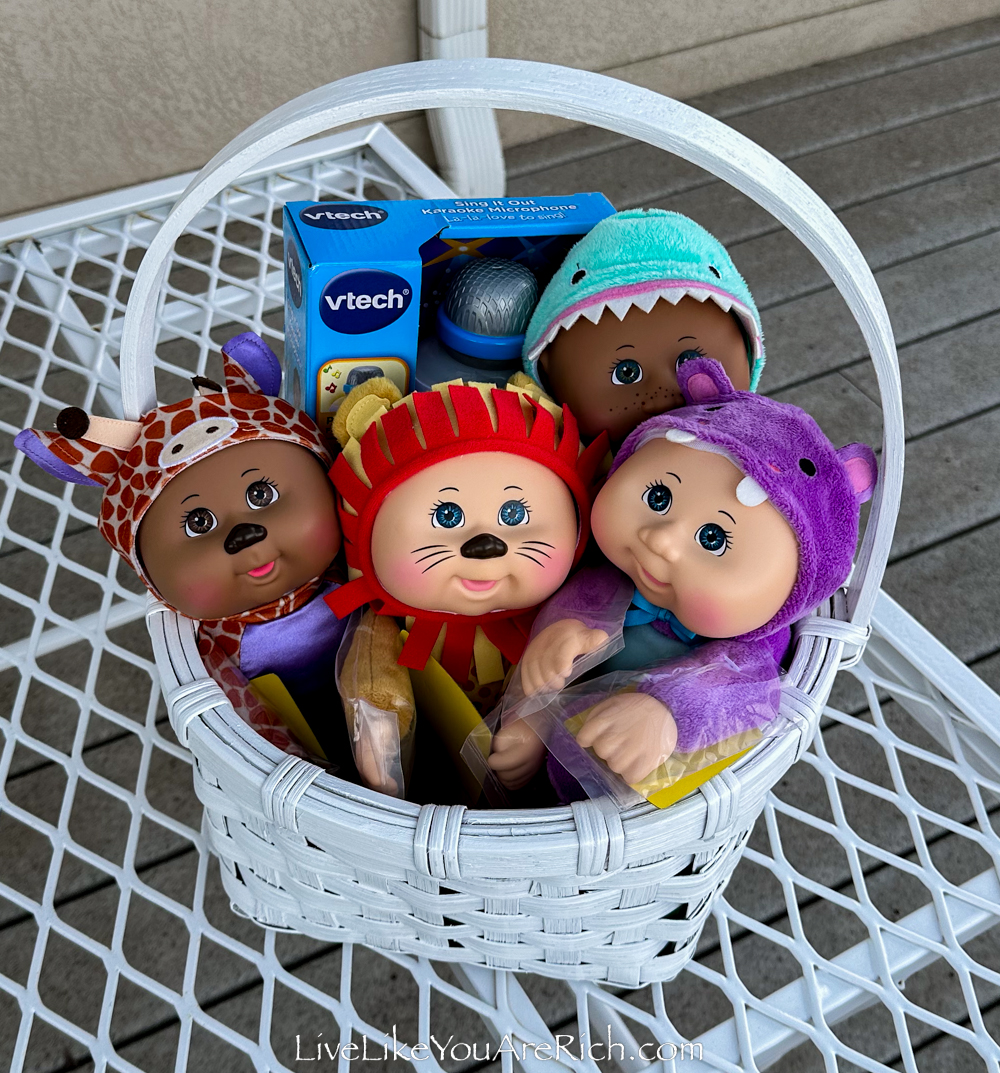 Costco currently has them at this link. Since Costco is always rotating inventory—especially kids' toys if/when they no longer have them you can search on Amazon for them here:
Cabbage Patch Kids – Collectible Cuties Zoo Friends, 3 pack
Cabbage Patch Kids – Collectible Cuties Fantasy Friends, 3 pack
Cabbage Patch Kids – Collectible Cuties Exotic Friends, 3 pack
I have also seen a woodland animal pack on eBay but it is 3-4 times the price as Costco in-club.
The VTech microphones went on a flash sale for $8.80 on Amazon and the bunny picked up 2 of them.
So, their baskets were just under $25.00 each. Normally, we aim for $20 per Easter basket, but with inflation *insert eye roll and a sigh, the budget went up to $25.00 this year.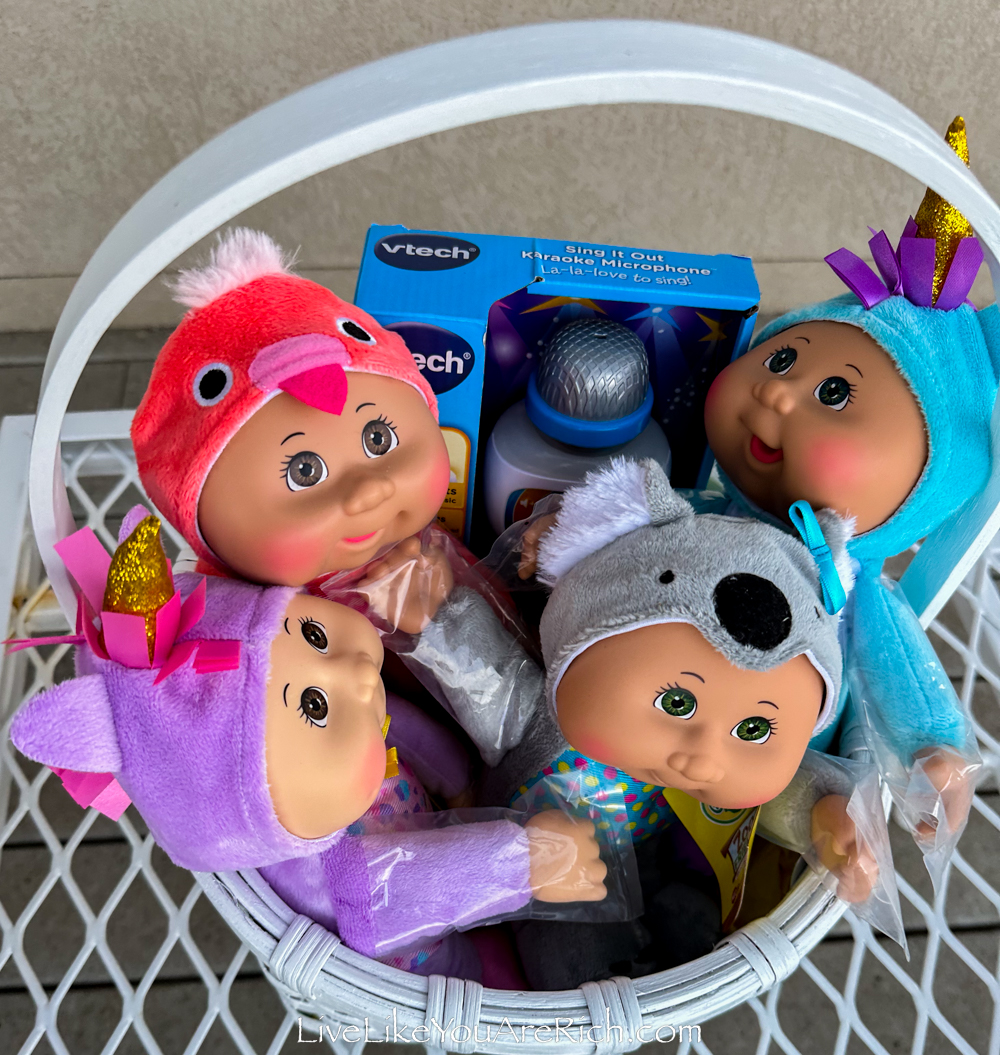 This is just the preference we have here at our house. I set a budget and watch for sales, Amazon deals, clearance items, and good toys, and then I store them until the holiday comes around.
I sometimes look at the pre-made Easter baskets these days and think it could save time and sometimes money. While those certainly are convenient, I find that when I look closely most are made up of cheap toys and candy.
It is doable to get good toys on sale in order to make Easter baskets that are affordable and high-quality.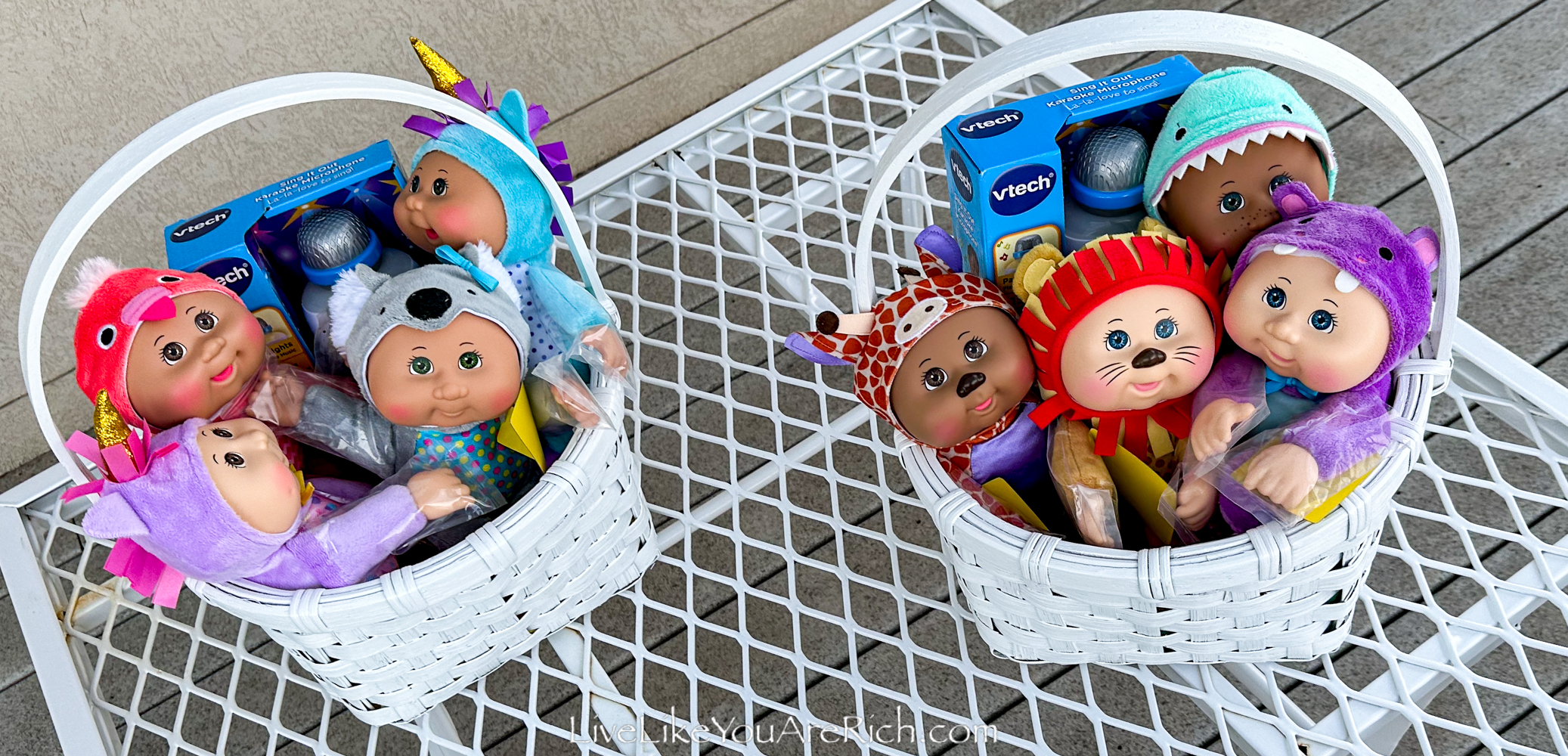 As mentioned, we are not averse to candy but I sure do love putting together candy-free Easter baskets and letting the kids do an Easter Egg hunt or two each Easter.
Here are some examples of Candy Free Easter Baskets that we have done in the past.

For other 'rich living' tips please subscribe, like me on Facebook, and follow me on Pinterest and Instagram.