Decorative Faux Flower Terrariums.
Using sand, rocks and faux moss and faux floral sprigs, flowers, etc. you can make an interesting faux floral arrangement for a glass geometric terrarium.
These are wonderful because they are inexpensive to assemble, add interest and texture in your decor, require no maintenance and will last for years.
They were simple to make and can be made in under 15 minutes each.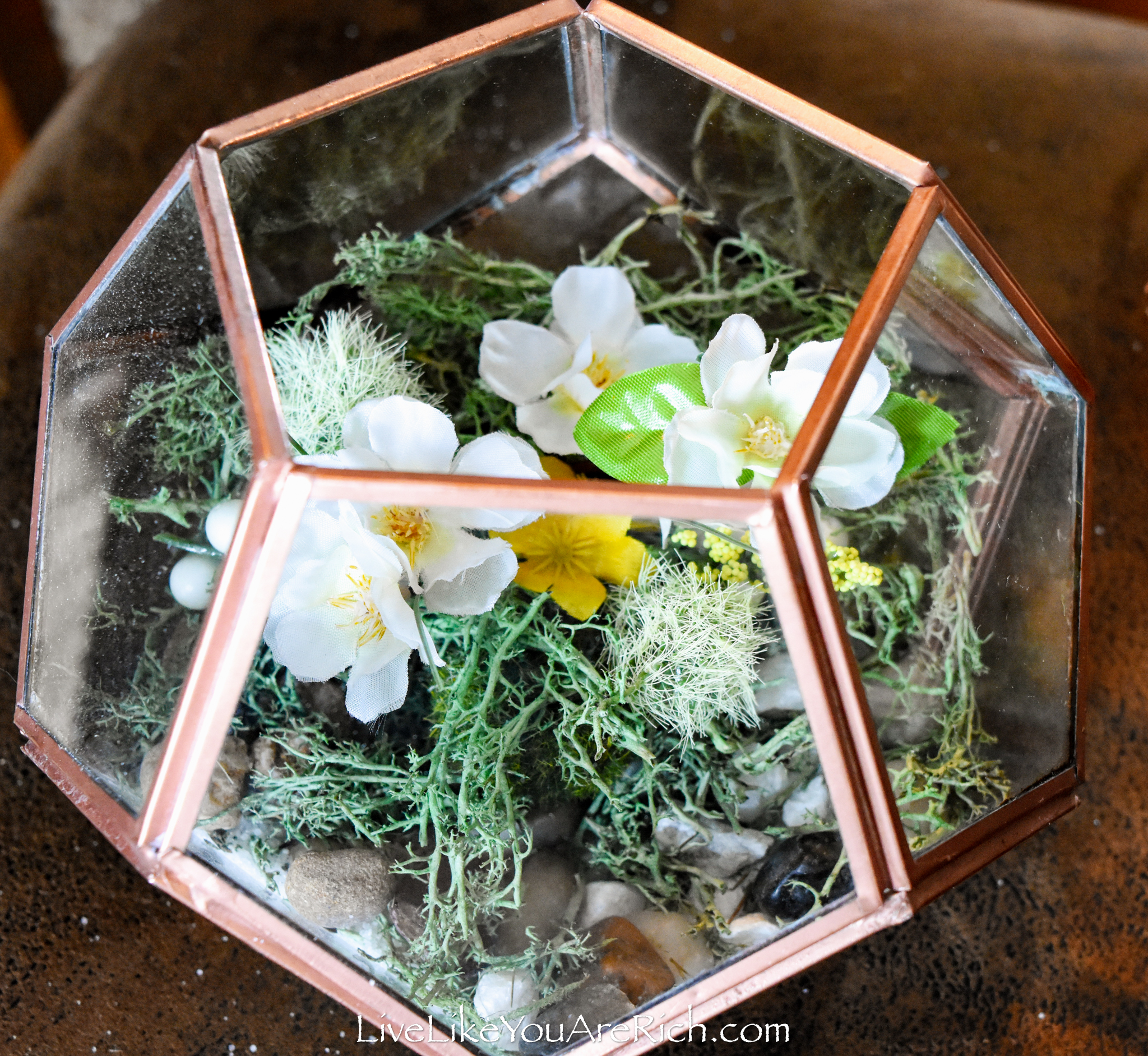 I had the glass terrariums for years.
I purchased them from World Market on sale with a coupon for ~$8.00 each. I bought three of them and I used them for years for live plants. You can find the tutorial on how I planted these here.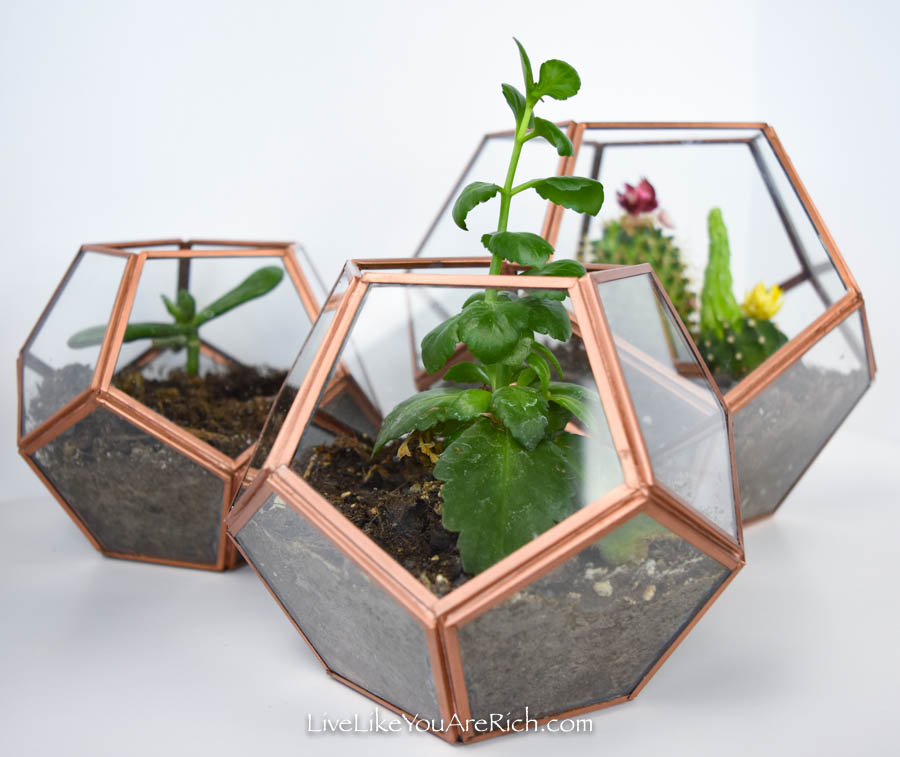 I kept having trouble with the plants outgrowing the terrariums and my succulents that remained small just did not thrive in them.
I have kept many many plants alive for years but for some reason I struggled with anything I planted in these terrariums.
I decided that I wanted to place these terrariums in areas in my home without direct sunlight and I knew if I used a faux arrangement they wouldn't be as high maintenance.
So, I decided to plant these terrariums with faux flower arrangements.
I've had them this way for over two years now and I have been much happier with them.
I no longer need to continually replant and transplant.
They were very inexpensive to make and overall became a great way to decorate my home.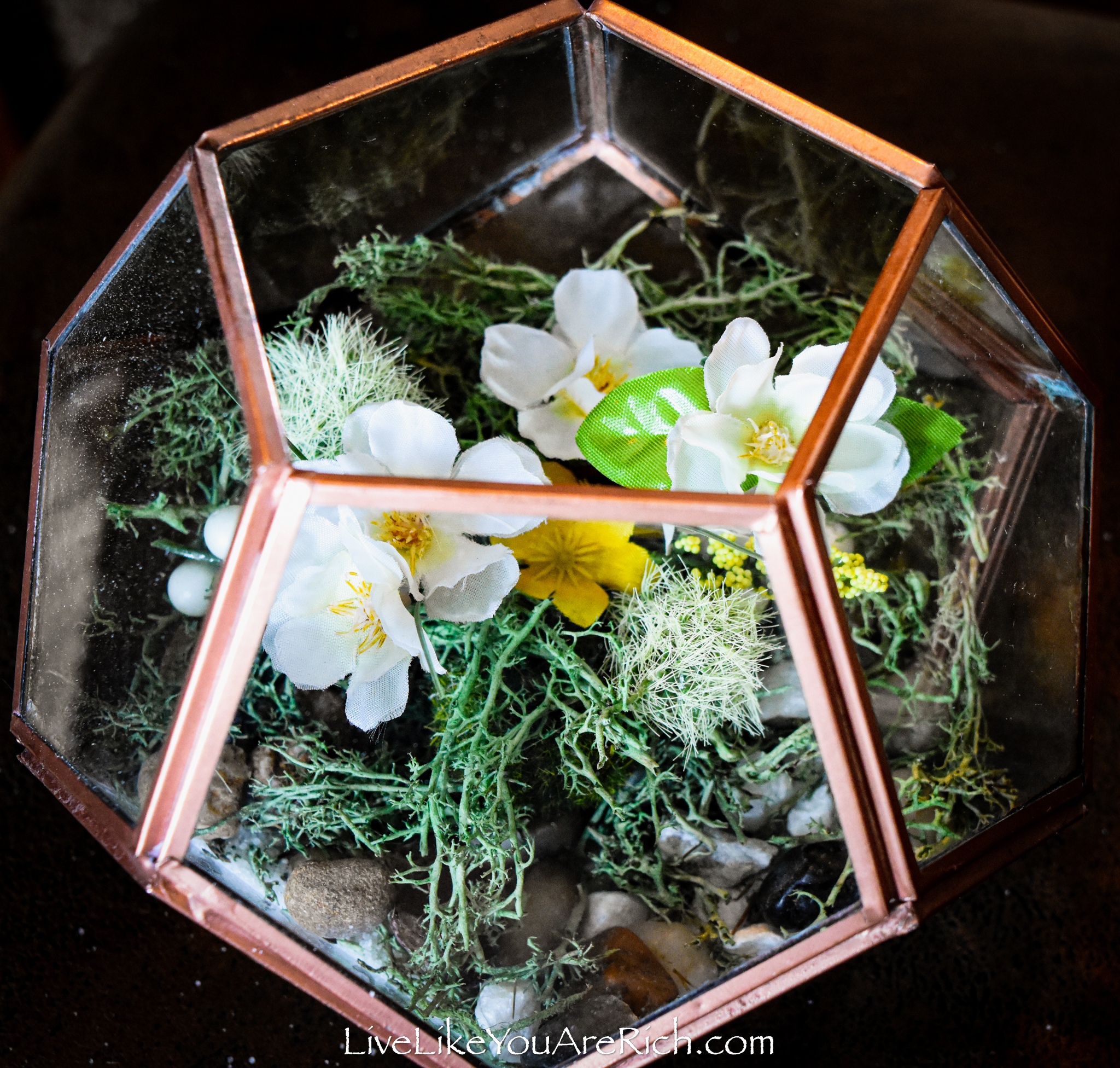 Supply List for these Decorative Faux Flower Terrariums
I bought these copper glass hexagonal terrariums in 2017 and unfortunately World Market no longer sells them. I did see some geometric glass terrariums on crafting websites like Michael's and on Amazon when I googled 'geometric glass terrariums'. If you want the exact same ones, check out Ebay and/or Mercari as well. Someone may be selling the same World Market terrariums there.
white sand (Dollar Tree)
white rocks (Dollar Tree)
brown rocks (Dollar Tree)
faux moss (Dollar Tree)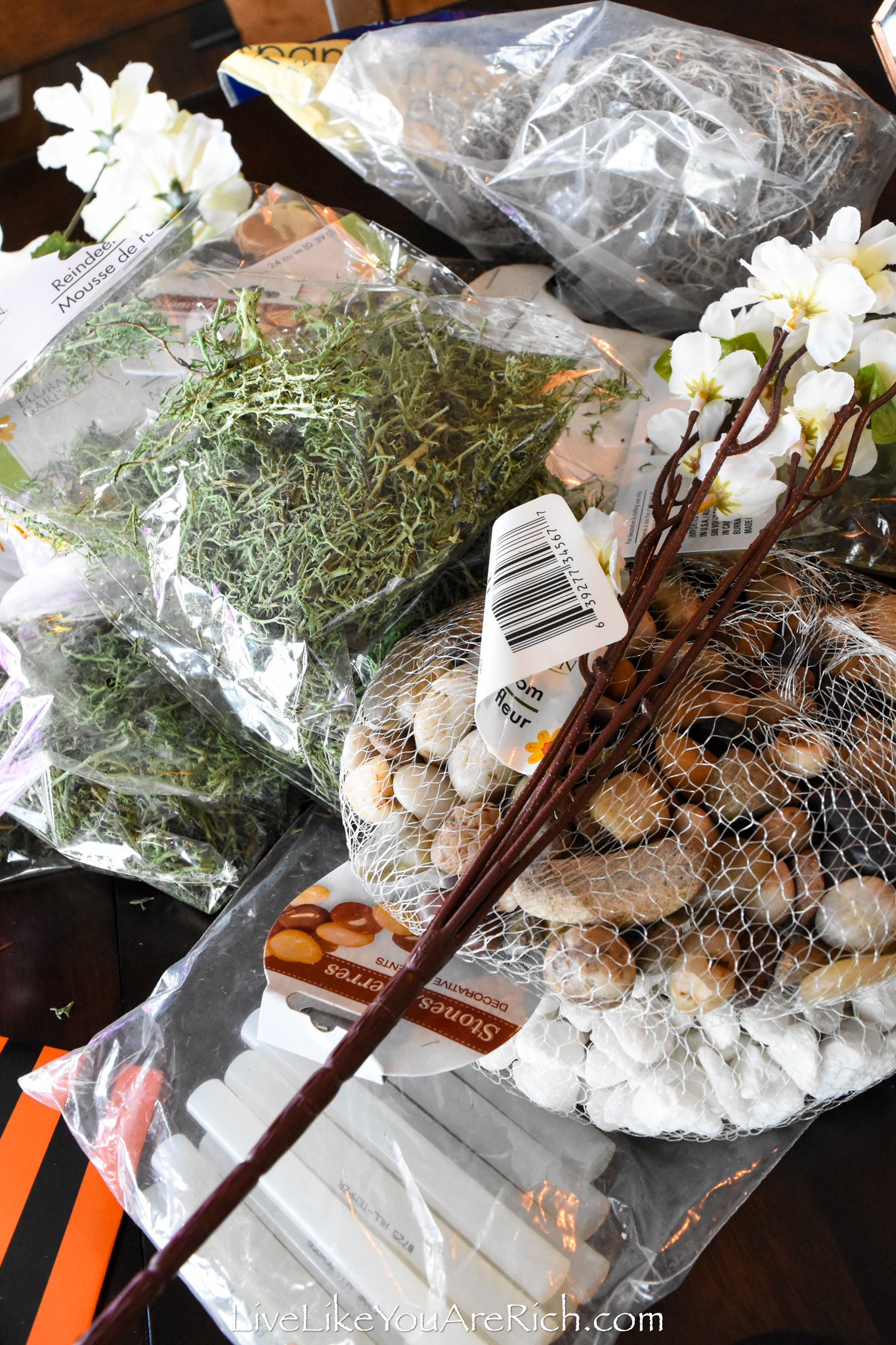 faux white floral berries (I had)
faux small white and yellow flowers (Dollar Tree)
glass cleaner (my favorite)
paper towels or microfiber towel
How to Assemble these Decorative Faux Flower Terrariums
Place white rocks on the sand.



Spread the rocks out on the sand evenly from edge to edge of the terrarium.


Add brown decorative rocks and spread them over the white ones. Use about 1/2 of what you did with the white, so you can still see white rocks peeking through.



Doing this adds contrast and is a good base for the faux floral arrangement.
Put faux moss in 2/3 of the terrarium.



This ensures that you do not completely cover the rocks which are a nice contrast and add texture and earth tones to the arrangement.
Hot glue little white floral berries, sprigs, and small white and yellow flowers to the arrangement.

Set out your decorative faux flower terrariums wherever you need some added decorative interest in your home.
Total Cost for these Decorative Faux Flower Terrariums
The white sand, white rocks, moss, brown rocks, and flowers cost a total of $1.00 each from Dollar Tree. Amounting to $6.00. These supplies made three terrariums with some materials to spare.
Each terrarium cost $2.00.
As mentioned, I had these glass terrariums for many years before making these. If you don't have any, you'd want to account for the purchasing of them in your total cost.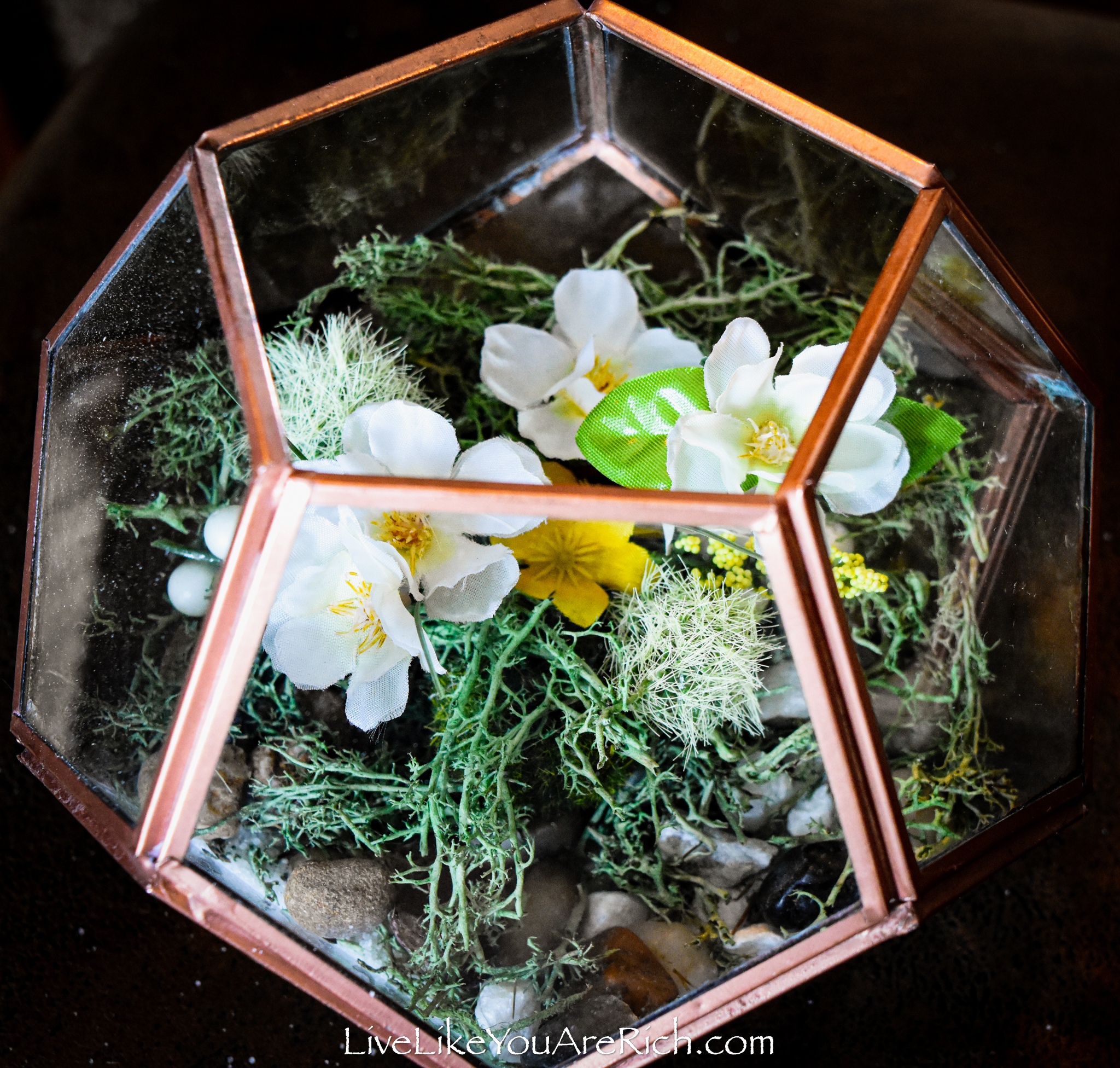 I hope this gives you an idea of how to layer and make your own decorative faux flower terrariums for your home.

For other 'rich living tips' please subscribe, like me on Facebook, and follow me on Pinterest and Instagram.