My daughter has been teething like nobody's business! It is so bad, slobber even goes through her bibs. Non-stop slobber + staining formula is a recipe for horrendous looking neck-stained-onesies.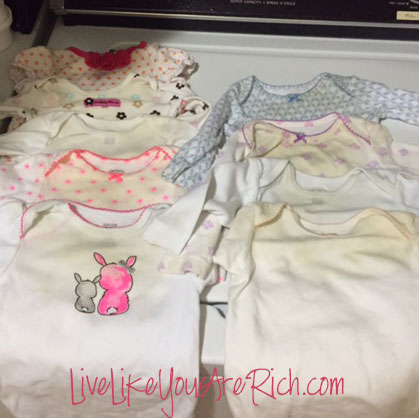 She just grew into size 6 onesies (of which I have about 15). So when they all turned out looking like this picture I wasn't too happy. I had spot treated them with Spot Shot and washed them, but then someone moved them to the dryer and dried the stains firm in them without giving me a chance to scrub them out. I was gutted.
So I experimented and found a way to get stains out, even after the clothes had dried in the dryer and amazingly it required zero scrubbings to get these stains out!
I sprayed them with Spot Shot. This stain remover is a miracle worker in getting stains out (on carpet, clothes, upholstery, etc.). It usually works on its own. But this time Spot Shot wouldn't do it.
I use OxiClean and Shout as well for stain removal… so I decided to give all three of my favorite stain removers a try to work together before giving up on the soiled onesies. And it worked!
This is how I did it:
First, I sprayed with more Spot Shot and let that sit for about 5-10 minutes.
Second, I sprayed the onesie with Shout. I let the Shout sit for a few minutes while I filled a bucket/deep bowl full of hot water and about 1/4 Cup OxiClean.I did not wash out either stain remover before putting it in the bucket.
Third, I soaked the onesies in the bucket full of water and 1/4 Cup OxiClean for 3 full days.
Then I checked on them. To my surprise and happiness, the stains were 95% gone.
Fourth, I threw them in the wash and washed them on a double rinse cycle with regular detergent to make sure all of the soap was washed out of them. The soap was gone, the stains were gone on most of the onesies… on the others, they were about 90% clean so I called it good and dried them.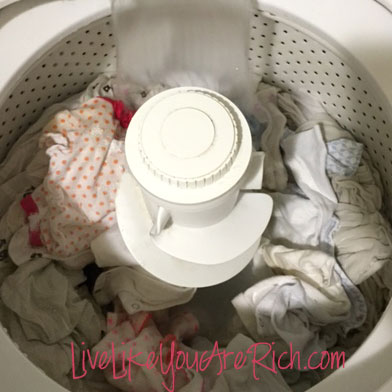 Here is the after: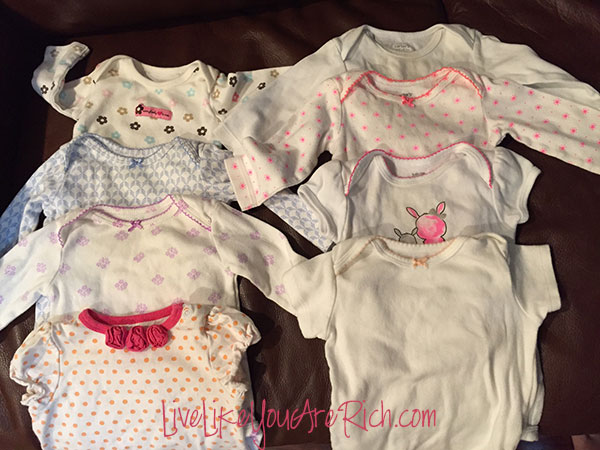 Is it perfect? Almost, six do look about new but the two that had tougher stains (and had been dried a few times in the dryer before this experiment) are a little less new looking than I'd like. All of the onesies look clean; you really can't tell the stain was there if you aren't looking for it. I think they turned out better than great and I didn't have to do any scrubbing!
This was so successful I am now doing it on other dried clothing stains.
There you have it–the recipe for getting dried tough stains out of clothing without scrubbing!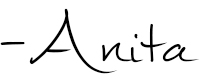 For other 'rich living tips' please subscribe, like me on Facebook, and follow me on Pinterest and Instagram.