Aren't no-bake pies fantastic? I love them because they are so quick and easy to make and usually very good. This one is no exception. This No-Bake Nutella Heath Pie has a Nutella cream cheese filling with a nice subtle crunch from the Heath bits which are mixed throughout. For added texture and flavor, you'll find a Cocoa Krispie-Nutella crust. It is delicious!
Truthfully, it was hard deciding whether this recipe is actually a pie or a cheesecake (it technically could qualify for either one). Either way, it tastes great!
First, you make the crust (instructions below). It adds a nice crispy texture to the smooth filling.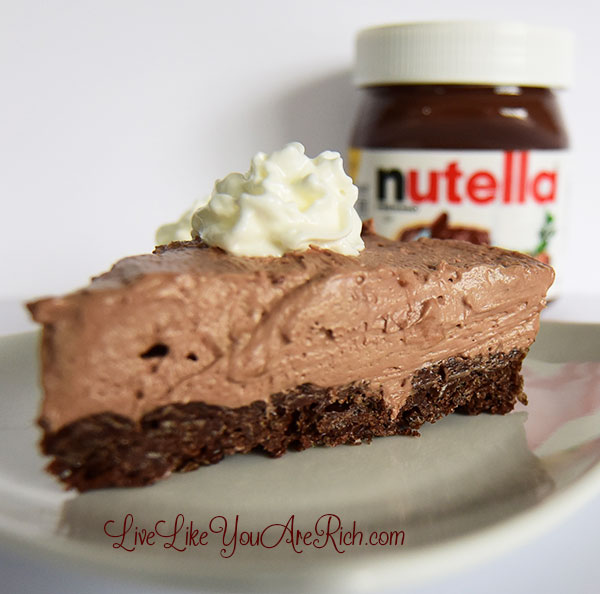 Next, you make the filling which is very smooth minus a hint of crunch from the Heath bits.
Finally, you freeze it for however long you'd like. One and one-half hour is sufficient, but even longer is totally fine too (because of the Tru Whip aka Cool Whip) it never freezes solid like ice cream would—it stays nice and creamy!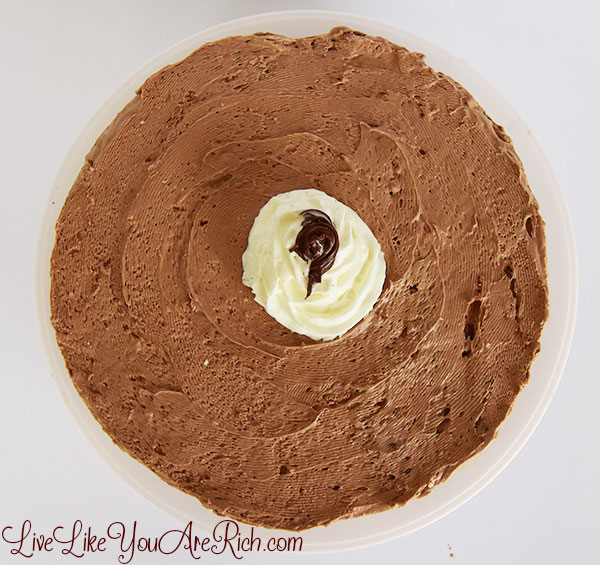 Note- The crust will get tough and solid in the freezer, but when it has been out of the freezer for about 20 minutes it softens up quite nicely (so take it out of the freezer about 20 minutes before serving).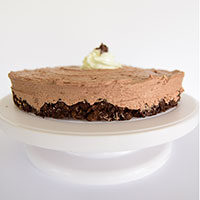 No-Bake Nutella Heath Pie
Yield: 12

Prep Time: 25 minutes

Total Time: 25 minutes

An amazing creamy Nutella pie with a nice subtle heath bit crunch and crisp cocoa-nutella crust.
Ingredients
1 (13 oz) Jar Nutella (separated)
3 Cups Cocoa Krispies
1/2 bag (or 20 regular sized) marshmallows
1 1/2 tablespoons salted butter
1 (8 oz) block of cream cheese room temperature (or warm)
1 (8 oz) container of cool whip or healthier version (Tru Whip found at Walmart), thawed
1/2 Cup Heath bits
Instructions
For crust
Melt the butter and 1/4 Cup Nutella in the microwave for 30 seconds. Stir in marshmallows.
Next, microwave marshmallow and butter for 45 seconds, stir well. Microwave 30 seconds, stir. The marshmallows should be melted now.
If not, keep heating for 20 seconds and stirring until they are melted.
Add Cocoa Krispies and mix well.
Finally, place into a well greased pie tin and press down. Allow crust to cool (20 minutes or so).
For Filling
Beat remaining Nutella (about 3/4 Cup) and cream cheese together until smooth, add heath bits, mix well.
Turn mixer to low and add cool whip then increase speed until well mixed.
Pour over Nutella-Krispie crust and freeze for at least an hour and a half.
Remove from the freezer 20 minutes prior to serving.
Cut with a strong knife
Optional-Serve with whipping cream, caramel or chocolate sauce, or more heath bits on top.

For other 'rich living' tips and gourmet or easy recipes, please subscribe, like me on Facebook, or follow me on Pinterest and Instagram.