I've done my best to keep my garage organized, but with very little storage, it has been difficult. I'd often not know where to put something in the garage and instead just find a place for it in my house. As a result, my home was more cluttered than I wanted it to be. I knew that if I could get organized, declutter, and really make use of the garage space I had, life would be less hectic.
So, after some research, I decided to build wood storage shelves (D.I.Y. instructions found here) and then I got 50 of these storage bins. After, I went about organizing donating and decluttering (instructions on how I did this below). To keep things nice looking and clutter-free, I used my Cricut to label each bin. The result has been astounding. I know exactly where things are and I have easy access to them all the time. My home is much less cluttered and life overall has been less stressful—I didn't realize how much time I was spending looking for things!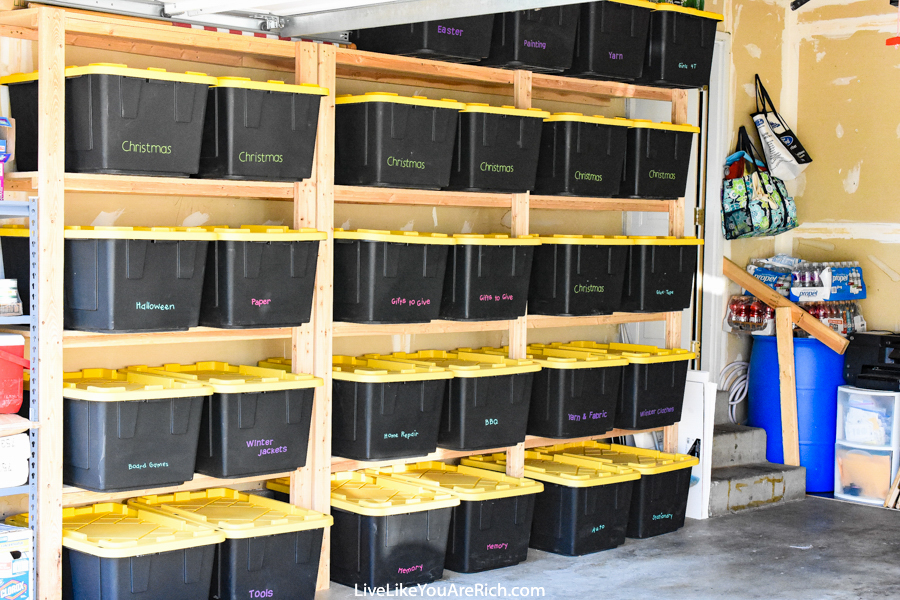 To help with ease of getting items I need, I put the lighter totes on the top shelves (yarn, light decorations, etc.), the heavier ones lower to the ground (stationery supplies, tools, extra dishes, etc.) and the middle weight ones (seasonal decor, extra clothing, and bedding, etc.) in the middle. My house is much less cluttered, finding things is very easy, and I'm able to park easily in my garage.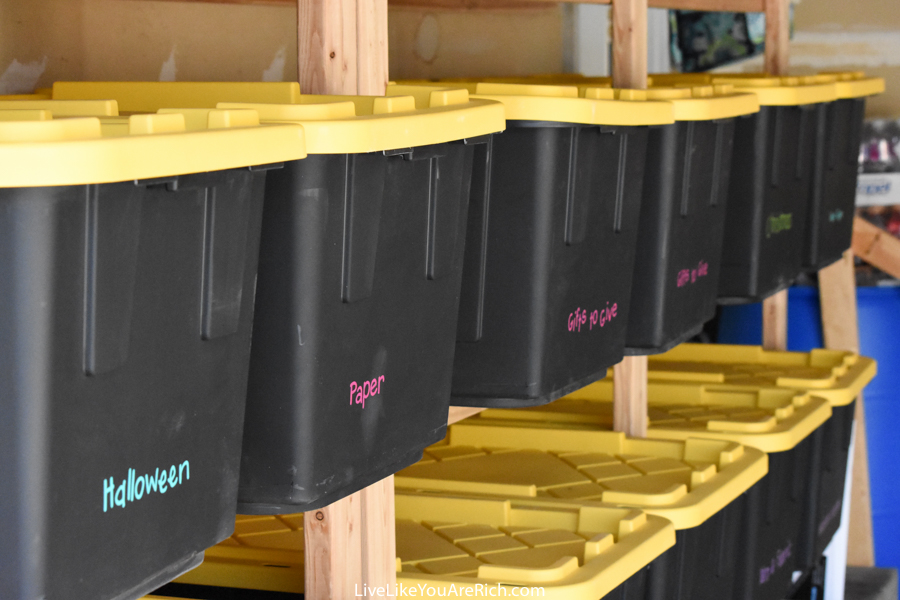 It's a great solution for easy-access storage space.
Garage Organization tips:
Organize on a day with good weather so you can put items outside on your front lawn and driveway.
Pull everything out that you can and sweep so you start with a clean slate.
Group items into piles. It is wise to have a pile for: donations, garage selling, trash, take inside, etc.
Plan to store like items together—esp. if you use ceiling storage racks. For example, if you are going to put the Christmas tree on the ceiling storage rack it would make sense to put all Christmas decor around it.
Create as much storage space as you can: I.E. installs DIY wood storage shelves, buy metal storage shelfs, above the garage door storage shelves.
Use easy to get into—durable storage bins. These are my favorite. They will likely last me the rest of my life and are so spacious I can fit a lot into them. They stack and are easy to lift. I'd highly recommend using storage bins that will last you a long time if you are going to get an organizational system going.
Put the least-used items in the most remote places.
Put a label on each end of a storage bing for summer clothes and the other end winter clothes. Turn the bin around as you put summer clothes in and then turn it again when you switch out the summer clothes for winter clothes. This way the label is always correct and you only need one bin for clothing storage. I used my Cricut to create large customized-cutesy labels.
Once you have the large storage shelves and units in, maximize all the space you can by putting items in nooks and crannies. My folding tables fit behind a metal storage shelf I have for food storage, so I put the tables there. My folding chairs fit right beside the storage unit. Step stool fits inside the storage unit, and the food storage and suitcases make great use of the corner of the garage/storage unit that the bins cannot easily fit into.
Stack items if you can. My printer is on top of my filing cabinet, bottled water on top of 55 galloon water drum for water storage, etc.
Label things obviously. There is nothing worse than having to tear apart a beautifully organized space because you can't find a much-needed item. If you are somewhat forgetful, keep a key in a drawer in your house that lists out the main items in each storage unit. I did this. For example, auto bin 1 has windshield wiper fluid, oil, fluids, etc. Auto bin 2 has air freshener, little vacuum, cleaning supplies, etc.
Rotate kids toys, books, and stuffed animals every few months so that they have less in their rooms and items are always feeling new and fresh for them.
Rotate items as they are seasonally appropriate. I put my winter items and bins on the lower shelves during winter and the swim and summer bins on the top shelf. In spring, I trade spaces with them. This way what I need to get to is easily accessible at all times of the year.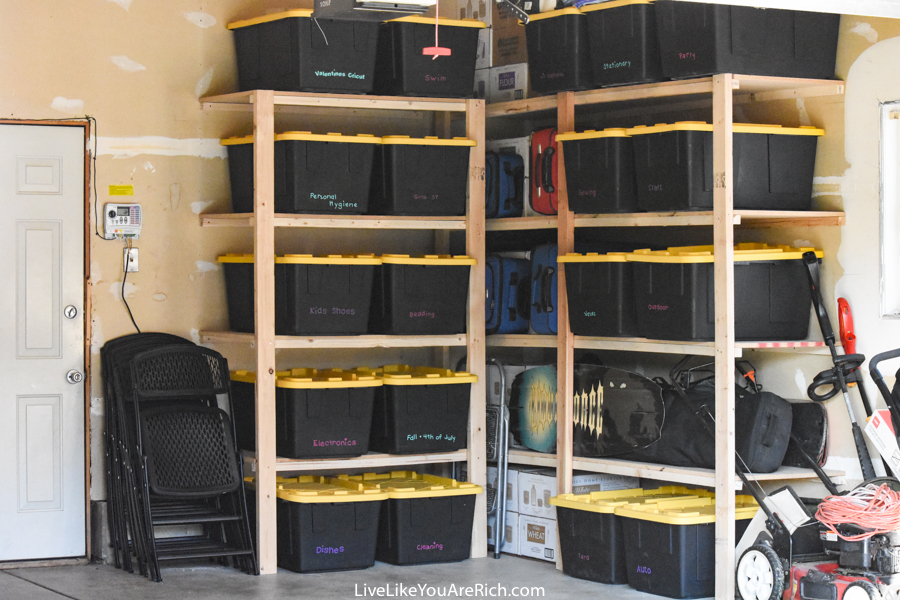 These are bins I have and how I have organized everything in them:
Top Shelves: Easter, Painting supplies, Yarn, Girls 4T, Valentine's decor, Cricut, Party supplies, swim (will rotate it down during summer), Girls 3T
1st shelves: Christmas decorations, personal hygiene supplies, sewing, craft,
2nd shelves: Halloween, paper, gifts to give, Christmas, Paint-glue-other supplies, kids shoes, bedding, vases, outdoor
3rd shelves: Board Games, winter/summer clothes, home repair supplies, BBQ, fabric, winter jackets (will rotate to the top in the spring), electronics, Fall/4th of July
Floor: Tools, scrap booking paper, journals/memory, auto supplies, stationary/computer paper, dishes, cleaning supplies, auto, yard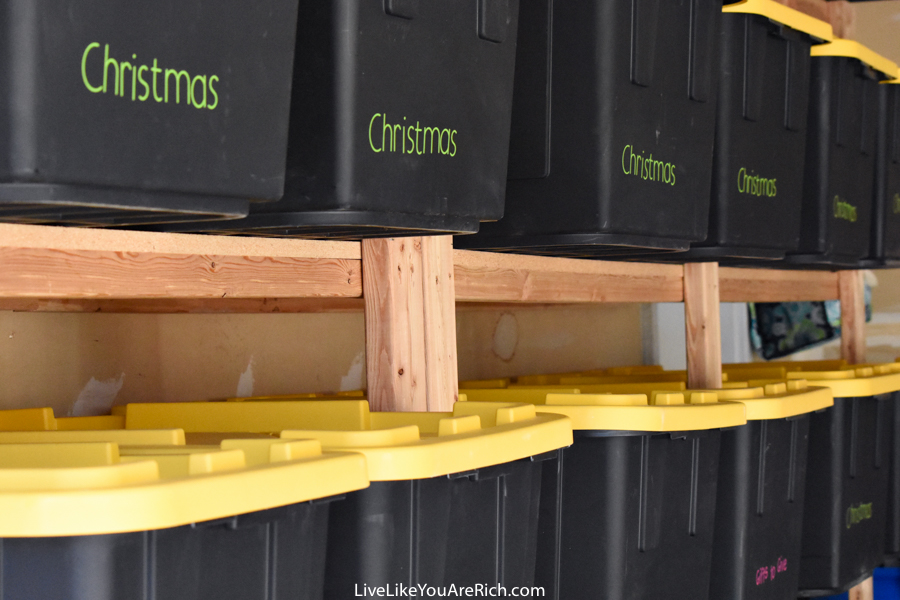 I love that the labels to the bins are cutesy and fun. It's a fresh bright look. Using the Cricut and free fonts Cricut offers I was able to easily customize them to my needs. One tip is to be sure to press down on each vinyl letter hard and use your finger nail to gently but firmly adhere it to the bins.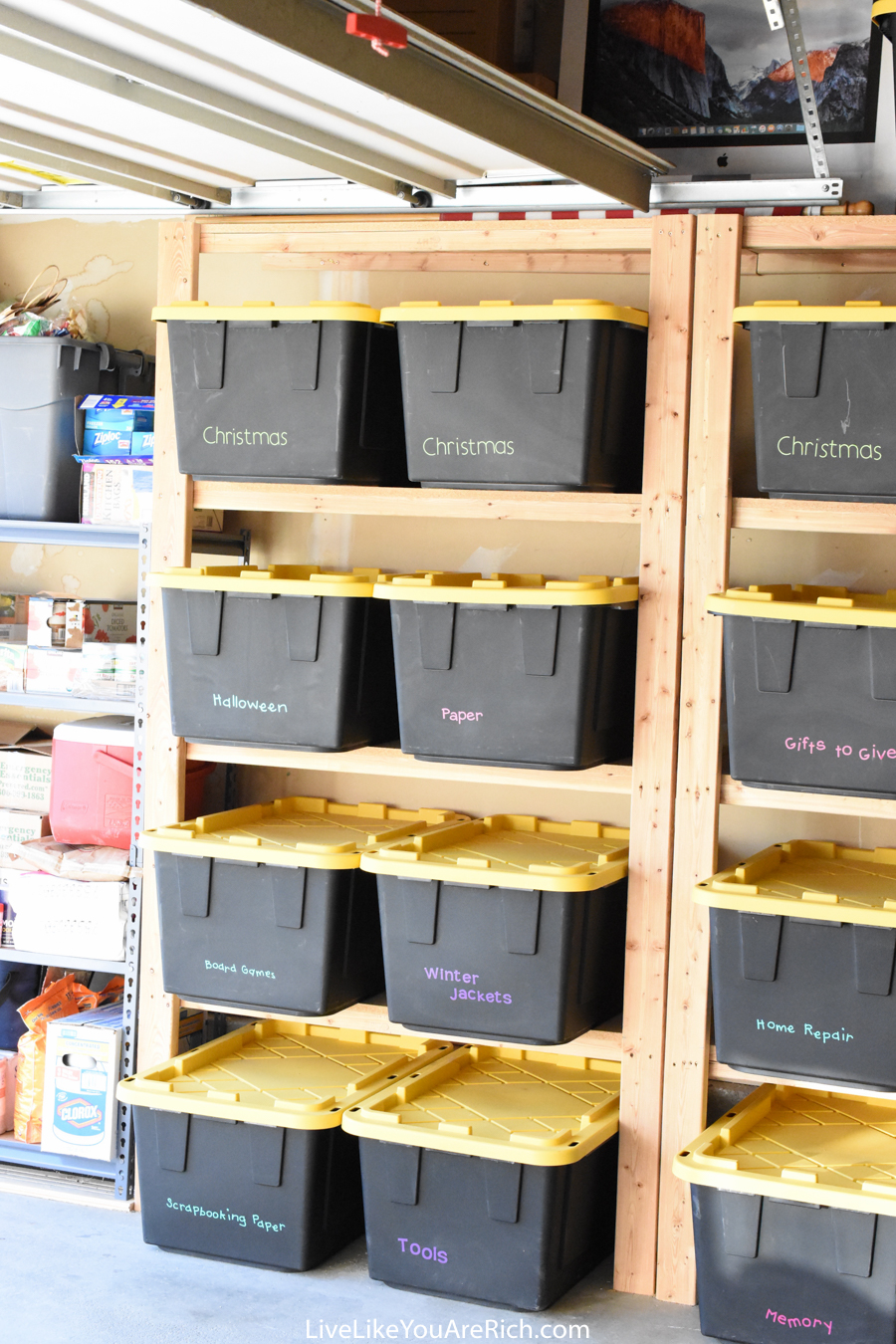 I love using my Cricut, which leads me to say that… my friends and I are giving away a Cricut!
Enter the Spring Cricut Giveaway for your chance to win this amazing cutting machine! Contest ends 4/9/17, 11:59pm EST. Open to US and Canadian residents only. See official rules for details.
This Cricut Giveaway was organized by Juggling Act Mama and brought to you in part by the following awesome bloggers: Doodlecraft, Daily Dish Magazine, Second Chance to Dream, Live Like You Are Rich, Bree Cooley, Organized Island, My Mommy Style, Your Everyday Family, and Create. Craft. Love. And one very lucky winner is going to receive a Cricut Explore Air 2 Machine
!
It's easy to get inspired on the Cricut website. There are just so many gorgeous projects look at!
Spring Cricut Explore Air 2 Giveaway
Use the Rafflecopter widget below to enter. This giveaway is for a Cricut Explore Air 2. Open US/CAN. One (1) winner will be chosen and notified via email. Prize must be claimed within 48 hours of announcement or a new winner will be drawn. All entries will be verified. This giveaway is in no way associated with Facebook, Pinterest, Twitter, Instagram, Rafflecopter, PayPal, Cricut, or any other entity unless otherwise specified. No cash value. Juggling Act Mama not responsible for the delivery of prizes. Contest ends 4/9/17, 11:59pm EST.a Rafflecopter giveaway

For other 'rich living' and DIY tips please subscribe, like me on Facebook, and follow me on Pinterest and Instagram.