1 Bathroom Remodel and 2 Bathroom Installations on a Budget.
Today, I'm sharing how we renovated one existing bathroom for under $1,000 and put in two more bathrooms in my husband's fixer-upper home for under $2,000 each.
Shane, my husband, had this home when we got married. His plan was to fix it up but since he works so much, he just didn't get very far. Together, with some hired and family help, we fixed it up and sold it.
The area where the house is located is not very upscale, so we renovated based on comparisons—which was wise because we didn't spend unnecessary money on high-end items or extras in the homes' rooms and bathrooms.
His home was originally a 1 bathroom 2 bedroom home. We made it into a 3 bathroom 4 bedroom home. Plus we renovated the inside and outside completely.
These improvements added quite a bit of value to it.
Below, I'll link to all of the renovation posts for this home.
We were doing a total home remodel (exterior and interior) and did not have a large budget— we did the entire thing for around $45,000, so we did a lot of the work ourselves and found deals on many items.
I'll give more details on we did this with the bathrooms below.
Bathrooms before/middle of remodel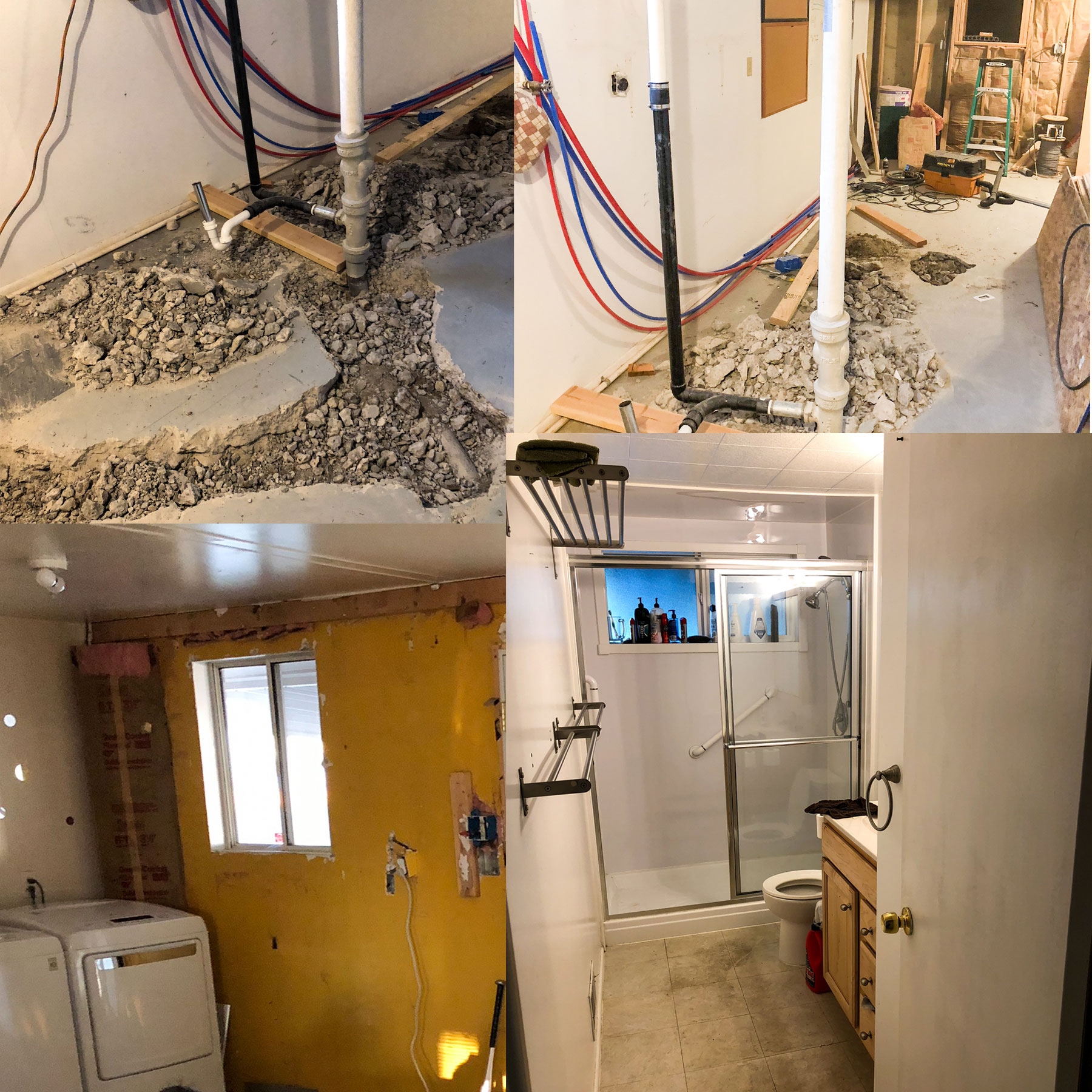 Bathroom 1 Master Bathroom Remodel
This bathroom was in rough shape. It really needed a remodel!
It was the only bathroom for the home and was only accessible from the hall.
We added two additional bathrooms to the home so I wanted to change this one into a master bathroom.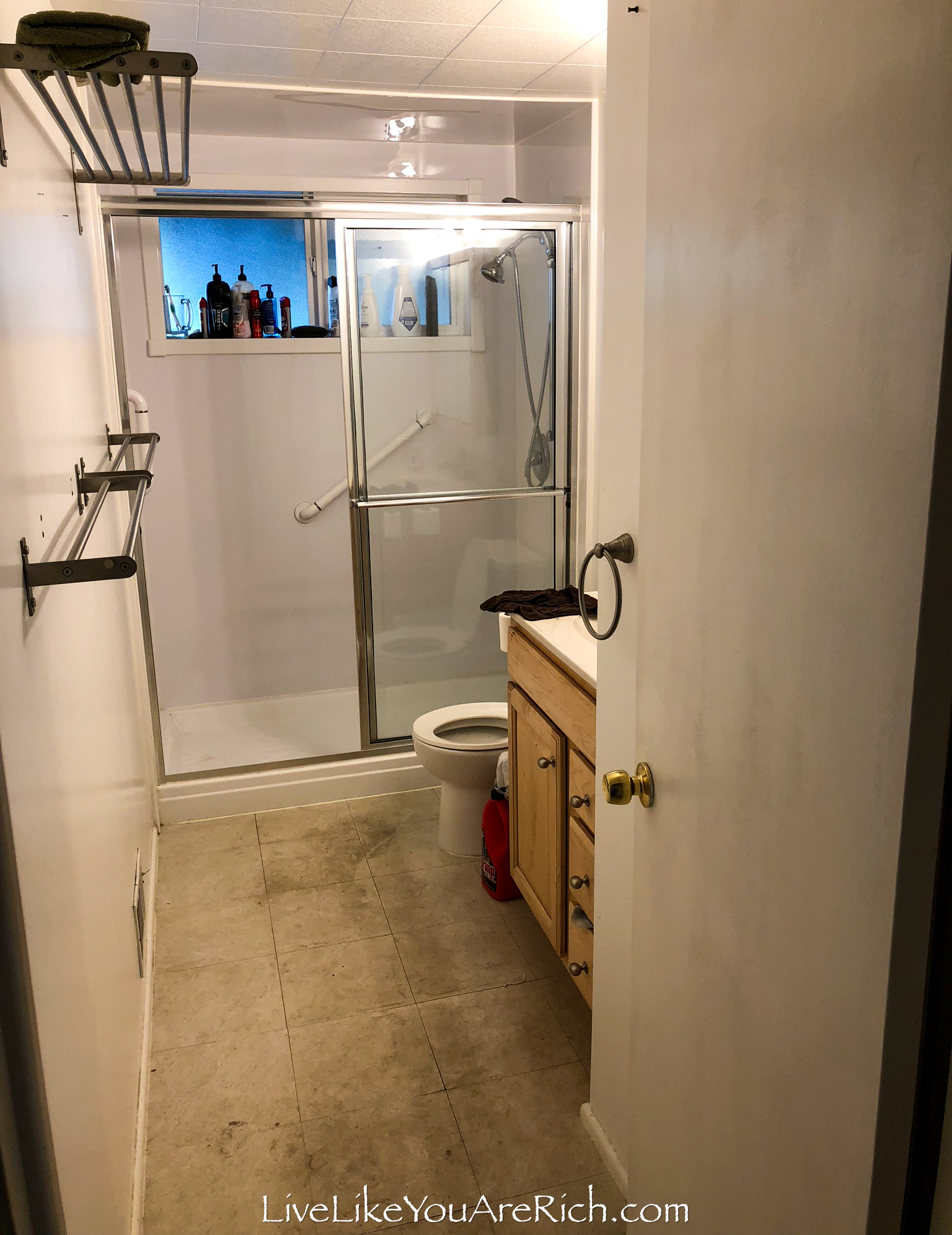 To do this, we walled off the hallway entrance with 2×4's, insulation and sheetrock.
Then we cut out an entry from the master bedroom into the bathroom (since they were adjacent to one another).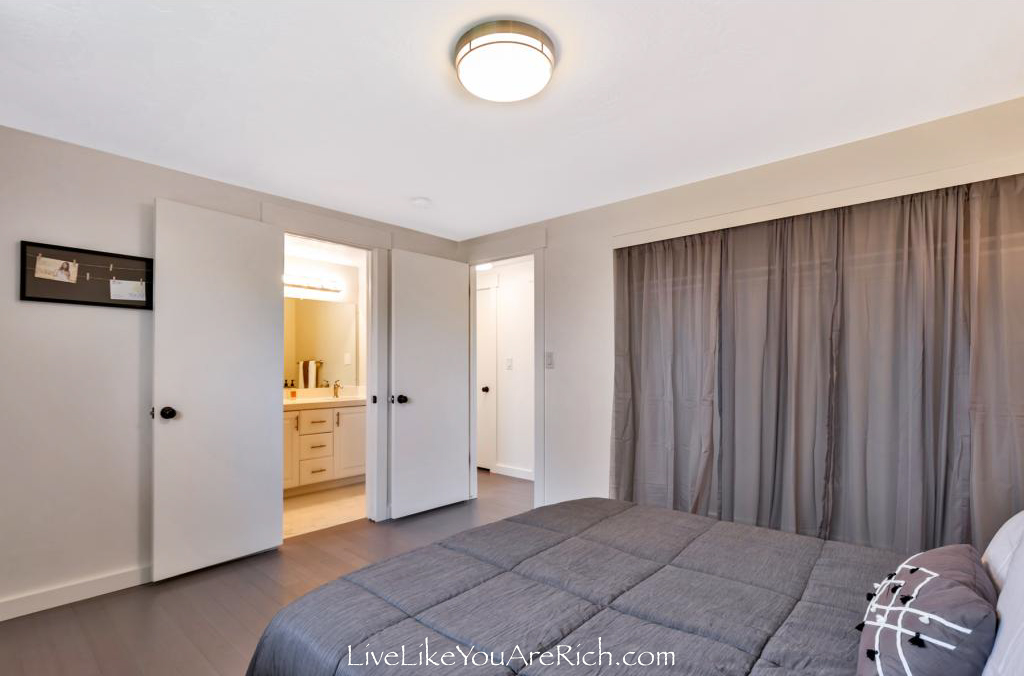 We used the same door that we took from the hallway and just reused it in the master bedroom.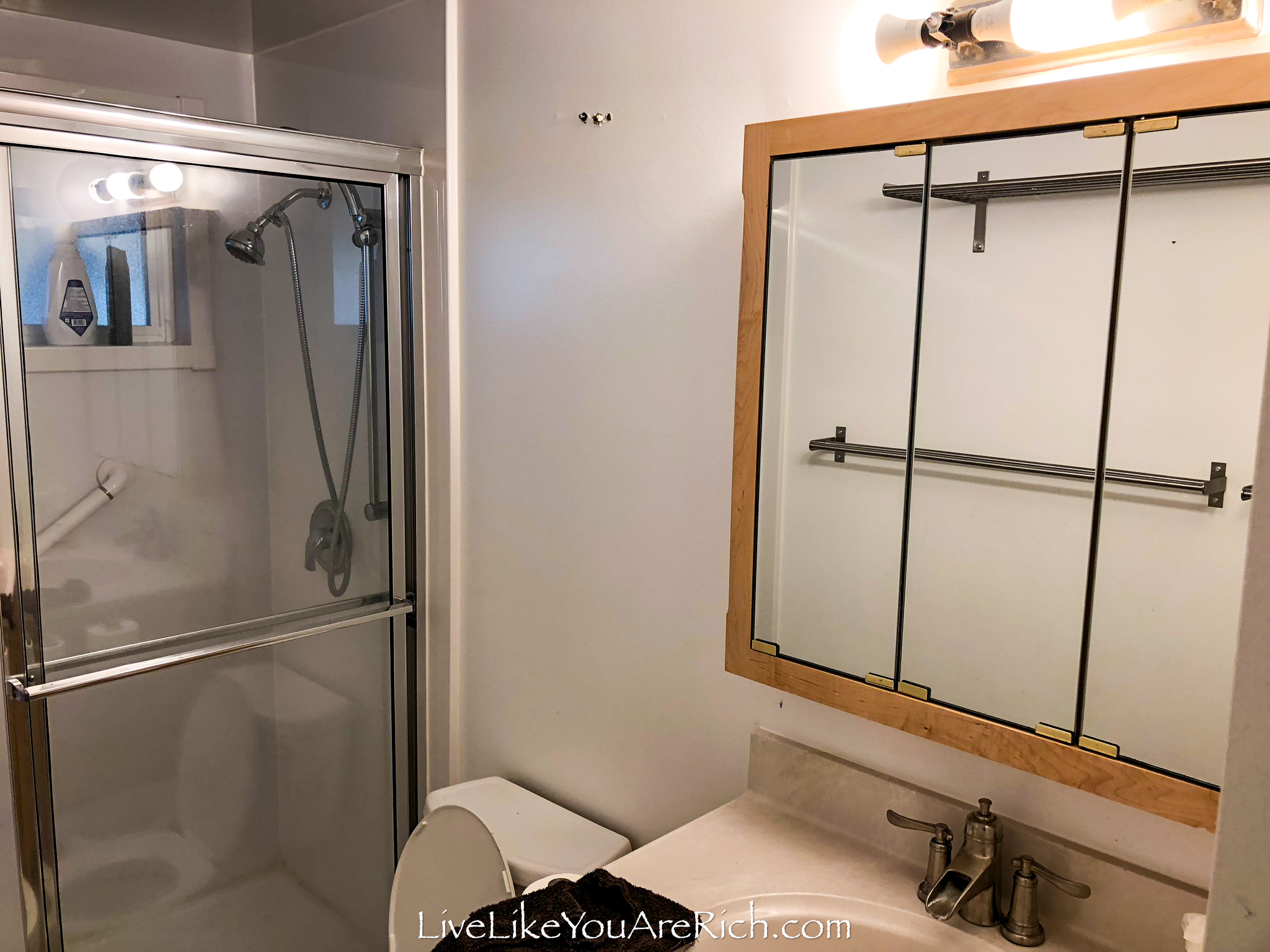 Other changes we made to this bathroom were: we knocked down the cabinet to make room for and installed a double vanity, we ripped out the linoleum to lay tile down, we replaced the toilet with a new one, and we took out the vanity, its cabinet and light fixture.
I sold the vanity for $40, the cabinet for $30 and the shelving units for $30.
We put in new lighting ($45.00)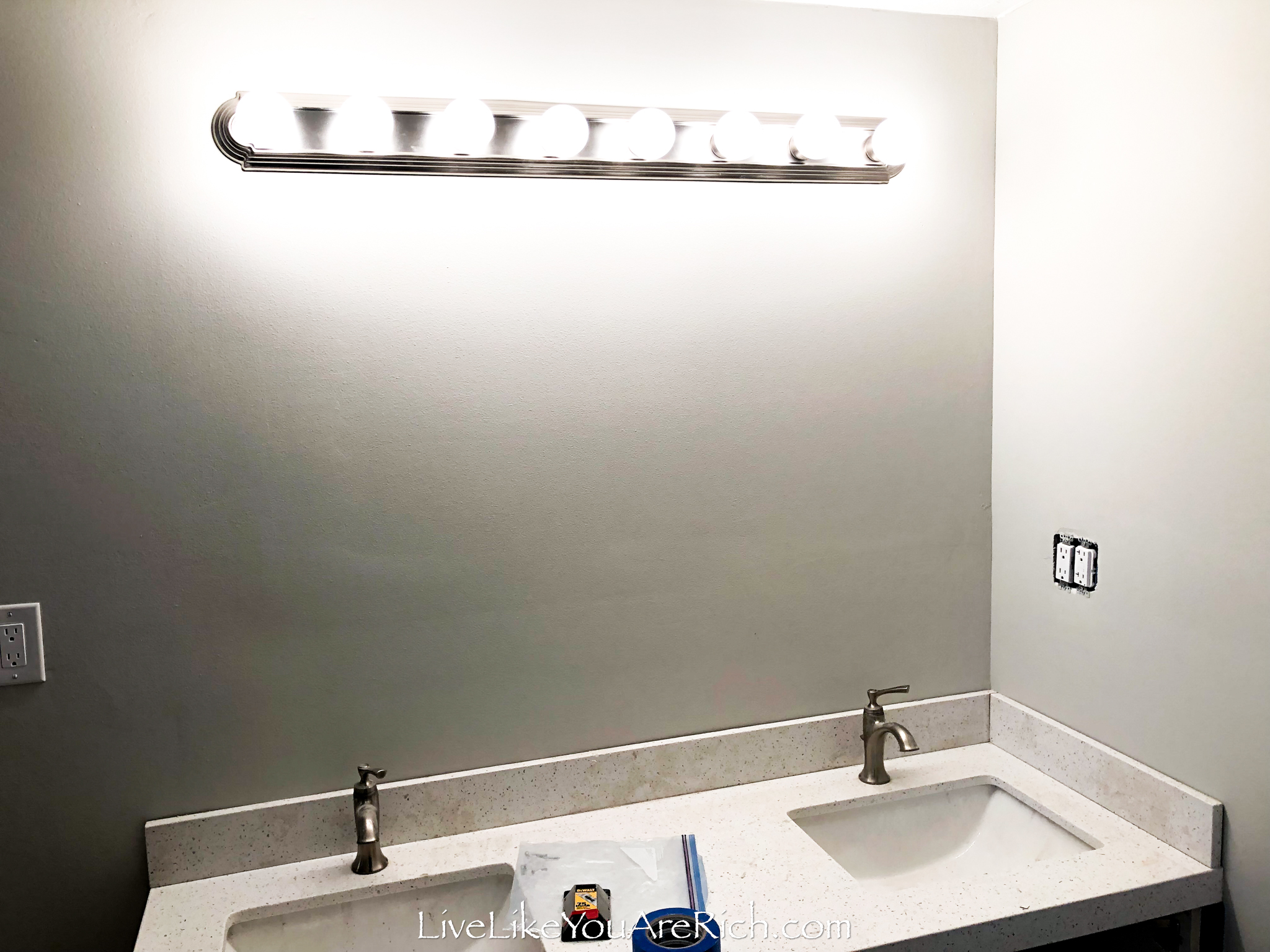 I found the double vanity with white quartz countertop, under mount white sinks, stainless steel faucets and a backsplash for $100!!! This was seriously a steal.
Luckily, I was the first to call the seller and pay him, because the seller was inn-undated with requests for it after he listed it for $100.
I was so grateful to find this vanity/countertop/faucet combo. It easily saved us over $1,000 and once cleaned throughly it looked brand new.
We bought and installed the mirror for $40.00.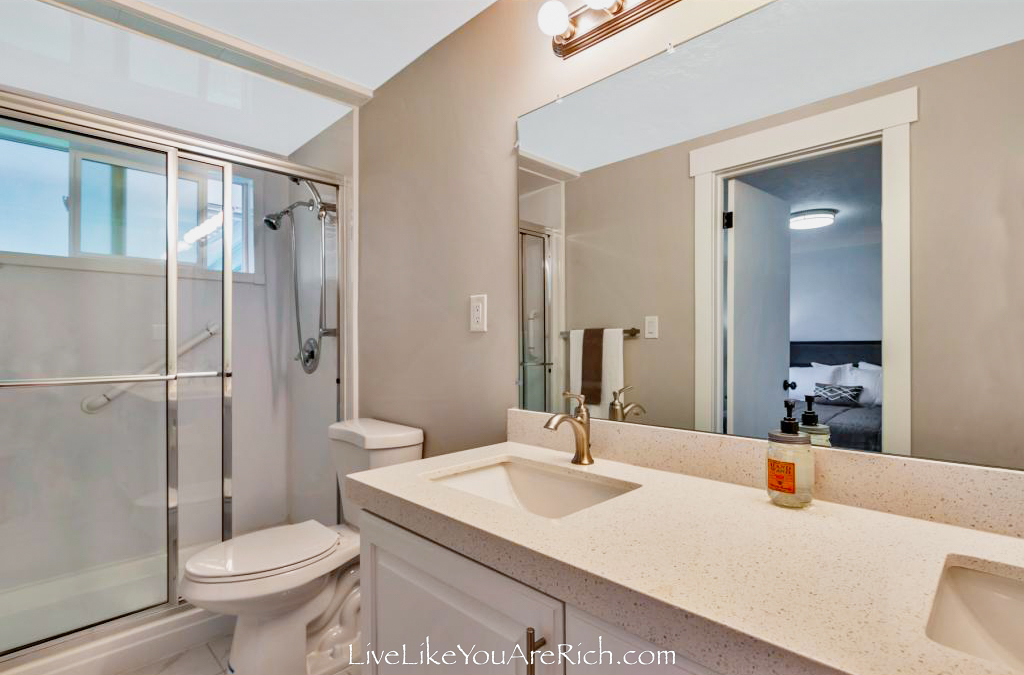 We installed a new toilet and replaced the flooring with a beautiful inexpensive tile from Home Depot that resembled white and grey marble.
It's called, "Carrara Polished 12 in. x 24 in. Polished Porcelain Floor and Wall Tile".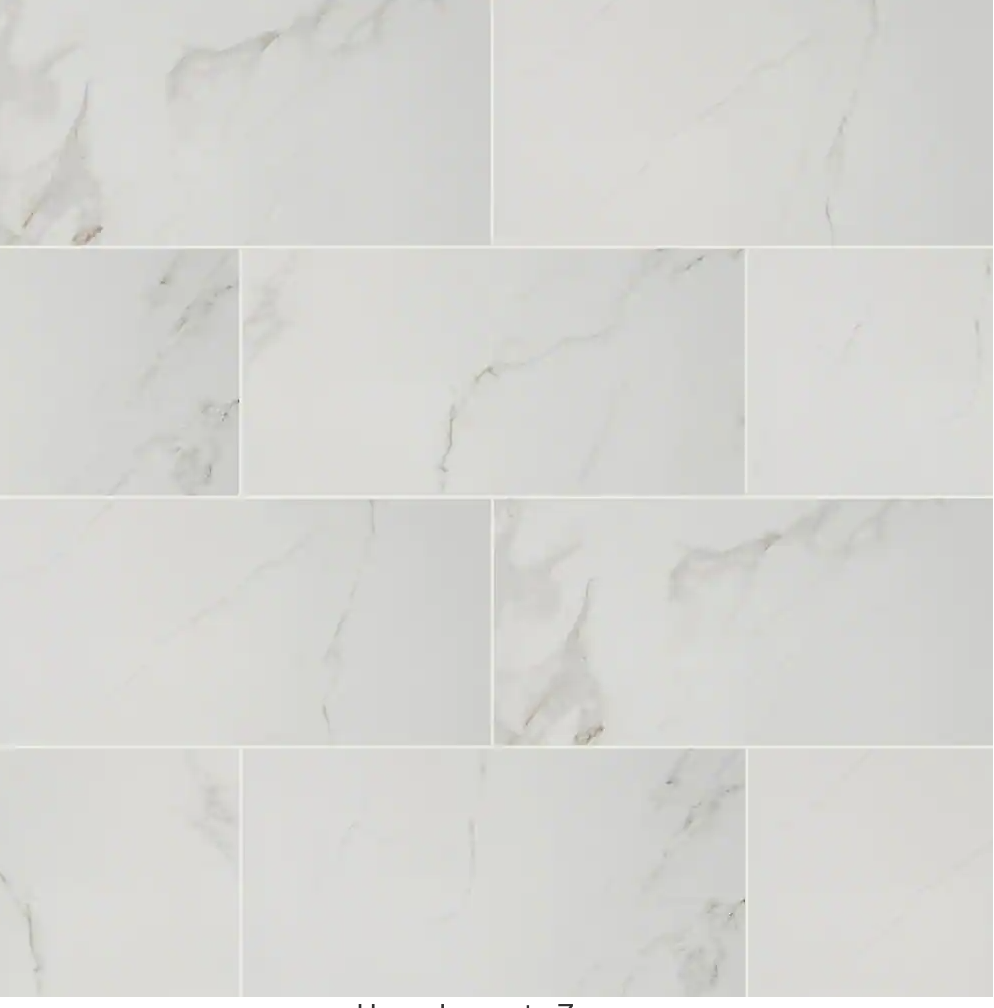 The tile visually pulled the grey bamboo flooring together with the white accents of the bathroom.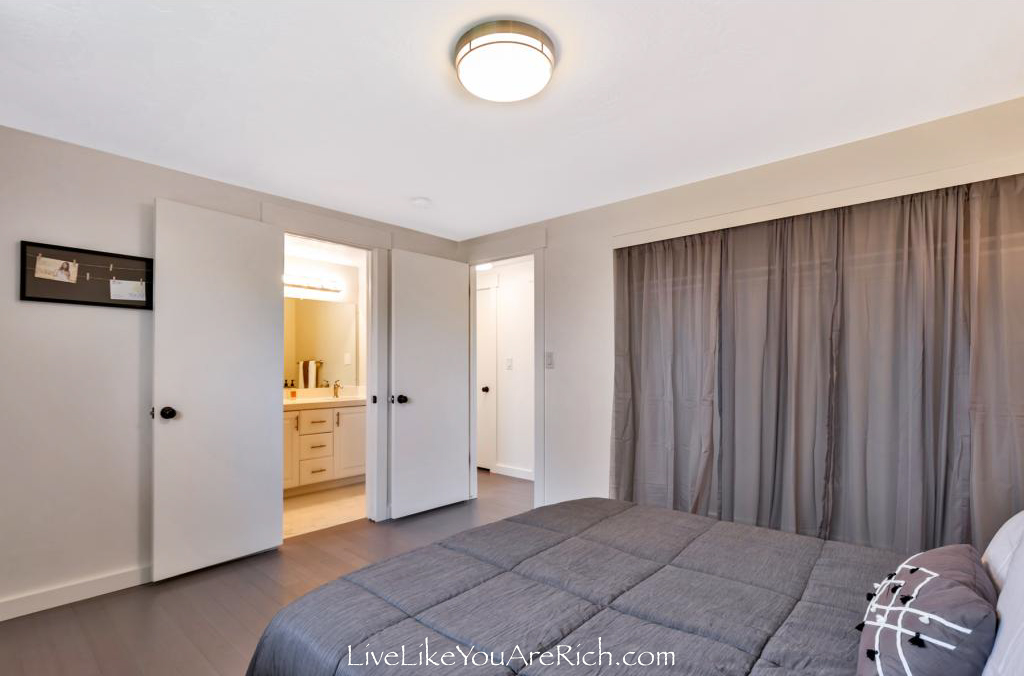 The shower and glass were still in good condition.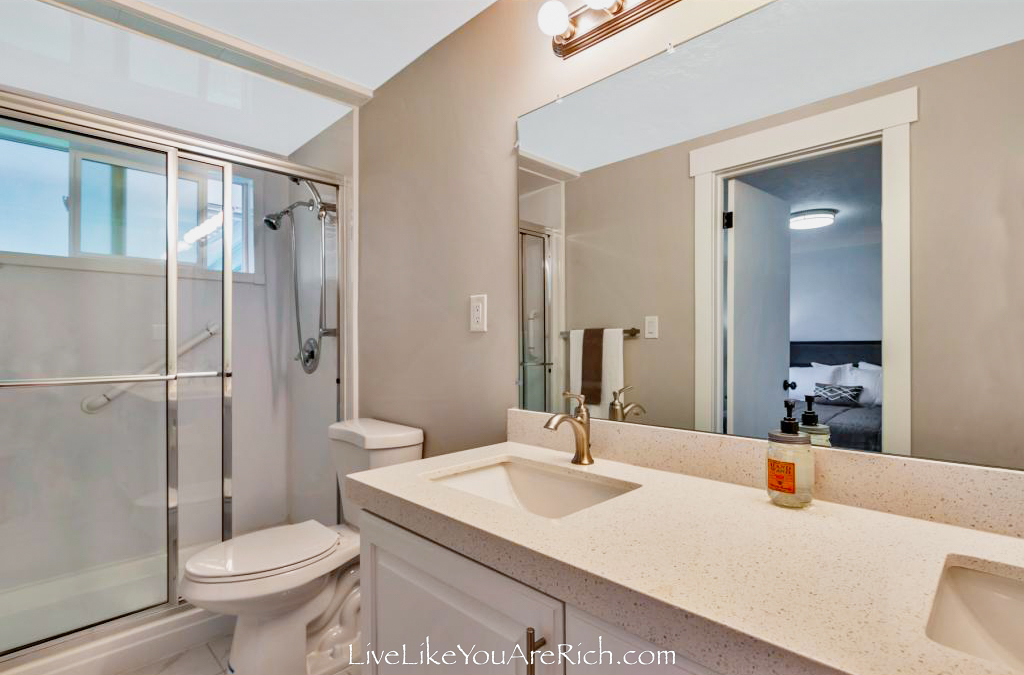 It looked to be in great condition after I cleaned it up and re-caulked the shower, base and trim.
In the end, we were only into this master bathroom about $900.00.
This included the plumbing of the second sink, the framing and moving of door, paint, caulk, baseboard, trim, double vanity, mirror, light, new toilet, and towel rods.
Bathroom 2 Installation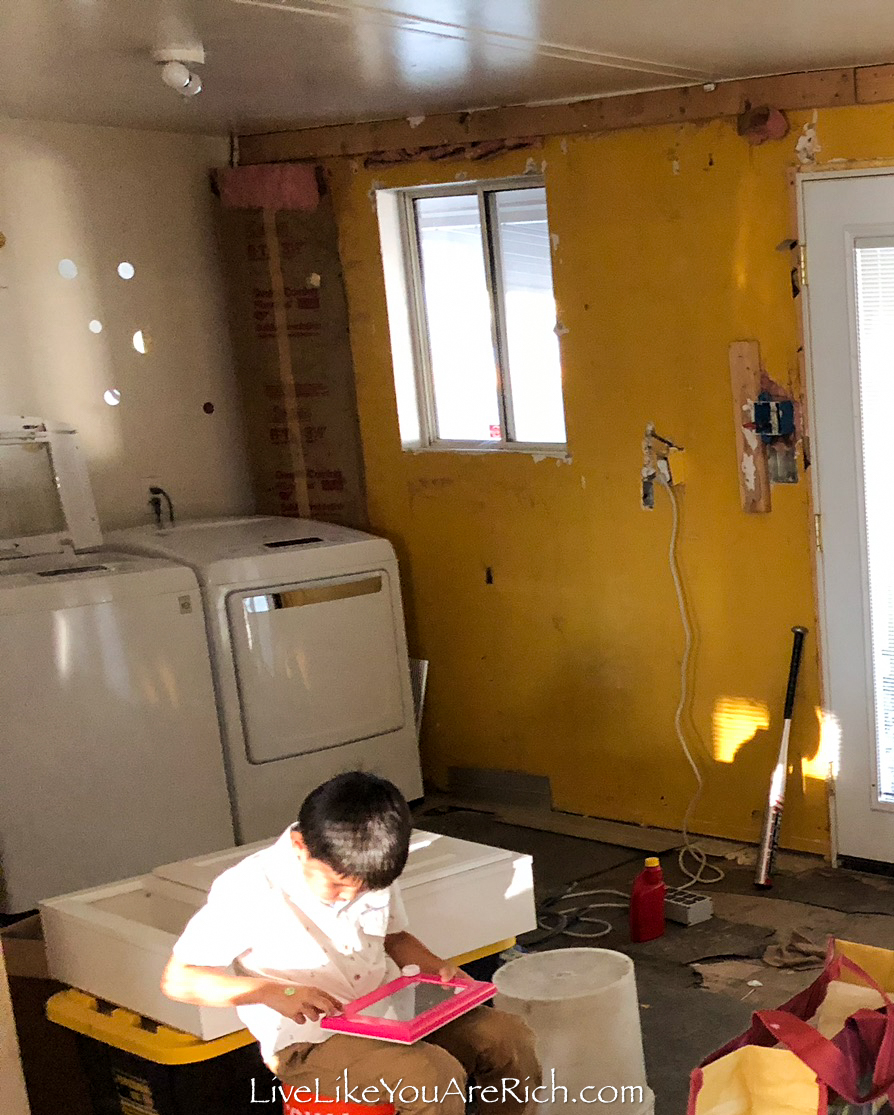 I was mindful that a family may buy this home—especially since we were turning it into a 4 bedroom home.
I knew that many families need a tub for bathing children. So, we decided to install a full bathroom upstairs (where the washer and dryer set are in the photo above).
We moved the laundry room downstairs.
First, we had a plumber come and plumb it for a tub, shower, toilet, and sink.
The plumbing for this bathroom broke down to about $900.00 (which included the fixtures).
Next, I found the brand new tub on local classifieds for free and we framed the wall to fit the tub.
The new tub was free because it had some scratches. I was able to fix those with a tub repair kit and it looked pretty nice when I was done.
We paid a handyman to lay the tile on the floor and the shower ($700 including the tile).
We used the same tile that we installed in the Master bathroom—the porcelain faux marble white with grey veining.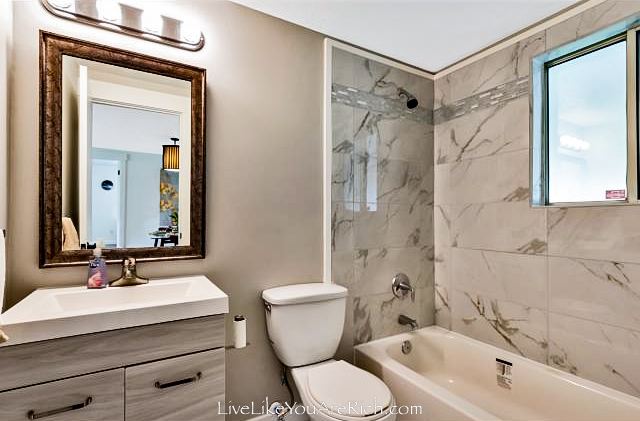 I painted this bathroom, and sprayed frosted glass spray paint on the outside of the shower window for privacy purposes.
My husband installed the vanity with sink and faucet ($200), mirror ($30) and light ($20).
We did the baseboard and trim and caulked all around the bathroom ourselves ($150).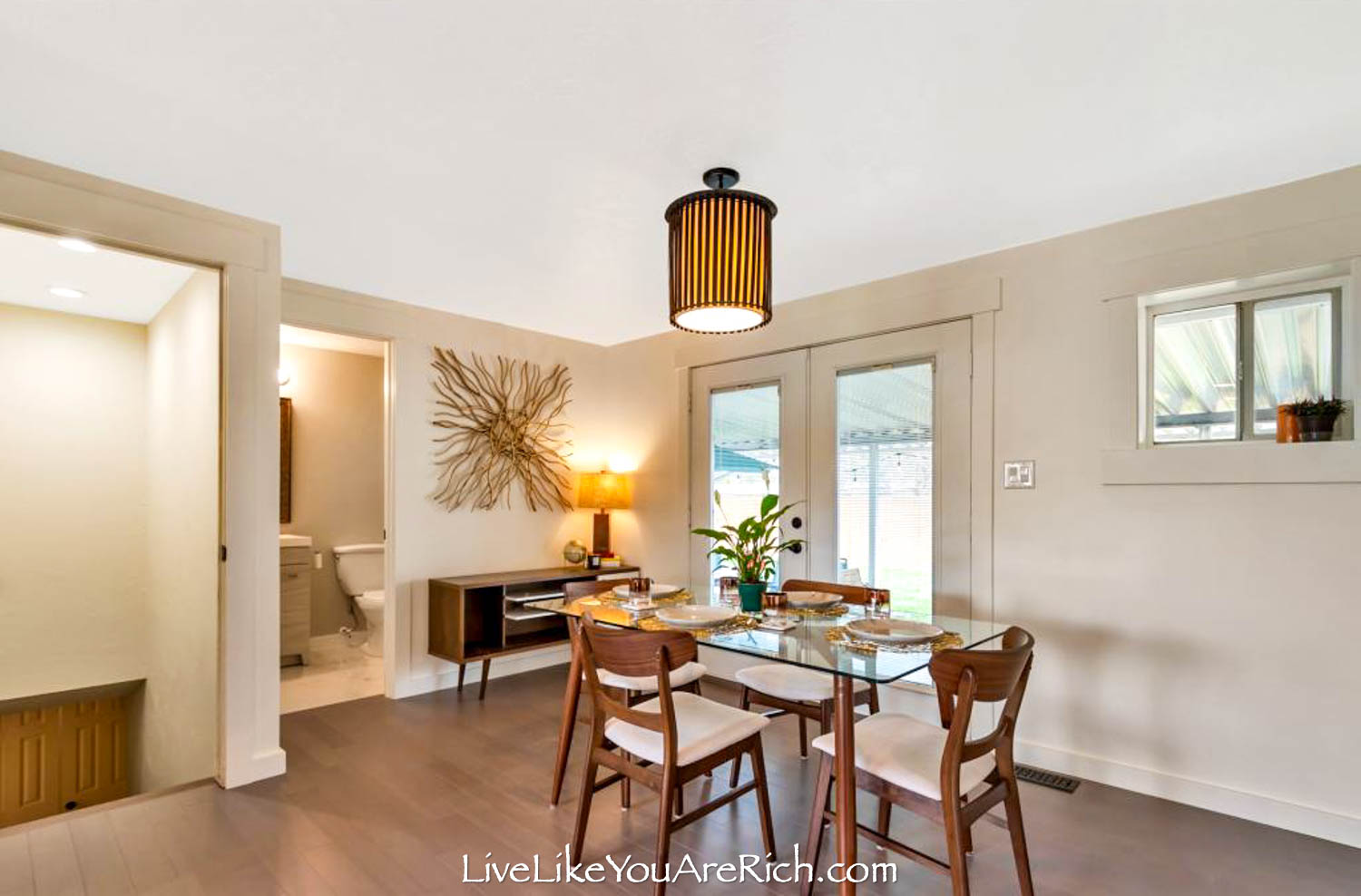 This bathroom cost us about $2,000 to put in mainly for the tile and plumbing.
In the end, I was very happy with this bathroom!
I felt like it was installed in a great place. It was installed upstairs to service the two other bedrooms that aren't the master.
This full bathroom was a great addition to the home and it definitely paid for itself many times over in the amount we were offered on the home.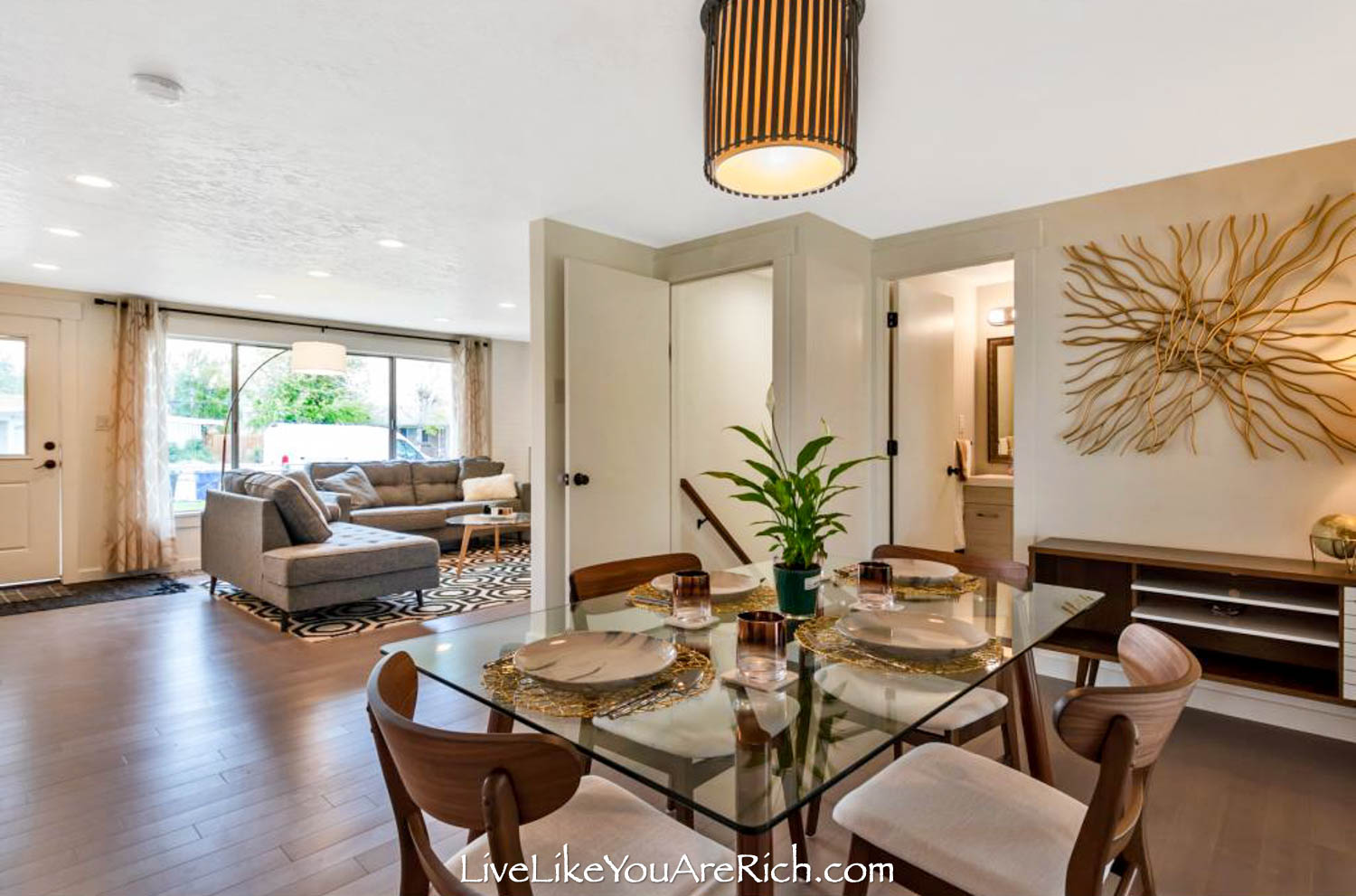 Bathroom 3 + Laundry and Storage room.
The basement was mostly unfinished when I met my husband. So, it was pretty easy to put a bathroom in. We installed it in this overly wide hallway in the basement.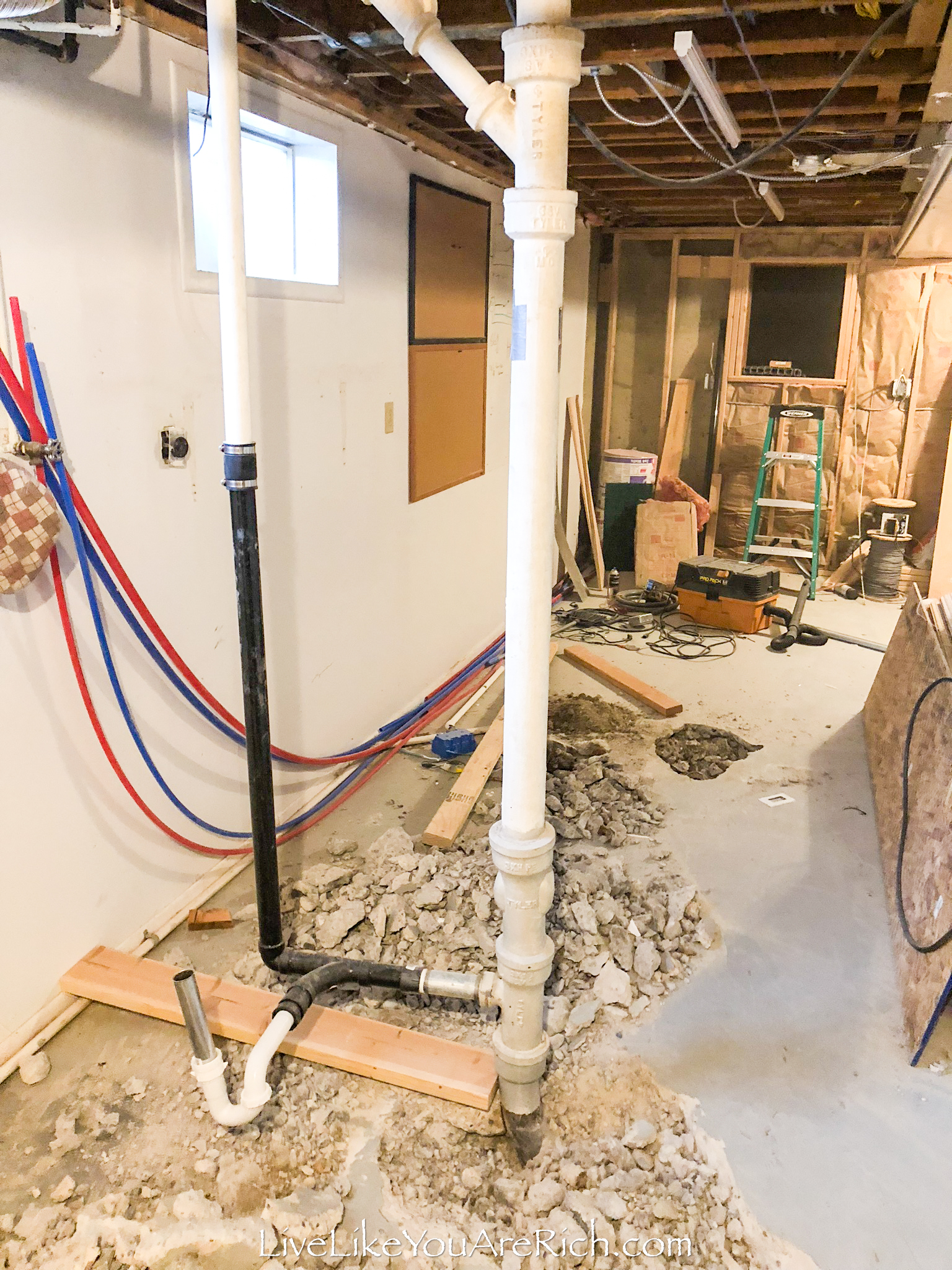 Our plumber jack hammered out the concrete and installed plumbing for a sink, toilet, and washer and dryer.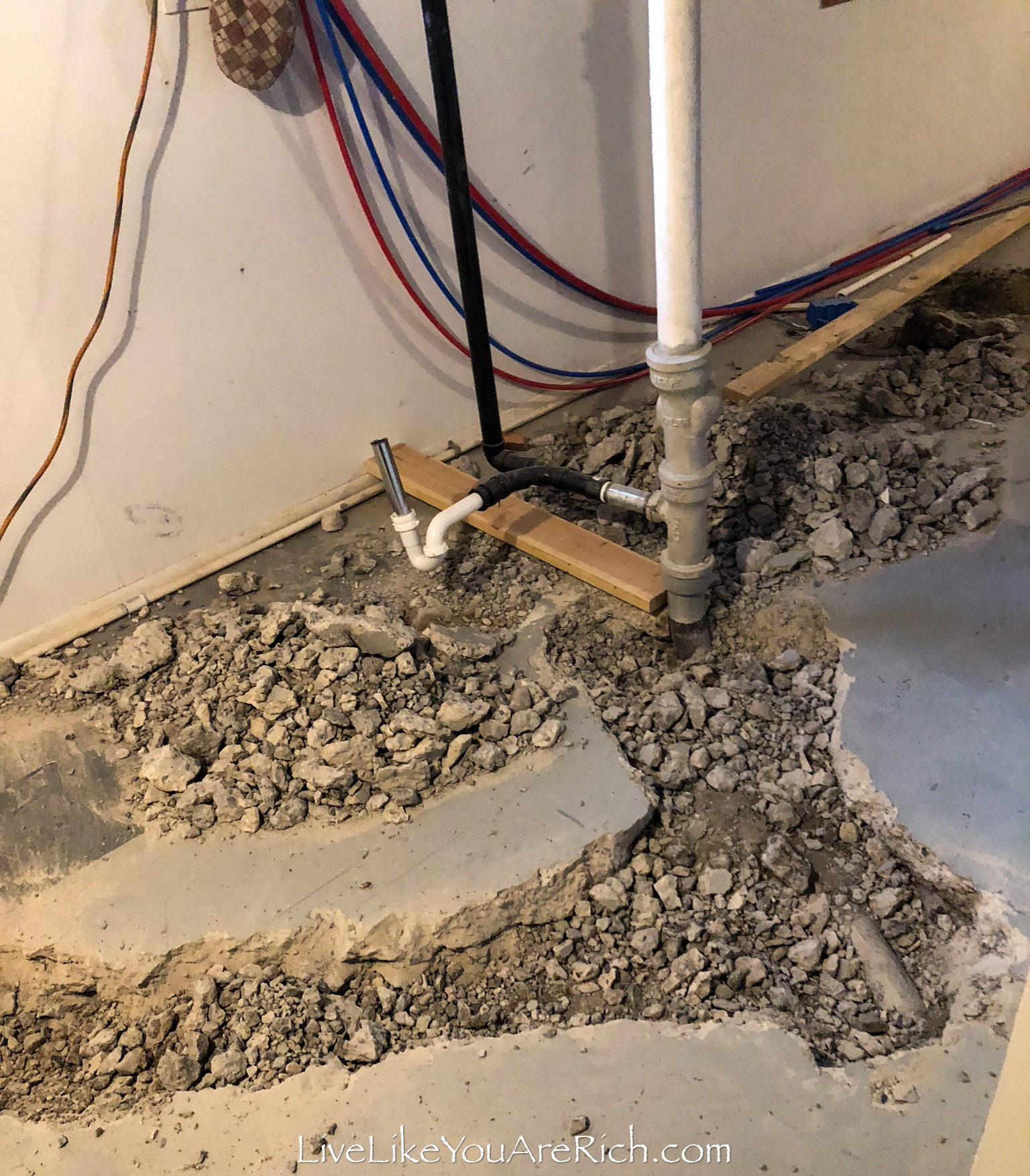 Behind that water heater (inside the door) is a nice storage area with a ton of built in shelving.
Along the wall where you see the cement behind the cut out sheetrock is where we installed washer and dryer. Unfortunately, I don't have a photo of this. It did look really nice when we were finished.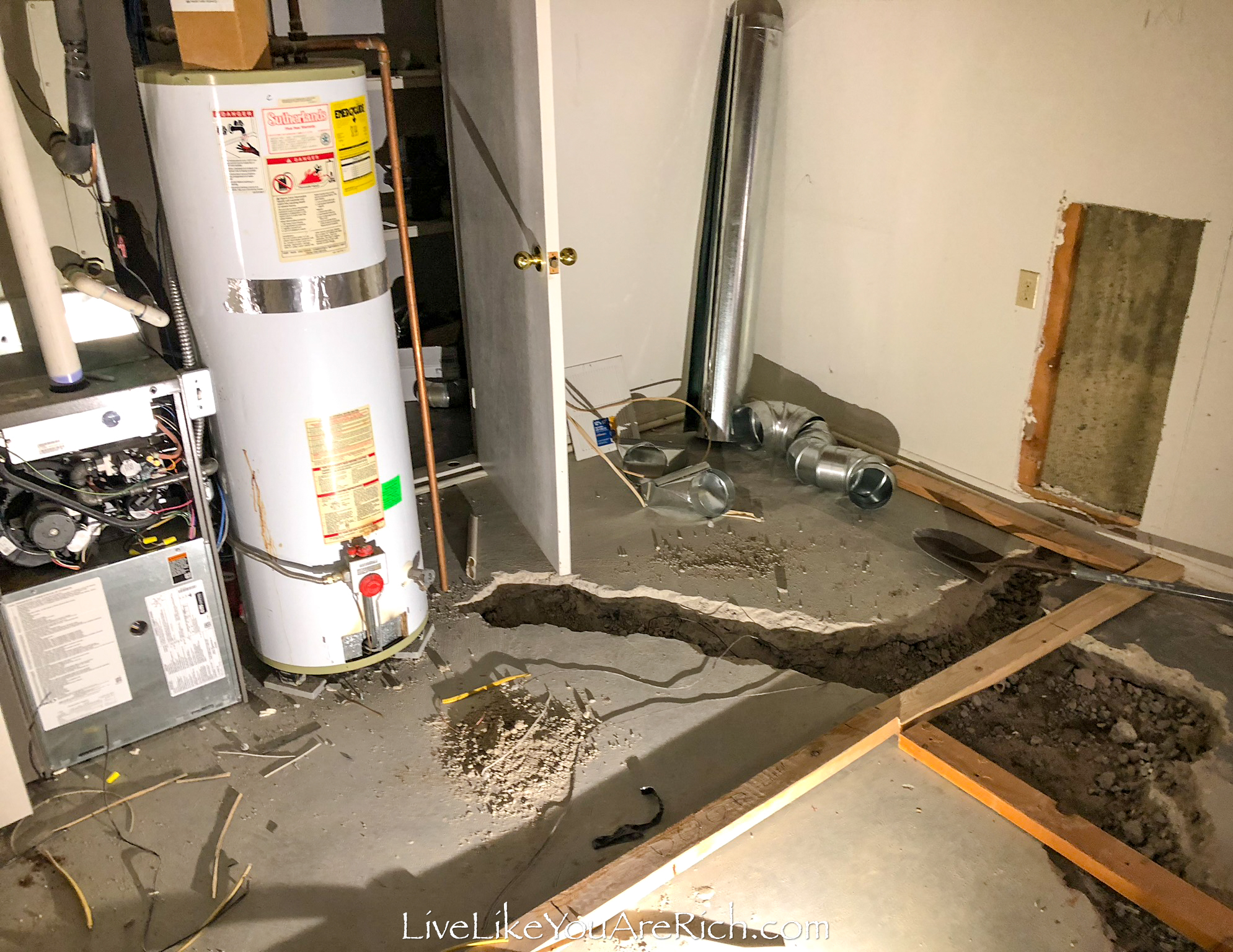 Our plumber charged us about $1,200 for the installation of the bathroom and laundry room.
Unfortunately, I didn't get very good photos!
This is how the bathroom turned out. I got the vanity/counter top and faucet for $20 on classifieds and the mirror and light for another $40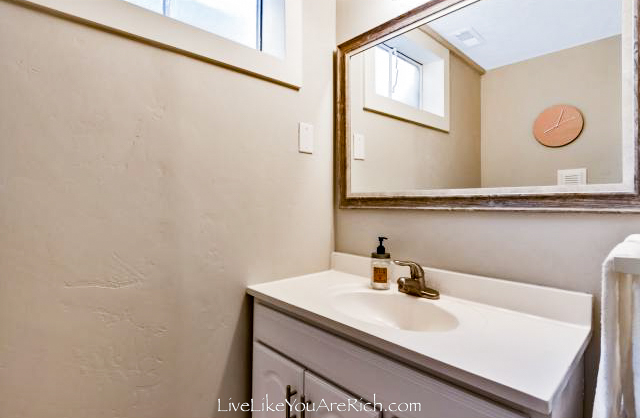 The toilet we used was from upstairs. It is located opposite the vanity (below the pink clock you see in the mirror).
We used the same tile as in the other bathrooms.
I frosted the window for privacy.
I painted this room, installed the towel rod and mirror.
My husband installed the light, our plumber the toilet and vanity.
Our handyman whom we hired to do the downstairs did the framing, sheetrock, trim, etc.
The door was bought on classifieds for $20.00
Total for this bathroom was about $1,100.
Total for the laundry room behind it was another $500.
Here is a layout of the basement when we were finished with it.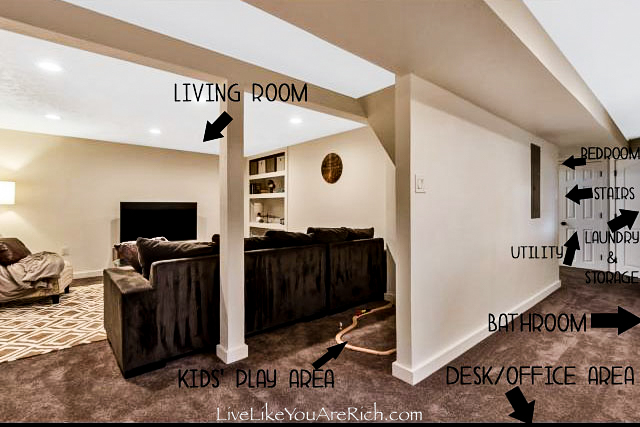 I realize most plumbers won't give you such a good deal on plumbing work, we had a connection so that saved us quite a bit. Besides that, we got most everything in the bathrooms used, on sale, and/or choose low-priced options.
It is possible to install bathrooms and/or renovate them for a few thousand each if you follow some of the suggestions that I outlined above.
Check out my other posts for this home here.
Well that's how we did 1 Bathroom Remodel and 2 Bathroom Installations on a Budget.
Thanks for stopping by!

For other 'rich living tips' please subscribe, like me on Facebook, and follow me on Pinterest and Instagram.