What's in Mirabel's Party Basket in the Movie Encanto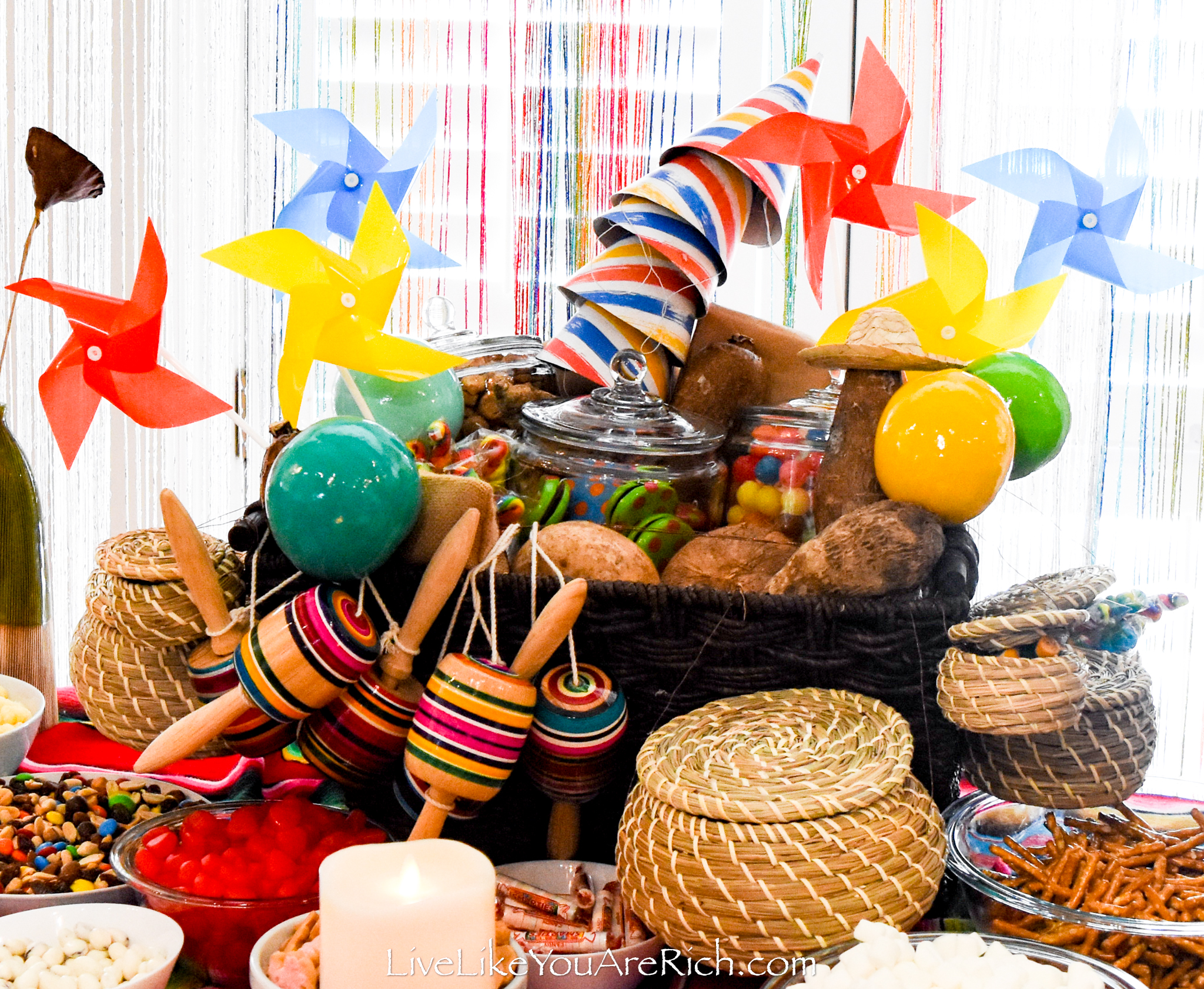 In the movie Encanto, Mirabel is given a heavy basket from one of the town merchants.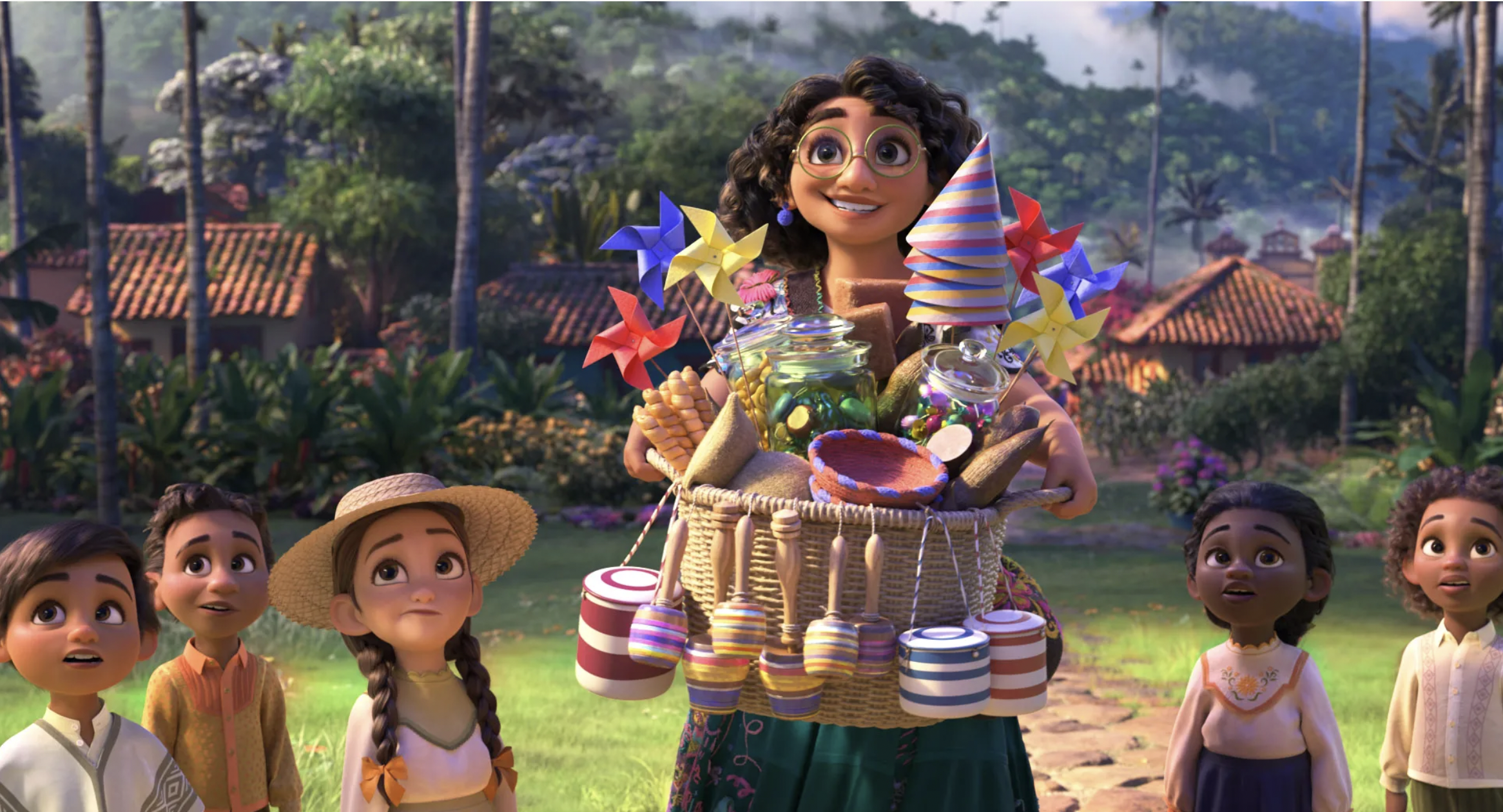 She carries it into her home and unloads it in the kitchen to help out for Antonio's gift ceremony.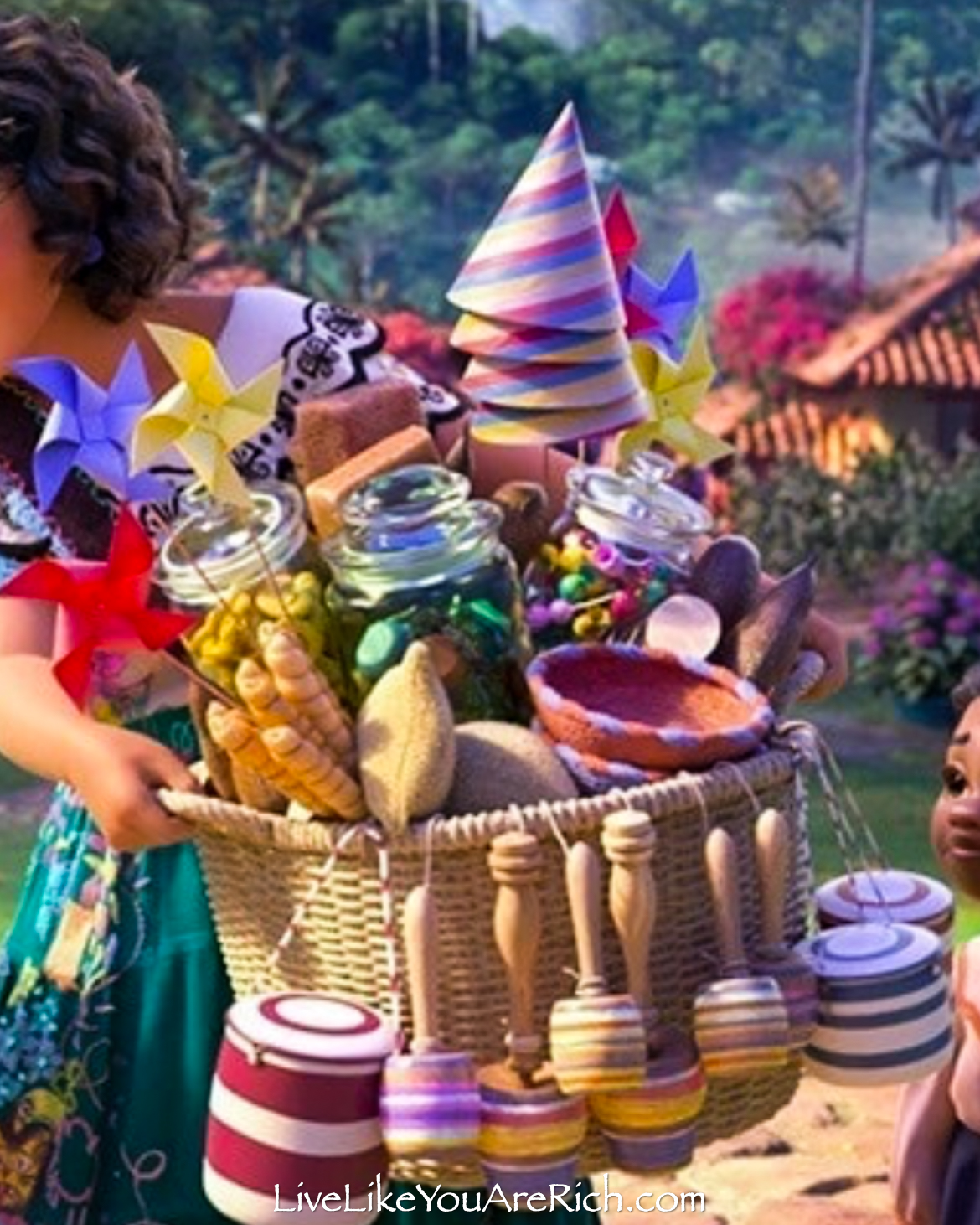 When I threw my daughter's Encanto Birthday Party, I wanted to recreate this basket (to the best of my ability within the budget I had).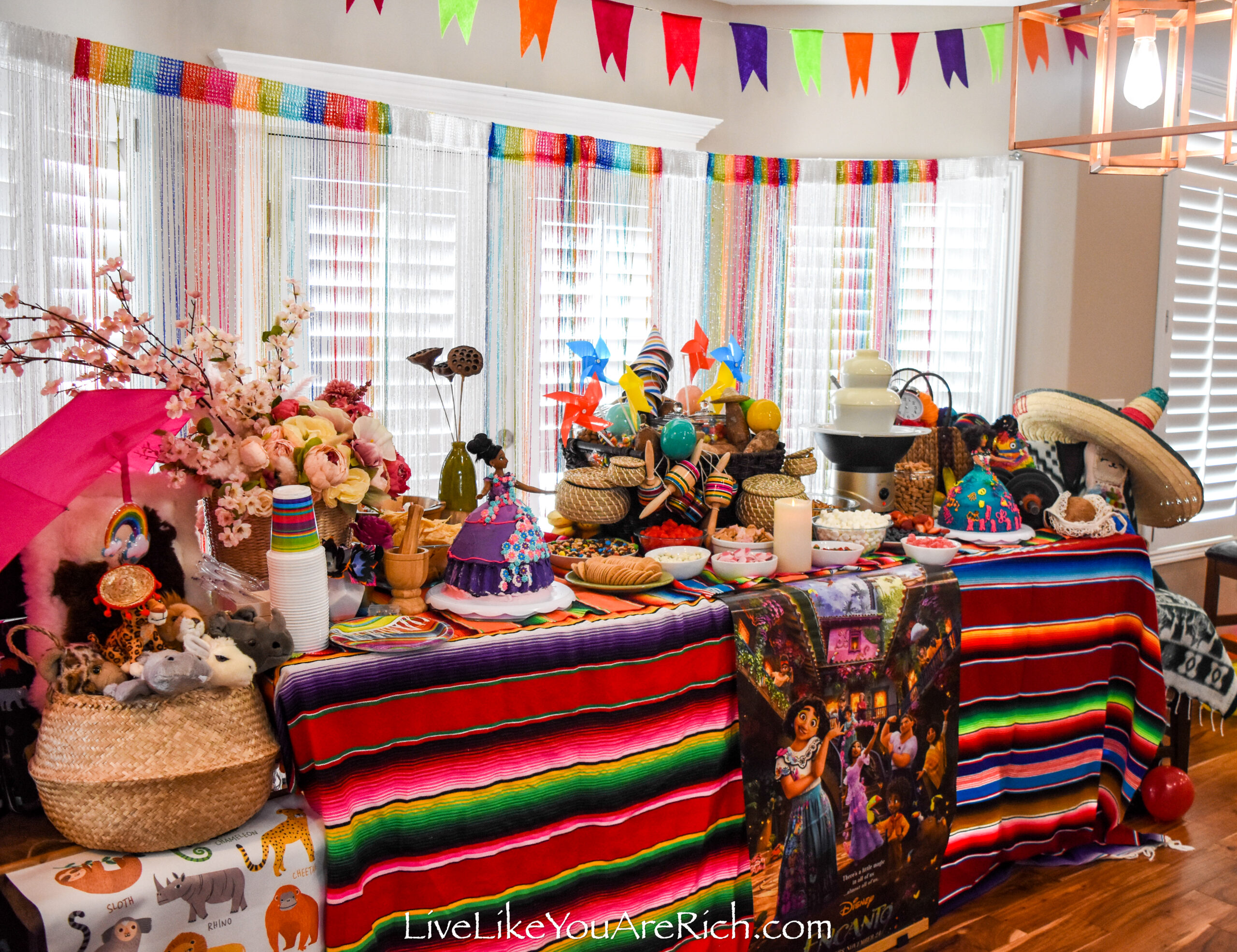 These are the items that were in Mirabel's basket…
Please note that I guessed at a few, please comment below if I you know that I got them wrong and let me know what they are.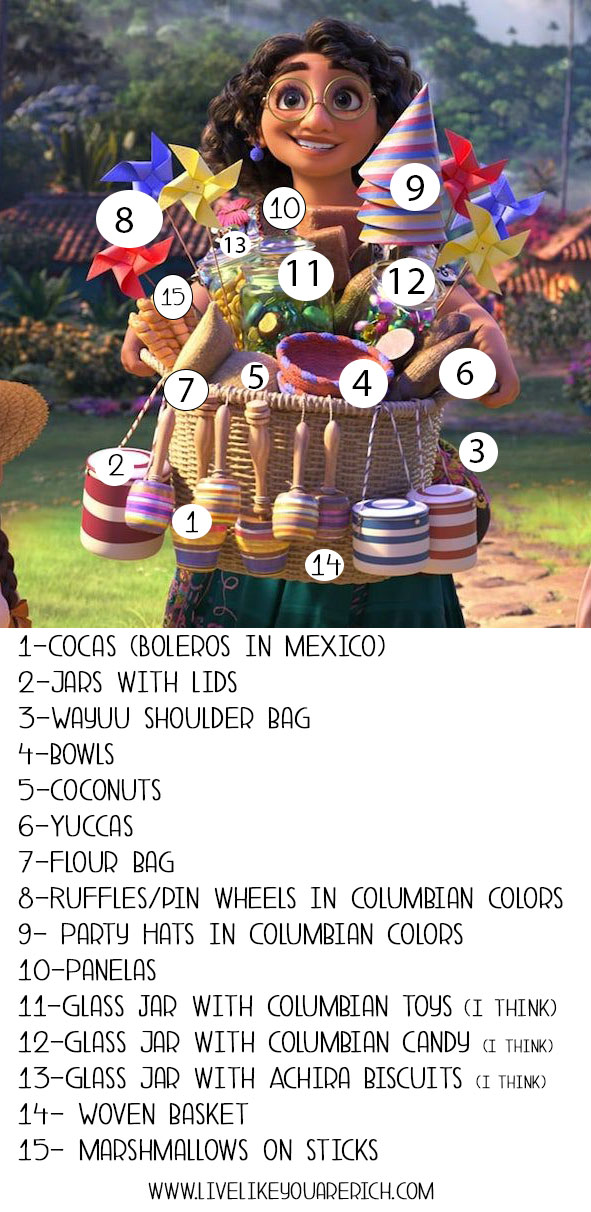 Replicating Mirabel's basket was a little more complicated than just setting the items in it, it is a cartoon and set in Columbia. I'm obviously living in real life and located in the mid west of the USA. I was able to find most items but what I couldn't find I just had to make, fake or just do what came close.
In the supply list below, I'll link to where I sourced the items.
How I replicated Mirabel's Party Basket in the Movie Encanto
First, I got out our big basket that holds children's books in our living room.
I chose it because it is strong and large enough to hold everything that I needed it to.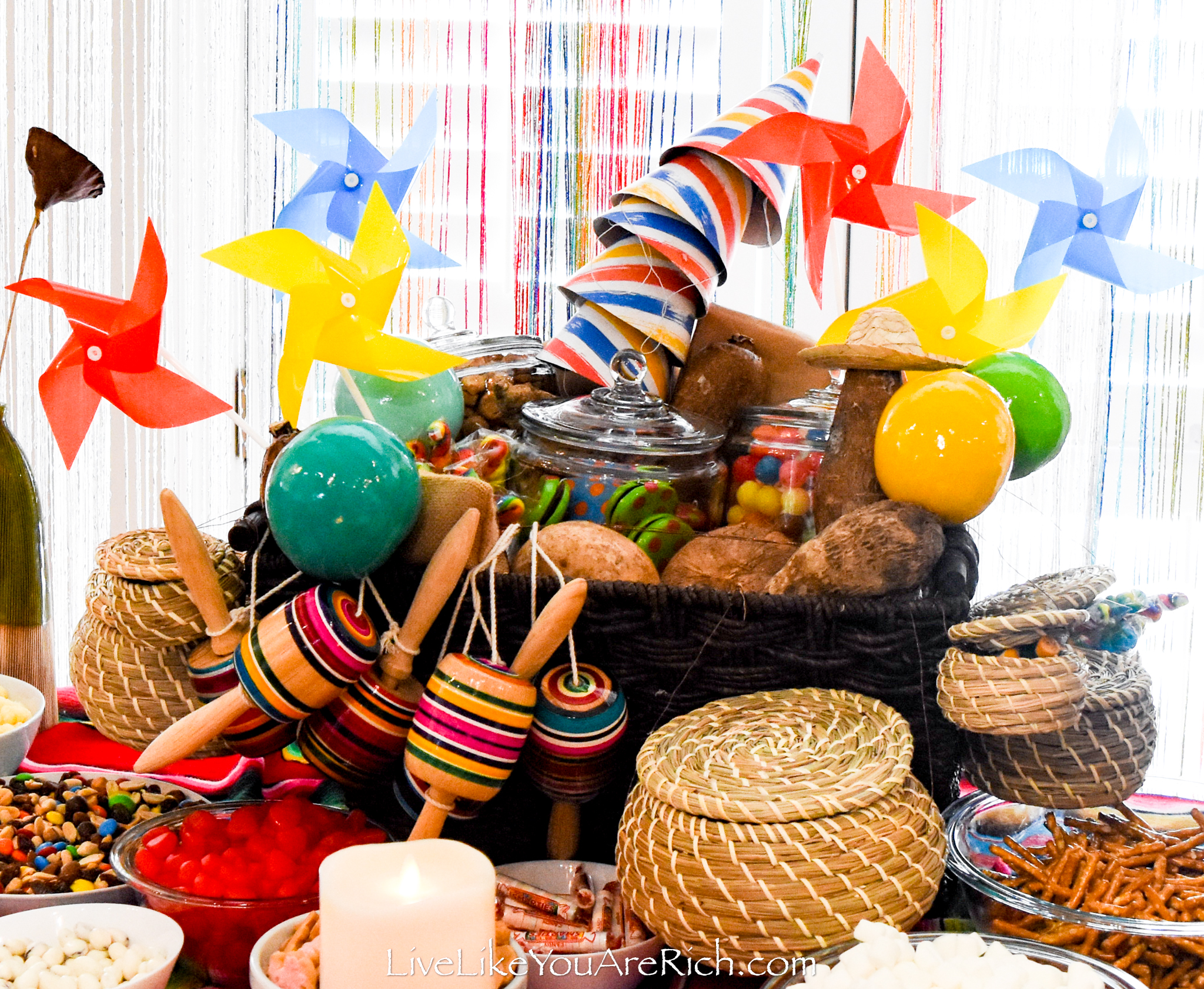 Next, I placed a blanket in the bottom of the basket so things would be high enough to be seen and so there was room for everything I needed to put in it.
Typically, the higher up in a basket you set things the more room it has to fan out.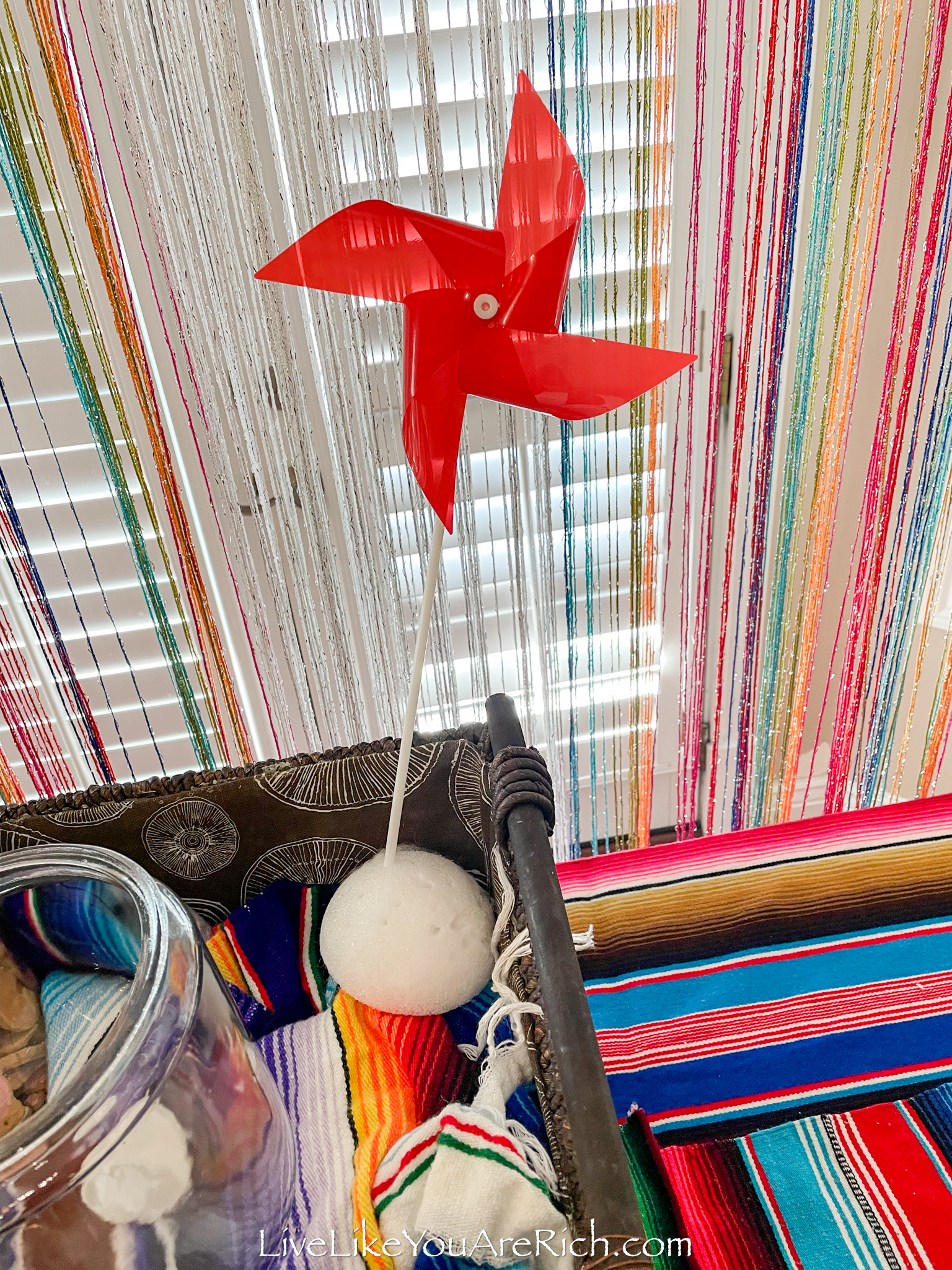 I added a few blocks of foam (floral or craft foam will work). I put three blocks in to hold and balance the pin wheels, hats, and colorful suckers.
I found out quickly that I'd need wire to hold the lidded baskets and baleros.

There were six baleros and five baskets and I needed a wire to hold the weight.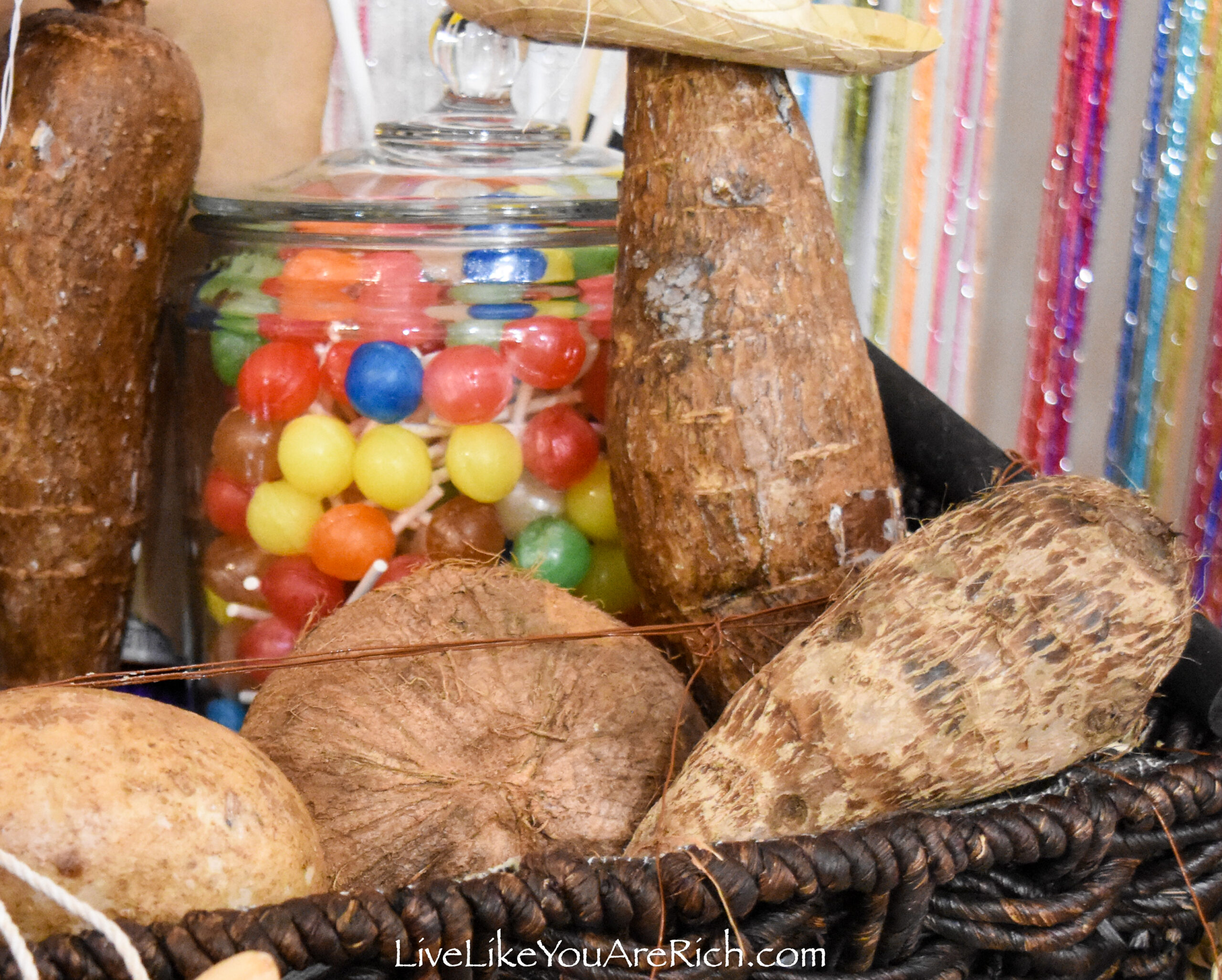 Once I had a secure wire running from one side of the basket to the other, it still took some time to set the baleros up so that they wouldn't fall.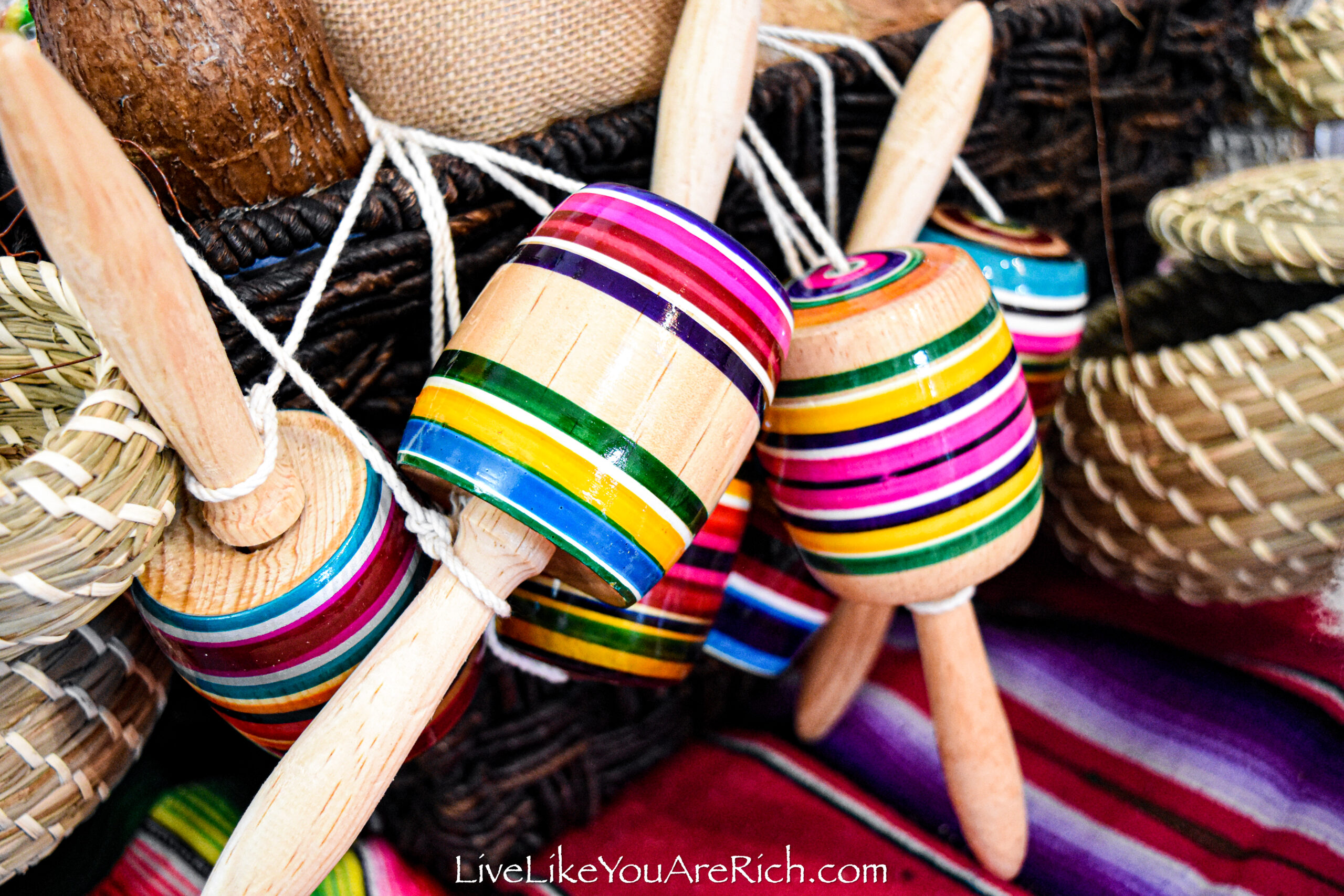 I searched and searched and I couldn't find anything like the clay colorful-striped pots with lids and rope.
Plus, as mentioned, my budget was not unlimited; I ended up finding some affordable straw lidded baskets at IKEA.
I felt that although not exactly the same, these lidded baskets kept within the theme.
I hung those with wire as well.
I added 4 yuccas, 2 coconuts, 1 plantain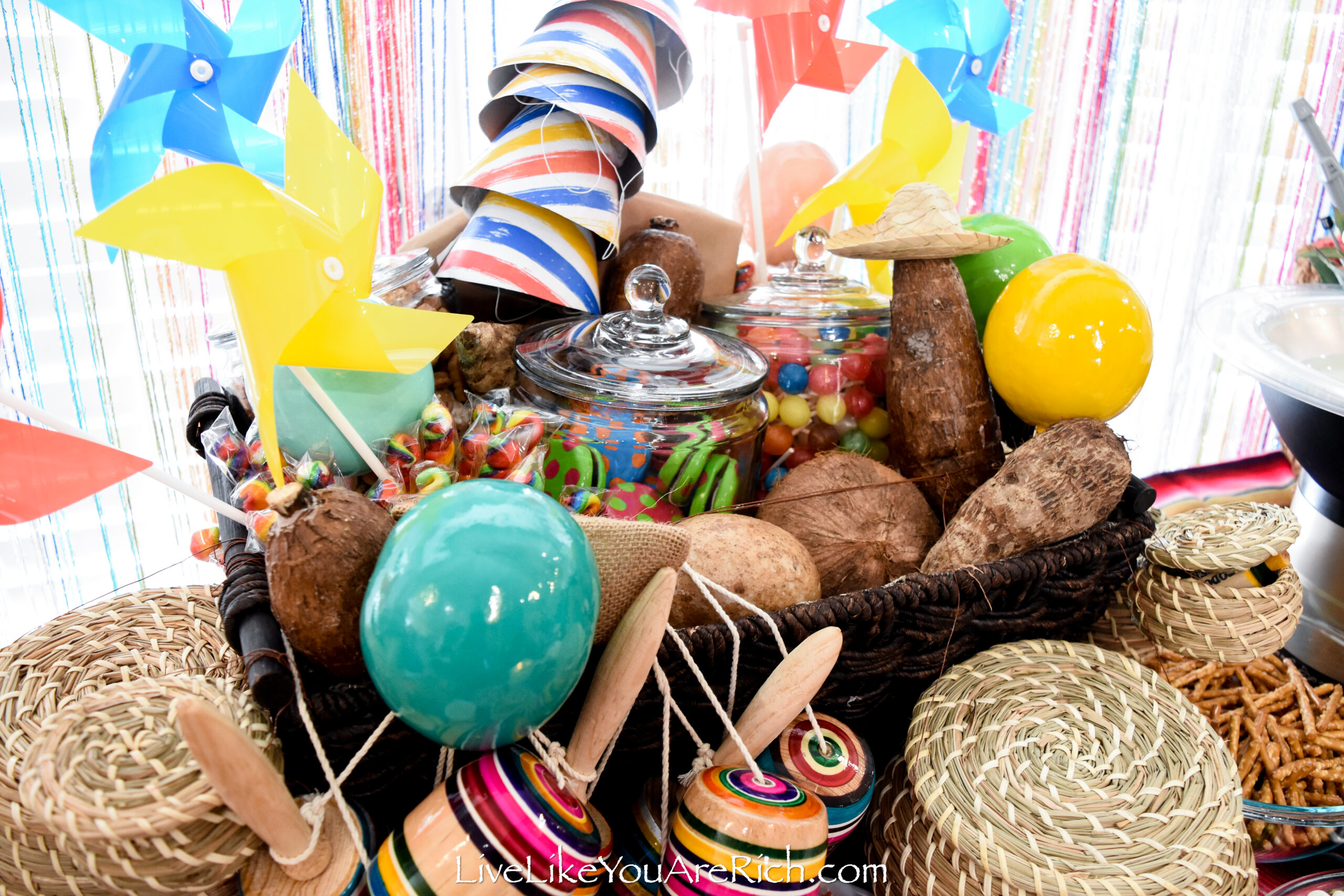 and a fake bag of flour—which was just a burlap sack stuffed with paper.
I could not find any Panelas that would arrive in time for the party.
So, I made fake Panelas using a few mac and cheese boxes, 2 brown lunch bags, and tape.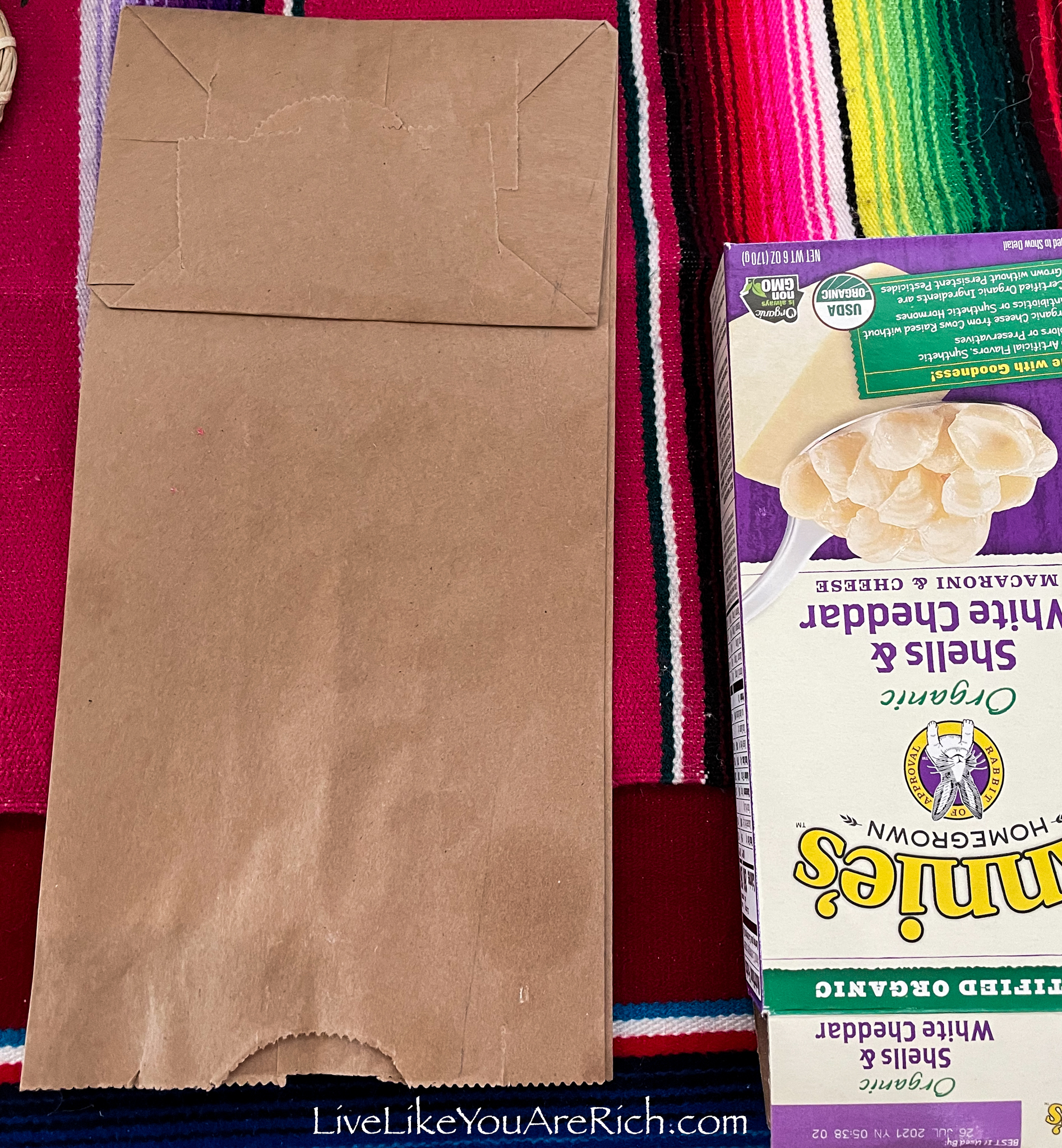 While they don't look exactly like panelas (a sort of block of brown sugar), they are in the back of the basket covered by most everything else so I thought that it was close enough to make do.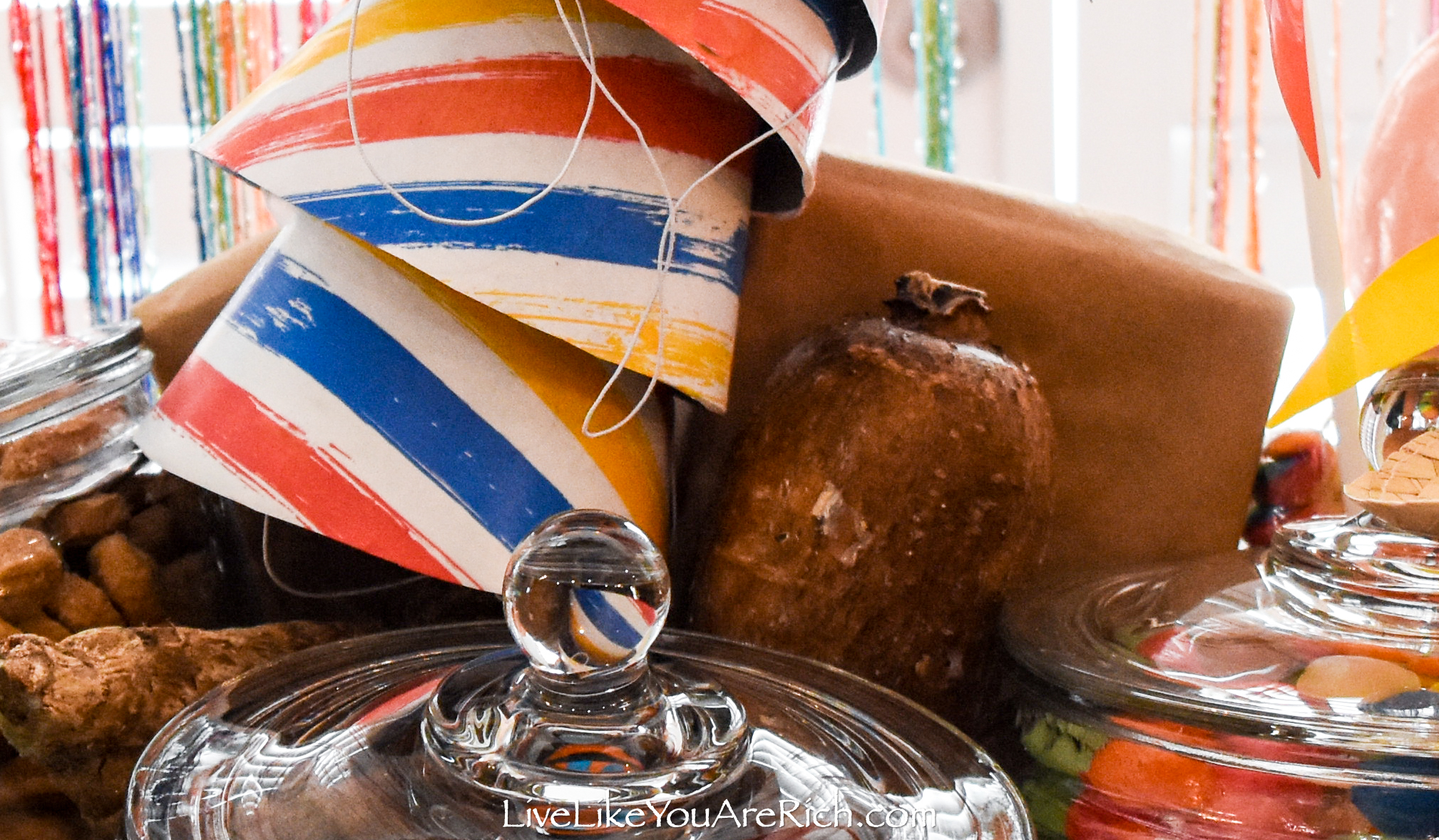 I was surprised to find the 3 glass jars with lids easily and affordably at a local Target. They were $10 each.
The photos of Mirabel holding the basket and even the movie didn't really have a clear image of what was in the three glass jars.
To figure it out, I screen shot the images, zoomed in, and clarified; even then I wasn't 100% sure what the contents were.
So, I guessed that the front glass jar looked as if it had yo-yos and a few other toys in it.
That would make sense as they seemed to be party favors.
So, I bought metal toy yo-yos and while I could have gotten all green, it was much cheaper to get a few packs of the six in multi colored for $2.00 at Zurchers Party store.
I let the girls choose which yo-yos they wanted and I think they liked picking out a color they wanted as well.
The jar in the back looked like it had some sort of snack food or dessert in it.
After some research, I am guessing that it could be filled with achira biscuits, although I'm not sure.
They look a tiny bit like Cinnabun bites, so that is what I purchased to fill this jar.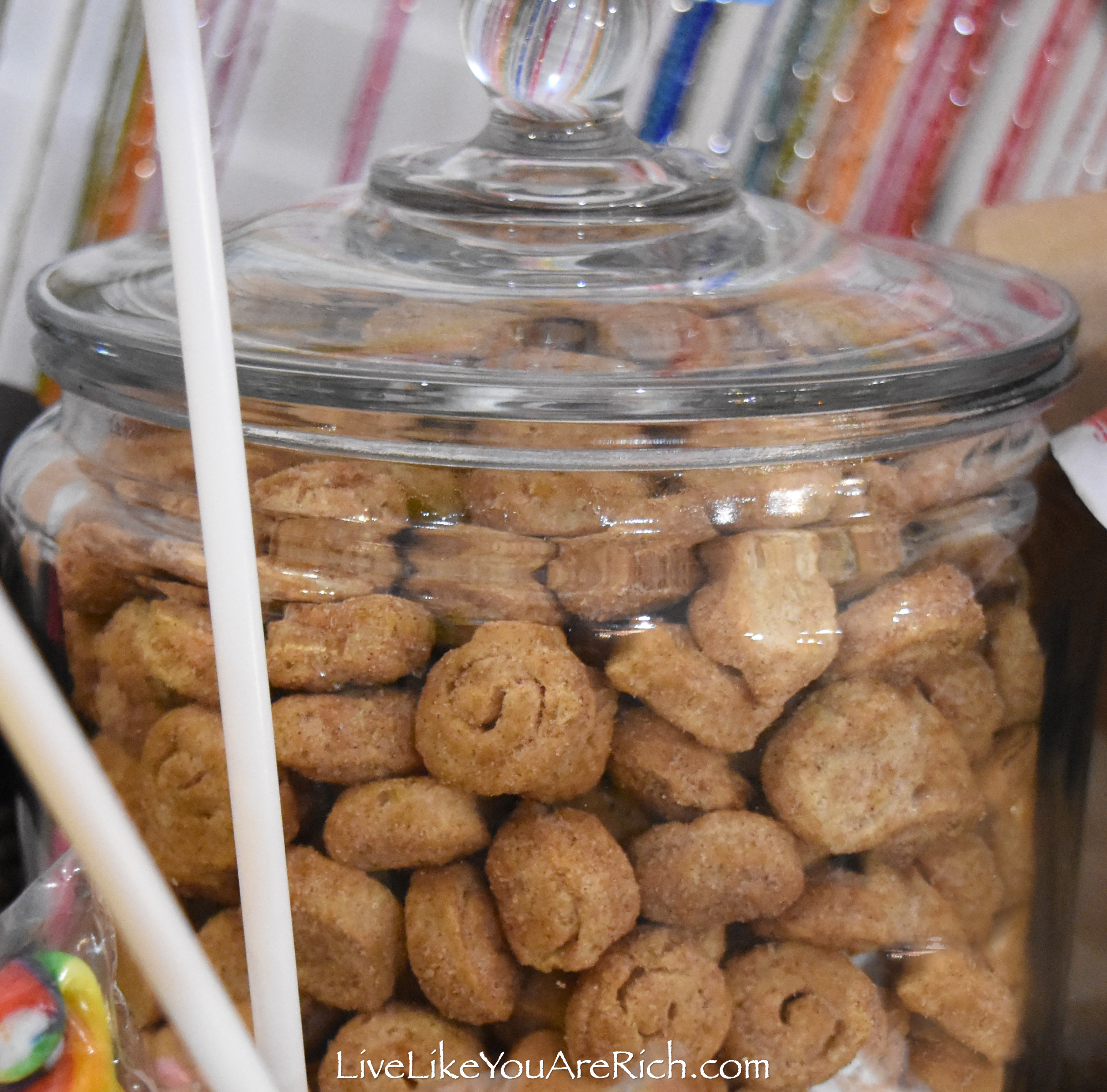 The final glass jar looked to be filled with candy.
I did not have the budget to buy a bunch of authentic Colombian candies.
I did, however, have a giant bag of Dum Dum suckers left over from another event.
So, my daughter and I unwrapped them and stuck them in the jar so that the top of the Dum Dums were touching the glass and the sticks were in the middle.
From a few feet away, this gave the look of colorful candy.
Yes, I know this is a dumb substitute (pun intended) to having authentic Columbian candy, however, I did my best.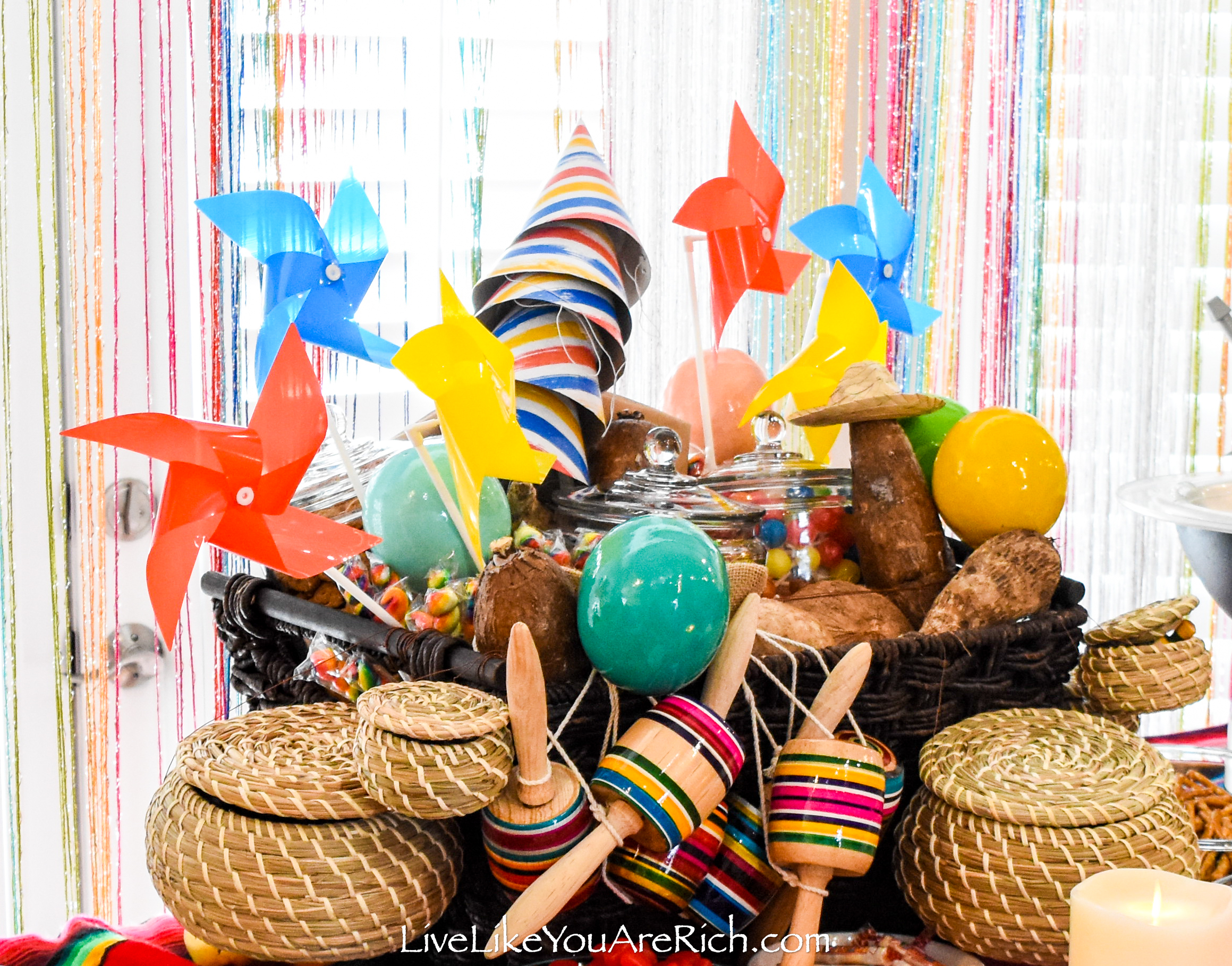 I got the pin wheels on Amazon (link in the supply list below) and picked out the red, blue and yellow ones to represent the Colombian flag.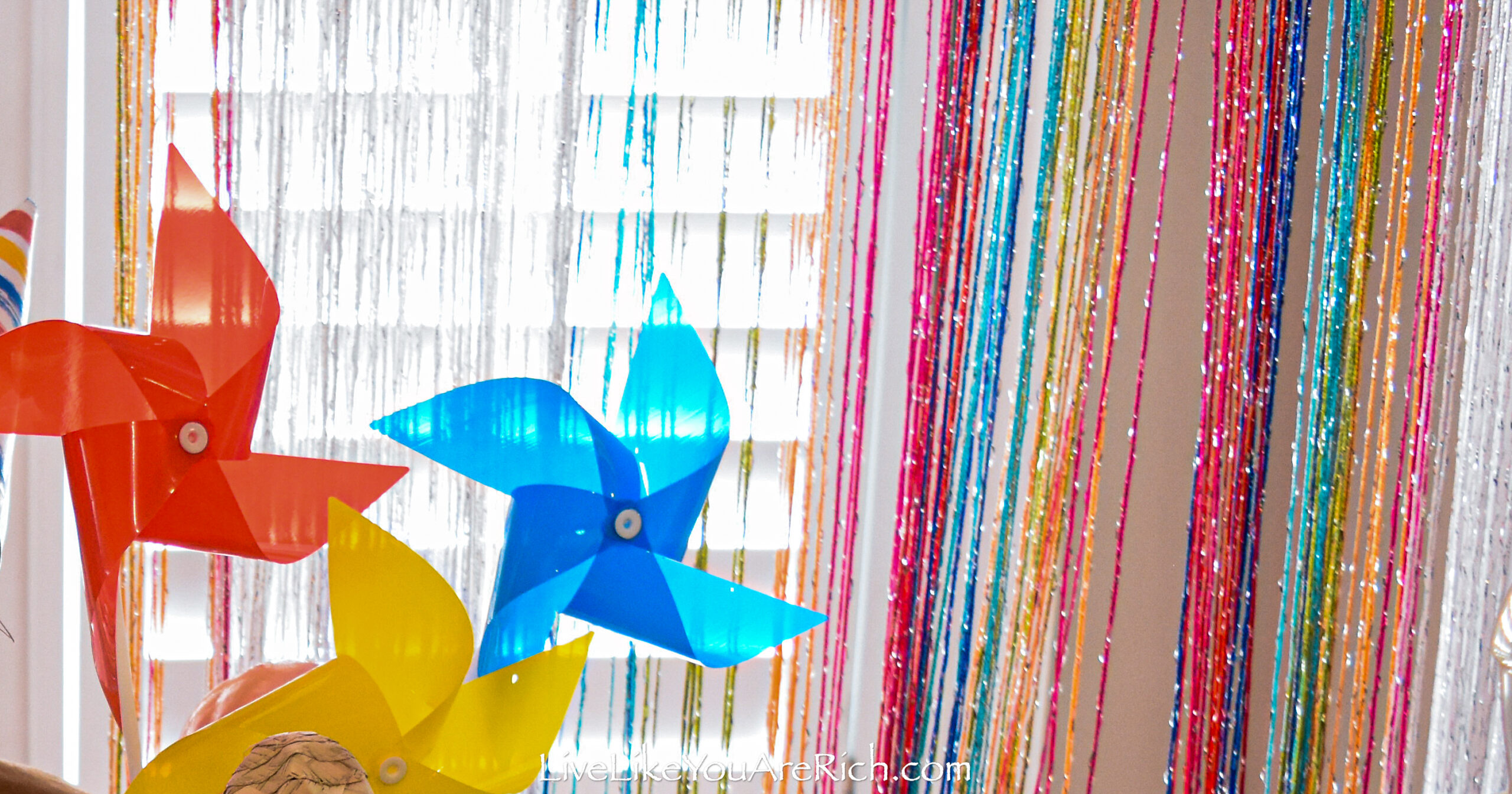 We put the pin wheels in the floral foam and tried to match the height and angle of each color and pinwheel as seen in Mirabel's basket.
Instead of Marshmallows on sticks, I saw these darling colorful spiral suckers in Walmart for a very reasonable price (20 lollipops for under $5.00).
I found them in the Walmart party section and I just grabbed them and used those in place of the twisty marshmallow pops.
I stacked 5 Colombian-colored striped-party hats in the basket.
You can get the tutorial and free printable on how to make these here.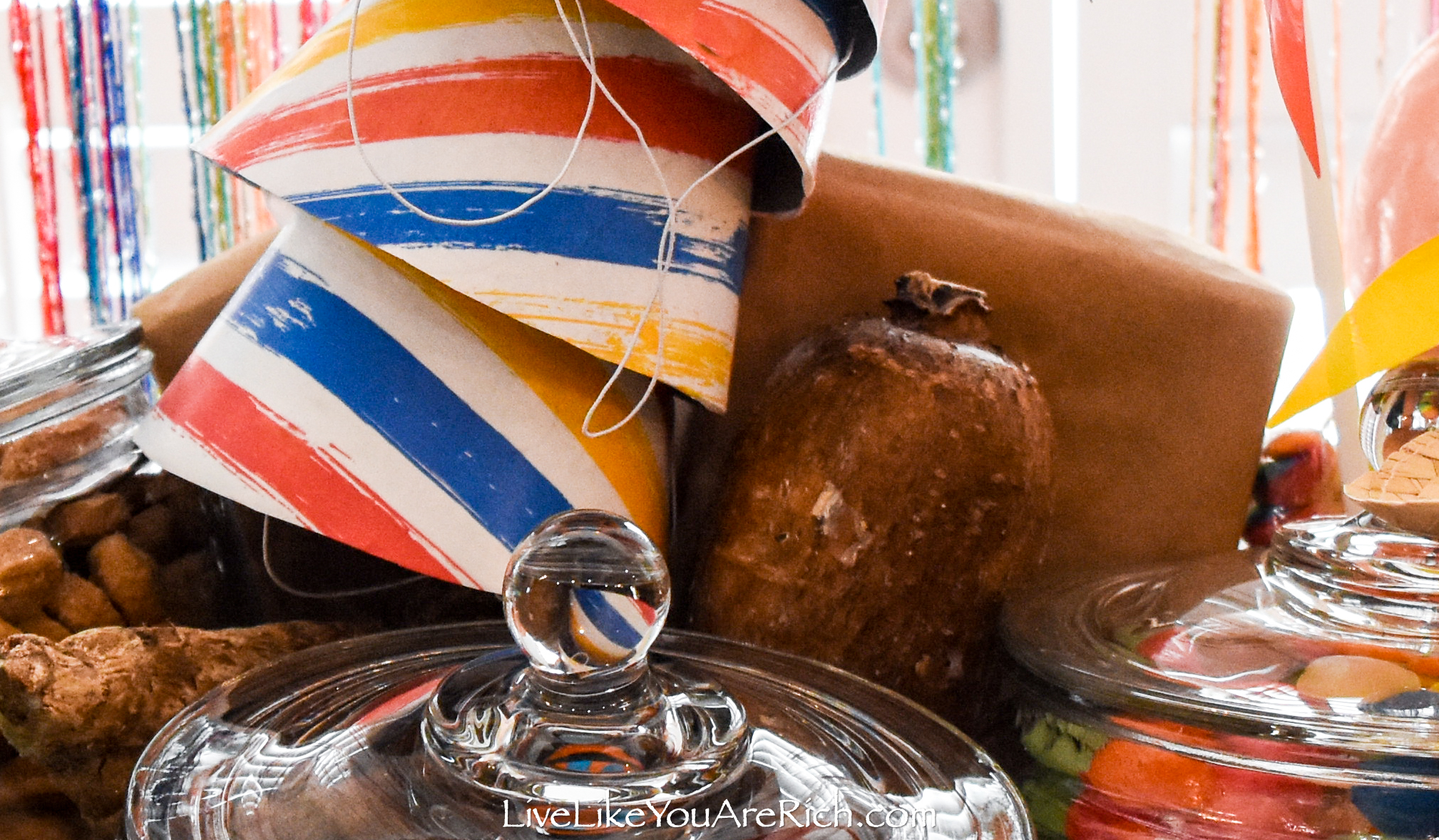 Surprisingly, the party hats were pretty hard to stack. I had to put paper towels in the ends so they wouldn't stack completely collapsed.
I also used a stick to have them in a similar position that the party hats in Mirabel's basket were in, they leaned a bit more and I just let them be.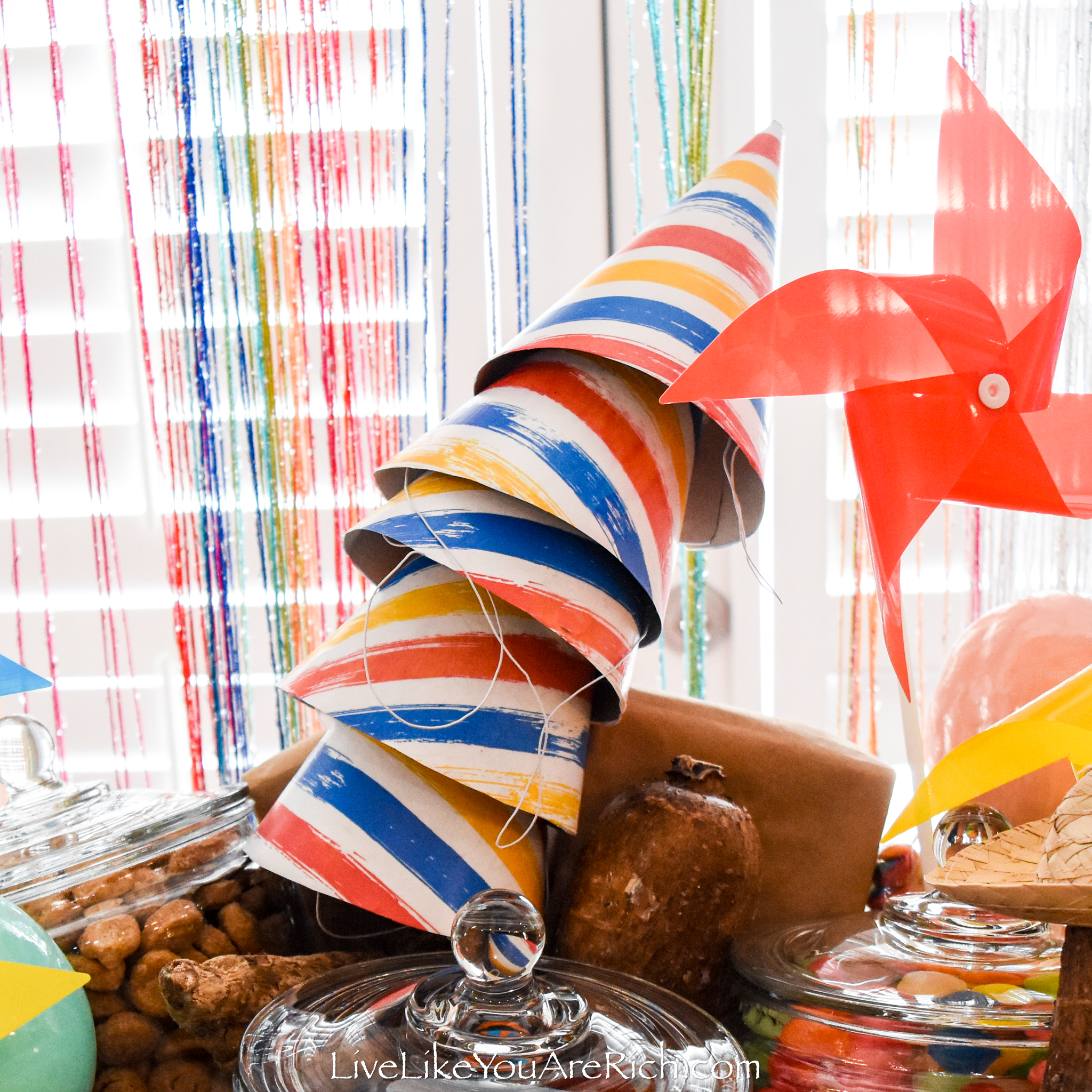 The party hats weren't an exact match to Mirabel's, but it was pretty close.
I did add a few things that were 'extras' to the list of what Mirabel had in her basket.
I set a few maracas in the basket because they have maracas in Colombia.
My daughter loved that I had added a sombrero to the llama pillow,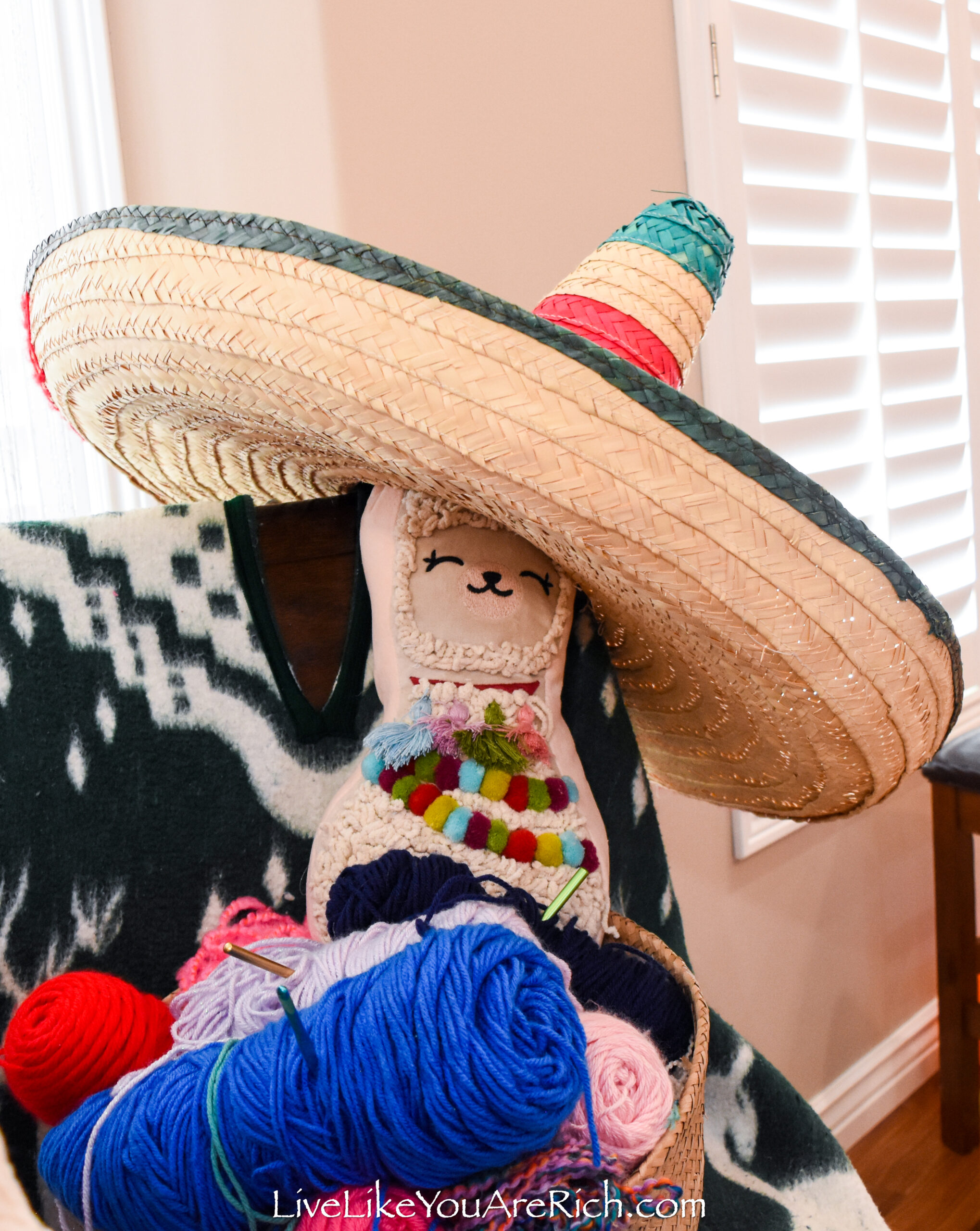 the donkey,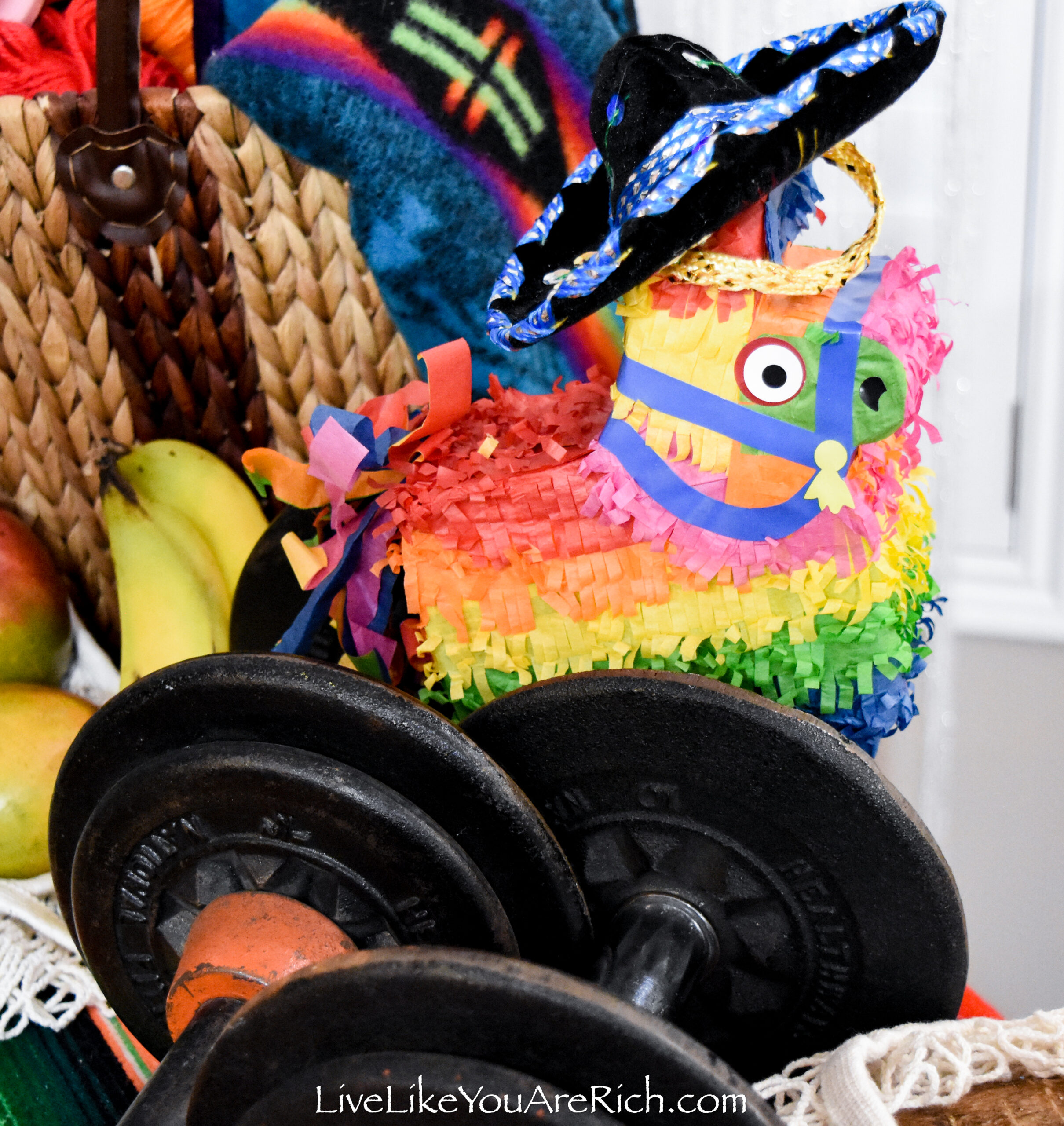 the alpaca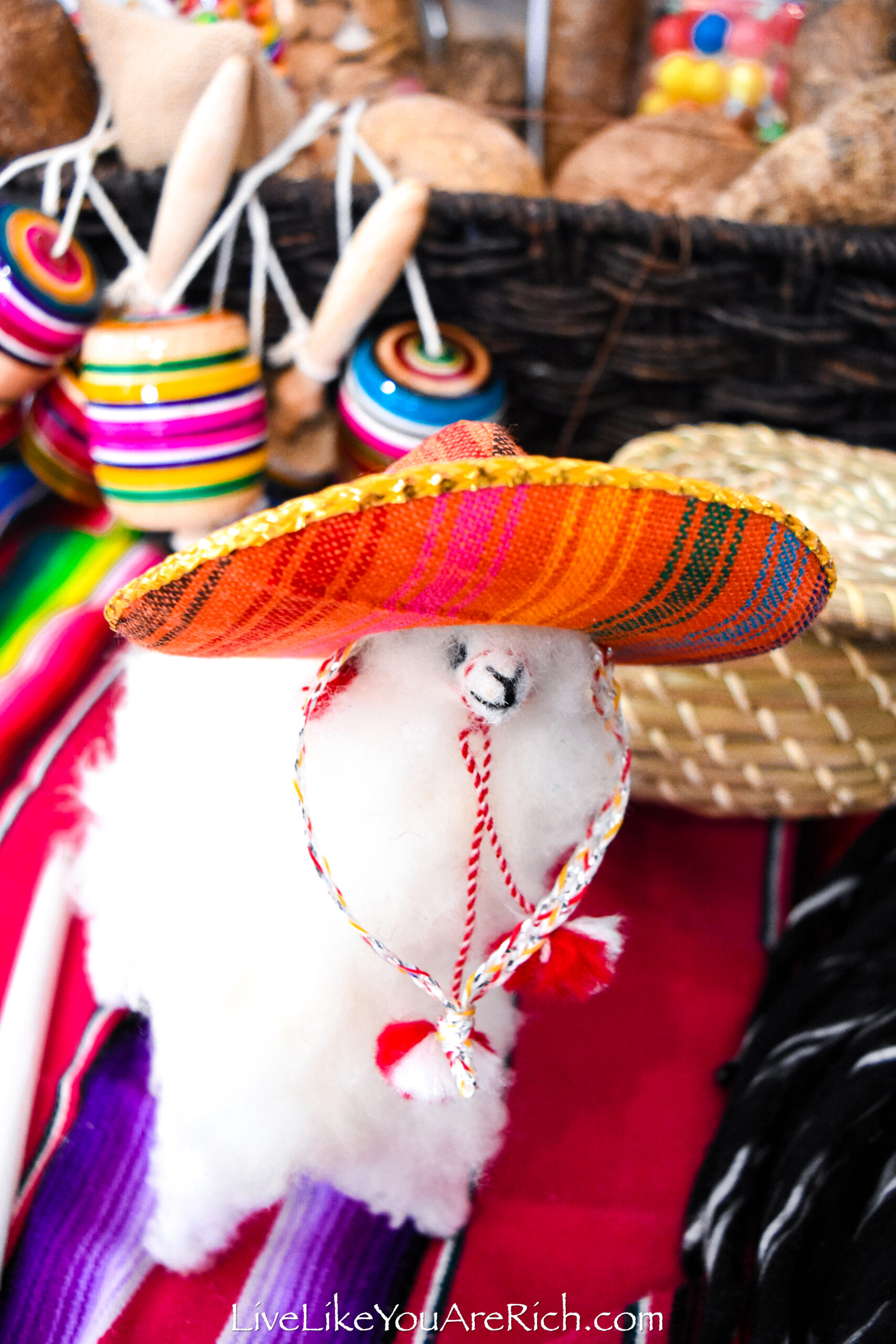 and the jaguar.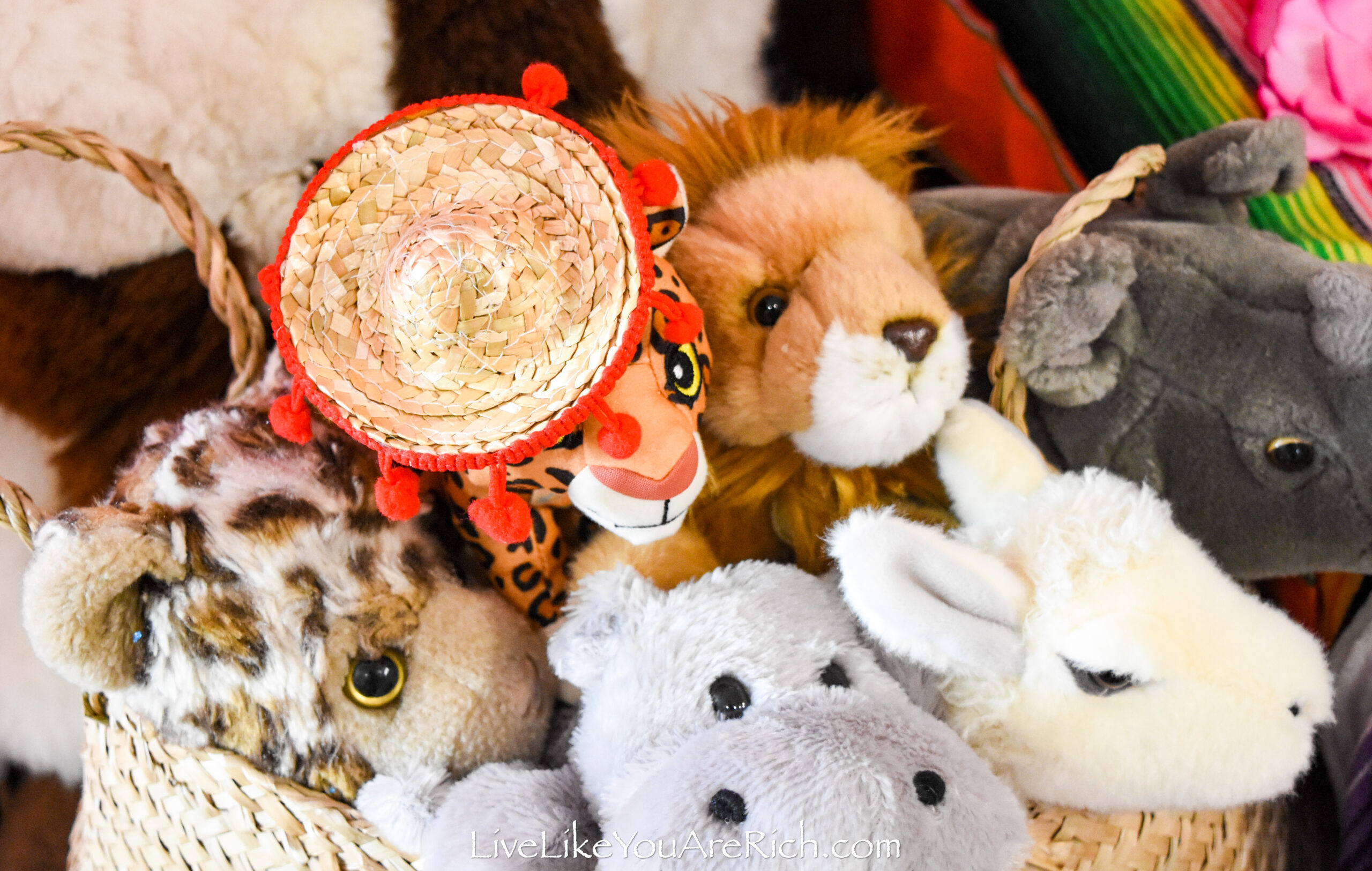 So, I added a mini straw sombrero to a yucca in Mirabel's basket, just for her amusement. It did make her smile.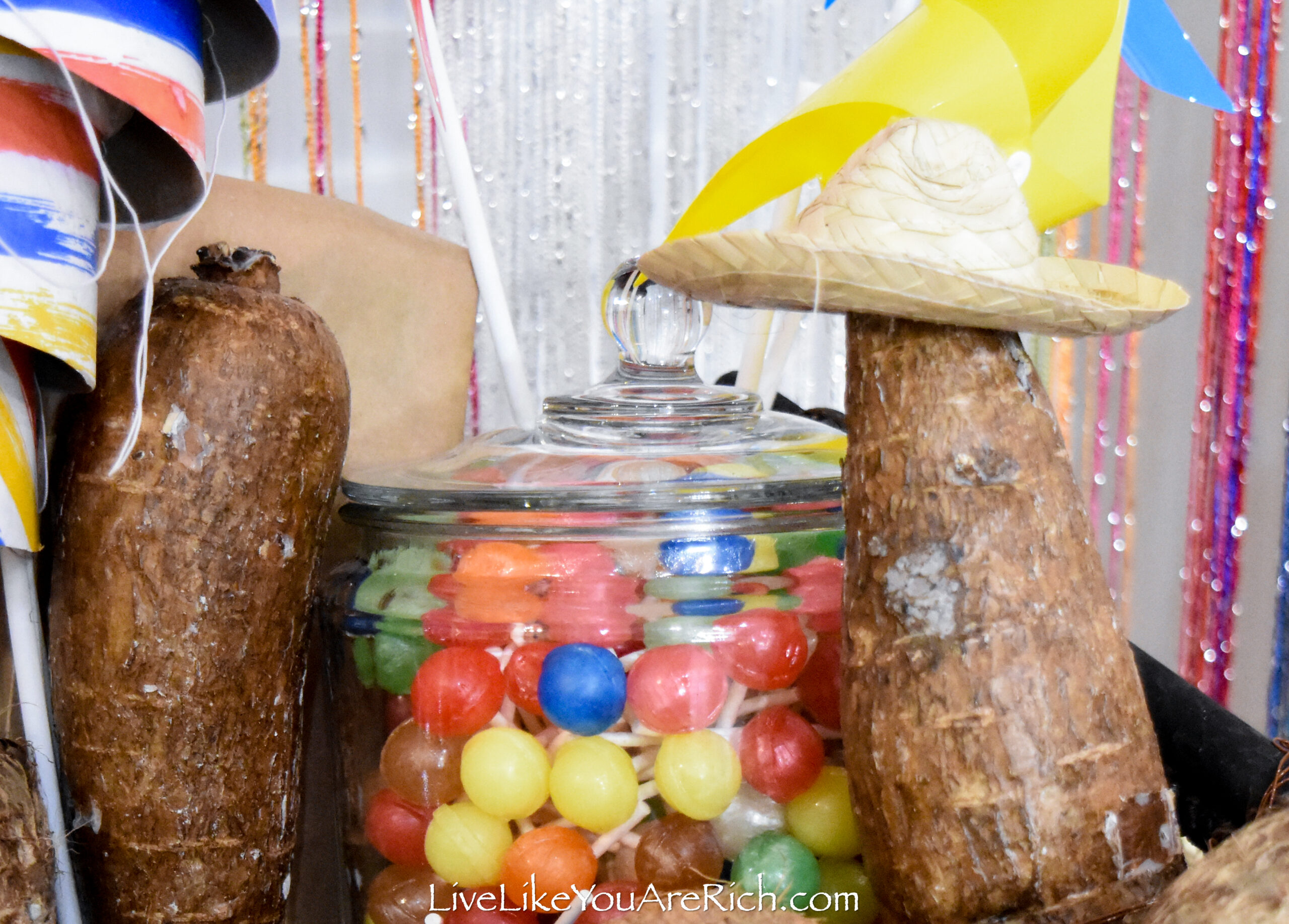 AND that is what we put in Mirabel's basket for the Encanto party.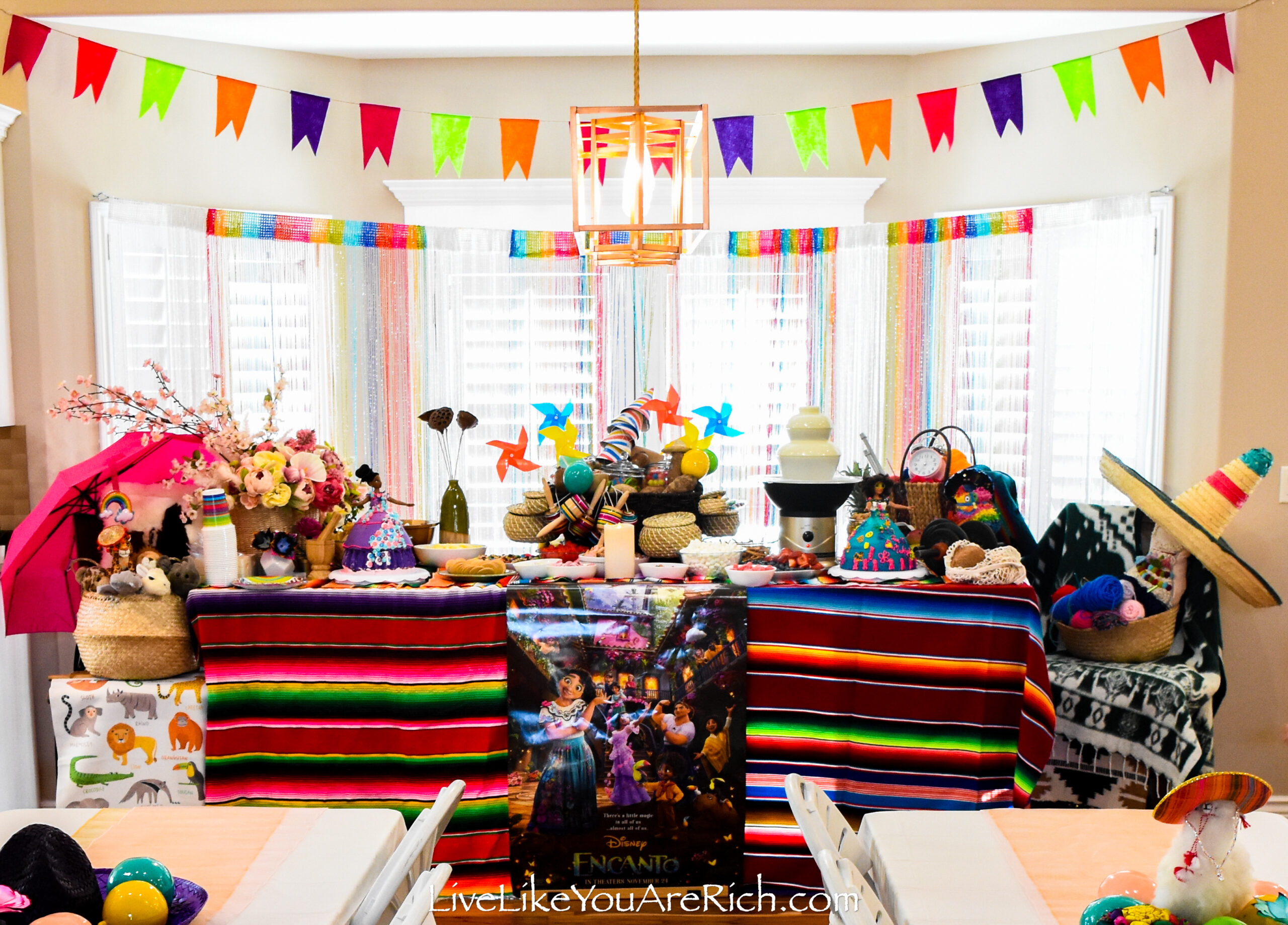 Supply List for What's in Mirabel's Party Basket in the Movie Encanto
yuccas, coconuts, Panelas
pin wheels in blue, red, and yellow
party hats with Columbian colors
twisty marshmallows on sticks or twisty suckers
extras:
fake panela (mac and cheese boxes and brown lunch bags)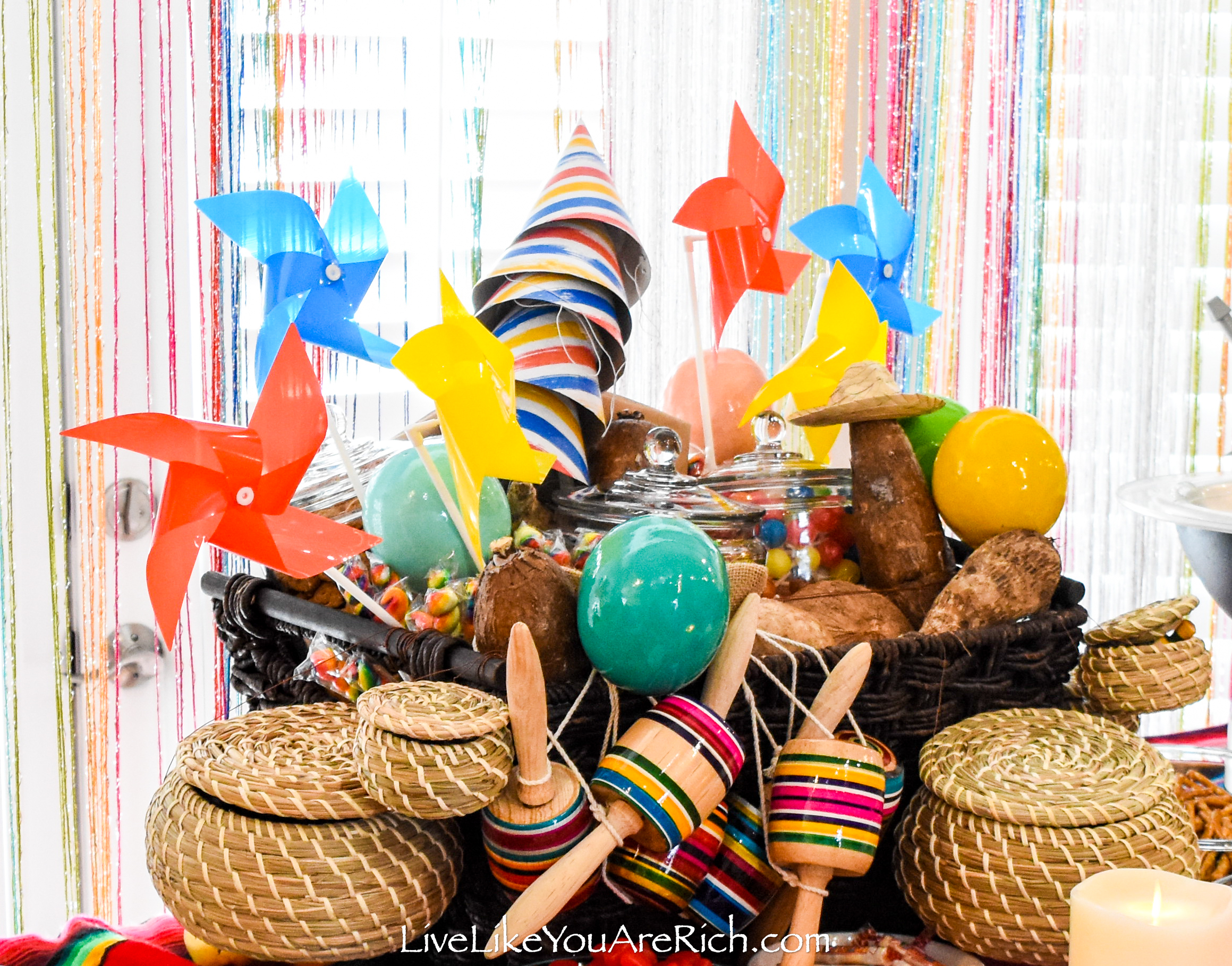 I hope this helps you to know What's in Mirabel's Party Basket in the Movie Encanto!
CHECK OUT MY OTHER ENCANTO POSTS:
Free Encanto Birthday Party Invitation
La Casita Encanto Party Banner
Disney Encanto's Birthday Party
Encanto Personalized Gifts for Party Attendees—Free Downloads
Encanto Colombian Party Hats—Free Printable
What's in Mirabel's Basket Encanto
Encanto Birthday Party Activity Ideas
Thanks for stopping by! Come again soon.

For other 'rich living tips' please subscribe, like me on Facebook, and follow me on Pinterest and Instagram.