Encanto Birthday Party Decorations.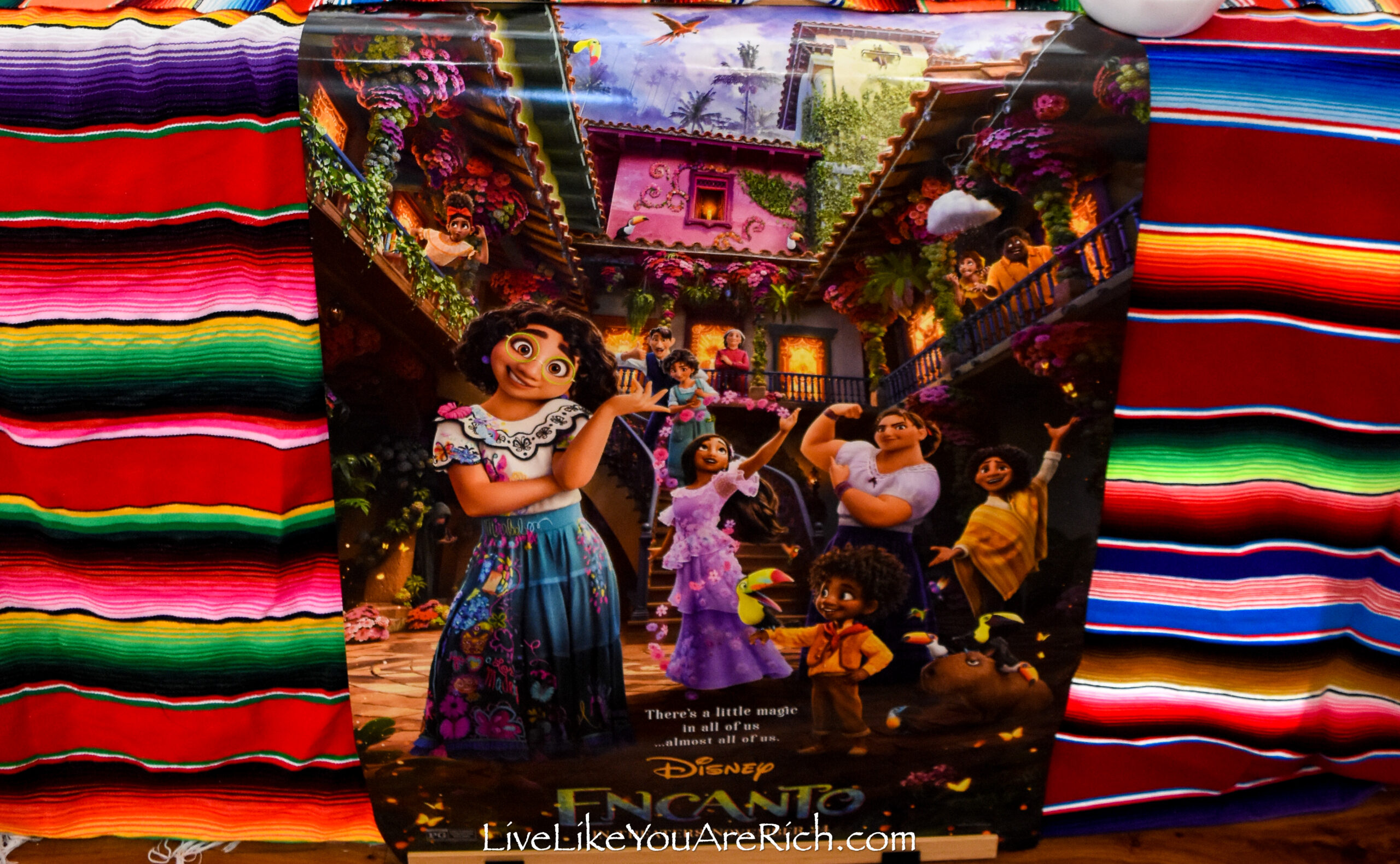 I explained in this post why I put on an Encanto Birthday Party for my daughter, Aurora.
In that post, I mentioned that I'd be posting the Encanto Birthday Party Decorations and what each item we used to decorate was representing.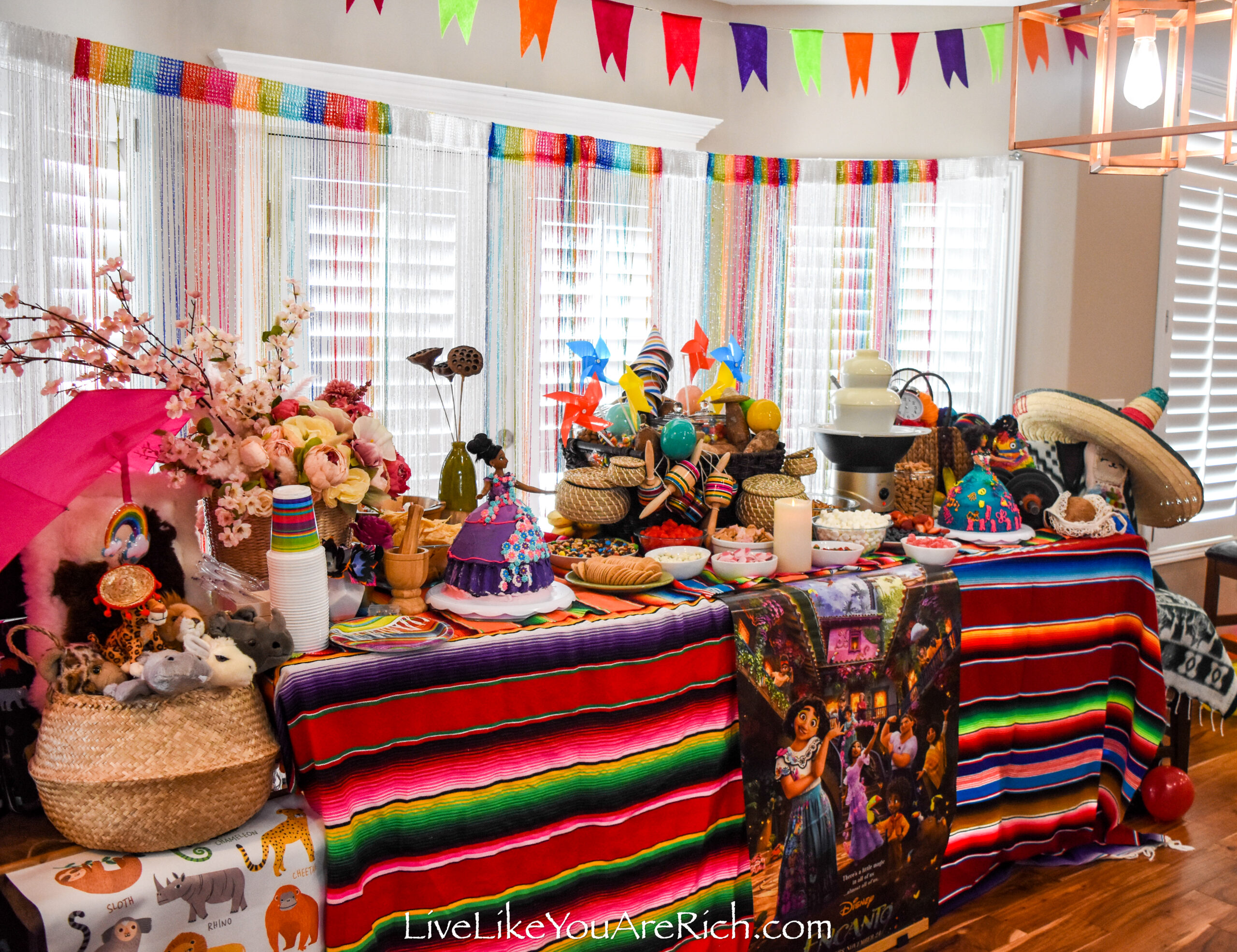 Here is the list, continue reading to see where I sourced each item.
To see the party in a video format, click play on the video located on this page.
Encanto Madrigal 'Characters with Gifts' Decorations
Antonio= Animals and animal banner. Gift= Can speak to and understand animals.
Luisa= Metal Weights and mini donkey pinata. Gift= Strength.
Mirabel= Yarn, knitting needles, crochet hooks, Mirabel Barbie Cake, party basket, and more. Gift= **Spoiler Alert** Unites home and family.
Isabella= Flowers, Isabella Barbie Cake and black flowers. Gift= Creates and controls flowers.
Camilo= Sombrero. Although he is the BEST singer (just listen to his part in, "We Don't Talk About Bruno"), he is a shapeshifter so he was a tough one to find items for. We debated putting a baby with a mustache on the table but thought it could be a little weird looking. So we went with a large sombrero. A yellow/gold poncho would have been great too but I couldn't get one in time. Gift= Shape shifting.
Pepa= Umbrella and rainbow. Gift= Can control weather.
Bruno= Green poncho. Gift= Prophecy. He wears a green poncho in the movie.
Dolores= Pins. Gift= Incredible hearing. She can hear a pin drop from a mile away.
Abuela Alma= Candle. Gift= She is in charge of their magical family.
Julieta= Wooden Herb Grinder. Gift= Healing through the use of food.
La Casita= Alarm clock, party banner, llama pillows, blankets. Gift= The house is alive and can move and manipulate items in it.
Encanto Birthday Party Decoration Supply List
This Encanto Party Banner I made is similar to what they used in the movie, link here with free printable.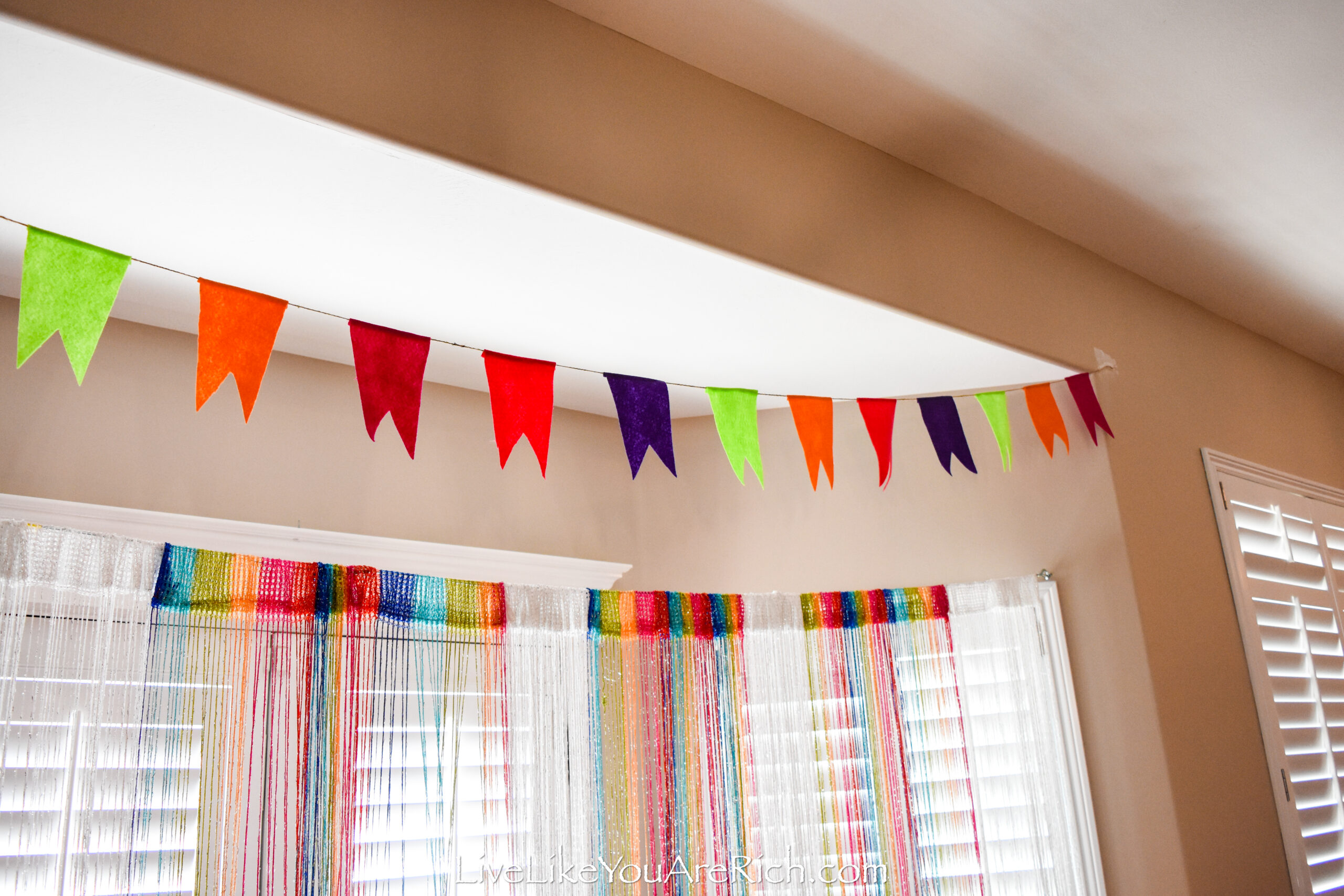 Sparkle curtains (4 white and 4 multi colored) are strung across on a wire that my husband installed. You can use a backdrop stand as well. I usually use a backdrop stand but my husband thought this wire would look better and I agree, I do like it better.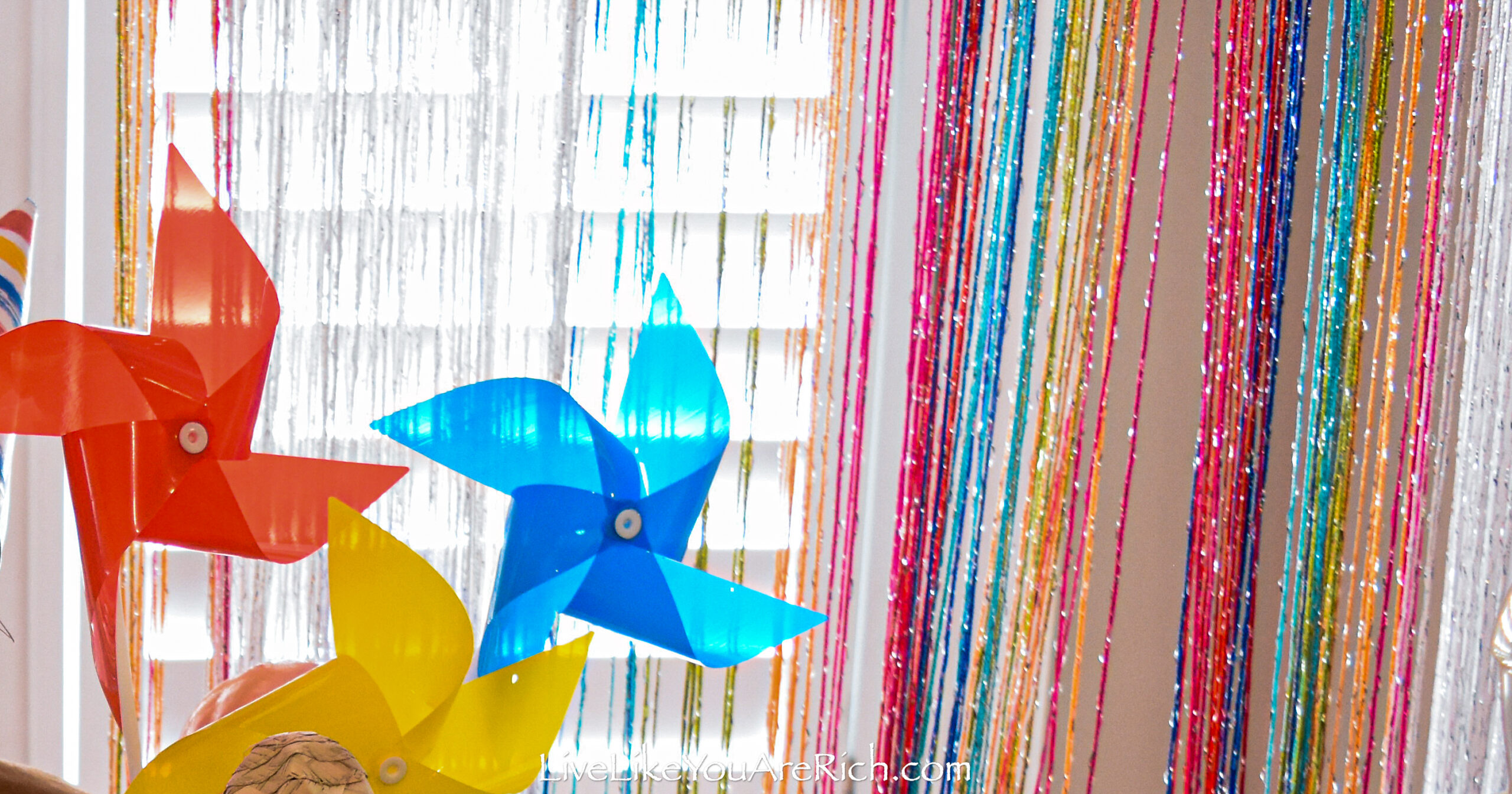 Sombreros— I had multiple sombreros throughout the party.
The huge one was borrowed from a friend.
Amols.com has a similar yet slightly smaller one (as seen below). The pink and purple "adult sombreros" were used as centerpieces and were bought at Amol's for $3.25 each. The mini sombreros (also purchased on Amols.com) were used as hats for various items (see below).

Centerpiece for two tables.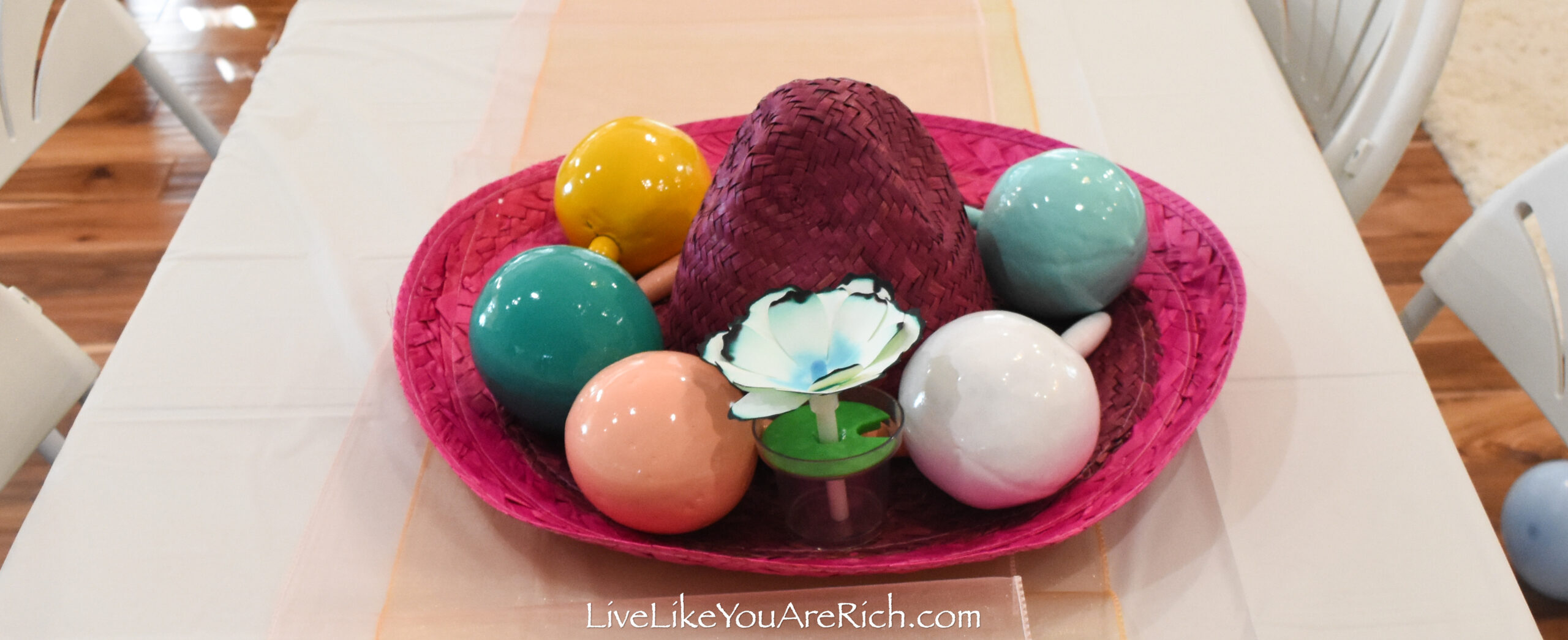 Alpaca figurine centerpiece for middle table. I already had it from my llama nursery. Ebay is where I bought it. World Market and Etsy also sells similar.
The flower lidded basket near the llama was purchased on Amols.com.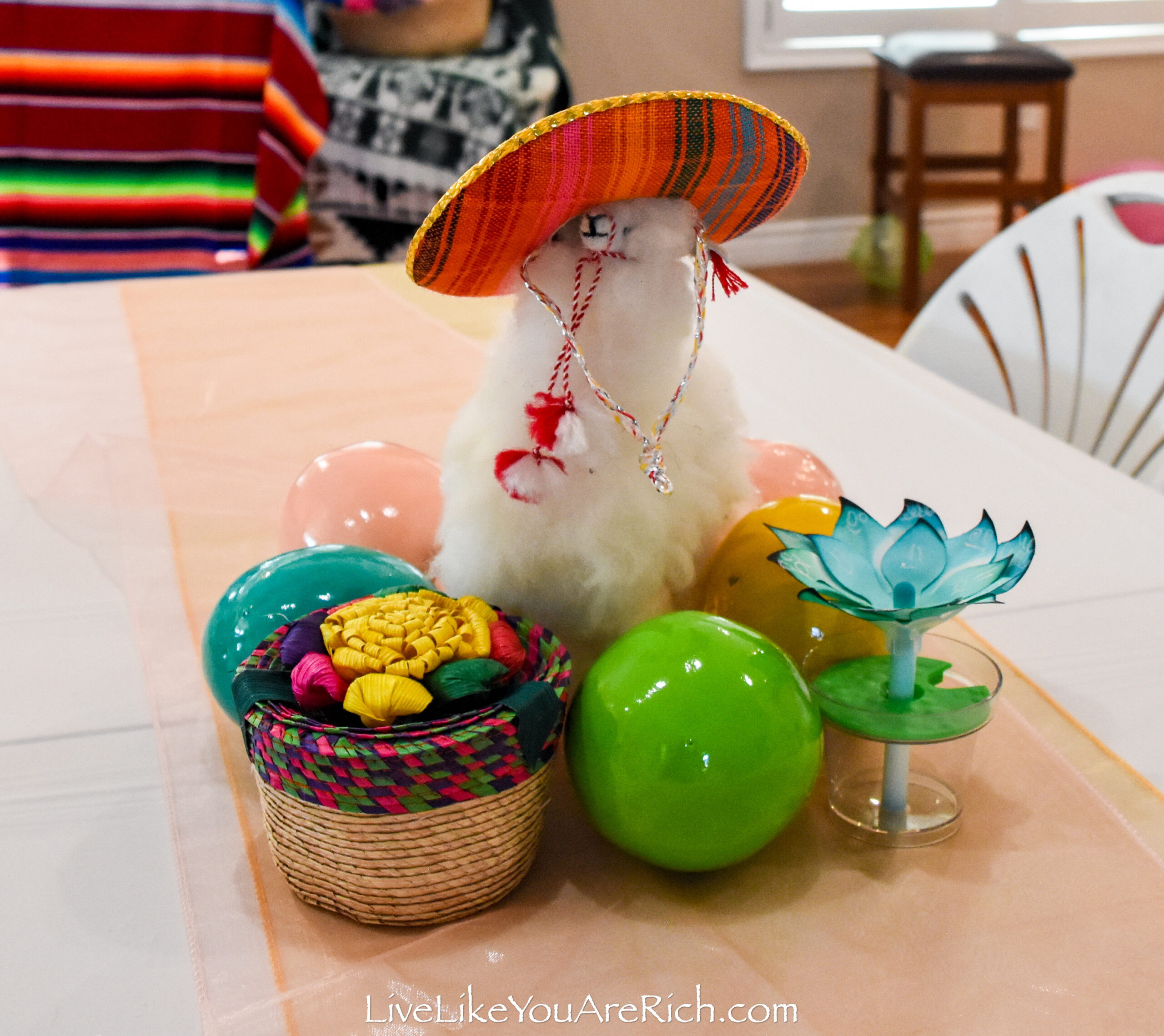 I put a mini sombrero on my llama/alpaca figurine. I thought it was cute.
The mini sombrero was purchased on amols.com.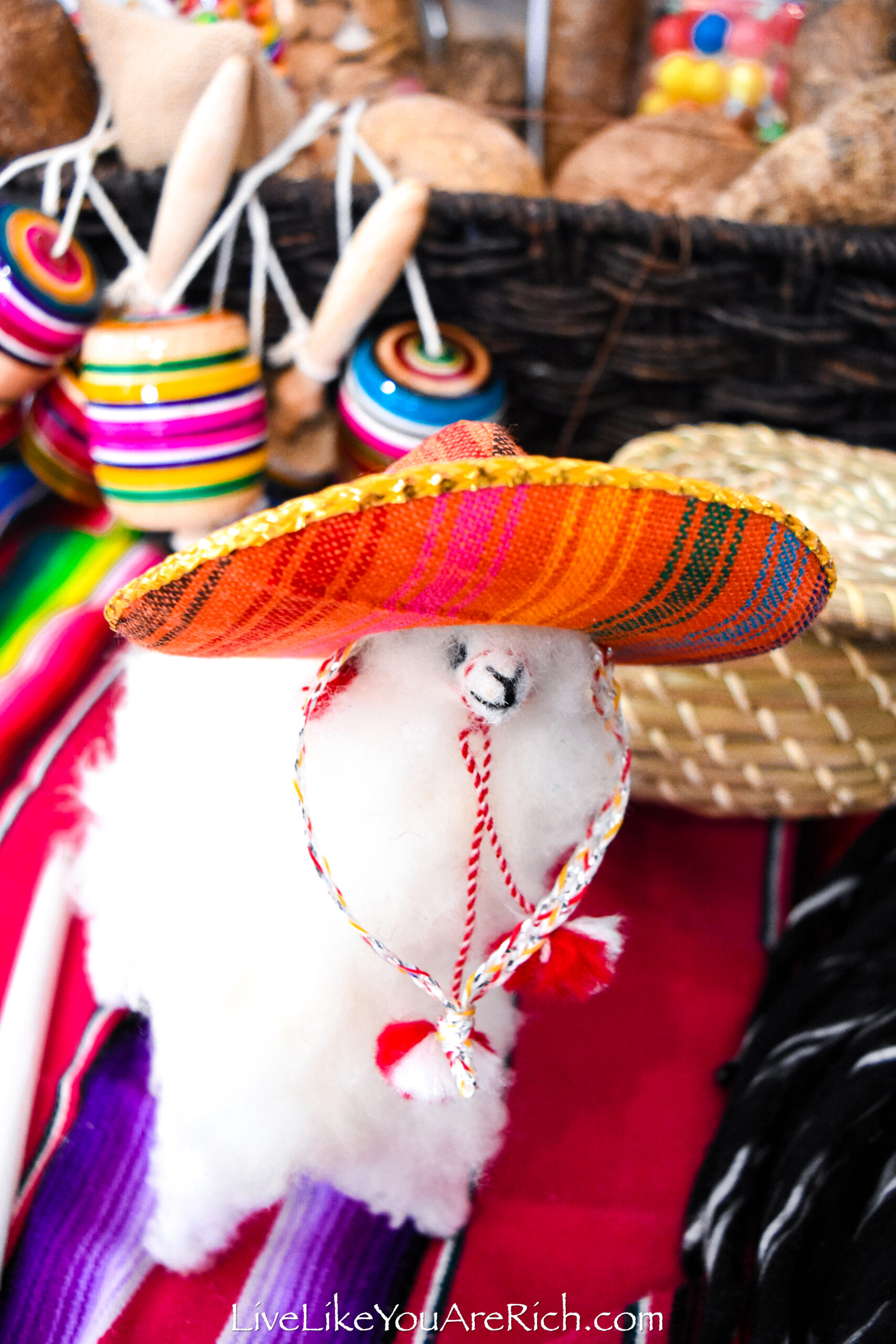 These metal dumbbells look like what Luisa uses in the movie. They were borrowed from my neighbor.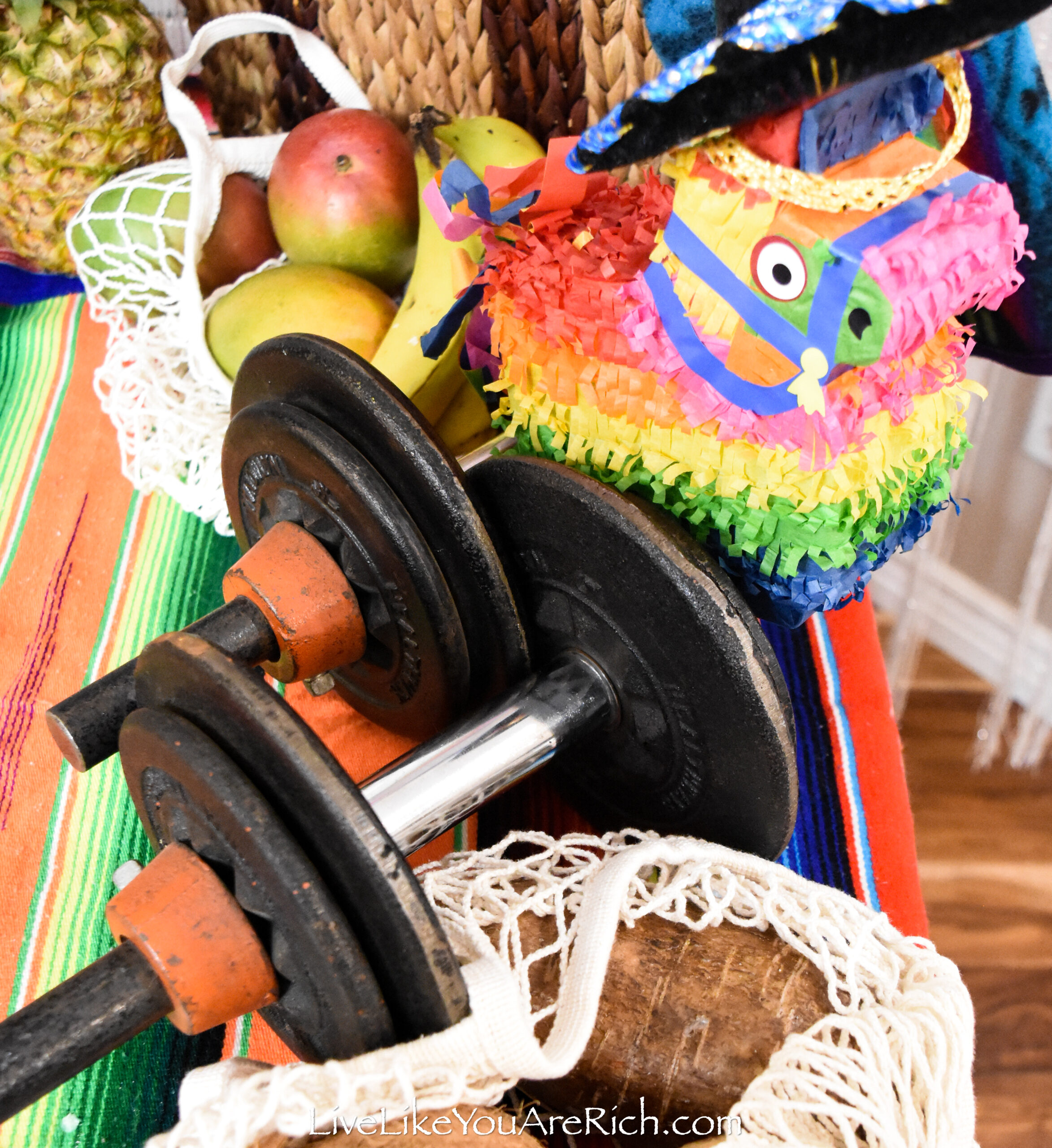 Since Luisa helps the village with the donkeys, I placed a mini donkey pinata (Walmart $4.50) on the dumbbells and put a little sombrero (amols.com) on his head.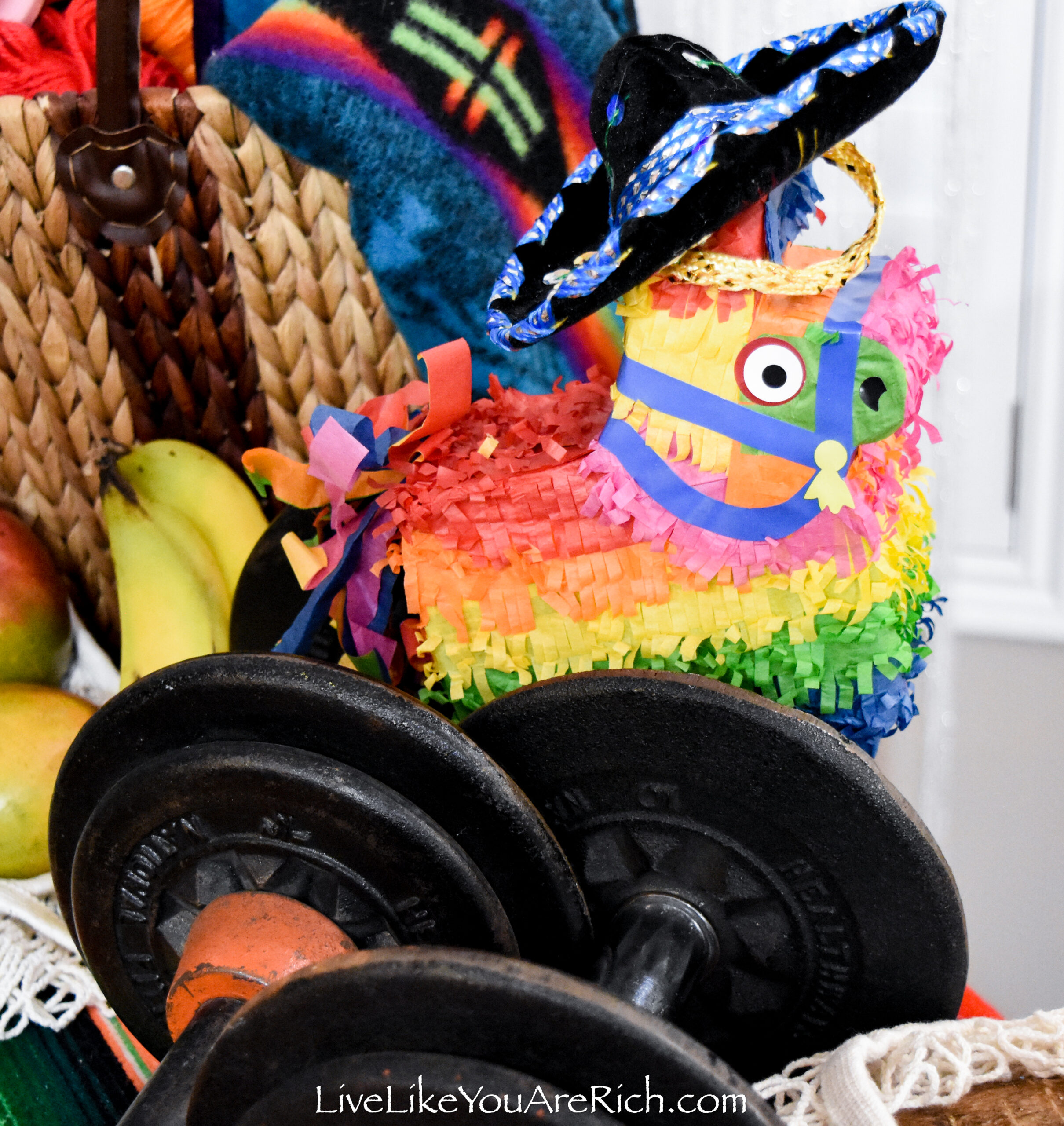 Woven baskets—I had all on hand except one.
I originally purchased the baskets from the following places.
IKEA- 2 FLÅDIS seagrass Baskets. The seagrass baskets were $10.00 each at IKEA but can also be found on Amazon here.
I filled one seagrass basket (IKEA) with yarn and crochet hooks. I love how they can fold in to form a bowl.
I filled the other one with stuffed animals.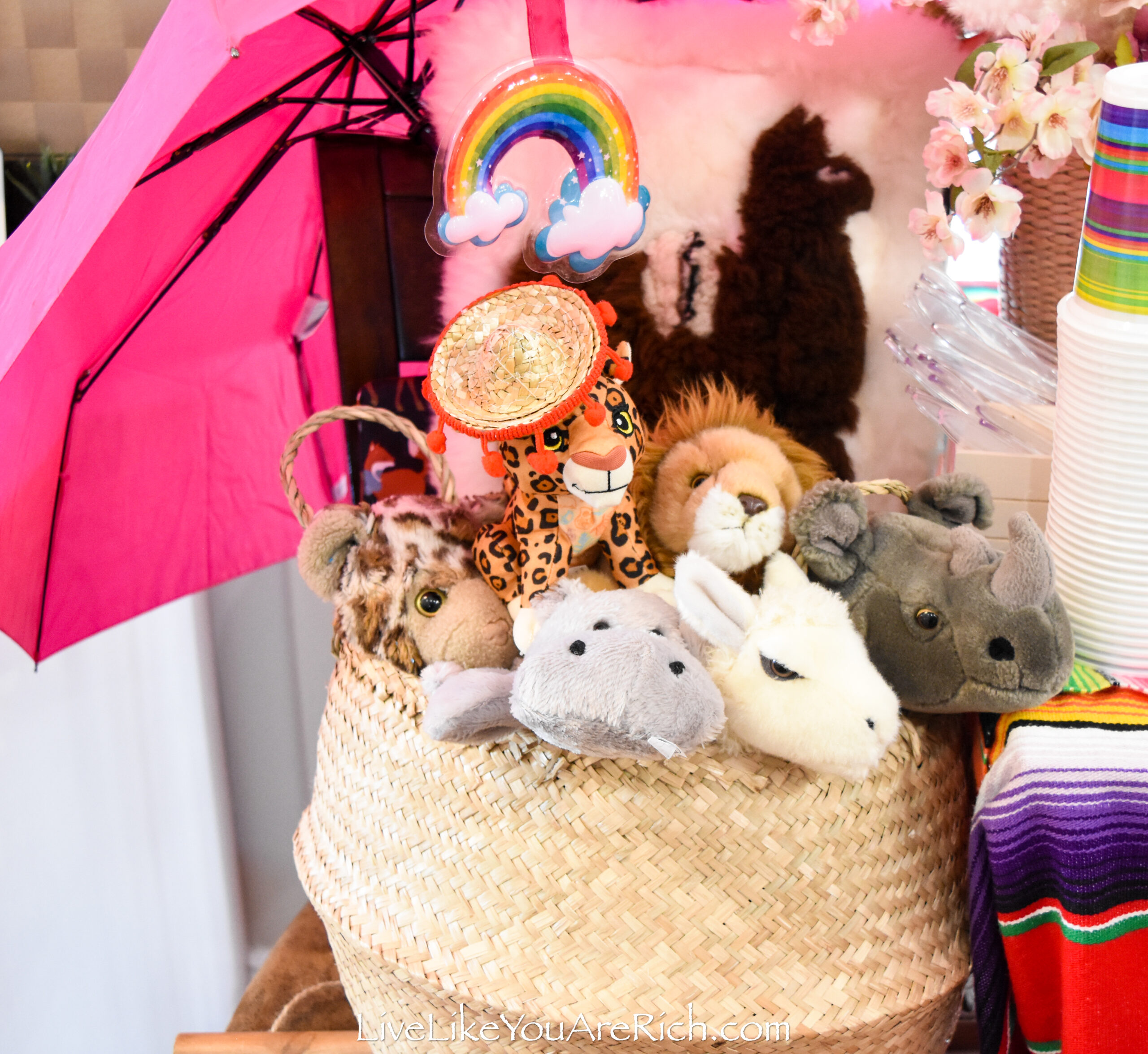 These are the stuffed/plush jungle animals we used.
We choose to include just jungle-type animals because Antonio's room was a jungle/rainforest. (Rhinoceros, hippo,lion, jaguar (Encanto) with a mini sombrero, llama, and leopard).
The basket was sitting on top of an animal hanging wall canvas that I had previously bought at World Market. I liked that it covered the chair legs and added a pop of color.
Target Round Decorative Basket Natural – Threshold was bought for this party and was $10.00. It was used for the flowers that represent Isabella.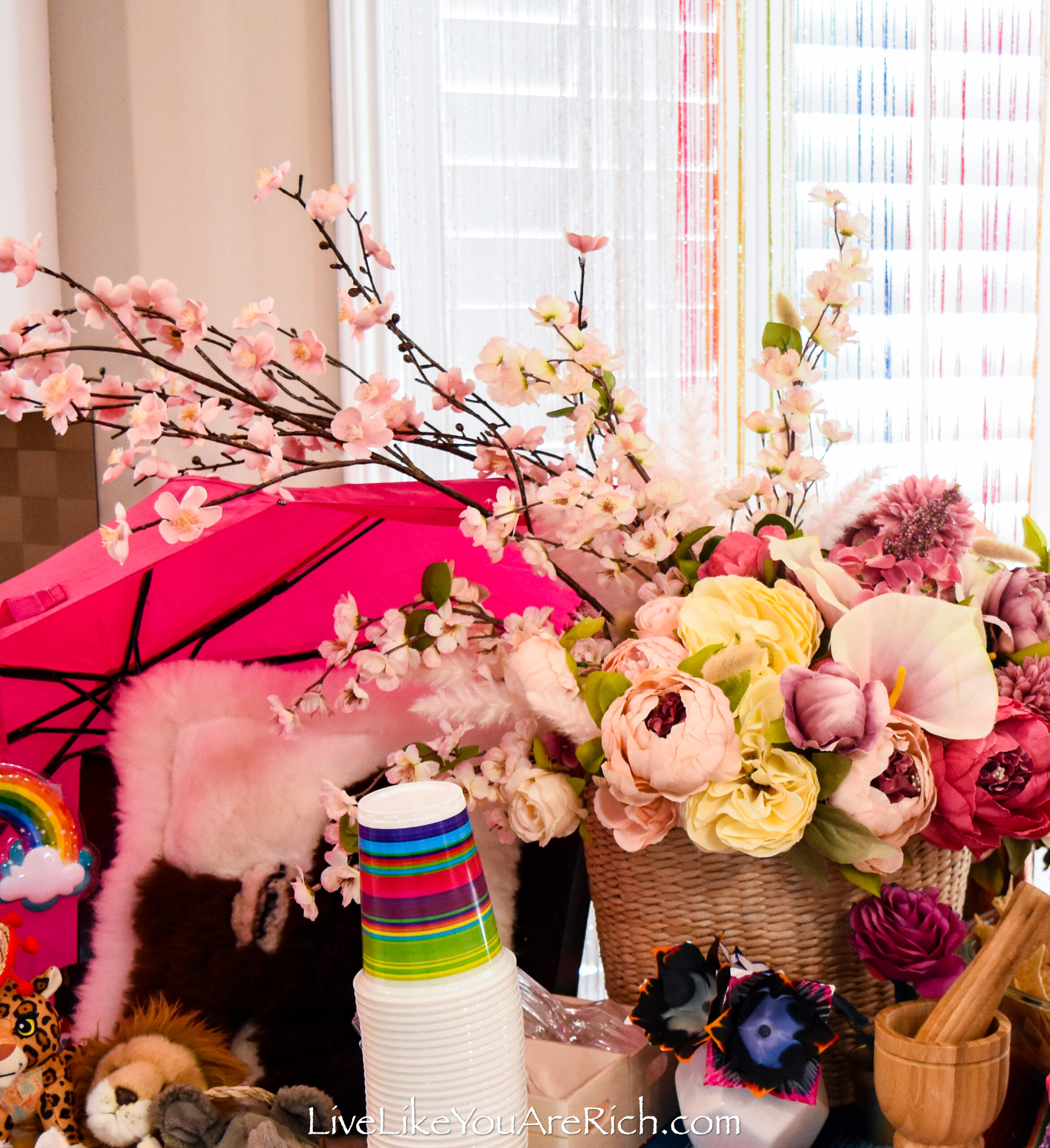 I had the flowers and other items that represent Isabella. I've used them for multiple parties, decor items, etc.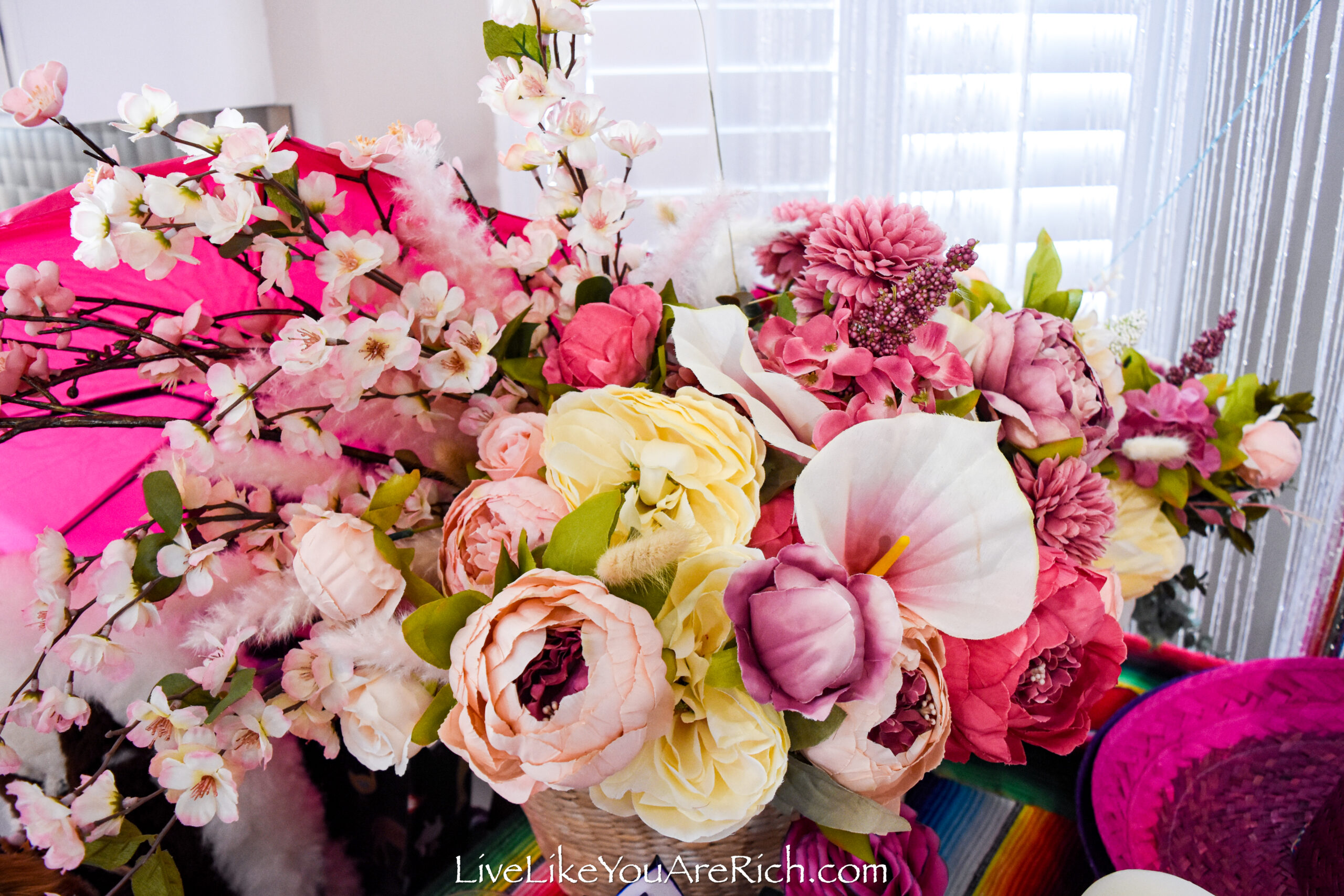 The main party basket has A LOT in it, so I'll post in an upcoming post of all the items included inside it and where I sourced the items.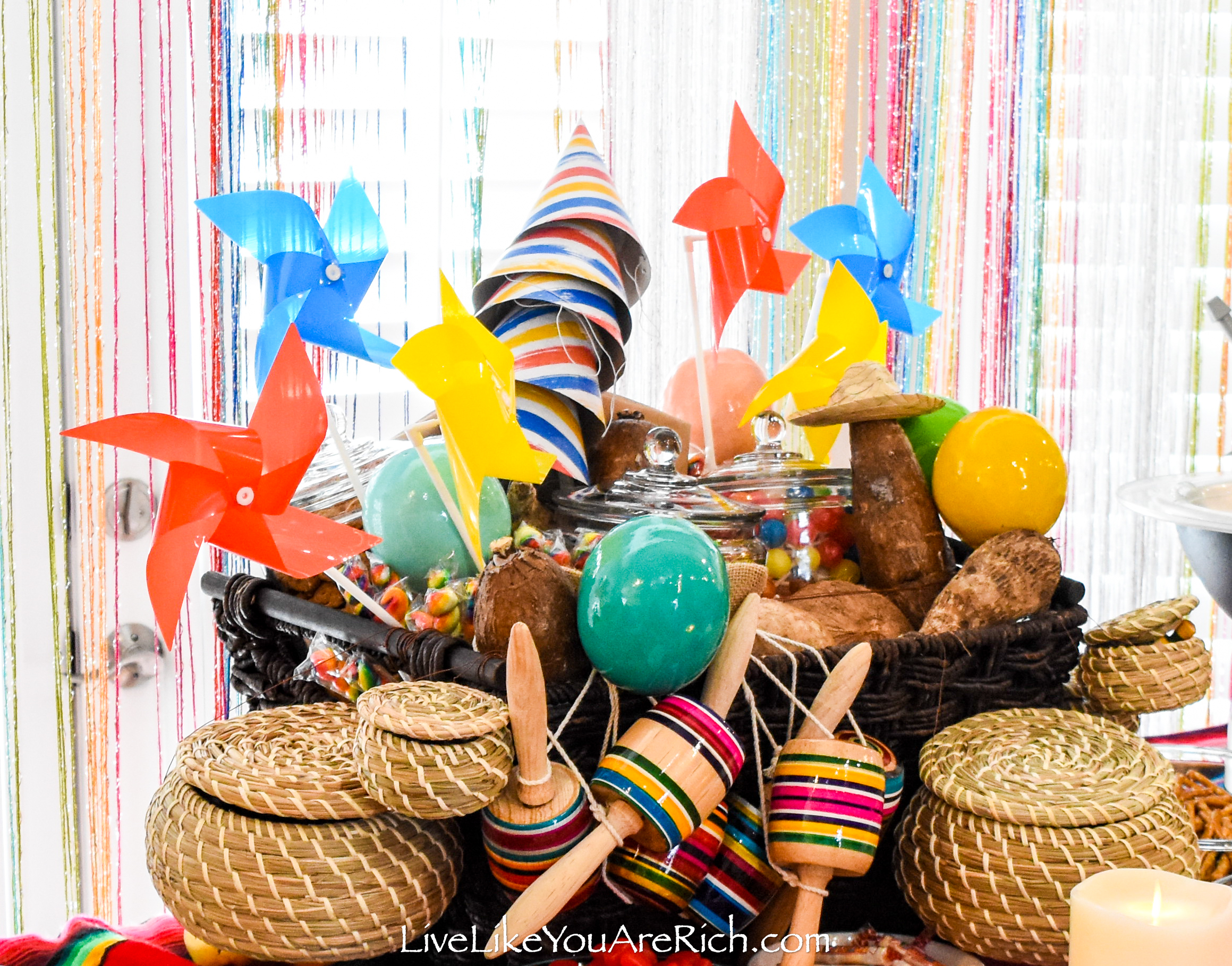 The basket with leather handles was originally bought for a few dollars at a garage sale.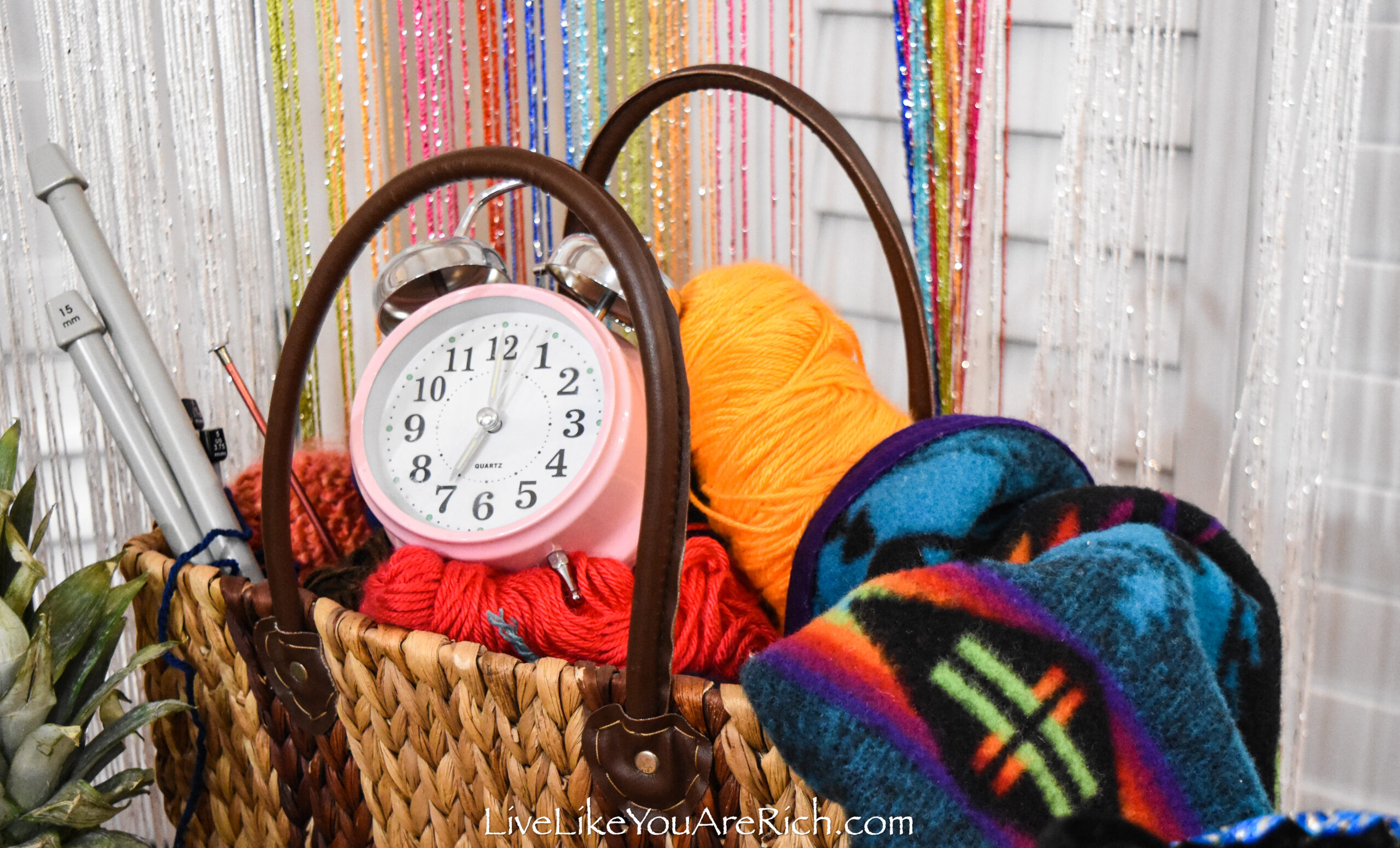 To represent La Casita I put an alarm clock in it; I had a twin bell, although a single bell alarm clock is more authentic to the movie.
I also put crochet hooks, yarn, knitting needles, a baby Pendelton blanket (which matched the yarn) and spools of thread in it. I had all of these items around my house.
These items represent Mirabel's talents with sewing and crafting.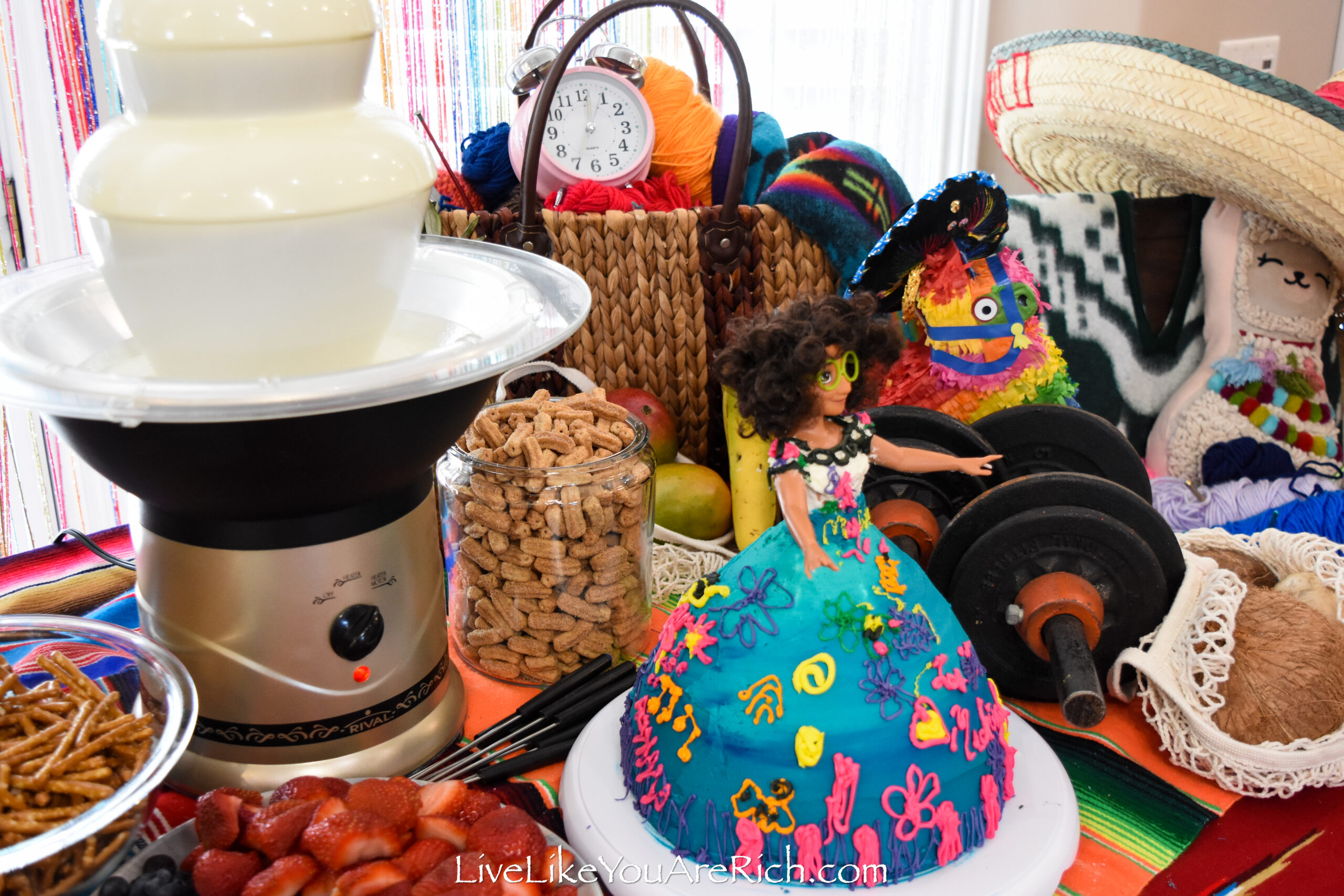 I placed a pink umbrella on a chair at one end of the table.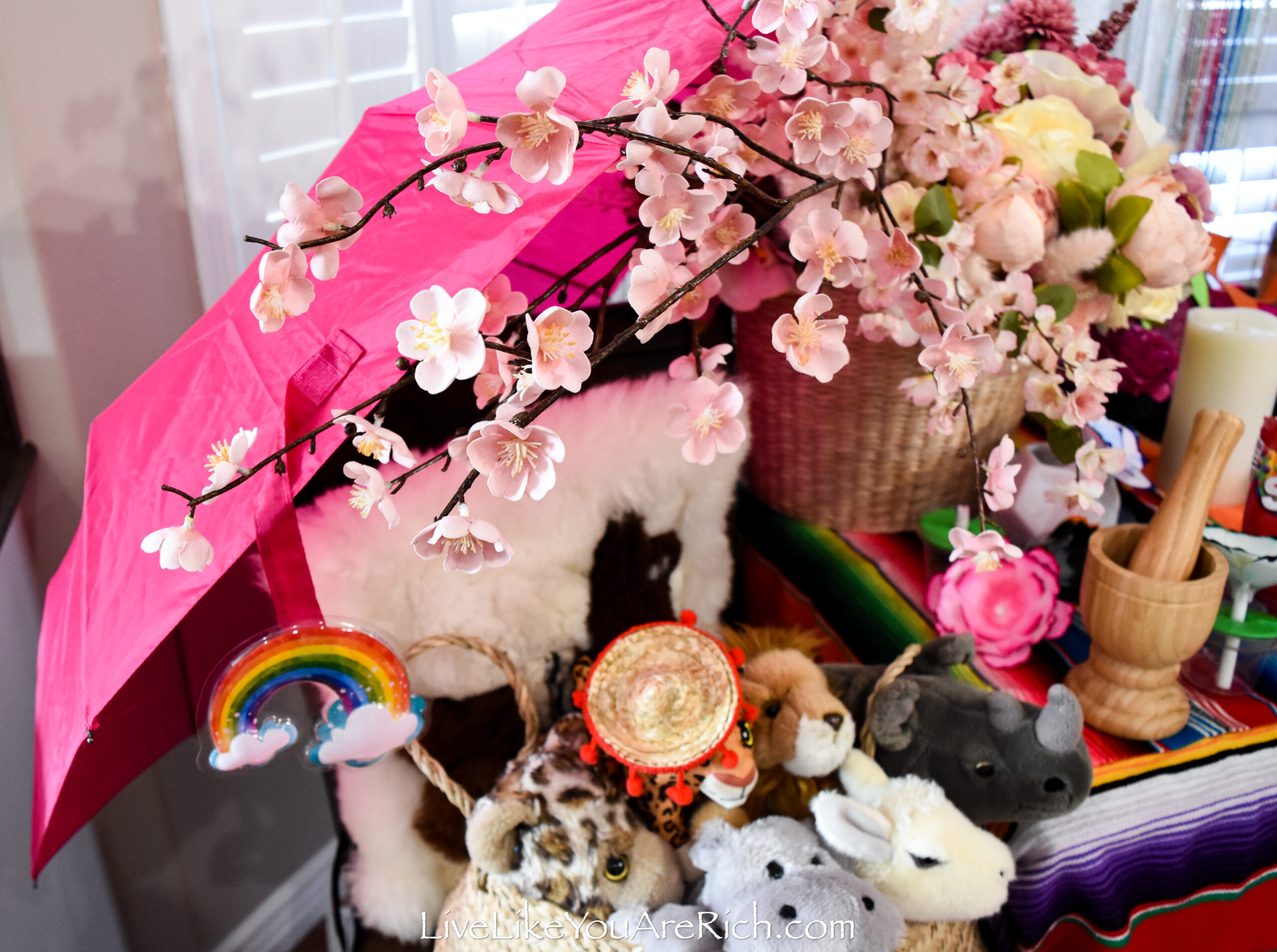 I saved a plastic rainbow that I had from a cookie cake from this party and taped it onto the umbrella.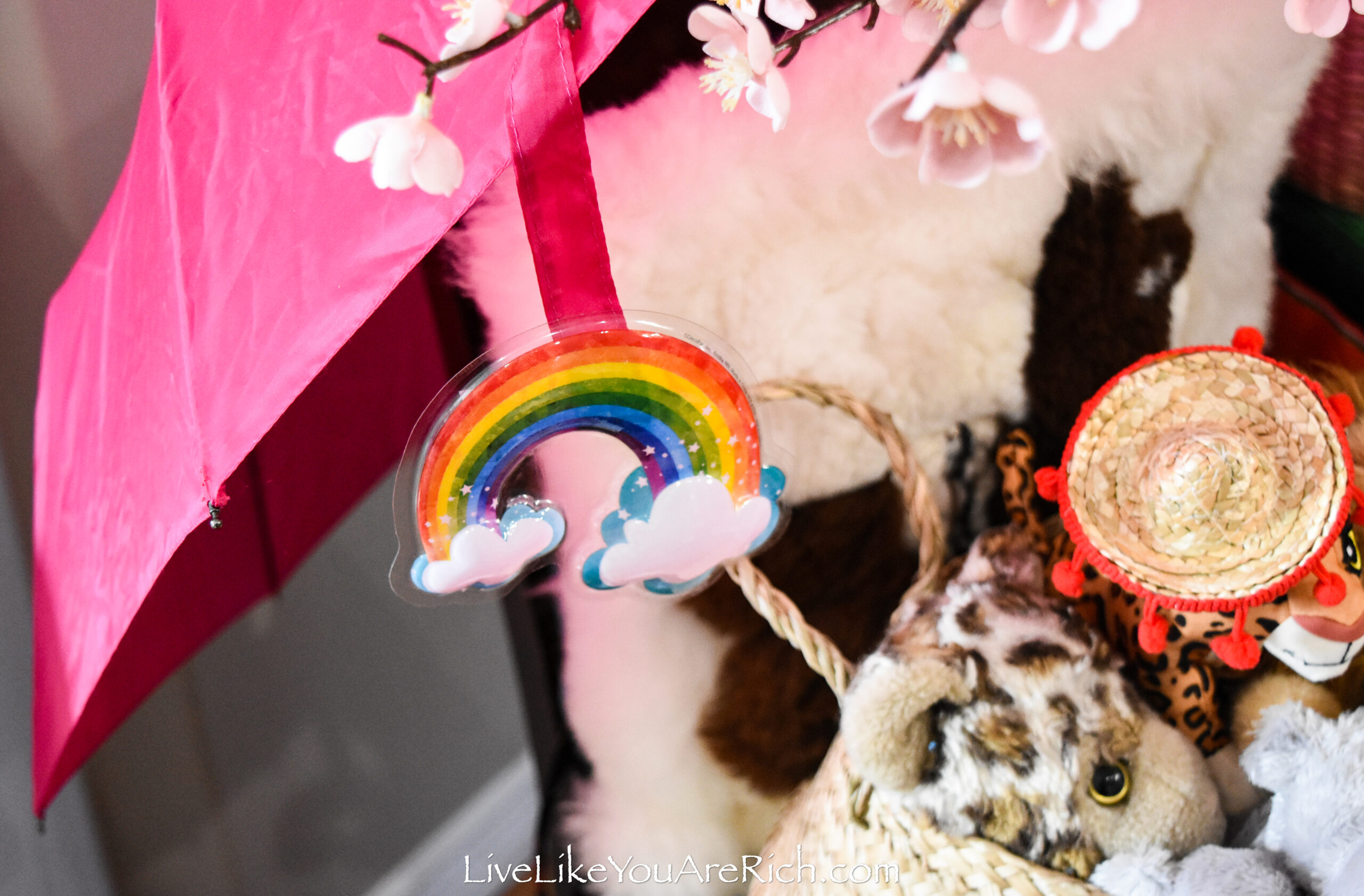 I draped a green poncho I had on the chair at the other end of the table along with a huge sombrero, basket of yarn, and llama pillow.
I love the way the umbrella and the huge sombrero framed the table display.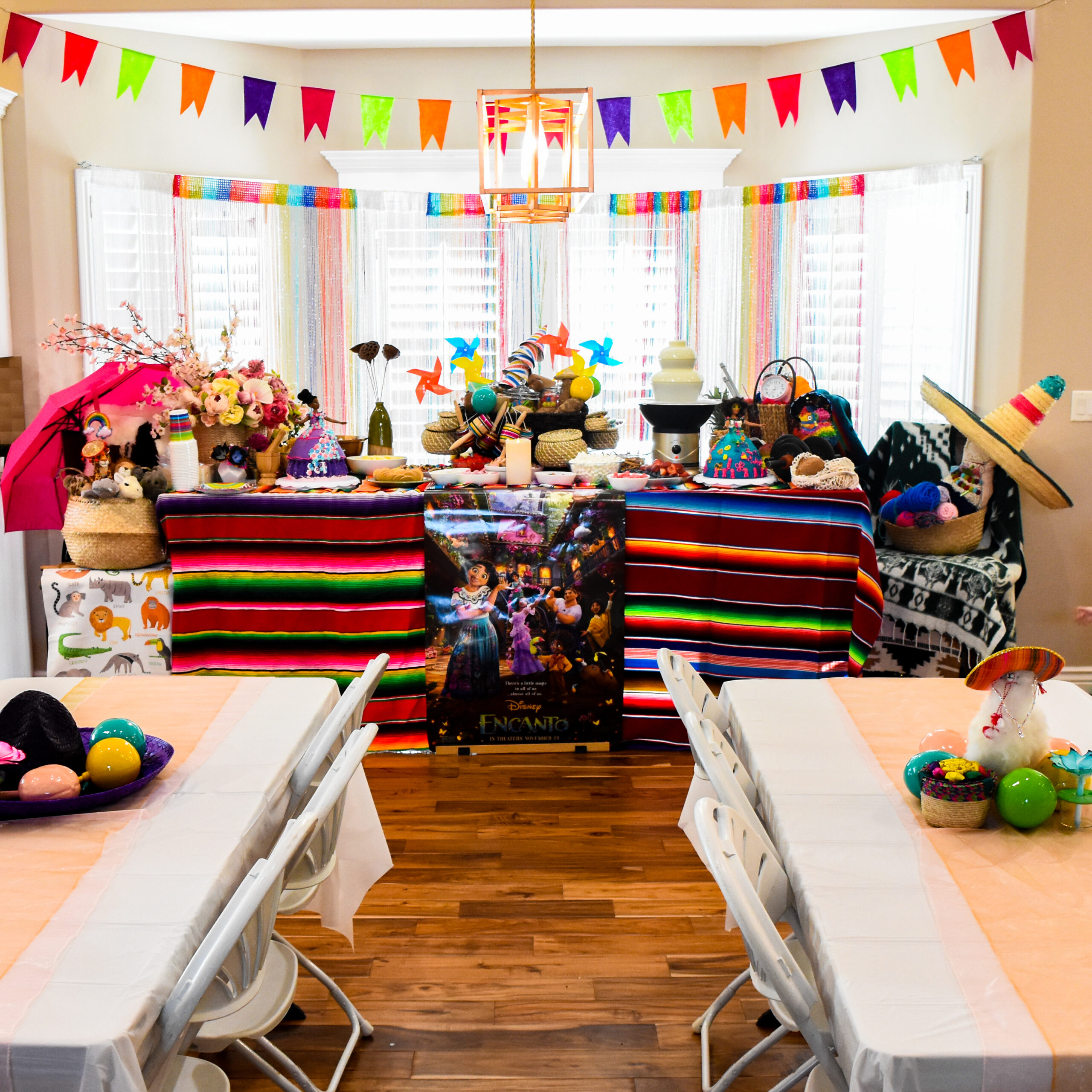 I placed a wood herb grinder to represent Julieta and pins (sewing) for Dolores on the table.
My daughter, Aurora, made custom flowers from a Crayola Paper Flower Stem kit.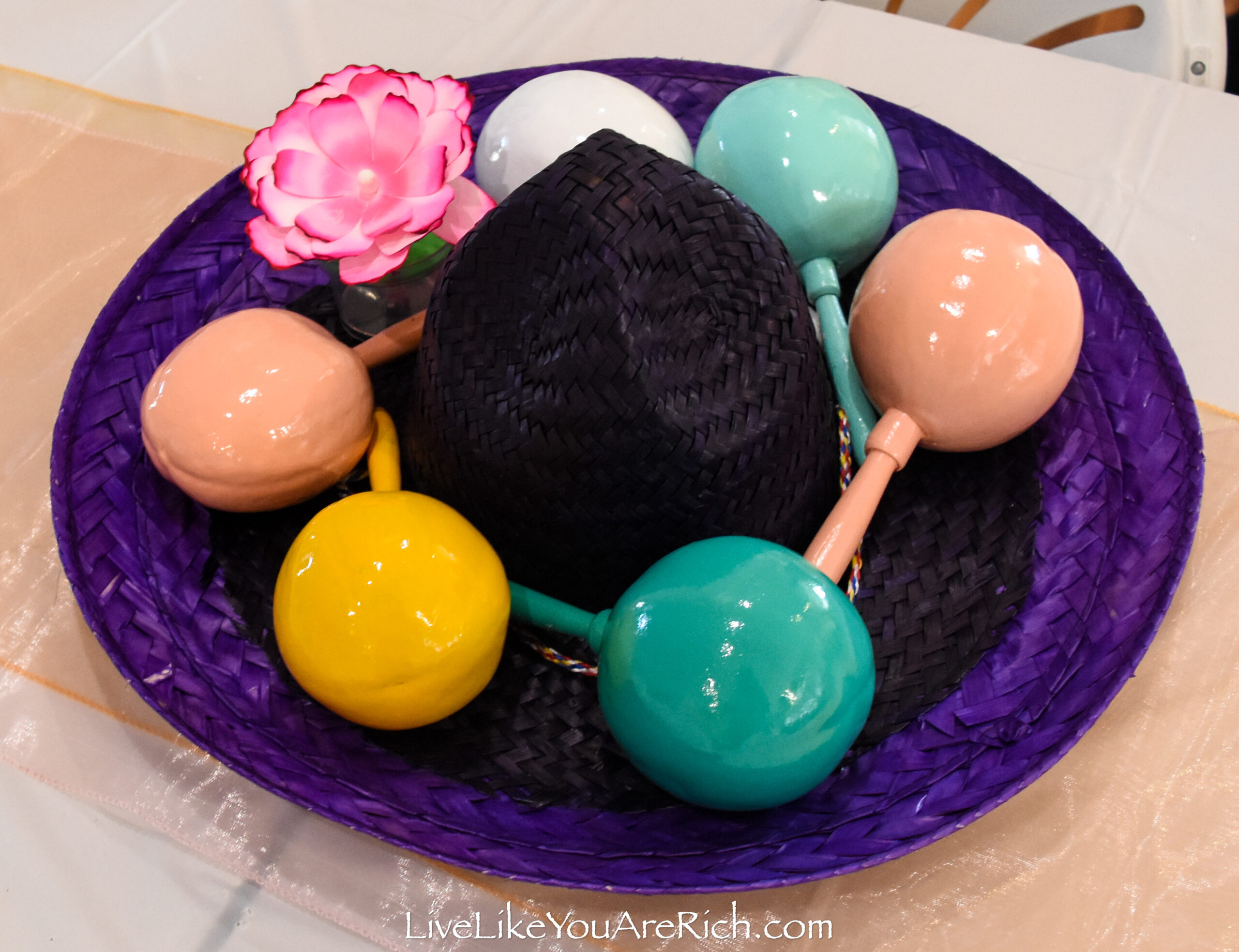 She made blue, pink, and turquoise flowers for the tables.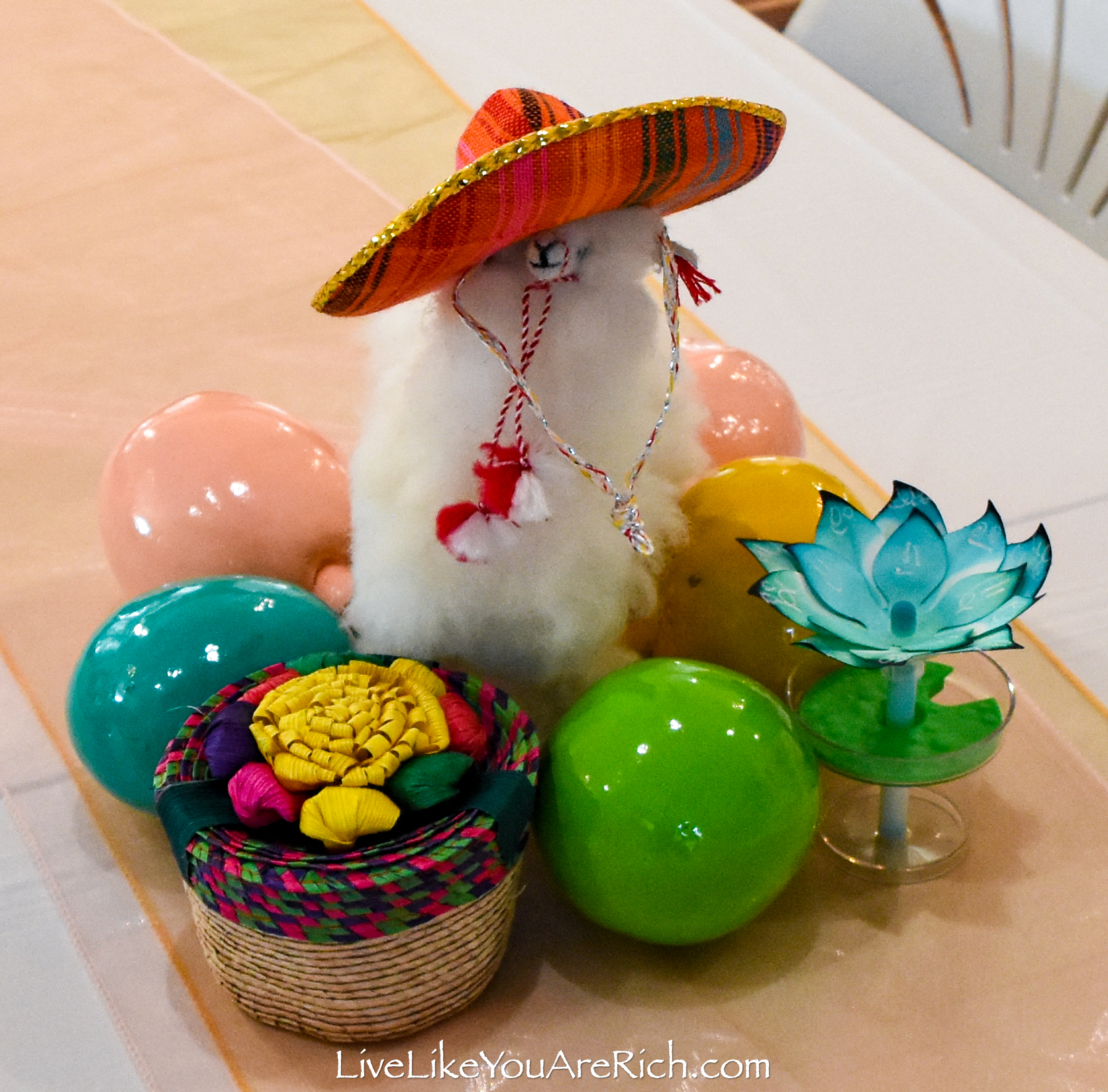 The paper flowers she made for the main table were very colorful with black mixed in. She did this to represent when Isabella began to make different types of flowers.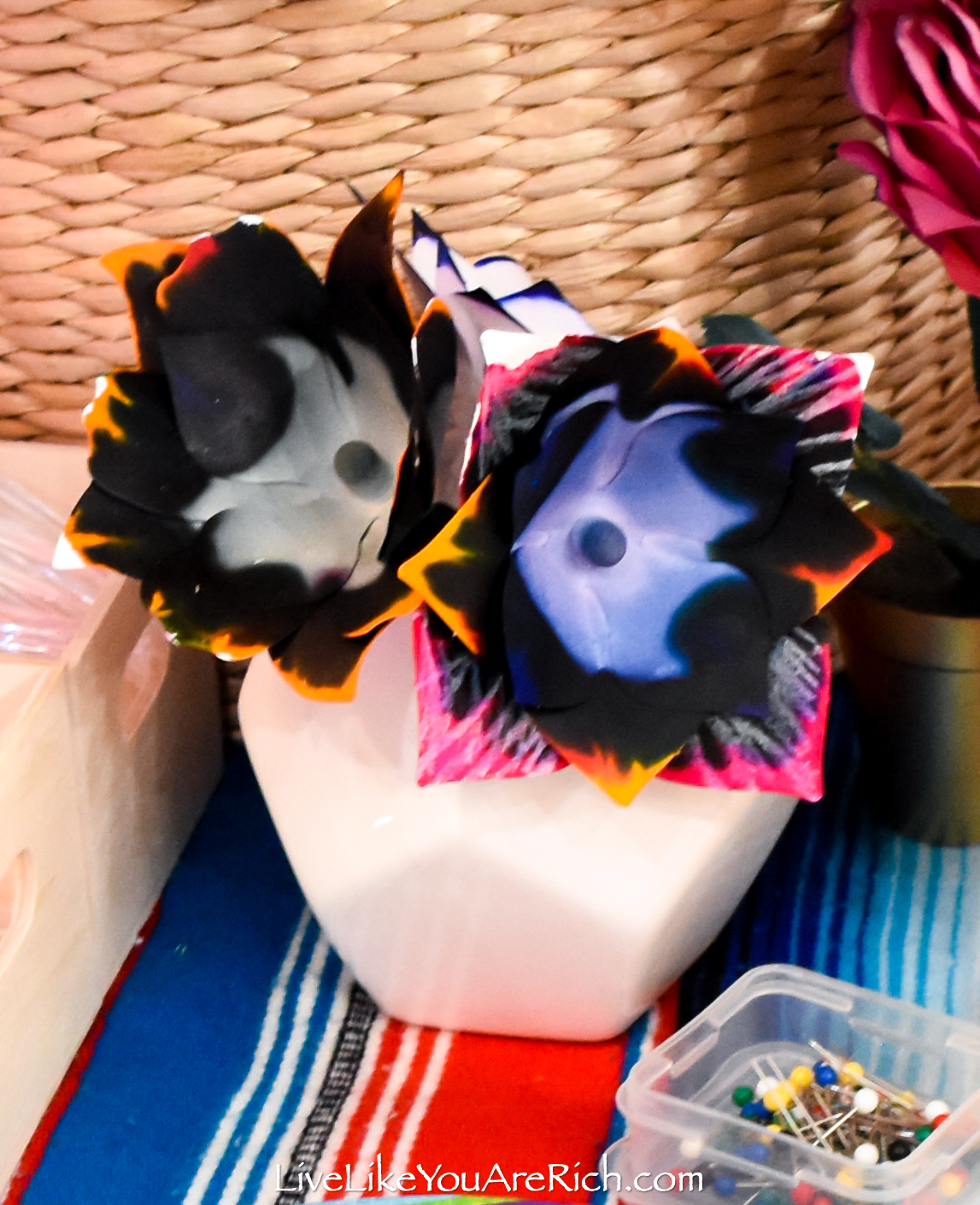 I placed a candle (electric wax with glowing wick) front and center on the table.
I was going to use a Cricut and cut out a vinyl shimmer butterfly Encanto design for it. Unfortunately, I ran out of time. I began preparing for this party days ahead, but I still didn't find time for everything I wanted to do. That's okay, I've come to expect that of myself.
I like to over-plan, I'd rather have lots of ideas and activities than not enough.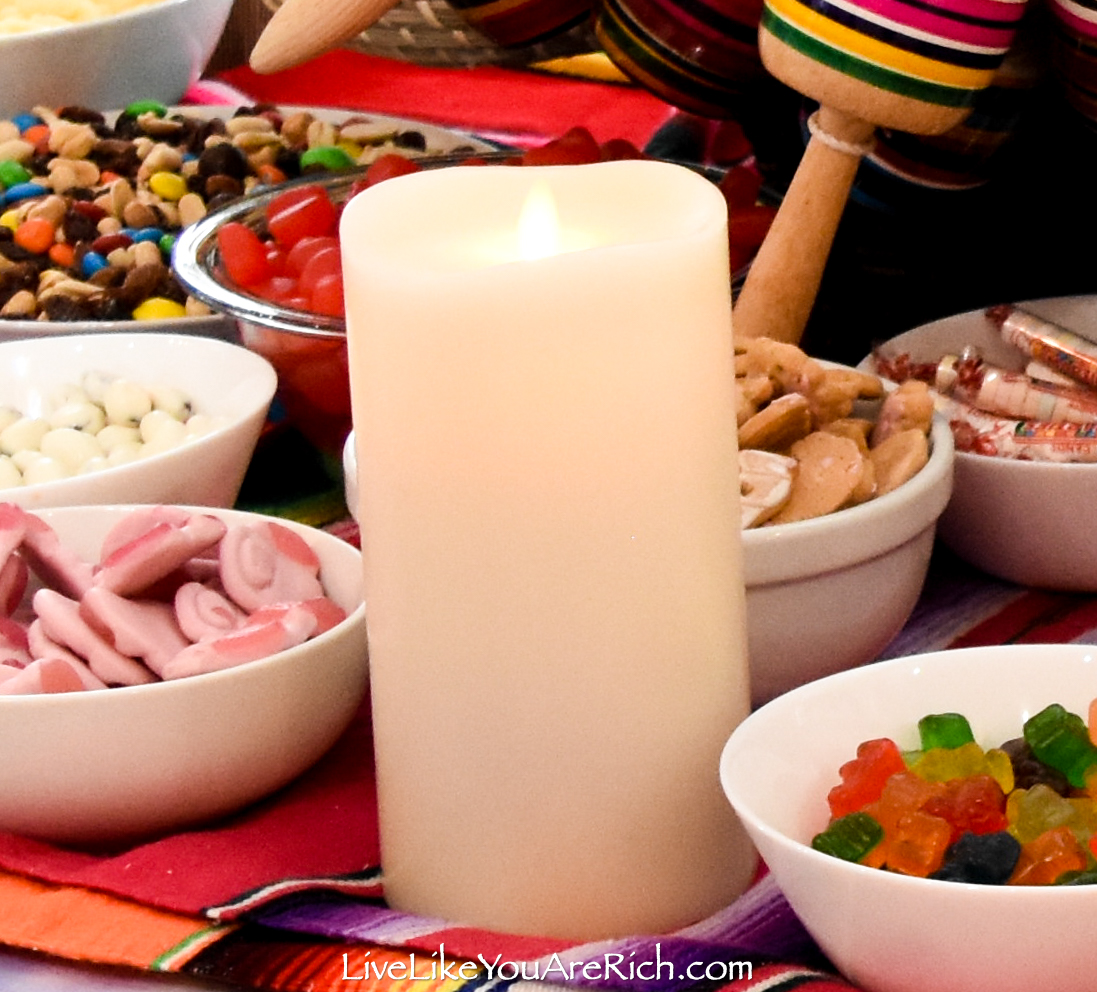 I placed maracas painted in plain colors (no designs on them) all around the tables. I bought my maracas in plain colors from amols.com.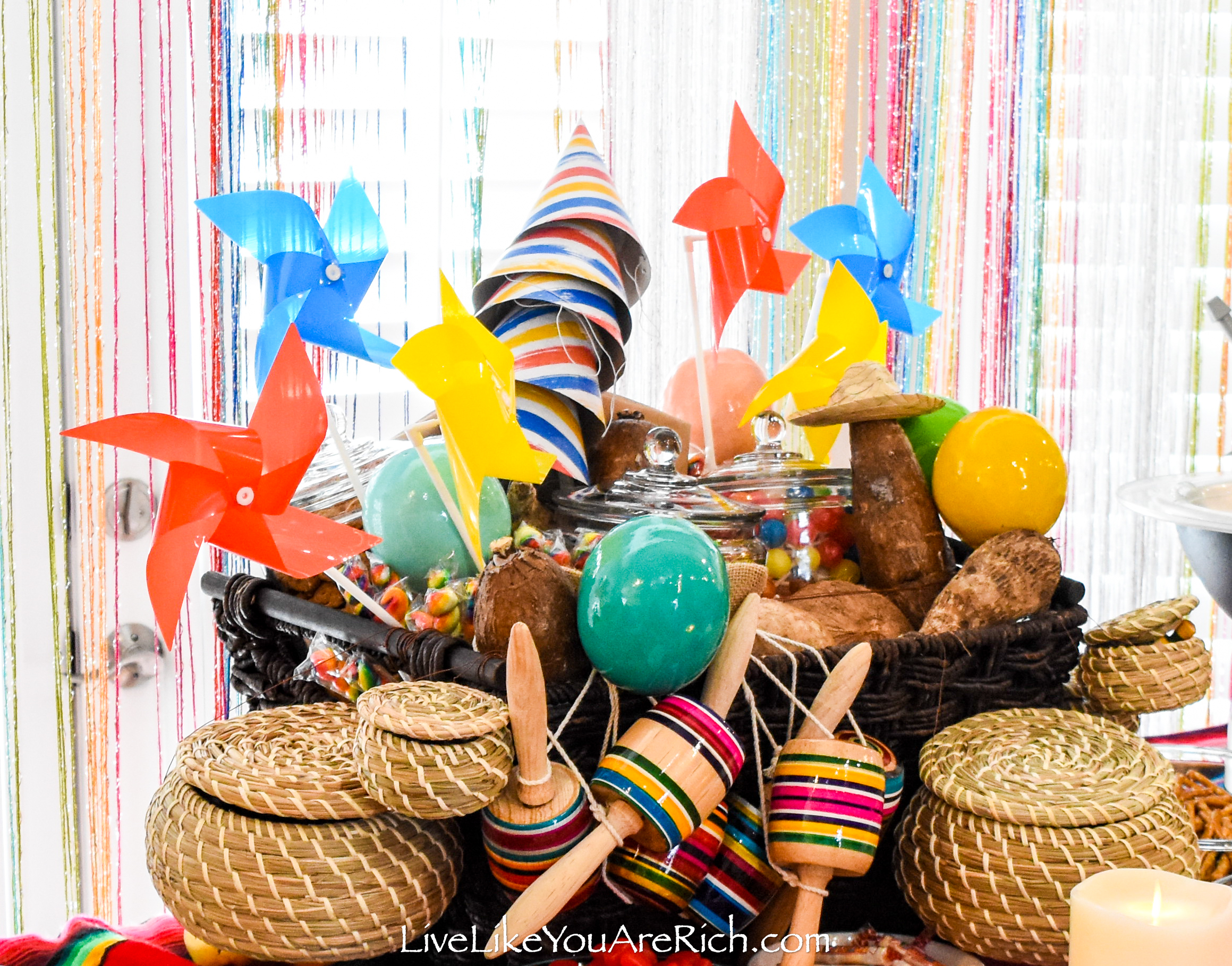 I ordered white, yellow, green, coral, turquoise, and sea foam green (before they went out of stock).
We did an activity with these and each girl got to take one home.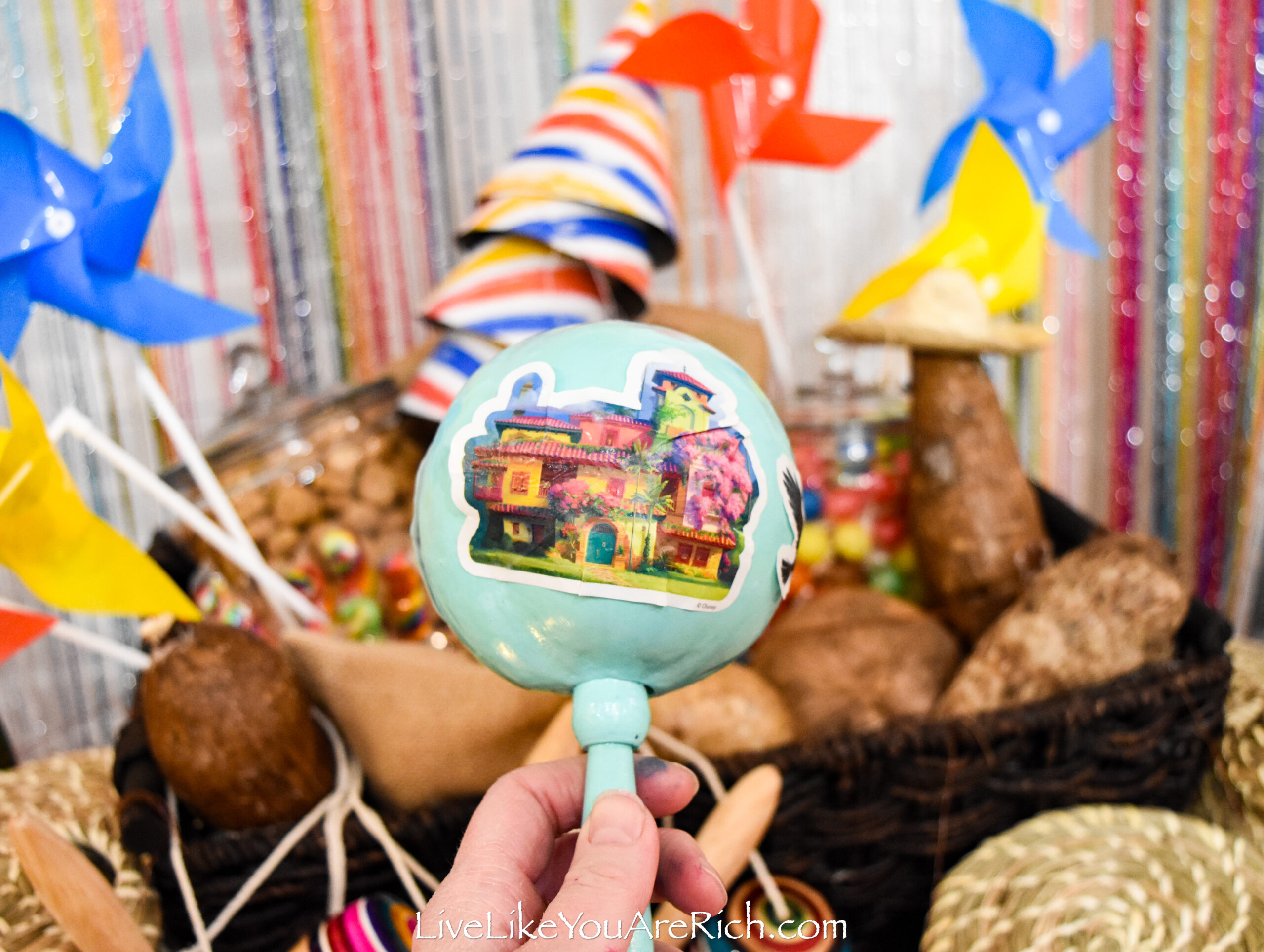 I found the best price plus quality on maracas at amols.com; they were only $1.15 each ($2.35 a set of two).
I had a few llama pillows to represent Colombia and to add interest.
I bought this cute one from World Market for $7.00 on sale a few months ago.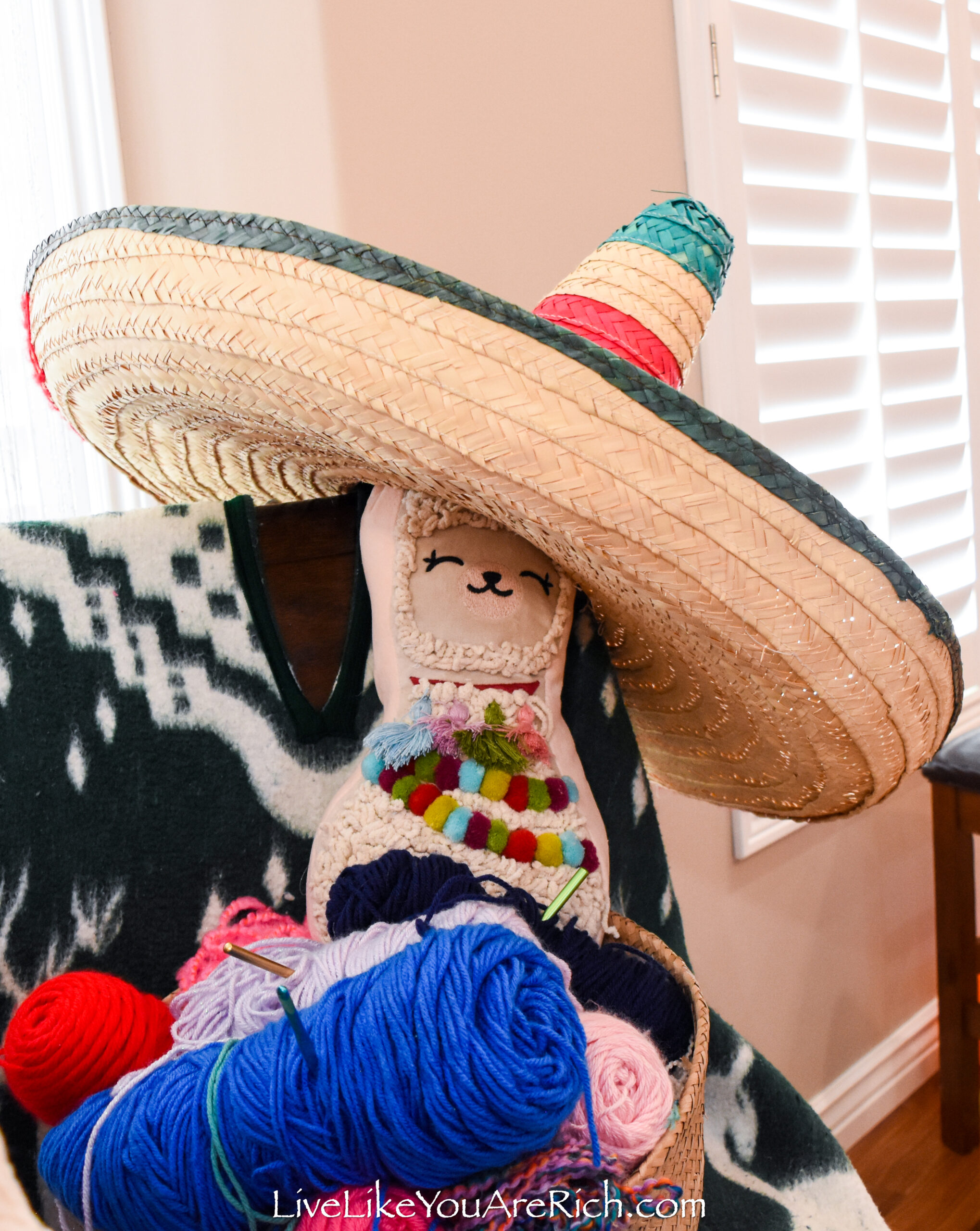 To hide the chair legs, I placed a woven wall hanging (originally from my daughter's llama nursery) on it.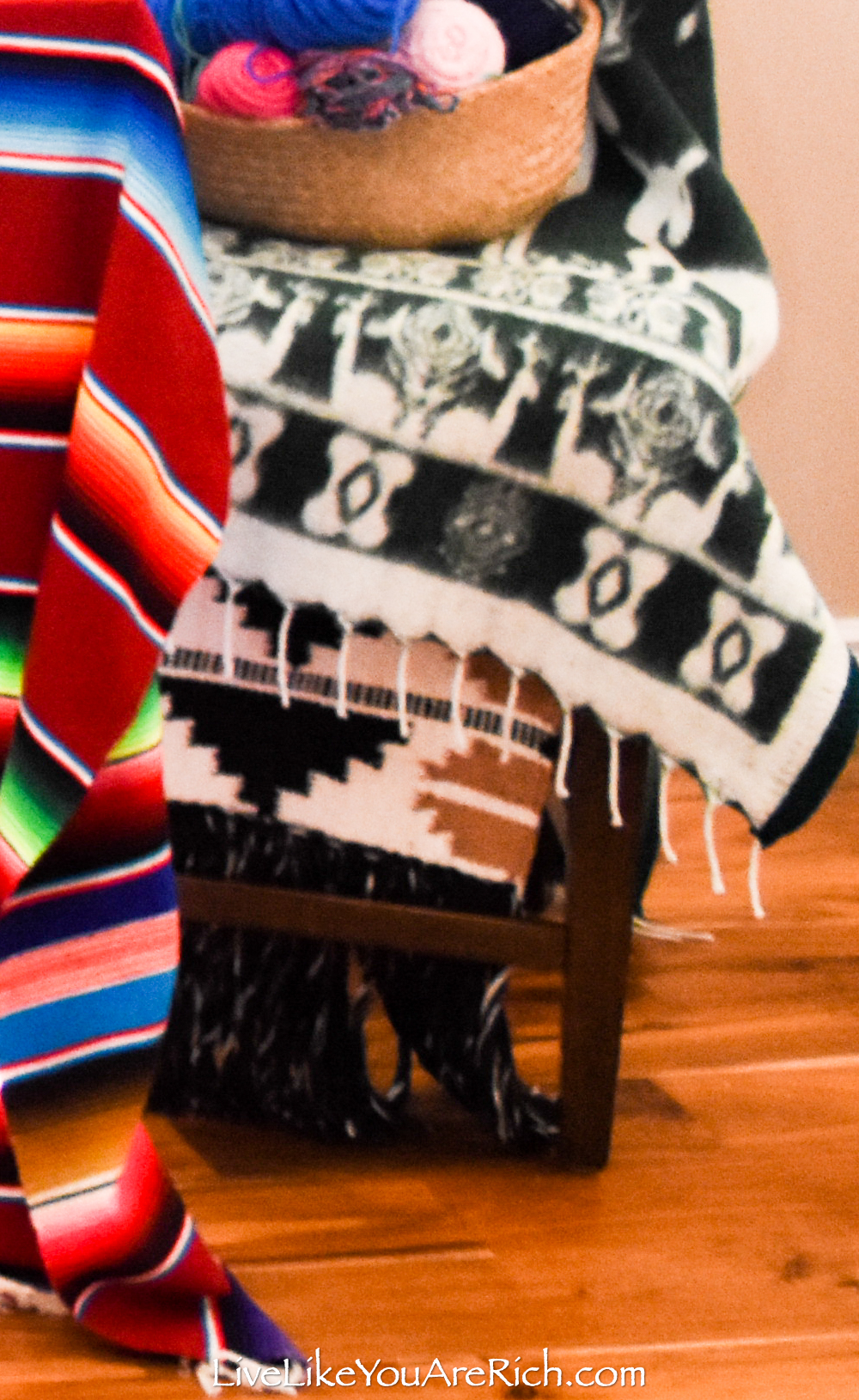 The other llama pillow is on the other chair at the other end of the food table.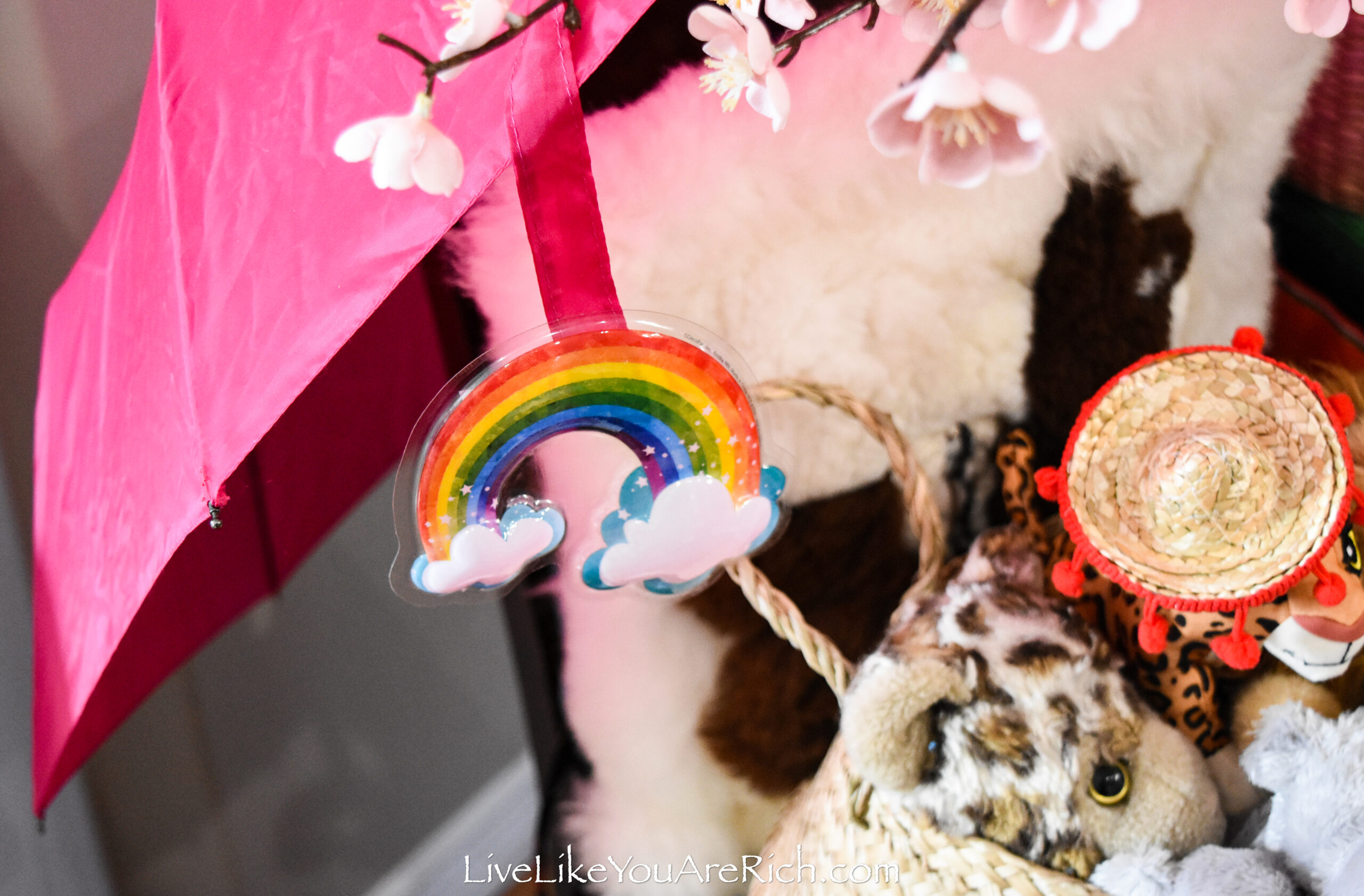 This pillow came from Peru but can be found on Etsy and Ebay.
Since I host a lot, I have four 6′ tables I got on sale for ~$40.00 each and 35 banquet chairs (bought second hand for $5.00 each).

I have use them many times the past three years I've owned them. I also let neighbors and friends borrow them. Because they were purchased second hand from a banquet company, they stack very well and don't take up a ton of space.
The tablecloths are white plastic are from Dollar tree.
The organza runners came from tableclothsfactory.com. The runners were only 89 cents each.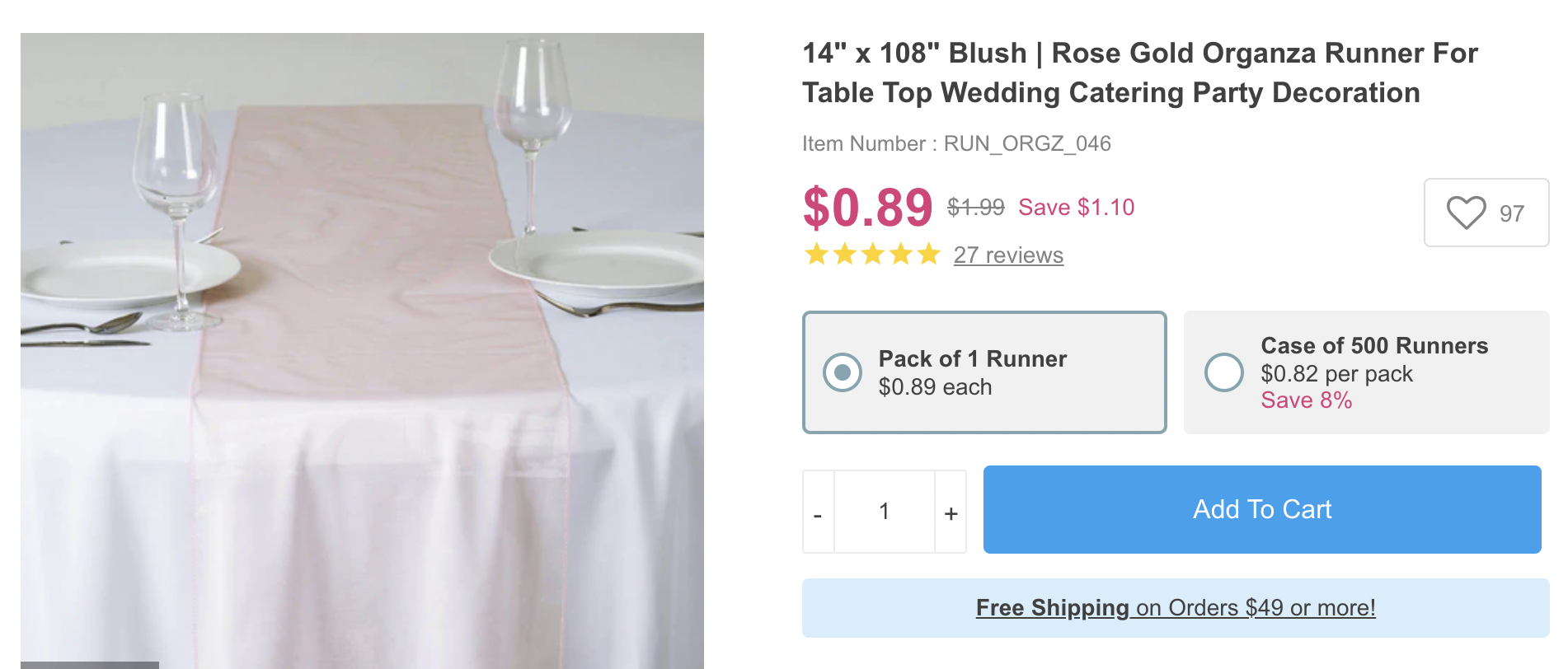 My daughter layered a light pink and gold one.
She was adamant that she set the tables, which I let her do and thought was so cute.
I've used these organza runners for many parties so they've been well worth the 89 cents I paid many times over!
Mexican Blankets- I borrowed these from my grandfather who bought them in Mexico.
I used them as tablecloths and runners for the main table.
You can purchase these colorful blankets on Amazon for $15-$30 each or you can find them even cheaper on Amols.com.
I put an Encanto Poster with a $7.00 poster hanger(IKEA) center on the table as well.
I placed an interesting-looking vase with some dried long-stemmed brown floral-somethings. haha. If you know what these are called, please comment below. They are something I got at a thrift store and have no idea what they are.
I put them in a spot on the food table to add height and interest in a place that was missing it.
That's it.
While it is a lot, I enjoyed collecting and making the decorations for this Encanto Party!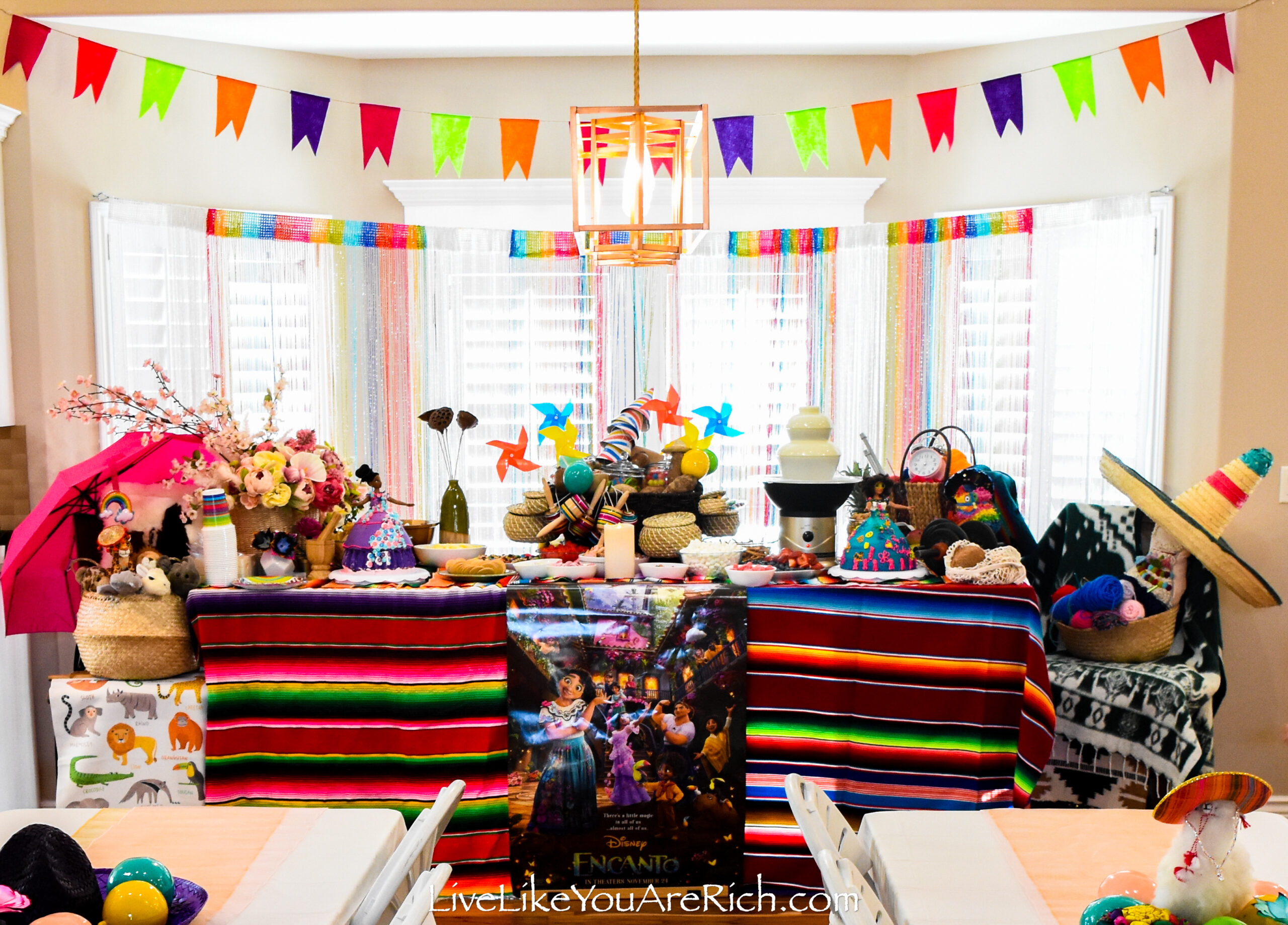 I like to tell people the price I paid for parties.
I hope this post helps you get ideas for your own Encanto Birthday Party Decorations.
CHECK OUT MY OTHER ENCANTO POSTS:
Disney Encanto's Birthday Party
Free Encanto Birthday Party Invitation
La Casita Encanto Party Banner
Encanto Personalized Gifts for Party Attendees—Free Downloads
Encanto Colombian Party Hats—Free Printable
What's in Mirabel's Basket Encanto
Encanto Birthday Party Activity Ideas

For other 'rich living' and D.I.Y. decor tips please subscribe, like me on Facebook, and follow me on Pinterest and Instagram.
If you have any questions about this project, please let me know in the comments below.