Disney's Encanto Birthday Party.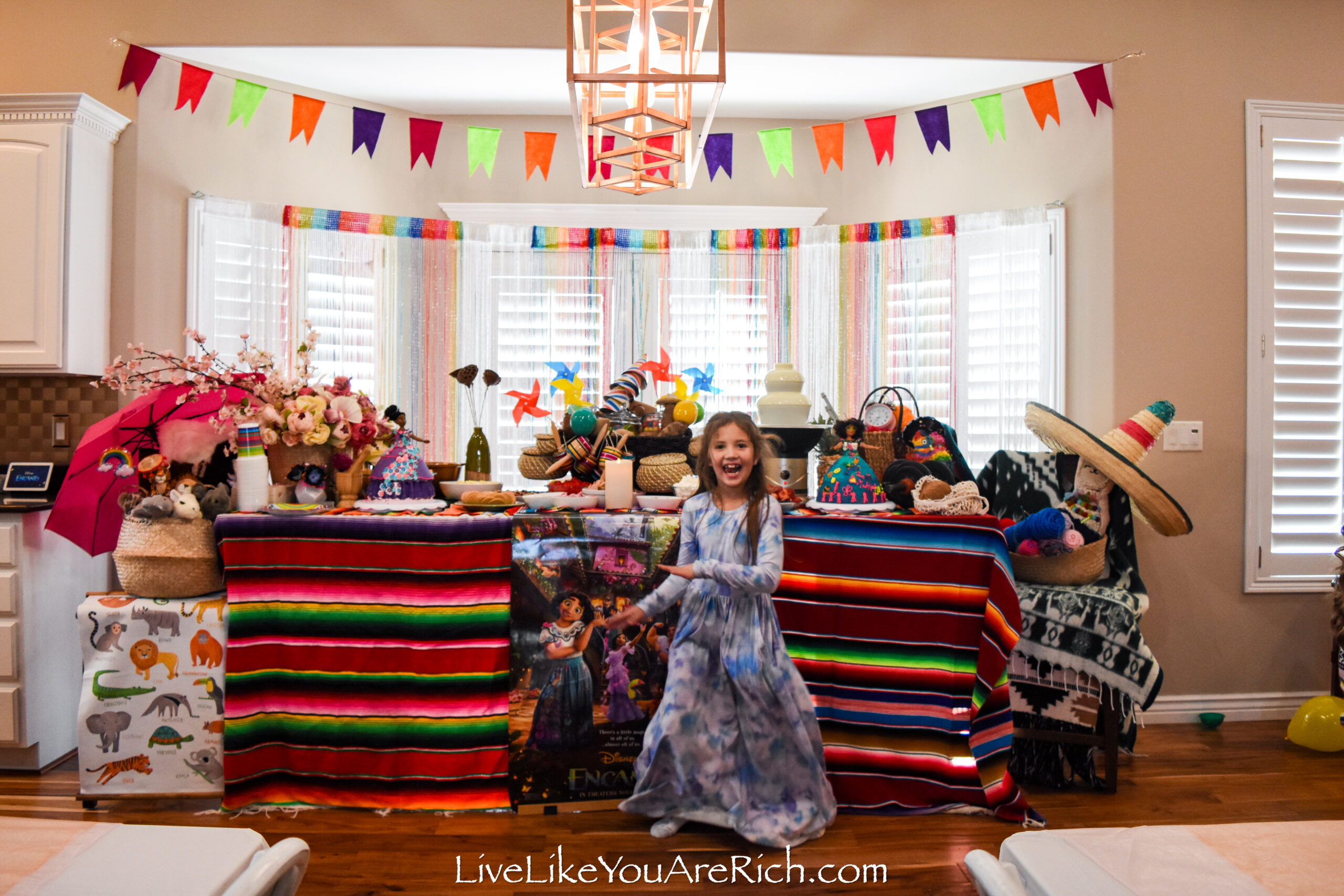 My daughter is obsessed with Disney's Encanto movie!
I always try to plan parties that my kids will love; I suggested doing an Encanto Birthday party for her and she was ecstatic!
I replicated many of the decorations from the movie as best as I could afford. I did do some research and there are many similar items in Central and South America and Colombia, yet some of my items came from Mexico, Brazil, Peru, even China and other areas.
I did not have an unlimited budget for my daughter's seven year old party. Getting all the items I used from Colombia inexpensively was not possible, also I used what I had on hand to save money. If this were a professional party that I had an unlimited budget for, I perhaps could have done better.
Most of the "authentic" items I had on display did come from South and Central America. But many items that I used to represent the Madrigal family member's magical gifts were sourced where ever I could affordably find them.
It was such a fun party to throw! I love party planning, Disney movies, and South and Central American culture, so this was a great combination for a party for me.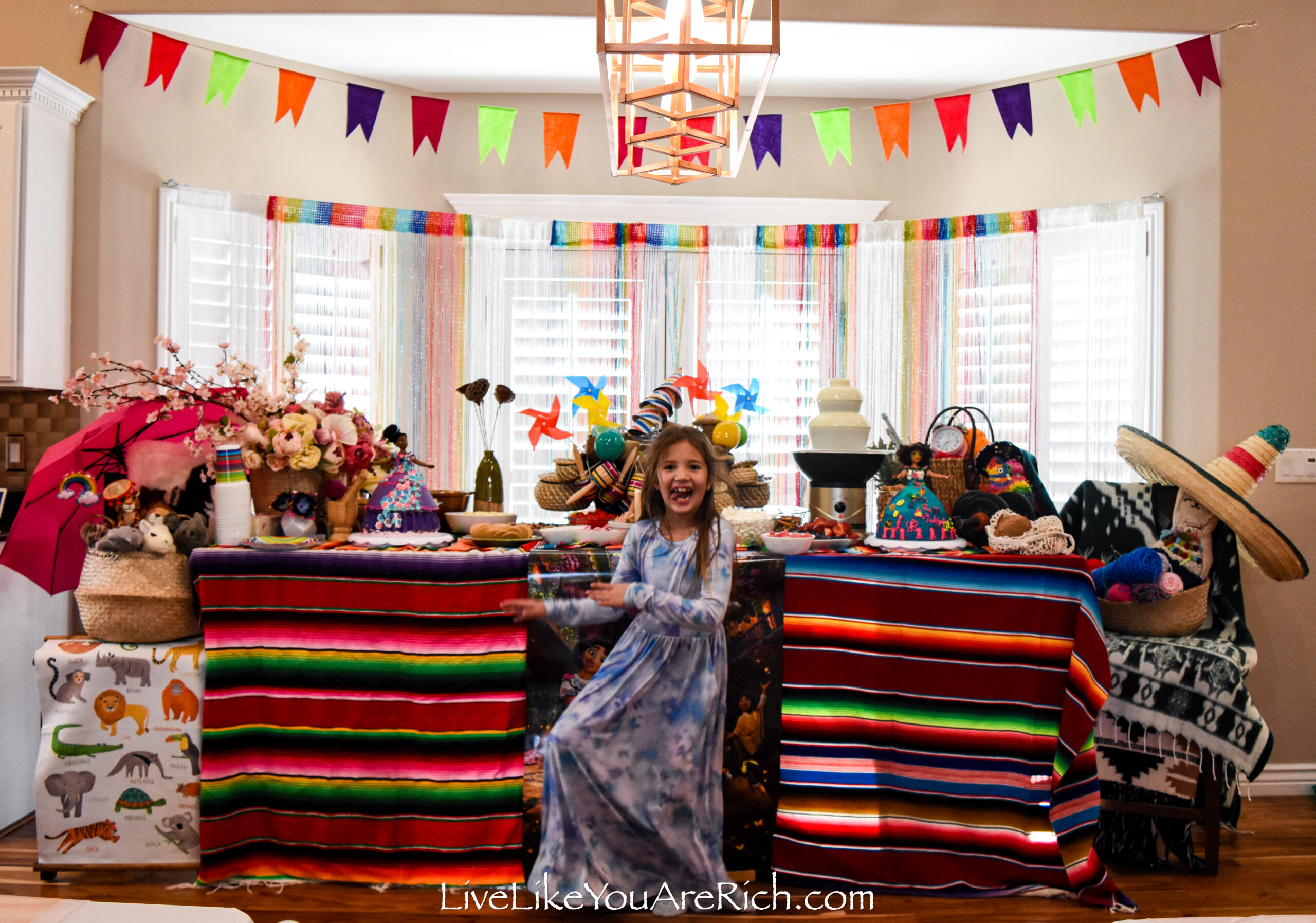 To begin, we held a planning meeting.
This meeting involved the two of us cuddled up under a blanket watching Encanto together.
We discussed ideas of items we could use for the party.
I love that in Encanto they are holding Antonio's party so there was so much to work with as far as replicating a party.
For the invitations, I put together an invite in Photoshop with the Madrigal family partying together.
I will be putting up a post soon on how I made these invites within the next week or two and include a free PSD and JPEG download.
If you need a file before the post goes live, just email me and my VA will email it to you.
My address and phone number were replaced with "Tuesday" for privacy purposes.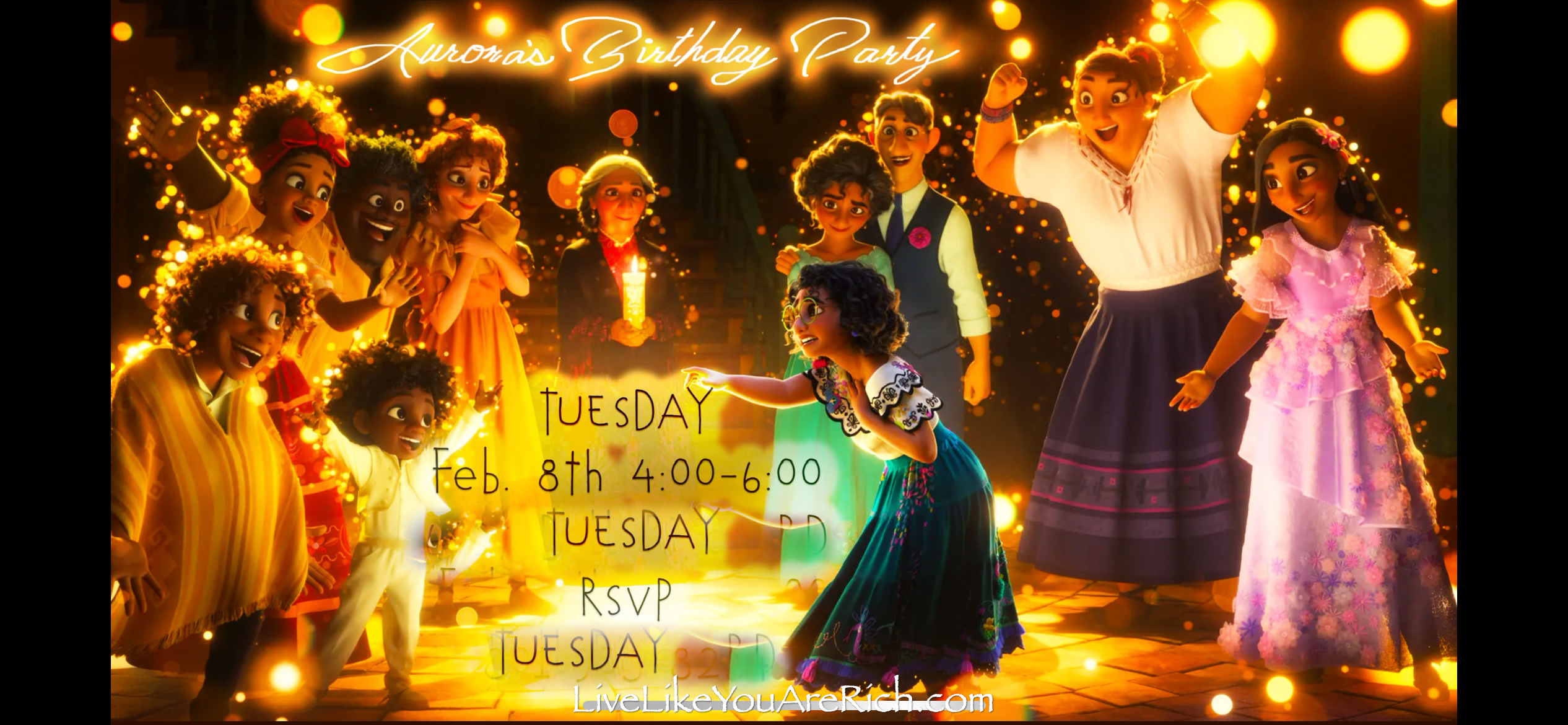 I knew I wanted to highlight the party basket that Mirabel was holding in the movie.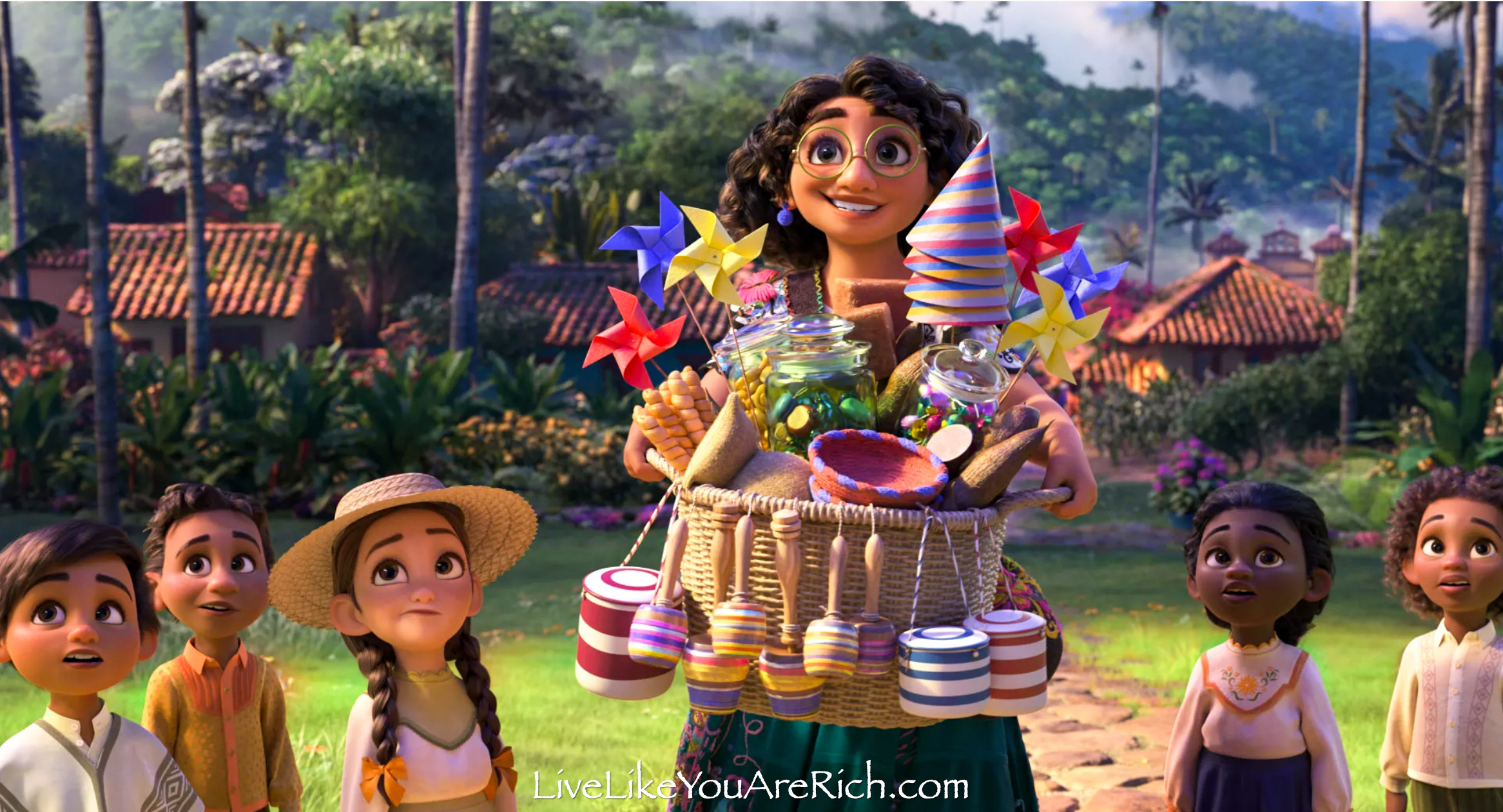 I have posted about the decorations I created for this Encanto birthday party and share the details of items in Mirabel's and our party baskets.
It was a fun basket to find items for.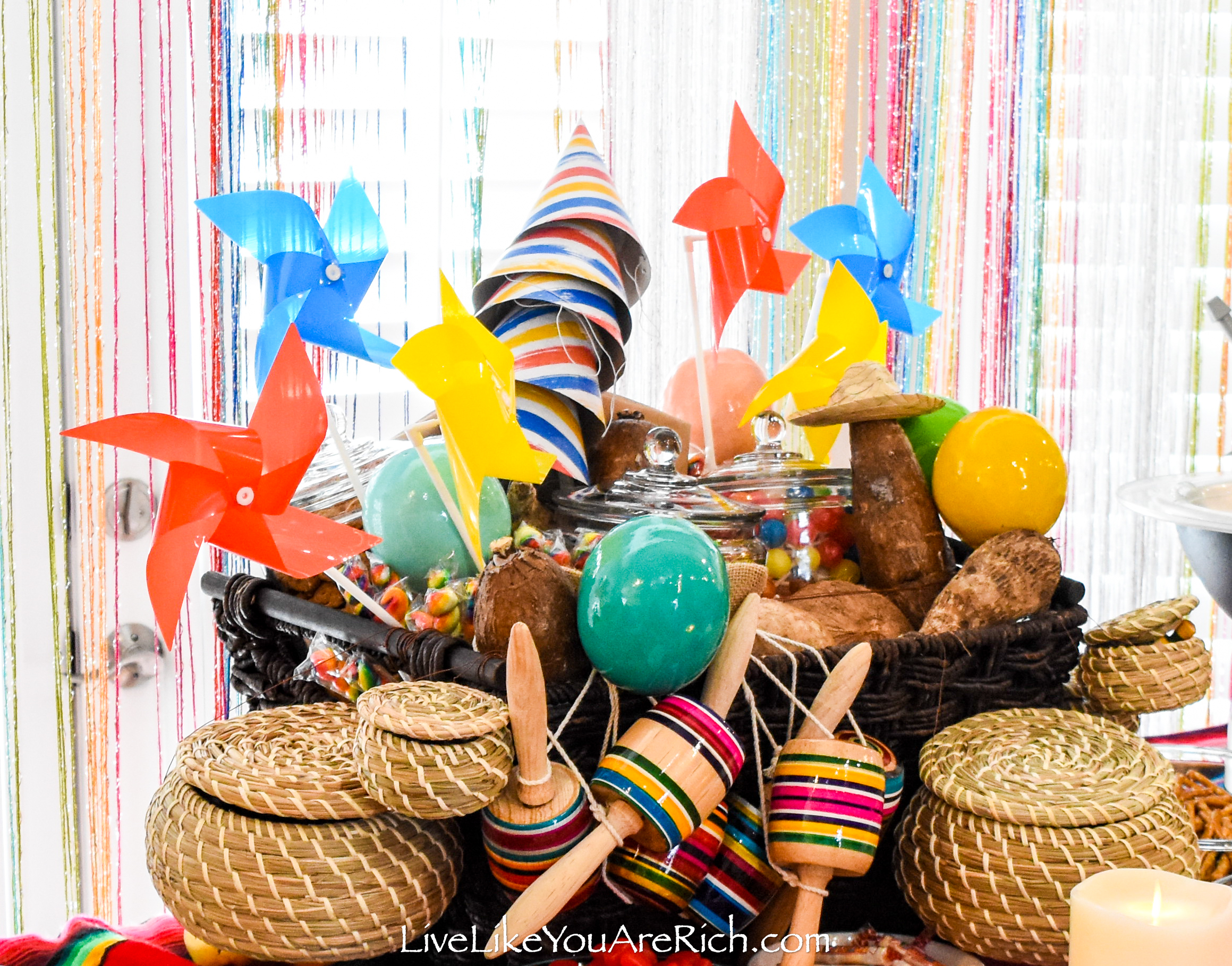 I was able to replicate the party basket pretty easily as well.
To see the party in a video format, click play on the video located on this page.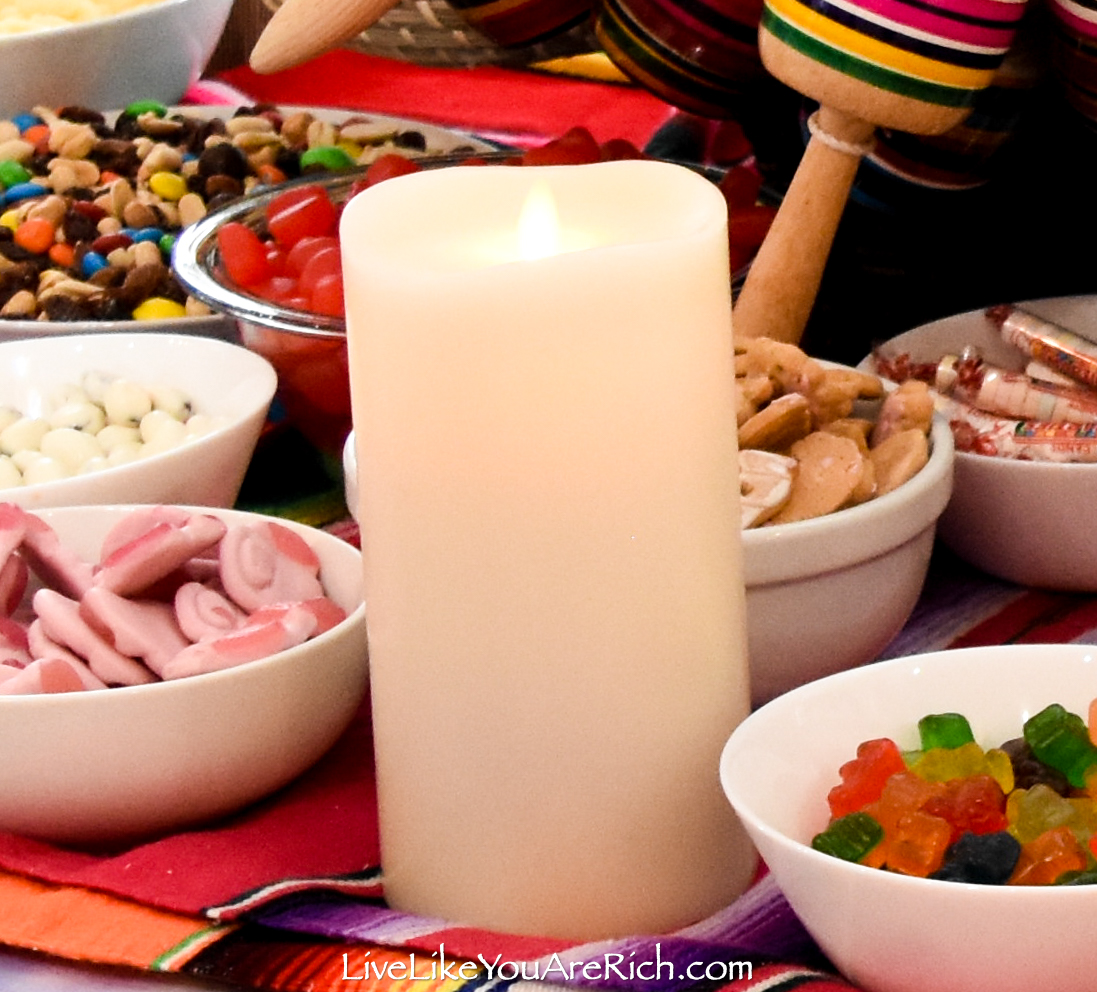 I wanted to include an item representing each family member who has a gift at the party, so that inspired a lot of the decorations.
I put out the candle, poncho, sombrero,
the pins, and herb grinder
a Casita clock, yarn, crochet and knitting needles,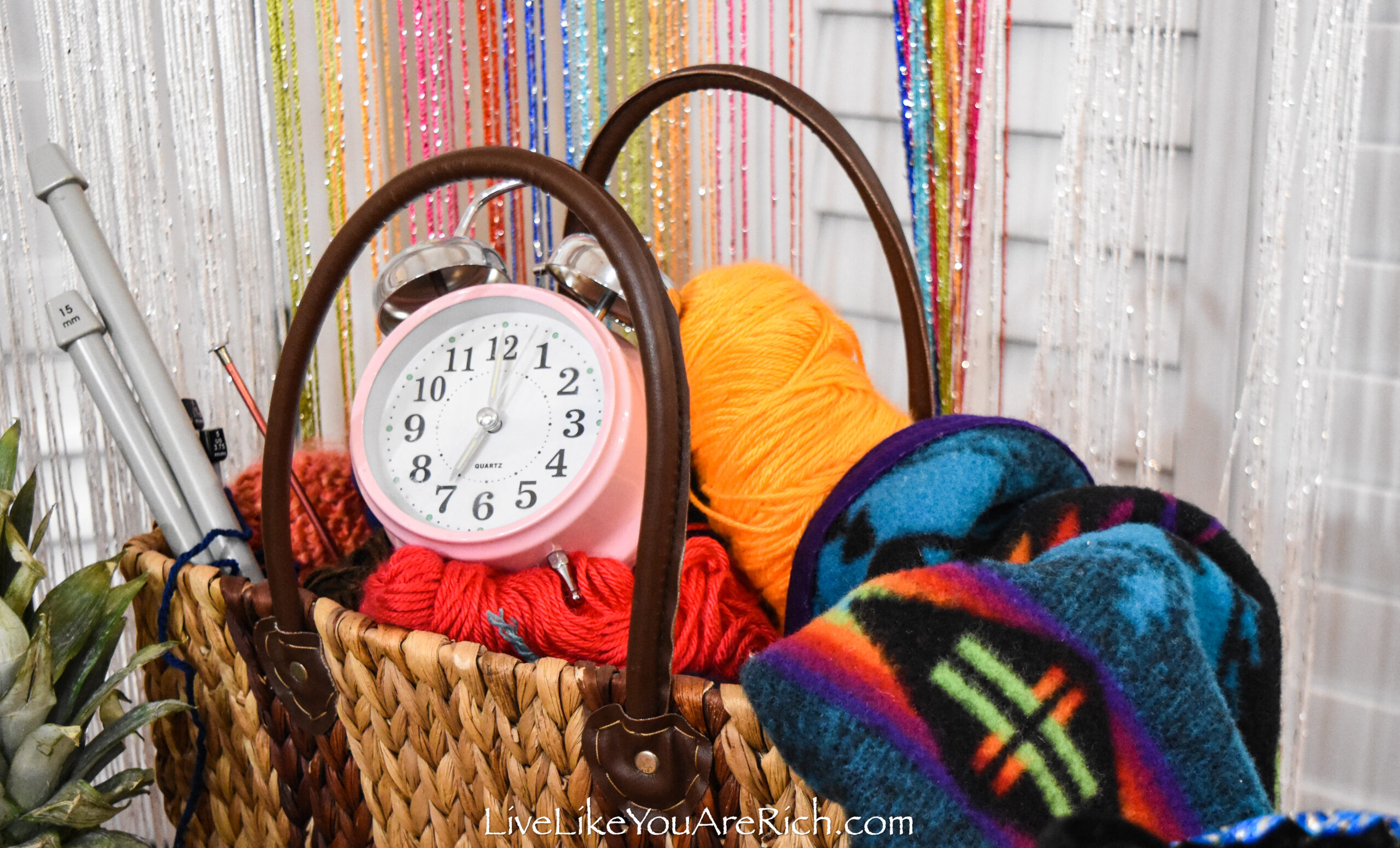 and a donkey and dumbells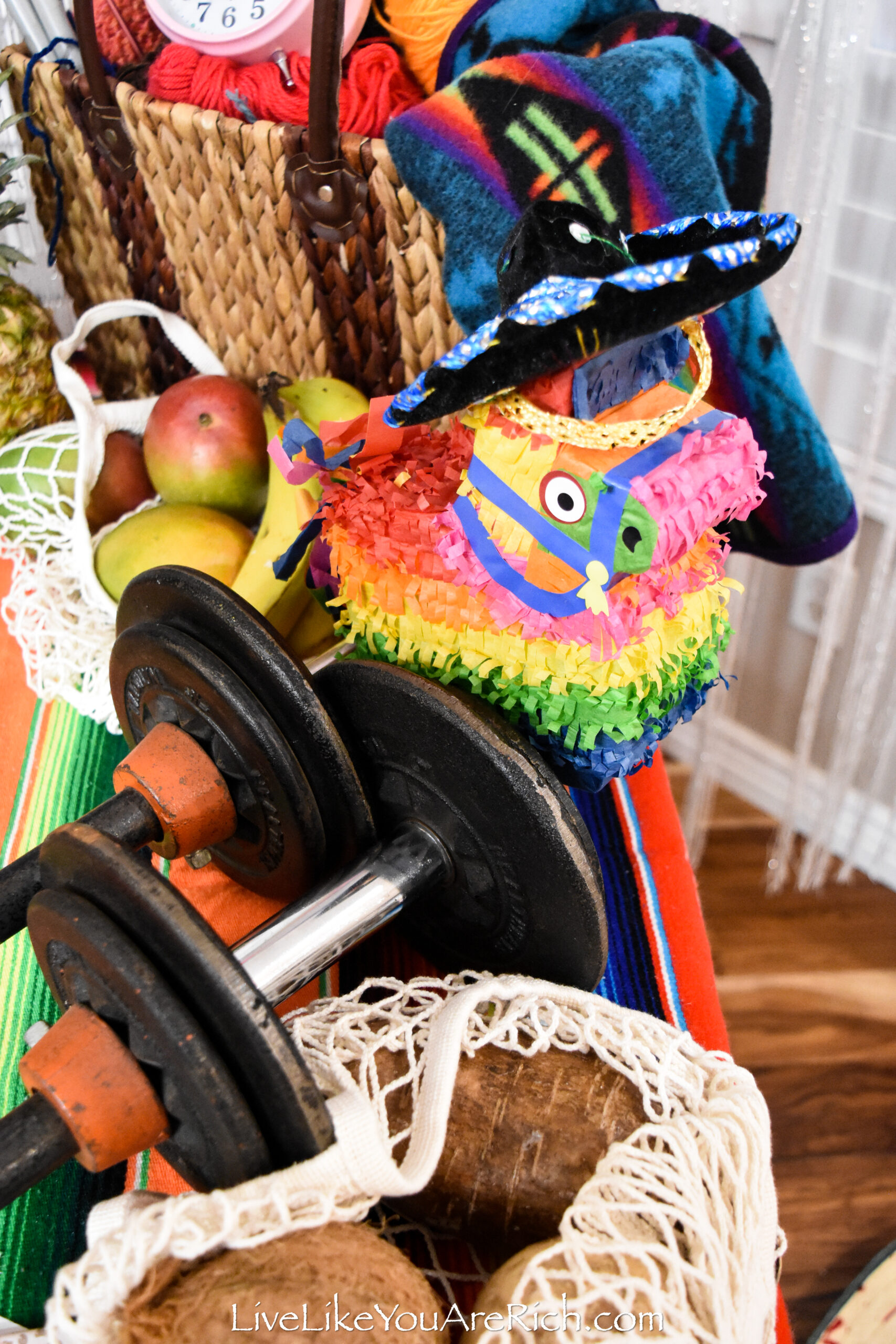 We put up an umbrella with rainbow, animals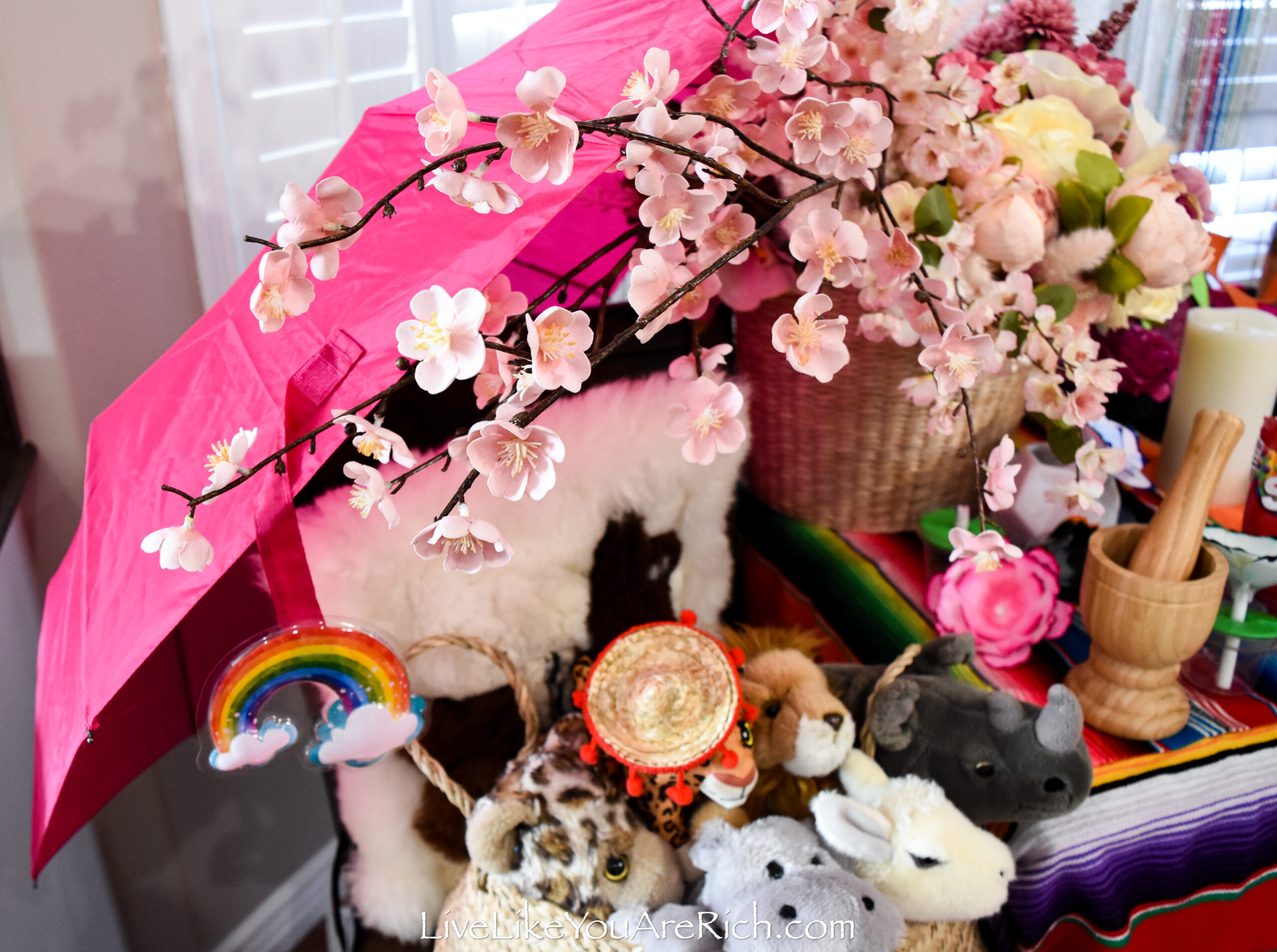 and of course flowers.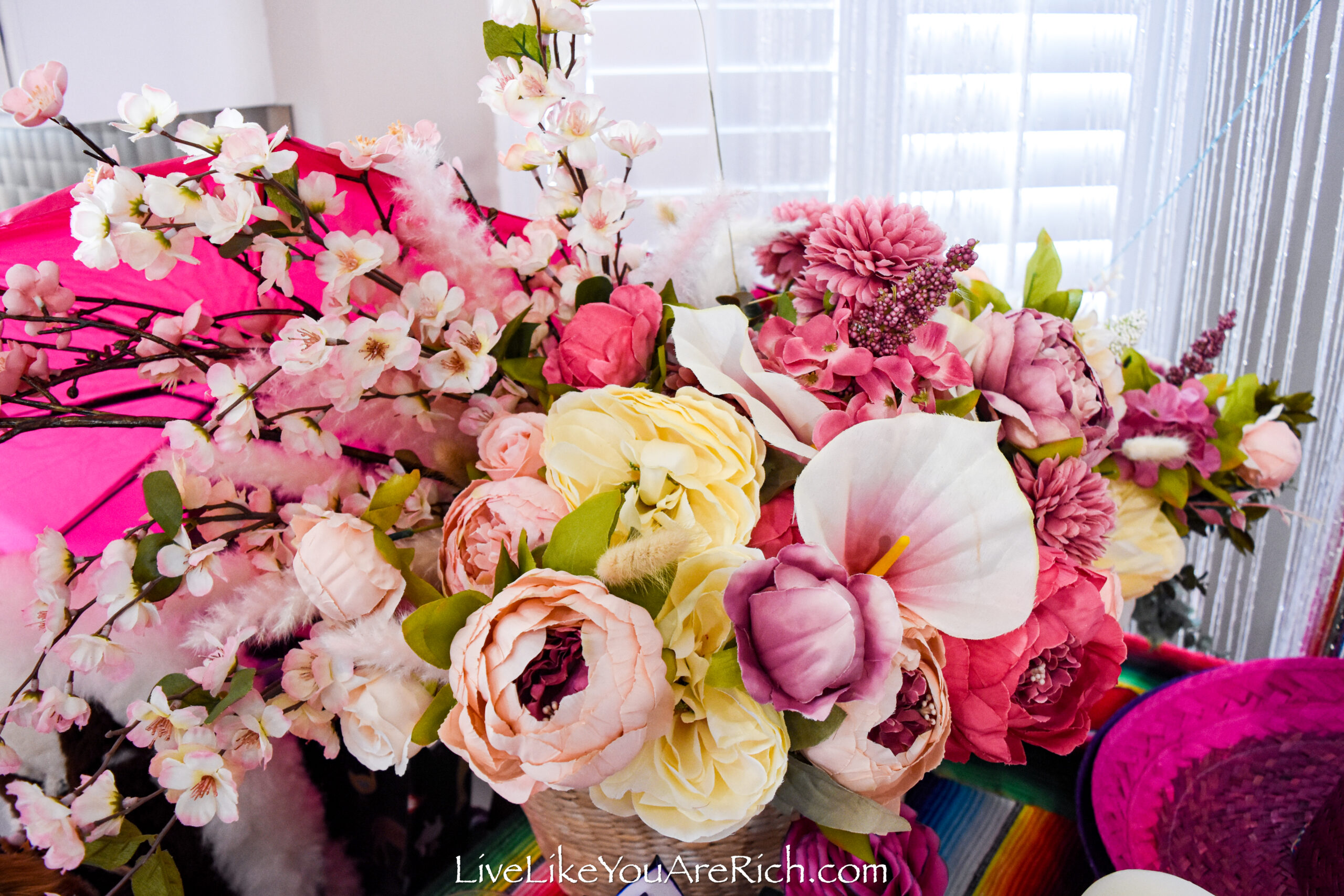 I will go more into detail in this post on the decorations used for this party and why we decorated with each one.
I hung sparkle curtains as a backdrop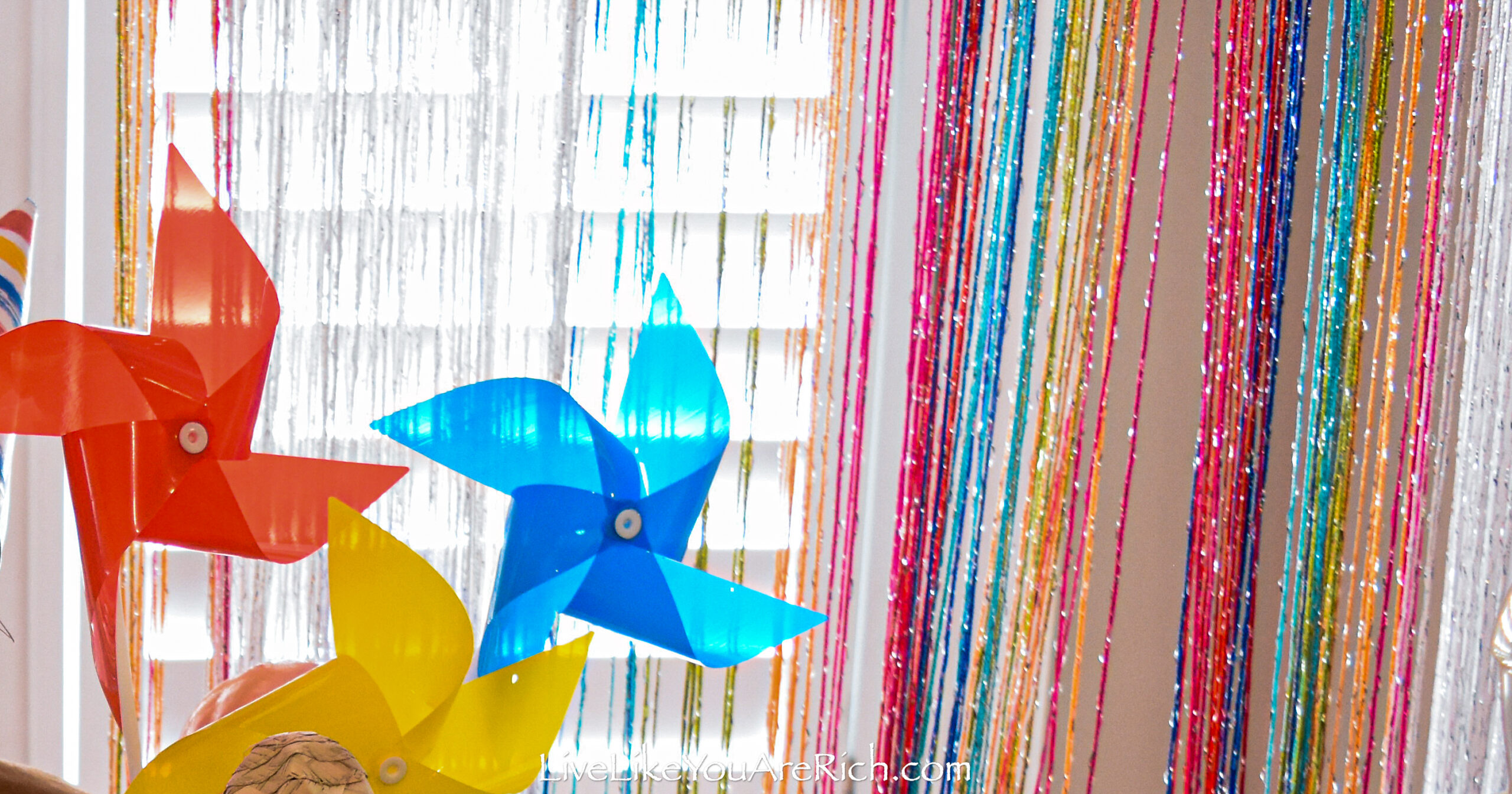 and made this Encanto Casita party banner tutorial here with a free printable.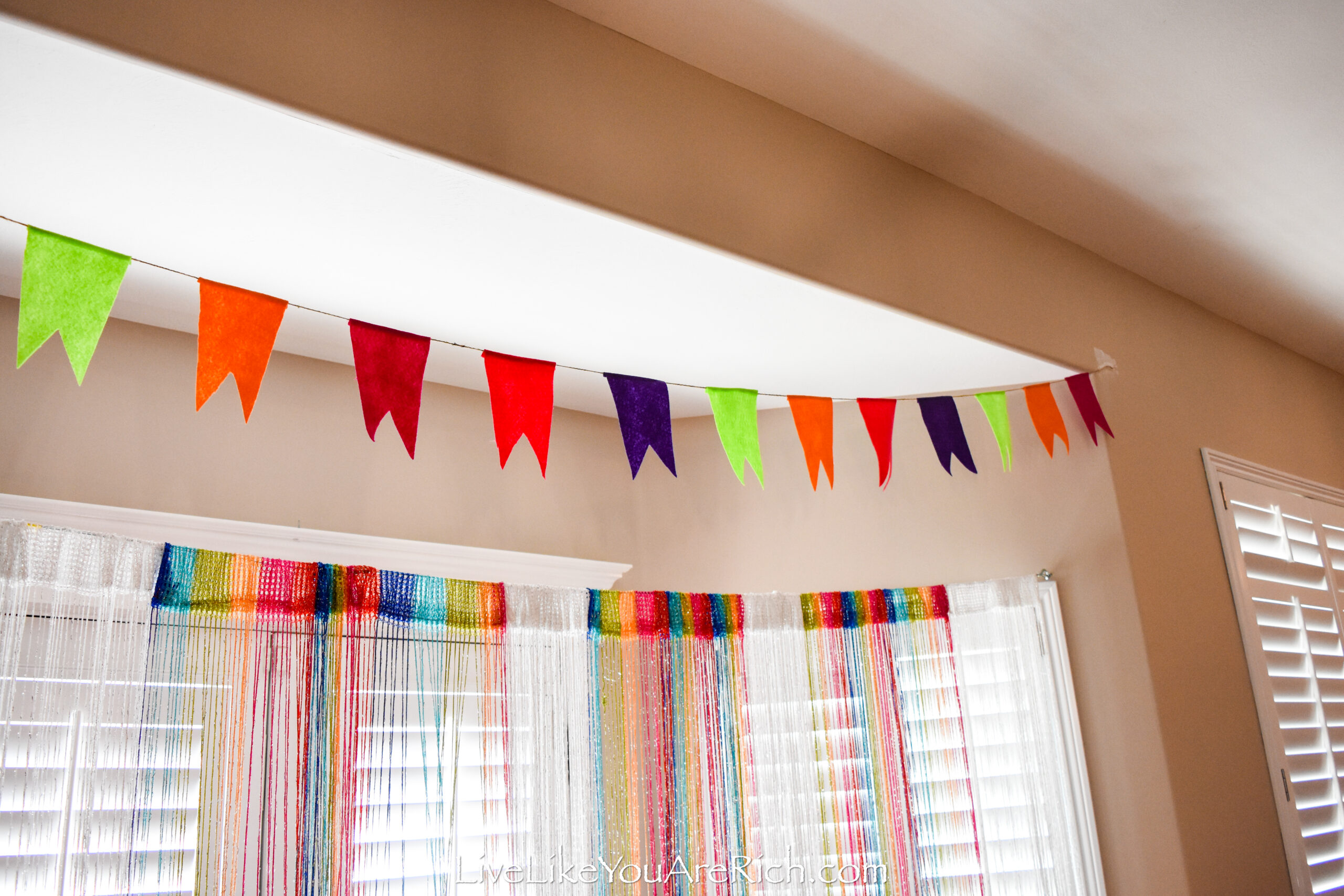 I made a few barbie cakes.
A made an Encanto Mirabel barbie cake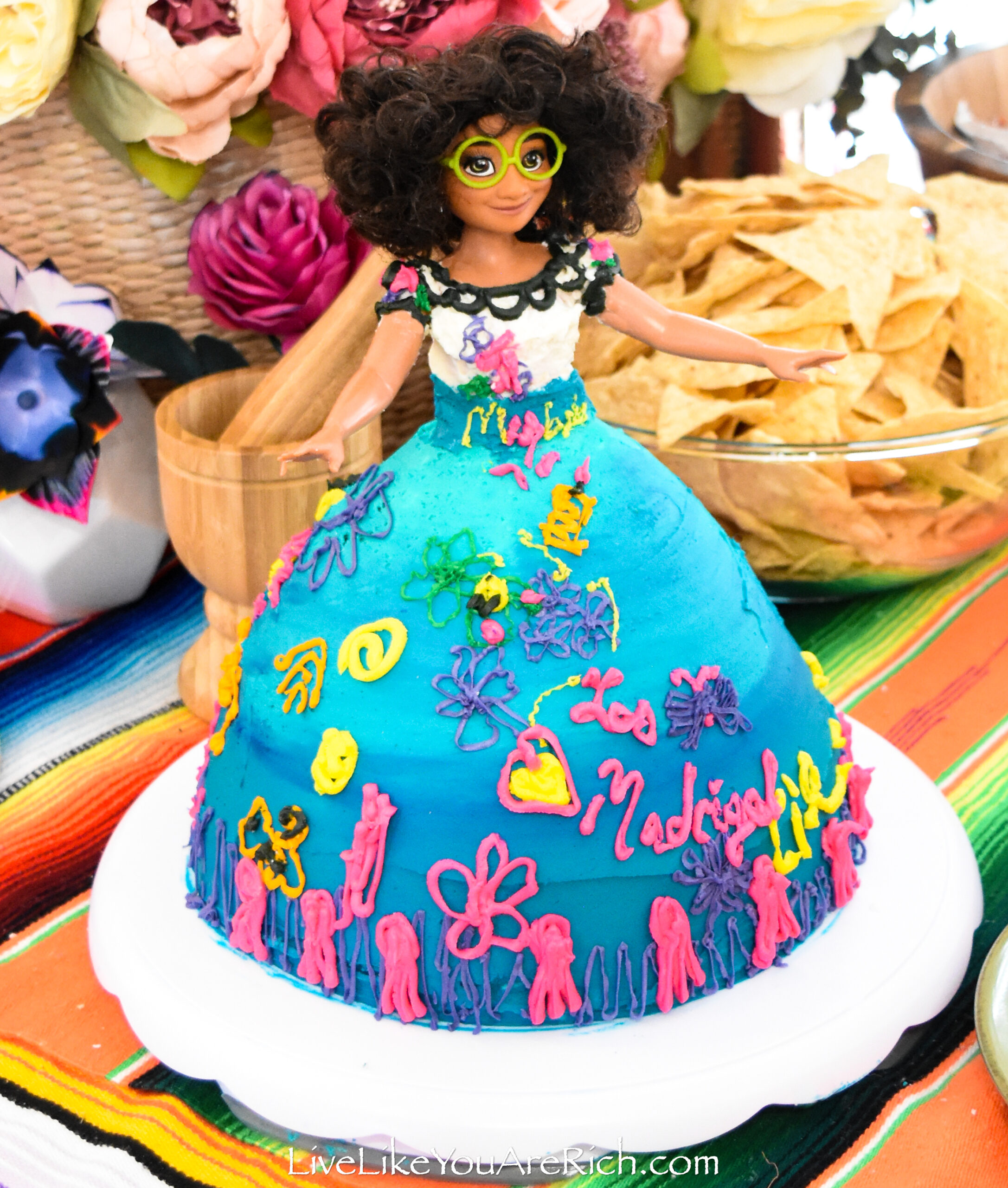 and an Encanto Isabella Barbie cake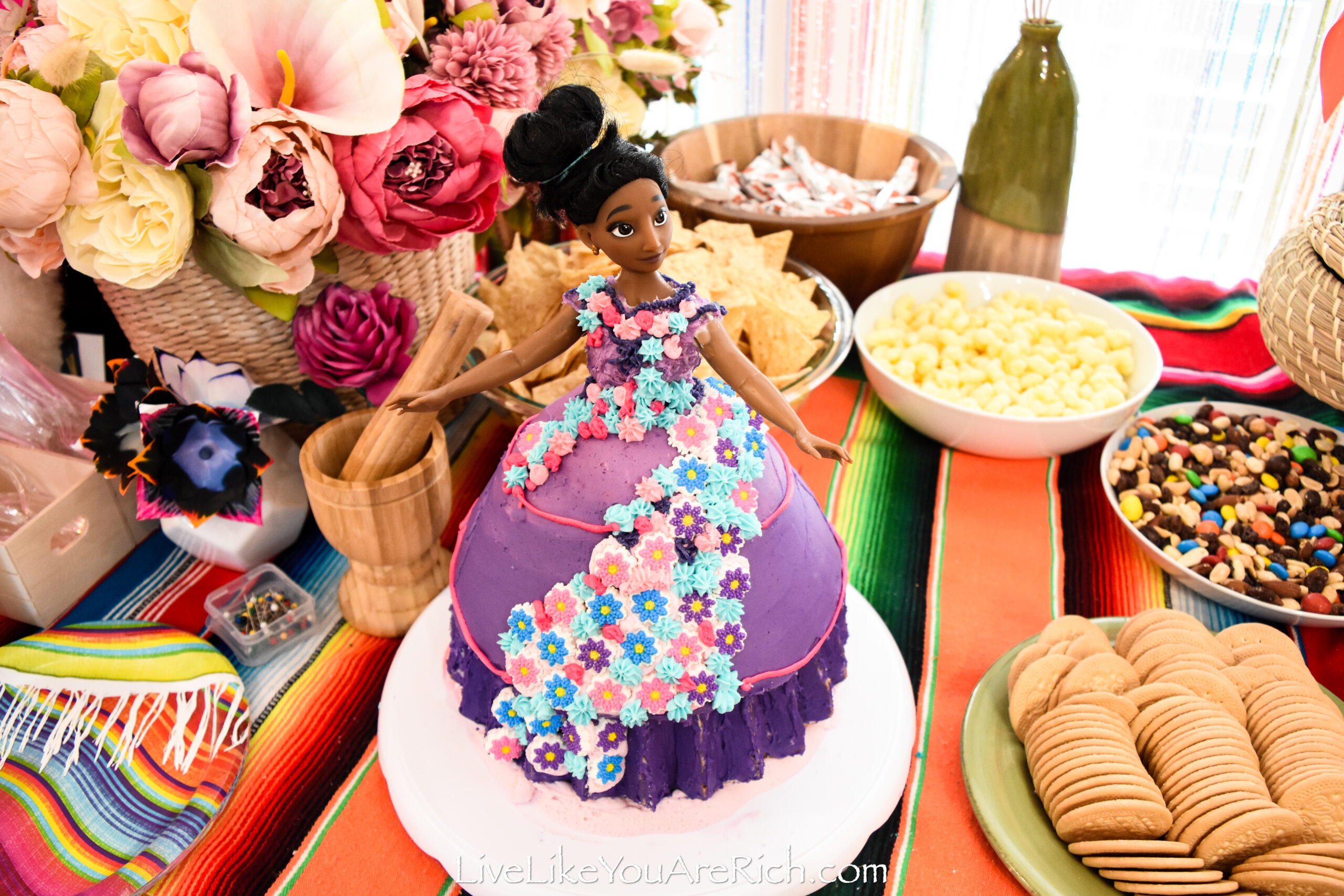 I will be posting tutorials on how I made these two cakes soon as well.
My daughter loves chocolate, so I had a white chocolate fountain with food to dip into the chocolate.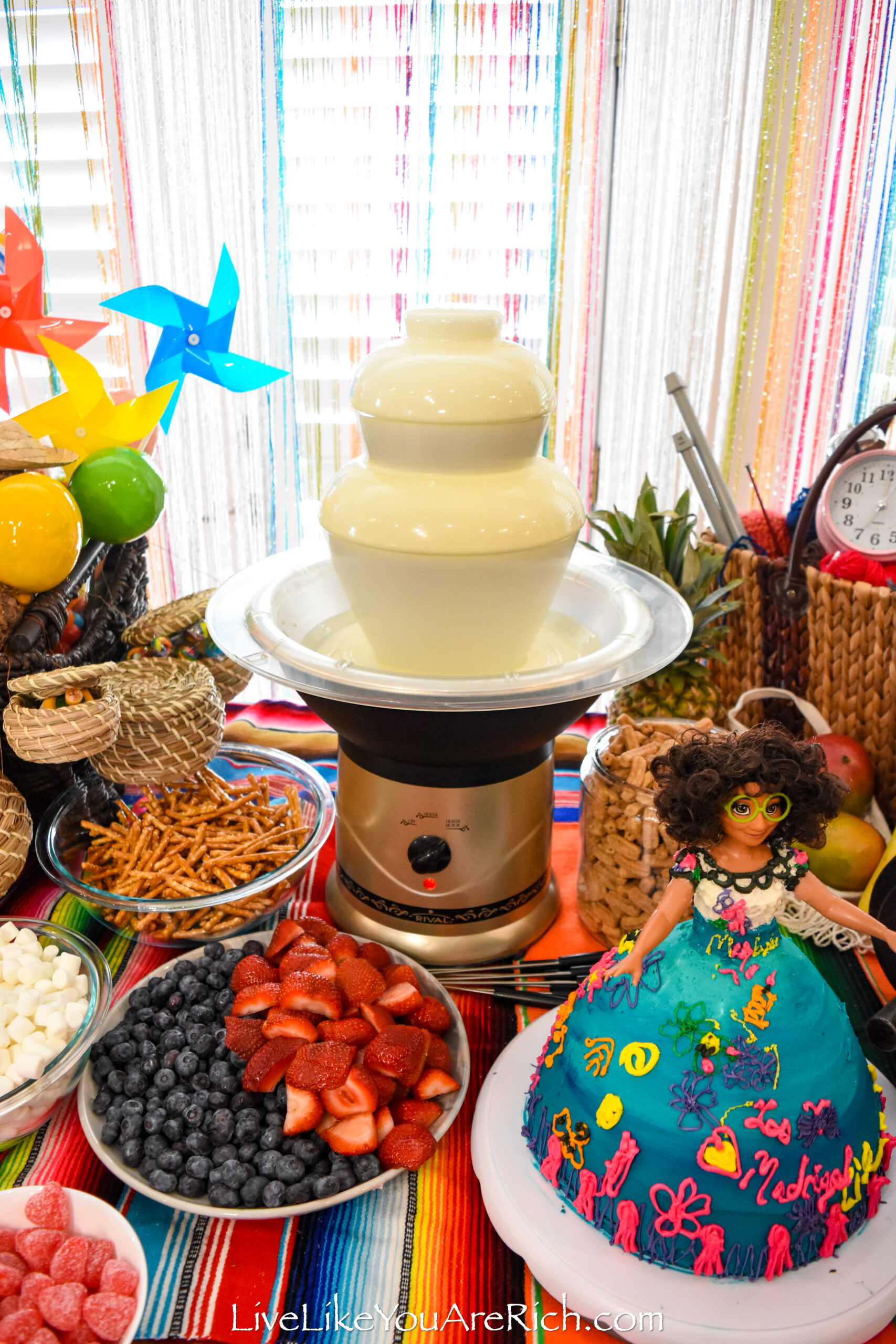 I will be posting about all the food I put on the table at the party as well.
Tutorials and Posts on the following Disney Encanto Birthday Party…
Encanto Birthday Party Invitations with Free Printable
Encanto Birthday Party Activities and Party Favors
Encanto Party Banner Tutorial with Free Printable
What's in Mirabel's Basket Encanto
Encanto Personalized Character Gifts Ideas
Encanto Customized Party Hats with Free Printable
I will try to post these all within the next week or two.
As mentioned, we had a total blast at the party.
There were 19 girls there and I had 3 tables set out with 19 chairs.

My parents came and helped and I hired a neighbor girl to help out as well.
The party went off without a hitch! I was able to keep the 19 girls fairly well behaved and entertained.
So many of the girls have mentioned that they had soo much fun and that it was the best party ever! That made me happy because I really do go all out for birthday parties. I do this so that my child and their friends kids have a lot of fun so it made me happy to hear that they did have fun.
I hope these ideas help you throw an at-home Disney's Encanto Birthday Party as well!

For other 'living rich' tips & recipes, please like me on Facebook and follow me on Pinterest and Instagram.