Encanto Colombian Party Hats—Free Printable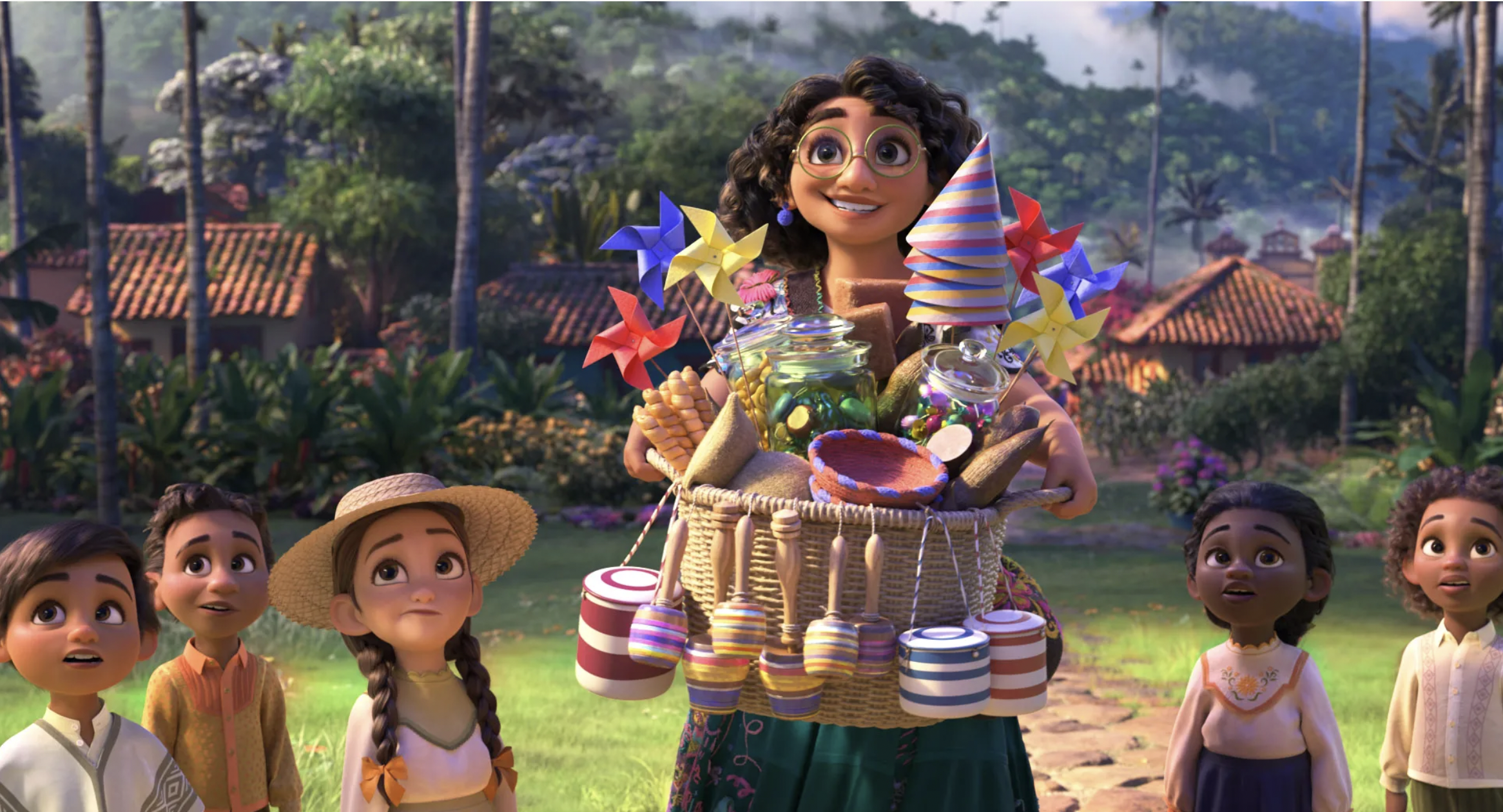 When I was setting up my daughter's Encanto Birthday party, I couldn't find the exact hats seen in Mirabel's basket.
In the image above the blue looks slightly purple, but after doing some research, I found out that it is really supposed to be blue.
Sometimes screens change colors a bit.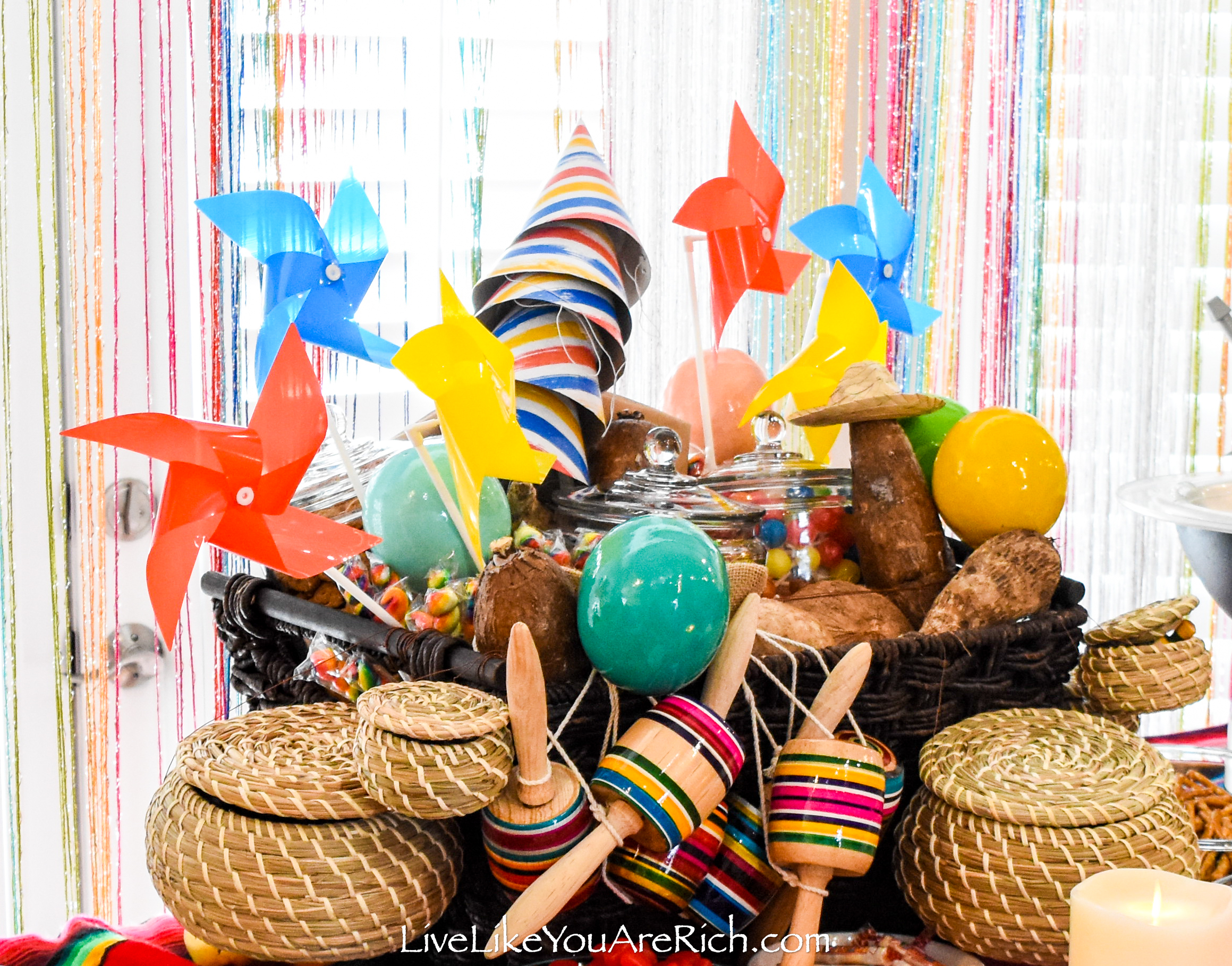 You can tell that that the colors of the hats are supposed to be Colombian blue, yellow, and red because the pinwheels in her basket are also those colors.
Colombian colors are red, blue and yellow, so it made sense that the party hats and pin wheels were made in Colombian colors.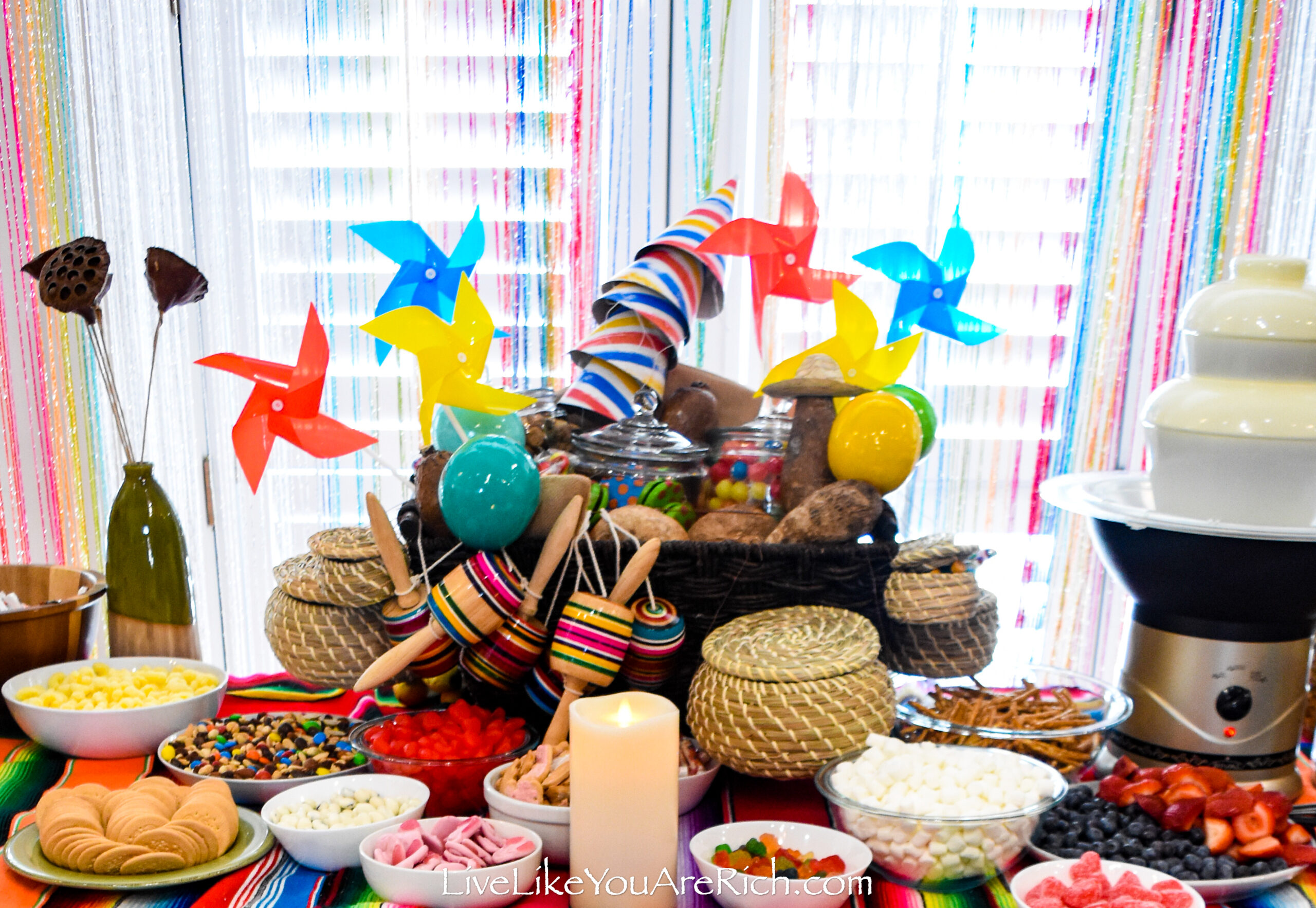 I made a printable that matched the colors in photoshop and have linked to a free printable download below.
After making this image, I printed them off.
Make sure to select the printer setting that allows the image to print the stripes edge to edge in landscape mode.
It will fit if using small/standard kids party hats, and a regular printer with standard sized paper.
Supply List for Encanto Colombian Party Hats plus Free Printable
Small paper party hats. I got 5 for $1.00 at Walmart but the link here is to a better deal.
Mod Podge matte
Free Encanto party hat stripes printable + printer + paper + ink

Using the free printable and some inexpensive items, you can make these Encanto Colombian Party Hats which are similar party hats in Encanto that are in Mirabel's basket that she takes in to Antonio's party as well. Read on to see how.
How to make Encanto Colombian Party Hats with Free Printable
Continue reading and/or watch the video tutorial here.
1- Collect the supplies.
2- Print off the free downloadable printable located in the supply list above.
3- Place the party hat flat on the counter (you may want to protect your counter if you don't want Mod Podge on it).
4- Fully coat the outside side of the party hat with mod podge.
5- Carefully put the party hat on the printed paper—making sure to bend it while it is wet so it can form a cone shape with the paper. (See the video if you are confused by this).
6- Trim the paper around the hat.
7- Use your finger nails or utility knife to make the slit for the hat to be assembled.
8- Assemble the hat and secure the inside tab with scotch tape.
9- Mod Podge over the striped printer paper.
10-Allow for the Encanto Colombian party hat to fully dry (an hour or so).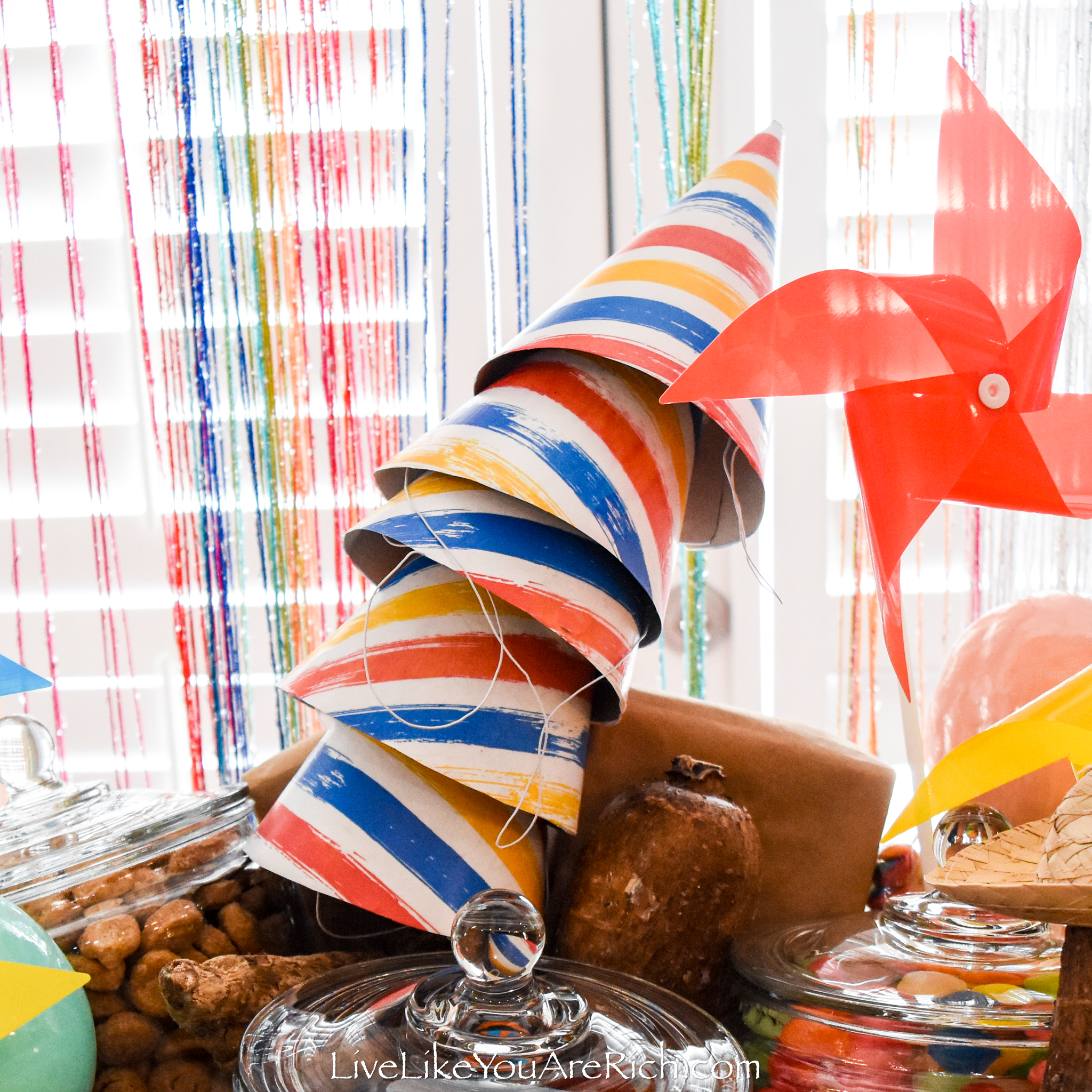 Now you have similar Encanto Colombian Party Hats to the ones in Mirabel's basket.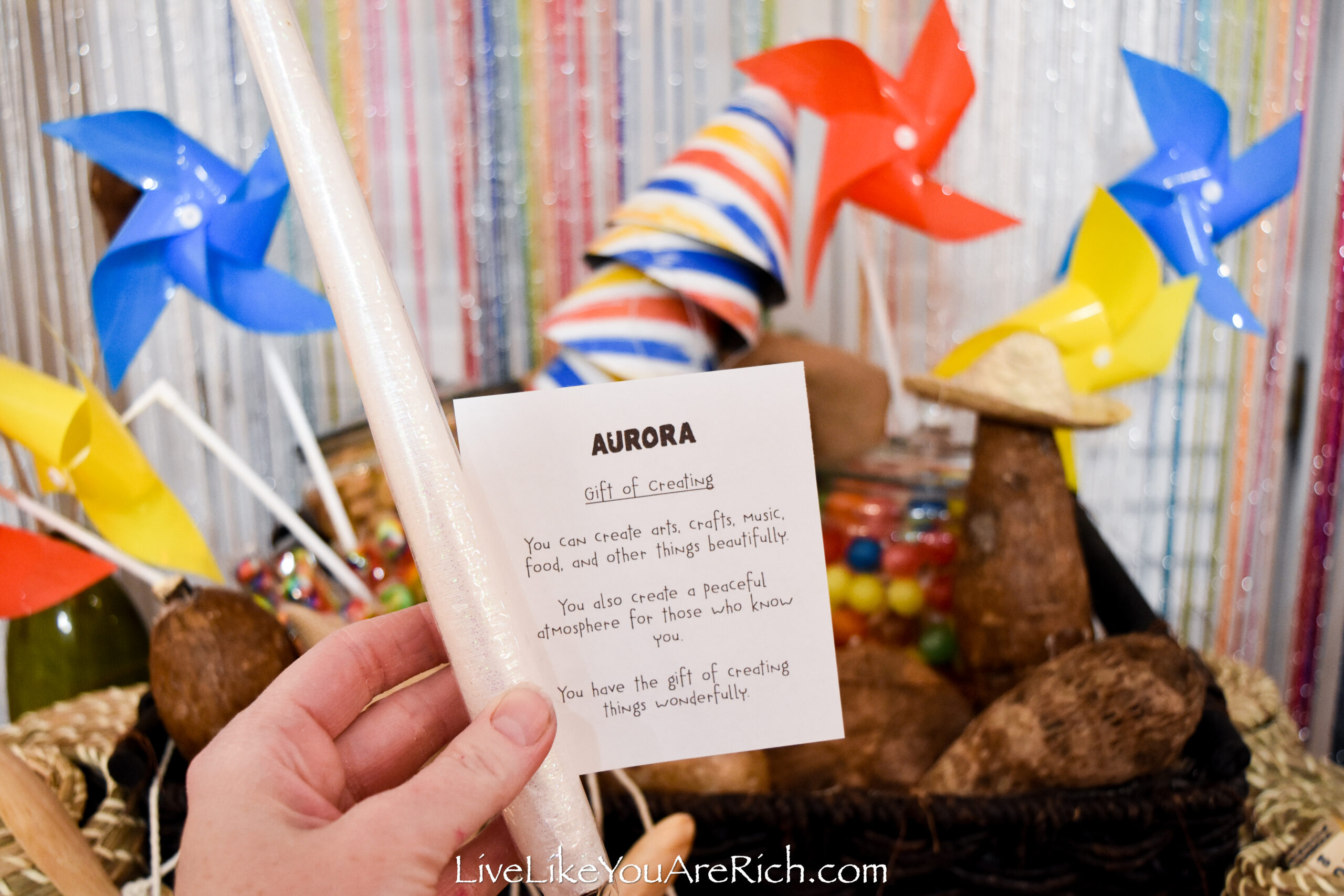 Check out my other Encanto Posts:
Free Encanto Birthday Party Invitation
La Casita Encanto Party Banner
Disney Encanto's Birthday Party
Encanto Personalized Gifts for Party Attendees—Free Downloads
Encanto Colombian Party Hats—Free Printable
What's in Mirabel's Basket Encanto
Encanto Birthday Party Activity Ideas
Thanks for stopping by! Come again soon.

For other 'rich living tips' please subscribe, like me on Facebook, and follow me on Pinterest and Instagram.