Encanto Personalized Gifts for Party Attendees—Free Printable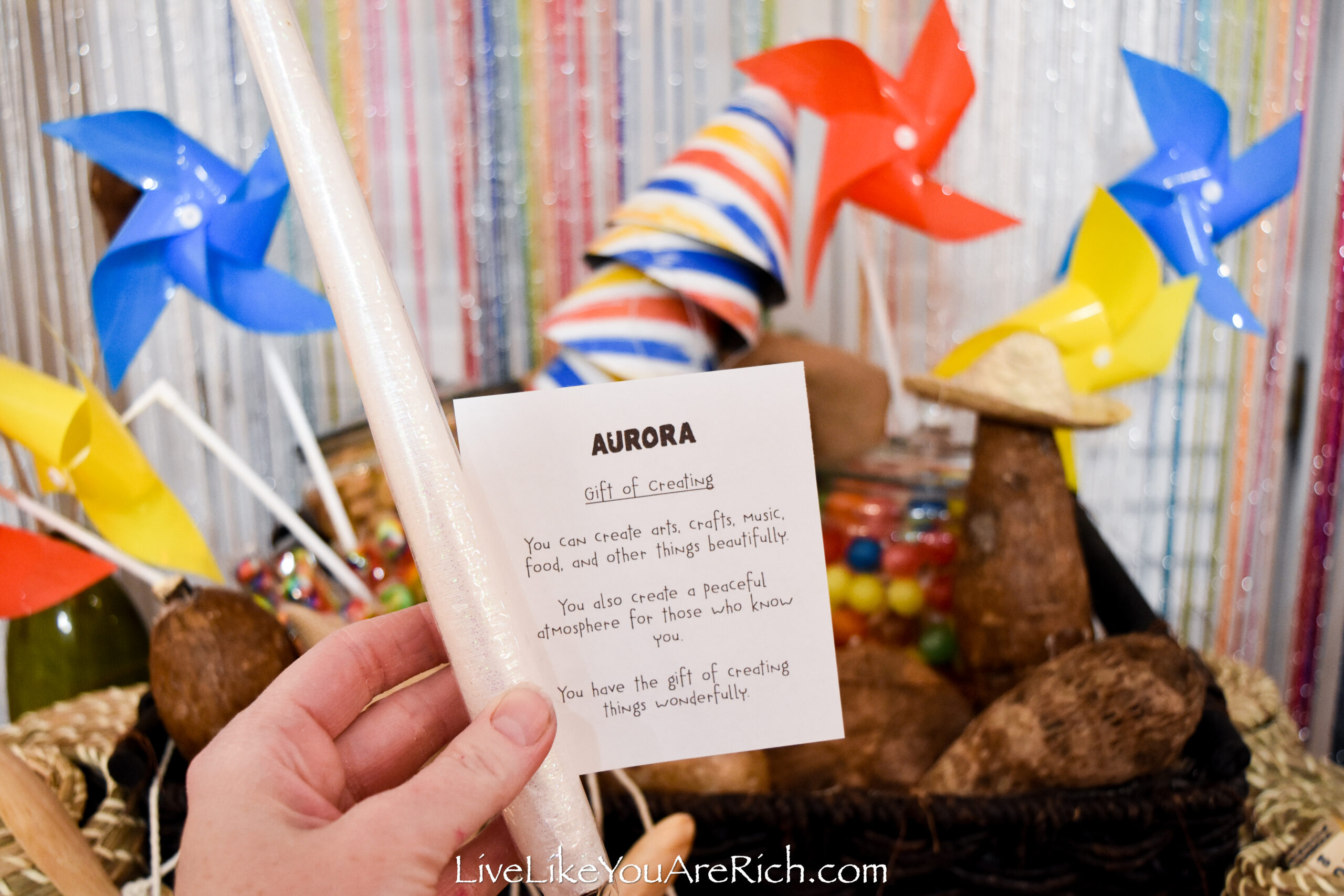 As I was thinking about different activities I could do for the Encanto Birthday Party that I threw for my 7 year old daughter, I thought about the theme of Encanto.
Each member of the Madrigal family has a skill/talent/gift/superpower, however you want to describe it, and Mirabel, despite her darling personality, believes she isn't as important or doesn't quite fit in because she supposedly didn't receive a gift.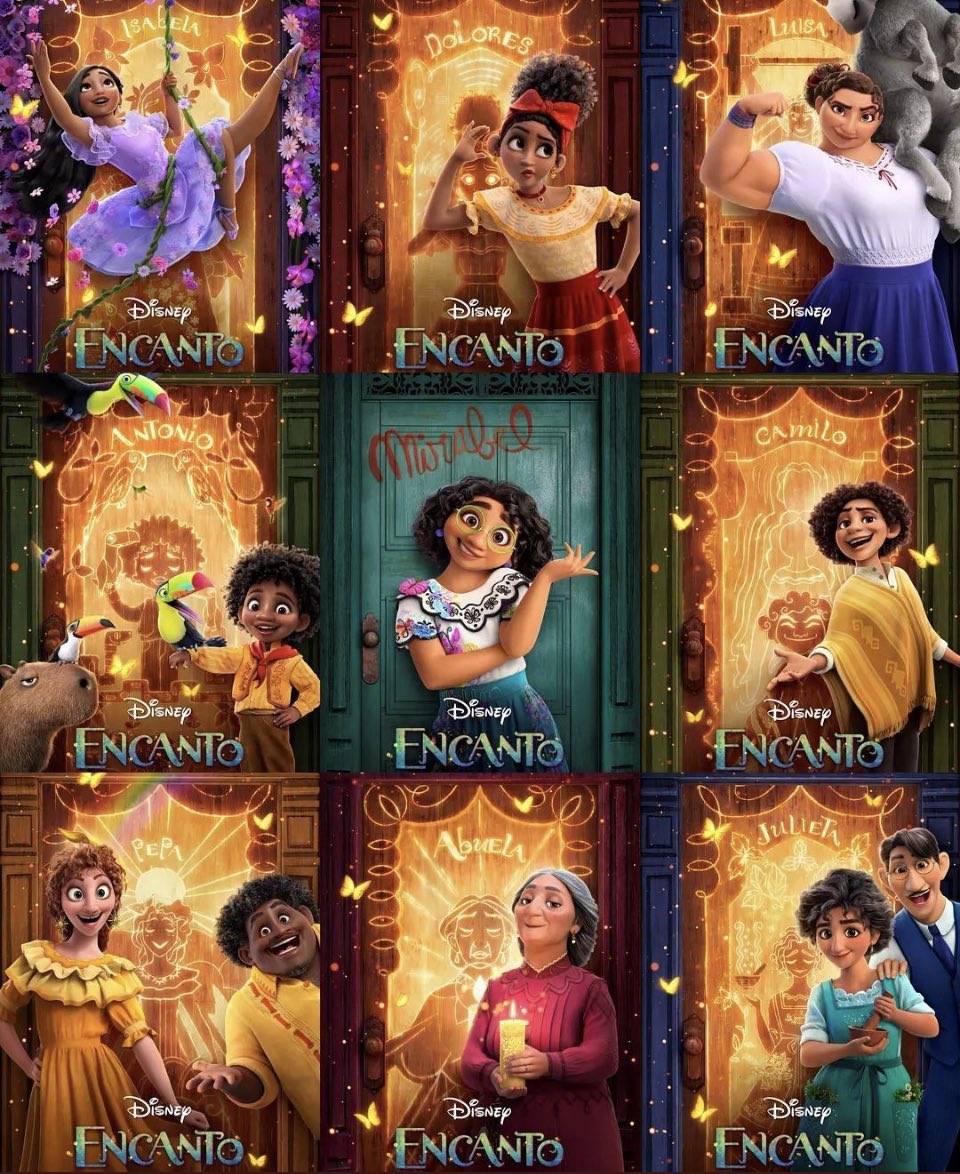 **SPOILER ALERT IF YOU HAVEN'T SEEN IT SKIP TO THE NEXT SECTION IF DESIRED**
Mirabel's gift was 'hidden' from her and her family.
At the end of the movie, Mirabel unites her family and home and La Casita/glowing door makes it pretty clear at the end that uniting family and home is what her unique gift is.
**END OF SPOILER**
Everyone has their own unique personality, likes and dislikes, strengths and weaknesses.
I decided that it would go with the Encanto theme to give each party attendee their own special 'gift'.
I reached out to the parents of the girls who were coming and asked them what unique traits, gifts, skills, interests, etc. their girls had.
I sent out the following text so that it would have context and explanation as to why I was asking about their daughters.
"Aurora's party theme is Encanto. The characters all have a "gift".
Mirabel thinks she doesn't have a gift but it is implied at the end she does and just didn't understand what it was.
So, this is kind of a fun idea I had.
I want to give each girl a "gift" and it will be a description of what they are good at, love to do, or a quality they have.
I'll try to make them unique. It's just for fun. But I'd love it if you could respond by answering the following questions.
1- What is something your daughter is good at? (Dance, math, soccer, etc.)
2- What is something your daughter loves? (An animal, craft, hobby, etc.)
3- What is a quality your daughter has? (Kind, organized, funny, happy, etc.)
I know as a parent, you are likely super busy so don't feel pressure to respond. If you don't reply, I'll just make something up that is cute or fun…I'm hoping.
Oh please keep this a
secret, I want it to be a surprise.
Thanks"
I was surprised to hear back from almost all the girls' parents.
There were 19 girls who came to the party and I only had to come up with a few myself.
Luckily, I knew the girls whose parents didn't respond pretty well so thinking of a gift for them was fairly easy.
I made sure to make the gifts all non-physical because this world is so focused on physical beauty that I try to counteract that whenever possible. Who we are as people is so much more than our outer beauty conveys.
You might notice that there is one gift that says, "Gift of Cuteness" this is because I wanted to have something to read for my 9 month old baby if my daughter asked for him to get a gift as well.
Read on to see how I gave out the Encanto Personalized Gifts for Party Attendees…
Here are the gifts I wrote up. Feel free to right click it, save to your computer and print it off.
You can also Download the folder with these in them here:
I came up with the gifts by reading about the girls from their parents.
Most of the time the parents would unknowingly say a specific thing or theme twice.
For example, So and So is a very good reader, she is good at math, loves reading, and is good at soccer. That girl was the girl who got, "The Gift of Stories".
One mom said her daughter lights up the room, is almost always positive and happy and is kind to others. She received, "The Gift of Light".
I just tried to find a theme or something that worked well together. For example, one mom said her daughter loves reading about sea life, and loves the Octonauts TV show. She mentioned other things as well but these two were unique and went together so she received the "Gift of Love of Ocean Life."
How to give out Encanto Personalized Gifts for Party Attendees
I seriously loved this part of the party! I surprised my daughter with it. She had no idea we were going to do a gift ceremony and that made it even more special.
After we did 3 other activities (I'll post those soon), I had the girls go up to the food table and pile up their plates with things to snack on.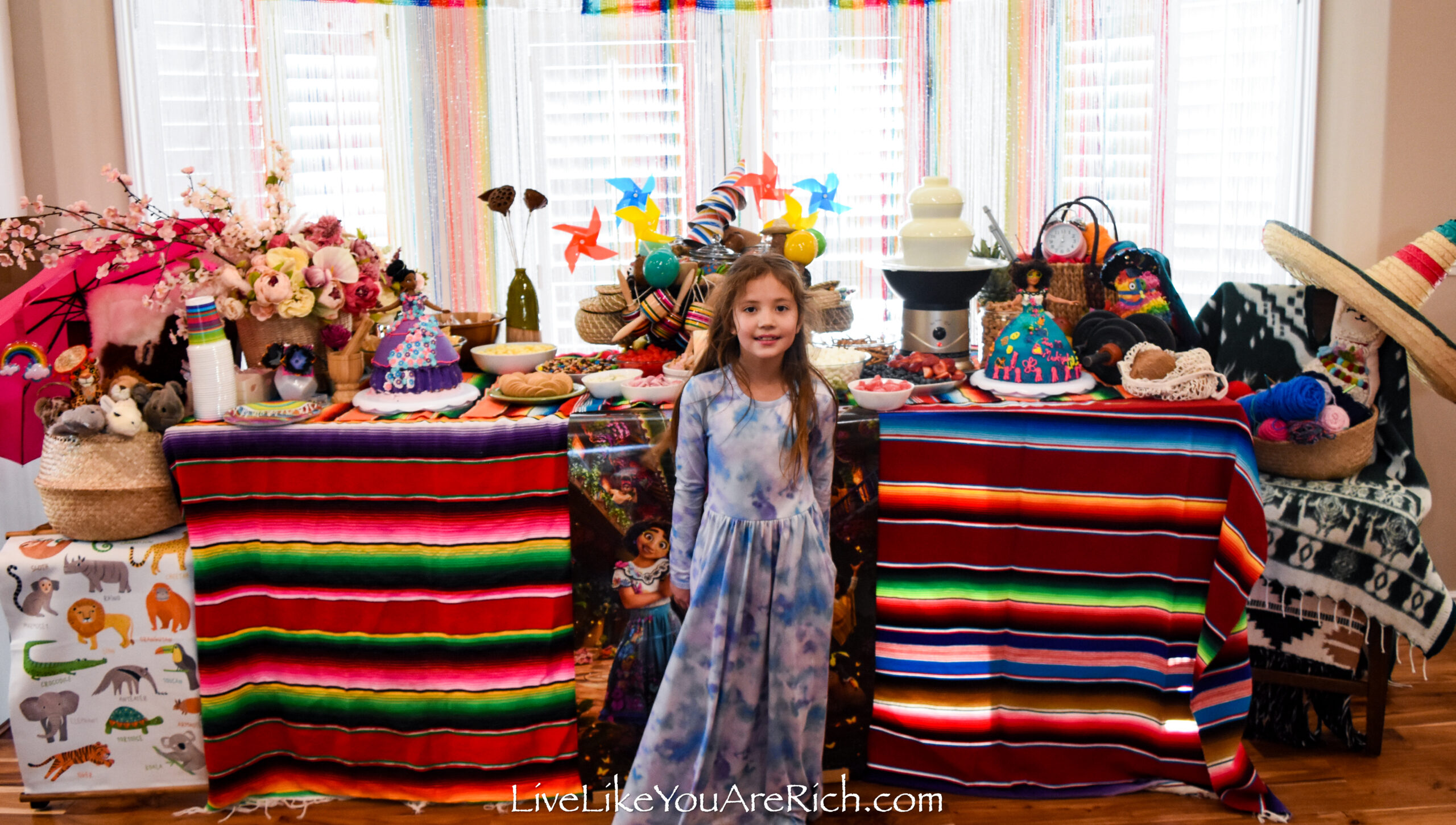 I moved the chair on the right that had the big sombrero and poncho on it and then I stood behind the white glitter curtain and called the girls up one by one.
Each girl got their own turn.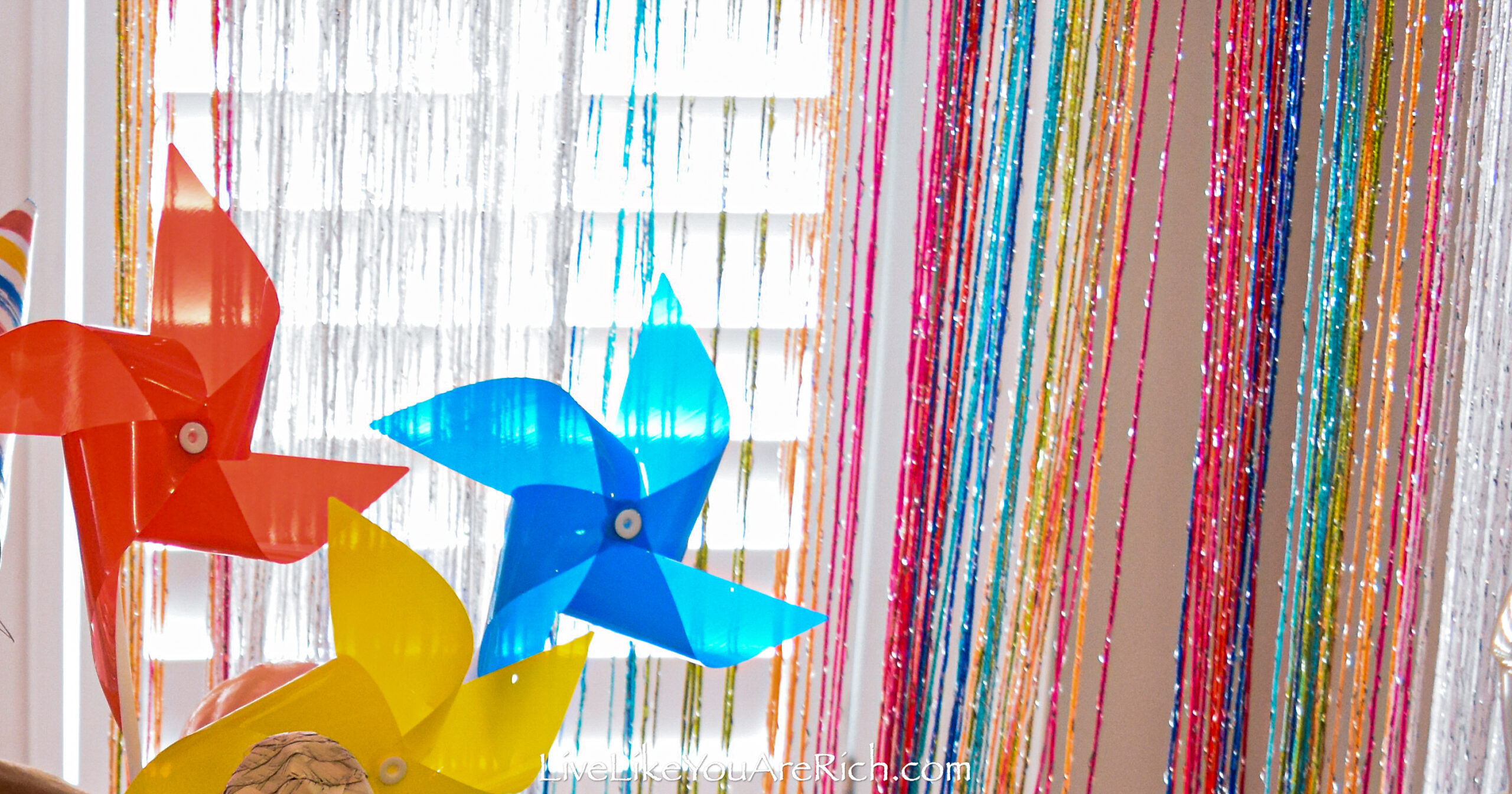 The girl came through the glitter/sequin white curtain where I was standing and she got to choose either a white or gold glitter candle…. then we went out of the curtain and I read their gift aloud for everyone to hear.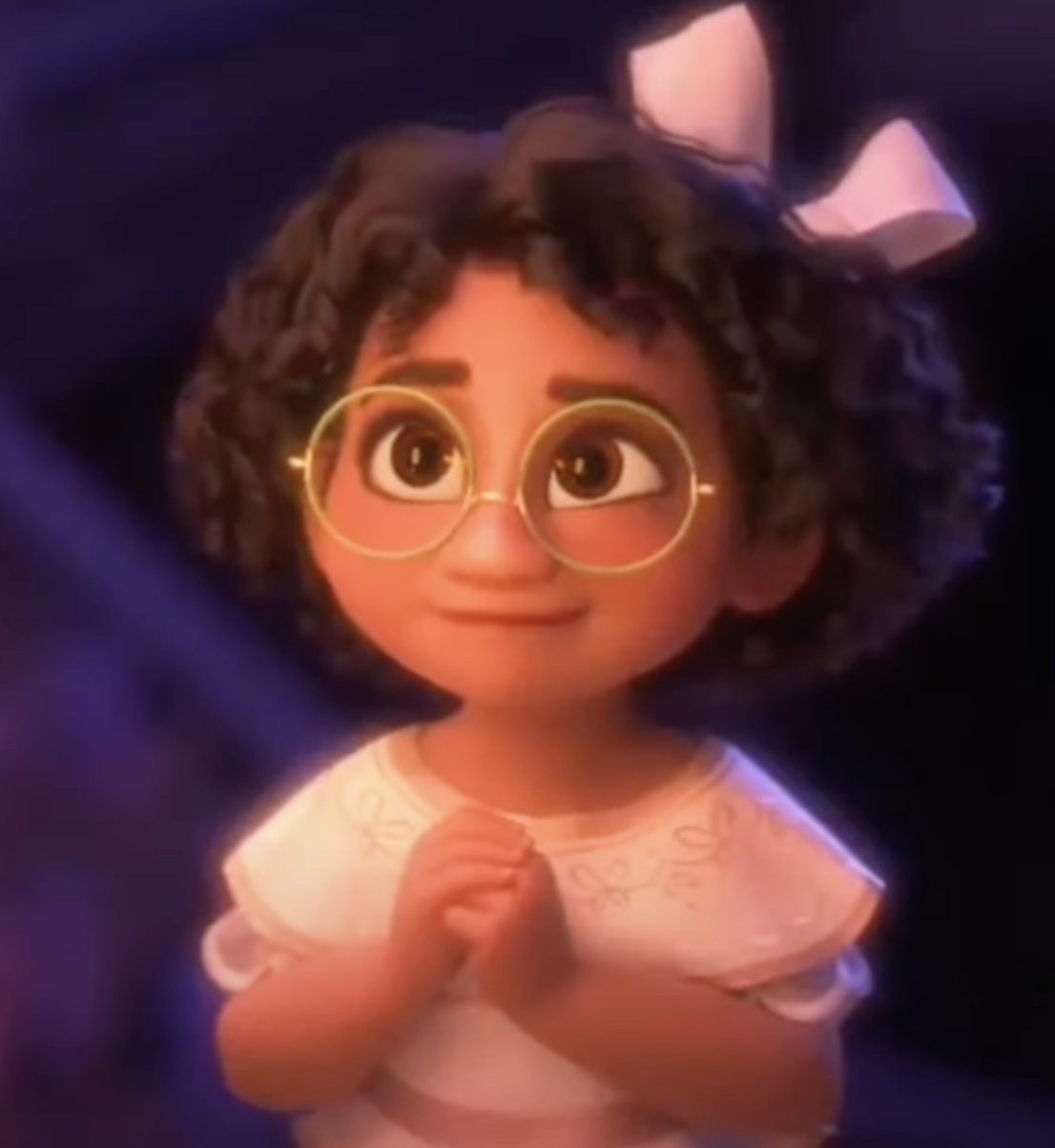 It was cute how everyone became quiet because they wanted to hear what gifts the girls were getting.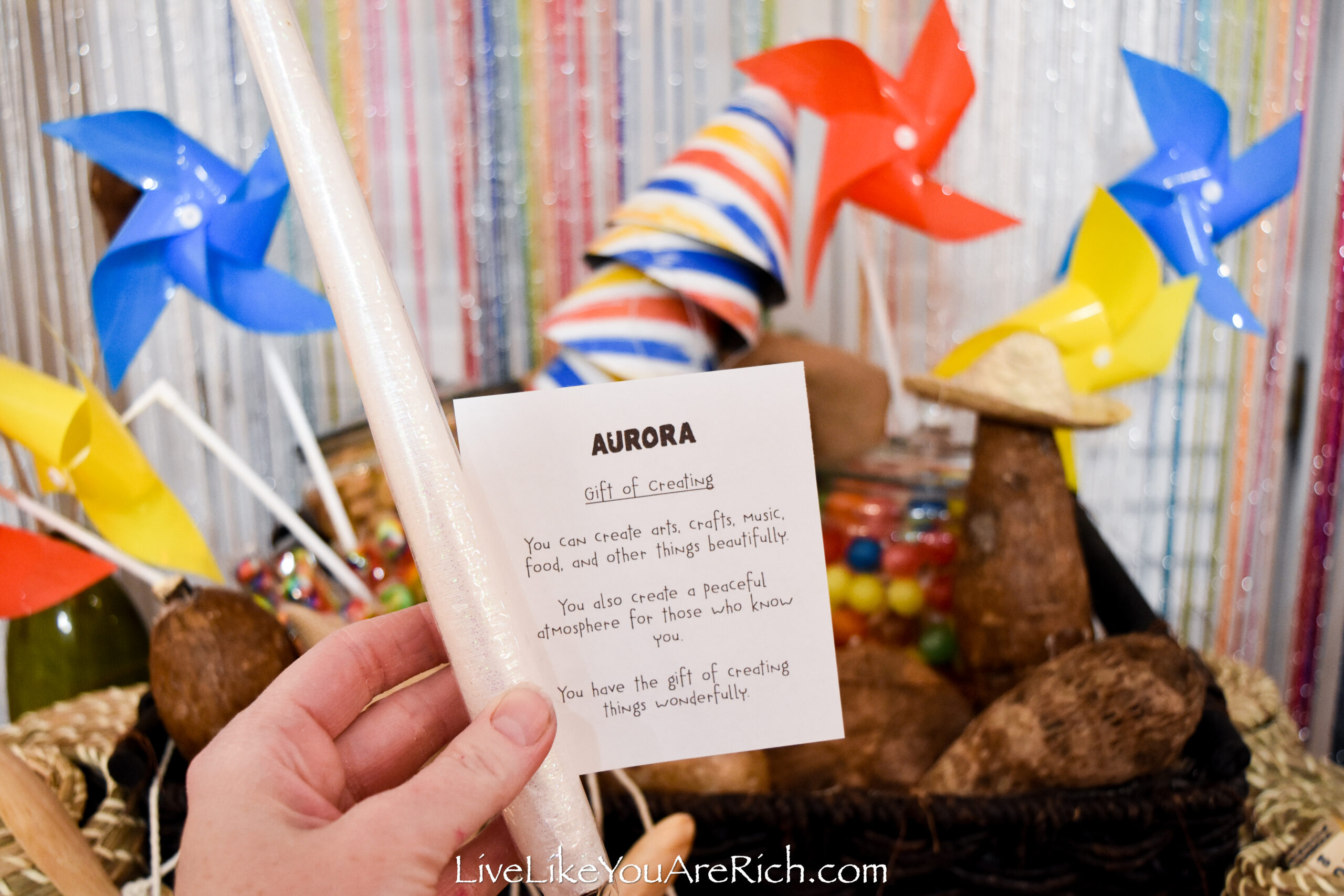 I was amazed at how they beamed with pride as I read their gift and they almost all remarked how well their gift fit them and/or their friends.
It just made the whole party "worth it" to make personalized gifts for these sweet girls.
Towards the end, after they had their gifts read to them some girls started to get a little restless.
I told them they could get more food off of the food table, that we needed to be respectful of everyone as the other girls had been for them when we read their gifts, and I passed out these twisty suckers. I've found suckers can really quite down a big group of partying children.
These actions helped us get through the gift ceremony with everyone paying attention. It was such a highlight of the party.
I would never pass this activity up if I had the chance to do the party again.
It was worth all the effort of texting the moms, coming up with ideas, typing them up and reading them off—for sure.
It really was the highlight.
Supply List Encanto Personalized Gifts Free Printable
12×12 scrapbooking paper (optional)
paper cutter/slicer (optional)
scissors
glitter taper candles ( I got mine at Michaels at an after Christmas sale for 30 cents each or so).
Gifts If you want to use the ones I typed up you can download the free printable here.
Sparkle curtains (4 white and 4 multi colored) are strung across on a wire that my husband installed. You can use a backdrop stand as well. I usually use a backdrop stand but my husband thought this wire would look better and I agree, I do like it better.
The funniest part about these Encanto Personalized Gifts was that they made my daughter's friends so happy—which in turn made me happy.
CHECK OUT MY OTHER ENCANTO POSTS:
Free Encanto Birthday Party Invitation
La Casita Encanto Party Banner
Disney Encanto's Birthday Party
Encanto Colombian Party Hats—Free Printable
What's in Mirabel's Basket Encanto
Encanto Birthday Party Activity Ideas

For other 'rich living' and D.I.Y. decor tips please subscribe, like me on Facebook, and follow me on Pinterest and Instagram.