This is a Free Printable and Tutorial on How to Make an Encanto Casita Birthday Banner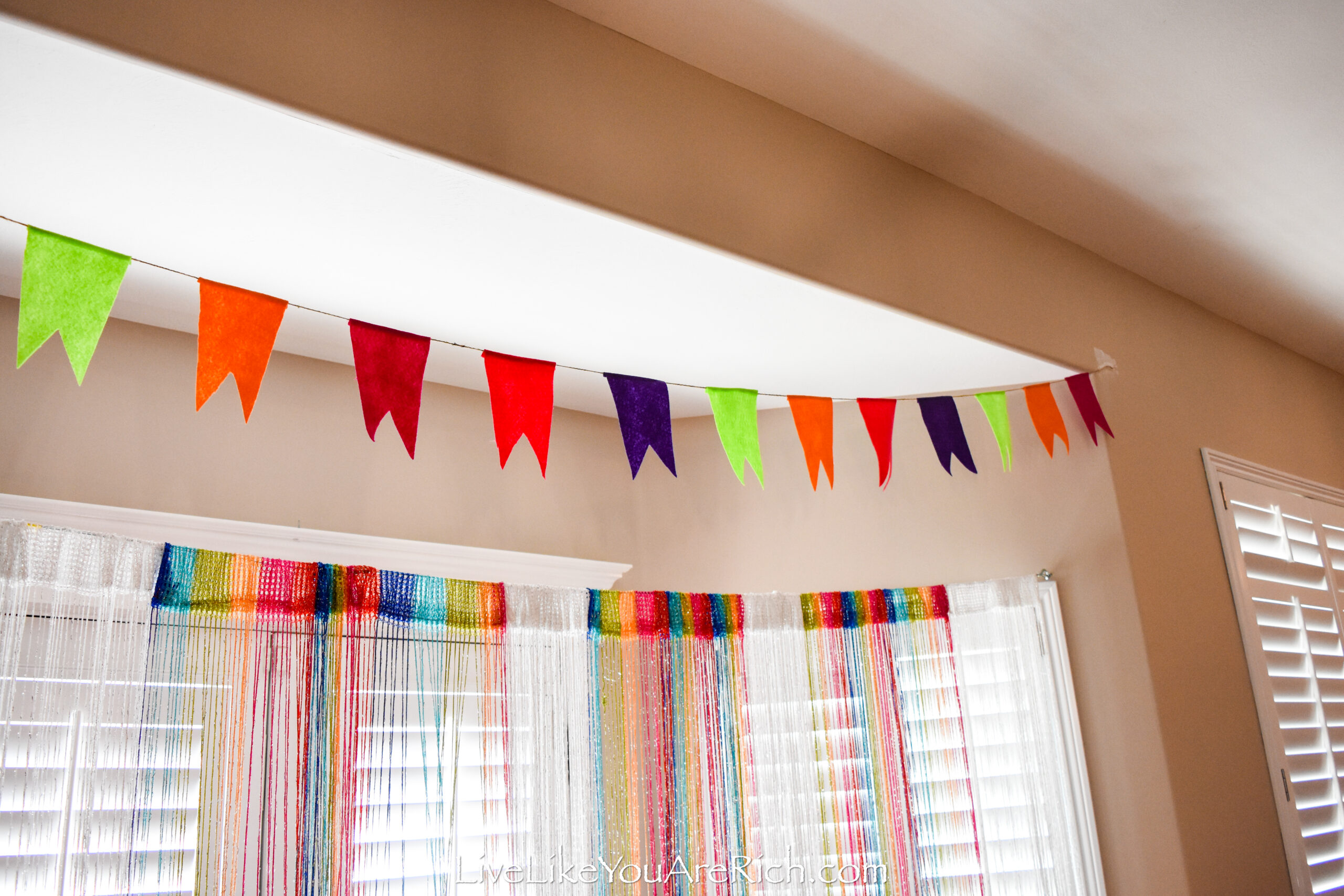 I made this birthday banner that we saw in Encanto during Antonio's party.
It was super easy, inexpensive, and came together very quickly.
What was great was I was able to make a pattern in photoshop and I had all the other supplies on hand in my office.
I debated doing a balloon arch but after watching Encanto, I decided it would be more authentic to make La Casita's party decorations by recreating this banner.
It really added a fun look to the Encanto party I threw for my daughter's birthday.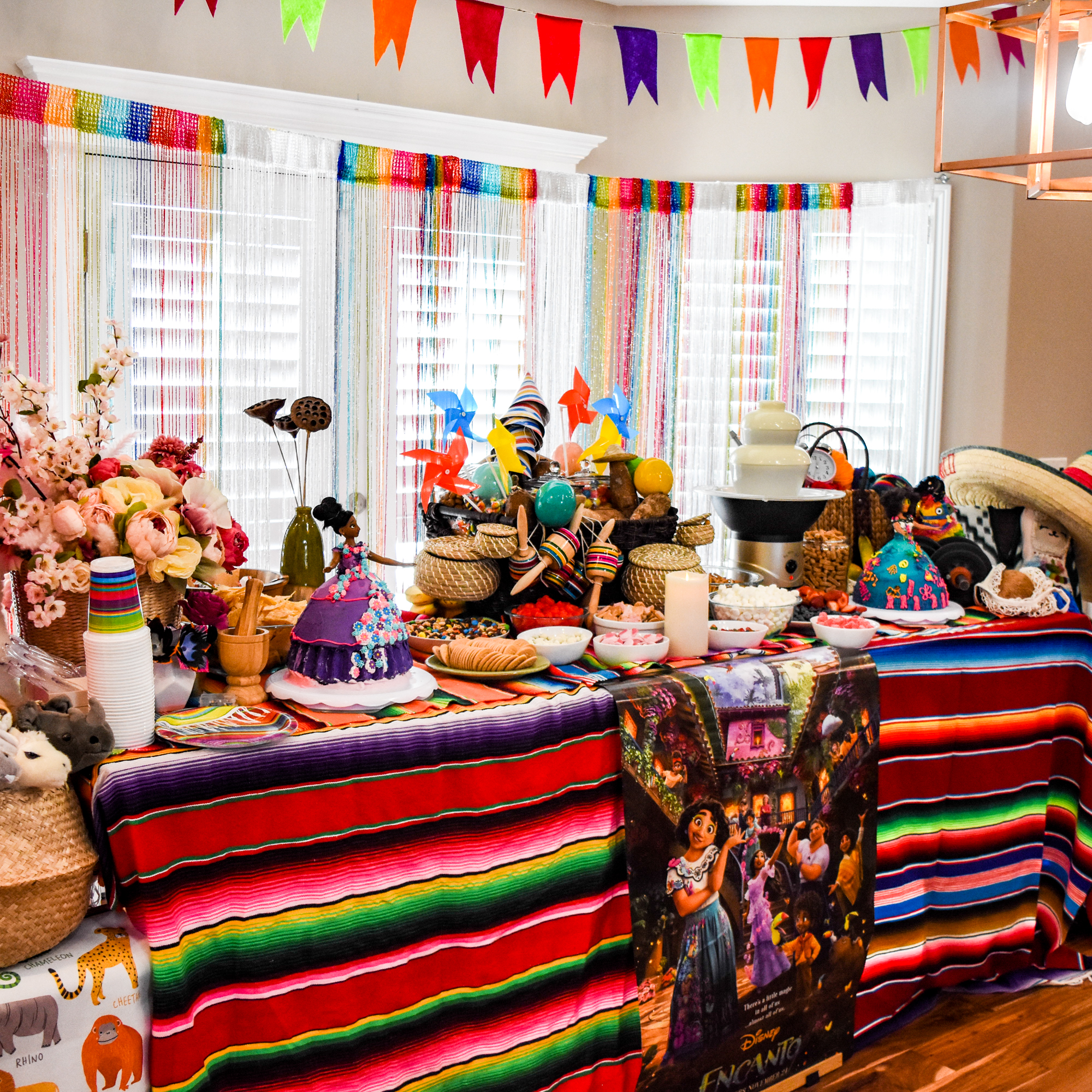 Supply List for Encanto Casita Birthday Banner
craft felt I got mine for a few dollars at Walmart (Rainbow Classic Felt 9″ x 12″ Kaleidoscope, 12 Piece for $2.88 a pack. Each piece was about 25 cents. Or you could get craft felt here on Amazon. Just look for packs with lime, orange, purple, pink/magenta.
Free Encanto Banner Printable
scissors or a rotary cutter
cutting mat or a plastic cutting board (I couldn't find my cutting mat so I just used a food cutting board)
twine (I got mine at Dollar Tree and used less than 1/2 of it)
Packaging tape or screws or nails to secure it to the wall

How to make this Encanto Casita Birthday Banner
Continue reading and/or watch the video tutorial located here.
Print out this banner printable and cut out the pattern.
Get out a cutting mat and a rotary cutter or just use scissors. I started with scissors but changed to the rotary cutter because it was a lot faster.
If you have a Cricut, you can change the pdf to a jpg and upload it to the Cricut. You can then have the Cricut cut these buntings out for you on felt. I didn't do this because I haven't had the best experience of cutting felt out using the Cricut.
Once the banner buntings are cut out, measure the amount of twine you need (account for the droop which obviously makes the twine longer than if it were to hang straight). Add about 6 inches on either end for the string to hang it
Once you have the correct size of twine, start hot gluing the felt buntings to the twine by simply running a bead of hot glue 1/4 " from the top of the bunting and placing twine on it.
Then run a thick bead of hot glue over the twine and fold the felt over the glue and twine using a pen or something to hold it while it cools (to avoid burning your fingers).
Put a space in between in the buntings. The spacing can be determined by measuring 3 inches or just using the bottom of one of the felt buntings as a spacer.
Alternate colors but don't create a color pattern.
I took a screen shot of the banner when I watched the movie and as you can see there isn't a color pattern that this banner follows. So, I made sure to not create a color pattern either.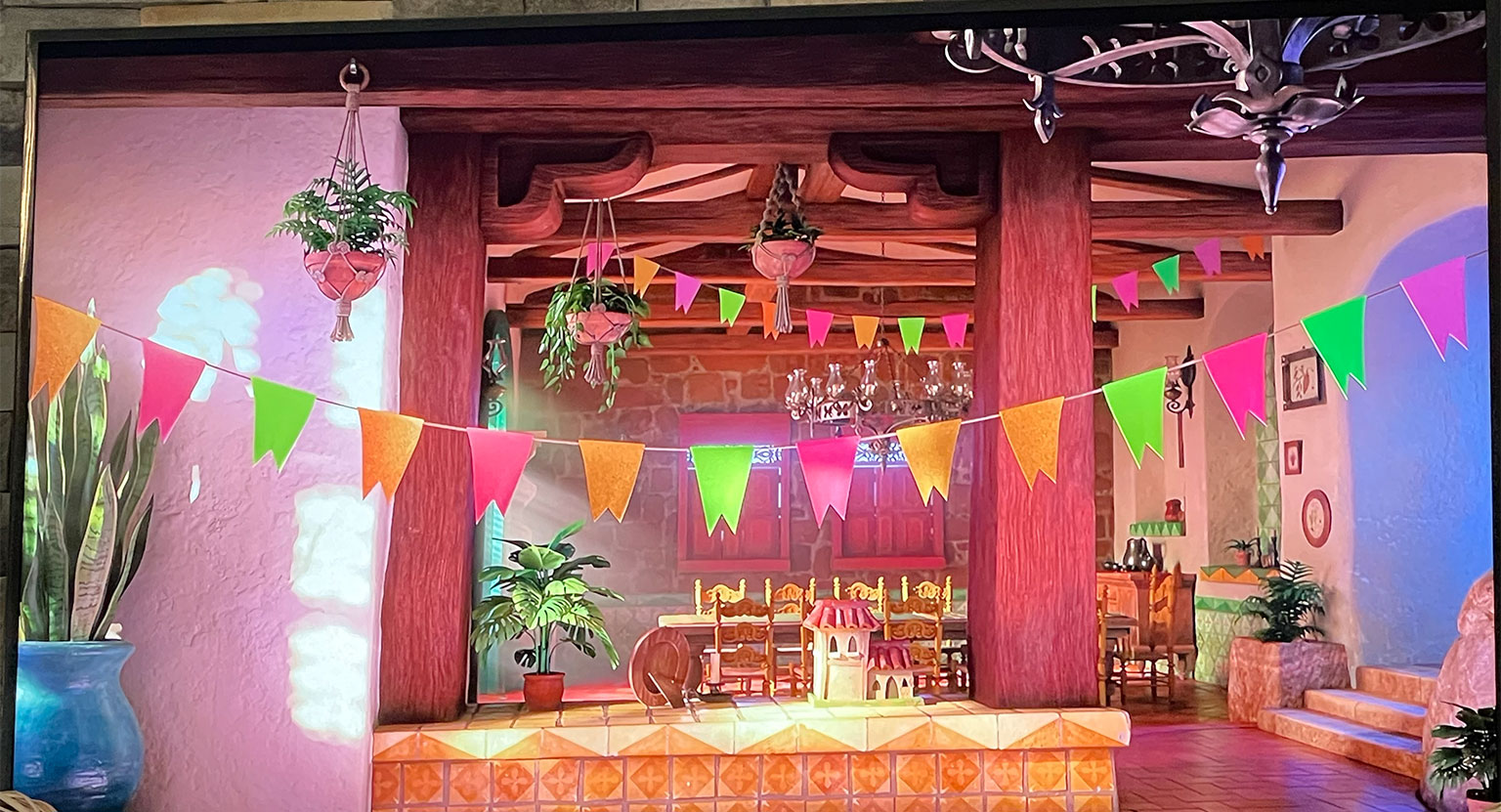 That's it, you're finished with the banner!
Now all you need to do is secure the banner to the wall with tape, nails, or pins.
I used a few pieces of packaging tape on both ends and it worked great.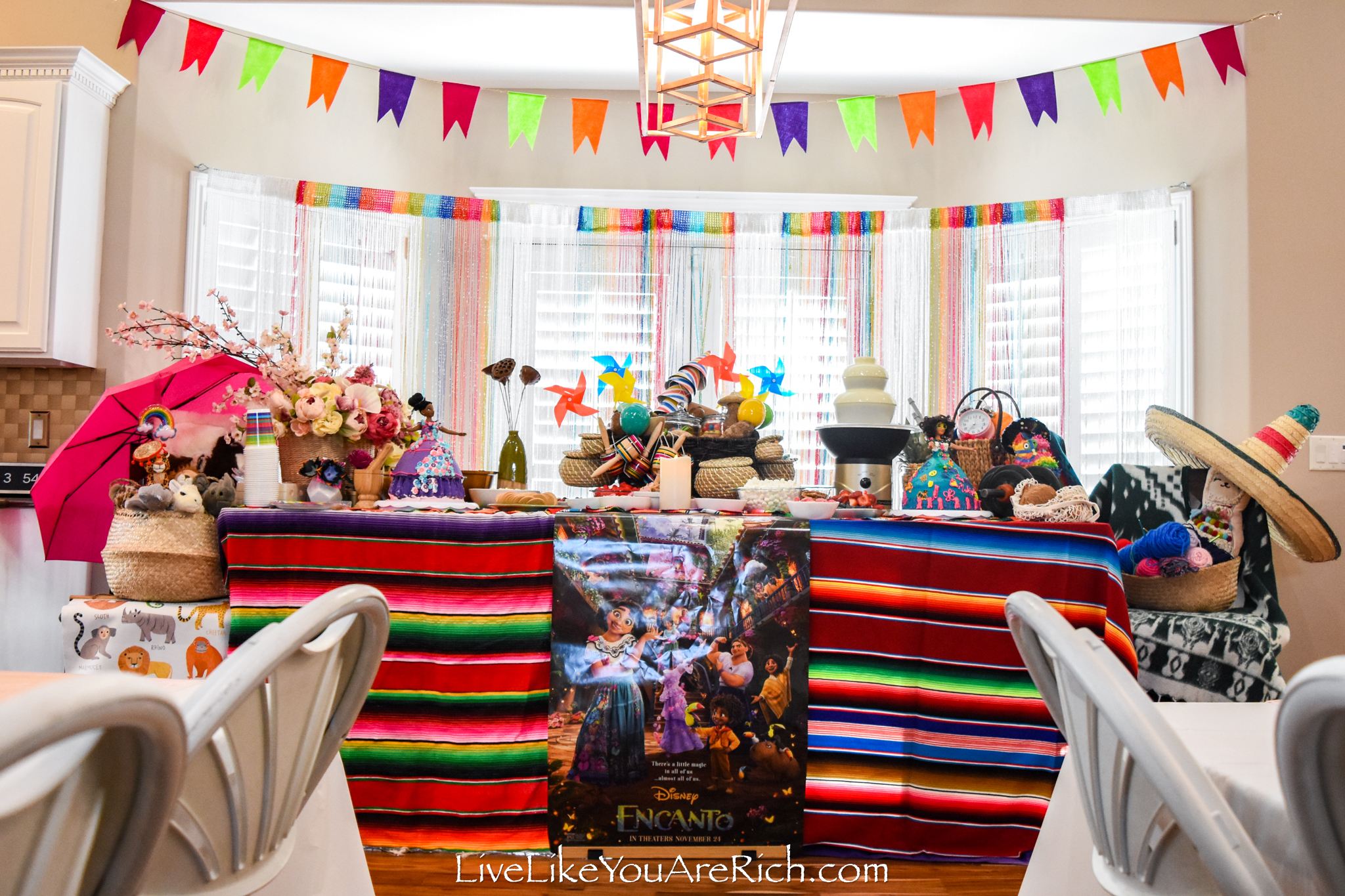 The banner was super easy and only took about 20 minutes to create.
I had everything on hand, but if I were to price out the supplies when I originally bought them, the banner only cost about $2.50.
This Encanto Casita Birthday Banner is such an inexpensive way to create a statement piece for an Encanto party.
See more of the Encanto party links here.
CHECK OUT MY OTHER ENCANTO POSTS:
Free Encanto Birthday Party Invitation
Disney Encanto's Birthday Party
Encanto Personalized Gifts for Party Attendees—Free Downloads
Encanto Colombian Party Hats—Free Printable
What's in Mirabel's Basket Encanto
Encanto Birthday Party Activity Ideas

For other 'rich living' and D.I.Y. decor tips please subscribe, like me on Facebook, and follow me on Pinterest and Instagram.