Quick Llama Birthday Party

I throw a friend party for my children every other year and a family party for them every year.
The friend parties are more time consuming, expensive, and thought out.
The family parties are put together more on a whim and are less expensive.
I try not to spend more than $20.00-$30.00 on the kid's family parties. Although budgeted, I still try to make them fun and use a desired theme.
My daughter turned seven and I put on this quick llama party for her. We also invited our extended family, many of whom came.

This party was very inexpensive because I had almost everything that is shown on this llama dessert table.
I will try to link to the items in the supply list below.
What we didn't have in our home already was purchased at Dollar Tree.
This was a very quick party to put together. Besides a run to Dollar Tree for a few items, this dessert table took less than 20 minutes to put together!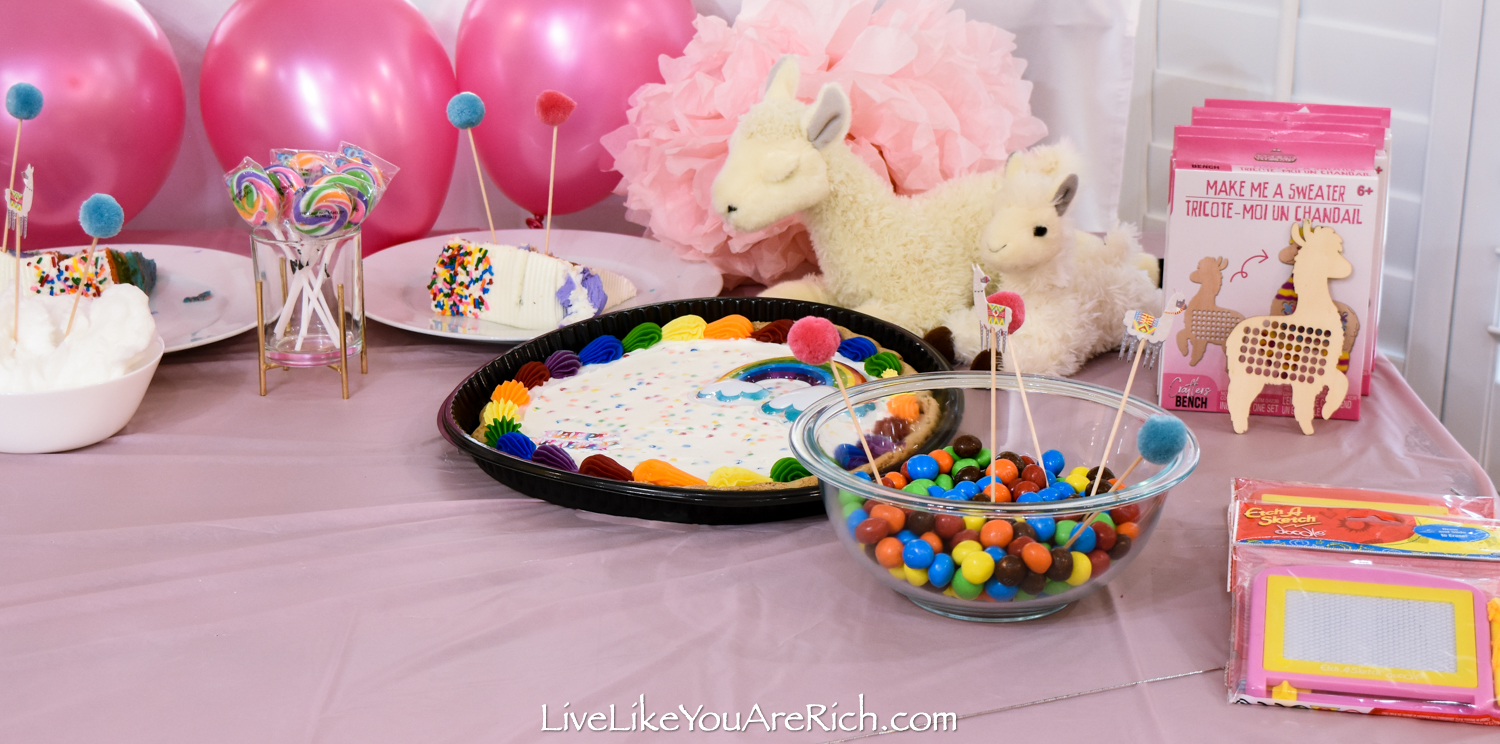 My other daughter's nursery was decorated in a llama theme and she moved to a different room.
I saved the decor that we used in her nursery, hoping to be able to do something with it again… so, choosing to do a llama birthday party made sense. Plus, the birthday girl loves llamas and was happy with it, so that made it even more rewarding for me.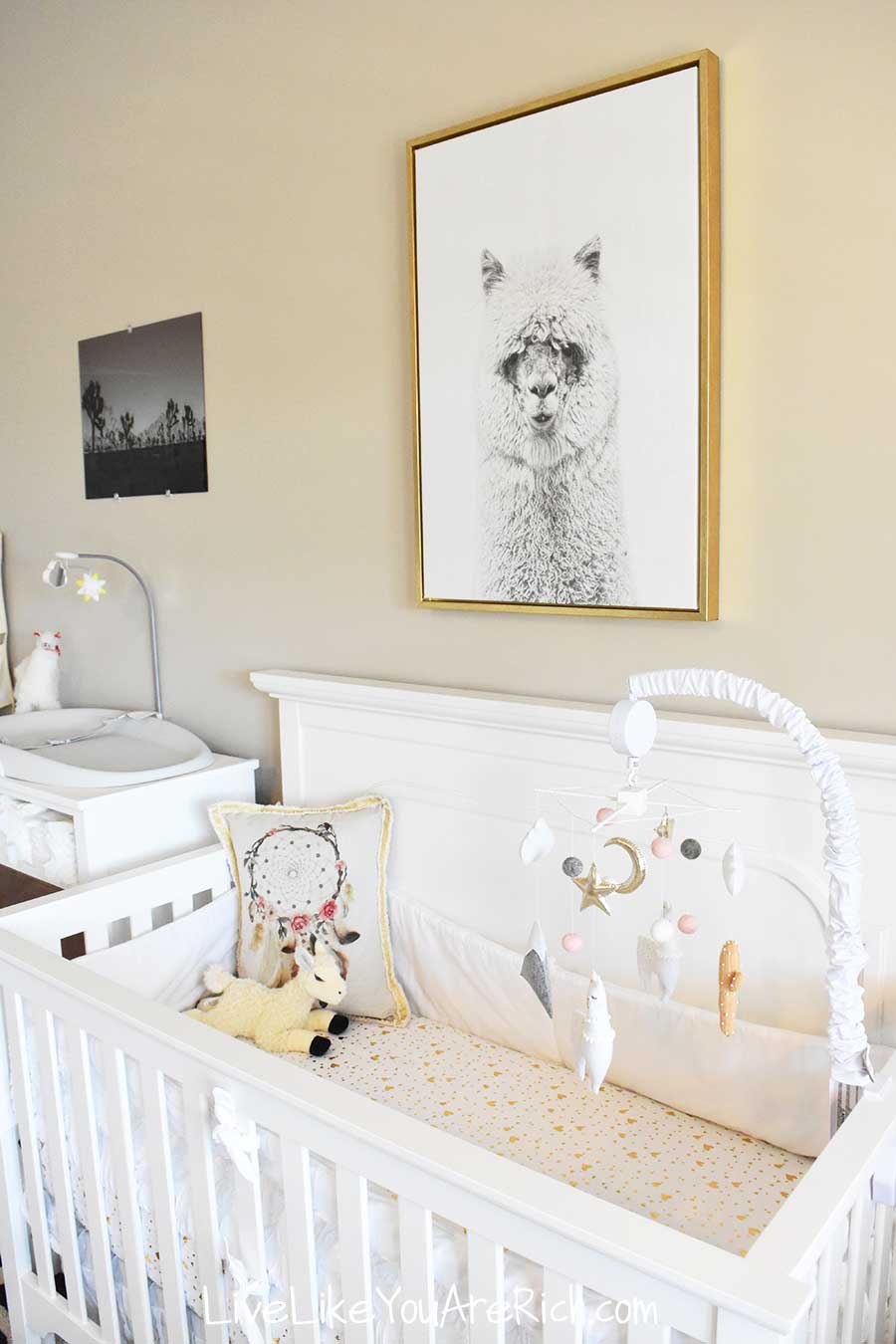 We had the big photograph of the llama/alpaca and hung it behind the dessert table.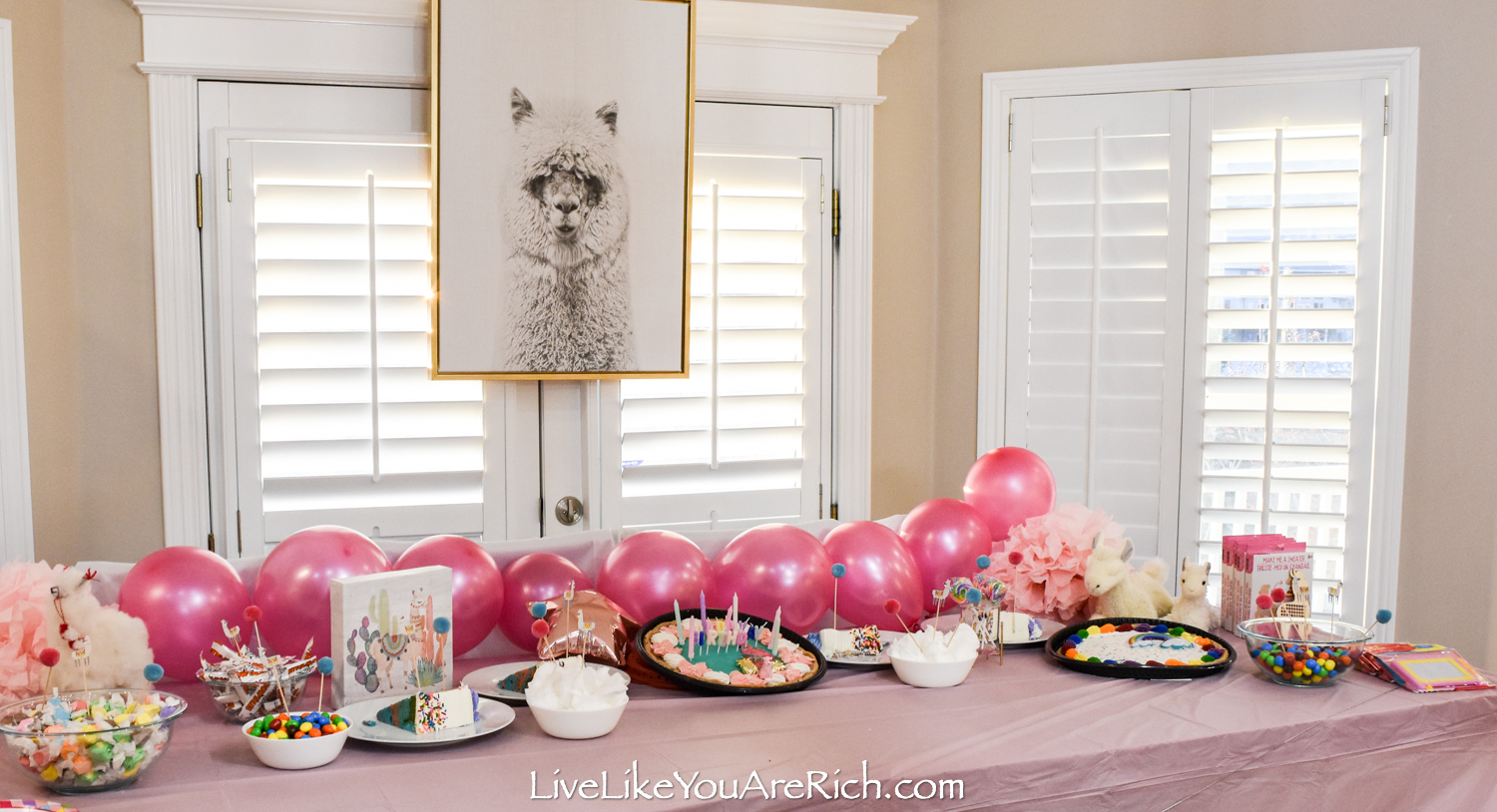 The smaller llama artwork was displayed on the table.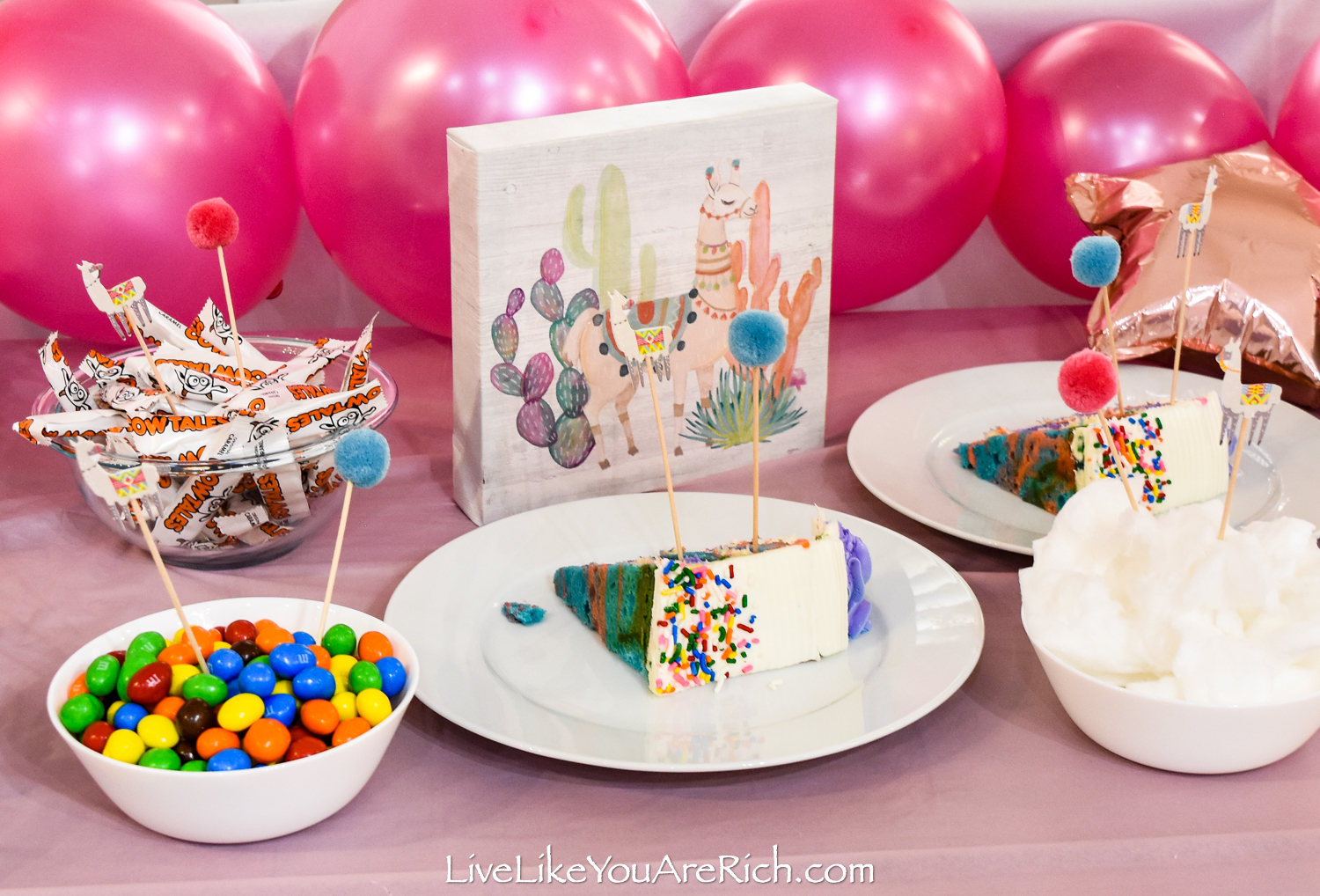 I bought the Happy Birthday banner, plates, candles, cotton candy and helium balloon as well as favors that I'll show in more detail below at the Dollar Tree for $15.00 total.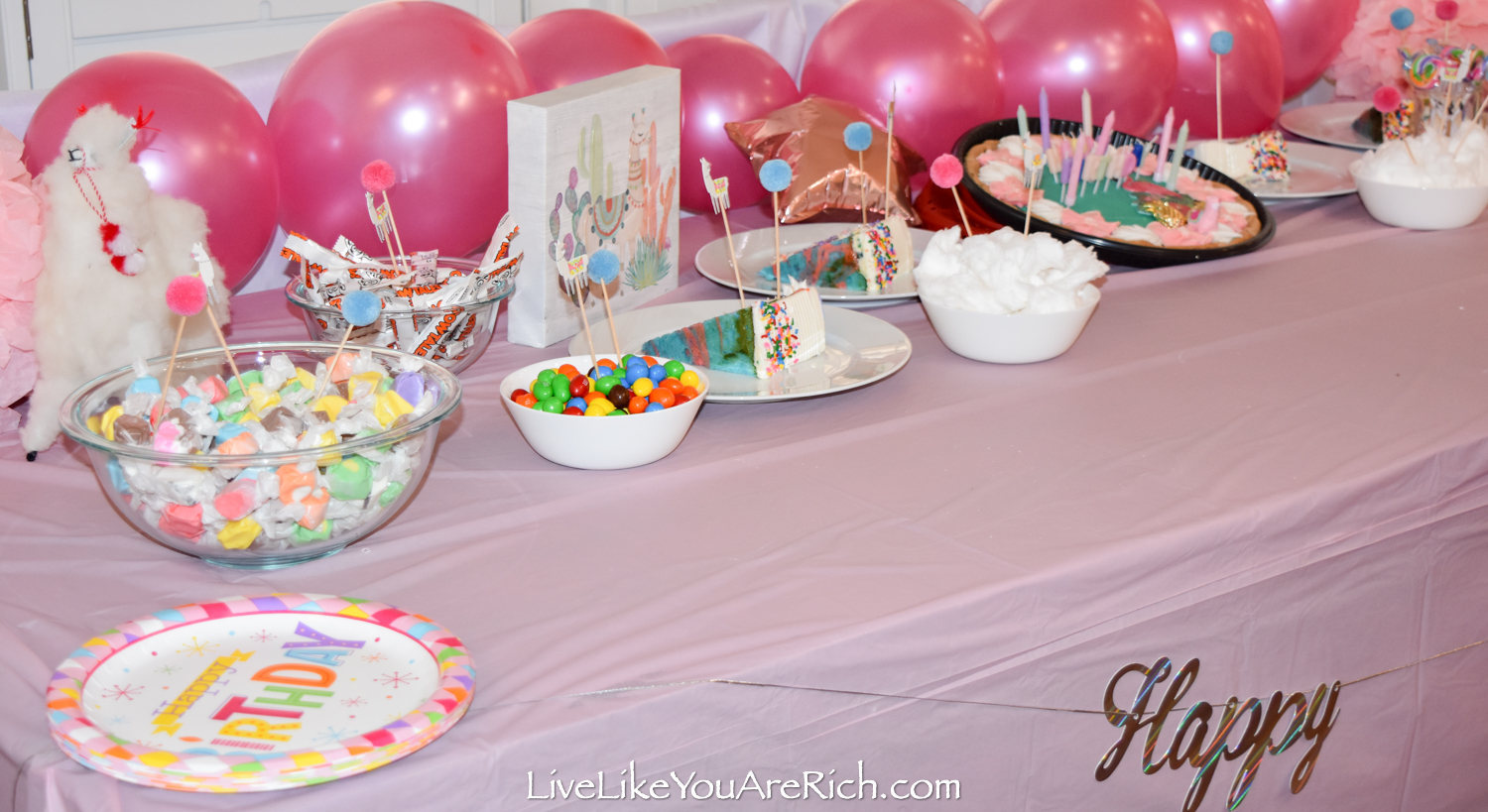 We had this darling little llama/alpaca stuffed animal figurine.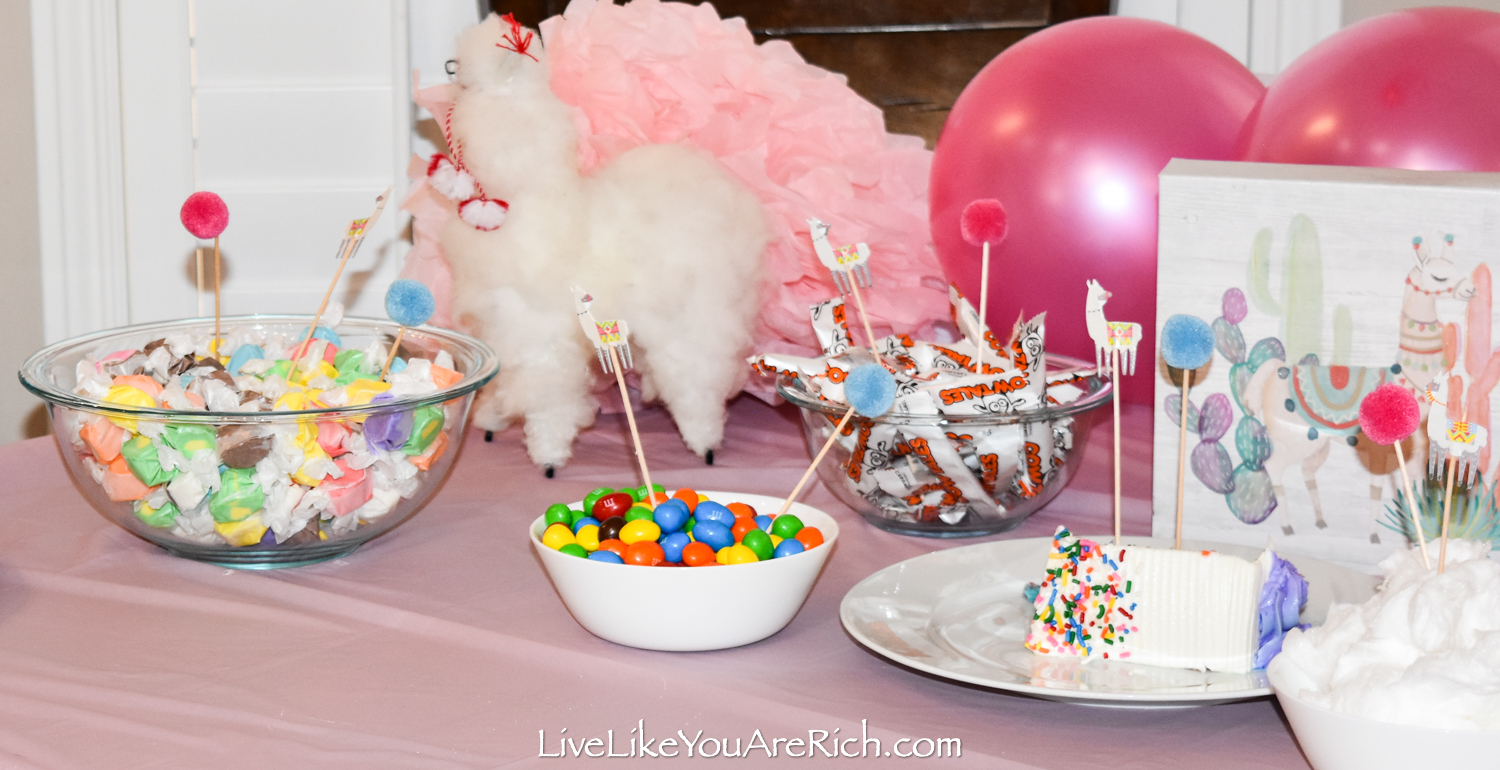 The cookie cakes and other cake I got on special at Smiths for $2.00 each for the cookie cakes and .50 cents each for the slices of the rainbow cakes totaling $6.00.
These were such cute candles. I was surprised they were only $1.00 a pack.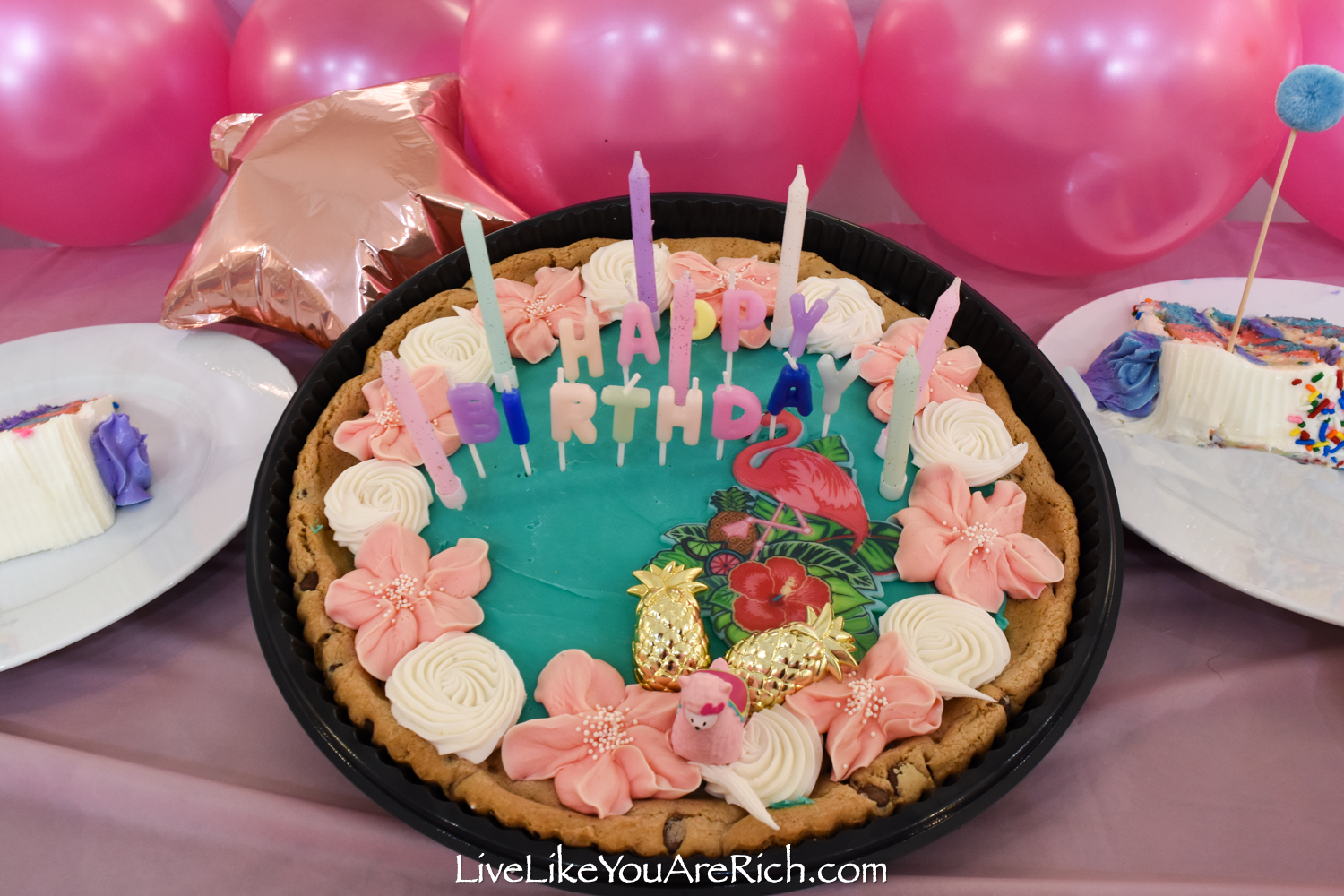 I loved the look of this cookie cake and it was so inexpensive that I wanted to get it despite it having a flamingo and pineapples on it. My daughter loved it too.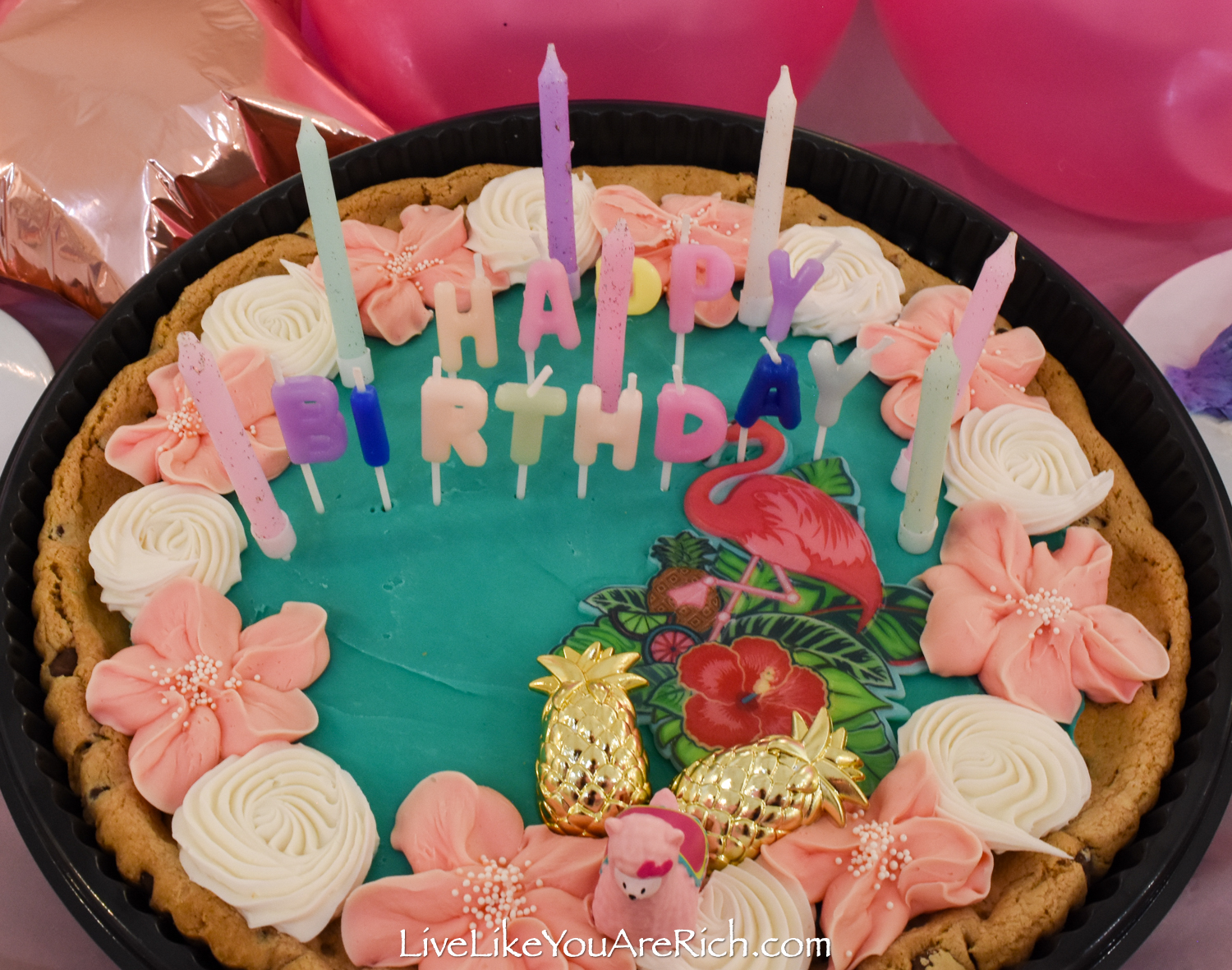 To make it tie into the theme a bit, I tore apart a llama Pez dispenser that was a left over favor from my other daughter's Kitty Cat party and put the llama on the cake.

To further save on parties, I have a party bin so that reusable and extra party supplies can be stored for future parties.
I found the pink balloons and pink table cloth in our party bin. The star balloons came from my other daughter, Amelia's, Twinkle Twinkle Little Star birthday party.

We usually have candy in a specific cupboard that is left over from parties, get togethers, holidays, etc.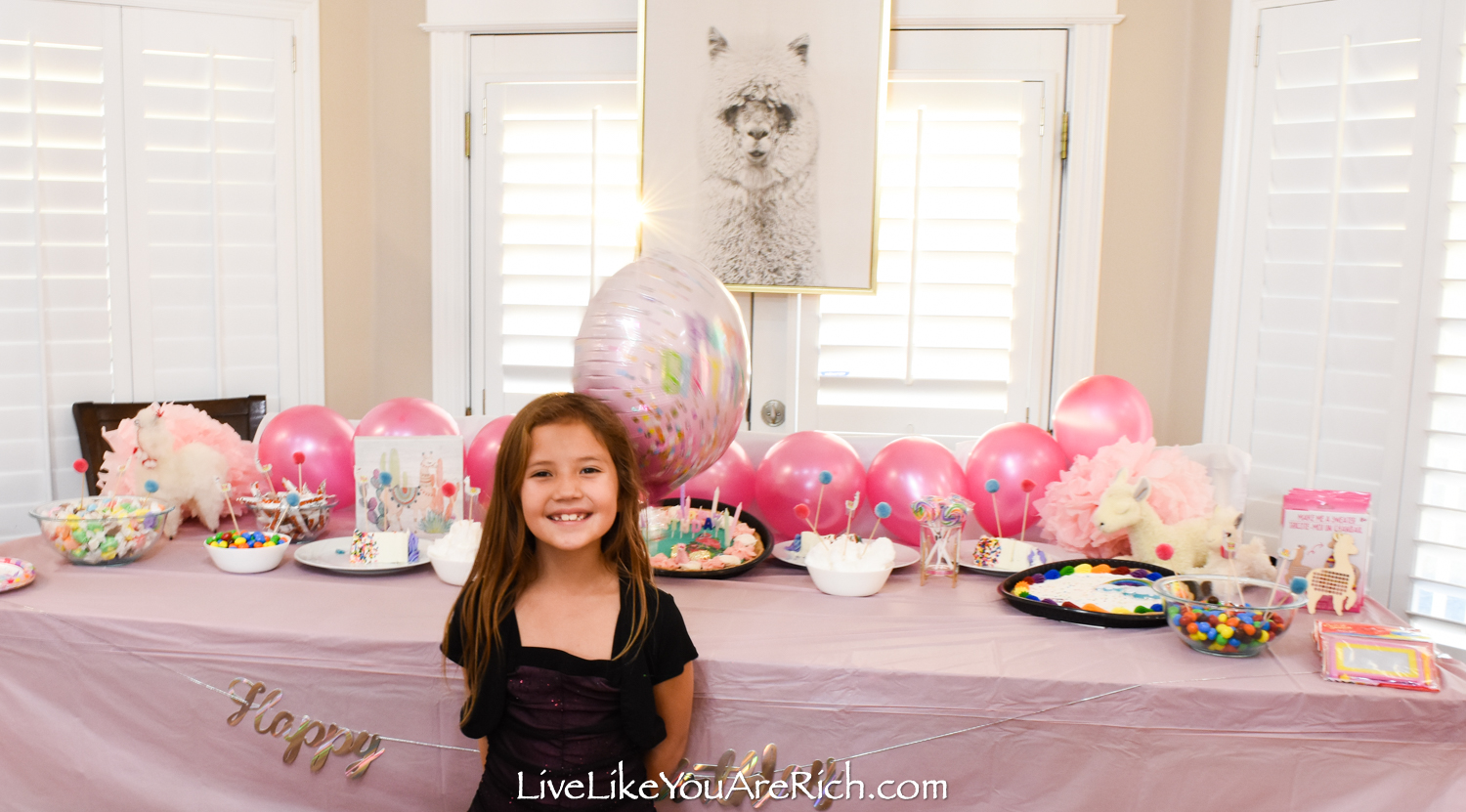 With the exception of the cotton candy and lollipops which were bought at Dollar Tree,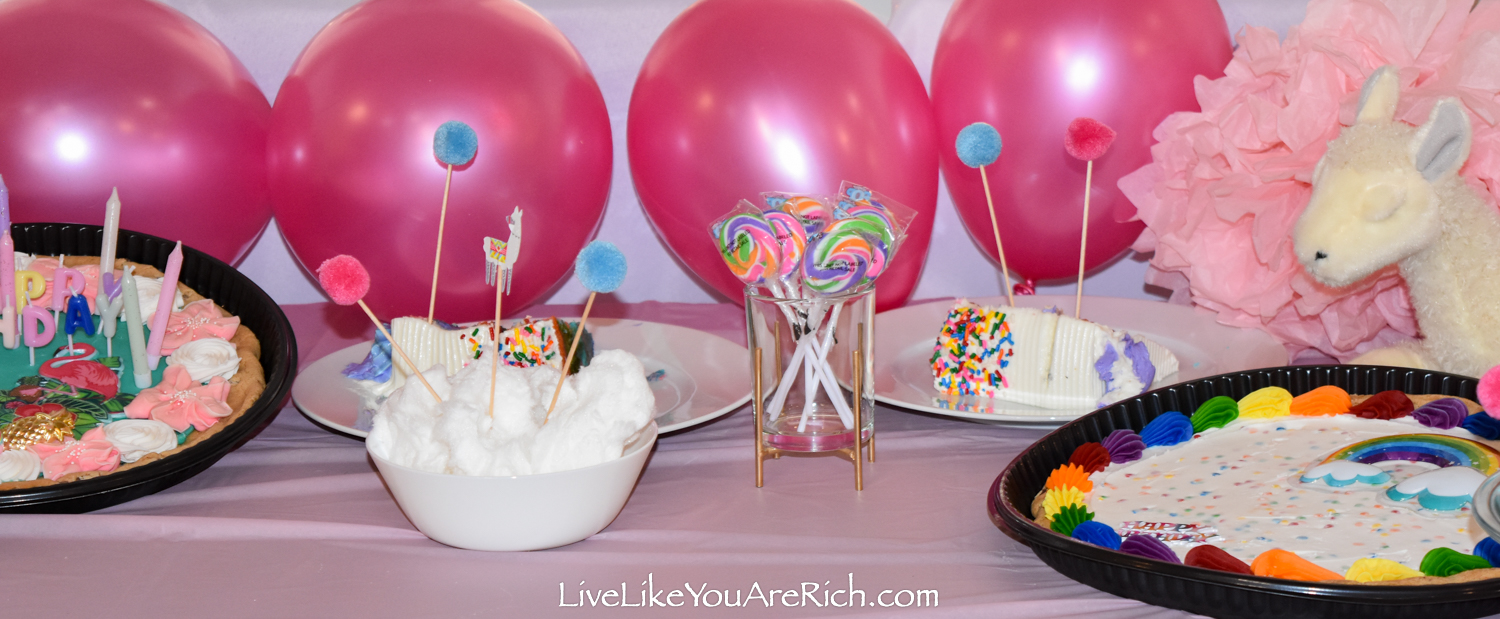 the candy we used came from our candy cupboard.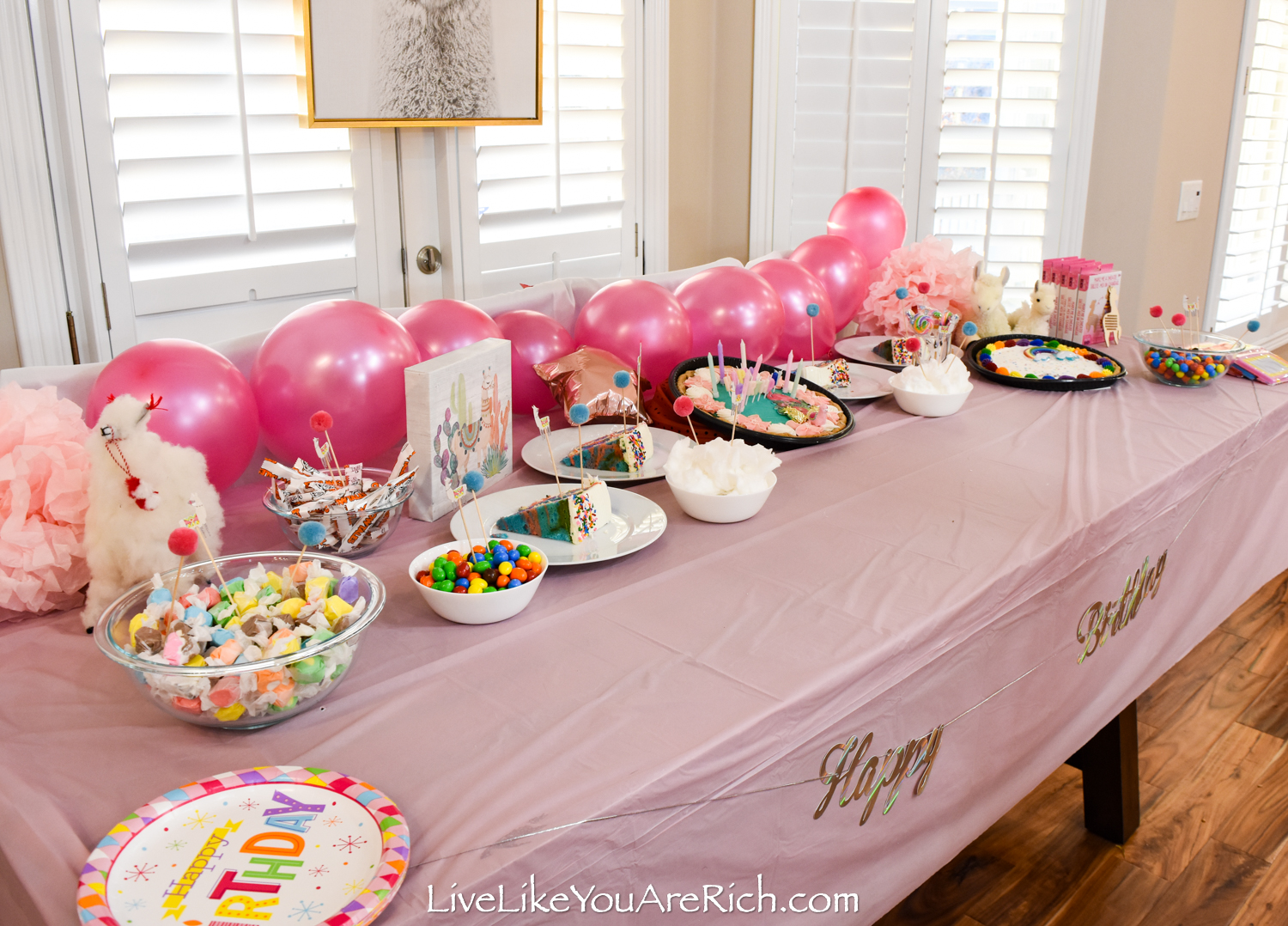 We put little llama picks in the different bowls of candy.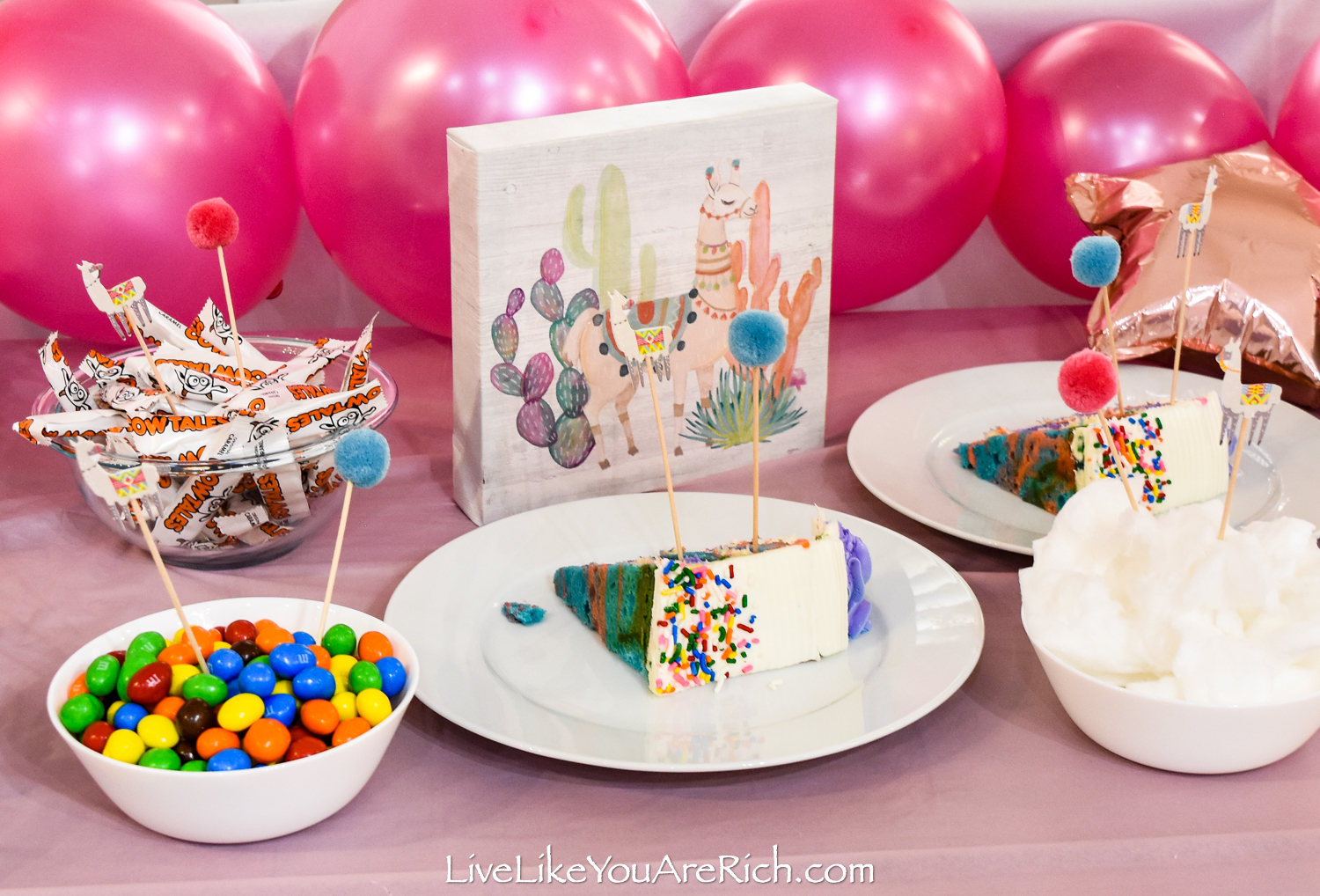 I bought the llama and pompom picks a year or so ago from Kohls on sale.

We served as dessert (we had a healthier potluck dinner) salt water taffy, cow tales, M&M's, cotton candy, cake, cookie cakes, and lollipops.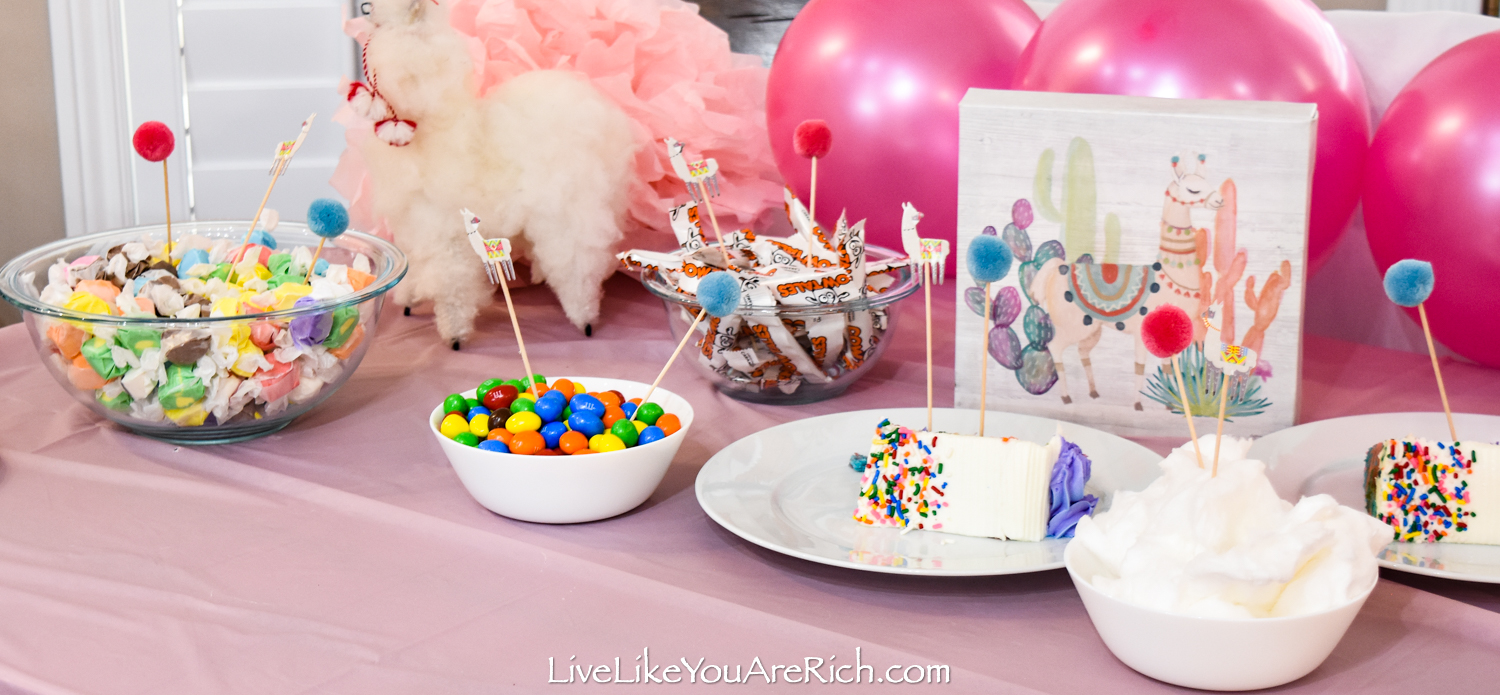 The mom and baby llama stuffed animals also were with the nursery decorations.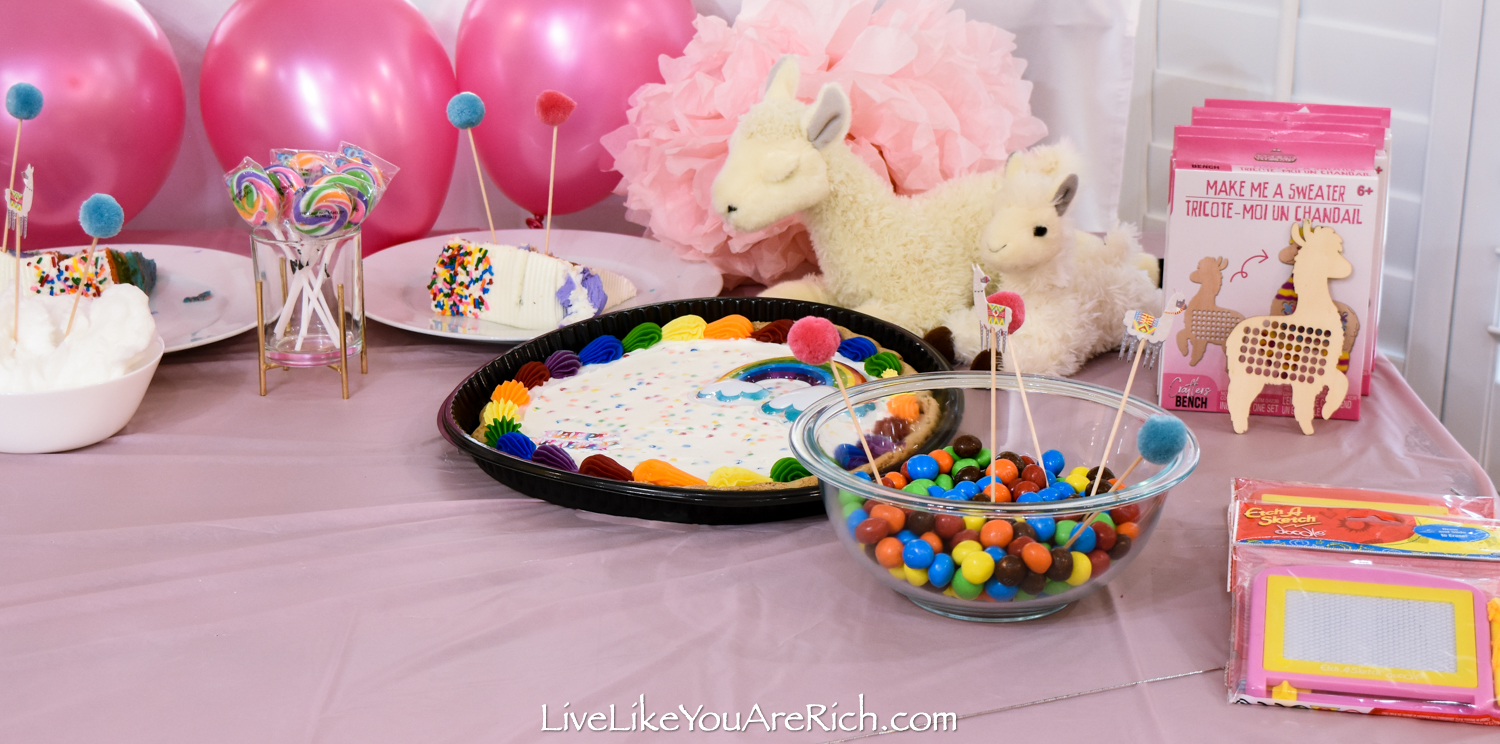 The giant pink tissue paper pompoms on either side of the table were bought for my daughter's Medieval birthday party.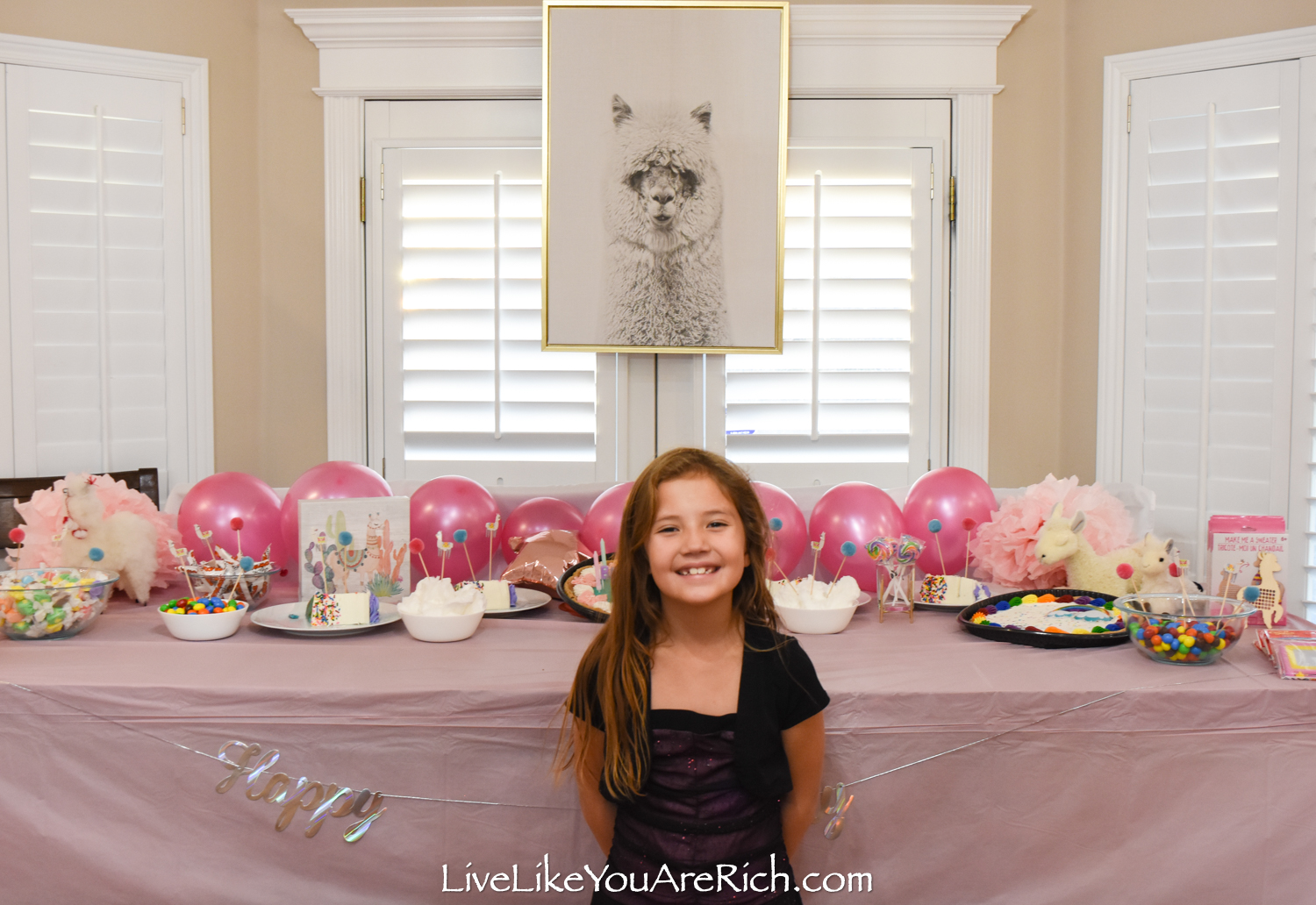 I like to give out party favors, so I picked some up. The cousins could choose between an etch-a-sketch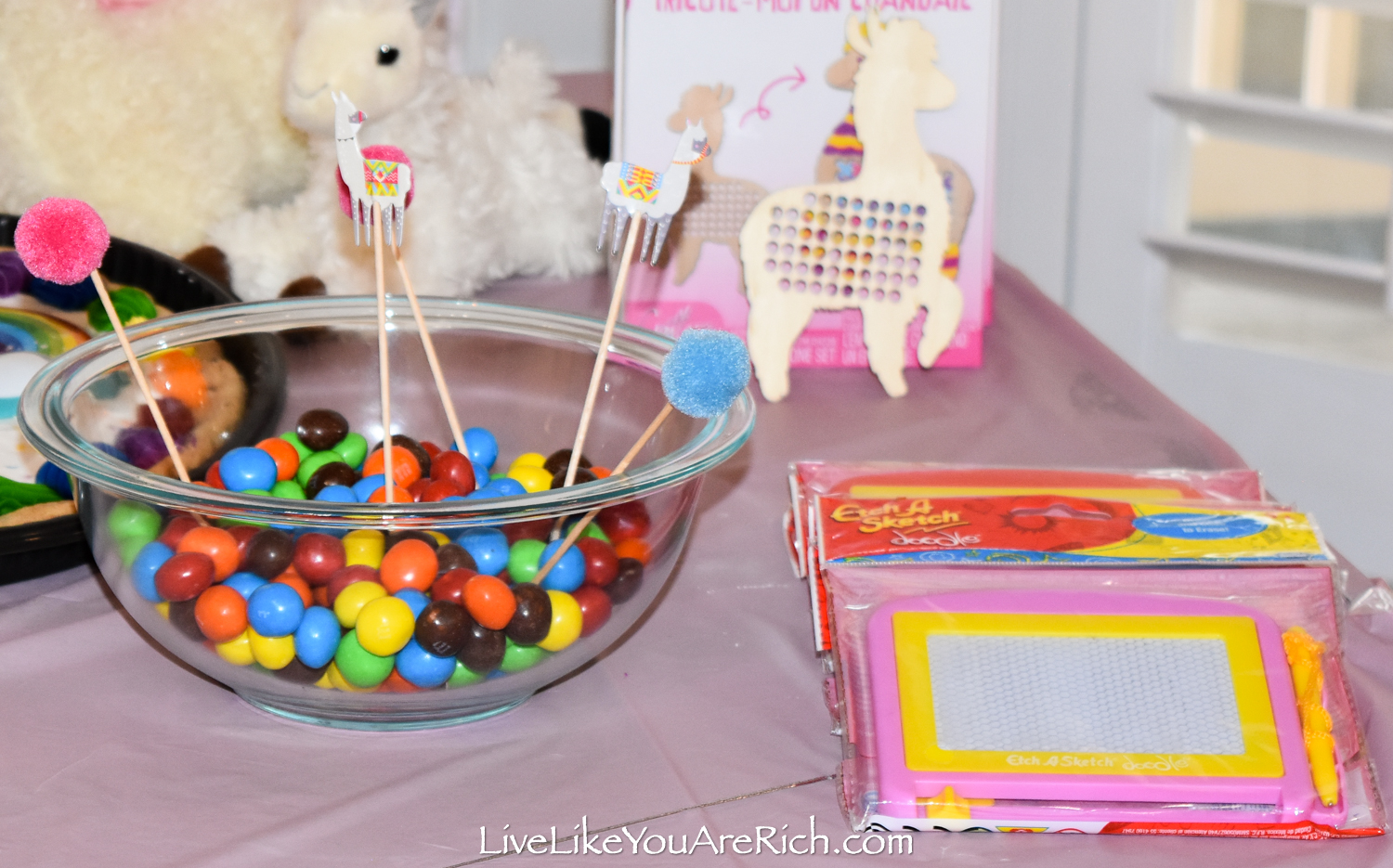 or a wood llama, "Make me a sweater", cross-stitch craft.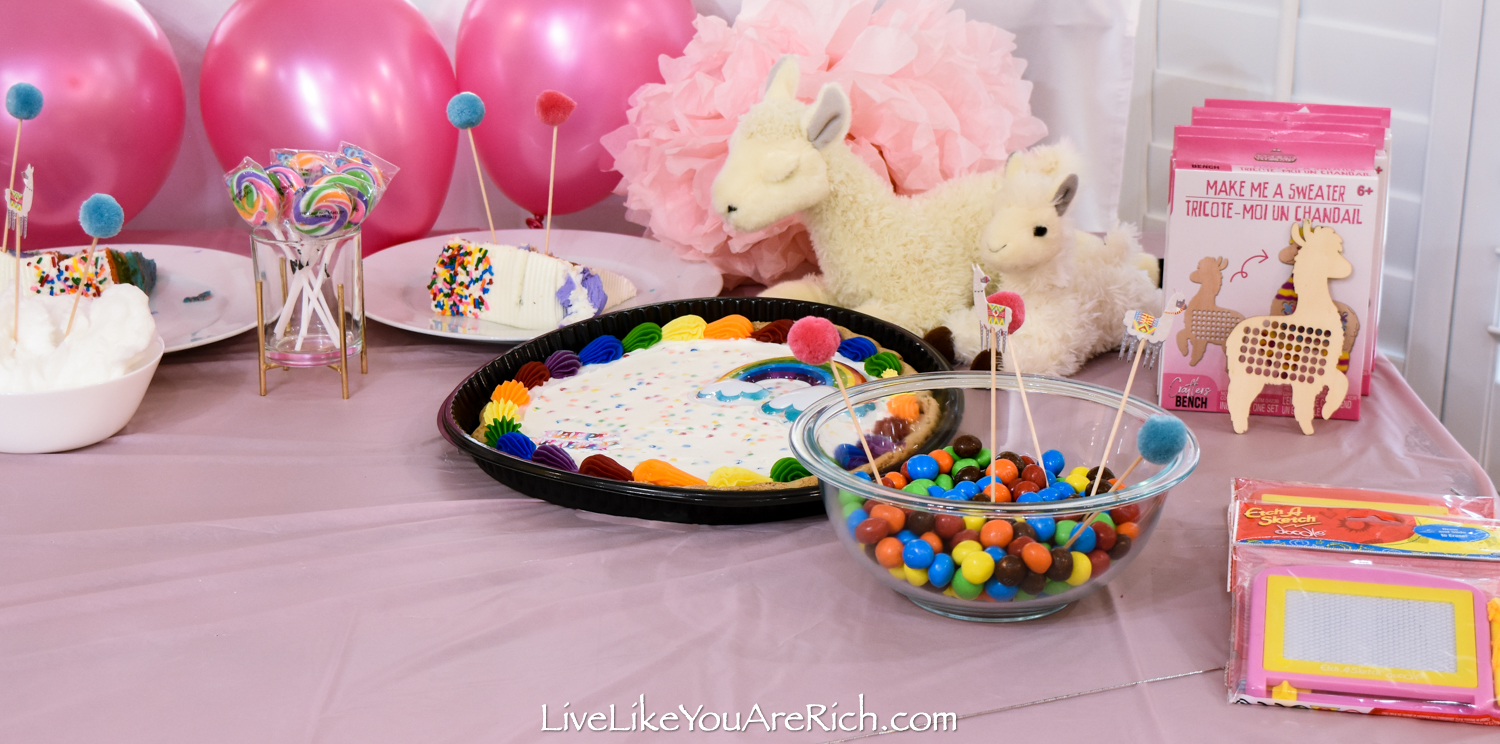 My daughter loved this set up. She really loved the pink + the bright colors all over. She loved tasting the candy, sharing the favor with cousins, and blowing out her candles. It was a great party!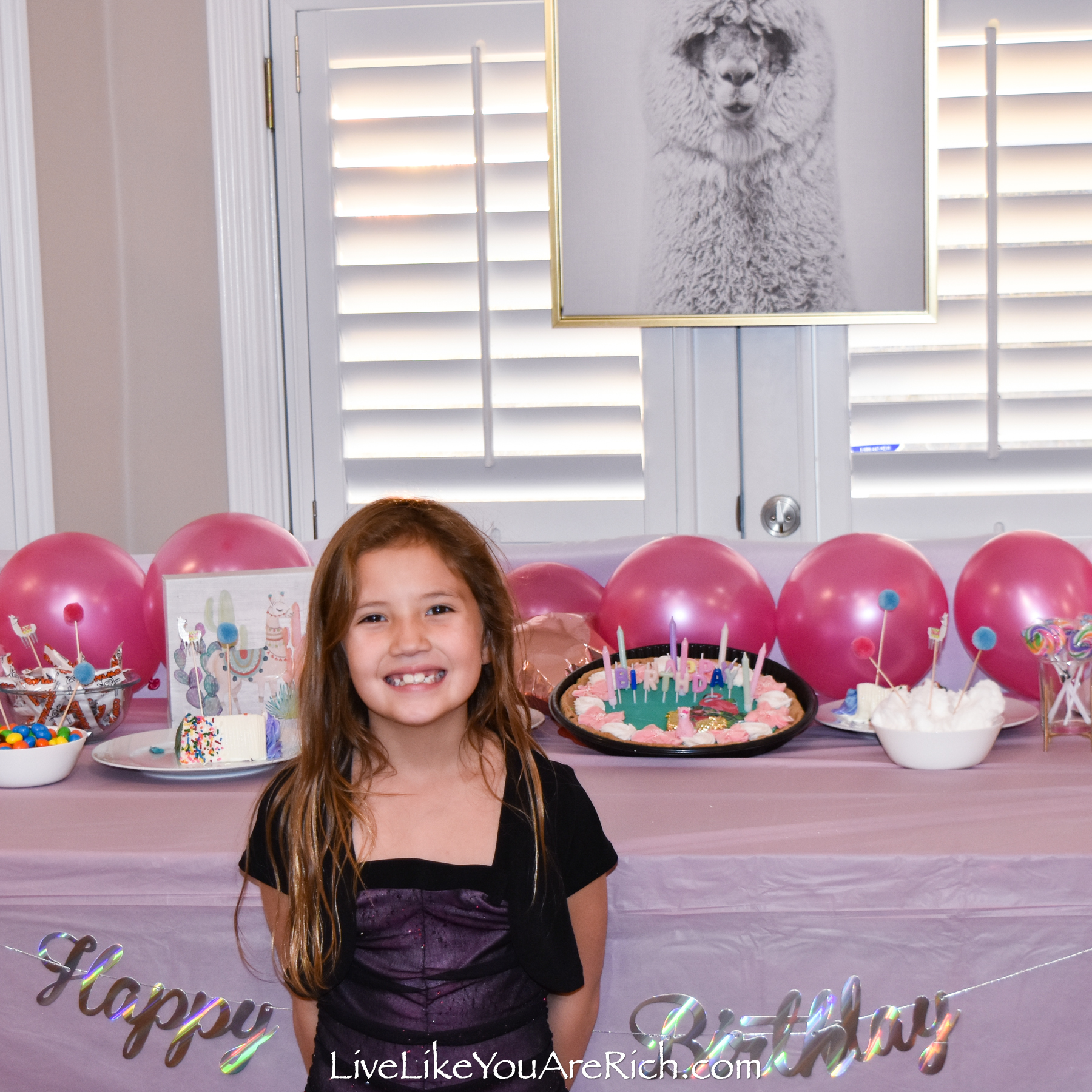 Supply List for this Quick Llama Birthday Party
pink jumbo tissue paper pompoms
cotton candy (white)
rainbow sparkle cake slices
etch a sketch (favors) Dollar Tree
Build me a sweater llama (favors)
darling Alpaca photograph/canvas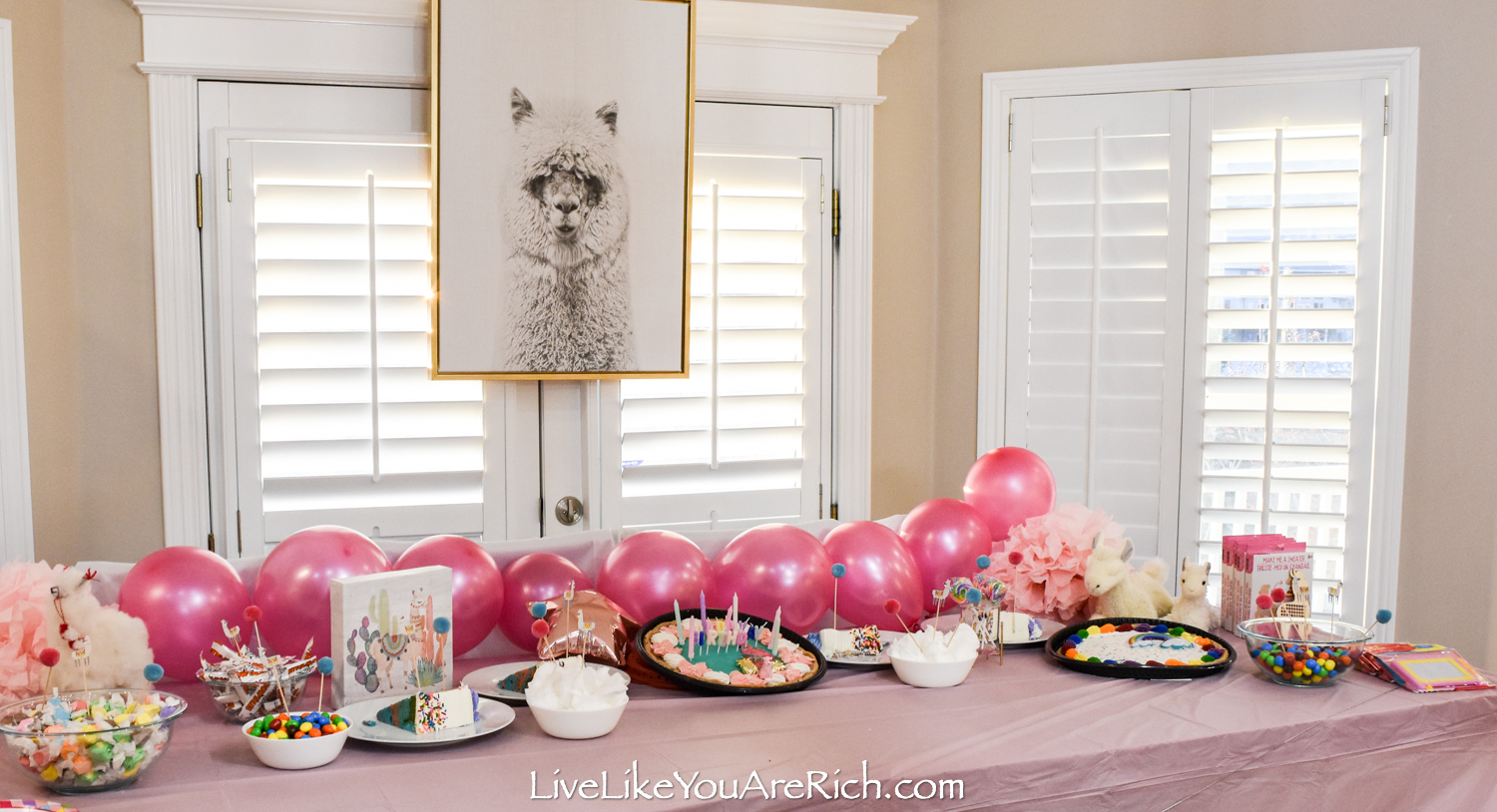 I hope this post gives you some ideas on how to host a quick llama birthday party as well.

For other 'rich living' and money-saving tips, please subscribe, like me on Facebook, and follow me on Pinterest and Instagram.