Medieval Birthday Party
Recently, my family and I attended the Medieval Times dinner and show in California. The kids who attended with us aged from 3-13 and they were all mesmerized—in fact, every child and adult in the arena that I observed and had a blast! This visit inspired my daughter's Medieval Birthday Party.
At the show Medieval Times, we saw knights, horses, a falcon, a show put on by actors (featuring a King, Princess, and competing knights), and of course we also saw a jousting games competition.
We were served delicious soup, bread, chicken, and potatoes. We ate true to Medieval style—with our hands. Dessert was yummy pound cake. They have locations all over the country. I highly recommend attending the Medieval Times show.
Afterwards, my daughter who was about to turn 3 years old, asked to have a Medieval Birthday Party. So here it is…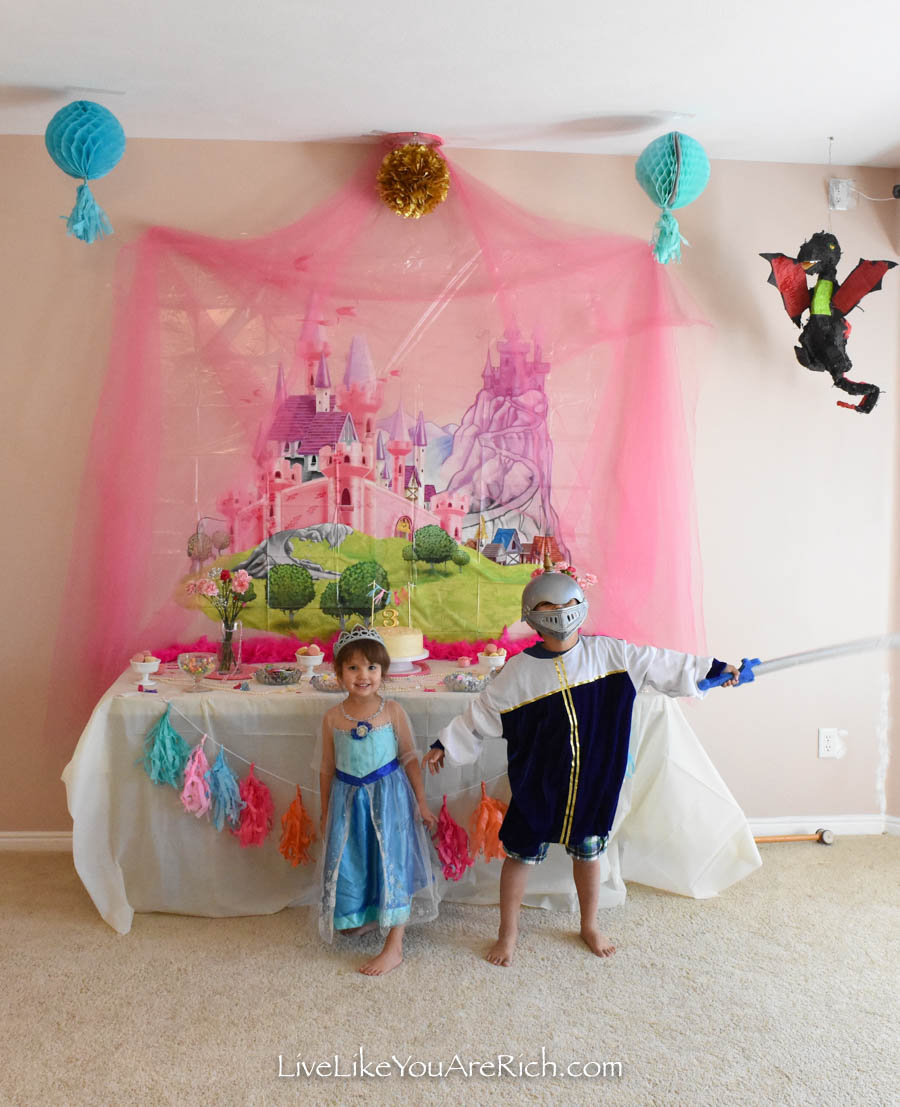 I threw a party with about 15 kids (friends and family) and some adults who stayed and helped out with all the kids.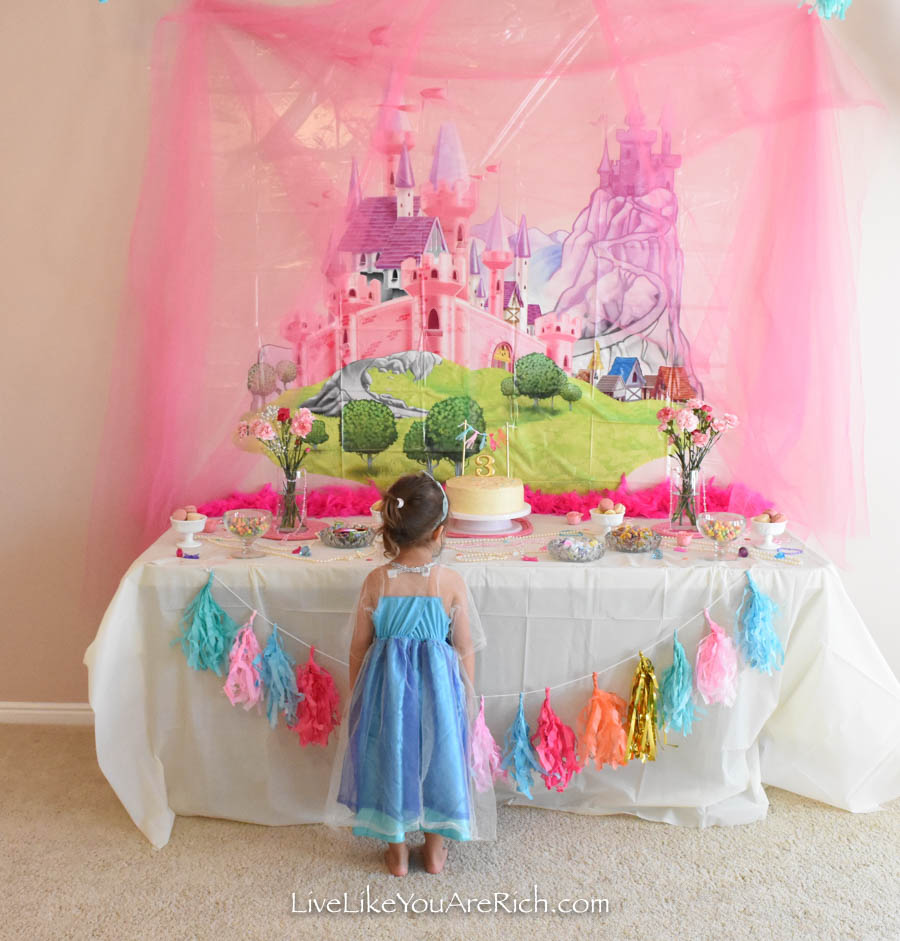 We had a treat table.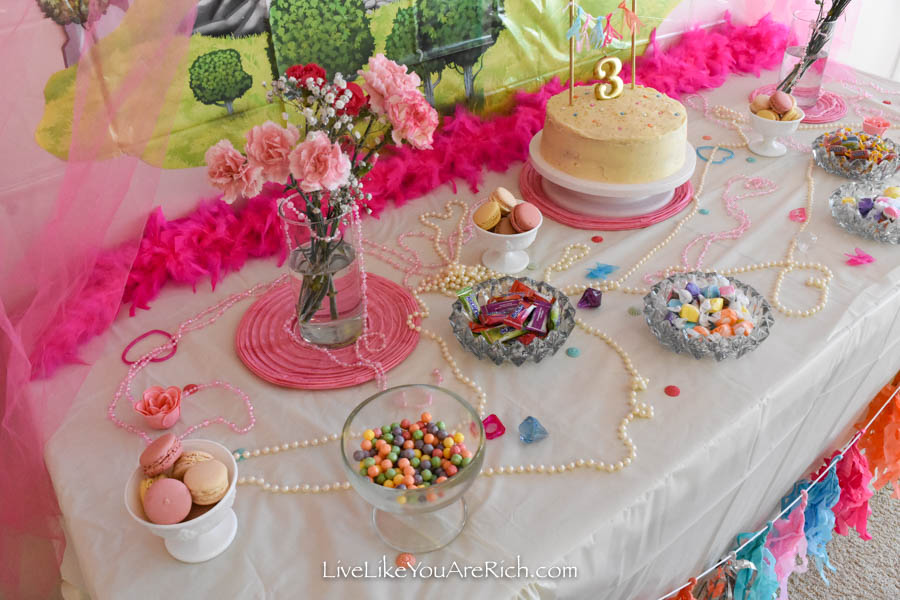 With dishes full of similar colored candy (Hi Chews, Salt Water Taffy, Sweet Tart mini chewys, Jolly Ranchers), macaroons, and flowers.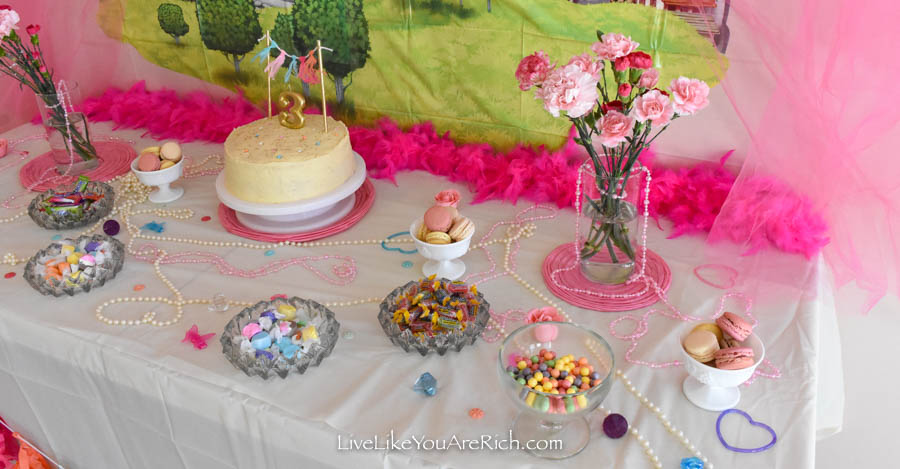 I found the macaroons at Costco for $13.00 and the other candy and carnations were nominally priced at a local grocery store ~under $15.00.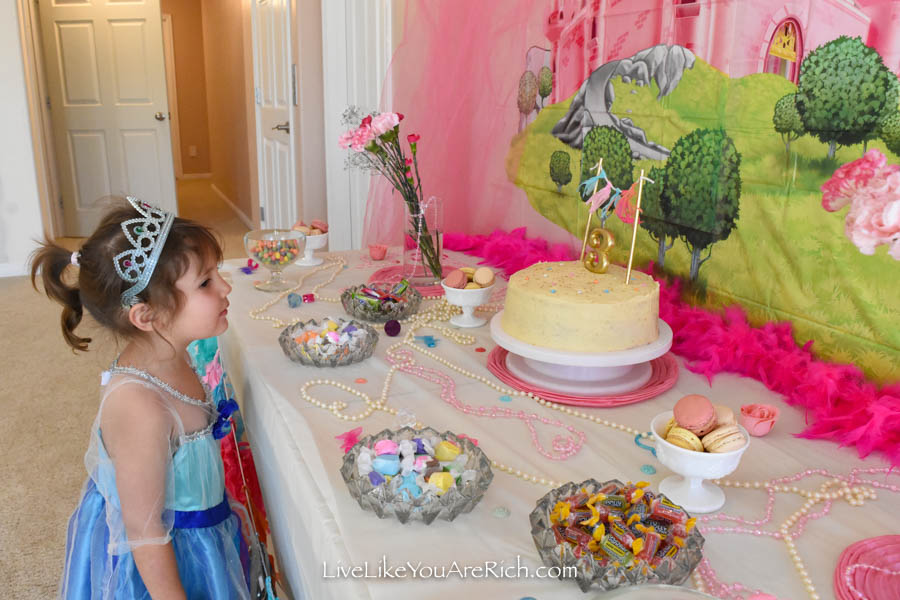 The backdrop was a castle backdrop I bought for $7.00 on Amazon here.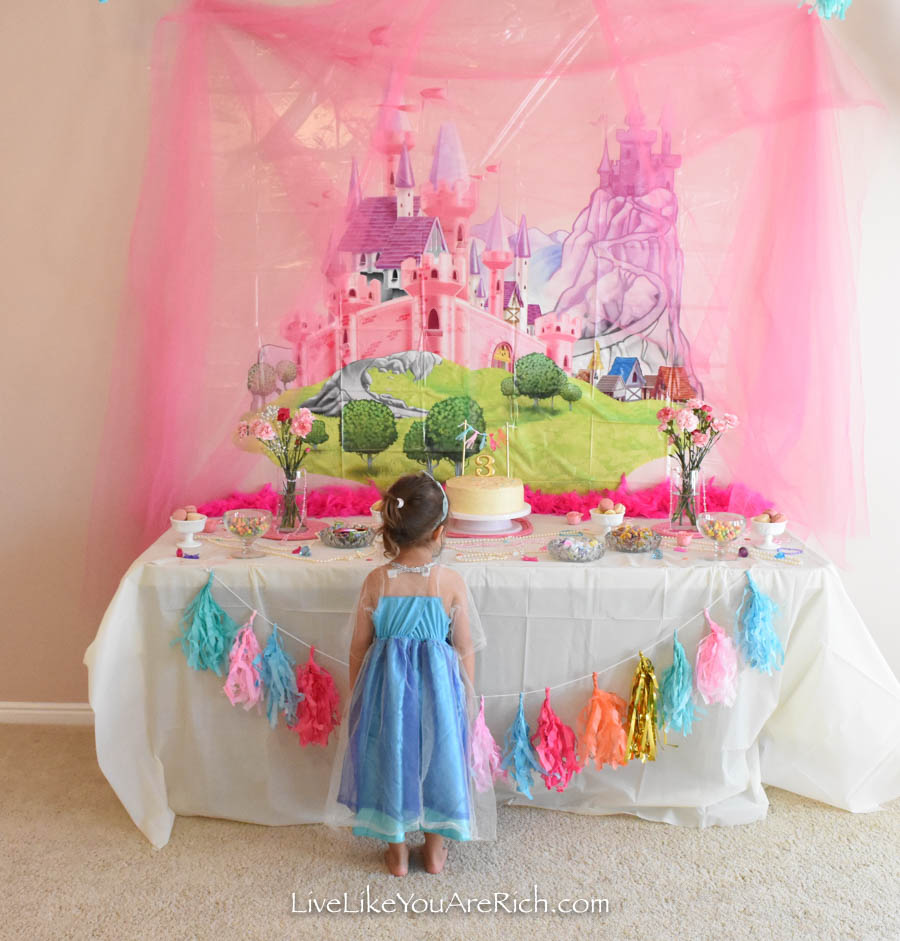 It was framed by a canopy made out of tulle. I had already made this canopy—which was both simple and inexpensive—but decided to repurpose it for the party (DIY instructions here).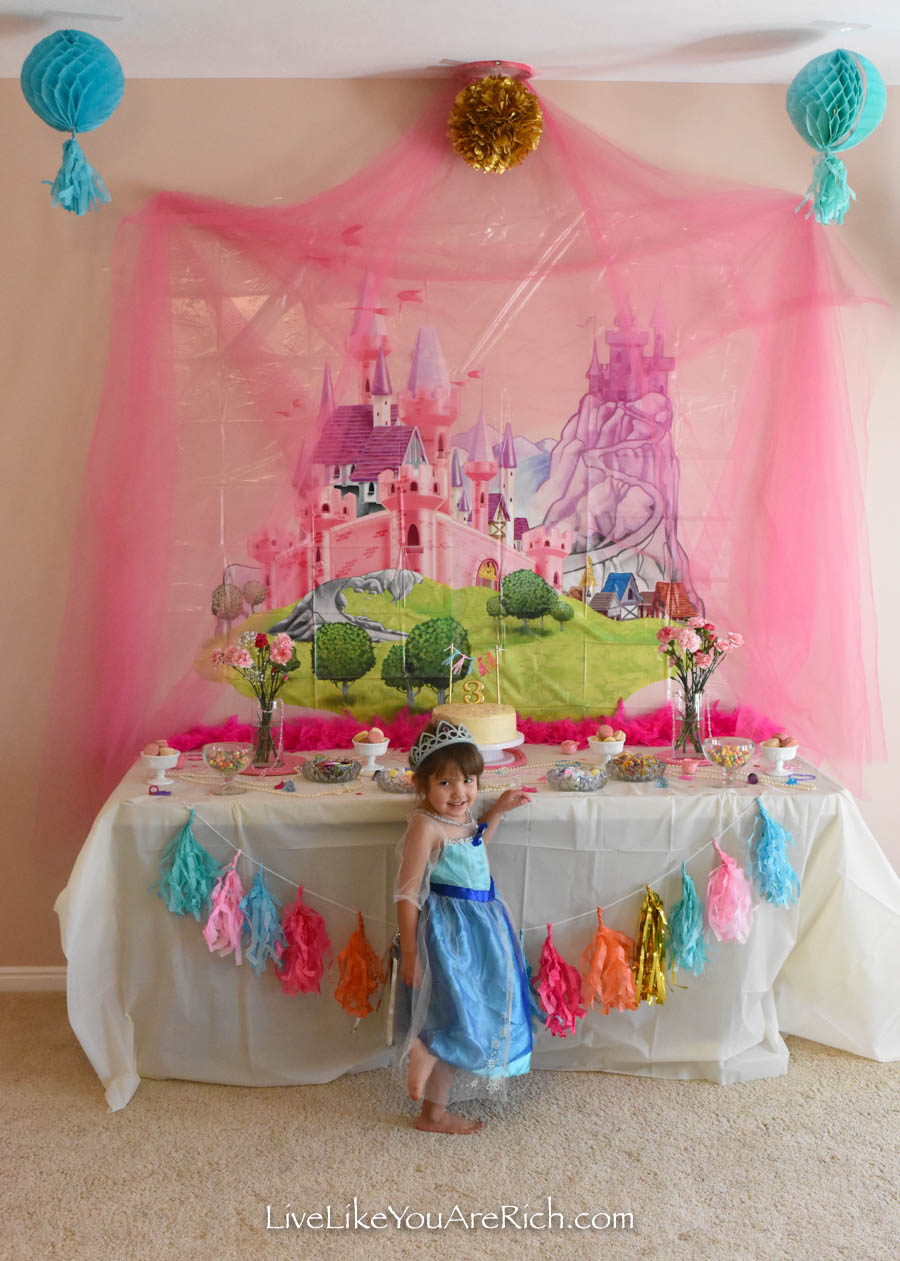 I made a Raspberry Cream Vanilla Bean Cake Click for Recipe.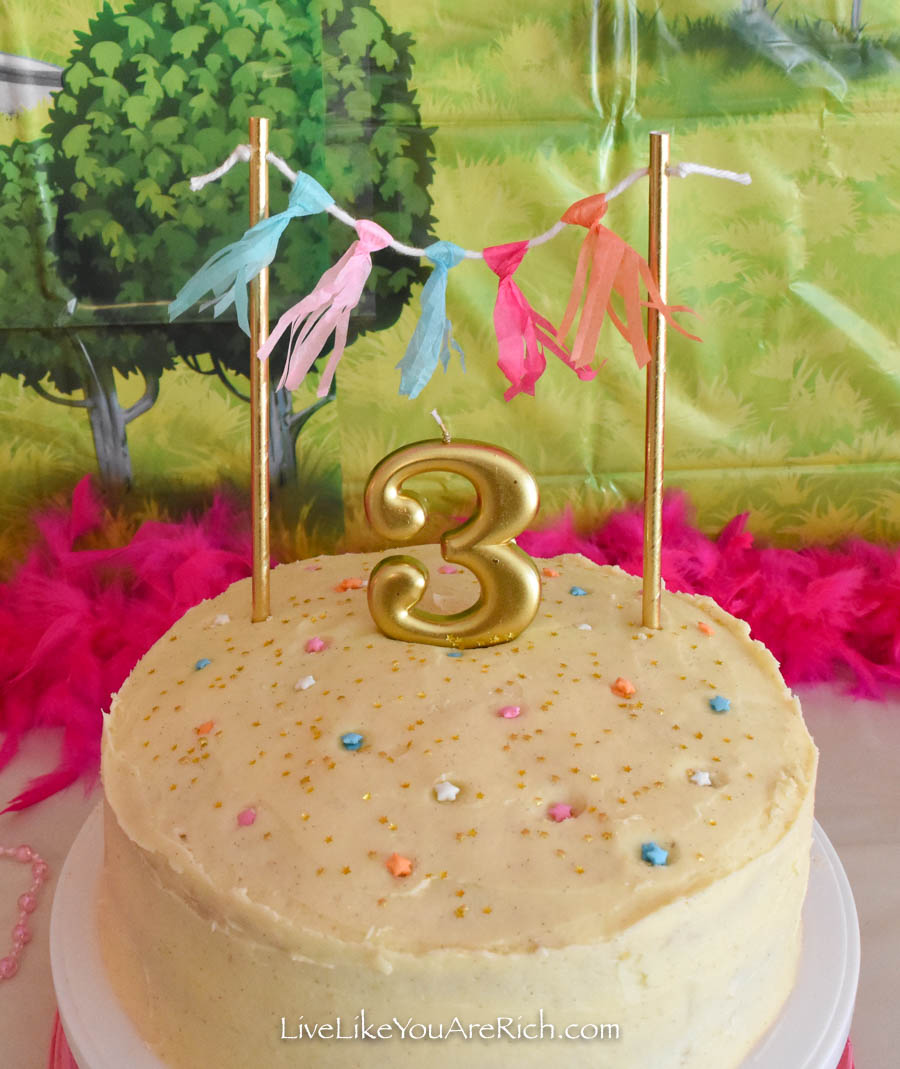 Then I crafted together a little decorative DIY cake topper banner for free (DIY instructions here).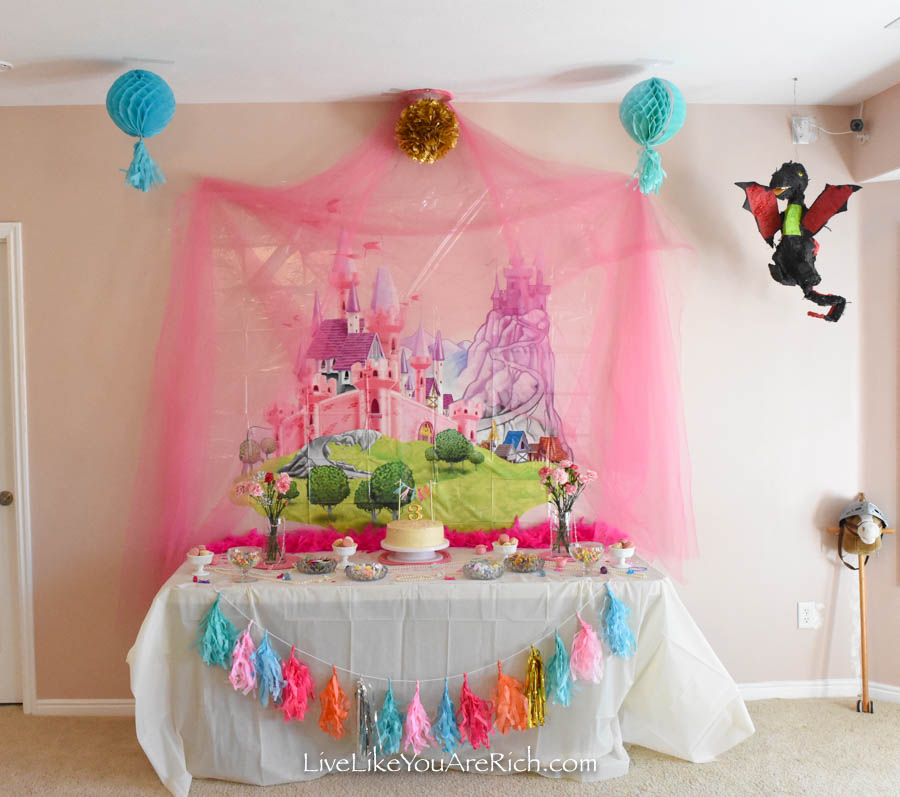 I also set up a craft table for some of the crafts we did…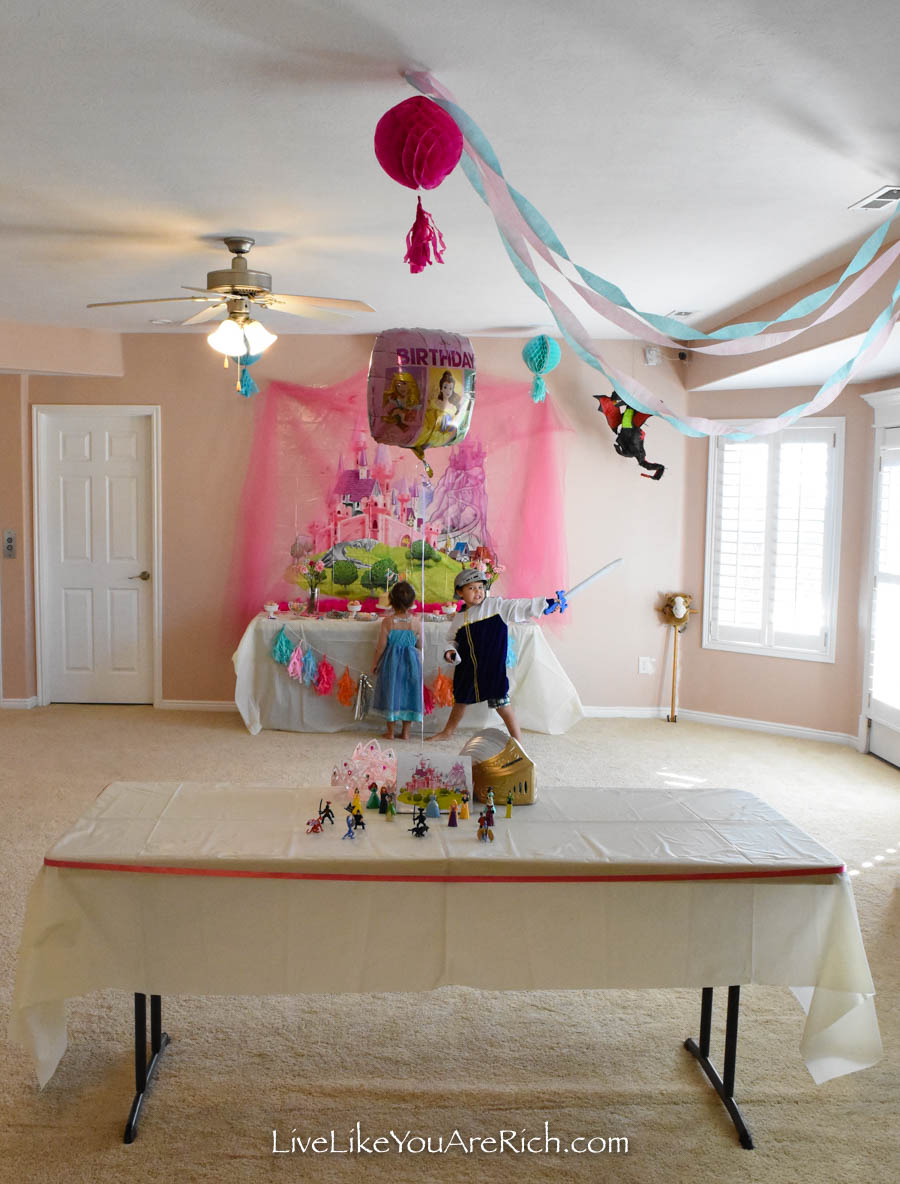 For invitations I went the convenient route and just texted everyone. I kept meaning to get around to making an invite but it just never happened (we are also renovating our entire house right now so I was busy).
I texted or called and told the moms the kids could dress up like princesses, knights, kings, queens, or princesses. Almost everyone came in a cute costume. Most of the kids were dressed so cute.
For the activities…
We first started out playing hot potato with a balloon (until it popped). I'd recommend multiple back up balloons.
Then I had everyone choose a little figurine to make snow globes with.
DIY Medieval Snow Globes post with supply list and instructions can be found here.
The girls got to choose one of these 11 Princess figurines I got for ~$11.00 on Amazon here.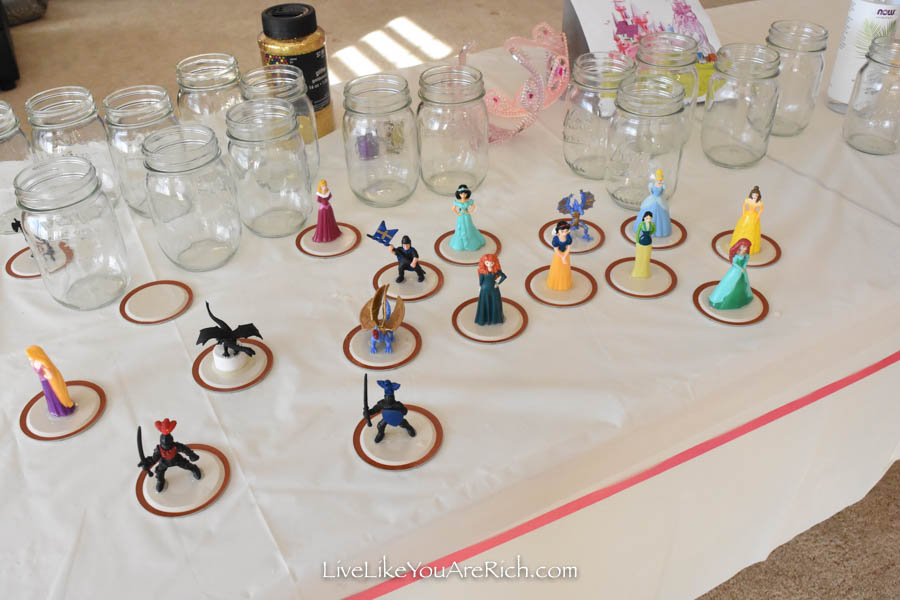 The boys got to choose a knight or dragon from this set I got on Amazon here.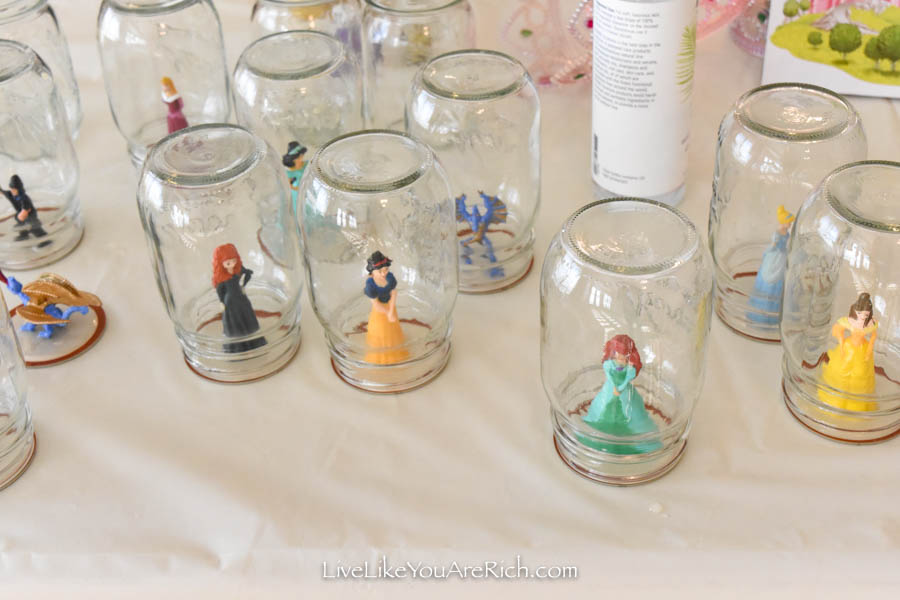 We glued down the figurines on the jar lids (I had the jars) and then continued other activities and came back to finish off the globes before cake, ice cream, and presents.
Next, I had the kids take turns jousting. They would wear a Knight helmet, run with our wooden stick horse, and throw a foam sword into a bean bag board.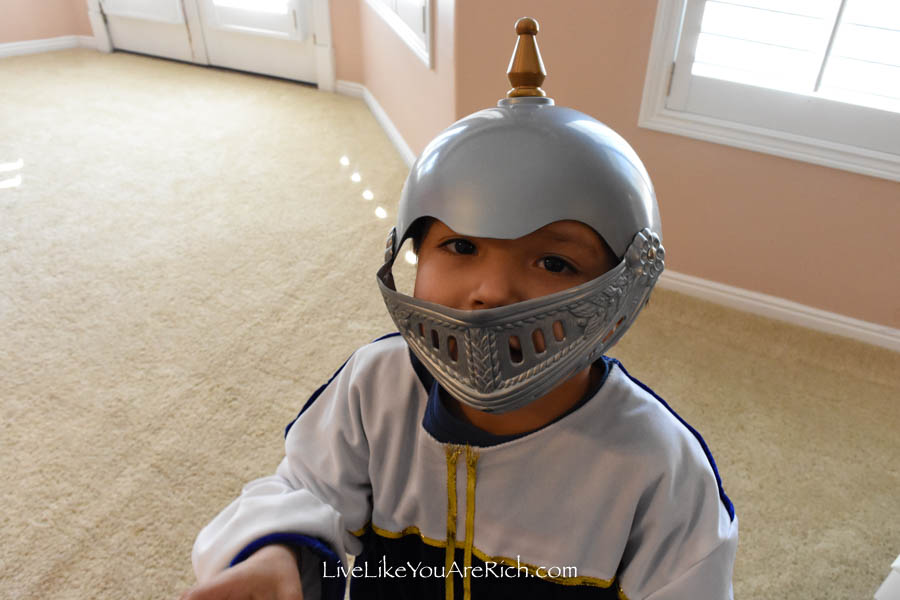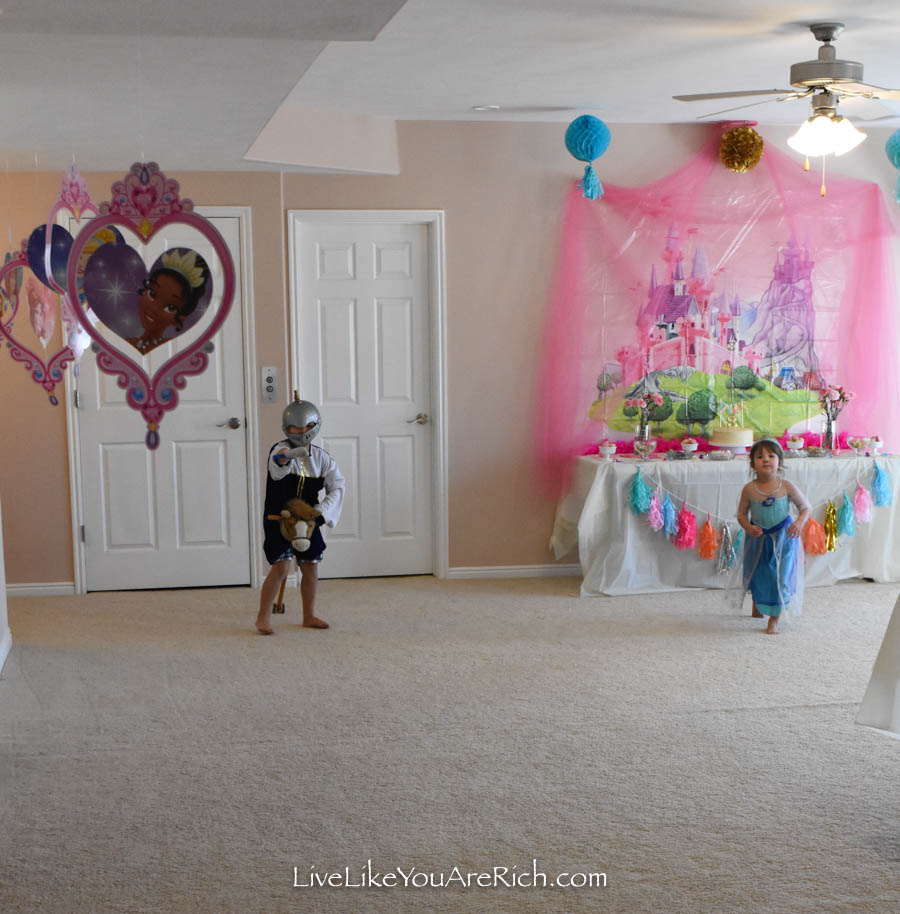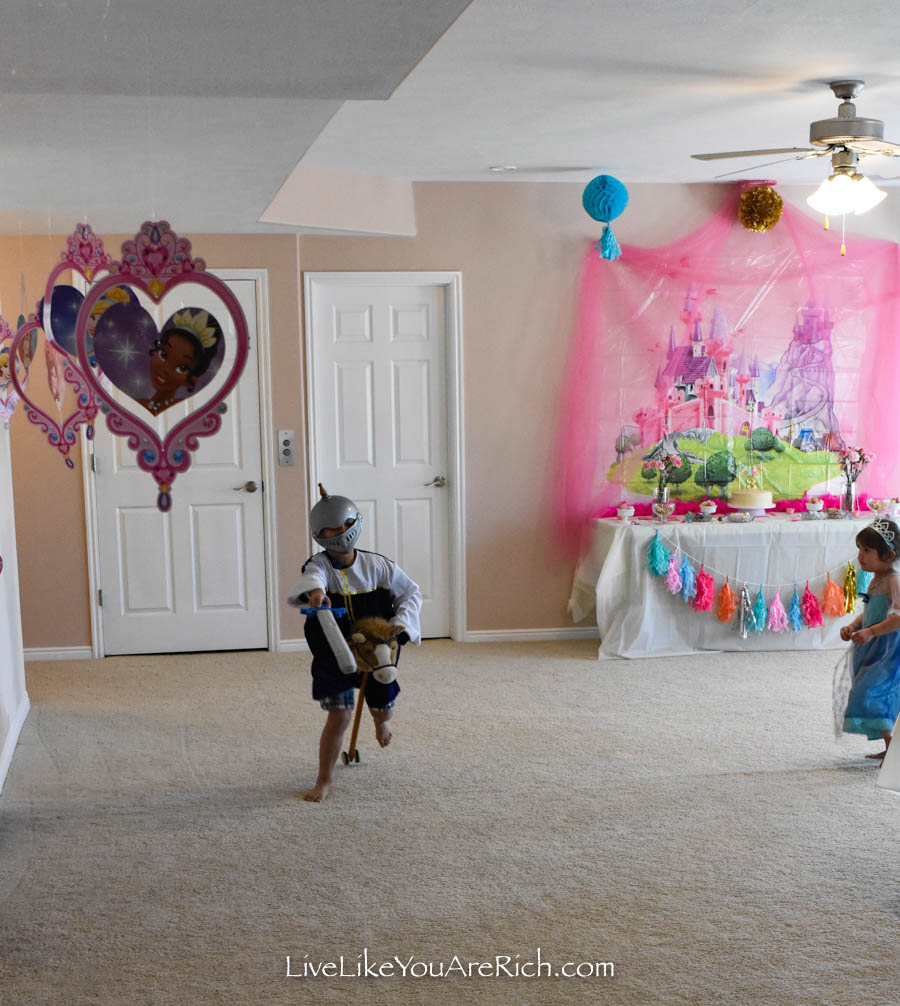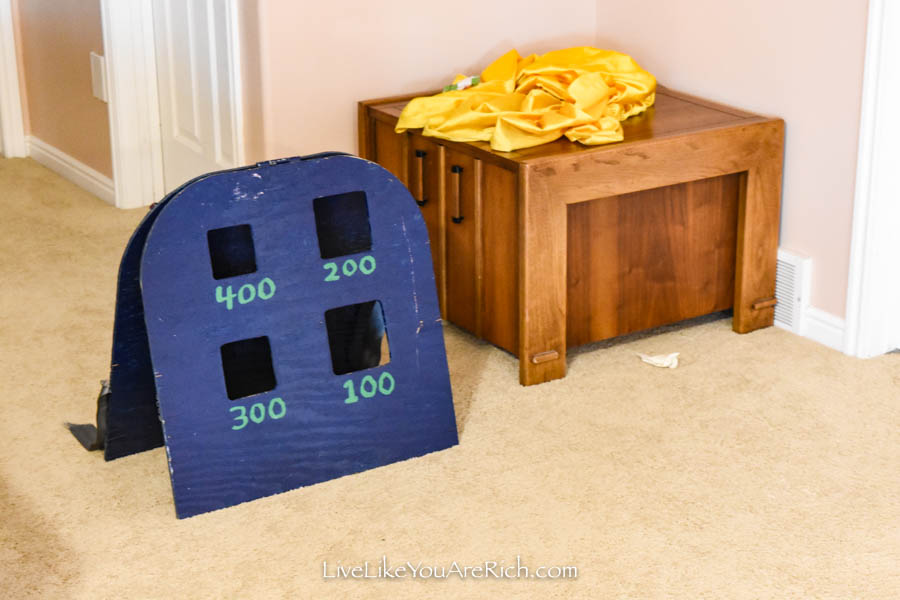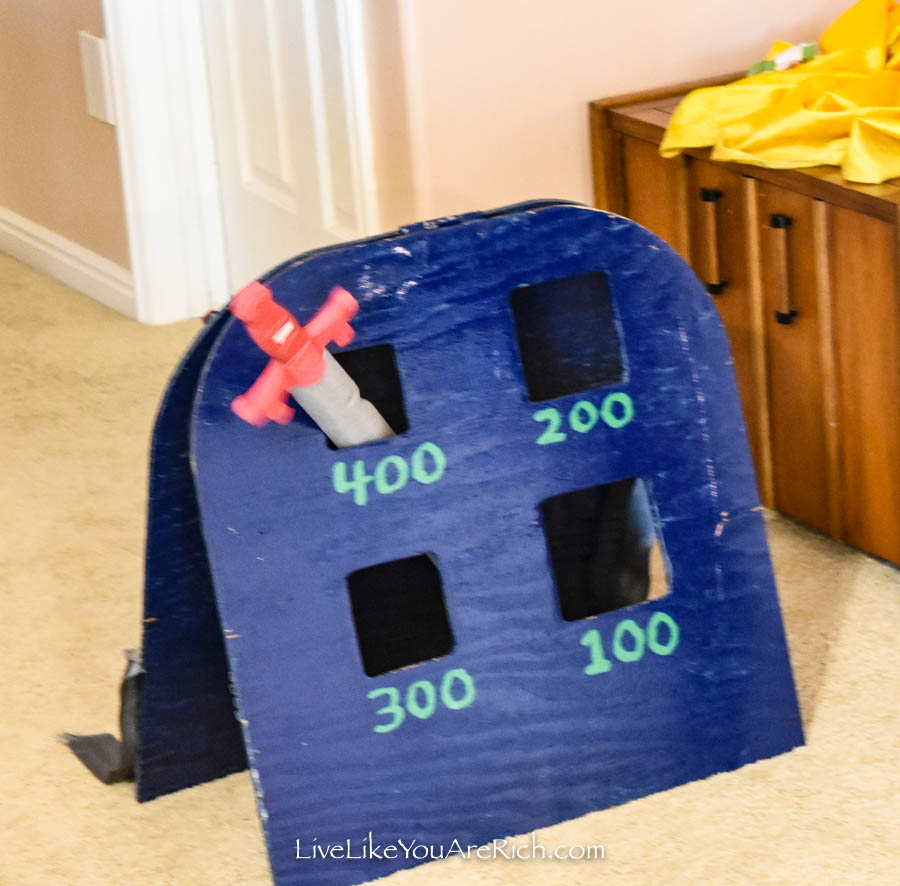 We'd keep score to see who won. They LOVED this, the only problem was, there were too many kids wanting to take turns. Waiting for 10+ kids to go just to get another turn was not so fun. I wouldn't recommend inviting so many kids if you are wanting to do a game like this… or having two horses, swords, etc. would have made it even better. Regardless, they all had a blast at least for awhile.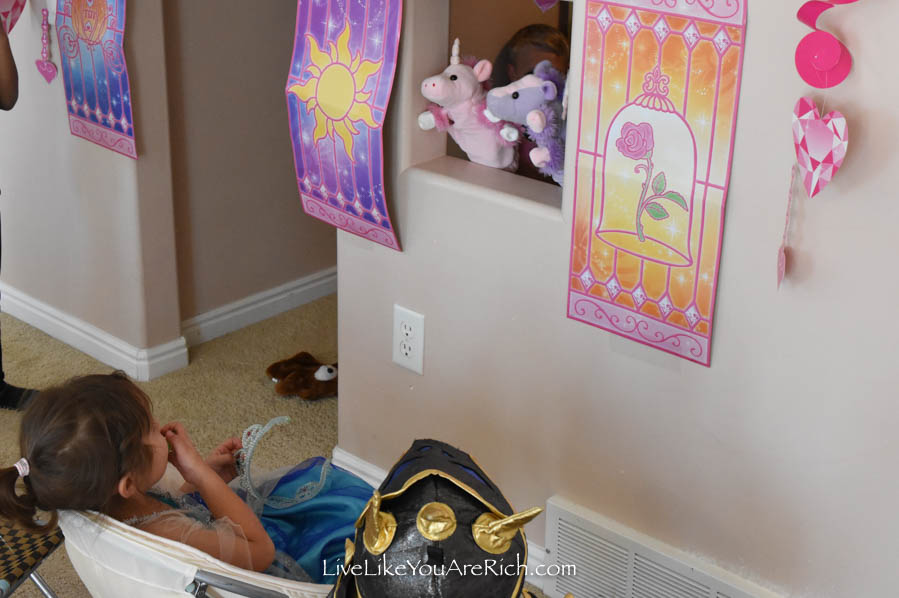 Then we had a castle puppet show (I already had the hand puppets).
Each child got to take a turn putting on a short puppet show for the rest. They loved this and some of the shows were very funny and creative.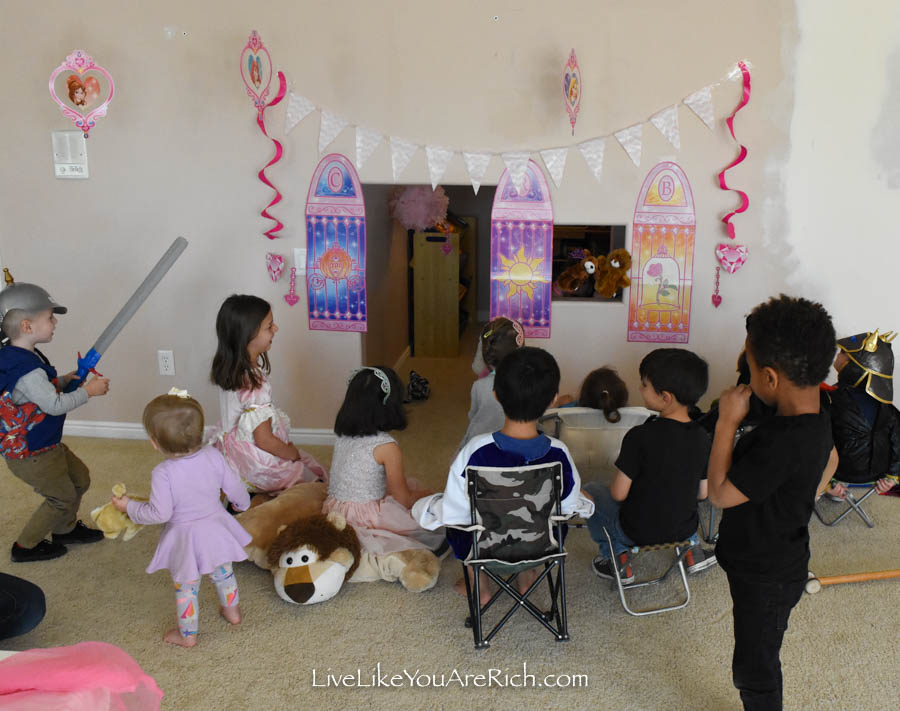 It was fun that puppet shows were performed throughout medieval times and I could tell them that.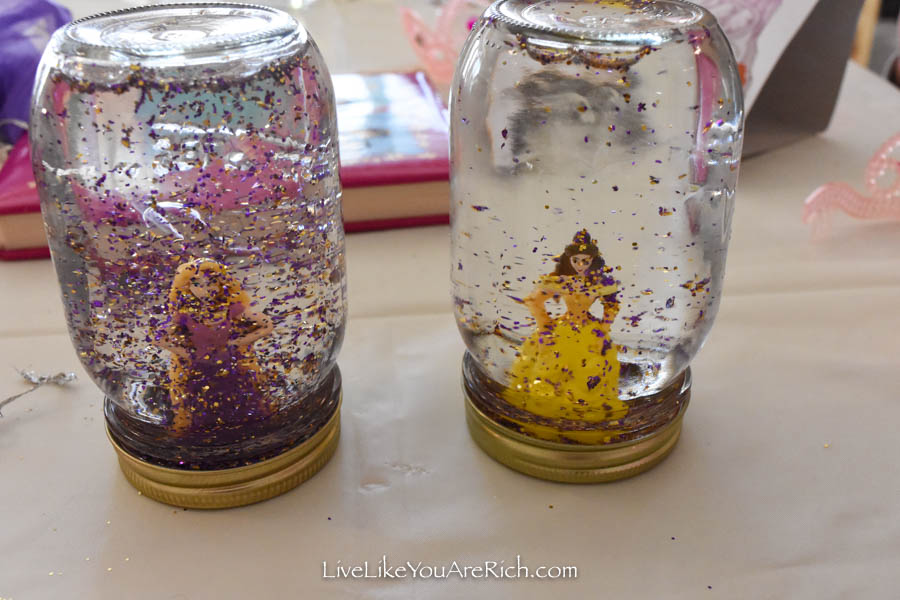 We finished up the snow globes which the kids really loved!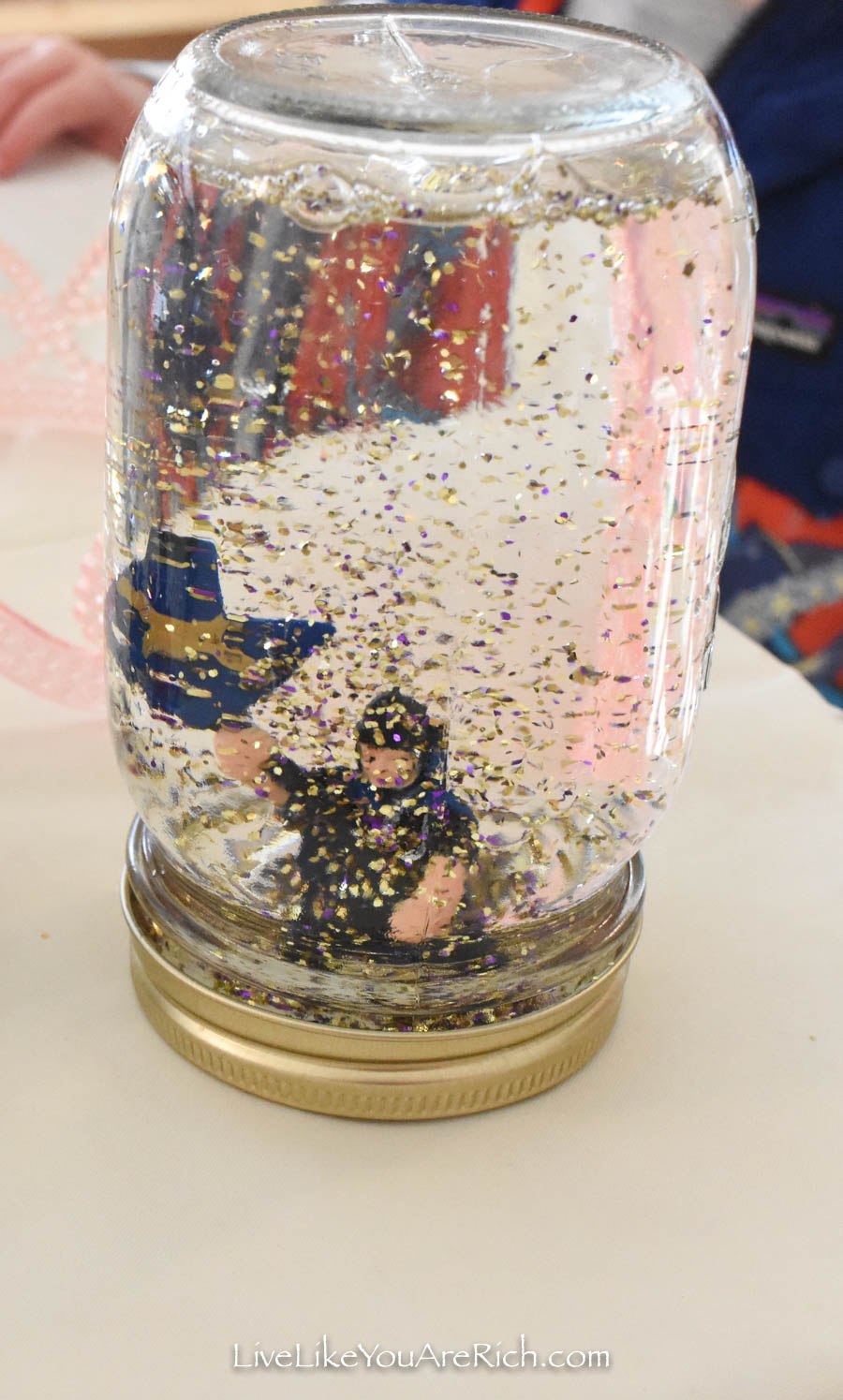 Afterwards, we slayed the piñata dragon with a wooden sword taped with duct tape (homemade).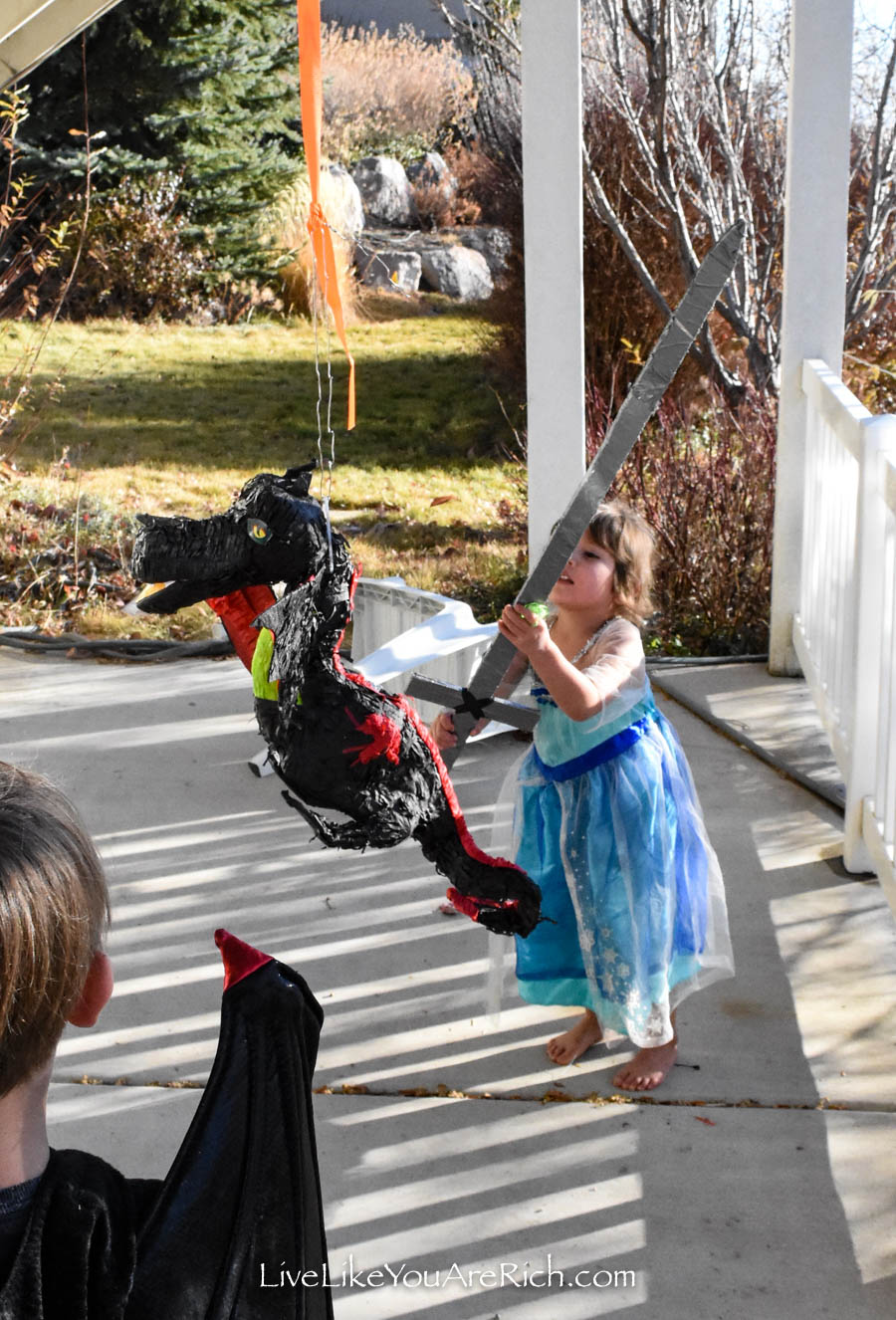 And this one too… that little knight was killing it.
The kids collected their candy in little lunch sacks and then we ate cake and ice cream.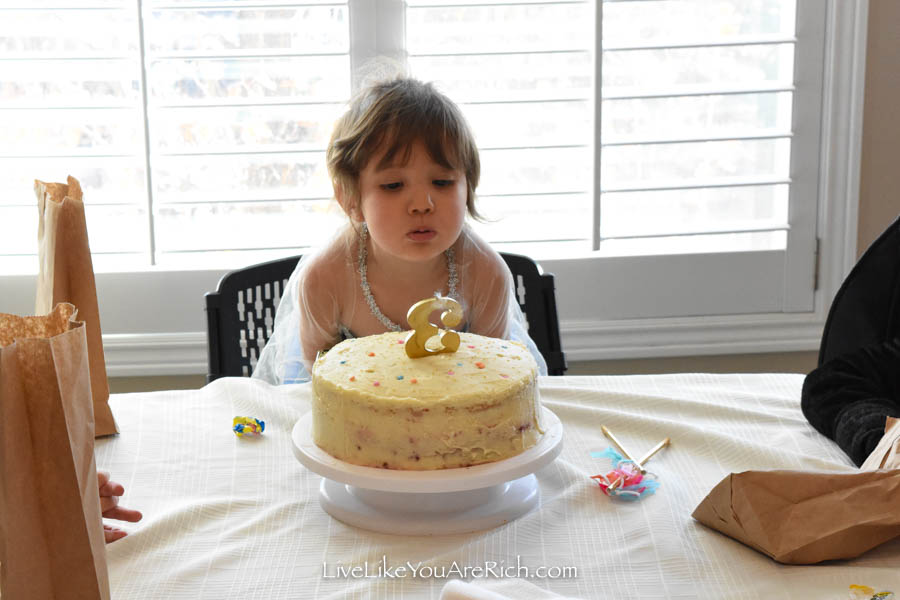 Many of the kids told me it was such a fun party or one of the funnest parties they had gone too. I wasn't expecting that when I threw it, but I'm glad that they had fun.
The best was to see both my daughter Aurora and son Denali helping me plan and prepare and decorate for it.
They talked about the party for weeks and were so very excited when it came time for the party.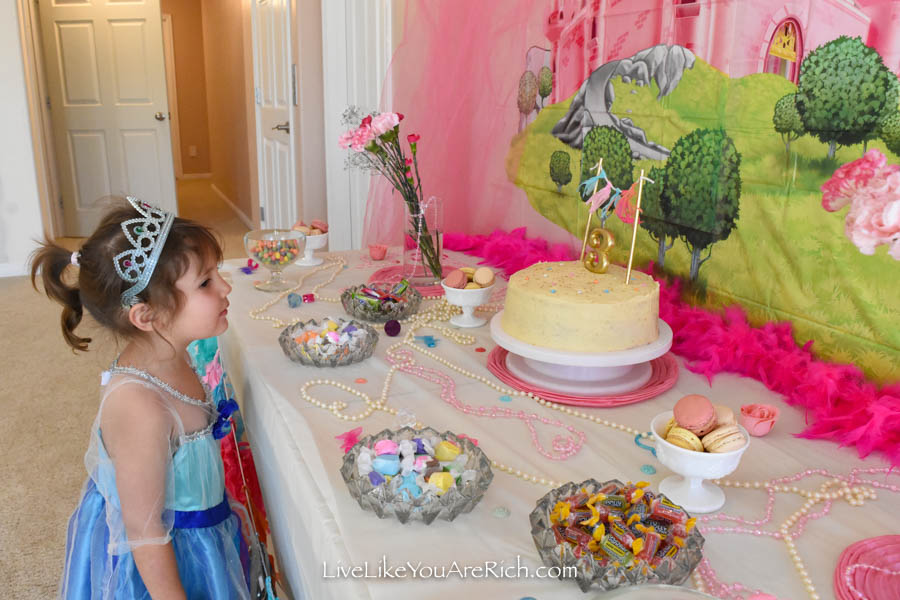 Aurora would stand in front of the table for the equivalent of hours before the party began. I was able to use the party as an incentive to get them to do a few more chores, clean their room, behave, etc. :).
One missed activity…
I had printed out coat of arms from a free download. My plan was to trace them onto cardboard that I had, wrap them in tin foil, and decorate them with sharpies, stickers, ribbon etc.
Unfortunately, I ran out of time. My kids kept begging me to let them make coat of arms.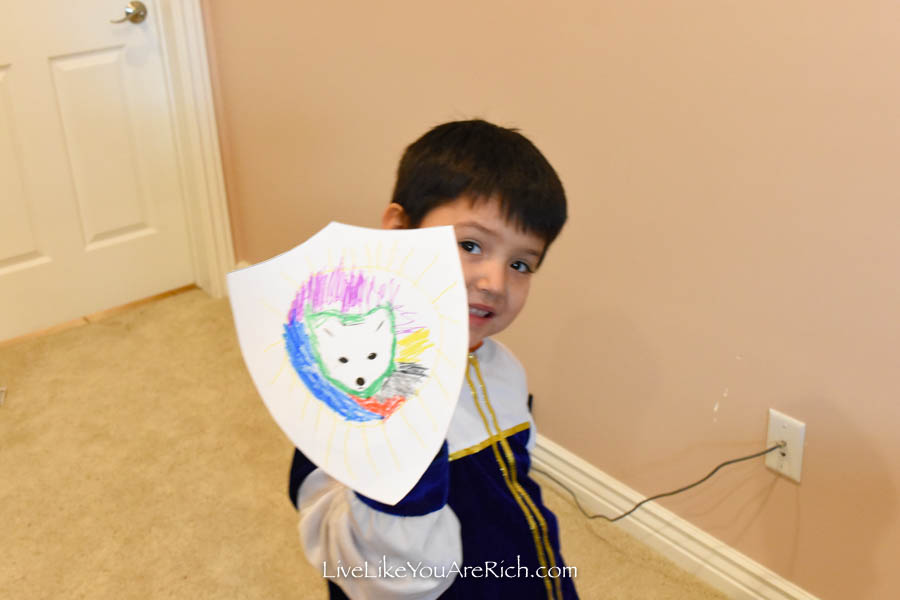 So later that day and the following days, they made multiple coat of arms with the free downloads I had printed out. I had them just make them on paper as opposed to tinfoil-covered-cardboard and to my surprise they love them! We used a little paper to fashion a handle on the back.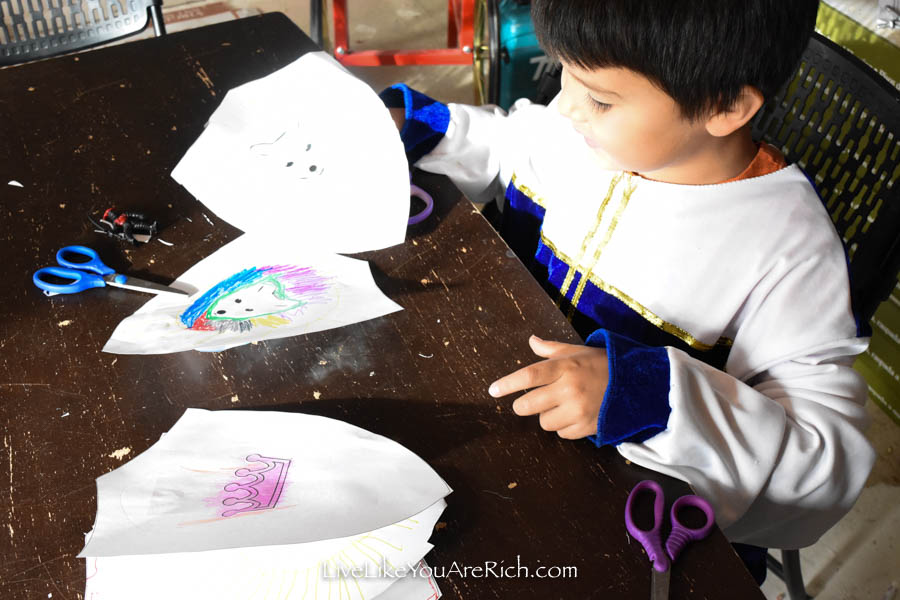 Creating, decorating, and planning for the party was fairly easy and inexpensive.
I did have a lot of what you see in the photos from previous parties (I save all my decorations in a party tote and use them again and again). So that is my big piece of advice for saving money on parties… save all your decorations and package them nice and neat. I even reuse dollar store table cloths if they are in good condition after the party.
I also made the cake, banner, the party favors (snow globes), and used some left over Halloween candy for the piñata.
I borrowed the bean bag board and swords from my mom and already had the costumes, horse, and many of the supplies for the crafts.
Total the party came to about $75.00!
Its amazing what you can find, make, re-use, and borrow for a few hour party to save on costs!
I hope this has given you lots of ideas on how to throw a Medieval Birthday Party.
Supply List

For other 'rich living tips' please subscribe, like me on Facebook, and follow me on Pinterest and Instagram.