My daughter loves kitty cats! She meows a lot during the day and is obsessed with cat stuff. Below you will see the Kitty Cat Party we threw her for her second birthday.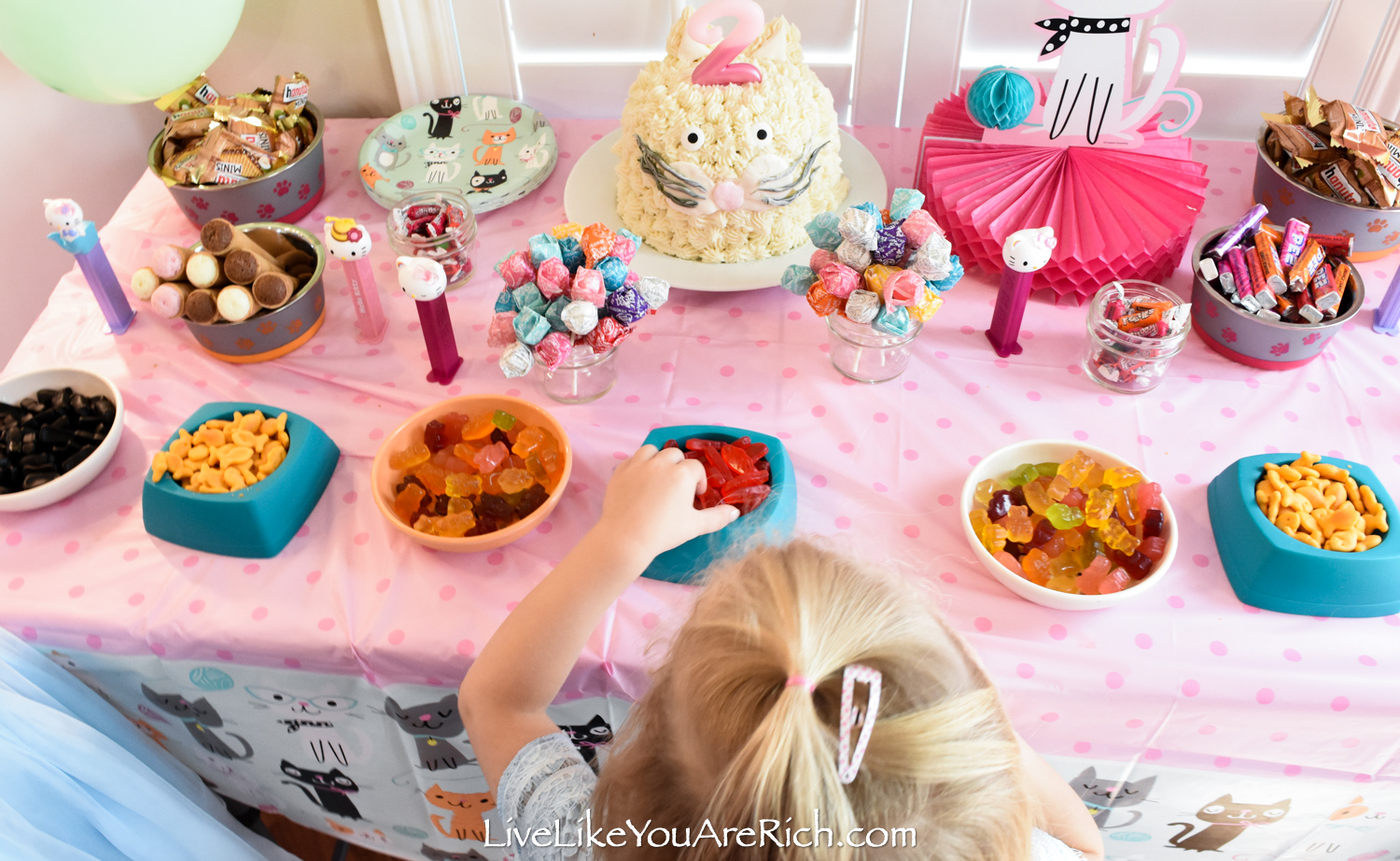 This kitty cat party was pretty easy to put together and cost less than $60.00.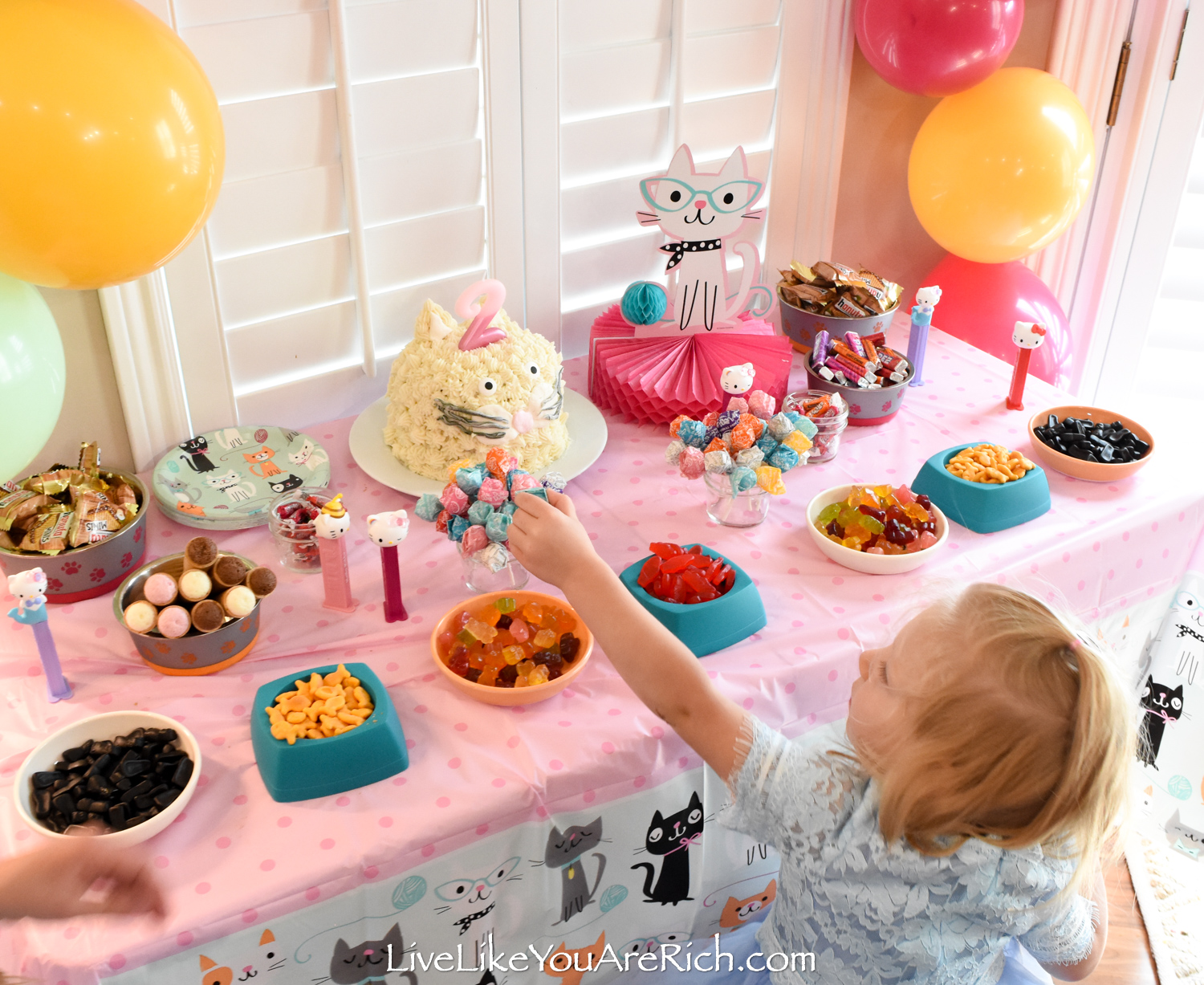 I bought the table cloth, plates, banner and centerpiece here.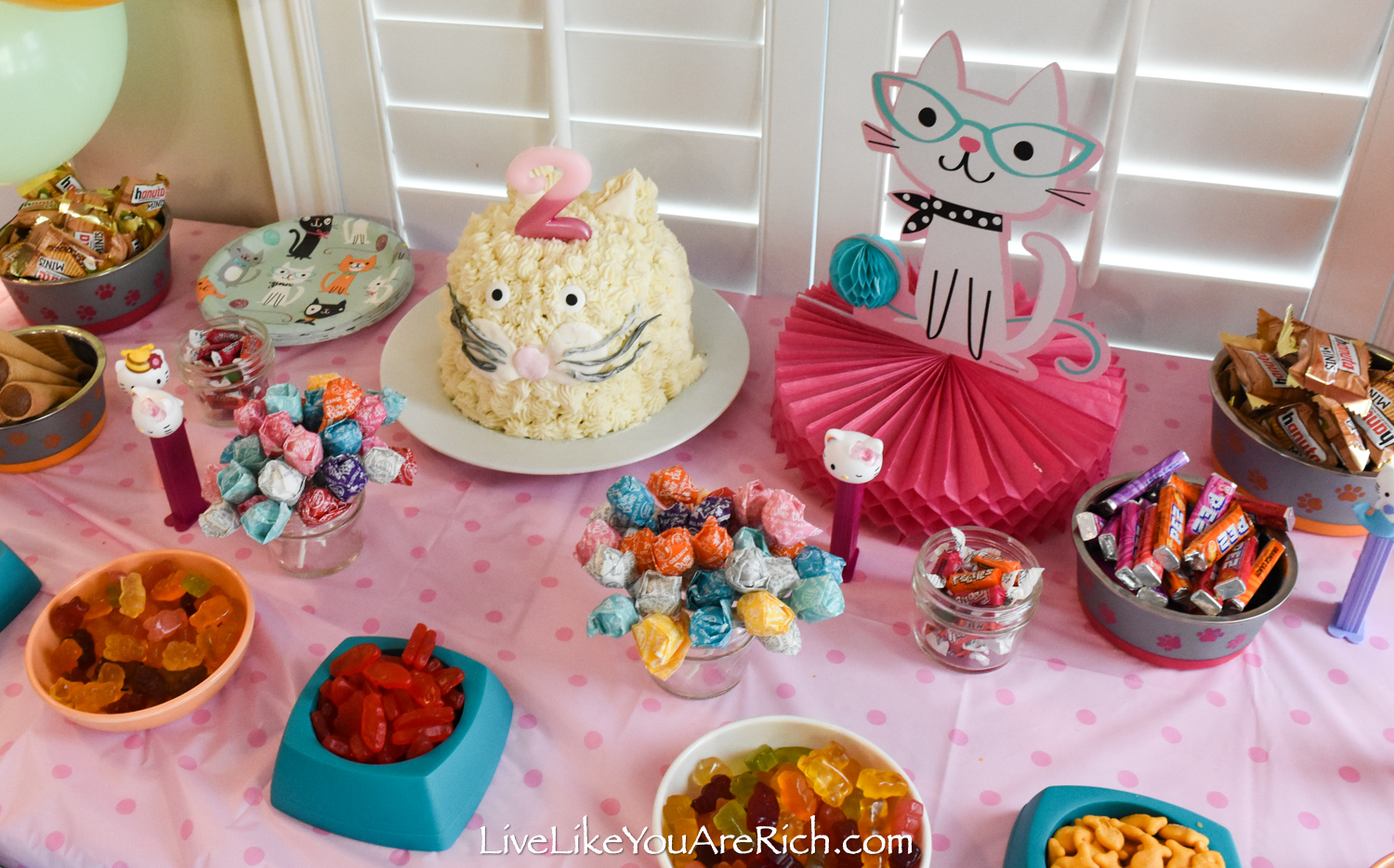 I thought it would be darling to display the food in kitty bowls. I considered adding milk to the table, but there were lots of little children and I just didn't want spilled milk all over.
Adding milk could have been a very cute detail though had it worked out.
We blew up balloons and taped them to the wall. I picked out 3-4 of each matching color at a local party store (I had the table cloth and plates with me to match them). I have found this is a cheaper way to do balloons if you are wanting a variety of colors. Each one was .15-.30 cents each. So for a few dollars I had a variety of colors that matched my decorations.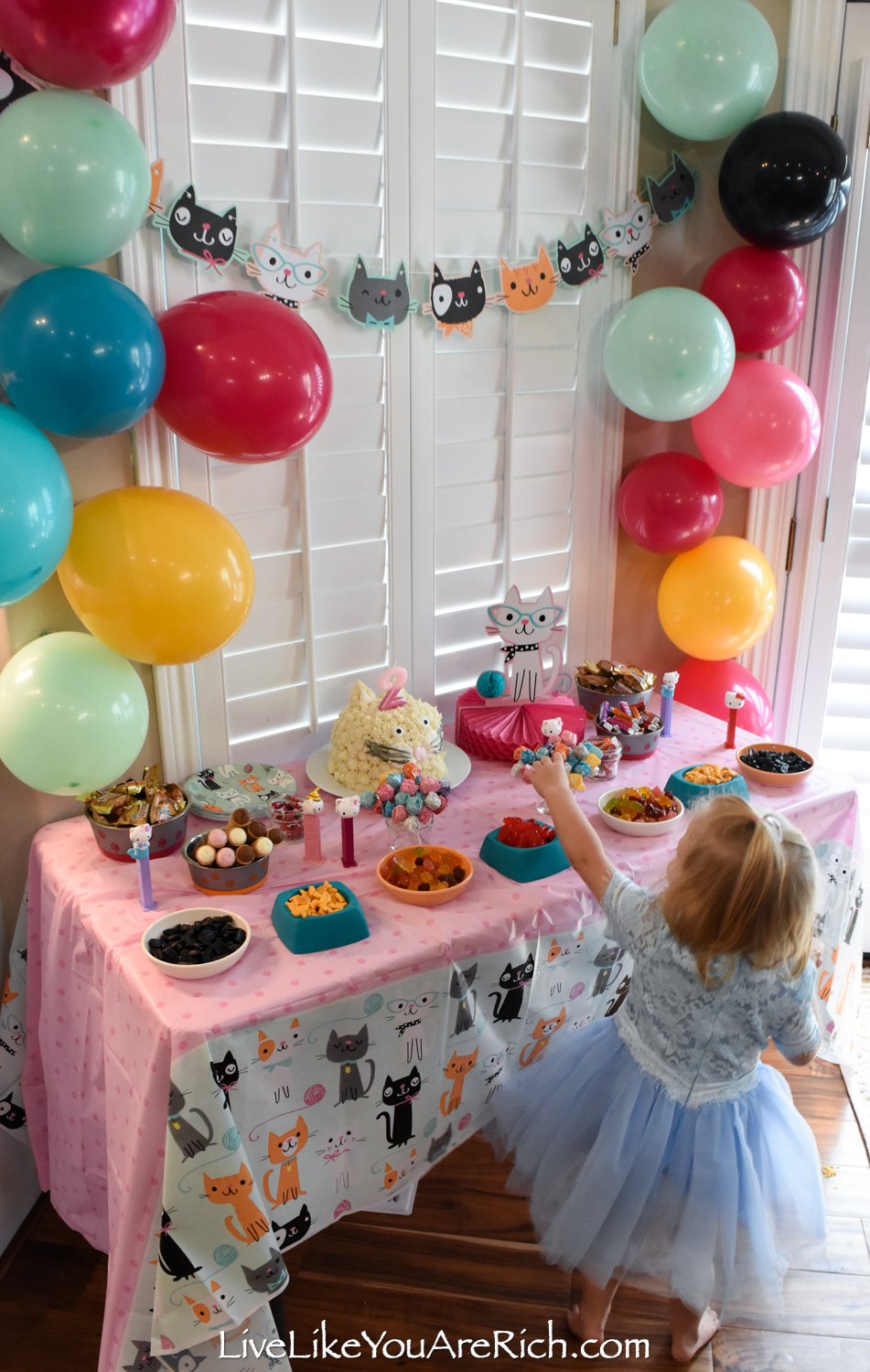 I had two objectives with the food for this Kitty Cat Party…
#1- I wanted it to be applicable to the theme and/or
#2- I wanted it to match the color scheme.
I found many foods that would match the color scheme, less that matched the theme of kitty cat, but overall it turned out pretty cute…especially because I put the food in kitty cat food dishes.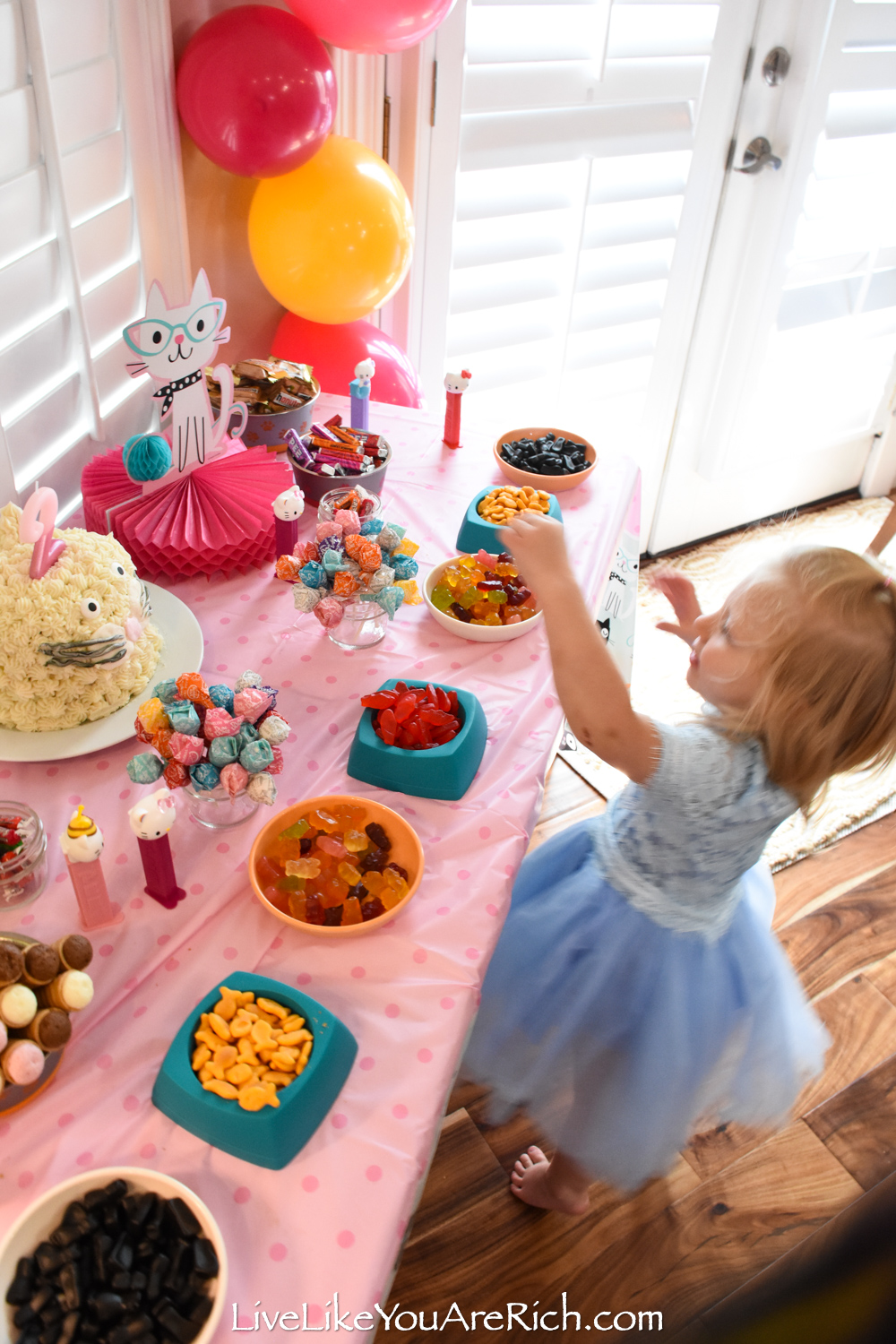 Aurora and I made marshmallow fondant and the kitty cake.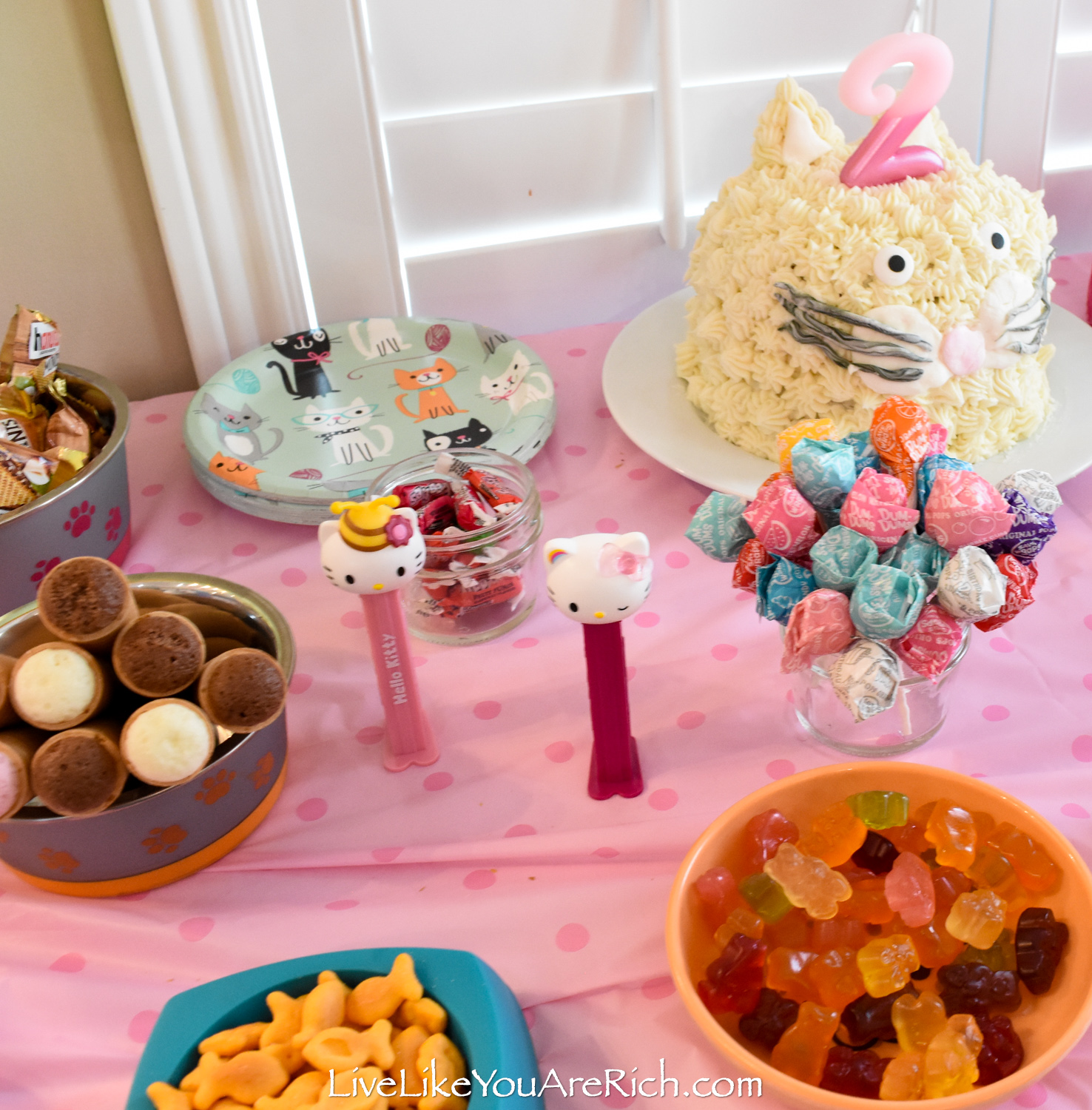 Some of the treats we put in the kitty cat food bowls are: Gold fish, Swedish fish, gummy bears, footies, gummy bears…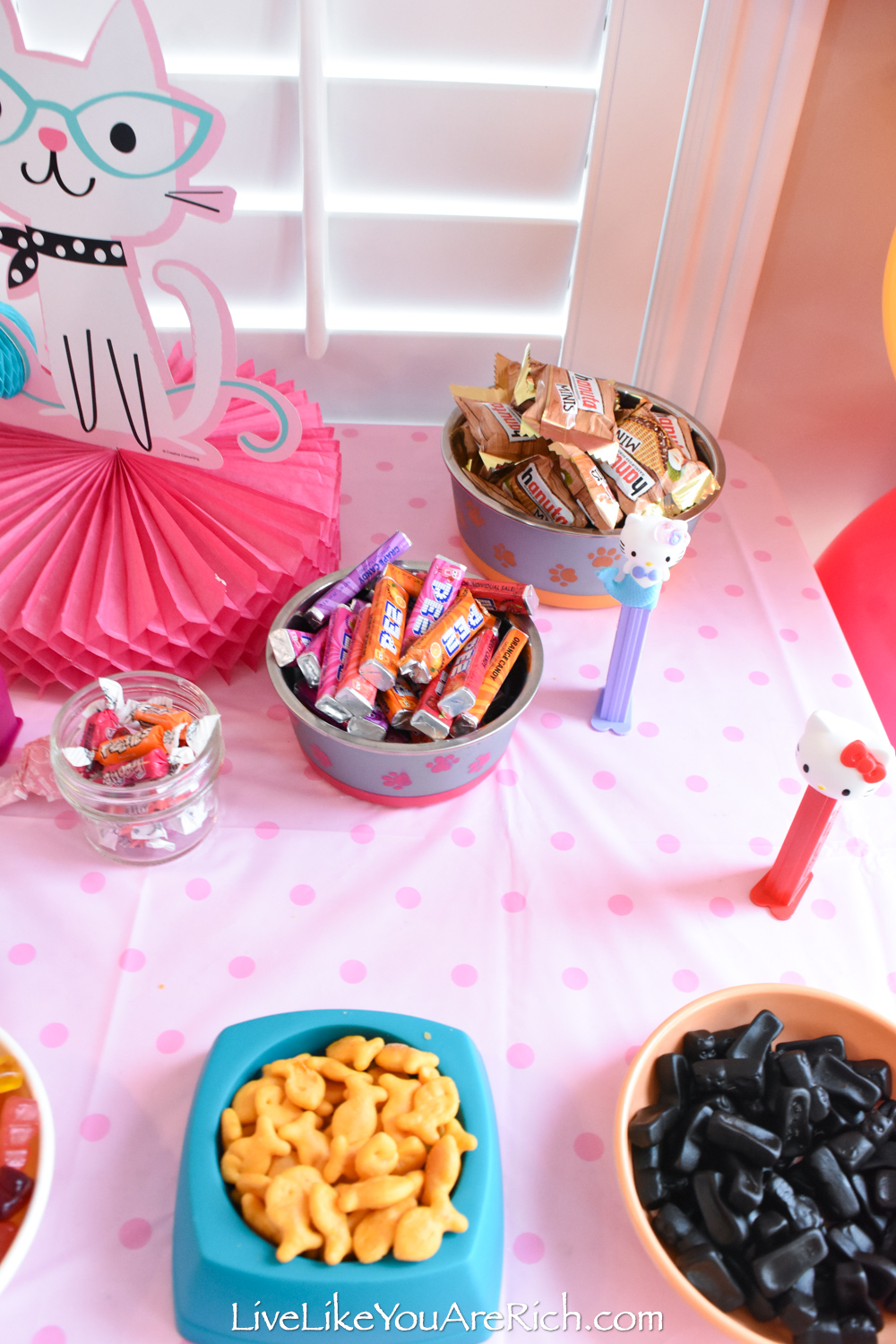 Pez, black licorice cats, hanuta minis, Caplico minis, and dum dum suckers that matched the color scheme.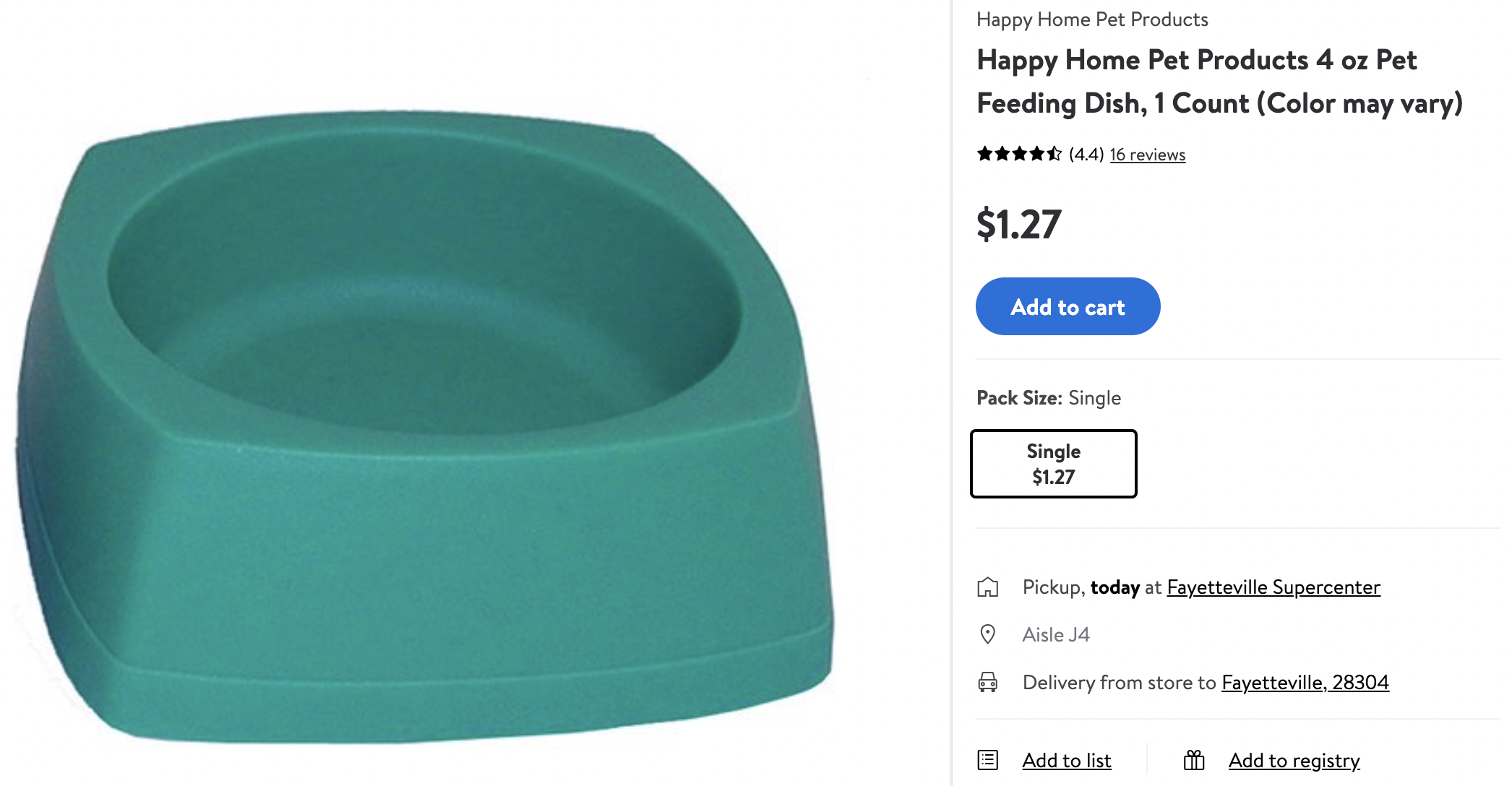 I found these cute bowls at Walmart and/or Amazon for $1.00-$4.00 each.
These Van Ness Ecoware Cat dishes in white and orange were perfect. I loved how more of the kitty could be seen as the candy or crackers were eaten with these particular bowls.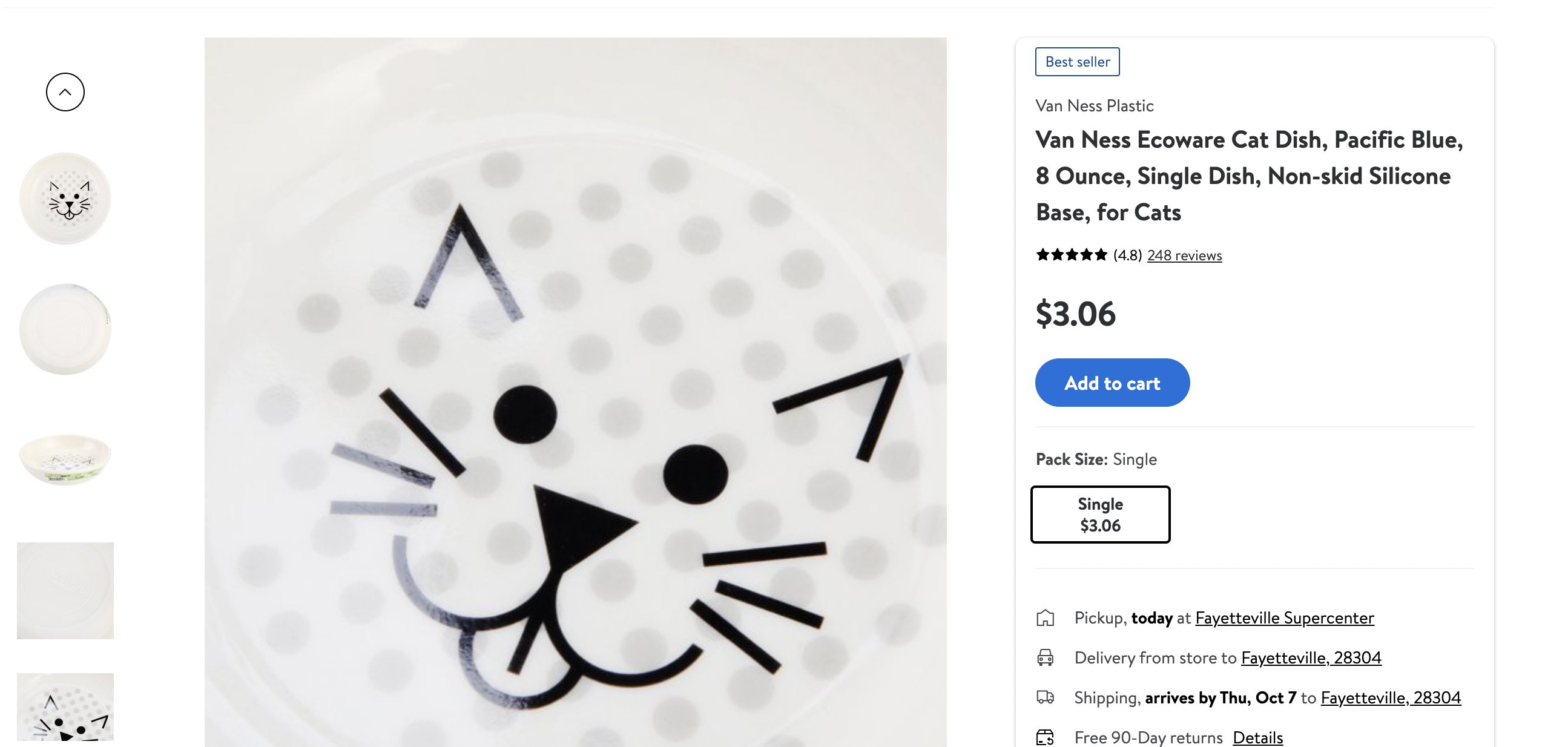 I was lucky that Walmart had a lot of kitty food bowls that matched the color scheme of the table cloth and banner.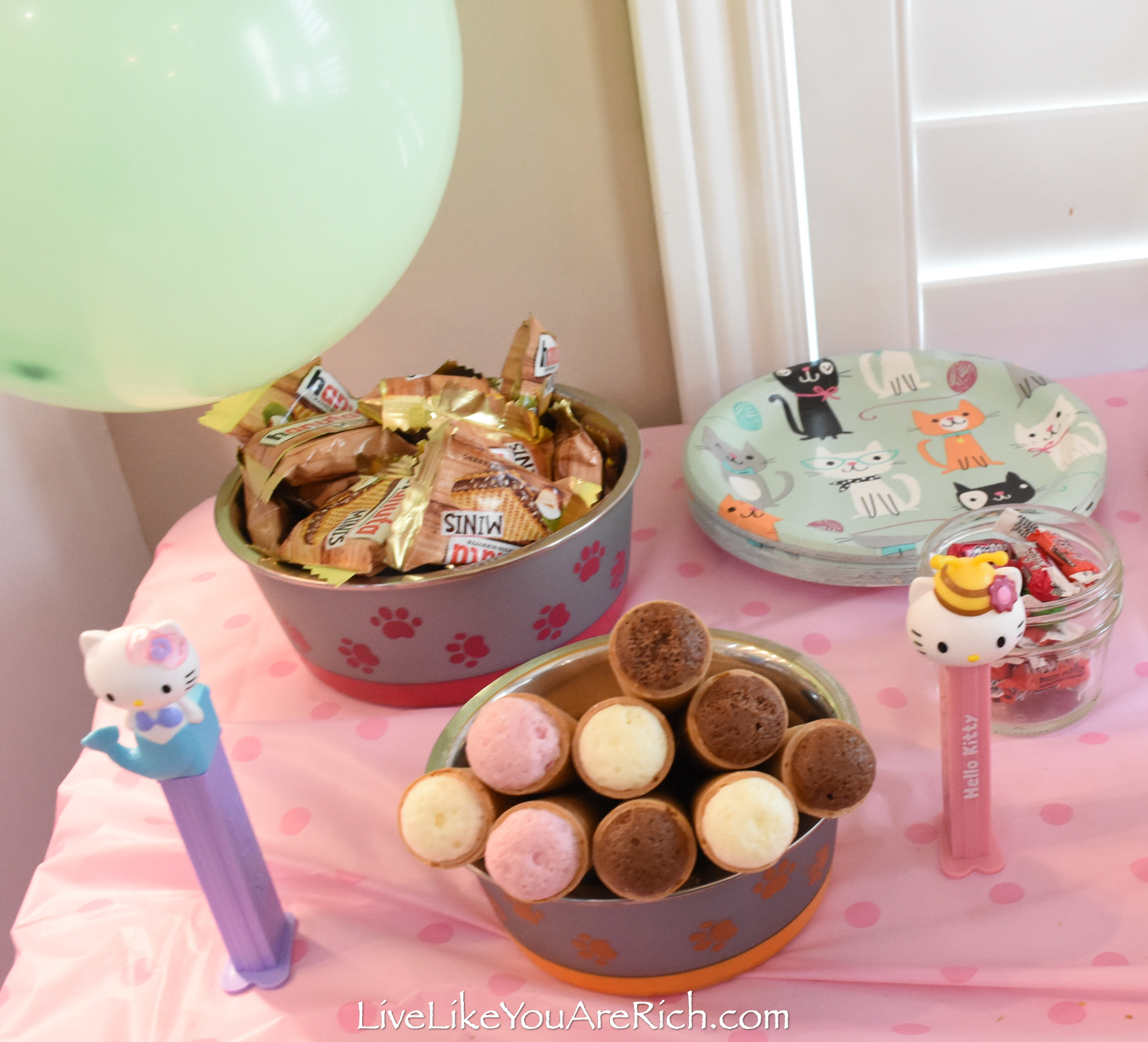 Aurora and I filled the kitty dishes with the different candy and crackers (most we had, some I bought).
The Hello Kitty Pez dispensers were found at World Market and given out as party favors and were $1.80 each on sale.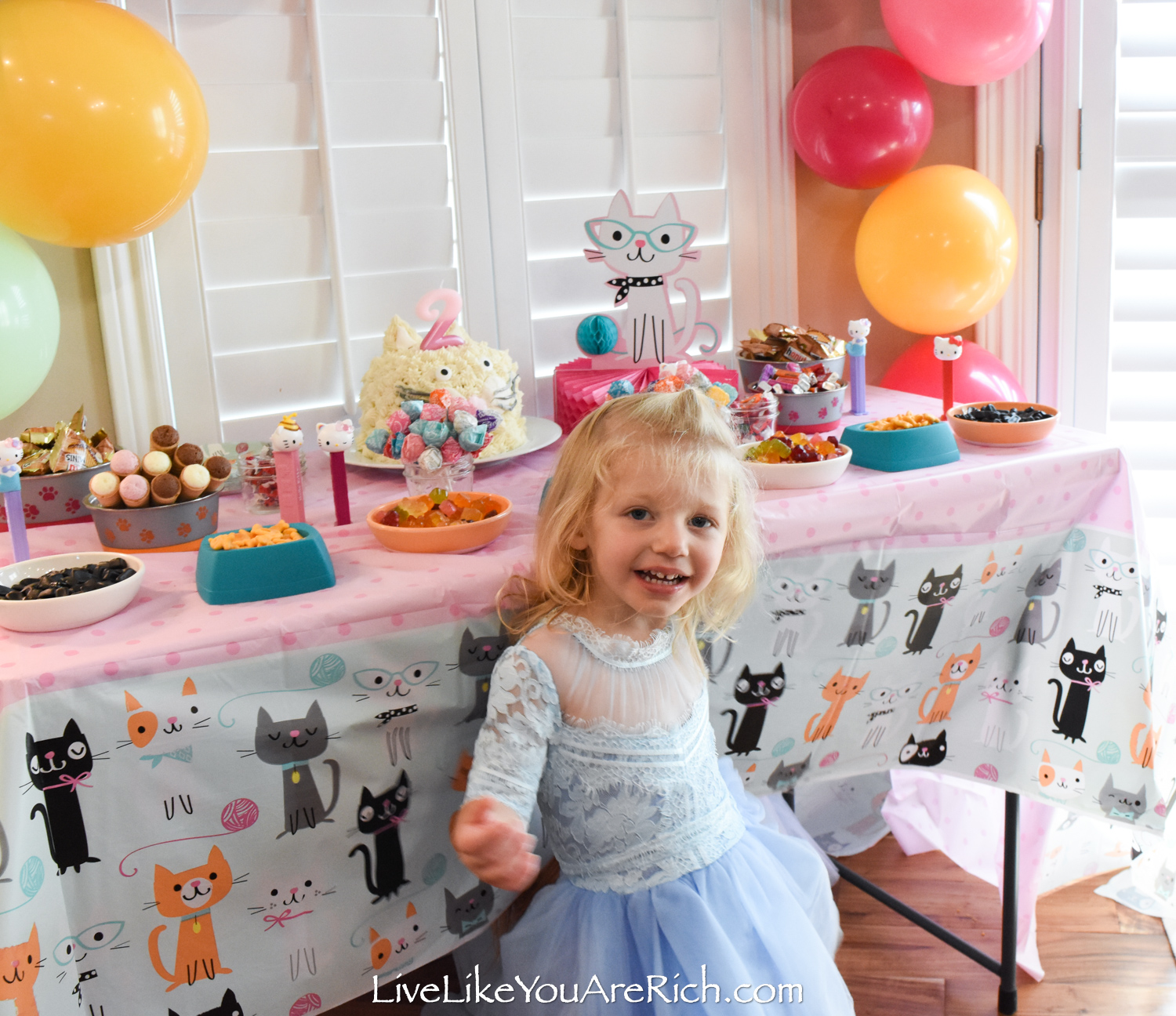 I also thought of adding little tuna fish sandwiches cut into fish shapes but my husband has a huge aversion to tuna fish sandwiches…so we served Philly Cheesestakes.
For this, we grilled onions, green peppers, sub rolls, and seasoned roast beef lunchmeat. They were customized with the person's choice of cheese (provolone, cheddar, Havarti, Gouda, or Swiss) and turned out sooo good.
Amelia's and Aurora's dresses were bought for a different event. However, I got them at Trish Scully on sale for $25.00 each.

They are darling. I love Trish Scully's dresses. They are high quality and often on sale for reasonable prices.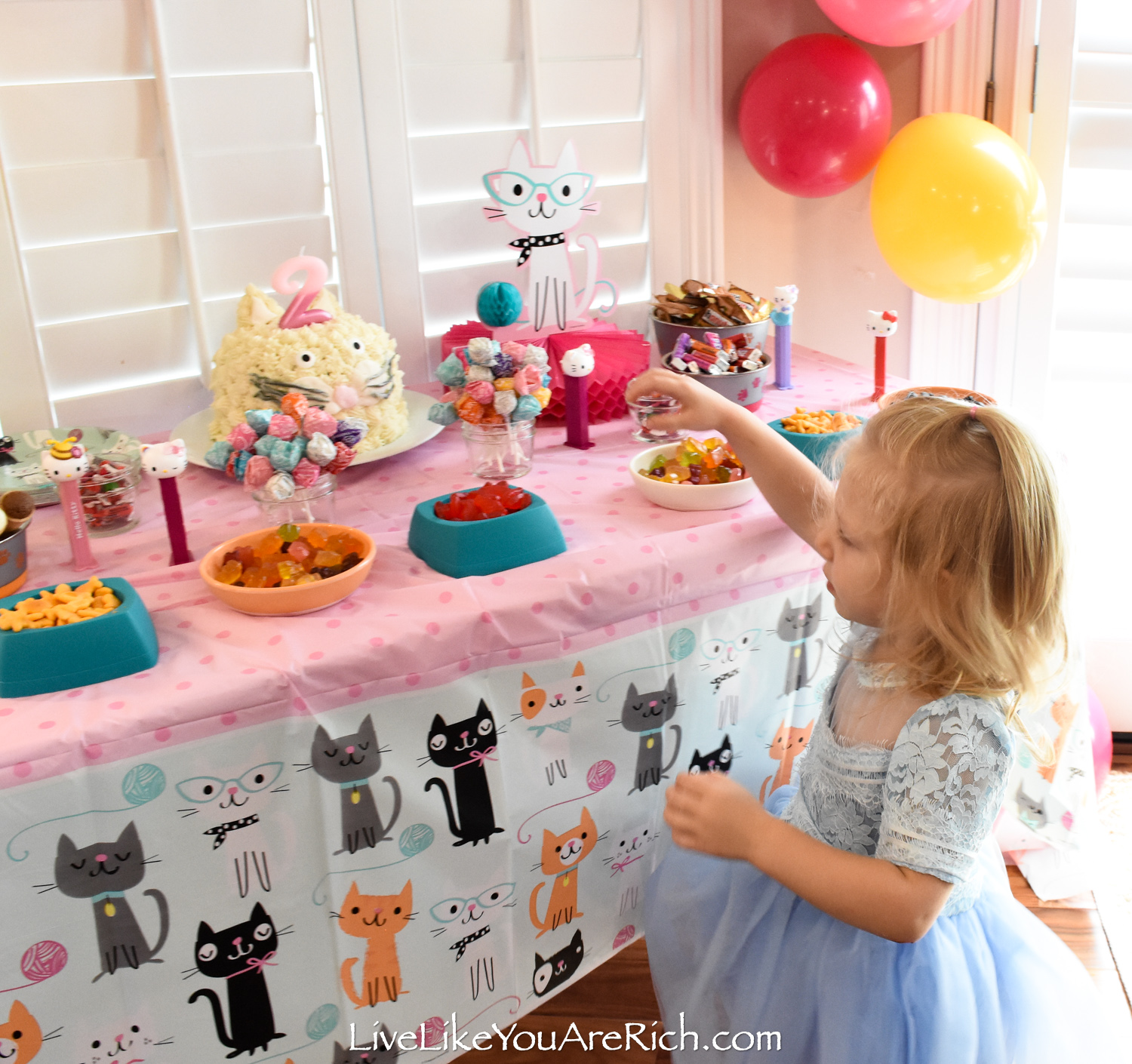 Amelia LOVED her kitty cat birthday party as did her siblings and cousins. According to her, it was, "meow, meow" aka purr-fect.
Supply List for this Kitty Cat Party
Hello Kitty Pez dispensers (favors)
Humata
Footies
Scotch tape
items for layered kitty cake (post hopefully coming soon).
other fun ideas rope licorice wrapped into edible yarns balls, tuna fish, milk treats, pizza with sardines, milk bars…
Have you thrown a kitty cat birthday party? If so, leave any fun ideas for food, decor, or games below for the benefit of others. Thanks!

For other 'rich living tips' please subscribe, like me on Facebook, and follow me on Pinterest and Instagram.