Baby Girl Llama Alpaca Nursery
I love Llamas and Alpacas. They are just adorable. I have liked them even before the recent trend in decor. I am actually happy that they are on-trend right now as I was able to put this Baby Girl Llama Alpaca Nursery together very easily!
The typical nursery costs $2,000-$5,000. I was able to furnish and decorate this nursery for around $800. See how below…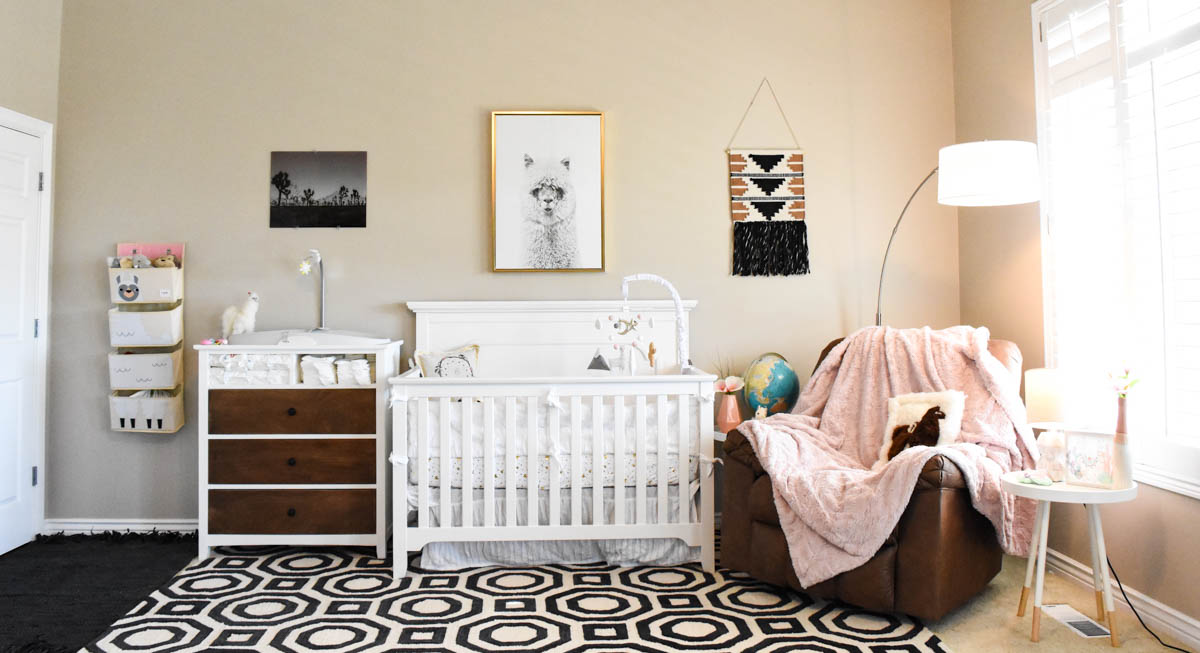 This is my third baby but first in my second marriage. My next youngest is 5. Over the years, I have given away or sold everything I had in my last 2 nurseries. So I have had to buy everything again.
Fortunately, I did have items in my home that I was able to use for the nursery. I had the rugs, the throw blanket, night stands, world globe, vases, lamps, the cactus photo, and decorative woven wall hanging. Using items you have is a huge money saver. So my tip is to look around your house and garage before you pick a nursery theme or color scheme.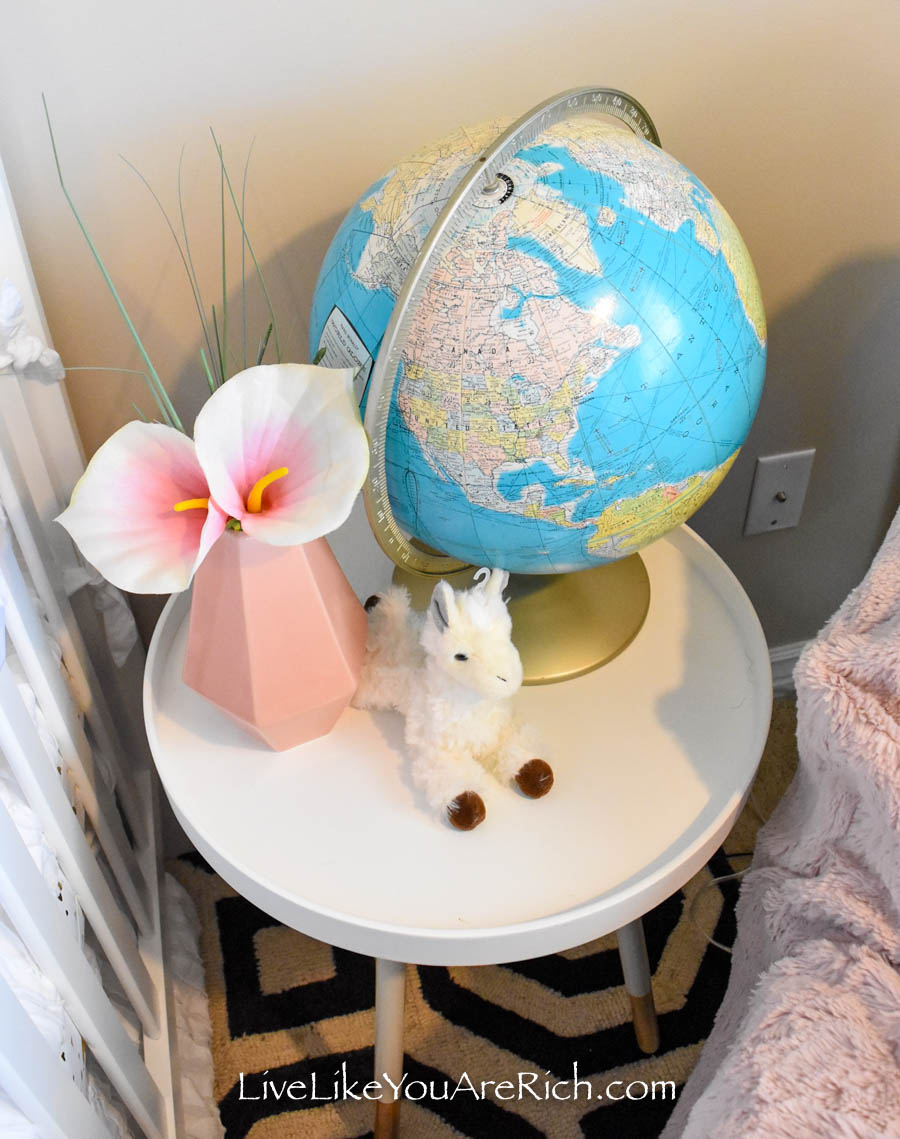 I had all of these items pictured above except the cute stuffed llama. It can be found it here for $7.00.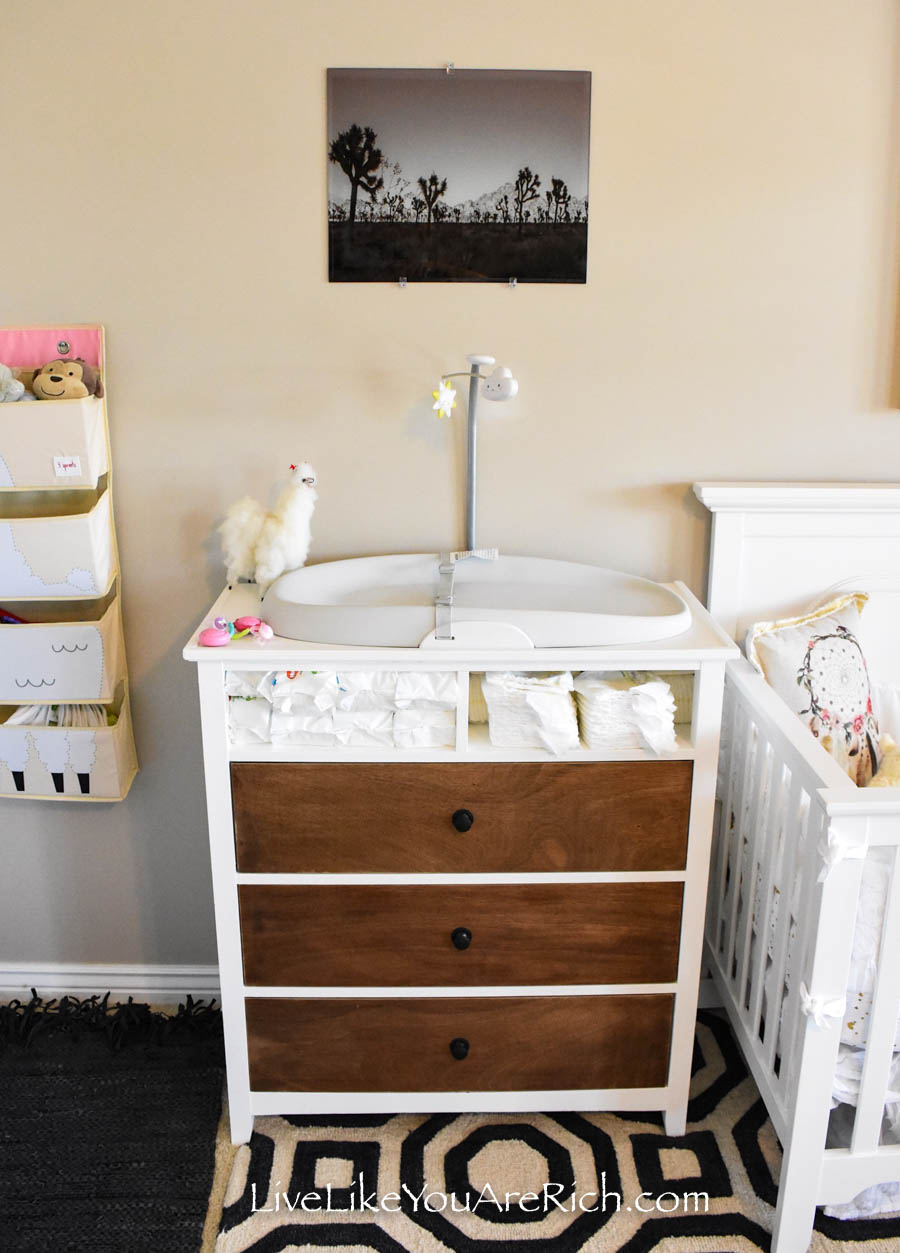 To save, I shopped local classifieds (KSL and Craigslist). I bought this refurbished changing table (it was listed as a dresser on classifieds) for $120.00. It works perfectly. I like changing tables that are a little taller than the standard (as my husband is 6'2″ and I'm 5'8″). Tip: When purchasing any furniture to be used as a changing table, measure your changing pad first to be sure it will fit the top. It's amazing how many dressers and even some changing tables won't fit the newer changing pads the industry is coming out with.
Also, it has built in cubbies for wipes and diapers. These are very functional. I couldn't have bought a better changing table had I purchased one brand new.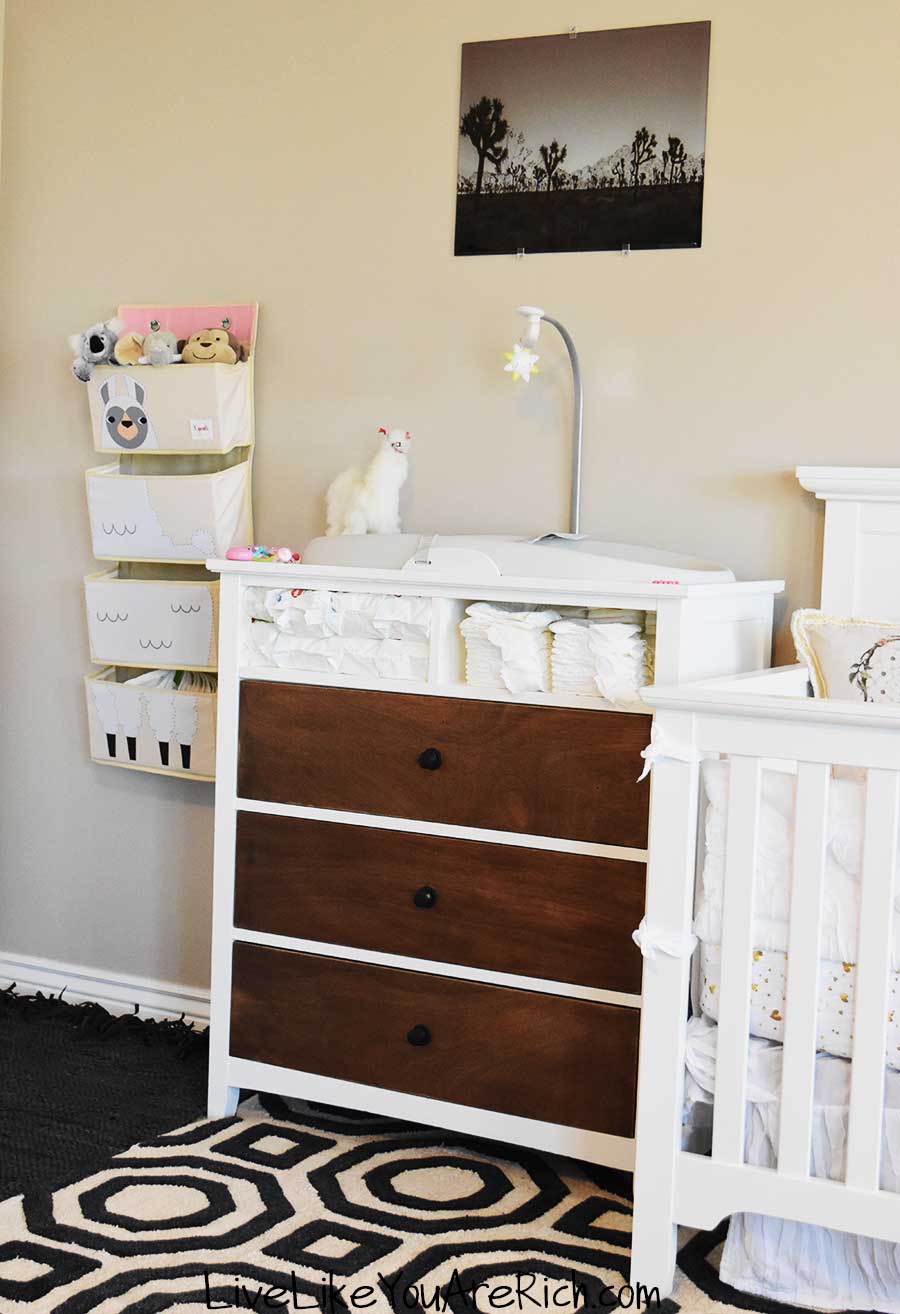 I read really good reviews about this changing pad here. Save money by purchasing it with your registry discount ~$60.00.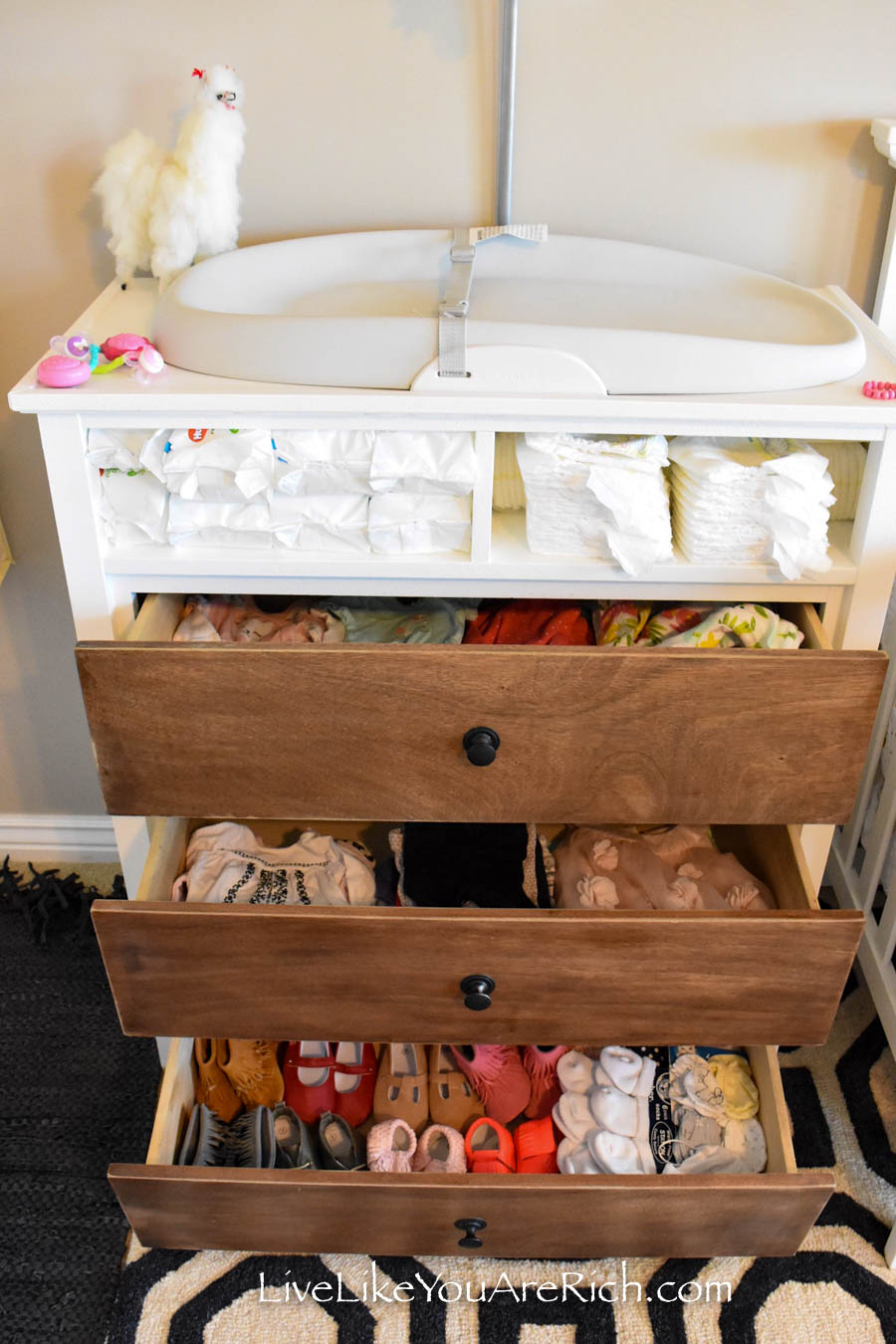 It is incredibly sturdy, comfy, gets warm quickly, wipes clean, doesn't move around, keeps baby entertained by the mobile and doesn't require covers! It's a must-have in my book.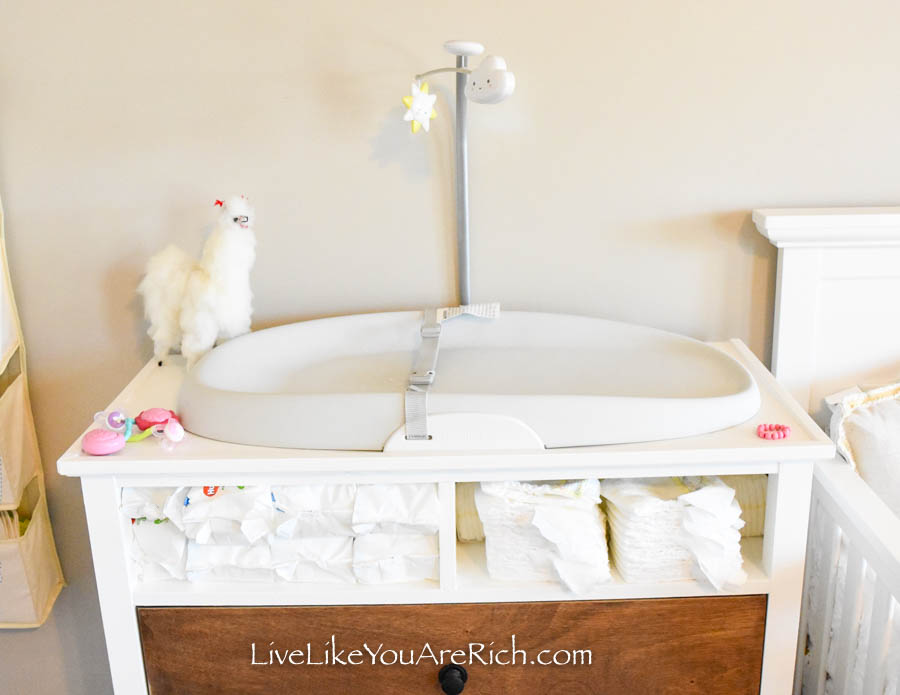 I bought this darling Alpaca photograph/canvas when it was slightly cheaper than currently shown. I got it for ~$60.00.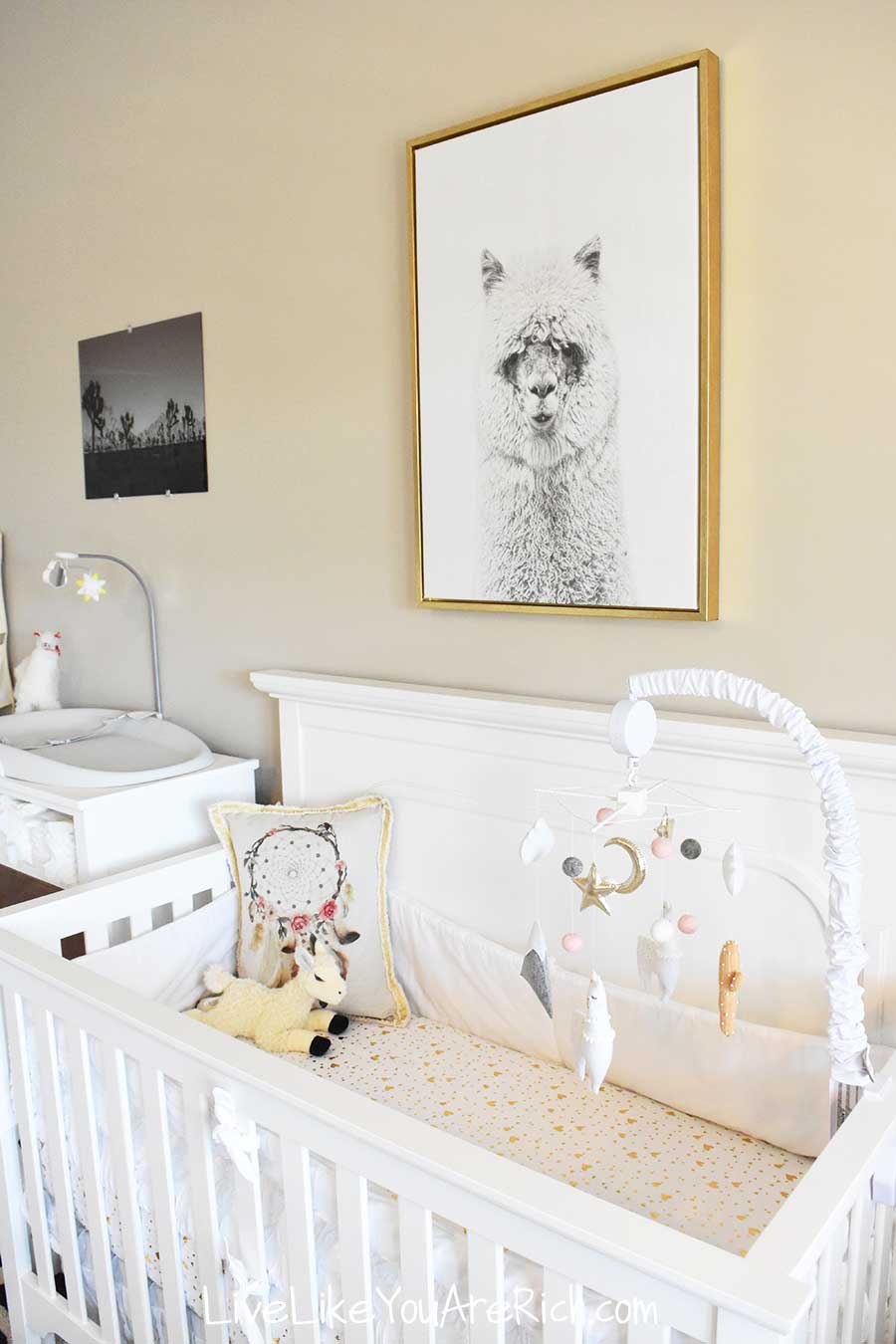 The crib I bought is gorgeous and brand new! I got it off KSL for $70.00! It had gotten a thin crack in shipment and the lady we bought it from was getting a new one shipped to her; so we got a steal of a deal. With a little wood glue and clamping, my husband fixed the small crack in 15 minutes. You can't even tell where it was. I had this darling dream catcher pillow but the Llama can be found here for $10.00.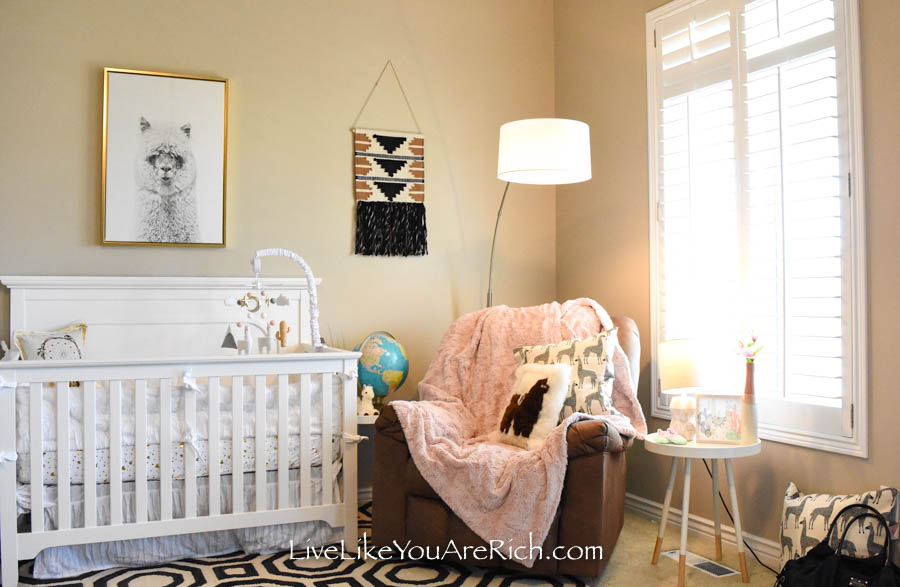 The Pottery Barn crib skirt and crib bumper pad (YES the bumper pad WILL COME OFF. I know of the potential danger) were purchased off of classifieds for $40.00. The bumper pad won't be on forever, but for the sake of the photos, I just put it on.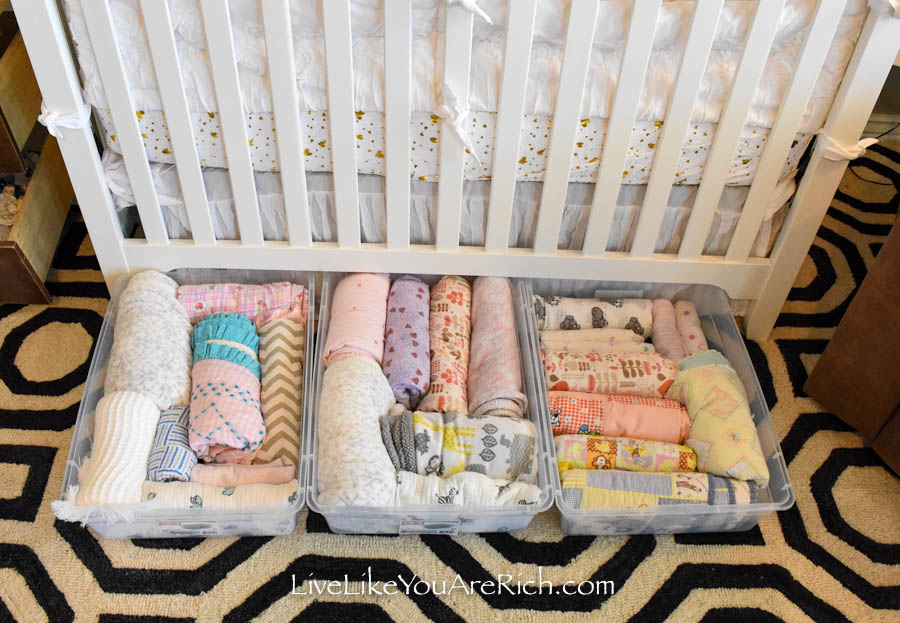 I had some under the bed storage totes which worked great for storing extra blankets under the crib.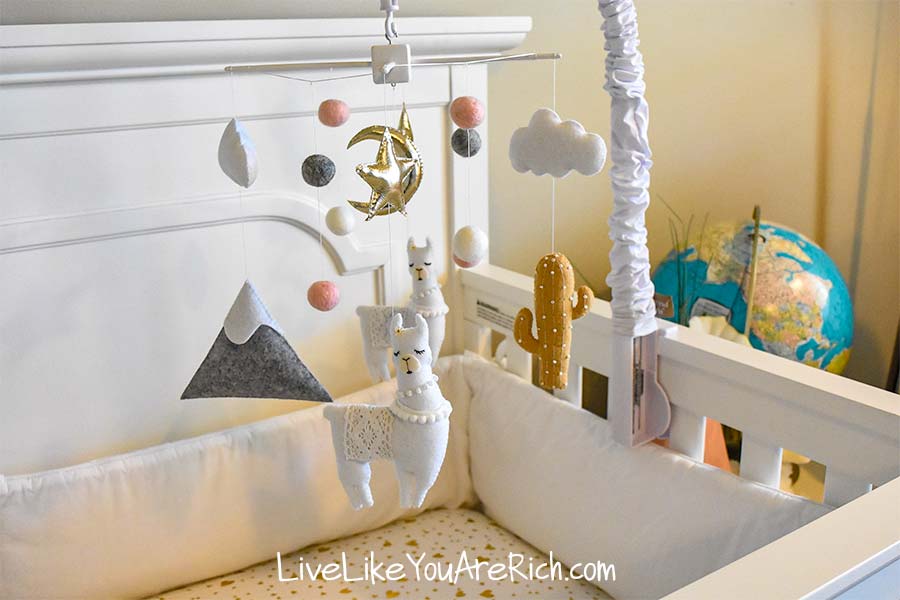 This DARLING mobile was handmade by a Ukrainian woman on Etsy found here. It was $75.00 when I purchased it.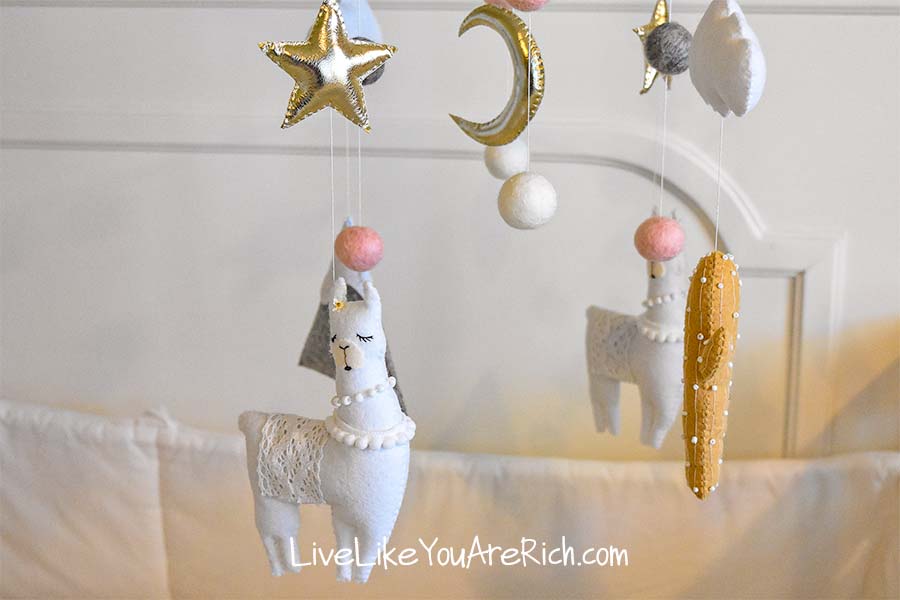 I did splurge slightly on this purchase. $75.00 for a mobile is more than I would usually pay; however it is a high-quality mobile and just too perfect to pass up.
Also bought on Etsy was my Alpaca figurine ~$24.00. Isn't it cute?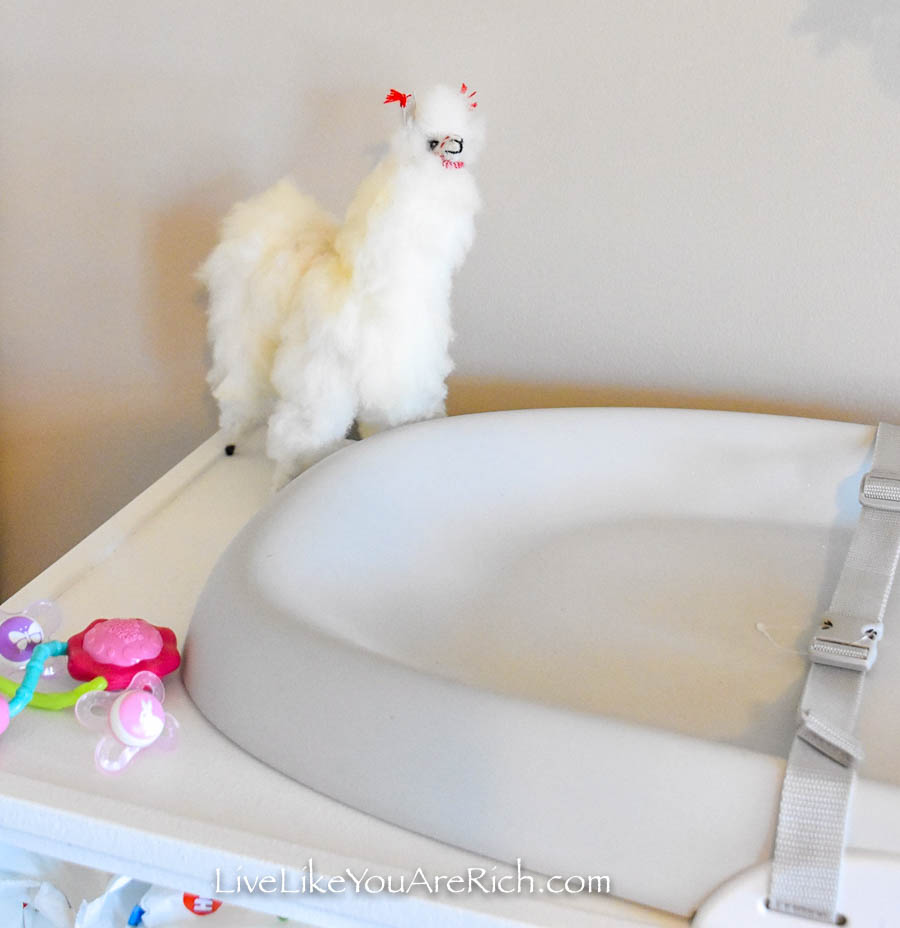 My rocker/recliner was found as a 'hot deal' at Ashley Furniture. It was just under $300 brand new.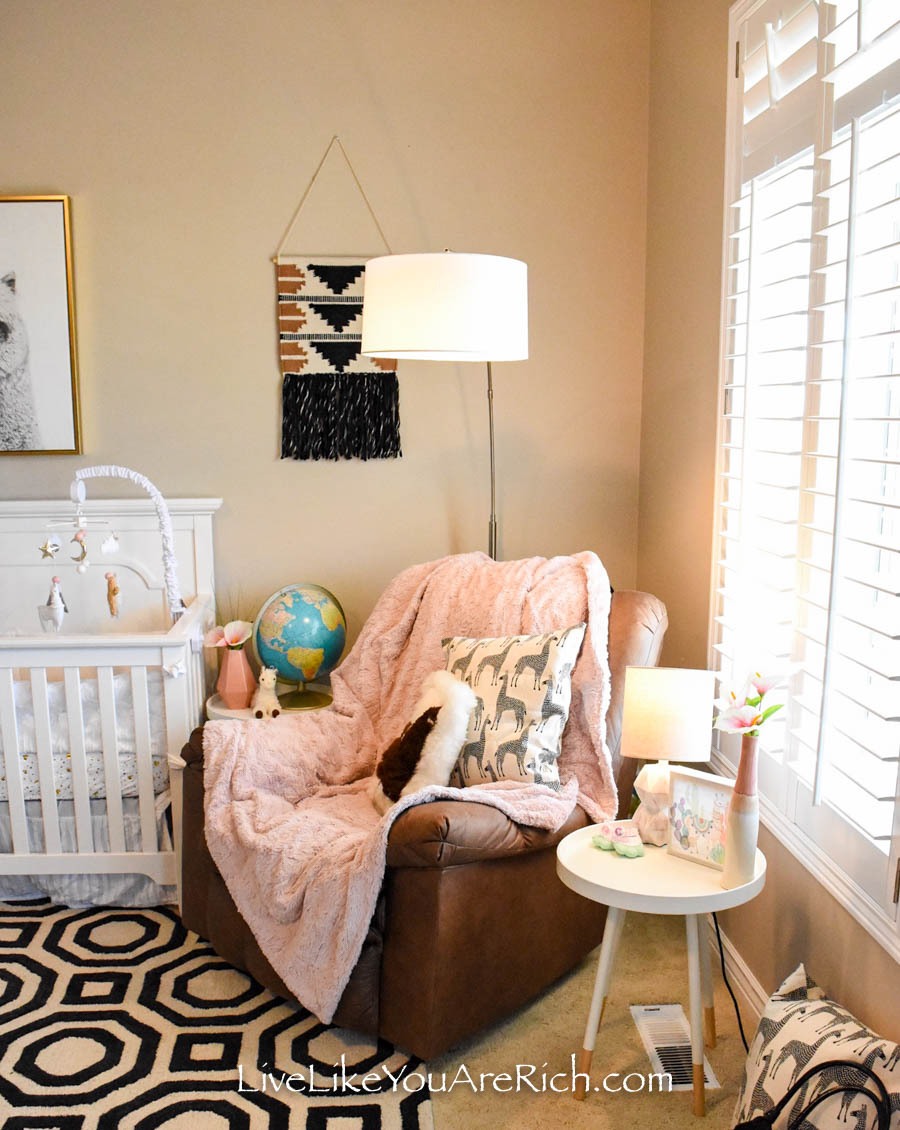 One thing I really highly recommend is buying a comfortable rocker! Whether new or used, be sure to get one that supports your head. Many are too short for head support and I'm only 5'8″. My previous rocker for my first 2 kids was too short and I always had a kink in my neck…so take it from me, unless you know the rocker will support your head, don't buy it.
This rocker is very comfortable and supportive, plus it heats—which is a bonus for cold days and nights.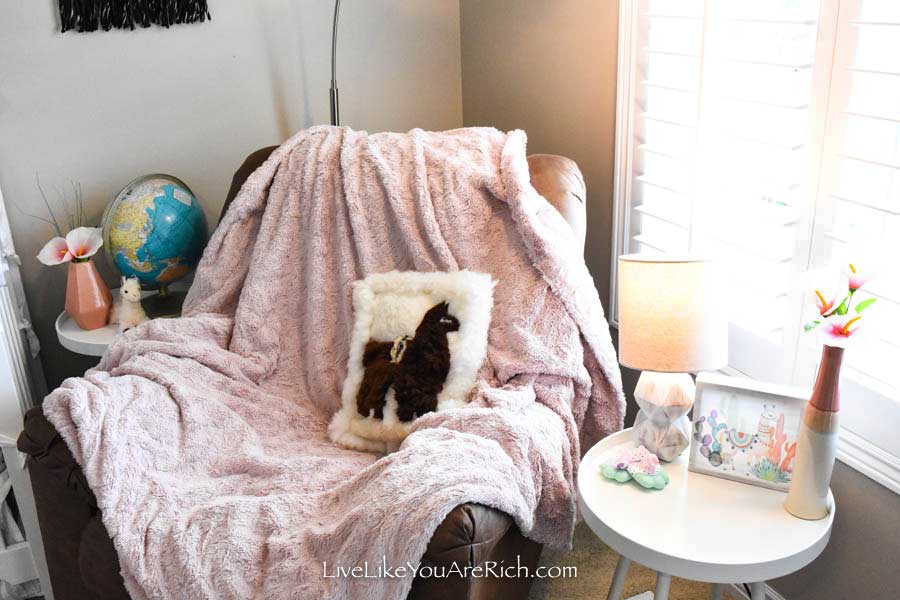 Although this recliner is not as stylish as I would've liked, it was more comfortable, functional, and cheaper than many rockers I looked at elsewhere, so I threw this incredibly soft Minky Couture blanket it on it that I got as a gift a few years before.
My sister brought me an Alpaca pillow from Peru made from Alpaca wool by the locals. It is incredibly soft! You can find it here on Ebay/Etsy as well.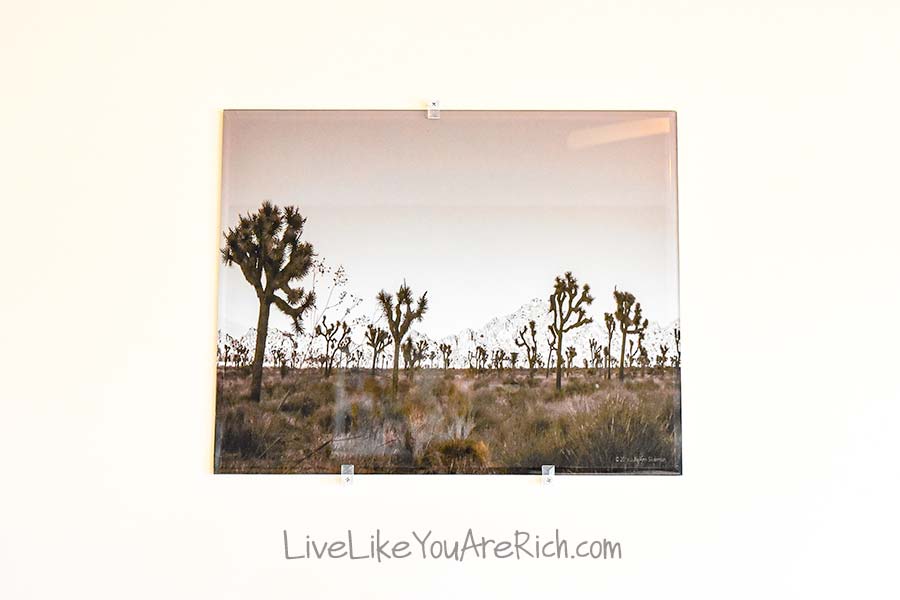 This cactus artwork as well as the woven wall hanging were purchased previously.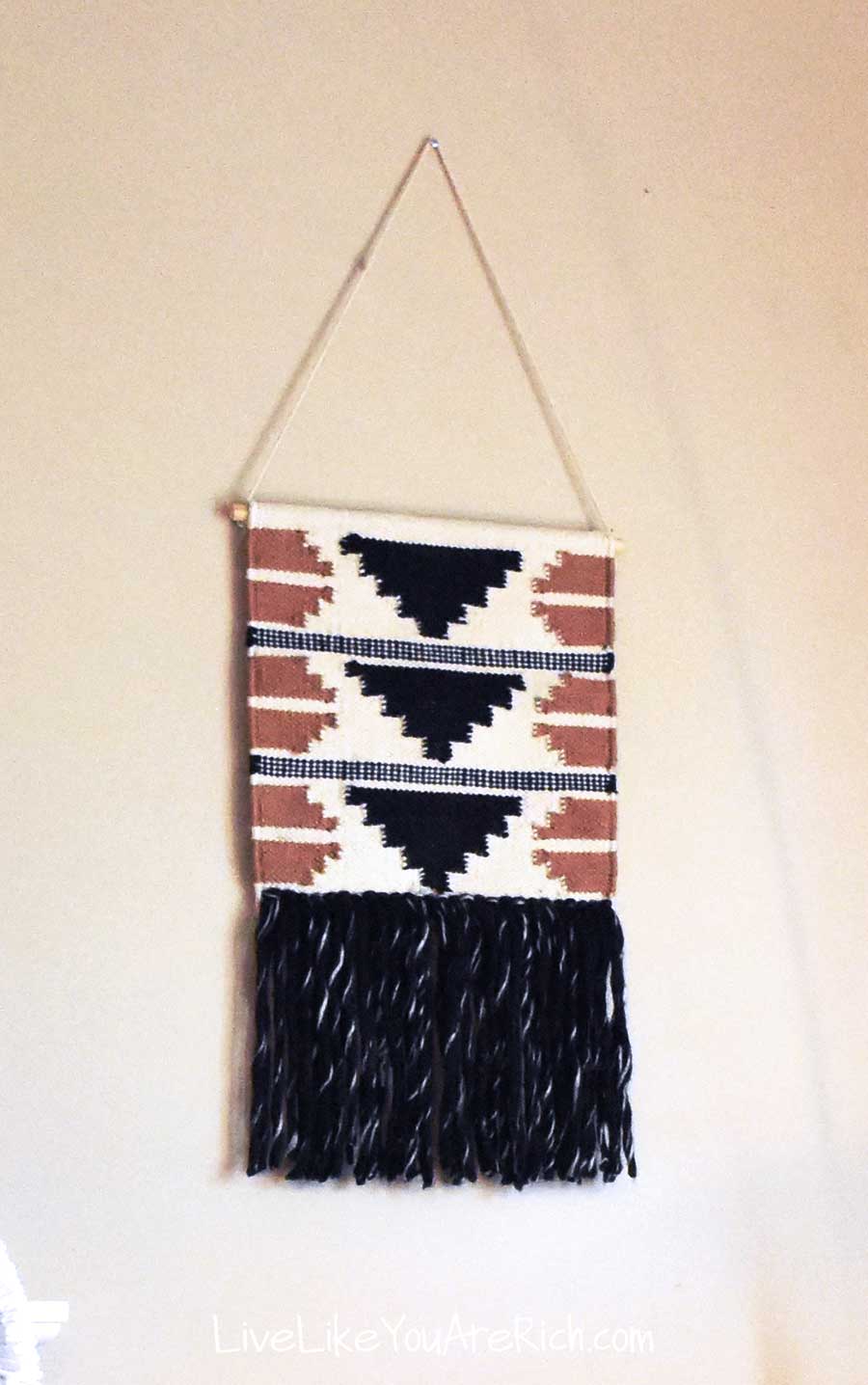 However, I have found similar here (cactus) and here (woven wall hanging).
My mother-in-law gave me these darling Llama pillows that she had and no longer wanted.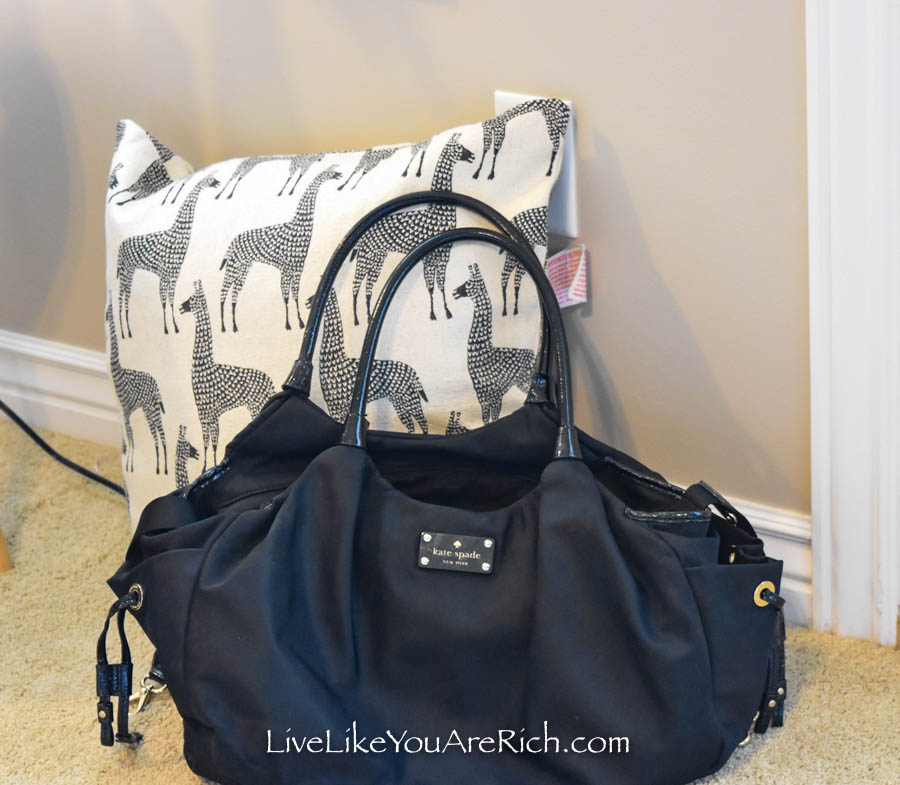 I found the Kate Spade diaper bag in like new condition on local classifieds for $30.00!
This wall organizer has been super handy. It can be purchased here for about $15.00 with an Amazon registration discount.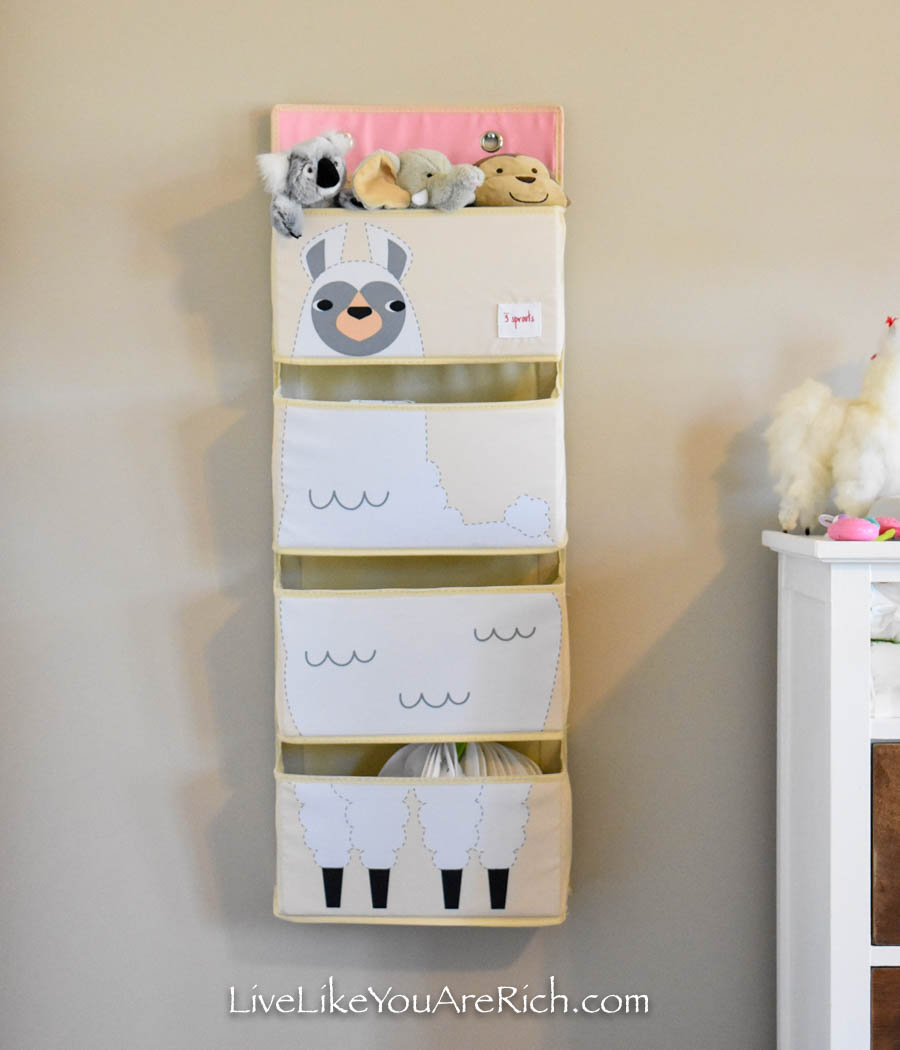 I've used it so much. It fits all those extras you need for your baby like the Nose Frieda, Windi's, binkies, and more.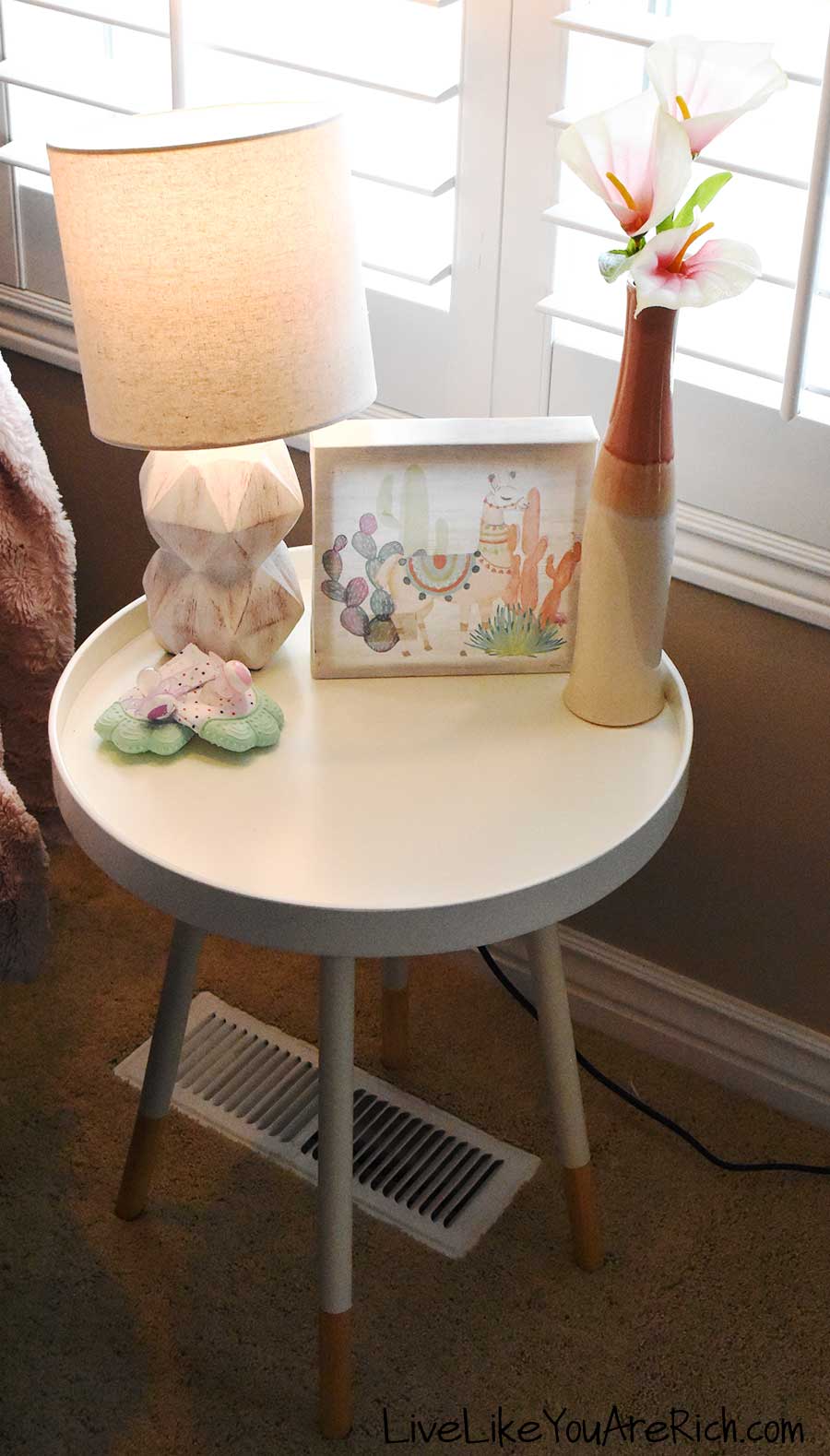 I had the side table, lamp, vase and flowers. The little Llama canvas I got off KSL for $5.00 (similar here) and I got these fun teething gloves and binkies once again off Amazon with my registration discount.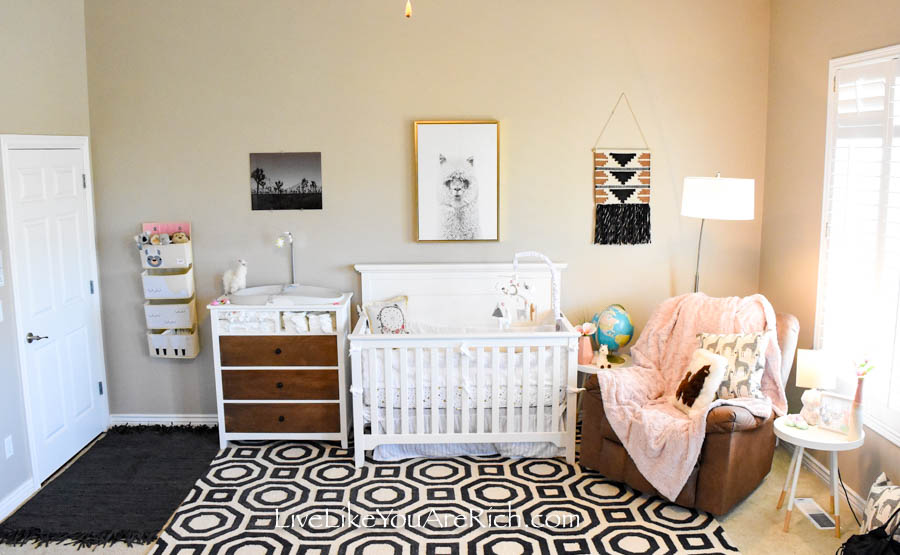 I have loved this Baby Girl Llama Alpaca Nursery that I set up for my daughter. Even though I had to buy most things since I am starting over with my baby, the total was about: $800. This is thousands less than the typical nursery costs to set up from scratch.
I hope this has given you ideas of how to save on nursery decor. Check out these two posts of how I furnished and decorated my daughter's and son's nurseries for ~$500.

For other 'rich living' and money-saving tips, please subscribe, like me on Facebook, and follow me on Pinterest and Instagram.