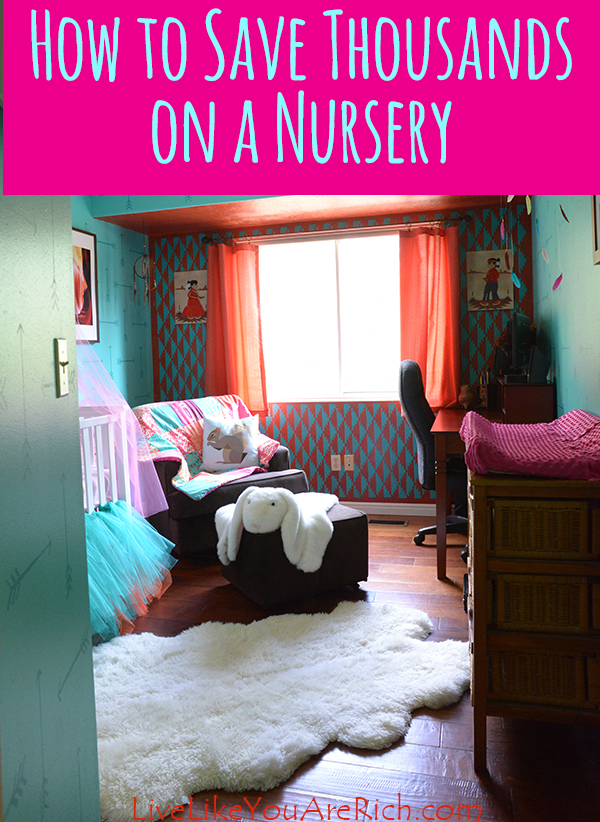 Our daughter will be born end of November/early December and I have always wanted to do a Navajo/Native American style nursery for one of my children.
With my son it wouldn't have really worked out because of the carpet. I used the brown diamond Berber carpet as inspiration and came up with this blue, brown, and white argyle nursery here (all for less than $500).
But with my soon-to-be-daughter I was able to work with the red/orange hardwood and created this nursery/office.
First, I choose the color scheme. Traditional Navajo jewelry and much of their traditional clothing is made with coral and turquoise. Thus, I started with those as my main colors. I love to add an accent color to add a bit of interest and dimension to a room. With my son's nursery the accent color was orange and with this nursery I choose pink/hot pink as the accent color.
If you have trouble finding or choosing a color scheme check out this post.
I started off by prepping and painting the whole room. I used red and orange paint and with a roller and paper towels I mixed the two colors. I wanted to create a certain coral color and the look of the accent wall (thus I used two different colors of paint). I wrote a tutorial on how to paint and stencil an entire room (it can be found by clicking this link).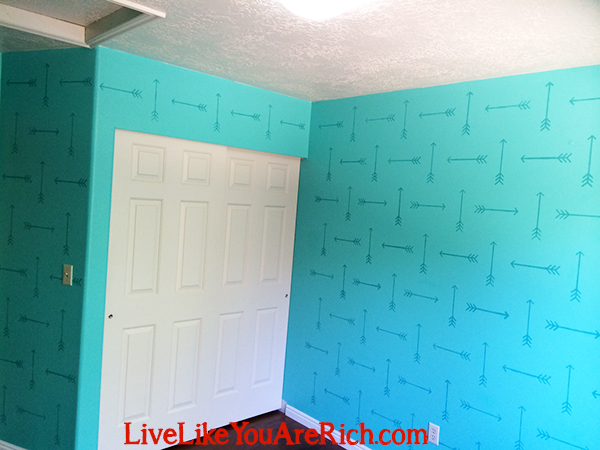 Stencils used were: Navajo Allover Stencil Small (found here)
Tribal Arrows Allover Large (found here)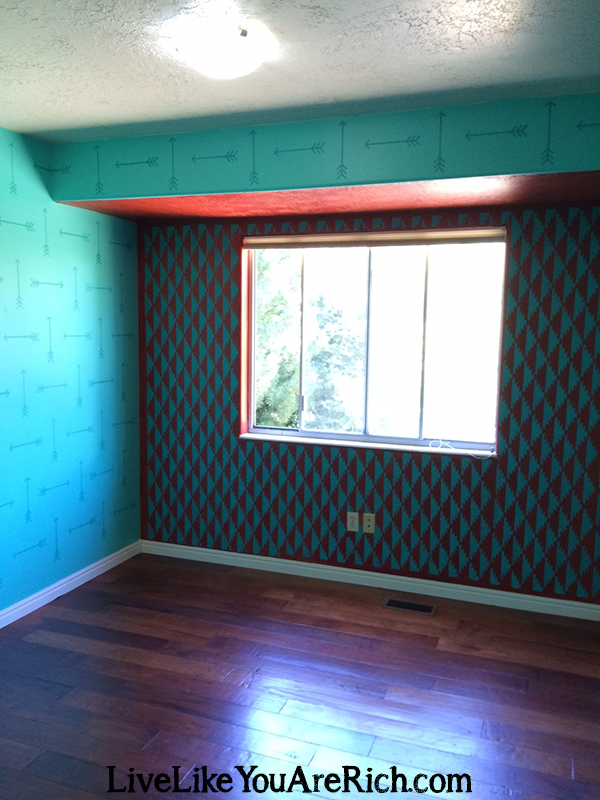 Total: $85.85
Paint used were: Sherwin Williams Synergy 6938 (lighter on 3 walls) and Turquish 6939 (the arrows and Navajo design color).
Paint plus paint supplies with coupon total: $45.00
I don't have the names of the red and orange. They were mis-tints that were $1.00 for a pint and I just mixed them once they were on the wall.
After the paint had finished drying I moved in all of the furniture and experimented with the floor plan. I try to arrange furniture with functionality and room flow in mind. This room (being smaller than the other nursery) was needed as a nursery/office. It was important to really maximize the space.
I knew that I wanted the changing table near the door because it was the smallest piece of furniture I had which made the entrance to the room bigger. I wanted the rocker in one of the corners so I had maximum space to rock back and forth and swivel the chair.
I wanted the smaller piece of drawer furniture next to the rocker so I can place my water, cell phone, etc. there while I nurse or feed the baby.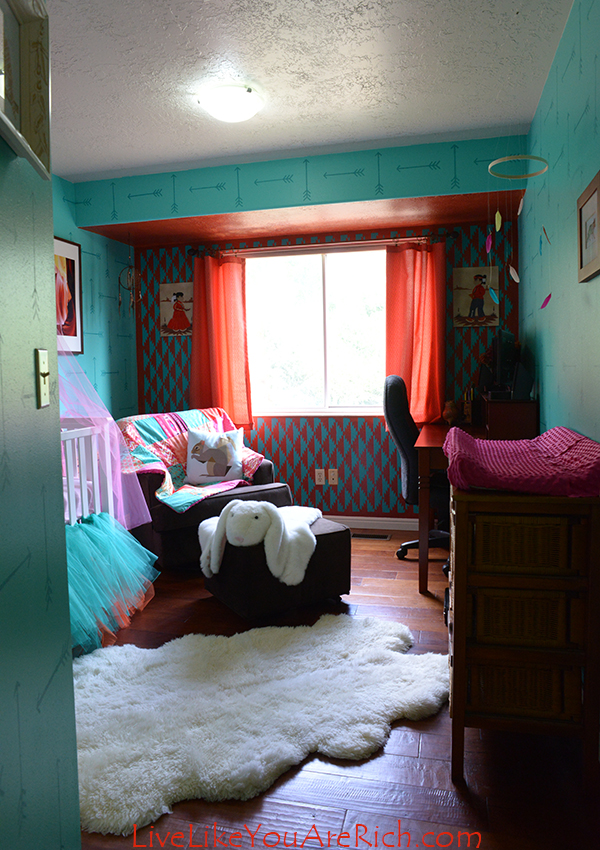 Although the room is fairly small for a nursery/office space the floor plan makes it feel very roomy and functional. UPDATE we decided to move the office downstairs so now this is a fully functional nursery.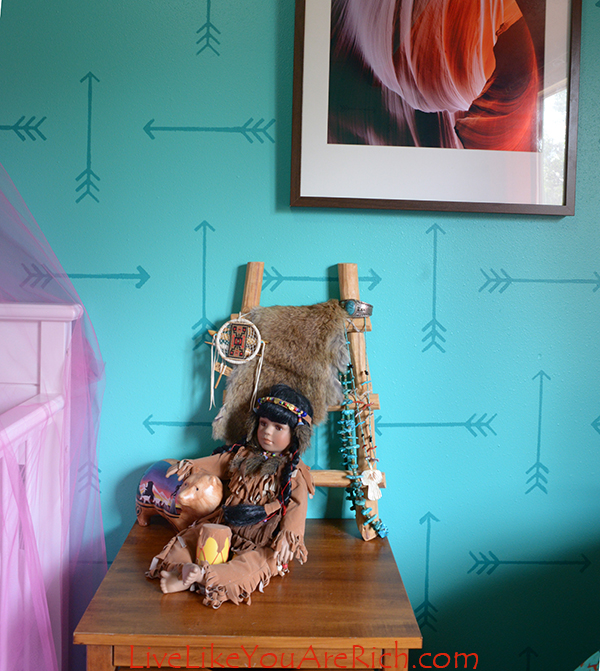 Because I try to do things as inexpensively as possible, I started to decorate with objects that already I had. We have many Navajo and Native American items. Unfortunately not all of them would work in this space. So I searched on Etsy for artwork, went garage selling, and added my own heirlooms that I had received from my late grandmother who taught English on the Navajo reservation.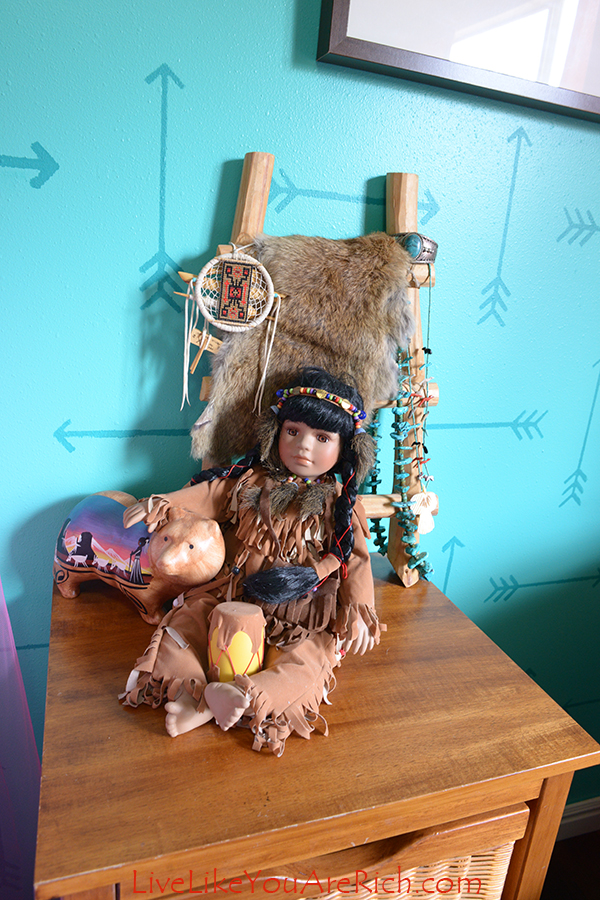 The jewelry is both my daughter's dad's and my own. They were passed down to us by our grandparents (his grandpa, and my grandma). The bear was received as a gift. The rabbit fur, ladder, and doll were bought at thrift stores and garage sales. The dream catcher I had. I already had the small dresser. Total spent on this little set up was $7.00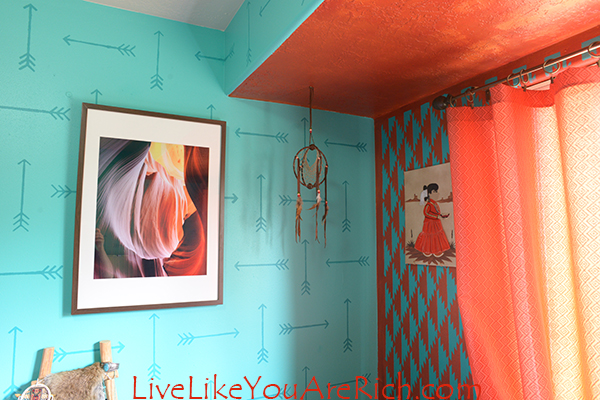 The artwork (of the slot canyon) is my daughter's dad's. I bought the frame and mat (brand new) at a garage sell for $2.00. The dream catcher I found at a garage sell for $5.00. Total: $7.00.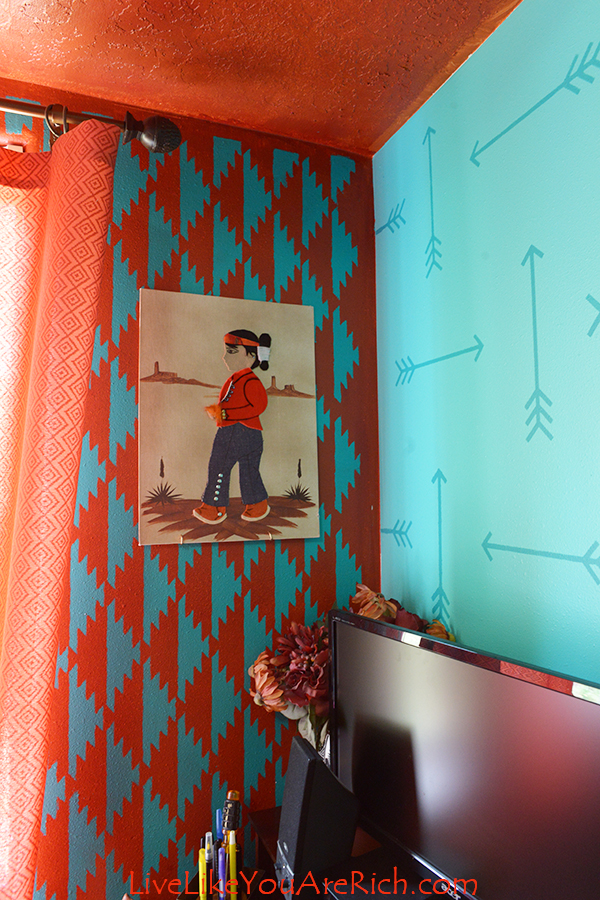 And the gorgeous Navajo woman and man artwork was inherited from my late grandmother.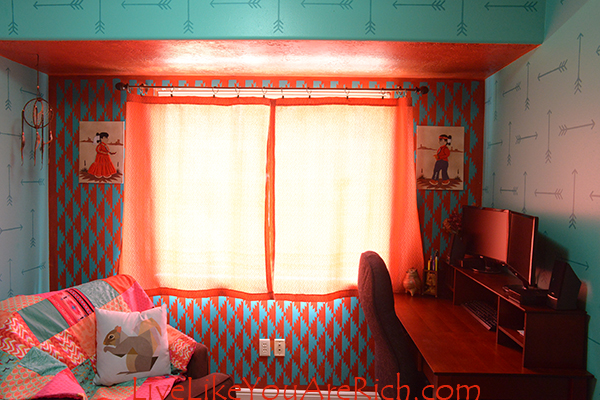 I made the curtains. It only took about 45 minutes (tutorial here). I got the fabric from JoAnn's on clearance with a coupon, the rod, and the curtain clip/rings at Hobby Lobby on clearance with a coupon. The drapes were $10.00, rod $8.50, clips $4.00 Total: $22.50.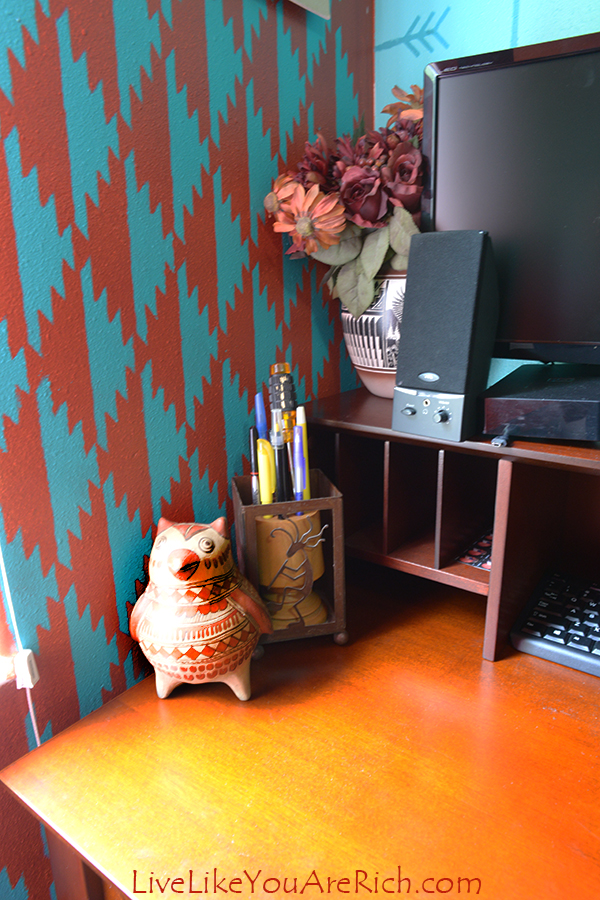 We moved the desk into the basement office. We are now using this nursery exclusively for our soon-to-be born baby. I found the owl and Kokopelli at a garage sell for $1.00 each and we received the Navajo vase as a wedding gift total for the desk and decor: $2.00.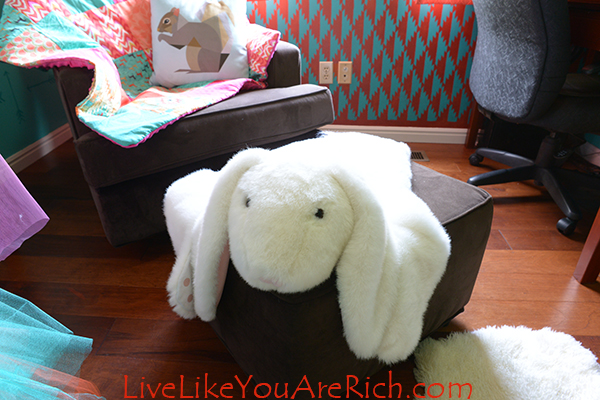 I bought this darling bunny rug fur from a garage sale for $2.00, and the squirrel pillow (brand new) for $5.00 at a garage sale as well. 
I made the block blanket (tutorial here). I got most of the material at Joann's and Dancing Bear Indian Trader Co. online for all of the fabric and material (although there is some left over) it was $70.00. I already had the rocker. Total $77.00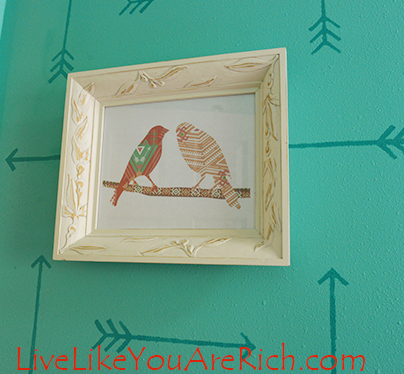 I found this amazing distressed branch frame (brand new) at a garage sale for $4.00 and bought the print off of Etsy (here) for $7.50. Total $11.50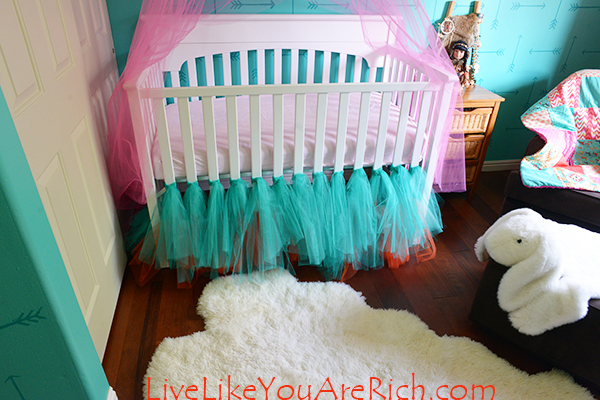 I made this tulle ballerina crib skirt (for tutorial click here). Total with coupon: $16.00.
I bought the crib sheet on Zulily.com (I love that site for amazing deals… some of the stuff is overpriced but I can usually find great deals!). $15.00 for 2 crib sheets!
I had the crib and sheep skin rug from our son's nursery. I bought him a car bed and mattress almost brand new at a garage sale for $35.00 and we were given a car rug for his birthday that replaced this sheepskin rug. I wasn't sure if I should include my son's car bed into the cost of this nursery. If so total: $35.00
The Sheepskin rug was sliding around on the wood flooring, so I put a rug pad under the rug it hasn't budged or moved around since!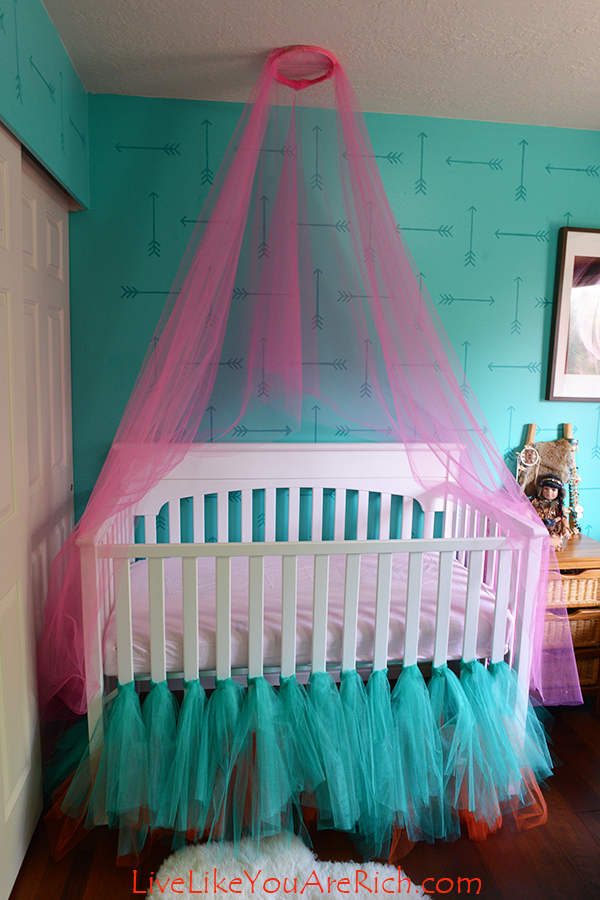 I made the tulle crib canopy (for tutorial click here) total: $12.00. Please note I took this off after she was a month or two old and plan on replacing it over the head of her toddler bed when she is older.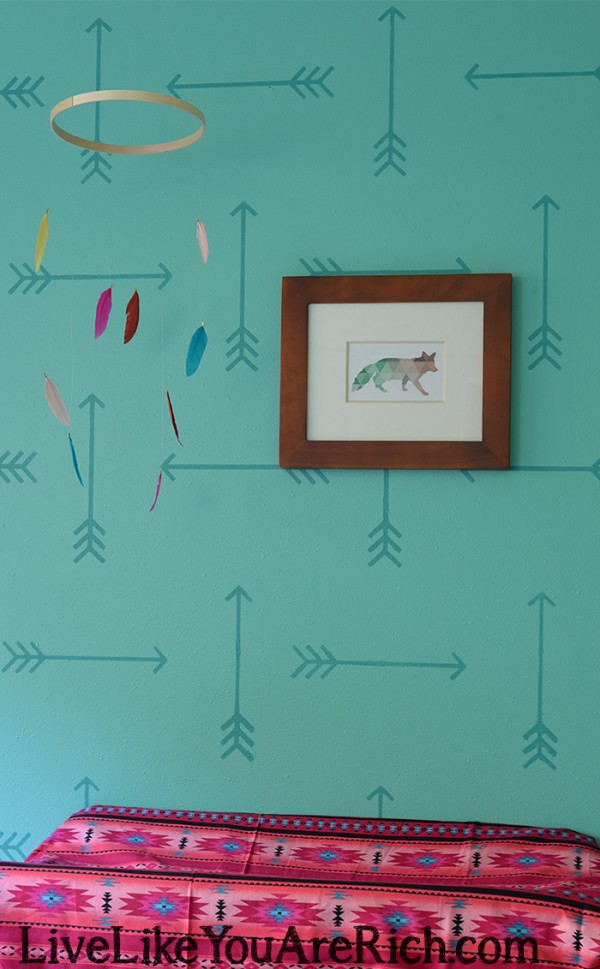 I had the fox frame and bought the fox on Esty (here) for $5.00. I had the changing pad (which I got for $1.00 a few years before for my son at a garage sale). I'm currently waiting for more fabric to arrive to make this changing pad cover which will cost me about $15.00. I already had the furniture/dresser.  Total: $20.00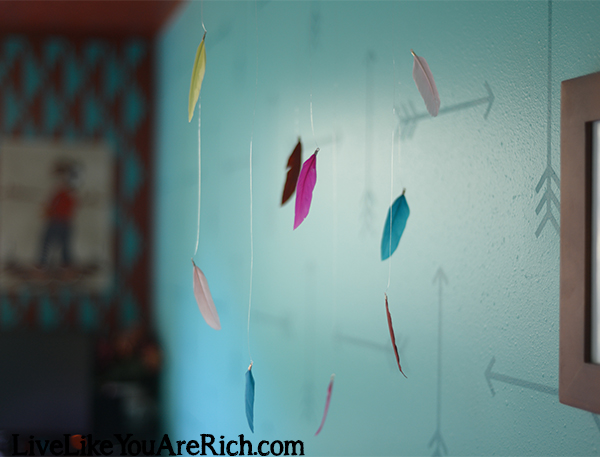 I made the feather changing mobile for $7.00. See tutorial here. Total: $7.00

And I made/customized a bumper pad. Please note- I will put on the crib once my daughter is old enough to sit and stand up. (For the tutorial on how to make a customized bumper pad click here). Bumper pad $1.00 at a garage sale adding the material to customize it was $20.00. Total: $21.00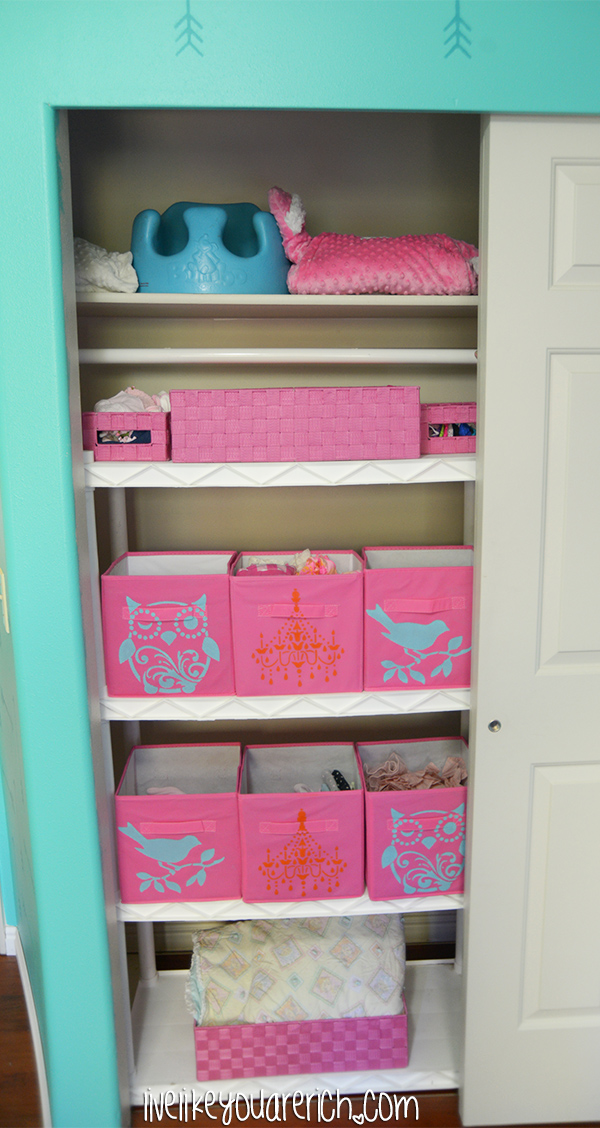 The closet system was free (one of the perks of being a blogger) found here which includes ideas on how to decorate and organize a nursery closet.
The flooring is real wood that was pre-finished. I found it as a large remnant (when we were doing our home remodel) on the classifieds for a total of $60.00
Not pictured is this darling mobile that matched PERFECTLY with the nursery. I was at Target shopping and I saw it and had to have it. Luckily my friends had given me a Target gift card from my shower which more than covered the mobile, so it was free. And since we have had our daughter you get a glimpse of her under it. It is called the Circo Up We Go Crib Mobile.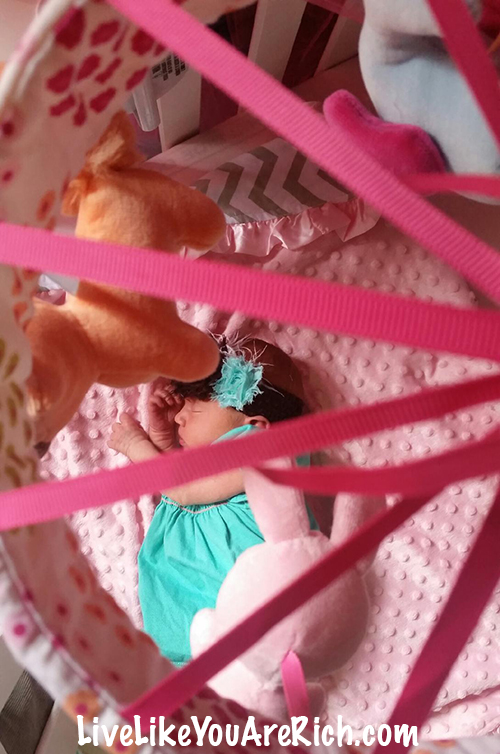 So what was the total cost of this nursery? $443.85. With the average nursery costing over $5,000, I think under $500 is pretty impressive!!
Want a list of what I did to save and find a few other ways to save on a nursery? Here is a post on 17 ways to create a nursery for under $500.00.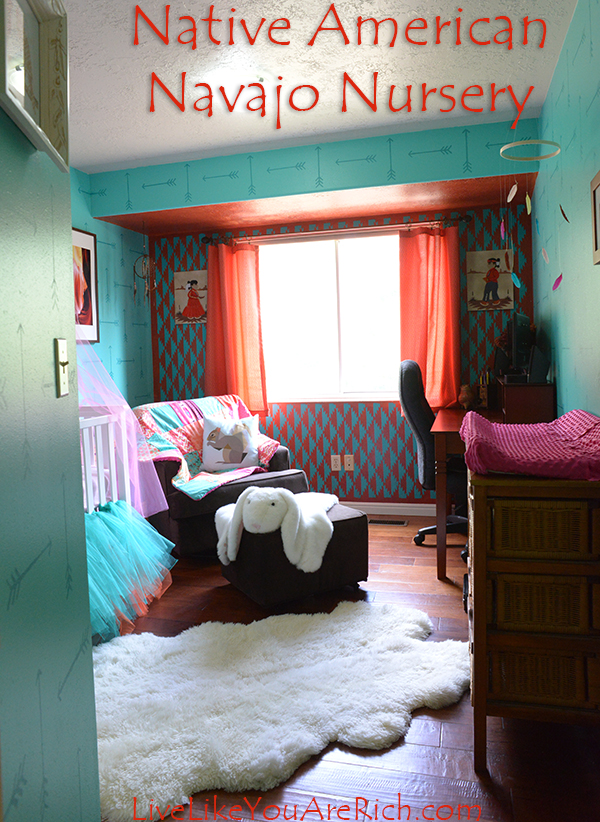 Happy decorating and congratulations to all of the parents out there preparing to welcome a precious little one to their family!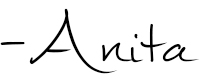 For other 'rich living' and money saving tips please subscribe, like me on Facebook, and follow me on Pinterest.