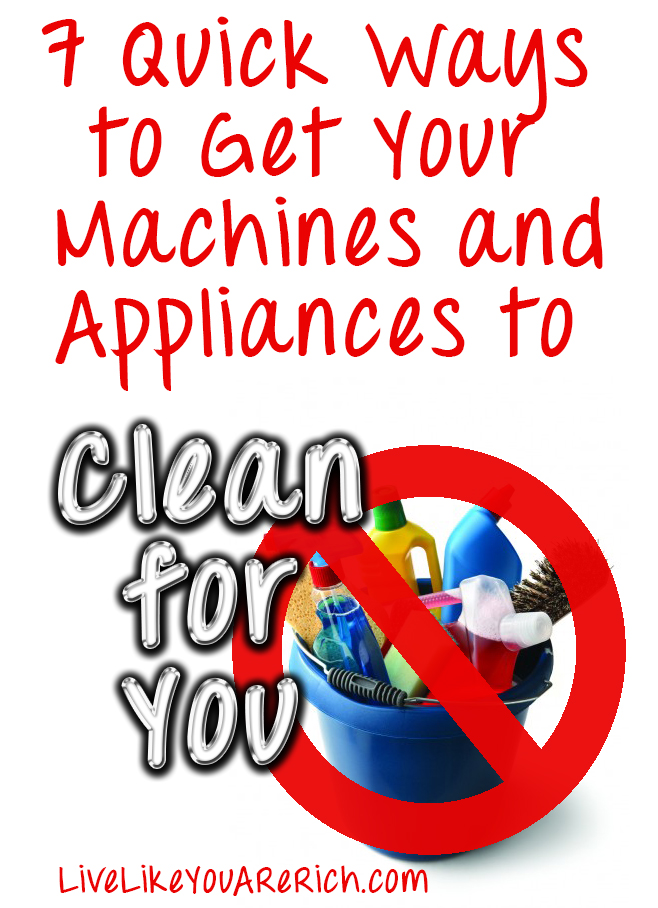 Cleaning is just about as monotonous as life gets (at least for me). I clean over and over again with no end in sight. One day while I was scrubbing my son's dirty highchair tray and thinking about the many tasks I had yet to accomplish, I realized that I am often cleaning harder than I should be. Since then, I've done a lot of thinking, researching, and experimenting. Here are 7 quick ways to get your machines and appliances to clean for you.
Here are 7 of my favorite 'realizations' of how to clean smarter and not harder thereby freeing up valuable time.
1-      After you have used your blender (as long as it is not meat or other bacteria laden items) you can just rinse it out, fill it with water up to ½ full and put a few drops of soap in it and start it up. Blend until it is clean and rinse it out again in the sink. Your blender has just cleaned itself pretty well in less than 1 minute. The trick to this is that you have to do it right after you use it. If you wait for 10-20 minutes or more the ingredients will dry and stick to its sides and the blender won't be able to clean it well. After a few uses I always disassemble it and wash it in the dishwasher as well.
 By the way I just got a Blendtec Blender and LOVE it! I never knew they sold refurbished ones for a lot less and they come with a 7 year warranty.  Save Big + Free Shipping on Blendtec Certified Refurbished Blenders by clicking here.
2-      Use your dishwasher to wash plastic toys, toothbrushes, binkies, and anything that is dishwasher safe and that will fit. My son's high chair tray fits in our dishwasher on the bottom shelf so I often just put it in with the other dishes.
3-      I realized I could put the following safely in my washer machine over the last few years. This has freed up more time and cut dry cleaner expenses significantly. You can wash the following in a washer machine: Shower curtain and liners (on gentle), car seat covers, diaper bags, purse (washable), bed pillows, laundry bags, and rugs (really anything that is washer machine approved). See the washing instructions on each item to be sure (or just Google it).
4- I would sweep daily and dust often. Then I decided the vacuum could do both jobs for me. If I have my vacuum out anyway (which I usually do) I complete 3 chores in one. I use the vacuum wand attachment to clean my baseboards instead of having to kneel and scrub them. The brush head to dust under couches, go over banisters, wipe up the dusty air returns, clean behind furniture and even vacuum dust off walls, tables, and other surfaces. I  use the regular hose or wand to get lint and spider webs from off of the ceiling and chandeliers. Vacuuming and using the correct attachments can almost eliminate the need to dust.
I also use the vacuum to sweep. I have rugs in my kitchen so I quickly go over the rugs on a low carpet setting. I then switch it to a floor setting and vacuum the tile. After that I get the attachment, and go around under and in between the cabinets. I virtually eliminate the need to sweep using this tactic and it goes much faster.
5-  Microwaving dish sponges on high for 2 minutes has been shown to kill 99% of the bacteria. You can also get microwave steamer sterilizers like this for baby items, breast pump attachments, and bottles (just be sure to make sure they can go into the microwave). I destroyed my sons teething toy that couldn't handle the heat. Using microwaves to sterilize things cuts a ton of time and energy off of boiling water and sterilizing things by hand. Further, you can use your microwave to clean itself. Use 1 c vinegar + 1 c hot water in a microwave safe dish and microwave for 10 minutes.  As found here.
6-      Most people know this but I didn't learn it until about 2 years ago…So in case you also were in the dark like me…here it is. You can actually set most ovens on a clean mode and it will clean itself. The oven will heat up hot enough and long enough and melt everything away. Caution though: If it is VERY dirty it will stink up the house so don't do it before company comes over.
7-      The shower is a tough area for me to figure out the best way to clean it. Others have commented on this article since I wrote it and have given me some great ideas that I will be sure to try! One reader told me she uses a steam cleaner on the showers and it heats the hard water and she can wipe the walls really clean after its use. Another reader wrote that she I finds that if she sprays the shower walls with white vinegar and blue dawn soap water about half hour before she is going to clean it and then use a shower scrub she gets sparkling clean shower in a few minutes. The one thing I used to do is that use my water heater and shower to get the hottest water and soak the shower walls and tub for a few minutes before I start scrubbing. I will report back once I try the tips my readers have given me.
By using our appliances and machines we can seriously cut down the time we spend cleaning. Instead of using our elbow grease and being down on hands and knees we can spend more time engaging in more enjoyable activities.

For other 'rich living' and homemaking tips please subscribe, like me on Facebook, and follow me on Pinterest.
Did I miss anything? I'd seriously love to know any efficient cleaning tips you have. I usually will add the useful comments to the text of my article too. So please let me know.