When I was in jr. high, I made two very-best-friends: Lisa and Natalie. We loved spending time together. We had many similar interests but enough diversity that added a lot of spontaneity and fun. One thing we all had in common was an interest in makeup.
Natalie was the only girl in her family. Lisa had two older sisters. I have one older and one younger sister. As a result, we all had varying exposure to makeup—me the least of all. My mom rarely wore makeup and my older sister didn't wear any at that time. Lisa's older sisters were makeup experts. They were so kind to teach us a lot about what they knew. Natalie, Lisa, and I learned so much from them. We also spent time in stores learning, studying, and experimenting with makeup.
Makeup tips I learned over 15 years ago and still use.
1- Keep it to five minutes or less.
On average makeup application should take five minutes or less. If your makeup is taking longer than that on a day-to-day basis you may be applying too much. This is especially important for busy moms. Having an efficient routine reduces stress and ensures you aren't over-applying.
2- Think natural.
Lisa's sisters stressed over and over again that we should do everything we could to make our makeup look natural and accentuate our beauty rather than covering it up. Foundation is the trickiest item to get right! I love the Younique foundation primer called Glorious! It's really smooth and soft and adds such a nice finish to my foundation. Younique foundation seems great too. It is so light and adds just the right amount of coverage and hydration. It doesn't cake the skin; instead it mearly adds a layer of tone and protection (30 SPF).
3- Use quality products.
I talk a lot about being frugal on this site, yet there are times when paying a little more for high-quality products is worth it. Professional makeup is one of those things for me.
Although I've found some quality make up items at drug stores (my concealer/spot corrector and vaseline as lip gloss), I almost always buy makeup from professional lines such as Younique and Lancome.
The reasons I stress quality: good foundations blend well with the skin (versus caking it), great eye shadows stay on longer and rarely smear, top-of-the-line lip sticks moisturize rather than dry out, and professional makeup brushes and blenders make a huge difference in ease and accuracy of application.
4- Your neck and surrounding skin should also be part of your routine.
If you are using a foundation be sure to apply it lightly to your neck and any exposed skin around the neck. Avoid a line that ends at the jaw.
5- Try samples and new products.
I love a new mascara I recently found because I got a free sample of it. I would've missed it had I not been open to trying something new. Makeup is constantly improving and brands release new varieties and formulas, try them out to see if you like them.
6- Avoid implementing all trends.
There is always something new in the makeup industry. Eyelash extensions, botox, puffy lip serums, contouring, fiber mascara, permanent makeup, etc. While some of these are appropriate to use together, using all of them simultaneously could result in an extreme look.
7- Study makeup techniques for your face and eye shape as well as skin tone.
There are round, oval, and other shapes of faces and eyes. Makeup applications should be slightly different based on these. I'd recommend YouTube, Pinterest, ULTA, Younique, and other websites and stores to find resources and information on this.
8- Skin care is an important part of a makeup routine.
Take care of your skin. Take your makeup off (I love these cleansing cloths). Be sure to wash, moisturize, and protect.
9- If you have light features don't rule out dye.
I dye my very-light-eyebrows every few weeks so that I don't have to color them in. I've found dying my eyebrows a medium brunette color (mine are naturally very blonde) makes them look much more natural than purely filling them in. It only takes about 10 minutes every few weeks and is very inexpensive. I still use a very fine eyebrow pencil/liner (I LOVE this one and have never found better) to fill in areas that the dye doesn't fully cover. I also love this brow gel because it holds my brows in place without them getting cakey like a few other professional brands I've tried.
Using the aforementioned tips I created a makeup routine.
I'll share that now…
Reader Beware: no makeup shots ahead ;)…
Note- Even though I'm not technically wearing makeup in the next photo, I do have "permanent" eyeliner. I was told it would fade in a few years…I'm going on 11 years with no fading. Although I wasn't planning on having forever eyeliner, I do like it.
So to start out, I remove all makeup, wash, and then moisturize my face.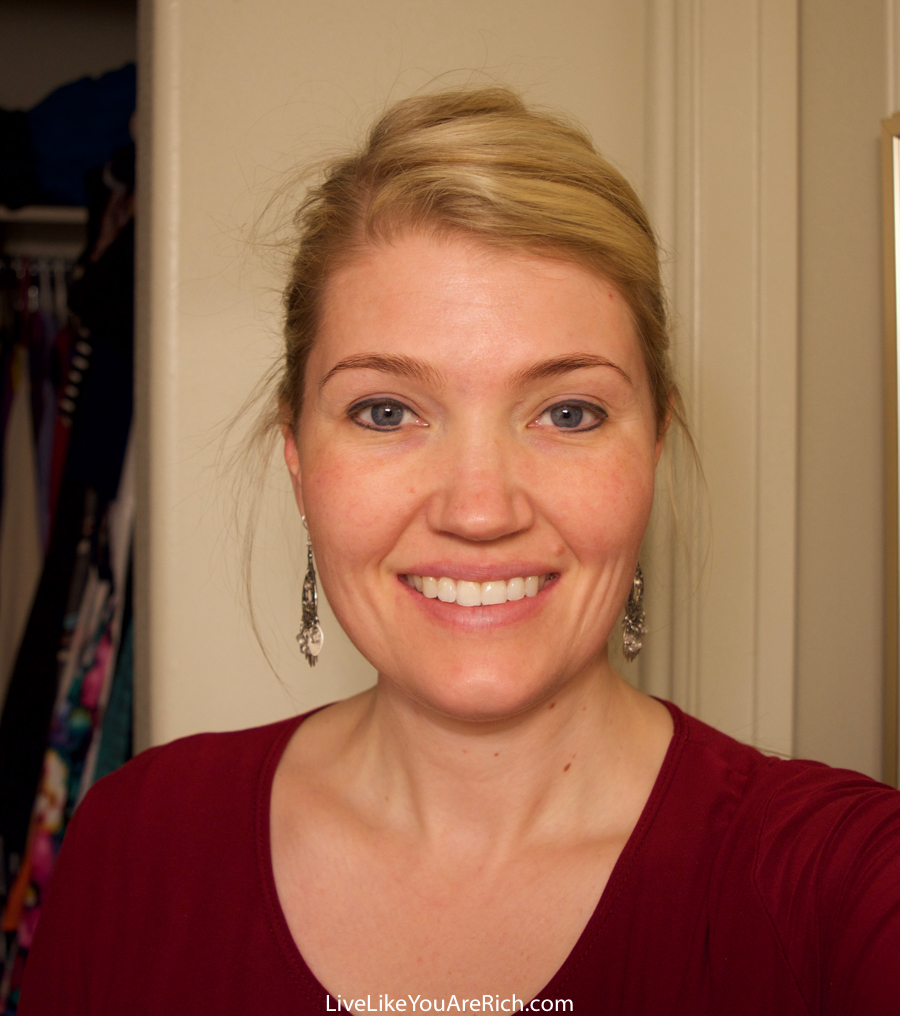 1- I put concealer on my eye lids and under eyes as a primer and to reduce purplish hues.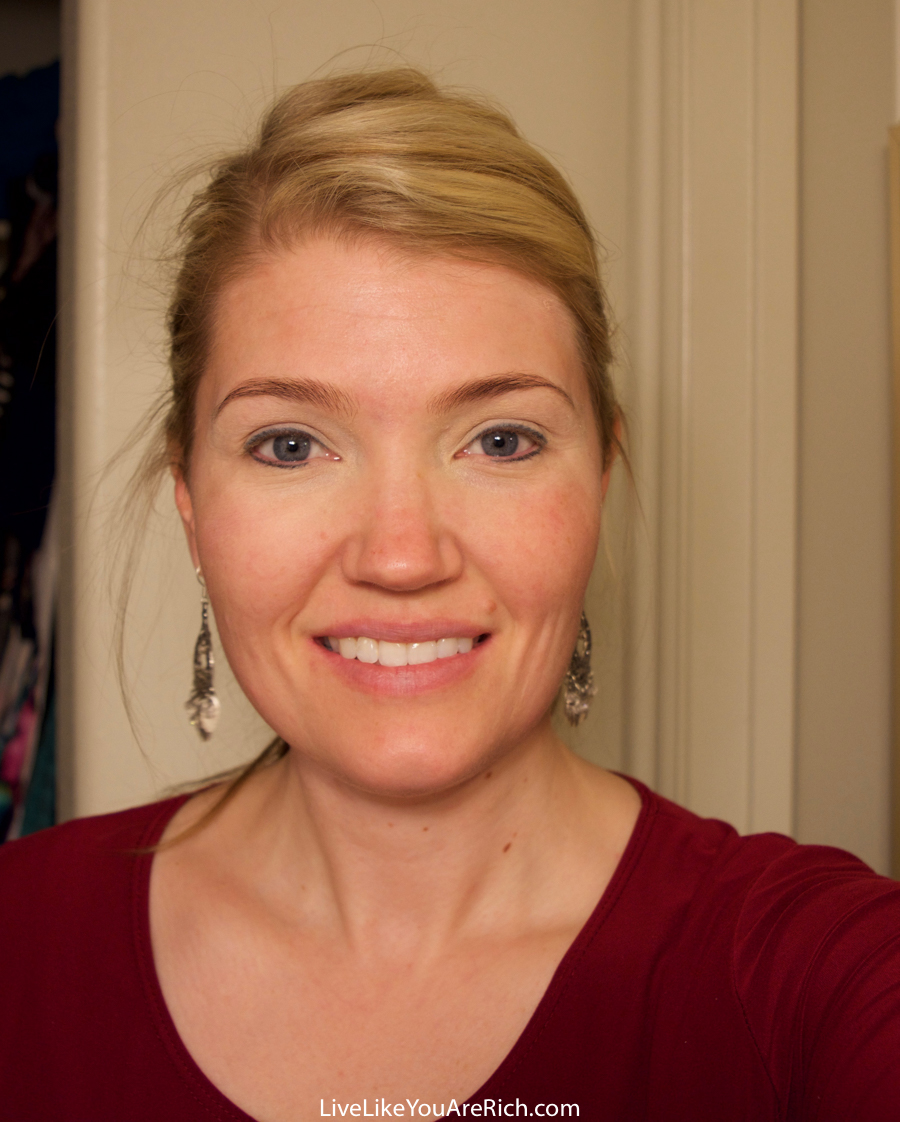 2- I use a wetted blender and light natural liquid/gel foundation.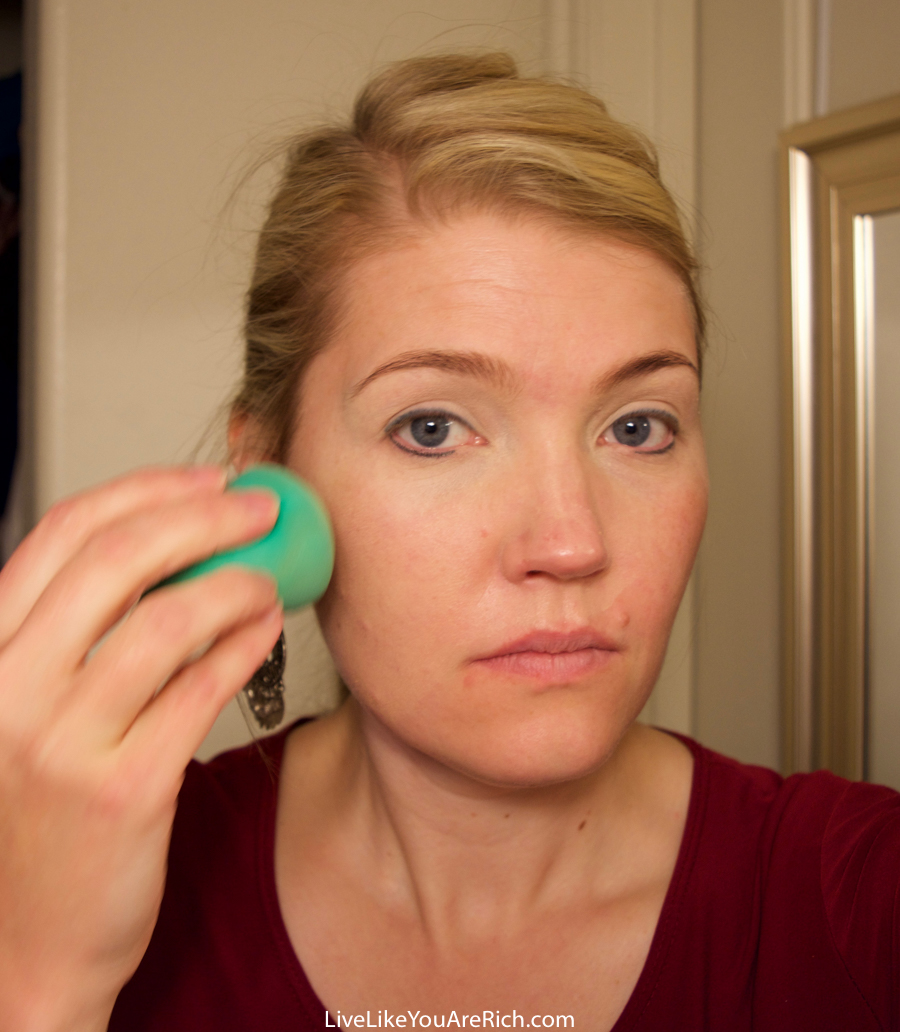 I make sure to blend well.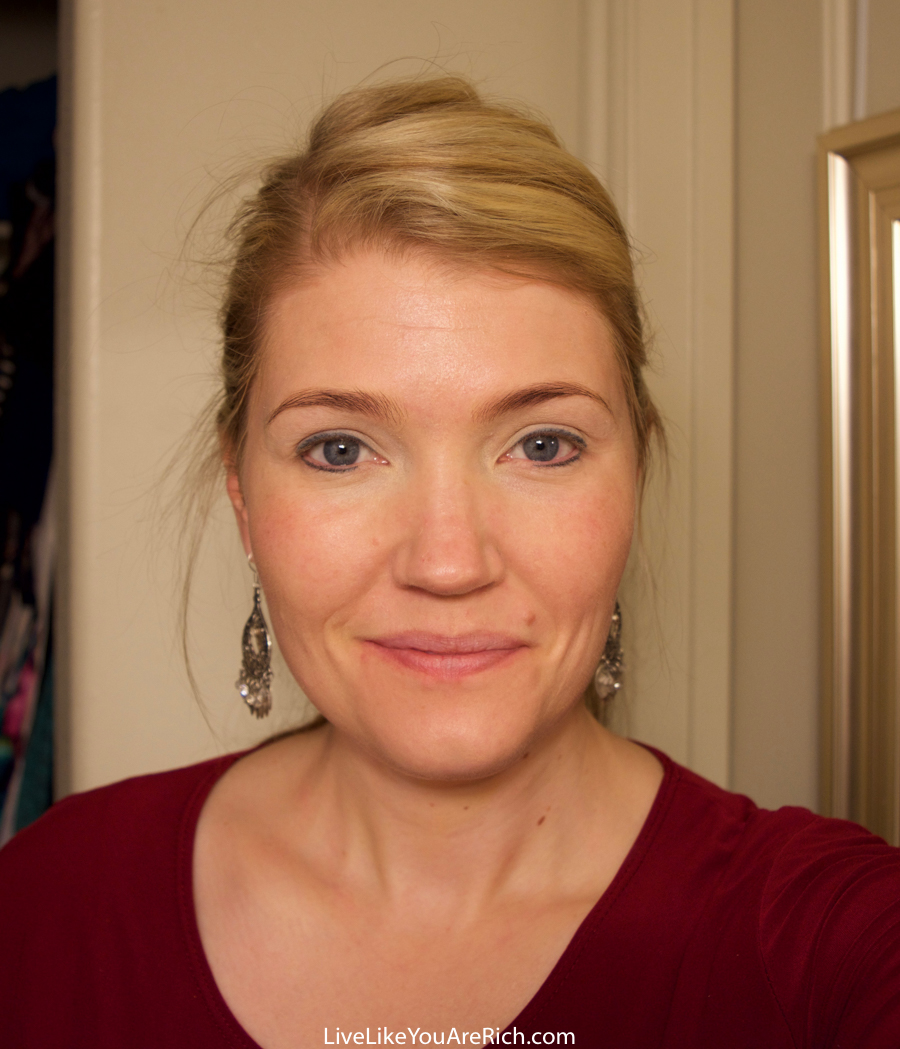 3- I take a very tiny bit of blush and apply it to the area of the cheek that normally turns pink when I blush. Go easy on blush—it is so easy to get it wrong. In fact, I may have applied just a tad too much here… Truly with blush, less is more!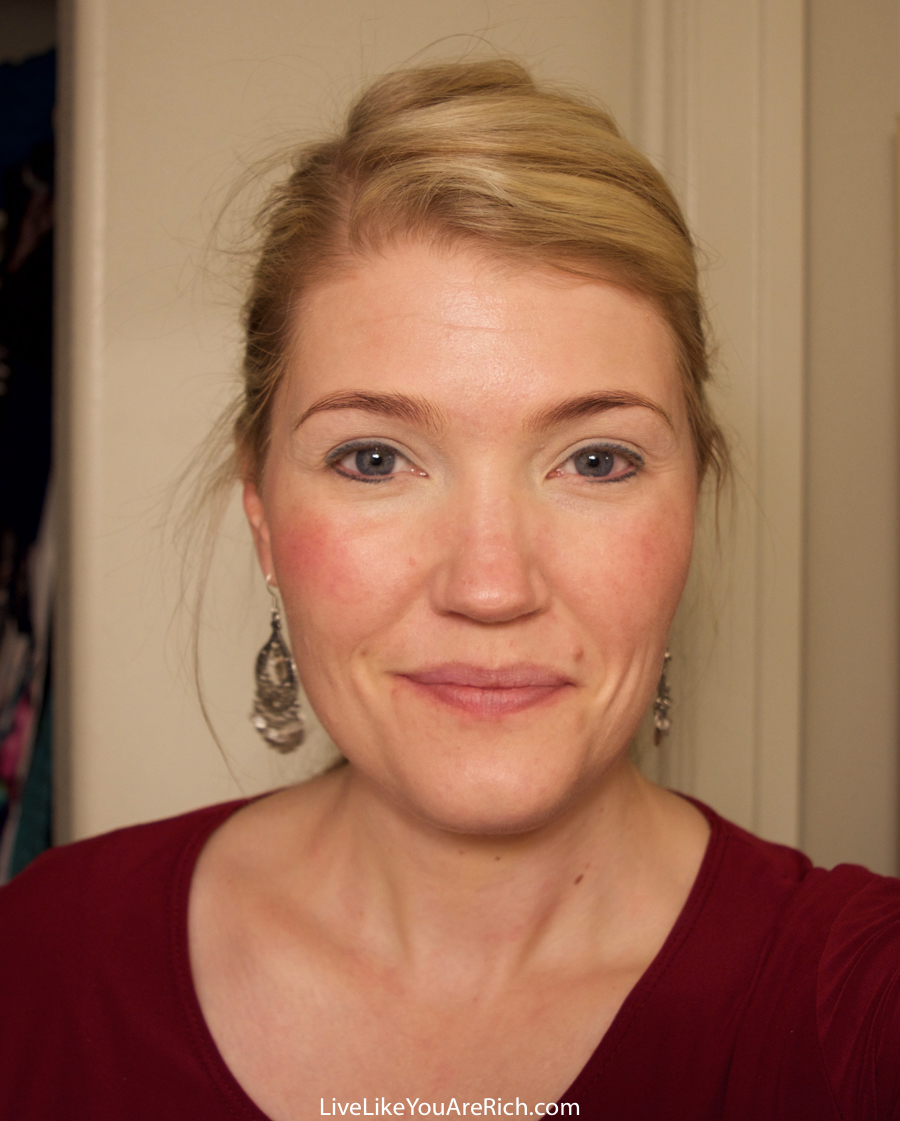 4- I put a natural skin-colored-eyeshadow on the eye lids and under them a little.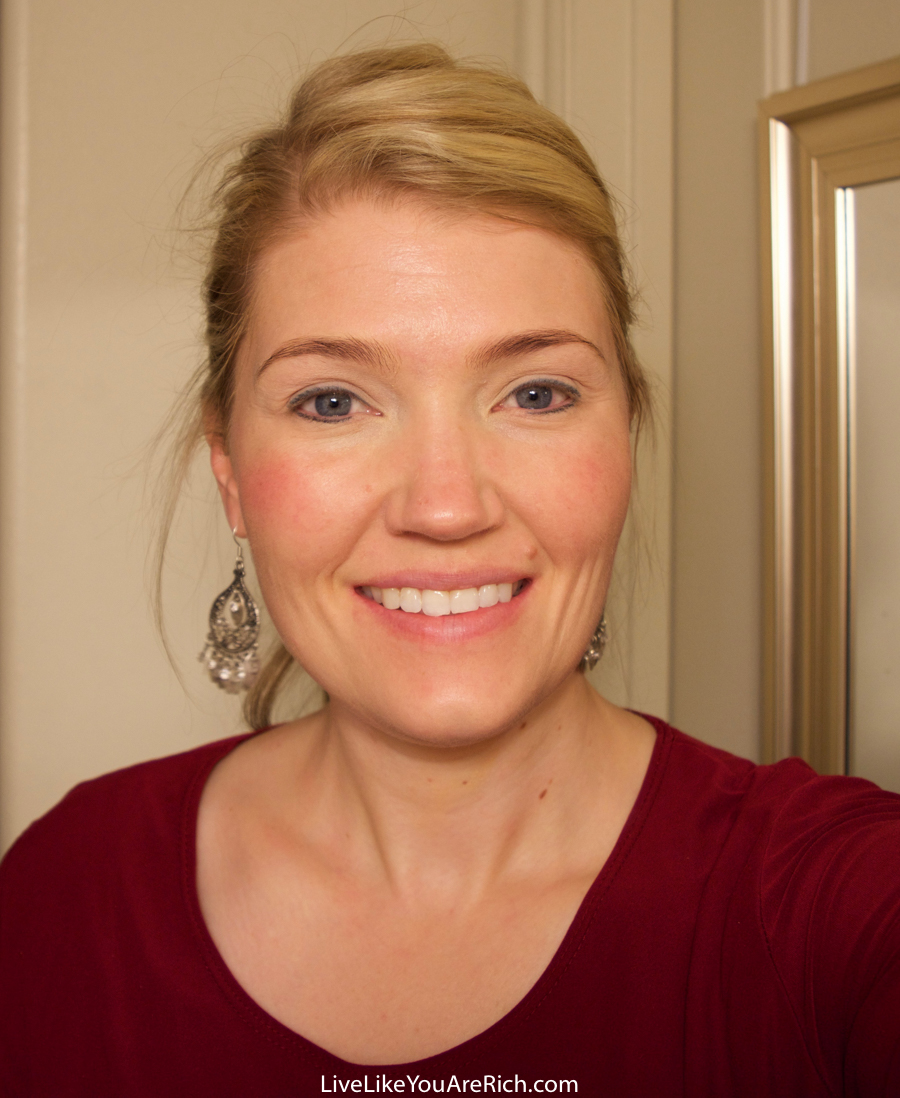 5- I pick a color of eyeshadow that matches my cool-skin-tone and the outfit I've planned for the day. I put a little in the crease of my eyes to make them pop. Then I blend it with a natural skin-colored-eyeshadow to avoid harsh lines.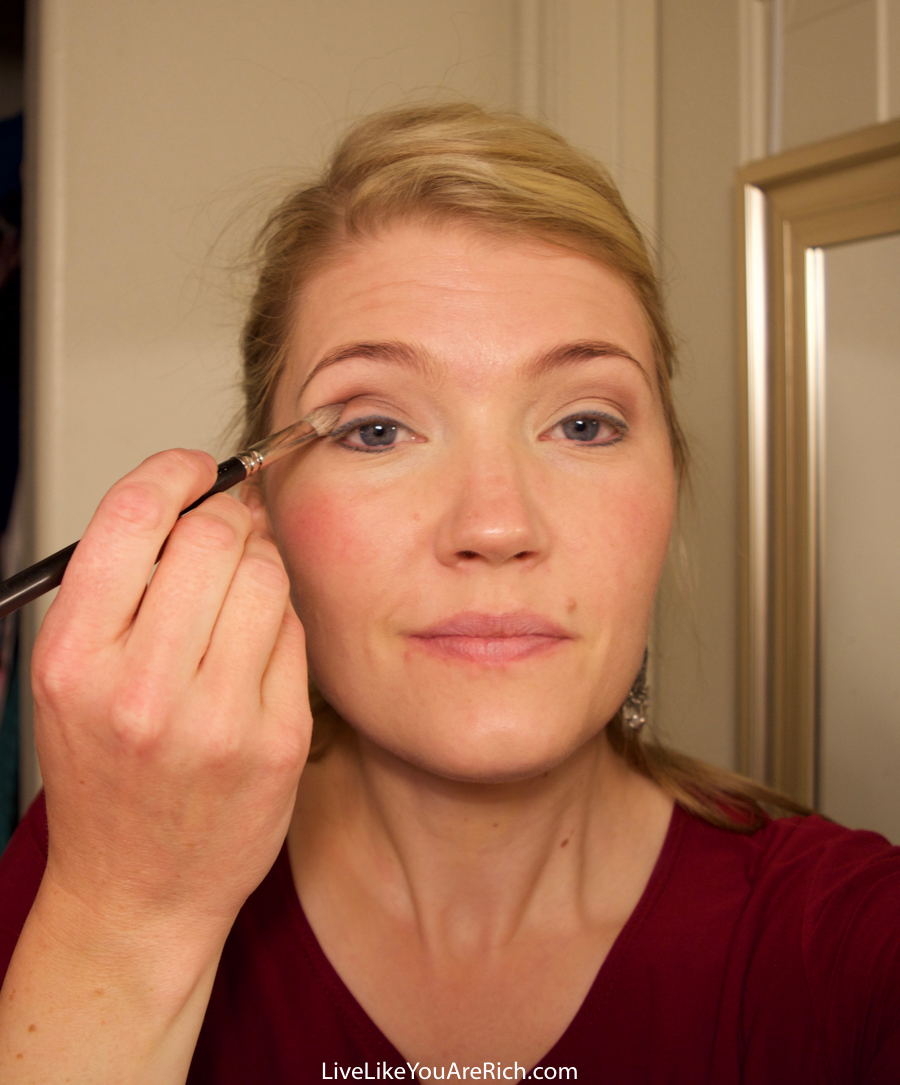 5- I curl my eye lashes and apply a mascara primer and two thin coats of mascara after the primer has dried. I make sure the upper lashes are 2-3x's longer than the lower lashes.

6- I then line the eyes with a powder eyeliner. I tap off extra powder so it doesn't fall on my face.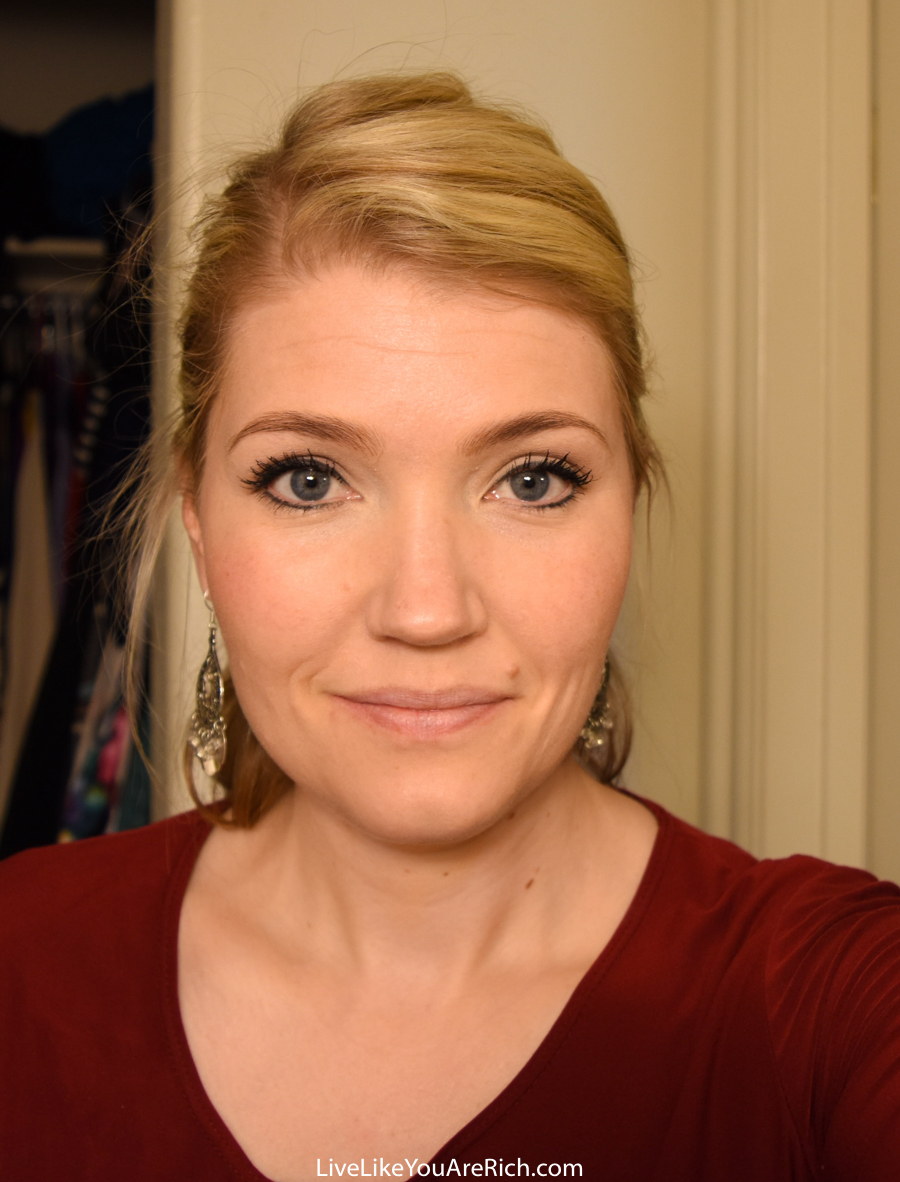 7- Then I set my eyebrows with a setting gel.

8- And I finish it off by applying a lipgloss, lipstain, or lipstick. Sometimes I'll spray my face with a makeup setting spray which just makes the makeup stay better.

When I'm finished (usually about 4-5 minutes), my curling wand is heated and I curl my hair in about 10 minutes. If my hair is dry, it takes me about 20-30 minutes for my makeup application, hair, and outfit selection. If my hair isn't dry I have to add another 15-20 minutes on top. As a busy stay-at-home mom of two this system works great for me!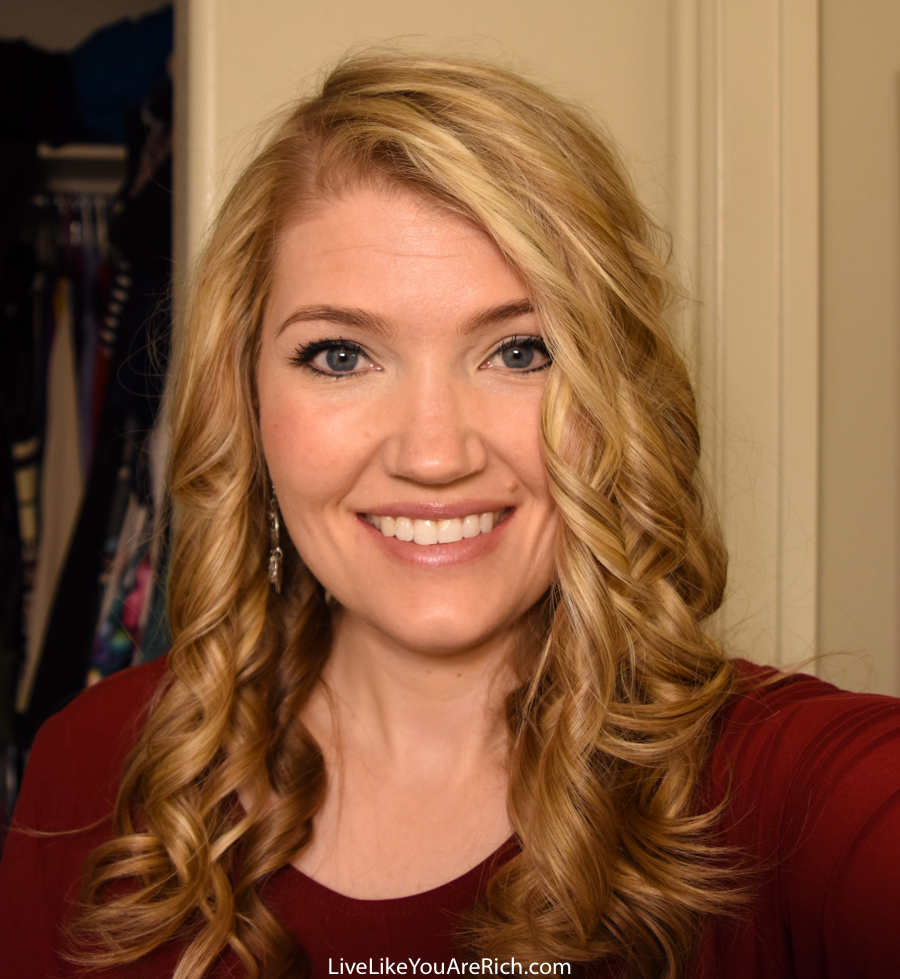 As you can tell, I do love the brand Younique. They have by far the best brow gel, brow liner, and fiber lashes on the market (that I've tried—and I've tried quite a few). I also love their cleasing cloths, moisturizer, their lip stains that stay all day and don't rub off, and Glorious foundation primer. Normally, I don't pick one company for makeup (I branch out) but Younique has really impressed me in all of the products I've tried.
Because you can only buy makeup through a presenter, I signed up to be one. Feel free to order through this link to my Younique store, or email me if you have any questions.

For other 'rich living' tips please subscribe, like me on Facebook, and follow me on Pinterest and Instagram.