You don't have to painstakingly sand, prime, and paint an old hutch in order to update it. My mom has a gorgeous very large hutch. We are renovating her dining room and wanting to update it. We went back and forth on painting it or not, weighing the pros and cons. Ultimately repainting it was going to be too much work. Plus, it already matched the new hard wood and dining room set, and even the french doors.
So we decided to come up with other ways to update it. Below are 9 ways to update a hutch without repainting it.
1. First, we took the glass out of it. This automatically made it look more in style.
2. Second, we took everything out of it and centered it in the room to be a focal point instead of having it in the corner.
3. Third, we installed under-mount lights. Tutorial Here.
4. Fourth, we staged it well. We used the rule of odd numbers, similar colors, and balance. Before, there was a lot of clutter on the shelves. We did our best to fit as much as we could on the shelves without adding clutter. We put the rest in the big cabinets below and boxed or donated the extra dishes.
5. Fifth, we gave it a good cleaning and used furniture polish on it.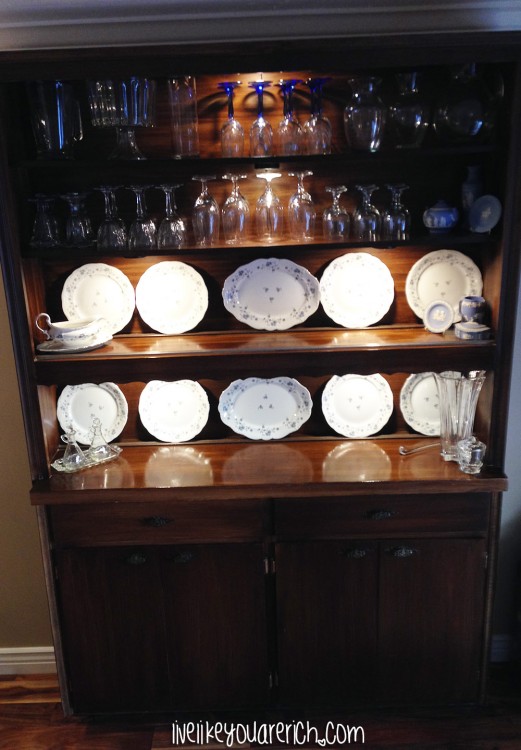 Another few ideas we are thinking about doing is:
6. Adding strips of decorative molding on to the shelves. The bottom shelf has this and we are still thinking about possibly putting it on the top 2 shelves.
7. Add Crown molding to the top of it to extend up higher and/or touch the ceiling.
8. Add lights to the top of the hutch that throws a glow up around it. (We tried this but the hutch is too close to the ceiling to get the desired effect). If you are interested in the look below I found it on this blog here.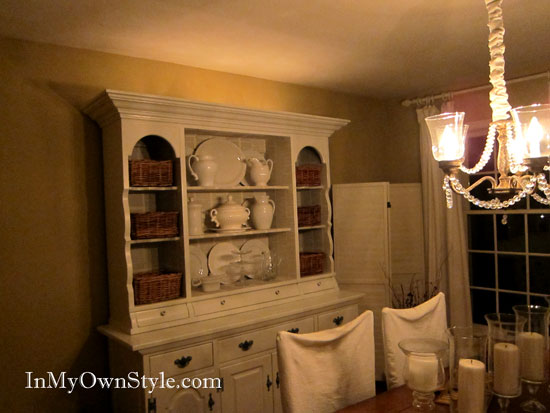 9. Change out the hardware. Since the hardware (vintage) styles have come back around we decided to leave it. If your hardware is outdated try to find unique and complimentary handles and pulls. If you are just missing a piece or have a broken handle you can actually fix it! I saw this tutorial this morning on Pinterest and thought it was genius. Click here if you need to make or replace a handle.

Updating a hutch doesn't have to be expensive or take hours and hours of hard work. Making these small changes can really make a big difference by putting in only a small investment of time and money.
We lost the photo of it before with the glass, pushed in the corner, with a lot of clutter and no under-mount lights but please trust me when I say that the change was very drastic. With these updates, this hutch went from a bit of an eyesore to a gorgeous room focal point.

For other 'living rich' tips and inexpensive home updates like me on Facebook, and follow me on Pinterest and Instagram.