I've been using Groupon.com for years. I usually buy Groupon for services I need, gifts, travel, and clothes. Recently I found out that they have a free coupon database on their website called Groupon Coupons!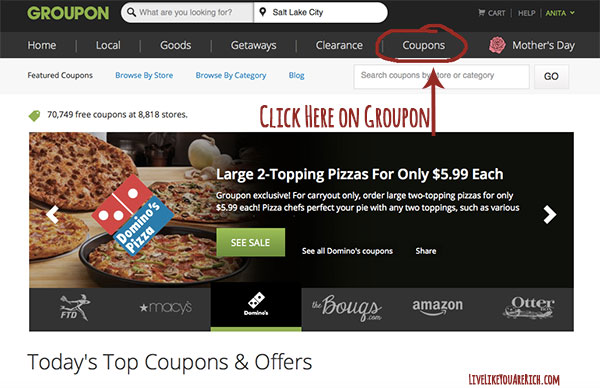 Groupon Coupons is a service on the main Groupon website that:
Offers more than 55,000 online and in-store coupons from thousands of top retailers, including Target, Best Buy, and Nordstrom.
No matter where you shop, Groupon Coupons can help you save money because they have a mix of promo codes for online use and mobile/printable coupons for in-store redemption.
Many coupons on Groupon Coupons are exclusive – you won't find them anywhere else – thanks to Groupon's partnerships with top national retailers.
Groupon has a team of editors who work around-the-clock to make sure that all the best coupons are accounted for.
Groupon Coupons is available online and on the mobile app for iPhone and Android.
You can browse by store, category, or do a specific search for the coupons you are looking for.
They have top coupons and offers that make finding great deals easy.
Head on over to Groupon Coupons to save!

For other 'rich living' and money-saving tips, please subscribe, like me on Facebook, follow me on Pinterest, and Instagram.