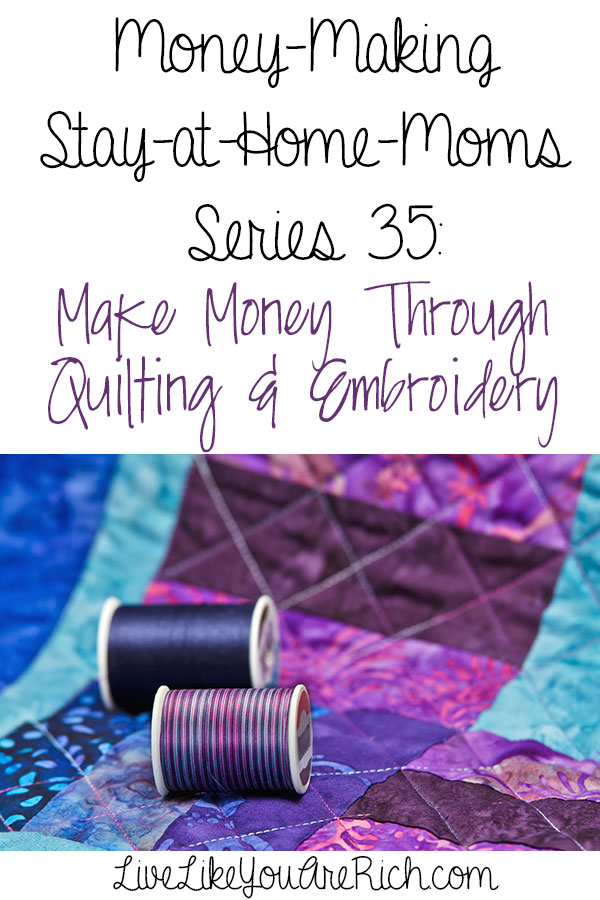 Today's Money-Making Stay-at-Home Mom is my friend Stephanie Collins. She is an amazing quilter and embroidery expert. She began her business as a hobby but it quickly turned into a business/income-generating opportunity as her work is beautiful, and word of mouth continues to bring her orders! Stephanie shares her experience with you on how to get started below.
Welcome Stephanie,
Q. What inspired you to begin working?
A. I'm a homeschool mom and I'm home with my children all day long. As they got older and moved to on-line classes, they didn't need me hovering over them anymore. I needed something to keep me busy so I started quilting and embroidery as a hobby.
Q. How did you go about starting your business or arranging a work at home position?
A. At first I didn't plan on pursuing a business with my quilting and embroidery, but people kept asking me if I would do small projects for them and it grew from there.
Q. What are some tips you would like to share with others who are interested in doing something similar?
A. Gift a few items so people can see what you do, I made a very simple embroidered baby quilt to give at a baby shower and received 3 orders for bed sized quilts at the shower! Also, take classes to stay on top of new techniques. With the advancement of technology, quilting, sewing and embroidery is so much easier for us than it was for our grandmothers because of computerized machines.
Q. How many hours do you work a week or how much of your time does this position require? Is it flexible? Is it consistent?
A. My hours are very flexible, it can take up to 40 hours to make a simple, bed sized quilt from start to finish so I will only take orders that allow me time to work on my schedule. Embroidery/monogramming orders can be filled quickly, so I can take several of those per week and work a couple of hours per day.
Q. When/how do you find the time to work?
A. Mornings are best for me, I am such a morning person! Some days I will get into a groove and work for 10-12 straight hours but only if I want to. Usually if my husband is working late, I'll continue into the evenings, but I quit when he gets home.
Q. Are there certain tips/advice you'd want to share with others who want to start working like you?
A. Learn to say "no!" I have taken orders when the timing is not good for me and it only added stress to my life. I want to continue loving what I do, and not turn it into a stressful job. Also, don't sell yourself short! At first I had a hard time charging for what I do because I love it so much. People will take advantage and it hurts all of the other businesses that do the same thing. I still have a hard time charging close friends/family what I should, but I am getting better!
Q. Was training/schooling required for the position? How/when did you complete it?
A. It did require a good amount of training. I bought my first sewing machine when I was 32 years old and had never used one before. I found a lady who gave me basic sewing and quilting classes in her home, then found a quilting store where I have taken hundreds of classes over the past 9 years. I still try to take classes every month!
Q. What is the income percentage you bring in? or How much do you make from this job? or Does the income help a little, medium, or is the main source of your family's income?
A. My income is very small compared to our family income, but every little bit helps! On a good month (December) I will make around $1000. This month (May) I already have orders totaling $300.
Q. How would someone who wants to do something similar get started?
A. Invest in a good sewing and embroidery machine, and take some classes!
Q. What are the start up costs?
A. The first machine I bought was about $1000. It didn't do what I needed so I have since traded up and added several machines to my group. The only thing needed for my job are supplies. I only buy when needed or if I find a really good fabric sale.
Thanks Stephanie!!
If you'd like to purchase a custom quilt or embroidery order, please contact her via email: collinsclan06 (AT) yahoo (Dot) com
(P.S. Her email was written this way so that the internet robots don't spam her account).
More Interviews:
Introduction to the Money-Making SAHM Series
Series 2: Starting an Online Business
Series 5: At-Home Airline Assistant
Series 6: Become an At-Home Employee
Series 9: Run an at-Home Daycare
Series 10: Write and Self-Publish an eBook Part 1 & Part 2
Series 11: Teach Music Lessons from Home
Series 12: Distribute a Product You Love
Series 14: Become a Virtual Assistant
Series 15: Buying and Reselling Cheap Finds
Series 17: How to Make Money as a Transcriptionist
Series 18: How to Write and Publish a Paperback or Hardback Book
Series 19: Do Online Tech Support from Home
Series 21: Sell Your Own Sheet Music Part 1 and Part 2
Series 22: Start a Preschool from Home
Series 23: Start Your Own Boutique
Series 24: How to Make Money on YouTube
Series 25: Take Legitimate Online Surveys
Series 27: Become a Photographer
Series 28: Become a Property Manager
Series 29: Make Money Locally Teaching a Talent, Sport, or Hobby
Series 30: Substitute Teaching
Series 31: Sell Shaklee (MLM)-removed
Series 32: Review Websites for UserTesting
Series 33: Sell Mary Kay(MLM)-removed
Series 34: Become an Affiliate with Spark Naturals Essential Oils
Series 35: Quilting and Embroidery
Series 36: Make Money by Doing Laundry for Others through Laundry Care
more coming…pin or bookmark for more.

For other 'rich living' and Money-Making Stay at Home Mom case studies please subscribe, like me on Facebook, and follow me on Pinterest.