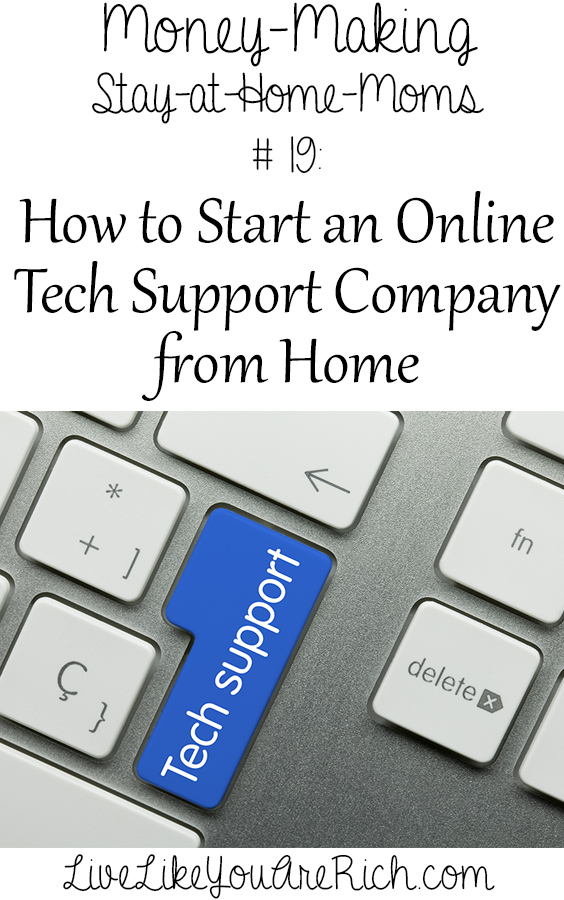 Today's SAHM is a great friend of mine. Further, she has helped me a ton with my website and blog. She and her husband started an online tech service/support company from home. She is self-taught and knows her stuff. She graciously took time out of her very busy schedule to share how you can do something similar too!
Welcome Katie!
Q. What inspired you to begin working?
A. Well, I started blogging right before I graduated from college. I was planning to be a Stay-at-Home mom, but I still wanted to bring in an income. I had been working as a blogger at Healthcarescene.com for a little while at that point, and I was amazed to see the market that there was for blogging. I started Clarks Condensed in January of 2013, and I was very motivated to pay for as little tech support/social media management as possible. With that motivation, I started learning the ins and outs of blogging, and in turn, started helping other bloggers with tech support, starting/maintaining their blogs, as well.
I found that I really enjoyed it. This inspired my husband and I to start an official blogging support website called The Blog Help. It's still in its beginning stages, but we plan to have it be a one stop shop for bloggers! We offer everything from tech support, to design, to blogging mentorship. I have a few girls that work for me and do Virtual Assistant jobs for clients, which is great.
Q. How did you go about starting your business or arranging a work at home position?

A. Well, I just started learning everything I could about blogging, especially the tech side of things. I've always been pretty tech savvy, so I just read lots of websites and guides on WordPress (wpbeginner.com is my favorite), and put things to work. I like to say that I experiment on my site until I feel comfortable enough to offer that service to others.
My husband does most of the web design stuff for our business. He attained a certificate in web design to help get him started. I do know a good amount about it as well, though, which mainly came from self-education. There is an incredible amount of information on the Internet nowadays — while there's a lot to be said about the value of going to classes, there really is a lot you can teach yourself on the Internet and become proficient in on your own.
Q. What are some tips you would like to share with others who are interested in doing something similar to help out financially?

A. Read as much as you can! I've read countless eBooks and articles on blogging, WordPress, SEO, etc.
Also, as with any type of job where you are working with others on a contract basis, it's important that you both know what to expect. When I first started out, I would often get taken advantage of (not usually on purpose of either party) because I had the hardest time saying no, and I wouldn't always clarify what was included in my packages — so I would end up doing more work than I was paid for. I think it's important to outline what you offer, the prices, the turnaround time, and especially what your hours are! Avoid putting your phone number out there to clients unless you want to get calls at all hours of the day.
Further, when I started out, I set my prices low. I haven't increased them a ton since then (but I have a little bit — so it's worth my time!), but with this type of business it's important to gain the trust of those you work with. The majority of my clients now come from referrals because people trust me and feel comfortable referring me to others. Good customer service goes a long way!
Q. How many hours do you work a week or how much of your time does this position require? Is it flexible? Is it consistent?

A. I couldn't even tell you! About half of my work is doing things for other bloggers, and half is on my own blog. It's at least 40 hours a week, though I'd imagine it's more.
It can be flexible – I go back to the setting hours thing I mentioned earlier. If you don't, you'll find yourself working a lot more than you want to, and you may have a hard time saying no to people.
The work is pretty consistent. It's one of those things where sometimes I think, "I sure hope people still need help next month!" But fortunately, I do have consistent clients and work to do.
Q. When/how do you find the time to work?

A. I do my best to work while my son is sleeping — so during nap time, and after he goes to bed at night. My first responsibility is being a mom and wife, and that always comes first. I'm not perfect, and I do work when my son is awake, but I try to keep that to a minimum. Because of the nature of what I do, I'm constantly getting messages and emails, even when I'm not at home. I have to find a balance — I try to leave my phone at home when we go out and do something as a family! My husband is at home all the time too (since we work together), which makes it easier.
Q. Are there certain tips/advice you'd want to share with others who want to start working like you?

A. Work for me! haha. Like I said earlier, read as much as you can. You can probably take classes if you want, but I have really taught myself everything I know. Not everyone can (I mean, that's how we stay in business — helping people who don't want to do the tech/design part of things, or just can't), so I wouldn't get into this unless you feel comfortable with computers and the Internet.
Q. Was training/schooling required for the position? How/when did you complete it?

A. I didn't do any schooling, but I guess I could have! I just learn as I go — you should see how many different folders and websites I have bookmarked about different blogging and tech topics. Like I've said, there's a lot of information out there!
Q. What is the income percentage you bring in? or How much do you make from this job?

A. 100% of our income comes from blogging and our tech/design business. It's a modest income, but it's growing every month, which I'm grateful for. I don't know if it will be this way forever, but for now, I'm grateful!
Q. How would someone who wants to do something similar get started?

A. Hard question — it's a very niche business, and it requires a specific skill set. I guess just read and practice! I think people trust our expertise because our blog has been successful itself!
Thank you Katie!
Katie of ClarksCondensed.com is a fantastic mom of one, wife, tech supporter, and blogger. She has been helping people with their websites for some time and is great at what she does. She has even helped LiveLikeYouAreRich.com out quite a bit on the tech side as well. Check out her business website here The Blog Help
For other posts in this series please check out the interviews from real SAHM's below:
Introduction to Money-Making SAHM Series
Series 2: Starting an Online Business
Series 5: At-Home Airline Assistant
Series 6: Become an At-Home Employee
Series 9: Run an at-Home Daycare
Series 10: Write and Self-Publish an eBook Part 1 & Part 2
Series 11: Teach Music Lessons from Home
Series 12: Distribute a Product You Love
Series 14: Become a Virtual Assistant
Series 15: Buy and Resell Cheap Finds
Series 17: How to Make Money as a Transcriptionist
Series 18: How to Write and Publish a Paperback or Hardback Book
Series 19: Do Online Tech Support from Home
Series 21: Sell Your Own Sheet Music Part 1 and Part 2
Series 22: Start a Preschool from Home
Series 23: Start Your Own Boutique
Series 24: How to Make Money on YouTube
Series 25: Take Legitimate Online Surveys
Series 27: Become a Photographer
Series 28: Become a Property Manager
Series 29: Make Money Locally Teaching a Talent, Sport, or Hobby
Series 30: Substitute Teaching
Series 31: Sell Shaklee (MLM)-removed
Series 32: Review Websites for UserTesting
Series 33: Sell Mary Kay(MLM)-removed
Series 34: Become an Affiliate with Spark Naturals Essential Oils
Series 35: Quilting and Embroidery
Series 36: Make Money by Doing Laundry for Others through Laundry Care
more coming…pin or bookmark for more.

For other 'rich living' and Money-Making Stay at Home Mom case studies please subscribe, like me on Facebook, and follow me on Pinterest.