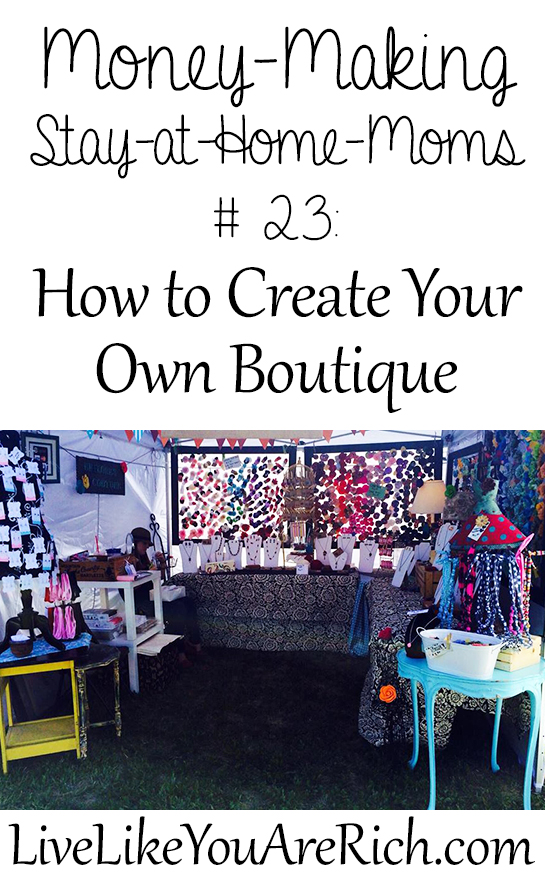 I have a few friends who sell handmade and collected items from home. They market in a variety of ways some are marketing through Facebook, word of mouth, Instagram, Etsy, Pinterest, signs on the street, etc. My friend Kassie will share with you how she started her own boutique that both has a physical location (she sets up and sells during summer and warmer months in her backyard), and also sells and ships items via online as well. Welcome Kassie!
Q. What inspired you to begin working?

A. To help pay for extra activities that kids are involved in and to help eliminate debt.
Q. How did you go about starting your business or arranging a work at home position?

A. I thought about the talents that I have and came up with ways to make money from them.
Q. What are some tips you would like to share with others who are interested in doing something similar?
A. Think about your talents or things you are good at. We all have them! Think about compliments people give you about things you make or activities you are good at. You can make and sell items, up cycle items, do services for someone or hold classes to teach people how to do things.
Q. How many hours do you work a week or how much of your time does this position require? Is it flexible? Is it consistent?
A. The hours depend on how much money I want to make, wether or not I have custom orders or not. If we are holding a boutique soon or not. How many items I want listed at my etsy shop.
It is very flexible. I can come and go as I need and tend to my family needs first. Consistency In cash flow depends on you so the more items you have for sale the more likely you are to make more money.
Q. When/how do you find the time to work?
A. Come up with a game plan. Like a goal setting system. Successful people always have a plan. Create what you want to sell while you have down time or set aside time each day to work on your business. If you want it bad enough you will find the time or make time for it.
Q. Are there certain tips/advice you'd want to share with others who want to start working like you?

A. There is always a small cost to get started. Brainstorm on ways you can get started without spending a ton of money. Look for wholesale suppliers that you can get a ton more for your money or start by up cycling items to create the things you want to sell. You need to figure out the items you will need to create the project, create a list and do research. You will have more success this way. Find the best prices and ask lots of questions to people you know that have created things to sell. Or find ideas or blogs online that offer tips and tricks. Incorporate the ones you like. You learn through trial and error. Don't give up. You will find what works for you.
Q. Was training/schooling required for the position? How/when did you complete it?

A. There might be some schooling involved in what you choose to do. Look into it. All that I learned was self taught by trial and error, by learning from friends turned mentors or online.
Q. What is the income percentage you bring in? or How much do you make from this job? or Does the income help a little, medium, or is the main source of your family's income?

A. Right now the percentage I bring in is about 30% but that will change pretty quickly here as I will be staying home full time. I can create much more to sell and spend more time getting things posted on different sites to sell. Also teaching classes on how to create the items I sell for the DIY'ers that would rather make the items themselves. I'm hoping to contribute more to my family's income so we can do more remodeling to our home and go on more vacations.
Q. How would someone who wants to do something similar get started?

A. Again, come up with a game plan. Decide what you want to specialize in. Don't try to do too much all at once or you will feel overwhelmed. Start basic and go from there. Look at what's working and look at what's not. Stop doing the things that are not working and don't be afraid to try new things. Help promote your business by donating a small handful of items you make to charity fund raisers and do giveaways!
Use social media and sites to help you sell your items. Seek feedback and don't be offended at negative comments. Take it and turn it into a positive thing by working on improving what was wrong. Get a support system and more importantly don't give up. If you believe in yourself you can be successful at anything you put your mind to.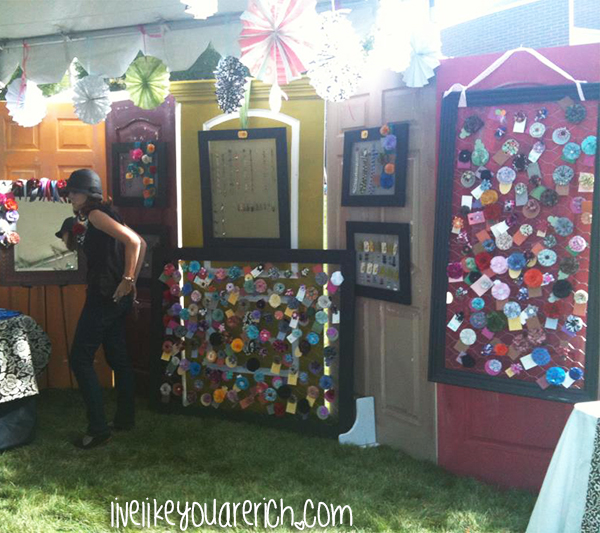 My name is Kassie Howell. I decided to start creating things to sell to help my family get through some devastating things we were faced with. In this adventure I truly found what I love to do, create and sell fun accessories and I get to be a mom on top of it all! "If you love what you do, you will never work a day in your life".
Custom hair accessories can be ordered at
[email protected]
EffloresCouture Facebook page as well!
Thanks Kassie!
For other posts in this series with live interviews on how to make money from home please click the links/titles that interest you below…
Introduction to Money-Making SAHM Series
Series 2: Starting an Online Business
Series 5: At-Home Airline Assistant
Series 6: Become an At-Home Employee
Series 9: Run an at-Home Daycare
Series 10: Write and Self-Publish an eBook Part 1 & Part 2
Series 11: Teach Music Lessons from Home
Series 12: Distribute a Product You Love
Series 14: Become a Virtual Assistant
Series 15: Buy and Resell Cheap Finds
Series 17: How to Make Money as a Transcriptionist
Series 18: How to Write and Publish a Paperback or Hardback Book
Series 19: Do Online Tech Support from Home
Series 21: Sell Your Own Sheet Music Part 1 and Part 2
Series 22: Start a Preschool from Home
Series 23: Start Your Own Boutique
Series 24: How to Make Money on YouTube
Series 25: Take Legitimate Online Surveys
Series 27: Become a Photographer
Series 28: Become a Property Manager
Series 29: Make Money Locally Teaching a Talent, Sport, or Hobby
Series 30: Substitute Teaching
Series 31: Sell Shaklee (MLM)-removed
Series 32: Review Websites for UserTesting
Series 33: Sell Mary Kay(MLM)-removed
Series 34: Become an Affiliate with Spark Naturals Essential Oils
Series 35: Quilting and Embroidery
Series 36: Make Money by Doing Laundry for Others through Laundry Care
more coming…pin or bookmark for more.

For other 'rich living' and Money-Making Stay at Home Mom case studies please subscribe, like me on Facebook, and follow me on Pinterest.