Welcome to Money-Making Stay at Home Moms: How to Make Money through Medical Billing.
There are 38+ interviews in this series (see links below interview).
Today's Money-Making SAHM is Stacy Collier. She lives in Anchorage, Alaska with her husband, daughter, and is pregnant with a son (due this summer). We met while my husband and I were traveling around Alaska and she is just the sweetest and warmest person! I'm so happy she wanted to share with you how she makes money through medical billing.
She shares the following:
Q: What inspired you to begin working?
A: I felt bad that my husband worked hard all day and has paid for all our living expenses since our daughter was born. I'm so incredibly grateful and blessed that he has a job that can support us, and that he is very supportive of me and desires me to stay at home. However, I wanted to contribute, even a little bit, to lighten his load. I don't make a ton, but it's enough to pay a few bills and have some spending money without feeling guilty.
Q: How did you go about starting your business or arranging a work at home position?
A: I've been a Medical Billing Specialist since 2009 at a few different clinics, and a Certified Profession Biller/Coder (CPC) since 2011. I reconnected with a doctor I used to work for when I lived in Fairbanks, AK. Her clinic was going through a bit of an upheaval with personnel turnover, and I offered to step in and help. It took a bit to get everything working smoothly, since I work remotely 300 miles away, but I've been there for 6 months now and everyone has been really happy.
It was a matter of setting up secure networks over the Internet and getting their medical software program on my computer, I had to buy a few things like a good printer and other home office supplies.
Q: What are some tips you would like to share with others who are interested in doing something similar to help out financially?
A: I get a lot of people asking about doing medical billing from home. Unfortunately I don't think it's something you can just jump into with no experience, but if you do have experience, talking to doctors in your area that are in your speciality is a good place to start.
I work on a percentage, so whatever I bring in from insurance companies I get a part of. If I don't resolve claims, I don't get paid. It's a good incentive for me to work hard, and that is a selling point I think. If you have worked for a doctor or clinic before, maybe try talking to them again to see if they need some help.
Q: How many hours do you work a week or how much of your time does this position require? Is it flexible? Is it consistent?
A: I don't keep good track of my hours, but I would estimate roughly 20 a week. Sometimes it's more, sometimes it's less. It really depends on the patient load at the clinic and if there are any major issues with claim denials. I do spend quite a bit of time on the phone with insurance companies.
Q: When/how do you find the time to work?
A: Whenever I can!!! I do keep Tuesdays and Thursdays as pretty firm work days. I don't schedule appointments or play dates on those days. The mornings are usually the best time, since my 22 month old is refreshed from sleep and has a good breakfast. She's usually content to play by herself or with the dogs while I spend a couple hours on the phone with insurance or the receptionists or doctors from the office.
I also use Tues and Thurs to schedule phone appointments with patients who have questions about their benefits or accounts. I also work at night after my daughter goes to bed, usually that's when I get the majority of my paperwork done. Sometimes it's hard to fit everything in!
Q: Are there certain tips/advice you'd want to share with others who want to start working like you?
A: You definitely need a schedule of some sort. If you say, "Oh I'll get this done when I can," then it'll never get done. I am often behind on housework and laundry, etc. But like I said, I'm very firm on my Tues/Thurs schedule, and that has helped immensely. Also, find something you have experience in or are good at. I know ladies who can sew or make jewelry to sell on Etsy. I wish I was creative like that but I'm not. But I am good at my job, I have experience, and I really enjoy it!
Q: Was training/schooling required for the position? How/when did you complete it?
A: Yes. I had a lot of hands-on training at the first clinic I worked at in Fairbanks. I started as the receptionist at a chiropractic clinic, and when the billing person decided to move on, she spent several months training me in all aspects of billing and coding. Then I became certified by AAPC (American Academy for Professional Coders).
I had looked into several schools for coding and billing and found that a lot of doctors and clinics preferred certifications from AAPC. It took a little less than a year, all online. I did all this before I had my daughter in 2012. I actually do need to look into further training though as laws, regulations, and codes change every single year.
Q: If someone was very serious about getting started but had no experience what would you advise them to do?
A: I think if someone wanted to start in medical billing they should start working in a medical office in an area they are interested in (surgery, PT, etc). Or they could take an online class either through AAPC or another school (there are a few).
Unfortunately, I don't think it's something that you can just start work from home right out of the gate, if you don't have hands on experience or school it can be really overwhelming, and usually doctors want someone with at least 1-2 yrs experience and/or a certification.
Q: What is the income percentage you bring in? or Does the income help a little, a good amount, or is the main source of your family's income?
A: Right now I make about a quarter of what my husband does. This may drop a bit as one of the doctors is leaving the practice. It helps a little, like I said I'm able to help with a few bills, some groceries, and some spending money. But it helps in non-monetary ways, too.
I find I am more organized than before I started working again. I feel I have "purpose." Of course I love my daughter (and my son who will be here in July!) but it can be very difficult being a mother 24/7, being a constant caretaker. You start to lose yourself in it a bit.
Working does bring me satisfaction on a "job well done". It's something I can complete. Motherhood has different challenges everyday and the job never ends! So it's good to use other skills again. Being able to complete tasks at work brings me satisfaction, and of course being compensated with a paycheck is great too!
Thank you Stacy for sharing this information with others! If you have questions for her, please leave them below.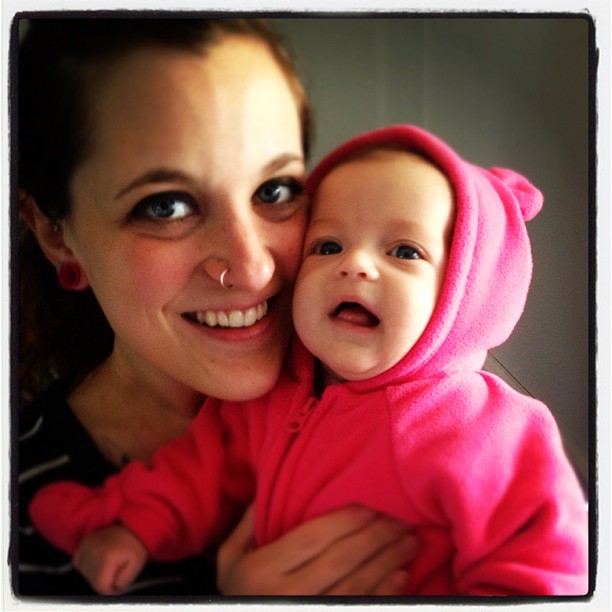 Stacy specializes in medical billing for chiropractic, massage and physical therapists, naturopathic doctors, and acupuncturists.She has worked with PC, Mac, and online based billing software. She is always open to new clients, usually smaller practices. If interested in working with Stacy please comment below and I will email you her contact information.
Check out the rest of the series here:
Introduction to Money-Making SAHM Series
Series 2: Starting an Online Business
Series 5: At-Home Airline Assistant
Series 6: Become an At-Home Employee
Series 9: Run an at-Home Daycare
Series 10: Write and Self-Publish an eBook Part 1 & Part 2
Series 11: Teach Music Lessons from Home
Series 12: Distribute a Product You Love
Series 14: Become a Virtual Assistant
Series 15: Buy and Resell Cheap Finds
Series 17: How to Make Money as a Transcriptionist
Series 18: How to Write and Publish a Paperback or Hardback Book
Series 19: Do Online Tech Support from Home
Series 21: Sell Your Own Sheet Music Part 1 and Part 2
Series 22: Start a Preschool from Home
Series 23: Start Your Own Boutique
Series 24: How to Make Money on YouTube
Series 25: Take Legitimate Online Surveys
Series 27: Become a Photographer
Series 28: Become a Property Manager
Series 29: Make Money Locally Teaching a Talent, Sport, or Hobby
Series 30: Substitute Teaching
Series 31: Make Money through SwagBucks
Series 32: Review Websites for UserTesting
Series 33: Tutoring—coming soon
Series 34: Become an Affiliate with Spark Naturals Essential Oils
Series 35: Quilting and Embroidery
Series 36: Make Money by Doing Laundry for Others through Laundry Care
Series 37: Make Money on Fiverr
Series 38: How to Make Money from Home with Contena
more coming…pin or bookmark for more.

For other 'rich living tips' please subscribe, like me on Facebook, and follow me on Pinterest and Instagram.