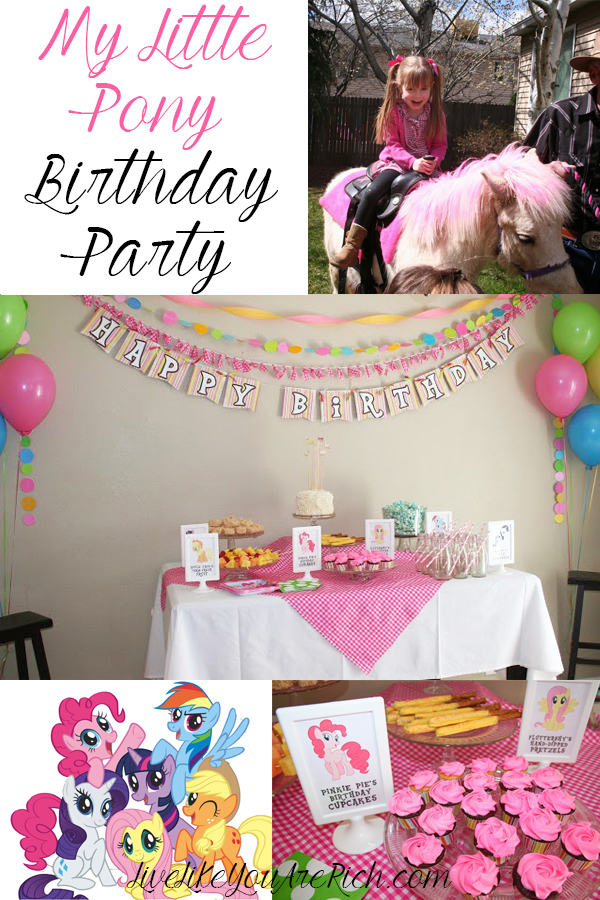 A few months ago, I was sitting at my kitchen table trying to make something out of this craft (which unfortunately didn't really happen) and I saw a Pony in my neighbors yard. The pony had a hot pink mane and tail and a sparkly pink and black saddle. I saw my neighbor Kim's daughter and daughter's friends all ecstatic to see a real life pony! They even all got to take turns riding it.
Kim is sooo creative! Her daughter loves My Little Pony so she threw her a Birthday Party with that as the theme. She also spearheaded this super fun baby shower we threw our friend Ashley. And she threw me a darling baby shower when I was pregnant with my son. I told her that her creativity needed to be shared and that I'd love to feature the My Little Pony Party on my blog. She graciously agreed.
Here's the amazing party…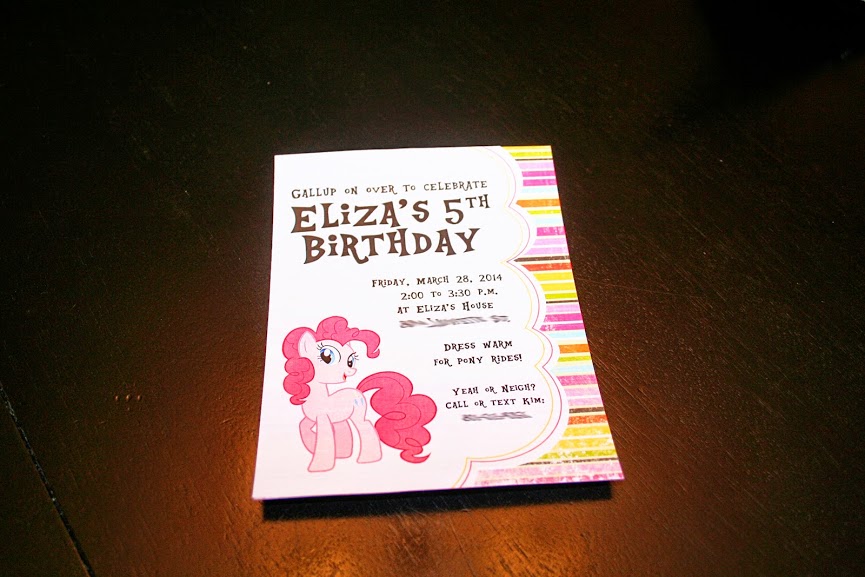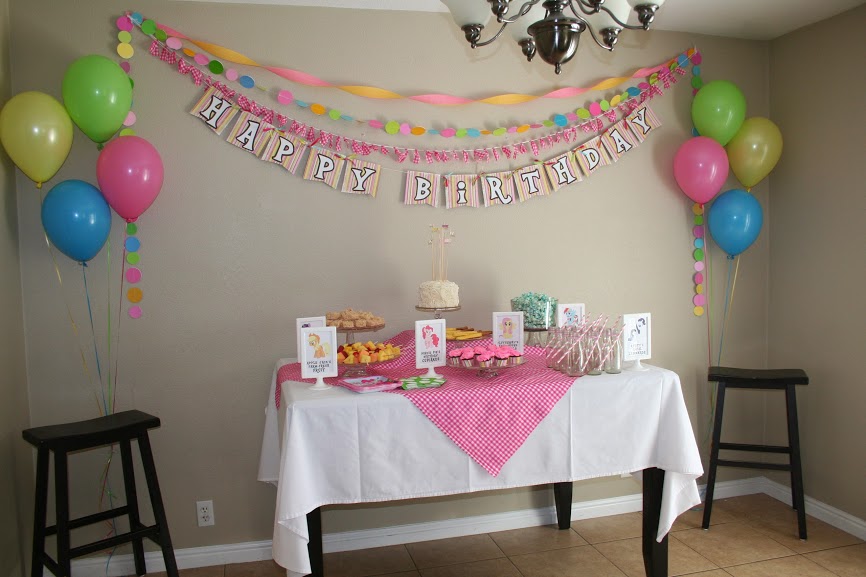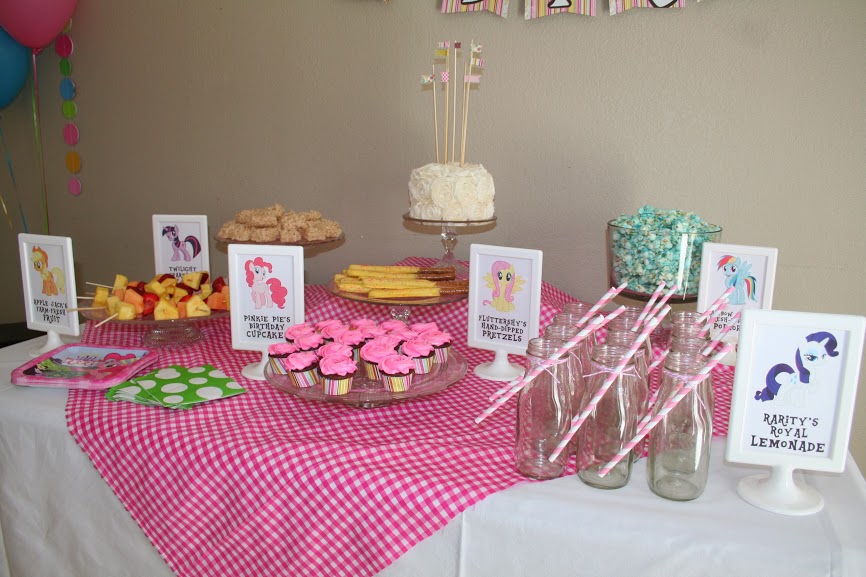 If you want these darling signs and handouts just comment below (include your email) and I'll send them to you. I still haven't figured out how to make them all downloadable at once… update the files are easier emailed than added to my site. I'm happy to continue sending them out so please just leave a comment and I'll get them to you.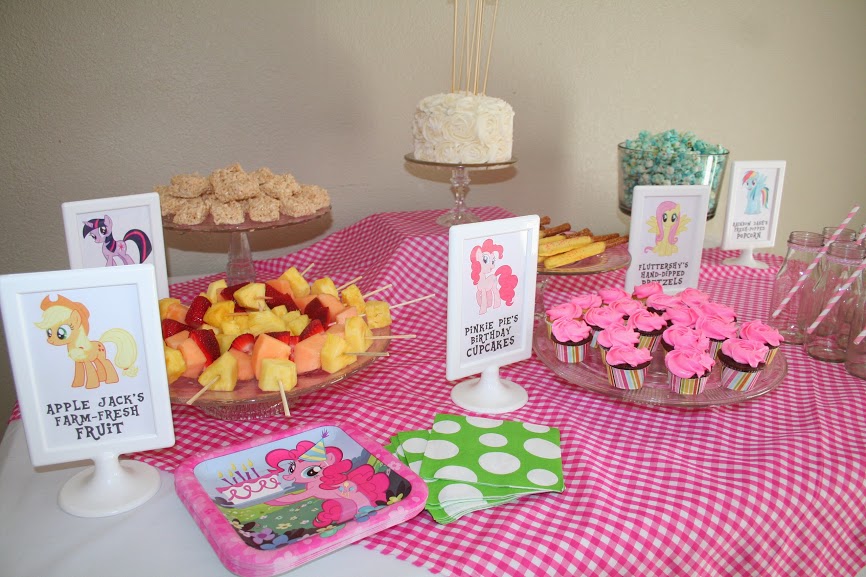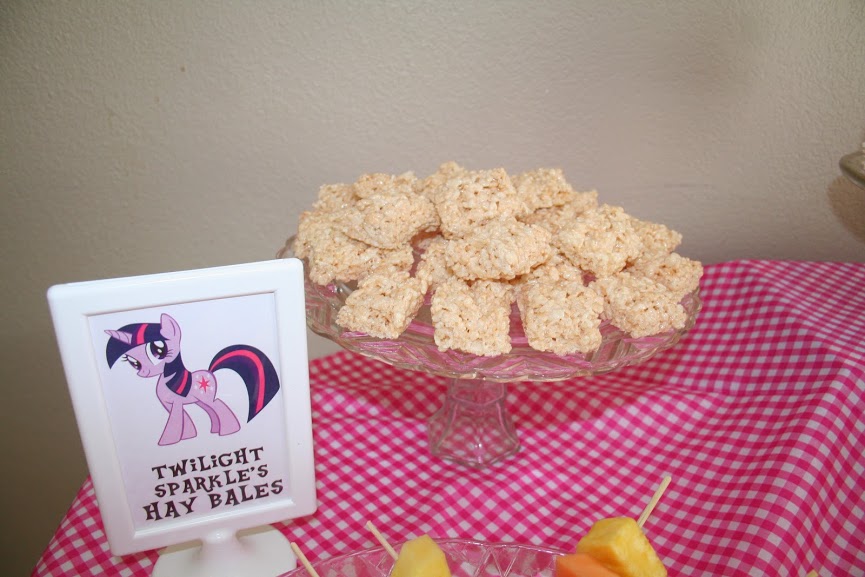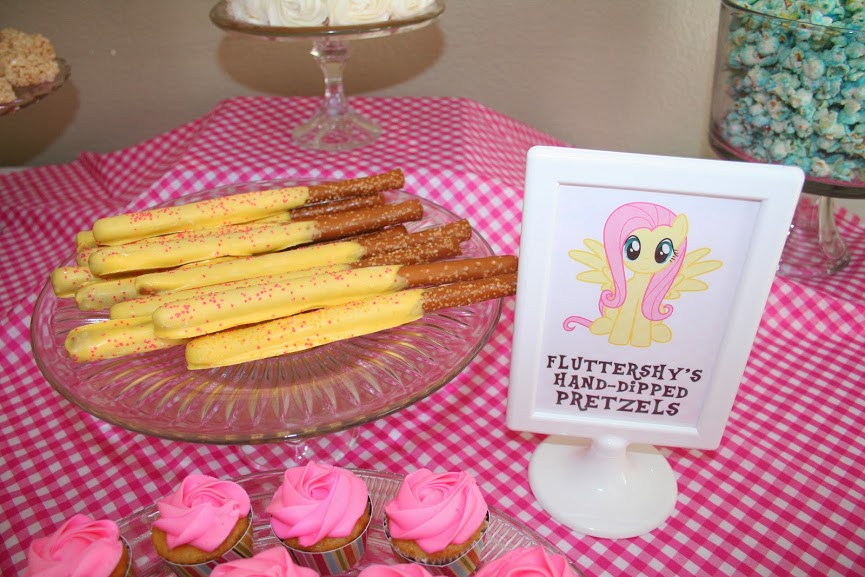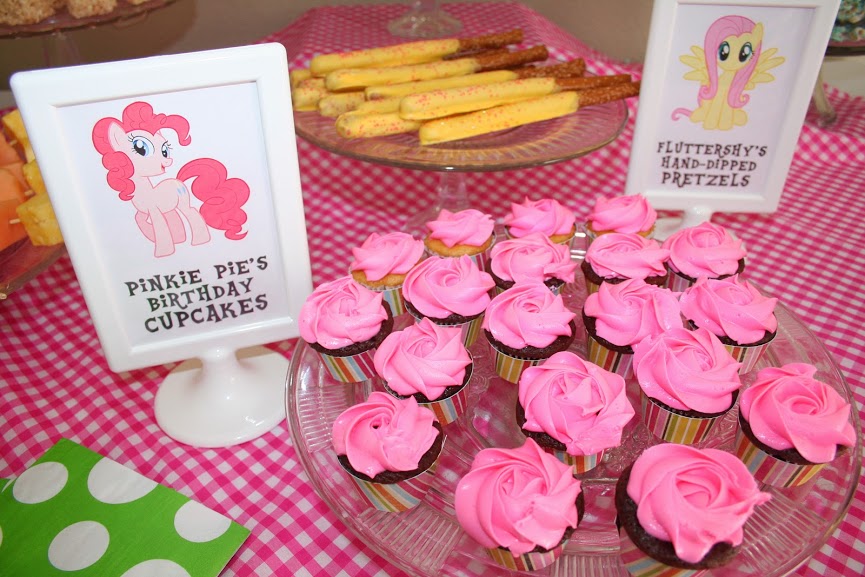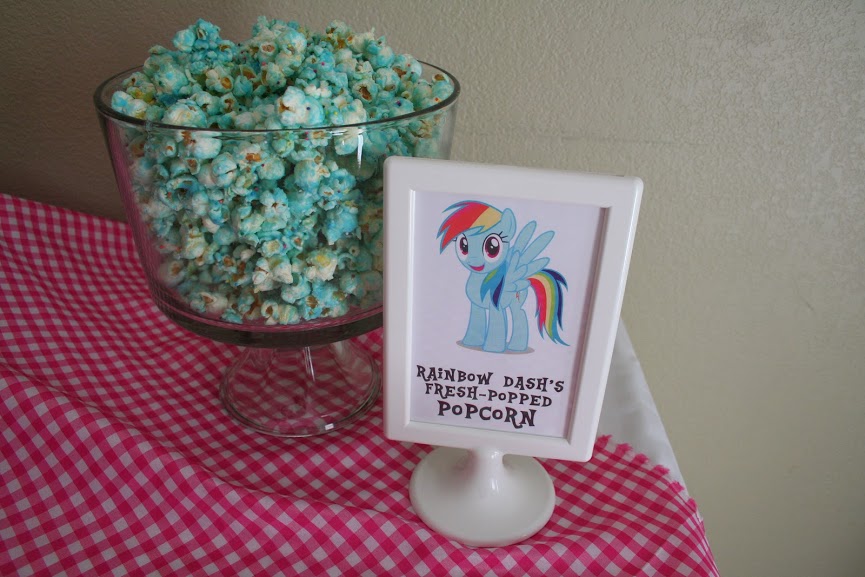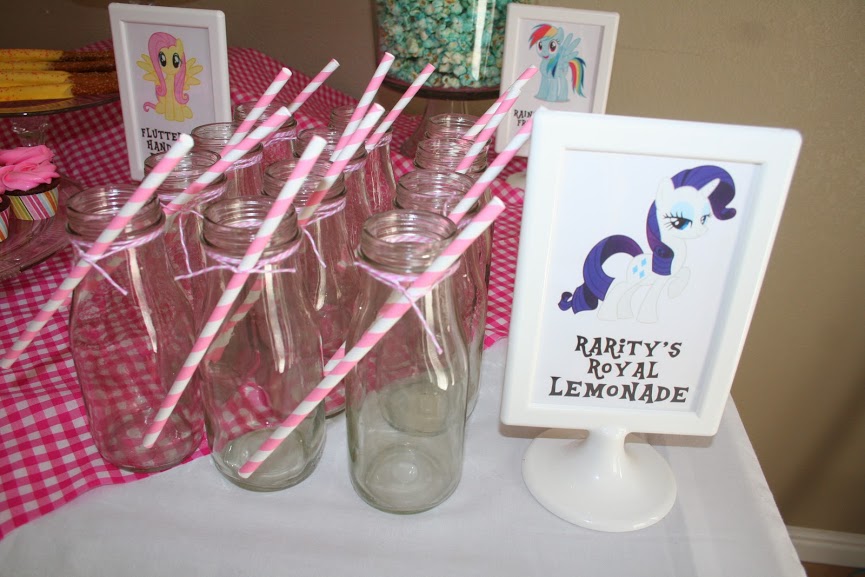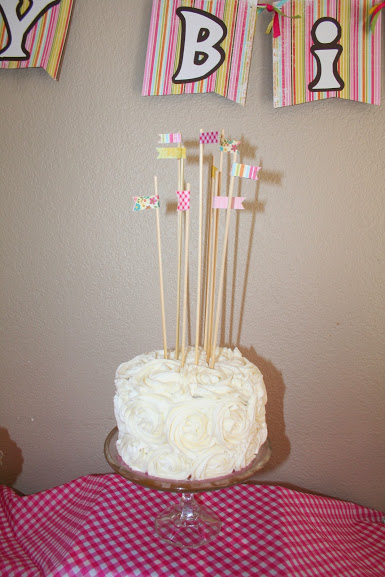 The cake was so cute and matched with the Happy Birthday banner above it.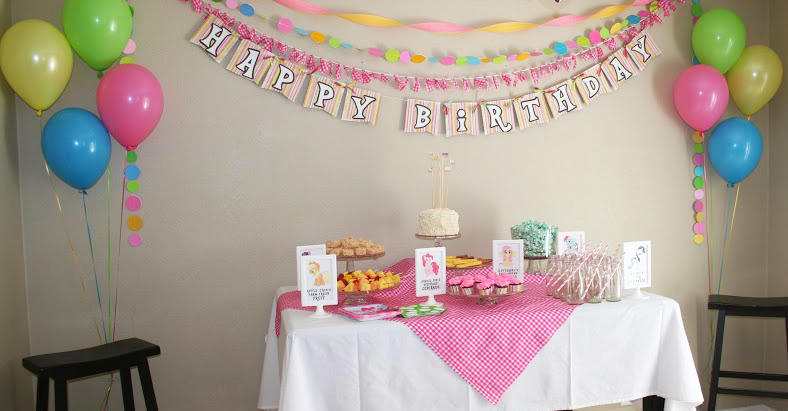 Kim said, "I made the banner letters with my Silhouette machine, and glued them onto card stock paper. I actually had the card stock cut into squares, and then at the last second I cut notches into the bottom of each square to make it more banner-y."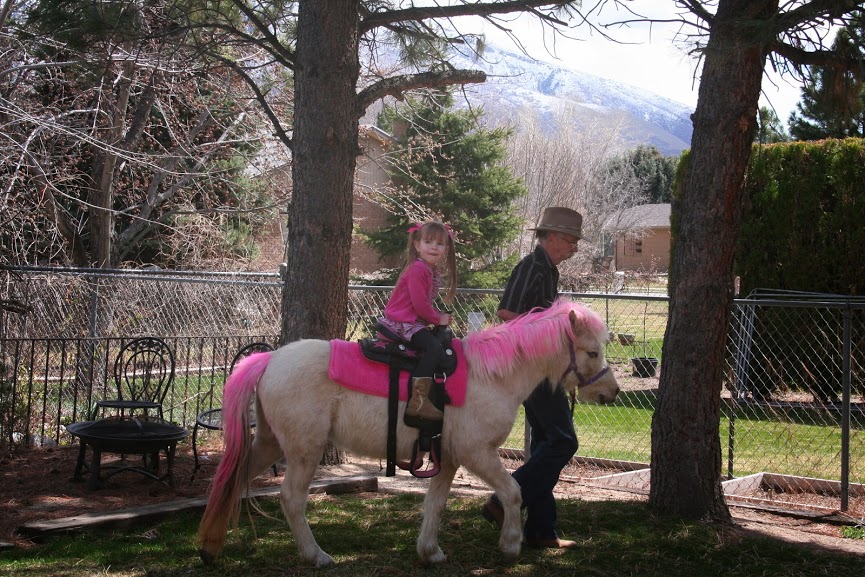 Kim rented the pony for one hour at $100.00. The rental plus the snacks and food cost less than throwing the party at Chucky Cheese's or at other similar party venues for 7 friends.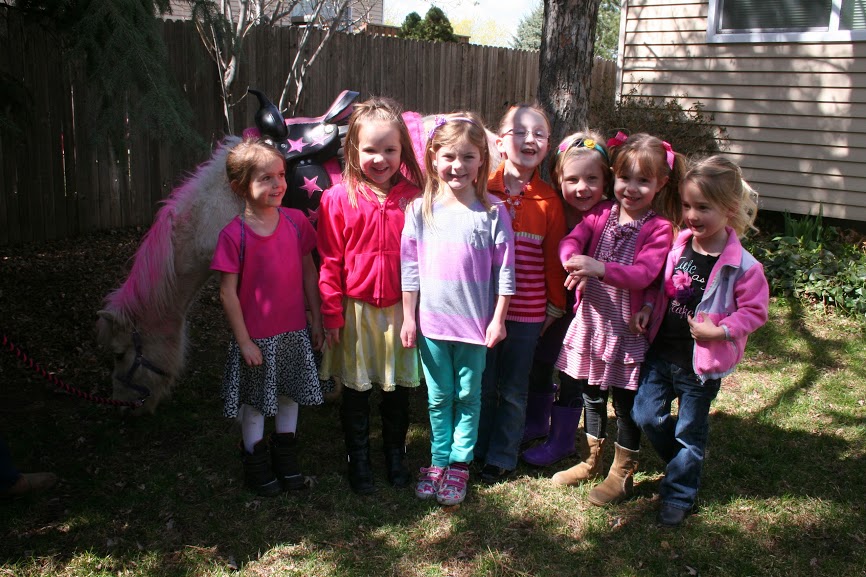 Not only was the party relatively inexpensive, the girls had an absolute blast! Months later they are all STILL talking about riding the pony.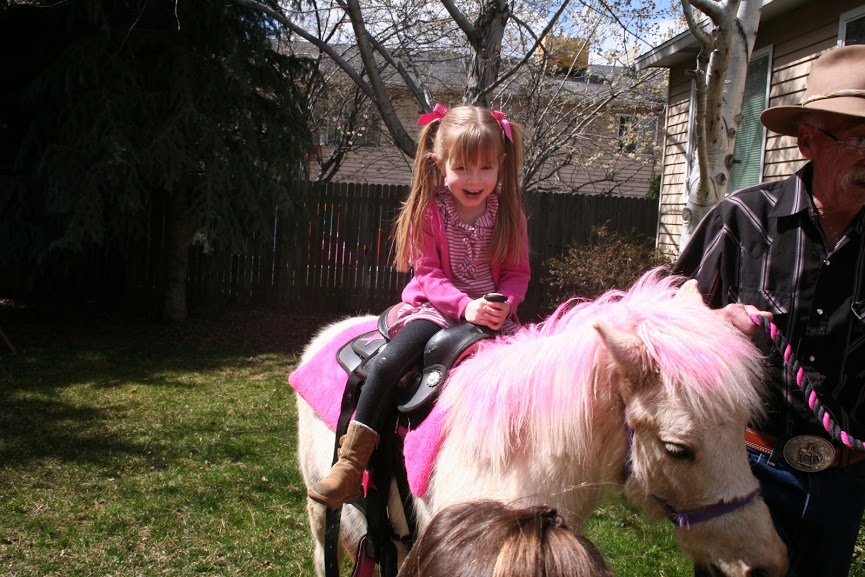 The girls also made necklaces using these beads. Kim painted each one but said she wished she had just bought colored beads to begin with (something similar to these). It took the girls just a few minutes to string the ribbon onto the beads. It went very smoothly.
Then they decorated butterfly shaped sugar cookies.
Here are the awesome little frosting decorating bottles you see the girls with.
 If they had more time, they would've done "hoof painting" (fingernail painting), but they had too much fun with the pony and ran out of time. And they were all very excited to take home a fun My Little Pony party bag.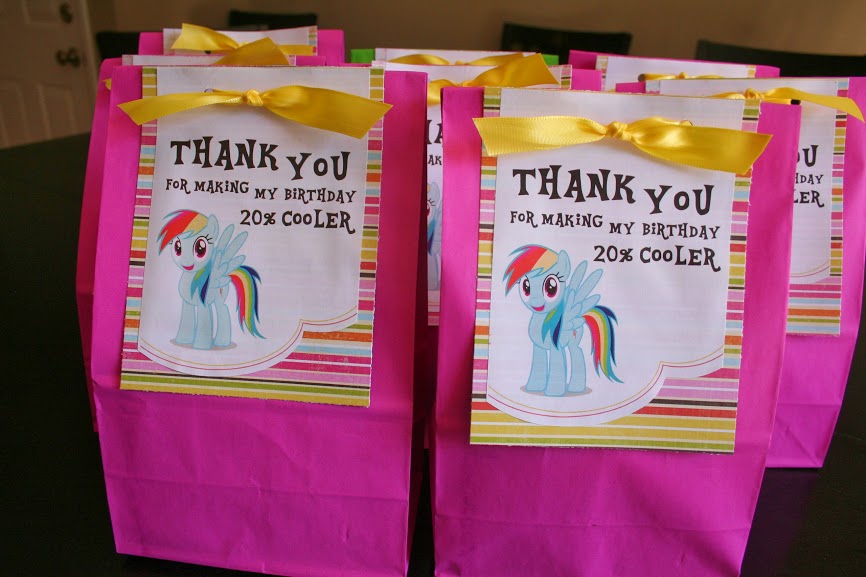 This is just the CUTEST little girl birthday party that I've ever seen! I hope someday I have a girl and can throw her a party like this.
Thanks Kim for your creativity!
I figured out how to make this zip file downloadable. PLEASE CLICK HERE TO DOWNLOAD THE PRINTABLES since they are free I just ask that you don't request for me to personalize them or change them. They were created in photoshop and I believe you can customize them in Photoshop. And the font she used for the food labels is called Equestria.

P.S. For other 'rich living' and crafty tips, please subscribe, like me on Facebook, and follow me on Pinterest.