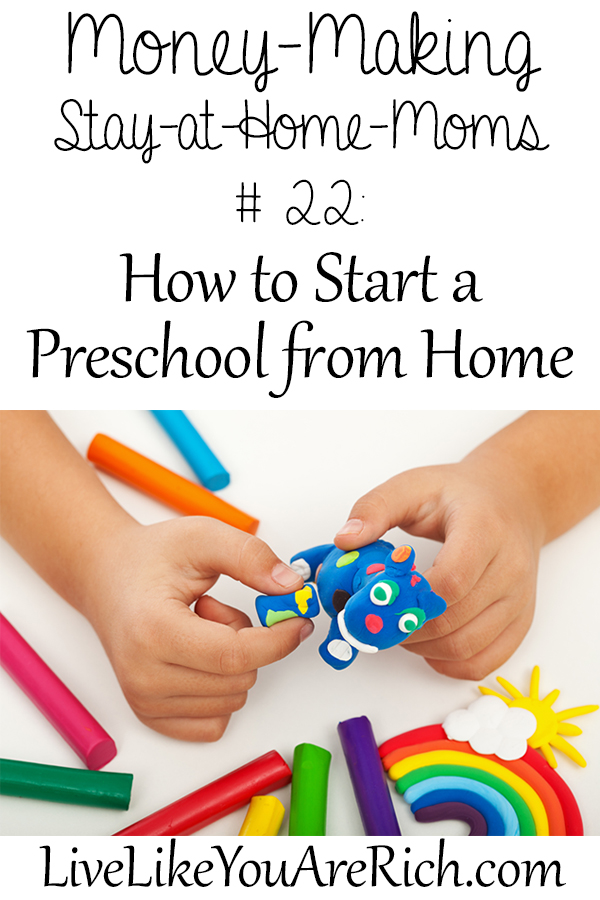 Today's Money-Making Stay at Home Mom is a great friend Annette. She shares with you how she started her own preschool while being a SAHM and how she continues to make enough money each month to pay for their entire house payment!
Q. What inspired you to begin working?

A. I love teaching. It makes me feel accomplished. My family needed extra income so I decided to start my own preschool.
Q. How did you go about starting your business or arranging a work at home position?
A. I had some good connections at the location I wanted to open my preschool at. They needed extra income so it worked out that I could pay them rent for the time I used their facility during the mornings. I got a business license, made my logo and flyers to hand out, started advertising in the phone book, and started a web site so people could find me online. I also purchased all the supplies I needed. You could find a lot of what you need at garage sales. There are always teachers having yard sales getting rid of their old stuff so they can buy new stuff. I spray painted the tables red and blue and yellow so they were more kid friendly. And found everything else I needed at cheap places like supply stores, Ikea, Costco, etc.
Q. What are some tips you would like to share with others who are interested in doing something similar?

A. Pass out flyers on doors, in stores, and to everyone you meet with kids. Make sure you get a city business license and register through the state. Get your fire inspection and make sure everything you do is legit.
Q. How many hours do you work a week or how much of your time does this position require? Is it flexible? Is it consistent?

A. 15 hours a week working as a teacher. They are set hours. I love the fact that I don't have to work when my kids are out of school. It does require a few hours a week prep time, making copies, and building a lesson plan.
Q. When/how do you find the time to work?

A. It's set hours so when my kids were babies, I had a babysitter. Now that my kids are older, my youngest comes with me to the school.
Q. Are there certain tips/advice you'd want to share with others who want to start working like you?

A. Make sure this is something you want to do for long term. These precious little children are counting on you to be in a good mood every day. If you are not happy with what you do, it will reflect on the behavior of your class.
Q. Was training/schooling required for the position? How/when did you complete it?

A. Private preschool teachers are not required to have a college degree, but I trained with a highly qualified teacher and attended child development classes in college. I got more experience from being a teacher aid for a few years.
Q. What is the income percentage you bring in? or How much do you make from this job? or Does the income help a little, medium, or is the main source of your family's income?

A. This income makes up about 25% of our income. It's not a lot, but it pays the house payment.
Q. How would someone who wants to do something similar get started?
A. Get trained. Love what you do. Find a location. Buy supplies and furniture. Buy a curriculum. Find great teacher assistants. Check with the city to be sure you are allowed to open a preschool in the area you desire.
Thanks Annette!!
Annette Belnap is an amazing mom, preschool teacher, and blogger. You can find her blog Tips from a Typical Mom here.
For other posts in this series with live interviews on how to make money from home please click the links/titles that interest you below…
Introduction to Money-Making SAHM Series
Series 2: Starting an Online Business
Series 5: At-Home Airline Assistant
Series 6: Become an At-Home Employee
Series 9: Run an at-Home Daycare
Series 10: Write and Self-Publish an eBook Part 1 & Part 2
Series 11: Teach Music Lessons from Home
Series 12: Distribute a Product You Love
Series 14: Become a Virtual Assistant
Series 15: Buy and Resell Cheap Finds
Series 17: How to Make Money as a Transcriptionist
Series 18: How to Write and Publish a Paperback or Hardback Book
Series 19: Do Online Tech Support from Home
Series 21: Sell Your Own Sheet Music Part 1 and Part 2
Series 22: Start a Preschool from Home
Series 23: Start Your Own Boutique
Series 24: How to Make Money on YouTube
Series 25: Take Legitimate Online Surveys
Series 27: Become a Photographer
Series 28: Become a Property Manager
Series 29: Make Money Locally Teaching a Talent, Sport, or Hobby
Series 30: Substitute Teaching
Series 31: Sell Shaklee (MLM)-removed
Series 32: Review Websites for UserTesting
Series 33: Sell Mary Kay(MLM)-removed
Series 34: Become an Affiliate with Spark Naturals Essential Oils
Series 35: Quilting and Embroidery
Series 36: Make Money by Doing Laundry for Others through Laundry Care
more coming…pin or bookmark for more.

For other 'rich living' and Money-Making Stay at Home Mom case studies please subscribe, like me on Facebook, and follow me on Pinterest.