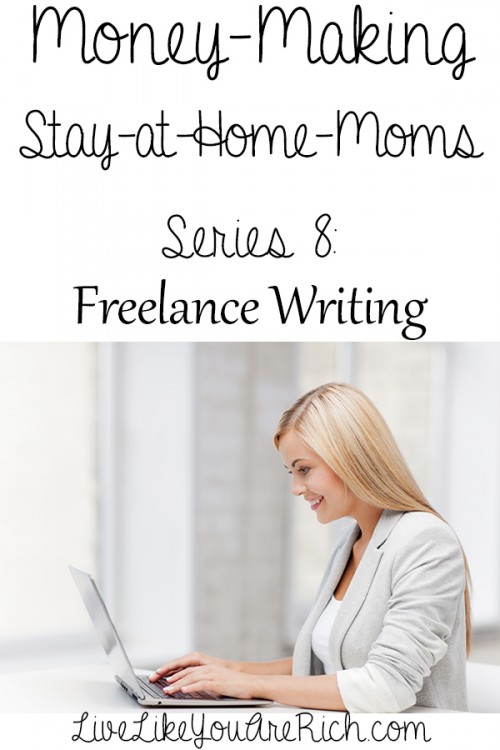 Today's Money-Making SAHM is Misty Bailey. She is amazing…as you'll come to realize when you read her interview below. She is a freelance writer, mother of three, blogger, and Homeschooler. She helps supplement her husband's income by working a few hours a day doing what she loves: freelance writing. She shares how you can too!
Welcome Misty…
Q. What inspired you to begin working?
A. For me it was out of necessity. I had ran an in-home daycare for seven years. Because we were homeschooling, and I had three kids I decided to close my daycare. We still needed a little bit of extra money coming in, so I began freelancing.
Q. How did you go about starting your business or arranging a work at home position? 
A. I had been blogging for about a year or two, so I already had samples of online work. I opened up an account on Odesk and began applying for jobs. I believe the fact that I had been blogging gave me an advantage over other newcomers because I was able to provide samples of my work. I received my first job within a week after opening an account and within a month or two, I was making steady money and meeting my income goals.
Q. What are some tips you would like to share with others who are interested in doing something similar to help out financially?
A. If you want to begin freelancing using a platform like Odesk or Elance, it is important to have samples of work. If you do not blog, write up a few pieces on topics you enjoy. Save them in PDF format and use them as samples. This will show that you are serious about writing, and it will show potential clients what you are capable of.
Q. How many hours do you work a week or how much of your time does this position require? Is it flexible? Is it consistent?
A. I do not allow myself to freelance more than 10 hours a week. I could work more if I wanted too, but I have set those hours as a maximum for myself at this time. I want to be able to continue blogging, homeschooling, and interacting with my children. I can set my own hours, and overall the jobs are very flexible. I do have deadlines so I have to be able to set aside 2 hours a day to interact with my clients, and write.
Q. When/how do you find the time to work?
A. I wake up when my husband does (5 a.m.) and work after he leaves for work. I can typically get an hour  or so in before the kids get up. If I still have work to do, I complete when my youngest is napping or after the kids go to bed in the evening.  I set aside designated work hours and try to stick to them, but it is hard sometimes.
Q.  Are there certain tips/advice you'd want to share with others who wants to start working like you?
A. I began freelancing on Odesk, and have since expanded some to Elance. Odesk and Elance both rely on feedback scores (think EBay) to keep clients and freelancers accountable. As a new freelancer I assumed I would be able to charge as much as other freelancers. I found out quickly that was not possible. When you are a new freelancer you need to be competitive in pricing, and may have to take some low paying jobs in order to get feedback. Once you have completed a job or two you can raise your rates and be more selective about taking jobs
Q. Was training/schooling required for the position? How/when did you complete it?
A. No. However, as I said before having samples of your work is very important. You also need to be fairly proficient in Microsoft Word. I have also made myself familiar with Microsoft Excel and PowerPoint. Odesk has tests a freelancer can take to show how well they are in certain areas like blog writing, content writing, and creative writing. These tests will show what areas you need to work on. If you pass you can add the scores onto your profile to help potential clients see that you are proficient in your areas of expertise.
Q. What is the income percentage you bring in? or How much do you make from this job? or Does the income help a little, medium, or is the main source of your family's income? 
A. My income goal when I began was $100 a week. Since I started I have been able to raise my rates and am now making around $150 a week. The amount I make depends on what jobs I take. I have had steady long-term clients for a while now, but I will occasionally take a one-time job in addition to these jobs to bring in extra money.  My income is considered supplemental. We rely on it, but not as a main source.
Q. How would someone who wants to do something similar get started?
A. If you have a blog, great! If you do not, pick a topic and write up a few pieces of work for samples. For example, if you want to get into education articles write a piece or two on curriculum development, learning styles, or something else.
Once you have samples, set up a profile on Odesk. This is a great company for new freelancers! You can see a sample of my profile here. You will have to take an Odesk readiness test before you apply for jobs. This is a basic skills test and is not difficult.
Once your profile is set up take a few tests in areas you are interested in.  If you do not pass study the sections that you need to focus on and try again in a month. You can apply for jobs without passing tests, but they do help to show you are knowledgeable in that area.
Now, you can begin applying for jobs! You will want to apply for as many as you can at first. You should be able to land an interview within the first week and  a job within the first two weeks. Remember, you cannot be that picky when you first start out. You want to be able to get feedback scores and show that you can complete work and meet deadlines.
Thank you so much Misty we really appreciate your sharing your information with us.
Misty Bailey is a wife to Roger and a homeschool mom to three beautiful blessings. She resides with her family in Southern Ohio. She loves helping new homeschoolers and shares her struggles with time management, becoming unglued and finding joy in the everyday moments on her blog Joy in the Journey.
Other Posts in the Money-Making Stay at Home Mom Series:
Introduction to Money-Making SAHM Series
Series 2: Starting an Online Business
Series 5: At-Home Airline Assistant
Series 6: Become an At-Home Employee
Series 9: Run an at-Home Daycare
Series 10: Write and Self-Publish an eBook Part 1 & Part 2
Series 11: Teach Music Lessons from Home
Series 12: Distribute a Product You Love
Series 14: Become a Virtual Assistant
Series 15: Buy and Resell Cheap Finds
Series 17: How to Make Money as a Transcriptionist
Series 18: How to Write and Publish a Paperback or Hardback Book
Series 19: Do Online Tech Support from Home
Series 21: Sell Your Own Sheet Music Part 1 and Part 2
Series 22: Start a Preschool from Home
Series 23: Start Your Own Boutique
Series 24: How to Make Money on YouTube
Series 25: Take Legitimate Online Surveys
Series 27: Become a Photographer
Series 28: Become a Property Manager
Series 29: Make Money Locally Teaching a Talent, Sport, or Hobby
Series 30: Substitute Teaching
Series 31: Sell Shaklee (MLM)-removed
Series 32: Review Websites for UserTesting
Series 33: Sell Mary Kay(MLM)-removed
Series 34: Become an Affiliate with Spark Naturals Essential Oils
Series 35: Quilting and Embroidery
Series 36: Make Money by Doing Laundry for Others through Laundry Care
more coming…pin or bookmark for more.

For other 'rich living' and Money-Making Stay at Home Mom case studies please subscribe, like me on Facebook, and follow me on Pinterest.