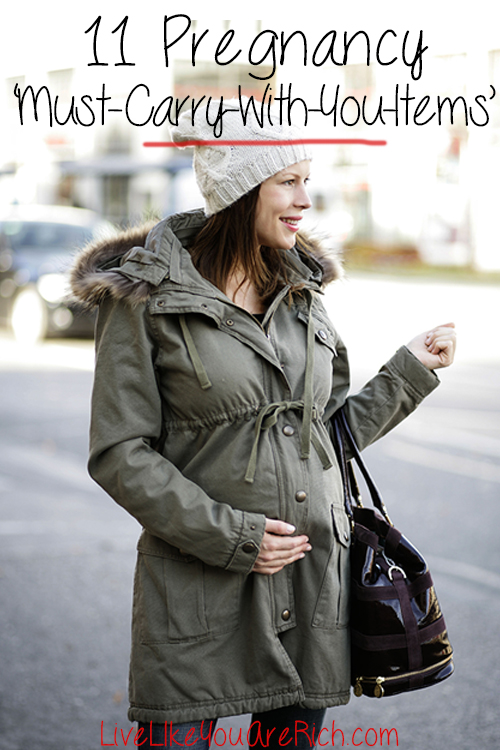 It's nice to have a check list of helpful things to carry with in your purse while pregnant. I really like preparing for the unexpected, being comfortable during pregnancy, and saving money.
All of the items mentioned below are extremely helpful, increase comfort while pregnant, and 90% of them cost less than $1.00 per item. A few of them are a little more but are well worth it. I've linked to the best deals on Amazon and included a coupon or two that I've found for the product!
Now for the 11 items you'll want in your purse/bag while pregnant…
1- Preggie Pop Drops– These are made of real ginger and are very strong. They help combat nausea and bad smells that may be in the air. I always carry at least 4 or 5 of these with me with me in case I need to calm my nausea down. Or smell something different than what is in the air.
2- A Water Bottle- It's very important to remain hydrated while you are pregnant, especially in the summer. I always keep water with me as should all pregnant women.
3- Poise Microliners–  I once overheard a mom of three complaining about how in her aerobics class they did too much jumping, and up and down jogging movements. She was telling her friend (rather loudly) that after having three kids it was really difficult to do any workouts without a little light bladder leakage (LBL). I overheard this conversation before I had my son and I really didn't understand it.
Now I do. Things are never really the same after having a vaginal child birth. Light bladder leakage is super common in pregnant women and mothers. These liners or the slightly thicker ones are great for LBL that is so common during and after pregnancy. And they are very helpful for the yucky discharge common during pregnancy as well. And look they are thinner than a standard check or dollar bill!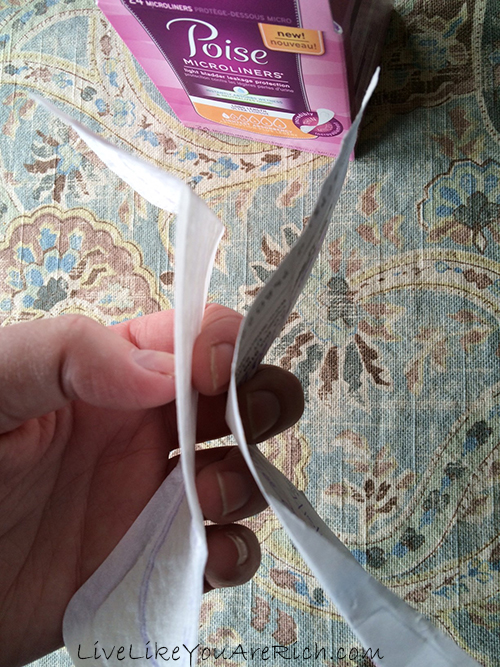 Just FYI, If you go to buy them look in the panty liner section, not the pad section.
4- Snacks- Granola bar, cheese string, etc.- If I go more than 3 hours without eating I start to feel very nauseous. Sometimes hunger pains strike at random times as well. Having a snack on me at all times, especially that has a little bit of protein in it helps to curb my nausea and tide me over until I can eat a meal.
5- Tums 1000– Acid reflux can hit at the weirdest times. Eating the peppermint and berry flavors helps relieve my reflux quickly.
6- Simethicone aka Gas X– This can be consumed as a pill or tablet like Tums. I linked to the peppermint tablets because I've found them most effective. I suck on them or swallow them after taking Tums. Tums create lots of air inside so Simethicone helps get rid of the air before life gets too uncomfortable. A reader pointed out that there are Gas X strips now. I've actually heard really really great things about these. You simply put one on your tongue and it dissolves.
7- Kleenex pocket packs– When you are pregnant often you create a lot more snot and mucus than normal. Having a small pack of Kleenex can be extremely helpful.
8- Altoids (peppermint)– A trick about peppermint Altoids is that when swallowed they help settle the stomach. Why? they are make of condensed peppermint oil (similar to essential oil). Peppermint oil is known to settle the stomach, to combat aches and pains, headaches, acid reflux etc. I often swallow 4 or 5 when I am experiencing any one of these. I also suck on Altoids to combat nausea, bad breath, or offer them to others who may have bad breath and be talking quite close to me as well.
9- Pregnancy throw up bags– If you are prone to throw up at random times when pregnant these are a life saver! They catch it all, are heavy duty, have tons of 5 star reviews on Amazon from other pregnant women, and make clean up super easy! If you throw up a lot, don't leave home without these.
10- Sanitizing Hand Wipes or Hand Sanitizer Gel– When you are pregnant your immune system works overtime thus, it is much easier to get sick. Sanitizing shopping cart handles, your hands often, doors, and other items that are heavily touched will help you to avoid the germs that can more easily get you sick. Trust me when I say being sick and pregnant is pretty miserable!
11- Sea Bands– These bands work for some and not for others. I have found them to be extremely helpful. I carry them with me and when I begin getting sick I put them on my wrists. They also help with motion sickness so I use them on long drives/road trips as well.
Carry these items with you and you will be grateful, I guarantee it!
Check out this very popular post:  17 Must-Have Items That Will Make Your Pregnancy Much More Comfortable.

For other 'rich living' and pregnancy tips, please subscribe, like me on Facebook, and follow me on Pinterest.