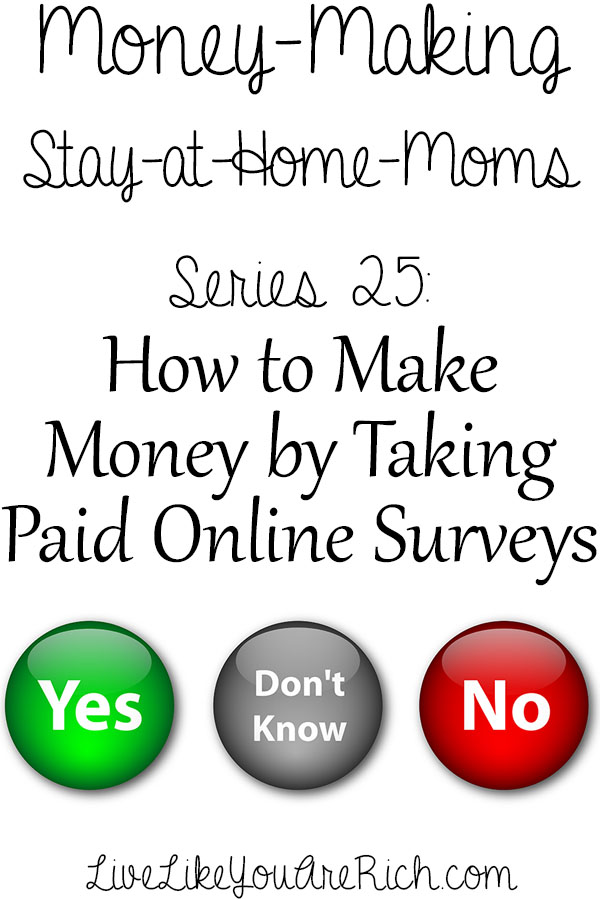 Today's Money-Making SAHM Katie makes an extra $250-$500 a month by taking paid surveys online. Katie said she can make even more if she wants to put more time into it. The possibilities really are very flexible with this way of making additional income. Below she shares how to get started, which companies can be trusted, and how to gauge if they will pay well. 
Welcome Katie!!
Q. What inspired you to begin working?

A.Well, I started taking surveys when I was in high school, though I rarely qualified until I was 18. When I was in college I did them occasionally, but while I was pregnant with my son, I really got more into online survey taking. I wanted to be able to save up some extra money for my new baby. A lot of the companies paid in Amazon Gift Cards, which was great, since we were stocking up on diapers!
Q. How did you go about starting your business or arranging a work at home position?
A. I just started researching the best survey companies. There are a lot of not so great ones out there, so it took awhile to weed through those. All I had to do was set up an account, fill out some initial "get to know you" surveys, and I was good to go! I know Anita (owner of this site) uses SwagBucks to make a little extra cash. You can sign up for SwagBucks here as well.
Q. What are some tips you would like to share with others who are interested in doing something similar to help out financially?

A. Search out the best companies. Don't sign up for all the survey companies out there — try to focus on just 3-4. Click here for a little guide I put together on the best survey companies, or read the guides below.
Q. How many hours do you work a week or how much of your time does this position require? Is it flexible? Is it consistent?

A. I haven't done it as much recently as I used to, but I would probably spend about 5 hours a week doing surveys. I could have easily done more, but that was all I really have had time for!
Q. When/how do you find the time to work?

A. Mainly just while I was watching TV or had nothing else to do!
Q. Are there certain tips/advice you'd want to share with others who wants to start working like you?

A. Set up a separate email account, or else your personal email account will soon become overloaded! If you really want to make a good amount of extra money, be sure to set aside maybe an hour or so a day to check out current survey offers and to do them. Surveys disappear quickly (sometimes there is a cap on how many people can take it.)
Don't do every survey.
Know what threshold is for withdrawing rewards or money.
Be honest when you are filling out the surveys. You won't qualify for everything, but companies are looking for honest results in their surveys. Lying to qualify is just deceitful.
Check out this guide on which surveys companies can be trusted, more info about them, etc.
Q. Was training/schooling required for the position? How/when did you complete it?
A. Not really. I mean, sometimes I was picked for certain surveys because I was a mom, or a college student, or a woman, but I didn't have to train to be anything special 🙂
Q. What is the income percentage you bring in? or How much do you make from this job?

A. I would make between $250 and $500 extra month, though some of that was in gift cards (good as money to me, though!)

Q. How would someone who wants to do something similar get started?
A. Research the companies you want to join (as I already mentioned, my post on the best survey sites is a good place to start.). Set up an account and get going. I'd recommend signing up for all of the following companies. This way if a company only sends you a few surveys a month each, you'll have plenty of opportunity to make money by leveraging them all.
Thanks Katie!!!
Katie of ClarksCondensed.com is a fantastic mom of one, wife, tech supporter, and blogger. She has been helping people with their websites for some time and is great at what she does.
For other posts in this series with live interviews on how to make money from home please click the links/titles that interest you below…
Introduction to Money-Making SAHM Series
Series 2: Starting an Online Business
Series 5: At-Home Airline Assistant
Series 6: Become an At-Home Employee
Series 9: Run an at-Home Daycare
Series 10: Write and Self-Publish an eBook Part 1 & Part 2
Series 11: Teach Music Lessons from Home
Series 12: Distribute a Product You Love
Series 14: Become a Virtual Assistant
Series 15: Buy and Resell Cheap Finds
Series 17: How to Make Money as a Transcriptionist
Series 18: How to Write and Publish a Paperback or Hardback Book
Series 19: Do Online Tech Support from Home
Series 21: Sell Your Own Sheet Music Part 1 and Part 2
Series 22: Start a Preschool from Home
Series 23: Start Your Own Boutique
Series 24: How to Make Money on YouTube
Series 25: Take Legitimate Online Surveys
Series 27: Become a Photographer
Series 28: Become a Property Manager
Series 29: Make Money Locally Teaching a Talent, Sport, or Hobby
Series 30: Substitute Teaching
Series 31: Sell Shaklee (MLM)-removed
Series 32: Review Websites for UserTesting
Series 33: Sell Mary Kay(MLM)-removed
Series 34: Become an Affiliate with Spark Naturals Essential Oils
Series 35: Quilting and Embroidery
Series 36: Make Money by Doing Laundry for Others through Laundry Care
more coming…pin or bookmark for more.

For other 'rich living' and Money-Making Stay at Home Mom case studies please subscribe, like me on Facebook, and follow me on Pinterest.
For other 'rich living' and money-making tips please subscribe, like me on Facebook, and follow me on Pinterest.