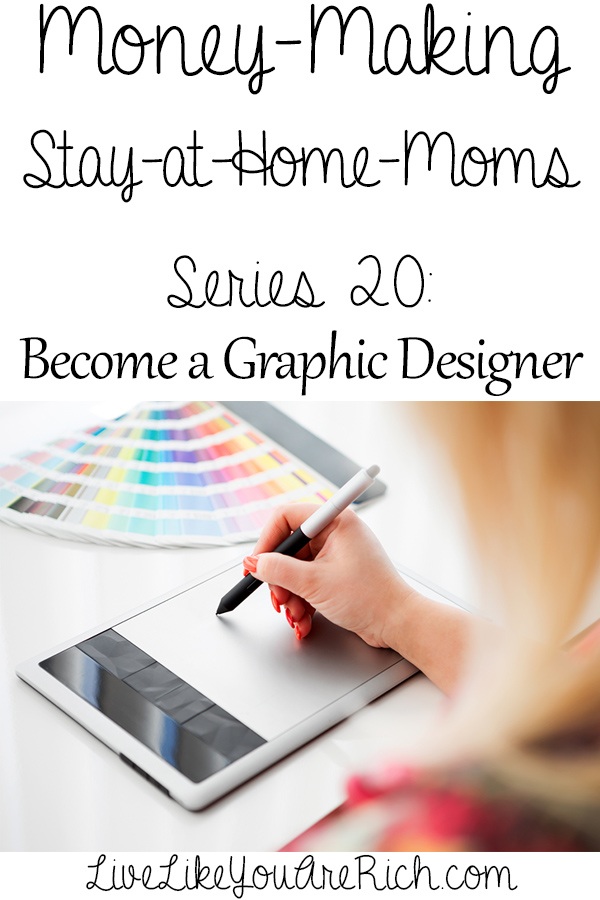 Today's Money-Making SAHM is my friend Chantel Grigg. She is a SAHM and a wonderful graphic designer. She shares tips and tricks to start working from home as a graphic designer in the interview below. Thank you and welcome Chantel!
Q. What inspired you to begin working?
A. I have always known that I wanted to work while raising kids. When I started college, I chose areas that not only appealed to my creative interests, but would also allow me to work from home some day. Having a career makes me feel like I have an identity all my own. Before our daughter was born I had an agreement with our local school district that allowed me to work for them as a freelance graphic designer.
Q. How did you go about starting your business or arranging a work at home position?
A. The position I have now came in a very roundabout way. I had been helping out as a volunteer for the local high school's drama department for several years. One of the student's mothers worked at the school district office and mentioned to the drama director that they were looking to hire an "intern" to revamp the district's logo. The drama director mentioned my name and that I did projects for them here and there. I applied and began working almost immediately. I have continued mostly working for this school district but have also picked up other freelance clients every now and then.
Q. What are some tips you would like to share with others who are interested in doing something similar?
A. Find ways to do what you love! I started helping out with plays because I did musicals back in high school and also wanted to find a creative outlet. I would also design invitations for friend's baby showers or kid's birthday parties. Some of those pieces helped me build a portfolio and resume.
Q. How many hours do you work a week or how much of your time does this position require? Is it flexible? Is it consistent?
A. I usually work about 20 hours a week. I have been very blessed because my work has been extremely flexible and lets me set my own hours as long as the work gets done. Whenever work slows down I work on my portfolio and website, or pick up other clients.
Q. When/how do you find the time to work?
A. I used to stay home full time and work during nap times while my daughter was a baby. Now that she is a toddler, she demands my full attention. She goes to an amazing daycare three days a week, which allows me to stay on top of my work. This is just the arrangement that works for our family now. I have also found time to work in the early morning hours when I am the only one awake.
Q. Are there certain tips/advice you'd want to share with others who want to start working like you?

A. Take advantaged of opportunities to get involved. I started off volunteering to help out with an audition panel and made many connections. I also stay very involved at church. You never know what connections you can make. Staying involved in the community also helped me keep my resume from having huge gaps.
Q. Was training/schooling required for the position? How/when did you complete it?

A. I still have not completed a degree; however, I have gone to school for years on and off. I chose to go to a technical college after attending a couple universities because they taught classes directly related to working instead of all the extra "fluff classes." The best classes I took taught me each of the software programs in the Adobe suite and also helped me build a portfolio. I would definitely recommend checking out your local community or technical colleges and see if they offer certificate programs or taking individual classes based on what you want to learn. You probably won't qualify for financial assistance going this route, but if you only have time for one or two classes at a time you'd probably be ok.
Education doesn't always equal a degree. I have learned so much outside of the classroom and have found out that my clients would rather see an awesome portfolio than a framed degree.
Q. What is the income percentage you bring in? or How much do you make from this job? or Does the income help a little, medium, or is the main source of your family's income?
A. My income averages anywhere between 20%-30% of our income. When I first started it was much less, but that was ok! I gained experience and confidence in addition to the small paychecks I was earning. My income now helps a little, but it also helps my family and myself in other ways. I know I am a more patient and loving wife and mother because I have something of my own.
Q. How would someone who wants to do something similar get started?

A. Take some classes and do whatever projects you can get your hands on, even if they are not for pay. I used to design our family's Christmas cards and invitations for community or friend's events. If I saw a poster, flyer, or brochure that I thought I could do better, I would redo it on my own. Sometimes you can even show the original owner/creator of the piece so they can see what you have to offer. I played with creating graphics for a blog and then a website. My biggest advice is to never underestimate the power of a casual conversation. ALL of my clients have either been someone I know or knew someone else. I know of other people who have found clients through Craigslist or other websites like 99Designs and Big Shoes Network.
Thank you Chantel!
Chantel Grigg is a freelance graphic designer who lives near Milwaukee, Wisconsin.  She, and her husband of 4 years, have a sweet and spunky 16 month-old daughter.  Chantel and her husband both work in creative fields, are very involved at their church and are big fans of the Green Bay Packers. Check out her work at: www.chantelgrigg.com
For other posts in this series please check out the interviews from real SAHM's below:
Introduction to Money-Making SAHM Series
Series 2: Starting an Online Business
Series 5: At-Home Airline Assistant
Series 6: Become an At-Home Employee
Series 9: Run an at-Home Daycare
Series 10: Write and Self-Publish an eBook Part 1 & Part 2
Series 11: Teach Music Lessons from Home
Series 12: Distribute a Product You Love
Series 14: Become a Virtual Assistant
Series 15: Buy and Resell Cheap Finds
Series 17: How to Make Money as a Transcriptionist
Series 18: How to Write and Publish a Paperback or Hardback Book
Series 19: Do Online Tech Support from Home
Series 21: Sell Your Own Sheet Music Part 1 and Part 2
Series 22: Start a Preschool from Home
Series 23: Start Your Own Boutique
Series 24: How to Make Money on YouTube
Series 25: Take Legitimate Online Surveys
Series 27: Become a Photographer
Series 28: Become a Property Manager
Series 29: Make Money Locally Teaching a Talent, Sport, or Hobby
Series 30: Substitute Teaching
Series 31: Sell Shaklee (MLM)-removed
Series 32: Review Websites for UserTesting
Series 33: Sell Mary Kay(MLM)-removed
Series 34: Become an Affiliate with Spark Naturals Essential Oils
Series 35: Quilting and Embroidery
Series 36: Make Money by Doing Laundry for Others through Laundry Care
more coming…pin or bookmark for more.

For other 'rich living' and Money-Making Stay at Home Mom case studies please subscribe, like me on Facebook, and follow me on Pinterest.