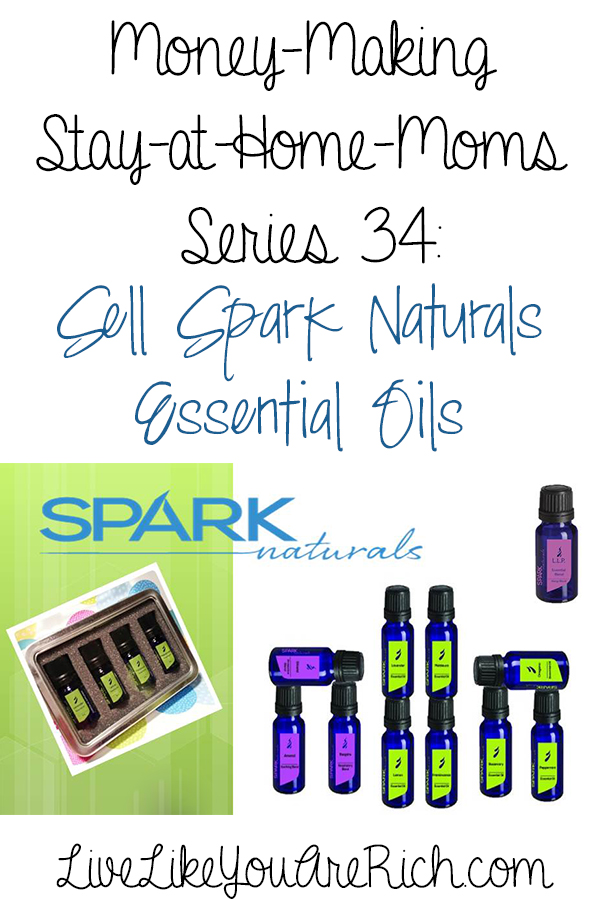 Today's Money-Making SAHM is a good friend of our family, Rebekah George. Rebekah is very well versed in holistic and natural remedies. She decided to become an affiliate for Spark Naturals because their quality of oils is very high, yet the prices are more reasonable than other competitors. She shares more information in the interview below…

Welcome Bekah,
Q. What inspired you to begin working?
A. I love essential oils and sharing their benefits with others. I don't have a lot of time to spend "working," so Spark Naturals gave me a perfect opportunity to make a little bit of money while sharing their oils with others—something I was already doing.
Q. How did you go about starting your business or arranging a work at home position?
A. I used to do doTERRA oils but was not crazy about having to spend a monthly minimum of $50 to keep past points, and $100 minimum to get commissions. I learned about Spark Naturals, which does not require a minimum purchase to receive commissions; I pay a small annual fee of $25.00 to be an affiliate.
Q. What are some tips you would like to share with others who are interested in doing something similar?
A. Use the oils and learn what works for you. Sign up to be an affiliate with Spark Naturals. Share your oils and experiences with others.
Q. How many hours do you work a week or how much of your time does this position require? Is it flexible? Is it consistent?
A. I really don't feel like it's work, because most of my sharing happens in daily conversations with friends and neighbors. I spent some time initially to make some business cards, and once a month or so, I do a Facebook post sharing info about the oils that are currently on sale.
Q. When/how do you find the time to work?
A. Sharing the oils is just part of what I do. I don't have to find very much extra time at all.
Q. Are there certain tips/advice you'd want to share with others who want to start working like you?
A. Learn what you can about oils. The more experience you have using them, the better you'll be at recommending them to others. Telling personal experiences is the best way to sell.
Q. Was training/schooling required for the position? How/when did you complete it?
A. None. I've been using essential oils for a few years now and have had enough experiences to know a wide variety of uses. As I use them more, I learn more. My life has been my school.
A. What is the income percentage you bring in? or How much do you make from this job? or Does the income help a little, medium, or is the main source of your family's income?
A. For the past year, I really have done nothing extra, and I've made enough to pay for all of our oils.  If I put in even a little more time and effort, I'm sure I could make more money fairly easily. I know of others who make thousands a month. It just depends on how much time you have and how much effort you put into selling the oils.
Q. How would someone who wants to do something similar get started?
A. Order some oils from Spark Naturals using coupon code "greenerliving" for 10% off. (The Oil of the Month Club is a great way to get started.) Once you've made one purchase, you can sign up to be an affiliate for just $25. When it asks, "Who referred you?" just put "greenerliving" or Rebekah George. You get to choose your own coupon code to start sharing with others. You will get paid a commission for each order that references your code. (Each oil is assigned a different commission percentage, but commissions seem to average right around 10%.)
Please also answer the following 5 questions about Spark Naturals—which is an affiliate program not a multi-level marketing company.

 What are the sign-up costs?
 Do you have to buy products every month or few months in order to be compensated for selling them to others?
How much of an investment in the product will you need to make in order to be a successful salesperson and can you afford it?

You only have to place 1 order before applying to be an affiliate. You are not required to buy anything after that. Anytime someone uses your code, you get paid, whether you're buying or not.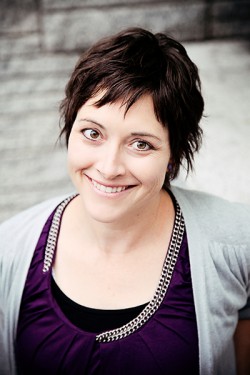 Rebekah George is a SAHM of 4 girls, ages 6 months to 8 years. She is passionate about health and nutrition and has loved using essential oils to keep her girls healthy and save money avoiding doctors' visits and prescription or over-the-counter meds. Rebekah also loves to read and play in the great outdoors. If you have any questions about using essential oils, email [email protected].
Thanks Rebekah!
35+ friends and acquaintances have agreed to share their insights with you. They all do different things from home as well (which I think is mighty impressive). Their interviews can be read by clicking on the links below:
Introduction to Money-Making SAHM Series
Series 2: Starting an Online Business
Series 5: At-Home Airline Assistant
Series 6: Become an At-Home Employee
Series 9: Run an at-Home Daycare
Series 10: Write and Self-Publish an eBook Part 1 & Part 2
Series 11: Teach Music Lessons from Home
Series 12: Distribute a Product You Love
Series 14: Become a Virtual Assistant
Series 15: Buying and Reselling Cheap Finds
Series 17: How to Make Money as a Transcriptionist
Series 18: How to Write and Publish a Paperback or Hardback Book
Series 19: Do Online Tech Support from Home
Series 21: Sell Your Own Sheet Music Part 1 and Part 2
Series 22: Start a Preschool from Home
Series 23: Start Your Own Boutique
Series 24: How to Make Money on YouTube
Series 25: Take Legitimate Online Surveys
Series 27: Become a Photographer
Series 28: Become a Property Manager
Series 29: Make Money Locally Teaching a Talent, Sport, or Hobby
Series 30: Substitute Teaching
Series 31: Sell Shaklee (MLM)-removed
Series 32: Review Websites for UserTesting
Series 33: Sell Mary Kay(MLM)-removed
Series 34: Become an Affiliate with Spark Naturals Essential Oils
Series 35: Quilting and Embroidery
Series 36: Make Money by Doing Laundry for Others through Laundry Care
more coming…pin or bookmark for more.

For other 'rich living' and Money-Making Stay at Home Mom case studies please subscribe, like me on Facebook, and follow me on Pinterest.
Recently, my sister and I published a book Living a Rich Life as a Stay-at-Home Mom: How to Build a Secure Financial Foundation for You and Your Children
It has received amazing reviews and is helping mothers and all readers get out of debt, improve their credit score, save, invest, and become more financially secure.
It has already helped moms teach their children how to develop a good work ethic, earn and manage money, and build their own credit score (even as a young adult). Ultimately, this book has assisted mothers in getting their children on the way to obtaining financial independence.
Karen (co-author) and I understand how tough stretching income can get. In the book we reveal what we have been taught by our self-made multimillionaire parents and grandparents about creating wealth on any income. The principles written about, if followed, will lead to financial security.
If you have an Amazon account and a Kindle or the Kindle app, 
click here
to own the Book. (Have an Amazon account but no Kindle? You can get the Kindle app for free
here
). Paperback coming soon.
No Kindle/Amazon Account? No worries. You can still get the eBook delivered to your phone, tablet, or computer, by
clicking here
.

For other 'rich living' and money making tips, please subscribe, like me on Facebook, and follow me on Pinterest.