Introduction to Money-Making Stay at Home Moms Series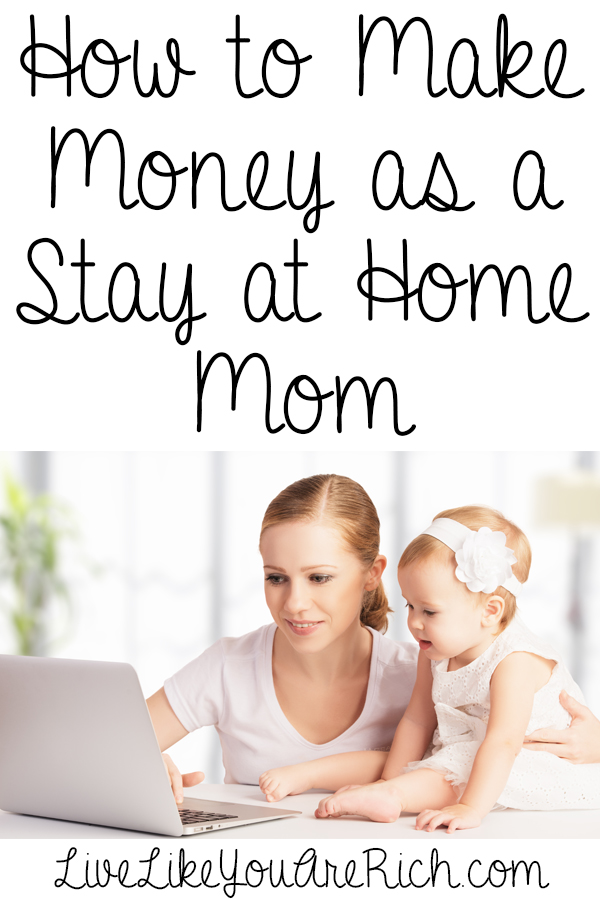 Recently, I held a rather large giveaway with thousands worth in prizes. I asked all entrants (many were readers of my blog) the required question: What is your biggest financial frustration? I was surprised to hear from so many Stay-at-Home-Mom's who wanted to earn money and work from home. They mentioned that their priority is of course their families but that they want (or in many cases desperately need) to help out financially as well.
Multiple readers expressed interest in making a little (or a lot) of money while the kids are at school, while they nap, or when there is downtime around the house.
Others spoke of unfortunate circumstances (like medical emergencies and family hardships). Other's spouses are unable to provide enough for the rising costs of living.
Some moms are single and want to be home with their children.
After reading the thousands of comments and many stories (even crying through some really sad ones), I've been thinking a lot about these women.
As I was contemplating how best to empower SAHMs with necessary information on how to make money from home, the thought came to me that MANY friends of mine who are all WONDERFUL SAHMs work from home or while being a SAHM for the majority of the time.
These are real women and excellent mothers who have all needed or wanted to contribute or provide for their families.
They will be sharing their tips, tricks, how they got started, and advice for those who are interested in working in a similar position.
30+ friends and acquaintances have agreed to share their insights with you. They all do different things from home as well (which I think is mighty impressive). Their interviews can be read by clicking on the links below:
more coming…pin or bookmark for more.
Please know that I truly understand how hard being a SAHM is. I also understand that it is a FULL-time job! It's so much more intense, time-consuming, and emotionally draining… yet REWARDING than I could have imagined.
By publishing this series I'm not saying that all moms need or should work. I understand that we all have different situations as well.
I know that for a mom of four young kids, it's more difficult for me to find the time to work than a mom of a newborn or all teenagers.
I don't wish for any SAHM to feel guilty for NOT working.
Studies show a SAHM contributes a LOT of monetary value just by being home. I am, however, creating this series for the thousands of moms out there that expressed a desire and even an intense need to learn how to work from home.
For more interviews please subscribe for updates and check back weekly because I will be featuring other Money-Making SAHM interviews on my blog as I arrange them. Also, if you are a SAHM who works from home and want to share how you make money, please comment below. I do moderately compensate those who contribute. Thanks!
I recently published a book: Living a Rich Life as a Stay-at-Home Mom: How to Build a Secure Financial Foundation for You and Your Children
It has received amazing reviews and is helping mothers and all readers get out of debt, improve their credit scores, save, invest, and become more financially secure.
It has already helped moms teach their children how to develop a good work ethic, earn and manage money, and build their own credit scores (even as a young adults). Ultimately, this book has assisted mothers in getting their children on the way to obtaining financial independence.
Karen (co-author) and I understand how tough stretching income can get. In the book, we reveal what we have been taught by our self-made-rich parents and grandparents about creating wealth on any income. The principles were written about, if followed, will lead to financial security.
If you have an Amazon account and a Kindle or the Kindle app,
click here
to own the Book. (Have an Amazon account but no Kindle? You can get the Kindle app for free
here
).

For other 'rich living' and money-making tips, please subscribe, like me on Facebook, and follow me on Pinterest, and Instagram.