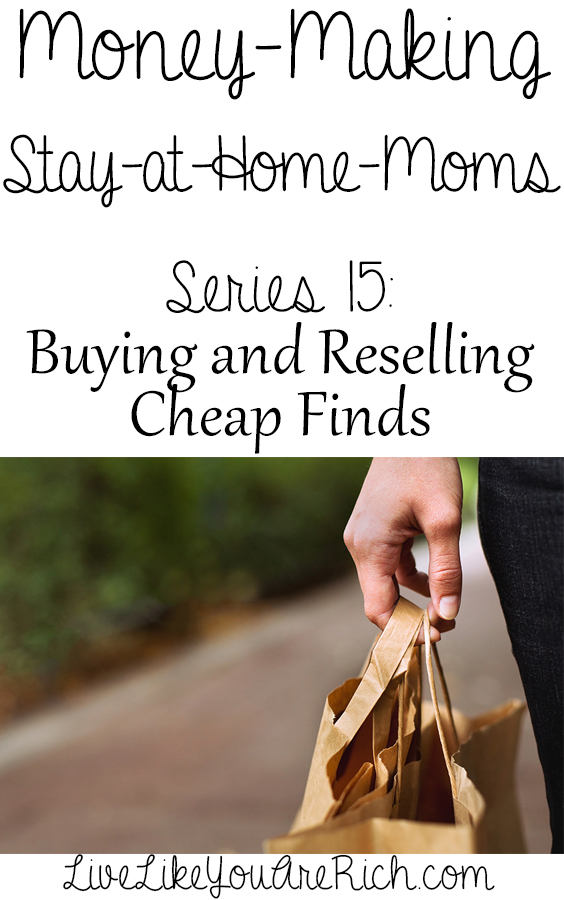 Today's stay-at-home mom is very savvy and thrifty friend of mine. She is excellent at buying inexpensive items and selling them for more. Thus, making a profit/money from home while being a SAHM.
She wishes to remain anonymous and shares how you can begin doing what she does. A big thank you to my friend who is able to make additional income through shopping.
Q. What inspired you to begin working?
A. I found that I was actually good at buying things at really inexpensive prices and reselling the same items for a profit. It was something I had started to do just as a hobby. After I realized that I could make a semi-consistent income from it, I began taking it more seriously.
Q. How did you go about starting your business or arranging a work at home position? 
A. I started setting time aside time each week to search for great deals online, at thrift stores, estate sales, garage sales, Facebook sale pages, and classifieds. I would buy the items that people were selling for pennies on the dollar and list them again (elsewhere) for more. I have had a lot of success doing this. Some items I sell locally and others I ship out nationally.
 Q. What are some tips you would like to share with others who are interested in doing something similar to help out financially?
A. If you love to bargain shop, find great deals, etc. this can be a great way to make some extra money. Just be careful about the items you buy (more on this below).
Be safe when meeting strangers to buy and sell locally. I like to meet at a gas station in front of the store. There are video cameras and lots of people around to make it safe buying and selling items. I also prefer to talk to the person on the phone first (not just text) this way I get a feel for their personality. If I feel uncomfortable I won't meet with them.
Sometimes for bigger items that cannot be easily moved I will chat with them on the phone and go to their homes or allow them to come to mine… but only if I chat with them and get a really good feel for who they are at first. You should bring a second person along with for safety as well.
Q. How many hours do you work a week or how much of your time does this position require? Is it flexible? Is it consistent?
A. About 3-10 hours a week. I have a pretty good supply of items to sell so if I can't make it garage selling or if I can't scan the classifieds, it's not a big deal. Thus it is flexible. It is not consistent. Some weeks I will sell a lot of items, others I won't sell any. But overall I usually make a few hundred dollars a month (more on this below).
Q. When/how do you find the time to work?
A. I have someone watch the kids on Saturdays (so I can garage sell), go thrift shopping, etc. I post during nap time and ship items out while running errands during the week.
Q. Are there certain tips/advice you'd want to share with others who want to start working like you?
A. Be careful about buying and reselling electronics. They usually sell very fast but they can be stolen or lost (and you lose your investment if they are). So you'll want to make sure they are good by calling and confirming with the company they were issued from that they were not lost or stolen before buying them in the first place.
Buying items that need to run or work i.e. electronics, appliances, faucets, etc. should only be bought after they have been plugged in and are seen to be working very well.
I have made the mistake of buying a few items that didn't end up working and lost my money so be careful of this.
Q. Was training/schooling required for the position? How/when did you complete it?
A. No, training or schooling were not required. I would have to say that having a smart phone is very useful though. So useful to me it is almost required for success. Using my smart phone I look up the worth of items at garage sales, thrift stores, etc. while I am out shopping and see how well they sell. If I can see that I will make a good percentage of profit off of it and it is a good online seller I'll buy it.
 Q. What is the income percentage you bring in? Or Does the income help a little, medium, or is the main source of your family's income? 
A. I make anywhere from $150.00-$800.00 a month by buying cheap and reselling items for more. I love to thrift shop anyway. I think I would be out shopping almost just as much without turning this hobby into a money-maker so it is almost pure profit for my family.
Q. How would someone who wants to do something similar get started with a job like this? 
A. You need to know where the garage sales, thrift stores, etc. are in your local area. Then you need a little bit of money to invest. If you only have a few dollars I'd recommend buying something you will make a lot of money on and reinvest that to buy more items you will make lots of profit on and keep reinvesting until you have a couple hundred dollars to work with.
You'll want to get an account on eBay and Amazon.com, Craigslist.org, and any local Facebook garage sell and classified pages.
Learn how to market and resell by using descriptive text, lots of photos, linking to reviews, etc.
Learn how to barter/negotiate a good price when buying used so you can make a good profit by reselling those same items.
I typically aim to make 100%-1000% profit on smaller items and 30%-500% on larger more expensive items…and yes I do make these percentages!
The main thing is to look online or on your smart phone if you don't know what you could resell an item for. After awhile, you will be able to tell the worth of items much more quickly.
You also need to have room for storage and a complying spouse.
Further, be aware of shipping costs before setting your price if selling online because that can take a huge percentage cut off of the profit you make.
This really is a fun type of a job/hobby for me and I thoroughly enjoy it. The extra money is great as well!
A big thanks to my friend for sharing her advice…
I, Anita (author and owner of LiveLikeYouAreRich.com), have resold items as well (I did this a ton during our home renovation). The advice she gave was totally spot on. I just wanted to share with others who are interested in selling items online that I wrote about the common mistakes people make when selling on Amazon.com here. If you are planning on selling anything on eBay or Amazon.com I'd recommend checking this post out first.
Other posts in this series:
Introduction to Money-Making SAHM Series
Series 2: Starting an Online Business
Series 5: At-Home Airline Assistant
Series 6: Become an At-Home Employee
Series 9: Run an at-Home Daycare
Series 10: Write and Self-Publish an eBook Part 1 & Part 2
Series 11: Teach Music Lessons from Home
Series 12: Distribute a Product You Love
Series 14: Become a Virtual Assistant
Series 15: Buying and Reselling Cheap Finds
Series 17: Making Money as a Transcriptionist
Series 18: How to Write and Publish a Paperback or Hardback Book
Series 19: Do Online Tech Support from Home
Series 21: Sell Your Own Sheet Music Part 1 and Part 2
Series 22: Start a Preschool from Home
Series 23: Start Your Own Boutique
Series 24: How to Make Money on YouTube
Series 25: Take Legitimate Online Surveys
Series 27: Become a Photographer
Series 28: Become a Property Manager
Series 29: Make Money Locally Teaching a Talent, Sport, or Hobby
Series 30: Substitute Teaching
Series 31: Sell Shaklee (MLM)-removed
Series 32: Review Websites for UserTesting
Series 33: Sell Mary Kay(MLM)-removed
Series 34: Become an Affiliate with Spark Naturals Essential Oils
Series 35: Quilting and Embroidery
Series 36: Make Money by Doing Laundry for Others through Laundry Care
more coming…pin or bookmark for more.

For other 'rich living' and Money-Making Stay at Home Mom case studies please subscribe, like me on Facebook, and follow me on Pinterest.