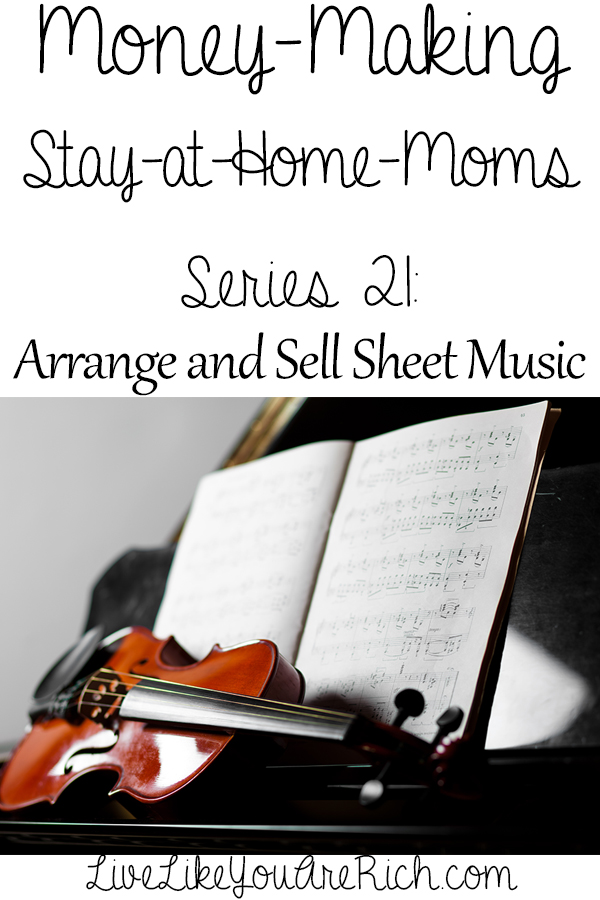 Today's Money-Making woman is actually not a SAHM… she is probably the only one I'll feature in this series who isn't…but because she is my little sister, of course I had to make an exception. Mandi has found a way to make income from home that I thought those who are musically talented may want to know about. She sells sheet music of her own arrangements online from home. Because this is a more detailed type of project there is this Part 1 and Part 2. This is Part 1 of the interview… for more details please also read Part 2.
Q. What inspired you to begin working?
A. I've always loved to compose music since I was a kid- this seemed like a great way to not only share my talents and also my testimony of the Gospel.
Q. How did you go about starting your business or arranging a work at home position?
A. The first step is having a great website or YouTube channel that people can access and find your work through. I have my arrangements posted on YouTube so people can listen to the pieces and then continue onto my website to buy the music if they choose to.
Q. What are some tips you would like to share with others who are interested in doing something similar?
A. Definitely have a software you feel comfortable with using. I spent countless hours figuring out how to use the particular program I had (Finale Notation Software found here). Looking back I wish I'd have had a software that was more user friendly (Sibelius Notation Sofware found here).
Q. How many hours do you work a week or how much of your time does this position require? Is it flexible? Is it consistent?
A. Self Publishing an entire sheet music book has required a large amount of time- the editing alone probably took a solid three weeks. The nice thing though is once the book is done- it's done. You could also write sell your own sheet music as single copies until you have enough to compile them together to make a book. So really you can do this as slowly as quickly as your free time allows.
Q. When/how do you find the time to work?
A. With this project I purposely planned to do it during the summer. I teach a strings program during the school year at a nearby private school in Santa Monica, so I knew that if I really wanted to dedicate the time necessary to get this done, I would need a summer to do it.
Q. Are there certain tips/advice you'd want to share with others who want to start working like you?
A. Start composing and arranging now! I was able to collect a few arrangements for this project that I had done over the last couple years. I didn't know at the time I was writing them that I would use them two years later for this book. You can also sell sheet music by song, you do not have to complete an entire book before you begin selling it.
Q. Was training/schooling required for the position? How/when did you complete it?
A. Yes, I did need some know-how with how to score professionally, use the software, etc. I took composition courses at Berklee College of Music to enhance my work as a composer. Though some composers study privately, and some don't study at all, for this specific project I was very grateful for the knowledge I gained through completing my Bachelor's Degree at Berklee; I graduated in 2011.
Q. What is the income percentage you bring in? or How much do you make from this job? or Does the income help a little, medium, or is the main source of your family's income?
A. This job in particular provides substantial supplemental income, and will continue to for however long it keeps selling.
Q. How would someone who wants to do something similar get started?
A. Find a great composer or arranger out there and start studying, develop a nice website and youtube channel, and get some great music notation software! Those are the first few steps to get you well on your way!
Find Mandi's website/webstore here. She is currently selling Hymn Arrangements for the Viola, Violin, and Piano. You can check out Mandi's YouTube Channel here as well.
For more details, make sure to read part 2 here.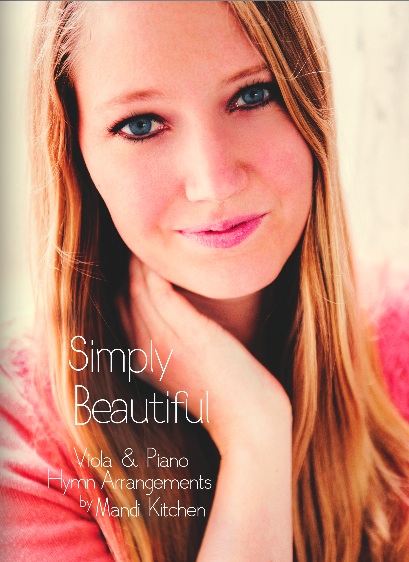 Mandi Kitchen is a professional composer, arranger, instructor and performer, who currently resides in Los Angeles. She holds a degree in performance and composition from Berklee College of Music in Boston, MA.
Thanks little sis!
For other posts in this series with live interviews on how to make money from home please click the links/titles that interest you below…
Introduction to Money-Making SAHM Series
Series 2: Starting an Online Business
Series 5: At-Home Airline Assistant
Series 6: Become an At-Home Employee
Series 9: Run an at-Home Daycare
Series 10: Write and Self-Publish an eBook Part 1 & Part 2
Series 11: Teach Music Lessons from Home
Series 12: Distribute a Product You Love
Series 14: Become a Virtual Assistant
Series 15: Buy and Resell Cheap Finds
Series 17: How to Make Money as a Transcriptionist
Series 18: How to Write and Publish a Paperback or Hardback Book
Series 19: Do Online Tech Support from Home
Series 21: Sell Your Own Sheet Music Part 1 and Part 2
Series 22: Start a Preschool from Home
Series 23: Start Your Own Boutique
Series 24: How to Make Money on YouTube
Series 25: Take Legitimate Online Surveys
Series 27: Become a Photographer
Series 28: Become a Property Manager
Series 29: Make Money Locally Teaching a Talent, Sport, or Hobby
Series 30: Substitute Teaching
Series 31: Sell Shaklee (MLM)-removed
Series 32: Review Websites for UserTesting
Series 33: Sell Mary Kay(MLM)-removed
Series 34: Become an Affiliate with Spark Naturals Essential Oils
Series 35: Quilting and Embroidery
Series 36: Make Money by Doing Laundry for Others through Laundry Care
more coming…pin or bookmark for more.

For other 'rich living' and Money-Making Stay at Home Mom case studies please subscribe, like me on Facebook, and follow me on Pinterest.