Furnishing and decorating a front room could easily cost between $20,000-$40,000. Even on websites with 'less expensive' ways to remodel and decorate a front room, the cost for it were upwards of $15,000!
Are you remodeling or wanting to decorate a front room yet don't have $15,000, $25,000, even over $40,000 to spend, and you want it to look nice?
No Worries.
I am here to tell you it is possible to spend less than $1,000 on quality furniture and decor. Heck, my front room cost half that. It came in (without flooring) at a total of $560.00.
The flooring was another $1,950.00. So with the real hickory and walnut hardwood, the install, sanding, and sealing, the total renovation came to $2,510.00.
Here's how…I'll start with a 'before photo' although it really is not the best photo of the room because it was taken from the adjoining room.
The front room had no lighting (why no-lighting was once a trend is beyond me). But other than the need for lighting and flooring, this room didn't require a lot of renovation (unlike my family room downstairs – renovation pictured here).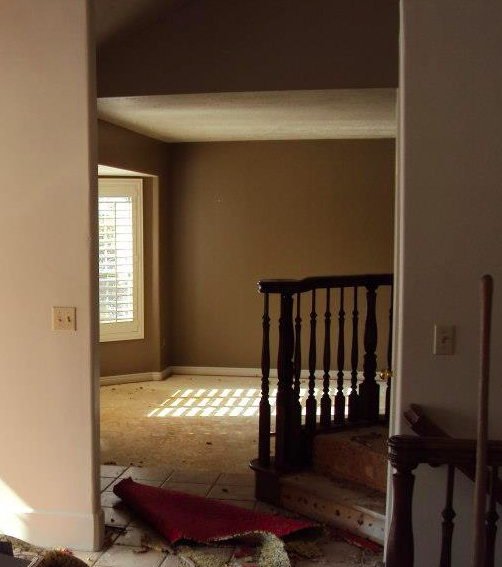 After: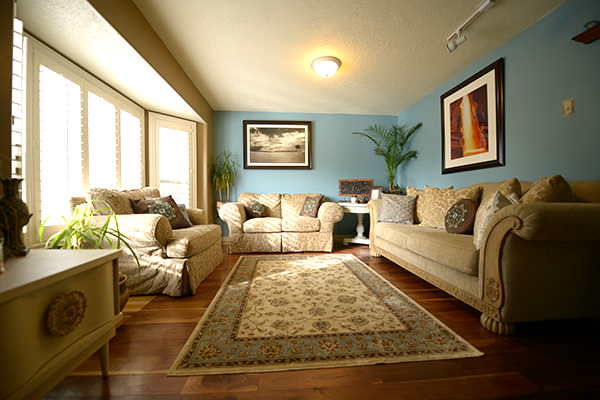 Here's how I was able to furnish and decorate this front room so inexpensively:
First, I had an electrician wire the room for the main light and a track light. I bought the main light for $1.00 at a garage sale. (Tutorial on how to shop at garage sales successfully here) and the track light for $4.00 (classifieds).
Total for wiring the lighting and lights: $105.00.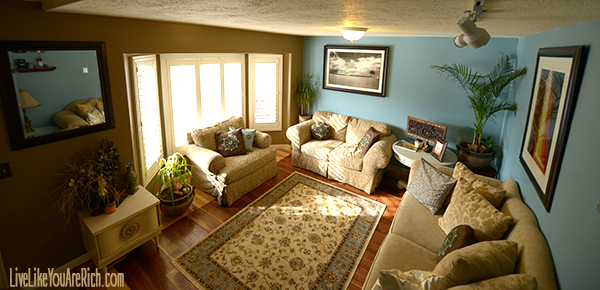 Next, I chose a color scheme (tutorial here) based on a lovely color I found on a $1.00 gallon of mistinted paint. We spent about $6.00 for the other painting supplies. Total $7.00.
Then I found the furniture. The 'Like-New' two matching Broyhill couches were found in a ritzy neighborhood as a sidewalk offer for $90.00 each. I was able to talk him down to $160.00 for the pair.
I bought the little side table for $5.00 from a sweet old man at a garage sale.
Mirror – New at a garage sale. Total $15.00.
The rug was brand new off of the classifieds. The lady I bought it from couldn't return it, and the color didn't match her room, so she listed it for sale. Total $50.00.
Plants were bought off the classifieds $65.00.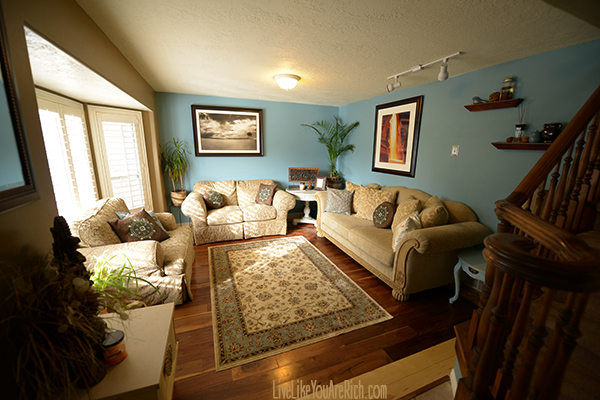 Pillows $7.50 on a deal site called Zulily.com (if you haven't, you should check Zulily out here). I also picked up a pillow (new) $3.00 thrift store. Total $48.00.
The large couch was given to us by a very kind neighbor for free.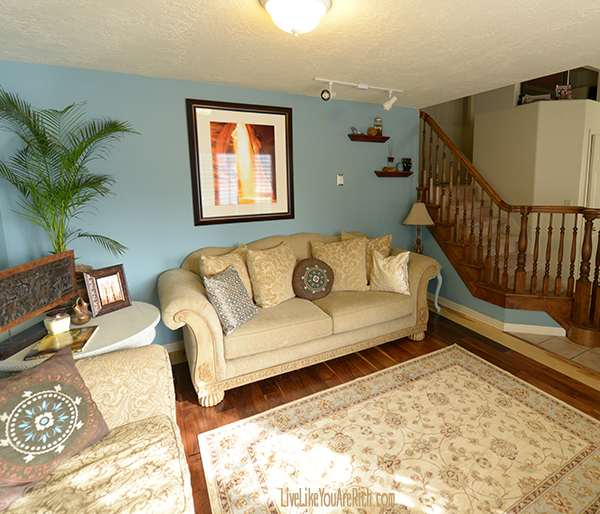 Shelves found at a garage sale were $2.50 each. $5.00 total.
The lamp (garage sale). Total $5.00.
Decor I either had or found at a discount decor barn for $30.00.
The two-round side tables were $30.00 each of the classifieds. Total $60.00.
Granted the framed images hanging on the wall are from my ex-husband's inventory. So we are lucky to have fine art in our front room, but it does rotate out as he sells it. It would add a hundred or so dollars if I were to have to decorate the walls without his art—which I am doing now with artwork I found at TJMaxx.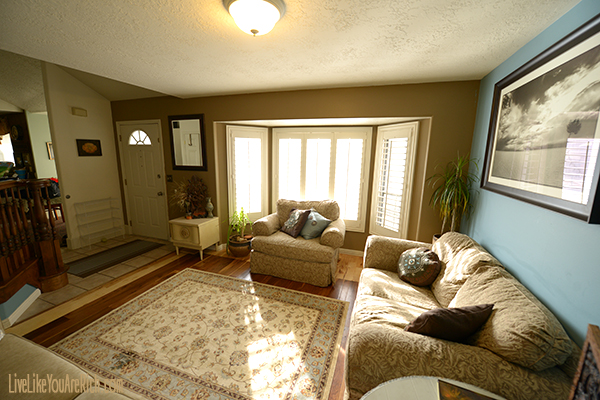 I love patterns on hard wood floors. And it just so happens that I found a lot of really nice hickory and Walnut flooring. The hickory I used as a border around the room and the walnut I matched and bought more of for the center of the room. The remnant for about 1/3 of the room cost $65.00. The rest of the walnut cost about $1,200.00. Install, sanding, machine rental, and seal cost the rest: $685.00 Total: $1,950.00
So if you are wondering if it is possible to renovate, furnish, and decorate a front room for way less than a 'modest' $15k figure, rest assured that it IS.
What tips have you used to decorate inexpensively?
These other posts have additional ideas and ways to save on renovations:
How to Save Tens of Thousands on Home Renovations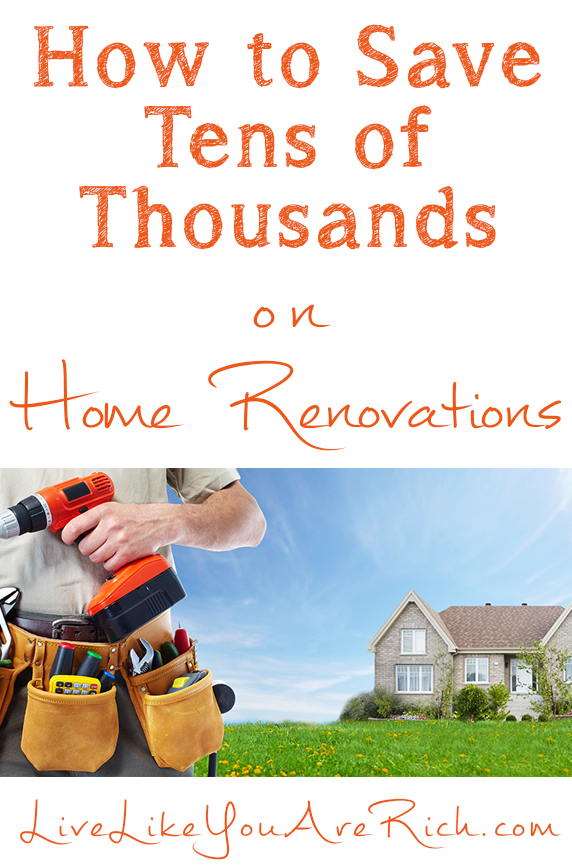 How to Save Tens of Thousands Garage Selling Efficiently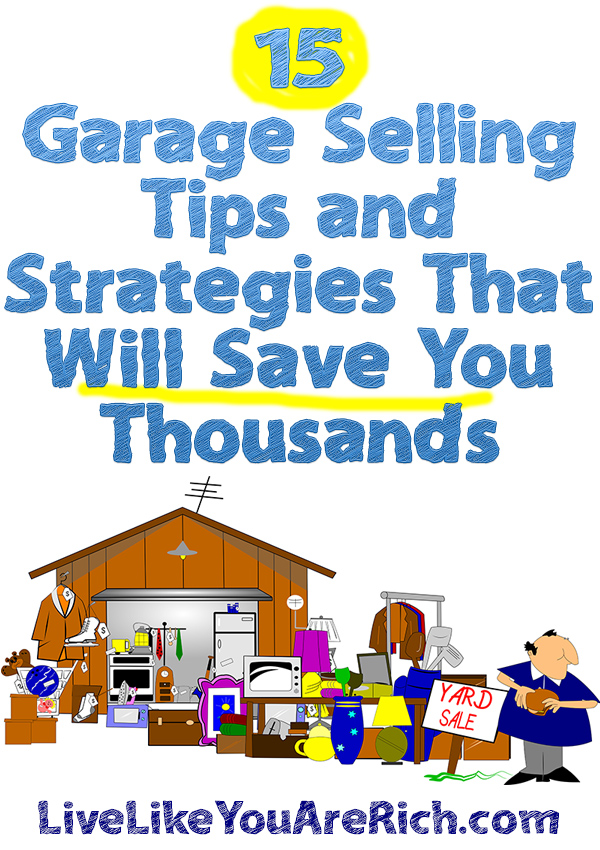 Save Thousands on Living Room Decorating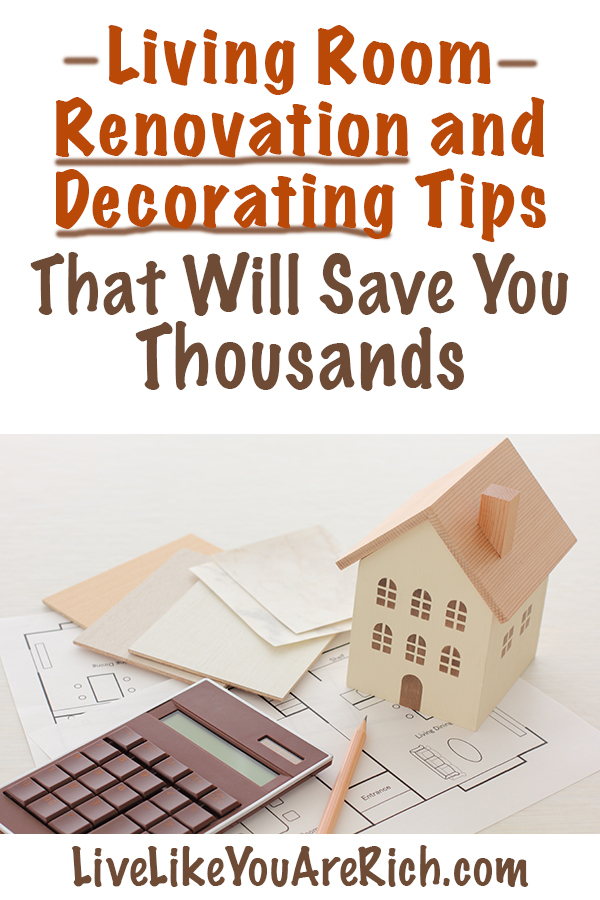 For other 'rich living' and money-saving tips, please subscribe, like me on Facebook, and follow me on Pinterest and Instagram.