Making a living room comfortable and decorating it nicely doesn't have to cost a fortune!
Today I'm sharing how we renovated our family room from the caving in walls and part of a missing ceiling to what it looks like now for about $2,000. That includes new doors, part of a ceiling and walls, flooring, paint, furniture, and decor!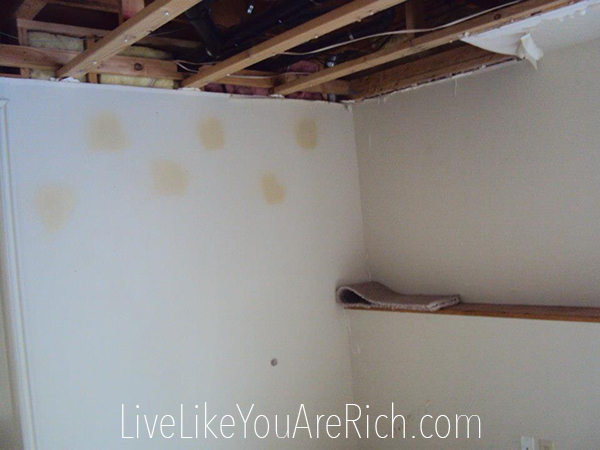 Before:
First, there had been a flood in the home and the previous owners just left it. We bought it and started the remodel immediately. Instead of pulling up the carpet and pad ourselves, I advertised on local classifieds that the carpet and pad would be free if someone came and pulled it and the pad up. I had TONS of calls and texts in the next few hours of people looking for free carpet. I had 2 couples come. One couple got all the carpet on the first level and the other couple got all the carpet on the second and third levels. In a few hours, our carpet and pad were up and hauled away free of charge!
Next, we paid a company to come in and sheetrock and perfatape the ceiling and walls that needed it. They were pretty reasonable and charged us $400 for the work (because we also paid them to do the entire downstairs, so they gave us a deal).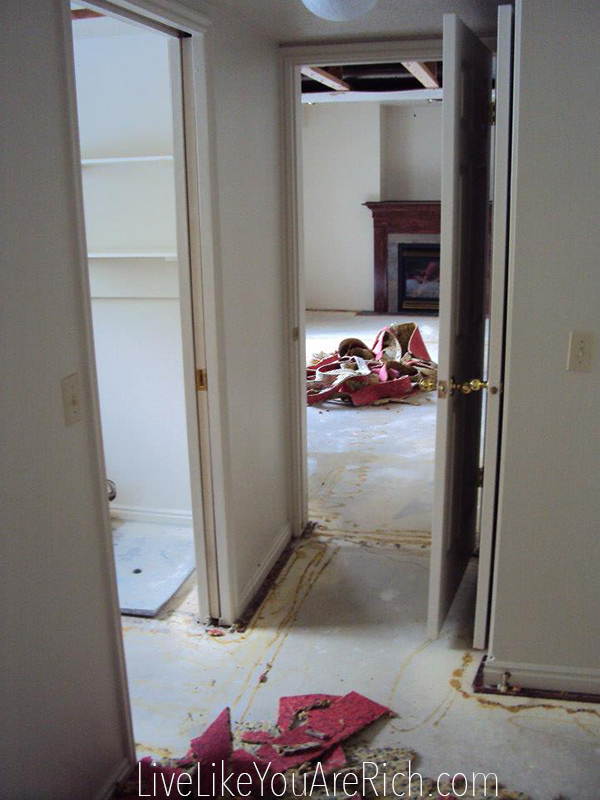 We hired a company to lay the laminate floor. We bought industrial laminate at a whole sale warehouse type of place. For the living room it cost $700.
We got mis-tinted paint from Kwal and I mixed a 1 gallon bucket of color into a 5 gallon bucket mis-tinted off white until we reached the color I liked. Total $30.00. I borrowed my dads paint sprayer and some friends came and helped and we sprayed everything and rolled any areas that needed it.
We installed new french doors that I bought on sale at Home Depot $400.
The lighting was found at a garage sale for $1.00 each. Total $2.00
Baseboards, install, caulk, paint $95.00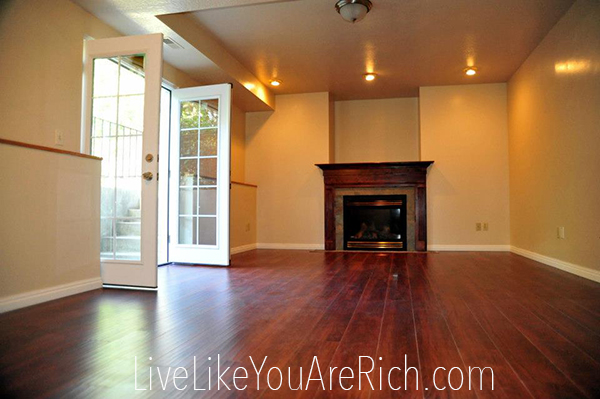 I bought the curtains for $20.00 and they are black out curtains too which is great for movie watching! If you buy anything online, make sure to sign up for Rakuten.com first (its a free cash back site) You can make 1-20% cash back on hundreds of sites.
Next, we decorated with items that I found on classifieds or at garage sales or had. Want to know how to efficiently shop at garage sales? Check out this post here.
I found a like-new genuine Italian leather sectional on the classifieds. It had to be hauled away that day which is why it was selling for so cheap. The dimensions were perfect so we went and picked it up. $500.
I found the large area rug for $40 at a garage sale. The sheepskin rug was an awesome classified find for $40.00 Both rugs were slipping and sliding everywhere and driving me insane… Enter RugPadCorner.com.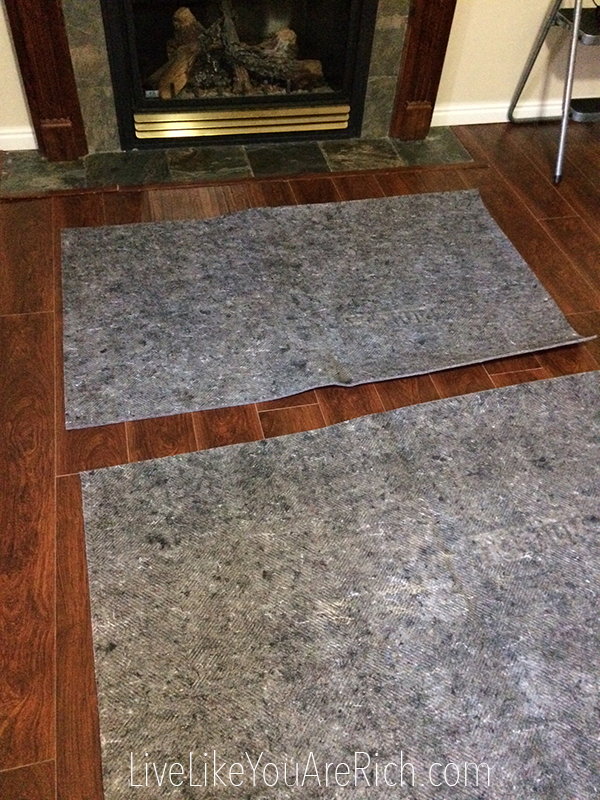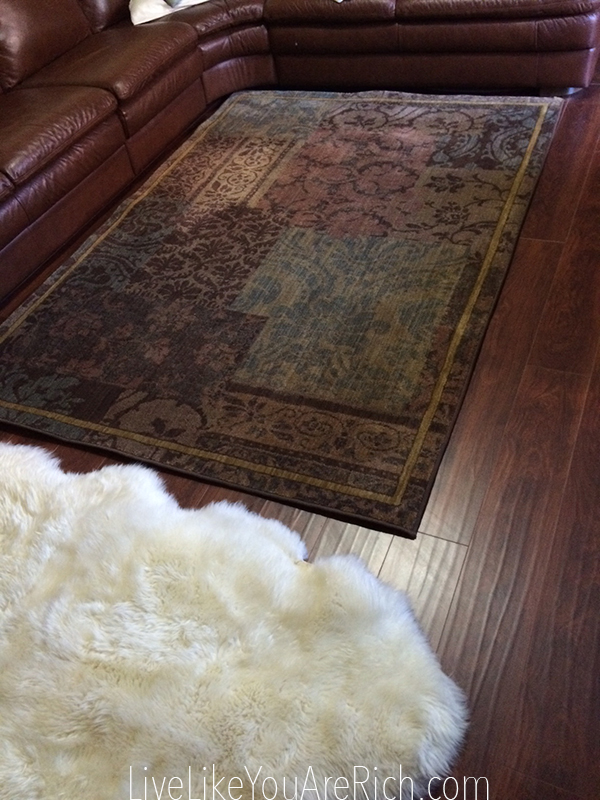 RugPadCorner rug pads have made my life so much easier. The rugs no longer slip and slide around. I can vacuum with them remaining still. They are really comfortable and provide a cushion for when my toddler jumps off the couch and lands weird (multiple times a day). They've made all three of my rugs much more comfortable. Overall I've been so pleased with RugPadCorner area rug pads.
Plus their prices are very reasonable! I was so thankful and excited when RugPad reached out to me and told me about their product. I did receive them for free but I wouldn't be recommending them if they weren't so amazing and if they didn't fix the issues I was having. Check RugPadCorner out here.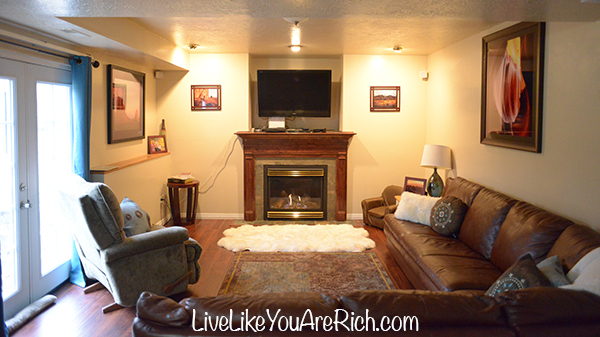 We also saved with the inter decor in the following ways:
The artwork is my kids' dad's. The smaller frames were given as gifts. The large artwork is part of his inventory so it rotates as he sells it.
We had our TV, the surround sound, dvd player, curtain rod, lamp, and vase.
One side table was $7.00 at a garage sale, the other I had.
Sheepskin pillow new on classifieds $15.00
The like-new LaZBoy recliner was only $70!
I made $420 by selling some items that we would have used in the living room and the ceiling fan that was installed when we moved in on classifieds -$420.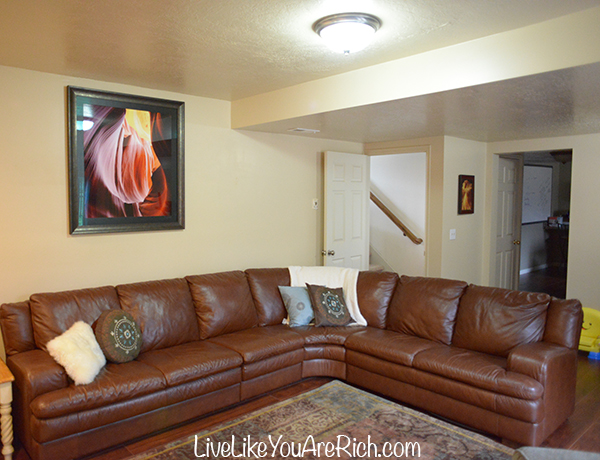 Total for entire renovation and decoration: $1,900.00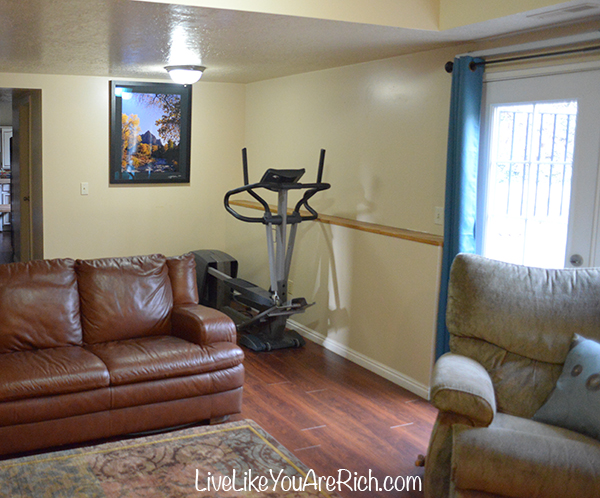 Ways to save more?

Do the work yourself. We both were working full time and we were also trying to renovate and frame a basement in a 2,600 sq foot home. We couldn't possibly do it all in the time frame we were shooting for. Had we done the work ourselves we would have saved over $500.00.
Trade services with skilled friends/family.
Check out/read more about money-saving renovation tips here.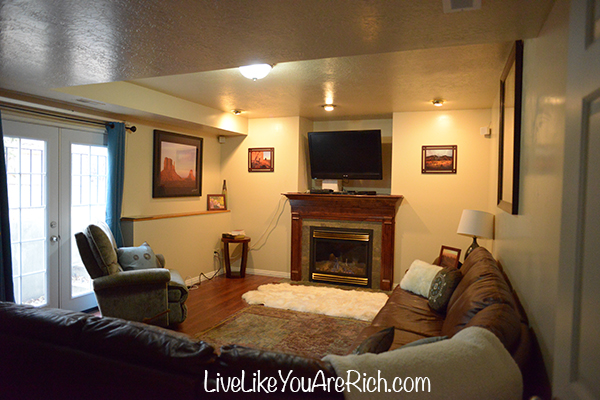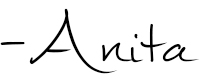 For other 'rich living' and money-saving tips, please subscribe, like me on Facebook, and follow me on Pinterest, and Instagram.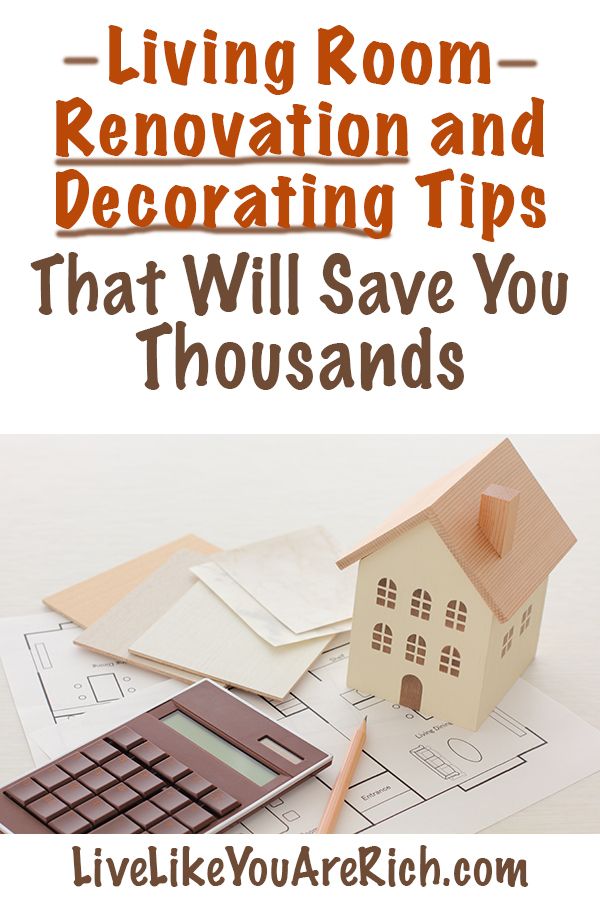 Posts that May Interest You: