The average kitchen remodels costs $25,000-$100,000 depending on location (including appliances). There are many ways to reduce this gigantic figure. Sometimes you do have to sacrifice quality for the price but sometimes you don't. In the examples below I will show you two kitchens that I have helped to remodel which have been done for tens of thousands less than the aforementioned figures.
Three years ago we installed a full kitchen on our 3rd floor for under $4,000, granted it wasn't the top-of-the-line magazine kitchen, but it is nice looking and functional. And last year, I helped my sister and brother-in-law remodel and decorate another kitchen. They were able to do this remodel for around $7,500.
Here's how we remodeled a kitchen for under 4k and they did the remodel for under 8k. These were not are personal primary kitchens. If you are going to do a top-of-the-line remodel you will spend more, but even applying some of these tips will help you save thousands.
Before: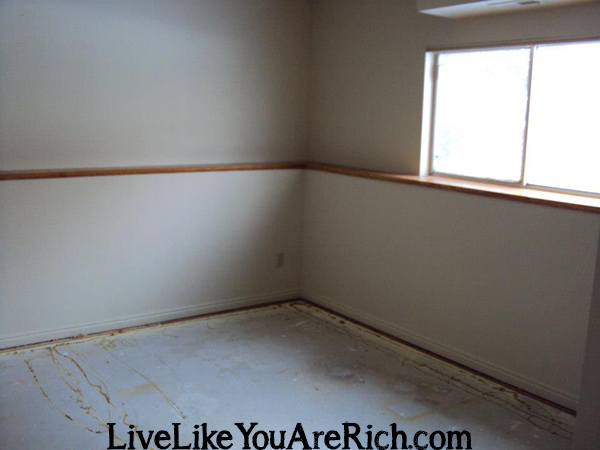 Cabinetry: Kitchen cabinets are one of the major costs of any kitchen remodel.
Obviously the first and best way to save is just to refinish your existing cabinetry. You would even save by paying a professional to refinish them. There are options to repaint them, re-stain them, and or just clean them up. You can add new hardware, put contact paper down on the shelves, or even repaint the inside. Further, you can add crown molding to the tops of the cabinets to make them more up to date, and or add lighting underneath them as we did on this hutch in this tutorial here.
The next cheapest option is to buy used cabinetry. When we were doing our kitchen installation I searched the online classifieds for a week or two until I found a cabinet set that would fit the kitchen, was inexpensive ($100.00) and in good enough shape that after we stripped, sanded, and painted them would look great. After paying someone to install them, plus materials to strip sand, and paint cabinetry totaled: $350.00
After: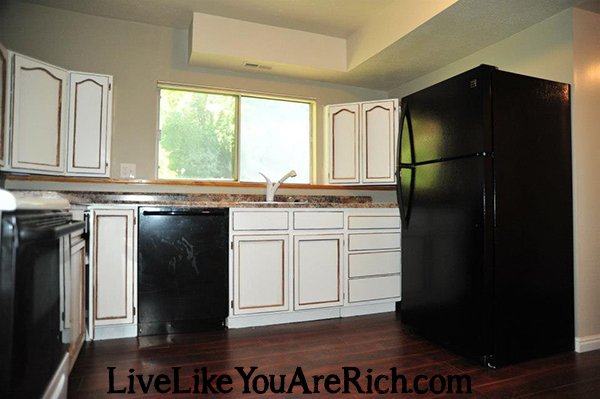 You may not want to go the used route and that is totally understandable. Often cabinets are hard to find that fit exactly with space, line up with the plumbing, etc. If you can find a gently used set of cabinets that are high quality, FIT your kitchen, and you don't mind taking the time to paint or refinish them (if needed), it will save thousands.
While I was looking for cabinetry on the classifieds I saw many sets that were extremely nice (some custom handmade cabinetry) for around $1,000 each. Most of these sets would require no refinishing. That said, it is a difficult purchase because you will need to make sure they line up with the format of your kitchen before purchasing.
Another way to go to save on cabinets is to buy from less expensive retailers such as IKEA, knotty alder cabinetry, Home Depot, Lowes, discount warehouses, and online places like cabinetsonthego.com. Karen bought from knottyaldercabinets.com. The cabinets were pre-finished and looked almost like more expensive brands. Her husband installed them so total the cabinetry cost: $2,500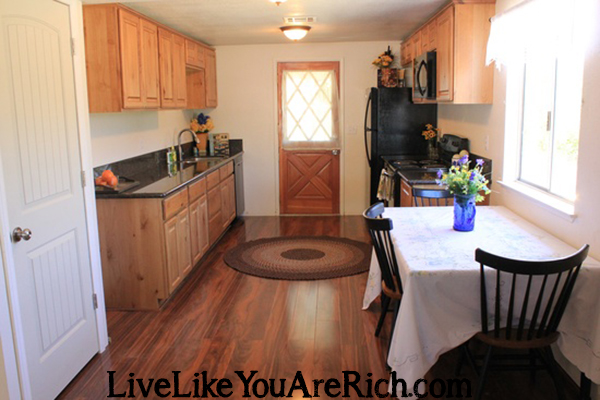 Custom cabinetry can cost $20,000-$50,000 if you can hire someone who is really good but known for being less expensive, that is a great way to go as well. Karen is embarking on another kitchen remodel in which she desires custom cabinetry. Her first bid was $40,000. Her second bid was $17,000 and the skill level for the cabinet makers and materials is nearly the same. Just by getting different bids and asking around, she will save over $20k on her custom cabinets!! If you are going to buy custom cabinets be sure to get a variety of quotes.
Some retirees who love cabinetry may also be available to do a custom kitchen.
Another way to save is to make the cabinets yourself. This requires a high skill level, machinery, and know-how. My amazing friend Julie made her own cabinets to fit her kitchen which is pretty amazing!
and of course looking for sales, coupons, and closeouts is another great way to save on cabinetry.
Sink and Faucet
Buy items that you can trust when shopping at thrift stores, garage sales, and classifieds. A sink is a great bet, a faucet is a risky purchase. I recommend buying faucets from places that have a return policy. Sometimes the faucet leaks.
I found a gorgeous new stainless steel sink at a yard sale. It wasn't the right size but I turned around and sold it to a lady who was doing a top-of-the-line kitchen remodel for a couple hundred. I made money on it and the lady who bought it from me still got a smokin' deal.
For our kitchen, we bought a used sink and faucet for $20.00 in total. The faucet came with the sink so I just purchased it knowing that even if it broke the sink was well worth the $20.00. For my kitchen upstairs sink I found this faucet on Amazon that I thought was really reasonable. I found my sister a really nice stainless steel sink at a wholesale warehouse. The sink was originally about $400 but at the warehouse, it was $200. Her brand new stainless steel sink and faucet cost $350.00.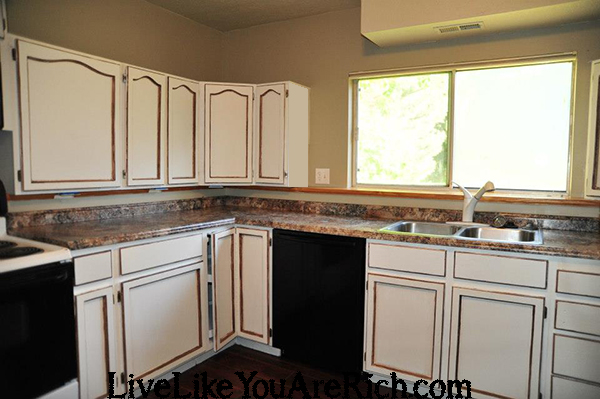 Counter Tops
Instead of doing granite, we bought a high quality faux granite counter top from Lowes with a coupon. I found that Lowes had a better selection of faux granite counter tops than Home Depot and I've been really happy with ours. The counter top (including installation) was $800.00. Karen (my sister) searched around for great deals on granite. After awhile she was referred to a warehouse that had quality granite counter tops that had pre-finished edges at great prices. Installed the granite counter tops cost about $2,500.
Granite can be very pricey but there are often places that sell it for less. My suggestion is to really do your homework and search around, try to find the best quality for the price before buying, and be sure to calculate the installation price when deciding.
My mom's tip is to find someone who puts wood underneath the granite (especially over the dishwasher) so that the granite doesn't heat up and become very hot when the dishwasher is running.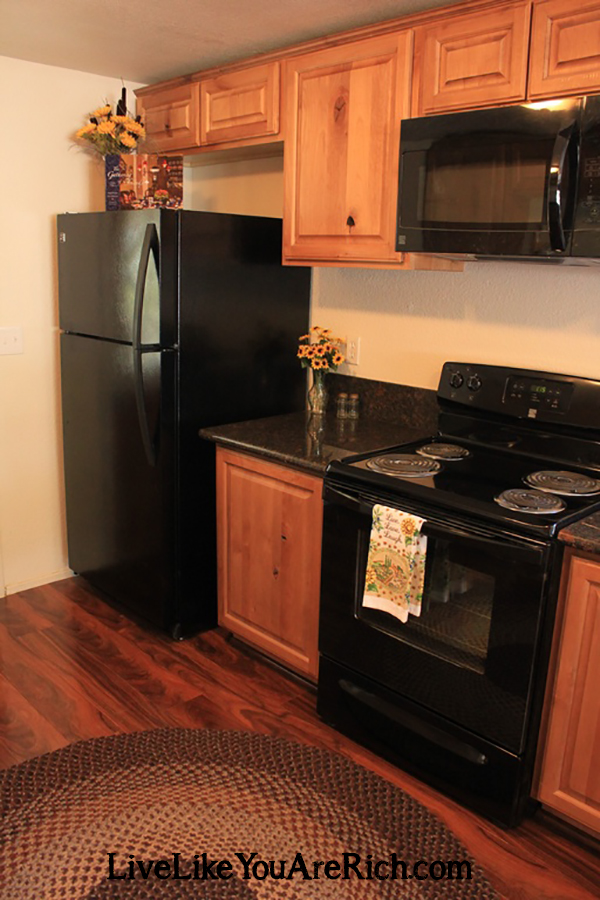 Dishwasher
We had a Bosche dishwasher that came from another kitchen remodel, with installation was about $30.00. Karen also just kept using the dishwasher that was previously in the kitchen because it worked really well still and matched her other appliances.
To save on dishwashers watch sales, use coupons, look for scratch and dent or clearance finds with warranties. If you are a really experienced used appliance buyer you may be able to find a used dishwasher for less as well.
Microwave
The microwave was another online classified find which came from a mansion's second kitchen and was rarely used for $45.00. It was a top of the line variety, rarely used and with the install, it cost about $70.00. Karen again got her microwave in a package deal. They all matched and were much cheaper than buying them separately the microwave had a total of about $150.00.
Labor Day sales, Black Friday, etc. are great deals to buy appliance packages and save hundreds.
Flooring: I recommend looking for sales and deals as early as you can and watch the price of the types of flooring you desire. Look for coupons, ask around for referrals for the installation, etc. Sometimes (depending on the size of your kitchen) you can find flooring on the classifieds (especially tile). After looking around I couldn't find the quantity of the industrial laminate (faux wood) that I wanted so we found a wholesale supplier and bought the materials from them. Then contracted out the install. The total for the kitchen flooring plus installation was: $700.
Karen bought her laminate Faux wood flooring from Home depot and her husband installed it. $300.00
If you lay tile it is often cheaper but labor is expensive, so if you can lay tile (which doesn't require a high skill level) you will save considerably.
Real wood is obviously much more difficult to find inexpensively. I found a wood wholesale warehouse that most suppliers bought from in our city and went directly to them to order our real wood. Although they rarely sell straight to customers, since I was in the store with money and willing to buy I avoided the mark up and bought our real wood for our living area at wholesale prices.
Plumbing: Often a kitchen remodel won't really need plumbing but ours was brand new so we needed all new plumbing installed and electric as well.
I asked around and my dad recommends a plumber he had worked with before who was reasonable. Because this plumber was installing a full kitchen, full bath, 2 laundry rooms, and fixing broken piping upstairs and adding a line to the fridge in our existing kitchen, he gave us a pretty good deal. Installing plumbing for the kitchen was $500.00. Ask for referrals, negotiate, buy supplies if it makes the bid cheaper, and get someone reliable.
The kitchen Karen remodeled did not need additional plumbing.
Electric: I also asked my dad for a referral for an electrician. Note- Try to use only one electrician for your project because they can cross wires (literally) if they both work on the same project at different times. Paying for the install of electricity was another $700.00. Ask for referrals, negotiate, buy supplies if it makes the bid cheaper, and get someone reliable.
Karen did not need electric work done on her kitchen remodel.
Fridge- Fridges are quite pricey and are not built like they used to be. They now have computers in them and can fry up much faster than the old built-to-last ones. My recommendation for such a large purchase is to read the consumer reports and find a fridge that is quality and has great reviews. Further, it is great to have some type of warranty on them.
Unless you are very very comfortable with your ability to buy used appliances, I do not recommend buying a used fridge. We learned this through trial and error. For our downstairs kitchen install, we went with a reliable yet inexpensive Kenmore fridge. I waited for a sale, had a coupon code, and bought it online for $350.00.
We are now in the market for a fridge for our upstairs kitchen. I have been going to Home Depot and Lowes and looking at their clearance section. I found a Whirpool fridge with great reviews that were retail over $1,200 for about $600 the other day and we are most likely going to purchase it.
Karen bought her fridge in a package deal with the oven/stove, microwave, and fridge. The fridge ended up costing about $500.
So, after reading the consumer reports look in clearance sections, scratch and dent sections (as long as there is a warranty on it), watch for sales, collect coupons, or buy a package deal, and you can save considerably on a reliable fridge.
Note: Many people have had their water lines break that connect to their fridges. If you buy a fridge with a water dispenser make sure to try to get a steel braided water line or one that is very heavy duty and won't break/leak.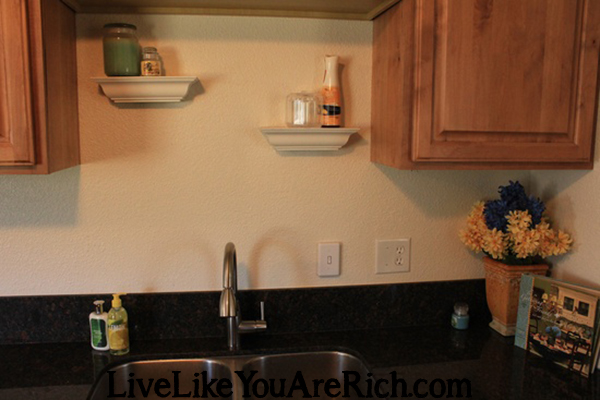 Oven/stove-
I find that ovens are much more reliable and last longer than refrigerators. I've bought a few used ovens with great success. We bought ours for the remodel for $150. Karen bought hers in the package deal new for $300. If you choose to buy used as I did, it is important to have the oven plugged in and working well. I actually bought a Viking Gas stove and range for our home originally for $400 but when I realized I could sell it for twice that and we needed more money for our remodel I sold it and stuck with the $150. one. So you can even get a nice brand name stove like Viking on classifieds too!
Table and Chairs– I bought our table at a garage sale for $25.00 it is very high quality and has a leaf (extension) built in. I got the chairs separately from my grandma. I plan to eventually refinish the set but for now I just keep a table cloth over the table and reupholstered the chairs. Total $65.00
Karen got her table and chairs free.
I always recommend buying furniture used (thrift stores, garage sales, classifieds). You can get sooo much more and a much higher quality for the money which is much less than buying new. If you want new furniture you can save by keeping the tips mentioned above in mind: sales, coupons, clearance, cheaper furniture outlets, wholesalers, etc. to save.
Decor- Some of the easiest decor to find at thrift stores, garage sales, etc. is kitchen decor. I highly recommend buying the decor after really checking out thrift stores and going garage selling. You can also decorate with cookbooks, candles, etc. Decorating the kitchen doesn't need to be an expensive ordeal. I didn't decorate our kitchen downstairs. I did decorate the kitchen Karen remodeled very inexpensively (under $100).
Paint- I stalked our Kwal, Sherwin Williams, and other paint departments in stores for mis-tints (hugely discounted paint). For the kitchen, I mixed 3 different gallons to get the color I wanted and my dad sprayed the paint. Total $3.00. Karen just bought 2 gallons of paint and painted her kitchen total $40.00.
Other general ways to save on a kitchen remodel:
If you have a coupon for Lowes or Home Depot for 10% off the purchase or open up a credit card and get 15% off the total purchase it is best to buy all of the biggest items you can (shingles, appliances, flooring, etc.) all at once with that discount.
Buying gift cards at Kroger which earn you gas points for Home Depot and Lowes maximizes savings.
Buying gift cards that people are selling online or at pawn shops (as long as you verify funds) can also save money.
Hiring someone who is skilled to do many different things and paying them hourly (as long as they are ethical and work hard) can save more money than contracting different things out.
To sum up: Obviously, if you are remodeling your kitchen for your main residence and it is a lifetime renovation, you will probably end up spending more than Karen and I did in these examples, but it is possible to incorporate many of these money-saving tips to save tens of thousands on a kitchen remodel if saving money is part of your remodeling goal.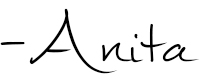 For other 'rich living' and money-saving tips, please subscribe, like me on Facebook, and follow me on Pinterest and Instagram.