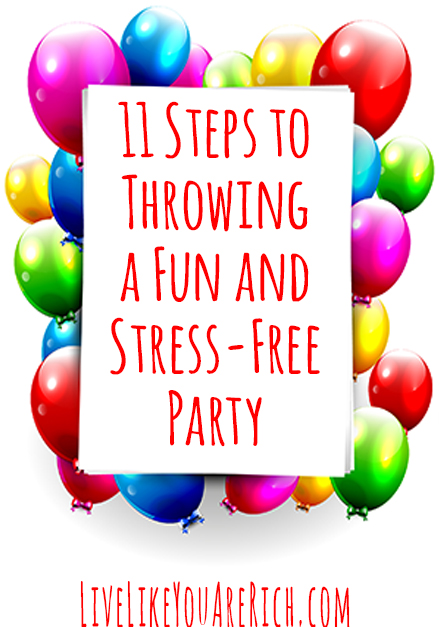 Planning a party can be a bit overwhelming. Especially if you really want it to be memorable and fun. I've found that breaking the party planning and prepping down into 11 steps makes everything go much more smoothly. By following these steps you can have an amazing, yet stress-free party!
1. Start early (at least a week and a half) before the party.
2. Pick a theme.
I love to find a theme and decorations. Often ordering decorations online is much cheaper than going to a local party store!
After I pick a theme using my own ideas and inspiration from, I also search for similar parties on Pinterest (check out my party board here) to get inspiring ideas as well. If I love an idea someone else has created then I do my best to recreate it. If I see something I like but I think I could make it different, I change it a bit to make it my own. After buying and making my own decorations I set them up in the space just to make sure I have enough for the party.
If you are going to get balloons it is often cheaper having a grocery store fill them. If you need a lot of balloons the cheapest option would be to buy the balloons (unfilled) at a party store or  and then rent a helium tank at a local home improvement store and blow them up yourself. You can rent a helium tank and filled hundreds of balloons for $40.00!
3. Pick a date and time that will typically work for guests.
Holiday weekends, the first weeks in summer, the day of another party in the same circle of family and friends, etc. can really limit the amount of people that will be able to attend. Try to avoid conflicting dates and times.
4. Choose a place to host the party and have a plan B if your venue could possibly be rained out.
5. Create and send out the invitations.
E-invitations are so easy. They are amazing high-quality digital invitations.  Plus you save money on paper, envelopes, and stamps! You also save TIME by not having to address or mail out paper invitations.
6. Create a menu.
Pinterest is a great place to go for inspiration on creating an awesome party menu. I also like to check out the sales going on and Coupons.com to save on the food. I often base a lot of the menu off of what looks fantastic, goes with the theme, and what I can get on sale with coupons.
7. Plan activities.
Usually, it's really important to have a few fun activities planned. Browsing Pinterest party boards will typically lead you to a lot of great ideas for fun games to have at parties.
8. Get organized.
Keep a list of things that need to be bought, prepared, made, etc. Order them in a way that helps you be efficient with your time and errand running.
9. If this is a family or adult party (and kids are invited) setting up a kids room for them to go play in and a kids table for them to eat is very helpful for adults.
Adults can enjoy the party much more if they know the kids are in a designated area playing with toys, watching age appropriate shows,  and are in kid-proofed areas. I often send the kids to my son's room to play. If they get bored with the toys I can set my laptop up for them to watch a kids show. At my parents house the basement or fenced in backyard is the designated 'kids' area.
10. Leave plenty of time for necessary things and schedule in wiggle room.
If time isn't managed correctly there is a lot of running around, setting up, arranging, double checking, stressing, etc. before guests arrive. Further, many people forget to leave enough time for them to get personally ready for the party. Schedule tasks out leaving ample time for each task. Leave 30 minutes to an hour of pure wiggle room (not including  your personal prep time) in case something goes wrong in your schedule.
11. Simplify and delegate.
Leave out really time-consuming 'extras' that aren't vital to the party. If anyone offers to help or bring something, delegate an item/task out to them. The familiar phrase is true, "Many hands make light work". You don't want to be so exhausted that you are too tired to actually enjoy the party! And allow guests to help you set up or clean up if they insist on doing so.
Follow these 11 tips and you will be all set for a fun and stress free party!

For other 'rich living' tips and party ideas, please subscribe, like me on Facebook, and follow me on Pinterest.