Babies are the sweetest things, but they are expensive! The average baby costs over $15,000.00 in their first year. Diapers, clothing, formula (if you formula feed), gear, food, supplies, etc., all add up.
When I was at about 6 months pregnant with my first, I had to go from full-time to part-time work due to health issues. The cost/drop in income going from full-time to part-time was very difficult to make work in our budget. After my son was born, I became a stay-at-home mom who worked a little on the side. Shifting from two incomes to pretty much one was obviously even harder, yet it was a decision I felt was well worth it. We saved quite a bit on daycare, and I was able to save more by being in the home and making home cooked meals, couponing, etc.
Hospital expenses, health issues we experienced post partum, and the baby expenses were substantial. With our decreased income, I'm actually pretty surprised and feel blessed we made it financially without going completely broke. I learned that expenses from babies add up quickly. There is a national average that each parent spends. Do you know how much the first year of baby diapers, clothing, formula, etc., cost? Take this fun quick quiz to find out the average spent on staple baby items:
Motherhood is the greatest and most rewarding of my lifetime endeavors. I love both of my kids so much! They bring so much joy to my life and melt my heart daily with their fun personalities and unique characteristics. They are worth more than any dollar figure, and I am so grateful I have them. So please don't let the average dollar figures of baby expenses scare you into ruling out children! There are so many ways to save and shave thousands off the national average costs. Reading and learning from money-saving resources can really help. I saved over $10,000 on my first baby by being money-savvy, and I could've saved even more!
Preparing financially for children is a very wise and important step in parenthood. This is a great resource for new parents and soon-to-be parents who are interested in getting financially prepared: Download this free Financial Boot Camp for New Parents eBook here.
The Financial Boot Camp for New Parents, is an easy-to-follow guide with real-world examples, tools and important steps for each stage of a growing family's life.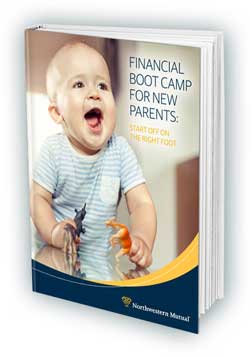 This is a #sponsored conversation written by me on behalf of Northwestern Mutual. The opinions and text are all mine.