Packing lunches is a great way to save money and ensure your kids are eating healthy. That said, it can get monotonous for kids and parents if the same things go into the lunch box each day.
I like to do something creative now and again to keep my son excited about eating his meals. I usually pack his lunch box up when we go on date night and the babysitter has a nice dinner for him to eat from his airplane box. Not only is it fun and different than the usual, he is excited about eating.
Here is what I packed last week:
Ants on a Log- This was always a favorite of mine growing up. We'd use peanut butter or cream cheese in celery. For the ants we would use raisins, craisins or nuts.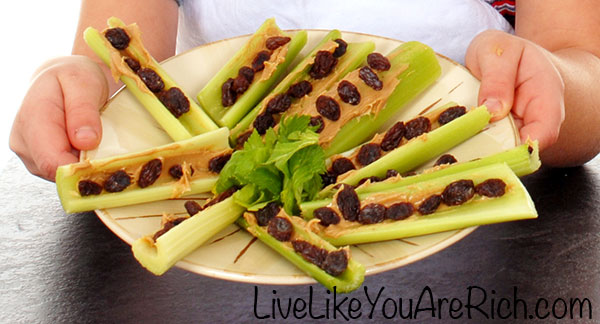 Apple Cars- I use an apple, toothpicks as the axel and grapes as tires. My son can't get enough of these!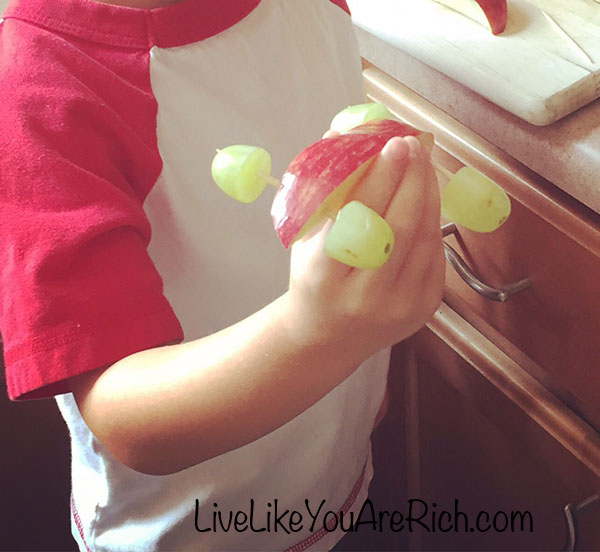 Wheat pancake PB&J sandwich- We love to make Kodiak flapjacks or pancakes for breakfast. They are whole grain and packed with protein. Recently, I've been using them as the 'bread' and making sandwiches with them. My son loves the idea. It's fun and switches things up.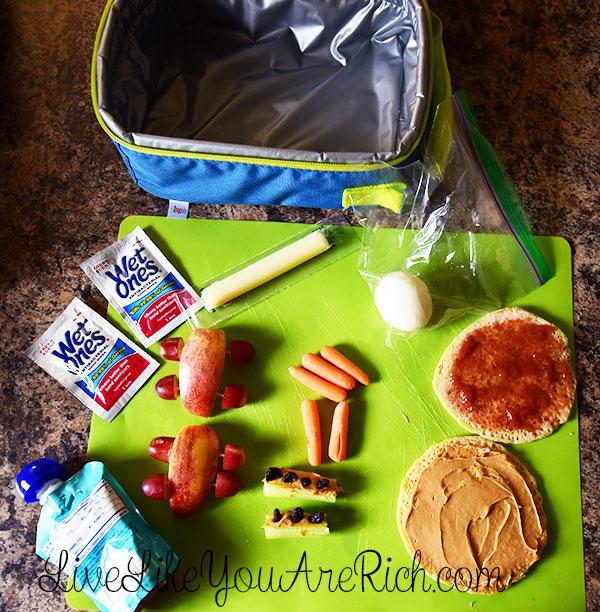 I also include two Wet Ones Singles – Antibacterial to remind our babysitter to wash his hands before and after eating. These would be great for school lunches too. Wet Ones Singles – Antibacterial clean messy hands and kills 99.99% of germs. They are so handy!
On other days I will add these fun lunch box ideas:
Chick Eggs- using deviled eggs, pickles and carrots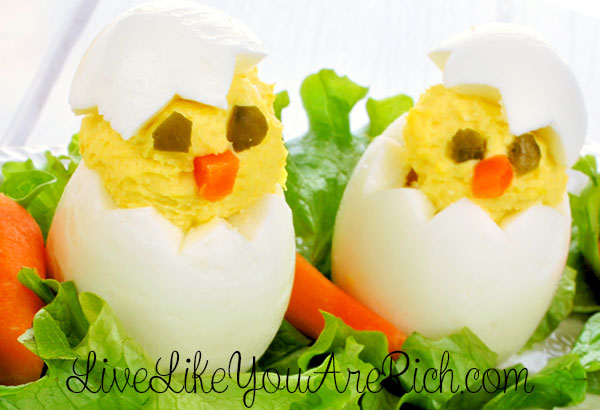 Pepper boats- Core out a pepper, fill with cottage cheese and use toothpick and a cheese slice as mast and sail.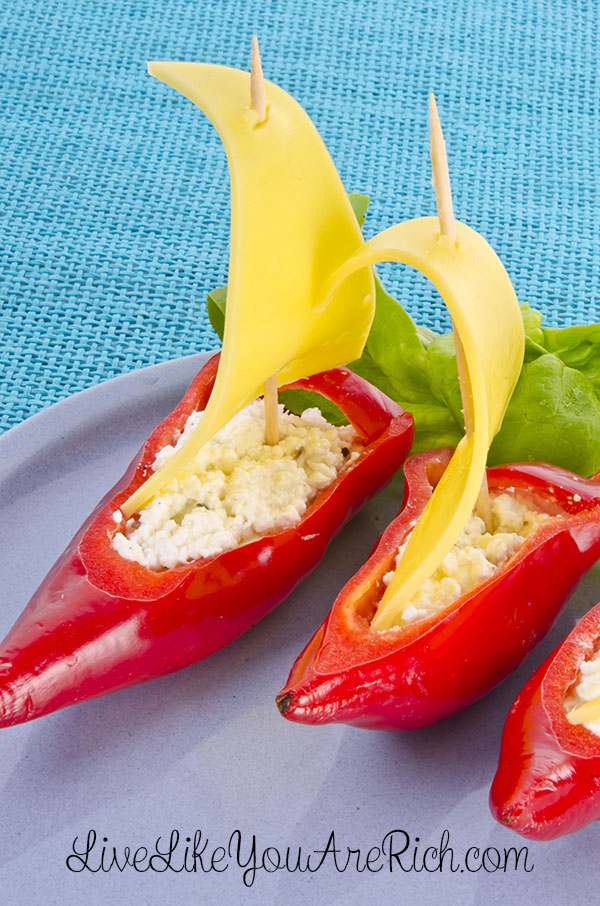 Olive Penguins- a toothpick, two olives, a little cheese (or greek yogurt), and a slice of carrot and you have a healthy but happy penguin lunch snack.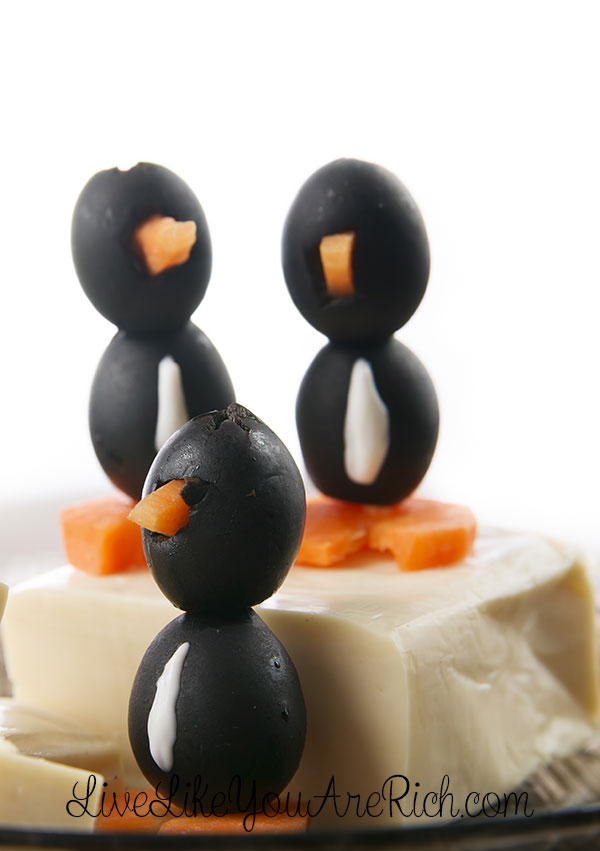 Turtle eggs: Cut a boiled egg in half layer with red peppers and carrots and use bologna or hot dogs for the legs and face and olive for the eyes. Alternatively, you can use ketchup on the egg instead of red pepper and hotdog for the feet and face (if your kids like to eat their eggs and hot dogs with ketchup like my son does).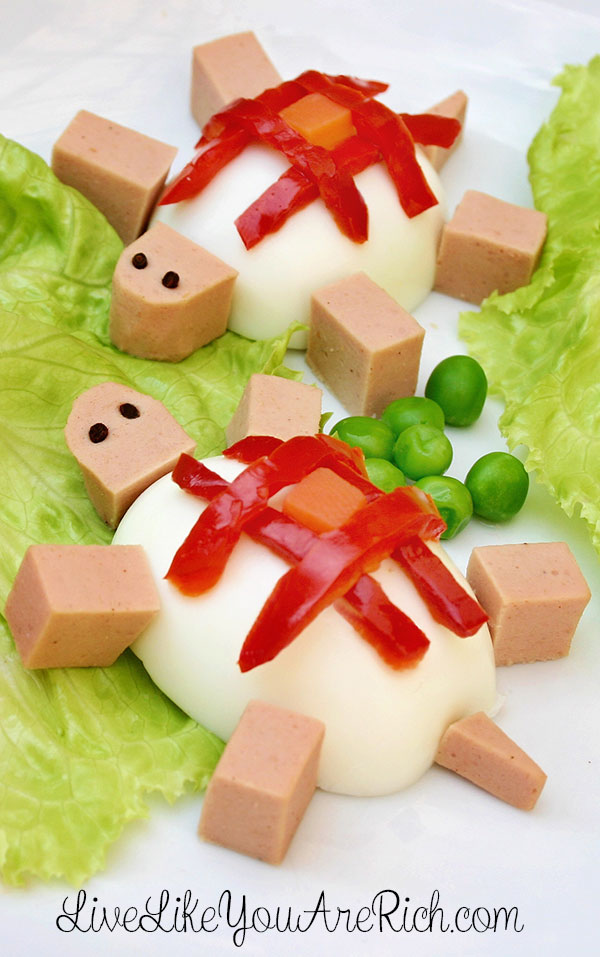 Bonus- You could leave a fun note or joke for older kids too!
Encourage your kids to be excited to eat homemade lunches by switching things up a bit!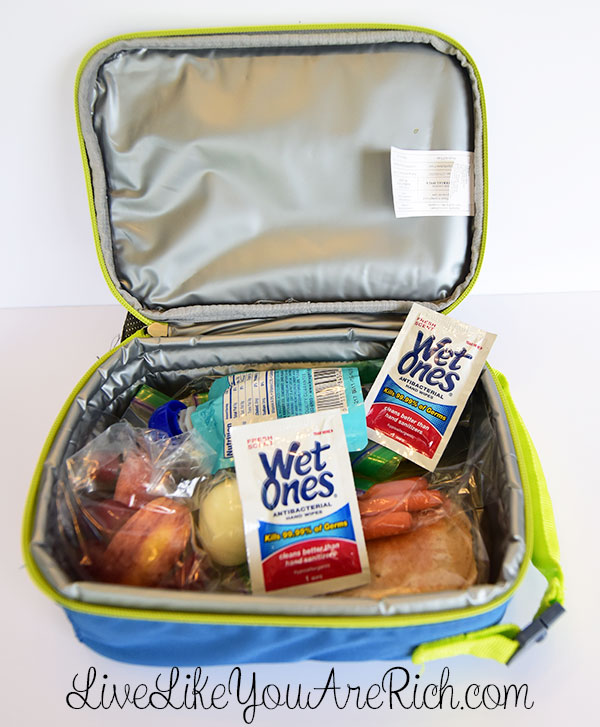 And remember to pack the Wet Ones Singles – Antibacterial for clean germ-free hands.
What are your favorite fun lunch box ideas?

For other 'rich living' and money-saving tips, please subscribe, like me on Facebook, and follow me on Pinterest and Instagram.