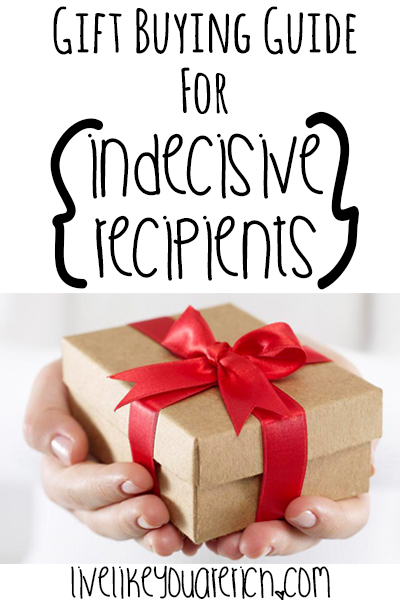 Have you ever asked someone what they wanted for Christmas (or their Birthday), only to have them say something like, "Oh nothing" or, "I don't know" or, "Anything you want to give me"?
What I  decide to do is to give gifts that relate to their hobbies.
This is a gift guide for anyone who is struggling to find something to give that indecisive person.
The Outdoor Enthusiast:
Binoculars.
Walkie Talkies.
NOAA weather radio.
Gerber multipurpose tool.
Nice gloves
Magazine subscription to favorite outdoor magazine.
Sky diving simulation pass.
72 hour kit. Click here for the article I wrote on how to assemble one.
Car emergency kit. Click here for the article I wrote on how to assemble one.
The Musician:
iTunes gift card.
Guitar strings, piano music, drum sticks, etc. (something that relates to the musical instrument they play.)
Documentary or book on a favorite musician.
Magazine subscription to favorite music magazine.
The Artist:
Film, Brushes, Oils, Canvas, Chalk (whatever medium they use).
Documentaries or books on experts in their field (who they admire).
Magazine subscription to a magazine in related field.
Gift certificates to art stores.
A bag or tote for art gear and supplies.
The Technology Guru:
External hard drives.
Memory cards.
Gift card to newegg.com.
Cellphone cover.
Extra-long cell phone charger cable.
Any software you know they'd like.
Touch screen smart gloves.
(Magazines may not be the best for this type of person as they most likely get their technological information online).
The Athlete:
New sports shoes.
Gloves for colder weather (if applicable).
Useful items for the sport they play: stop watch, regular watch, goggles, sunglasses etc.
Gift certificate to Active.com (if they enter races).
Documentary or book on an athlete they admire.
Passes to ski, go to a bounce house, gym membership.
Magazine subscription to their favorite athletic magazine.
The Cook:
Silicone baking mat.
Unique cookware that stays off the counter like this.
This cutting board with a built in scale.
Ticket to a class that they would want to attend on cooking or baking.
A good set of knifes or pay to have their knifes sharpened.
A grill set.
The Wife/Mom/Woman:
Gift certificates to 'date night' outings.
Certificate for maid service.
Certificate for time away to a nail salon, hair appointment, massage (if she enjoys these things).
Certificate for car wash or detail or both.
Perfume
Jewelry
Here is an excellent list of the TOP 21 Romantic Films that are similar to Downton Abbey and Pride and Prejudice. If you wife/mom likes either of those films anyone of these would make a great gift!
Bath tub water drain stopper
Bath tub pillow
Your phone finds your lost keys and your keys find your lost phone
The Dad/Man:
Gift certificate to the movies
Gift certificate to restaurants
Gift certificate for oil changes
Car wash or detail vouchers
Flying remote control Helicopters
Tools
Shoes or clothes he wants/needs
Sports Fan: 
Tickets to their favorite team's game.
Padded and backed stadium chairs.
Sweat shirt, hat, etc. with their favorite team's logo on it.
If there is a magazine centered on that sports team, get them a subscription.
This Mini BBQ for tailgating parties.
A grill set.
Teenagers & Kids usually know what they want, so asking is the best bet. If not, money is a fail-safe for teenagers, and toys for kids.
If you have any other ideas, I'd love to hear them!

Subscribe to my blog for other great tips and money saving ideas or follow me on Pinterest.