Ever since I was a kid I've loved inground trampolines. We had them at my grandparent's house and at their cabin. They were so easy to run on and off of, take turns on, and were super convenient for us as kids.
When I was a teenager, we had an above-ground trampoline at our house. I was in charge of mowing our home lawn for years. It was tedious and annoying having to recruit one or two family members to help me move the trampoline halfway through my lawn mow so I could mow under it.
My brother had an above ground trampoline with a net. His kids sometimes play with it. Then he had it installed inground and now the kids never stop playing with it. They don't need help getting on or off, and there are fewer injuries and less fighting.
For these reasons, I decided we would have our trampoline installed inground.
I got two quotes for it and was shocked when it came to $1,500.00 for one and $2,000.00 for the other. Because we were already paying for new sod we didn't have enough saved to also pay an additional 2k for an inground trampoline install.
I did some Google searching and came across this great tutorial on AllThingsThrifty-awesome site by the way- and followed it (for the most part). We had to use some different materials and made a mistake along the way—our fault. I'll tell you the mistake we made and how we ended up fixing it in the steps below.
It cost us about $375 to install our in-ground trampoline. So by doing it ourselves, we saved $1,125!
Plus, I got a great deal on the trampoline itself. I saved $117.00 (got it for $150.00) at Walmart the day after Thanksgiving!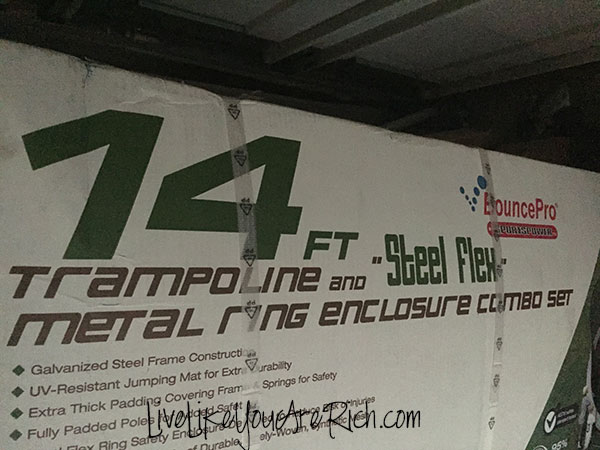 It is the BouncePro 14′ trampoline. It has almost 500 reviews which I read very carefully and almost 5 stars. It is really a quality trampoline for a very reasonable price—even at its retail price. You can find it at Walmart here, or Amazon here.
The supplies we used are listed below.
IMPORTANT- Before starting a digging project you'll want to call your city service 'call before you dig' (usually it is free in most cities). Google yours. They usually require 48 hours notice and will mark major things that you don't want to hit and break while digging. Most backyards do not contain major pipes like water, sewer, etc. but to be sure just call them, it will bring you peace of mind and prevent a potential issue.
Here's how we installed our inground trampoline.
Instructions
First, we rented a little excavator from HomeDepot. We rented the largest one they had but it was still pretty small… which worked great because we didn't have to take down our fence to get it into the backyard. My brother-in-law who is a heavy equipment driver said he'd dig the hole for us. It was so funny seeing him on this tiny machine. Since he is used to much larger machines he said he felt like he was digging out a teaspoon of dirt at a time. We had a good laugh about that.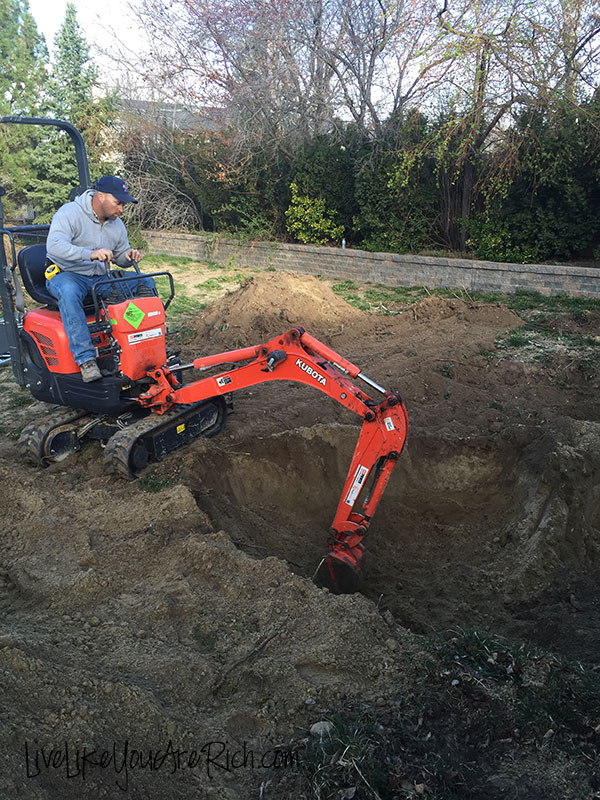 Before he began we laid the trampoline down where we wanted it and spray painted on the ground around it; then he worked his magic. In about 3-3.5 hours we had a perfectly sized hole. If you don't have a gate to worry about, I'd recommend renting from another heavy equipment rental place so you can get a bigger machine and the digging goes faster.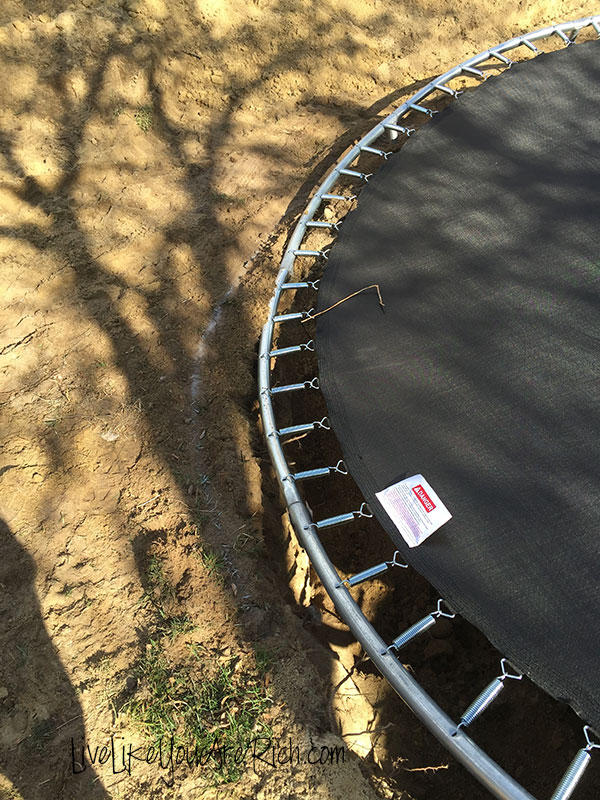 While he was digging the hole we set the entire trampoline up. We made sure to put the trampoline mat and springs on it (so that it would make it sturdy and the correct shape).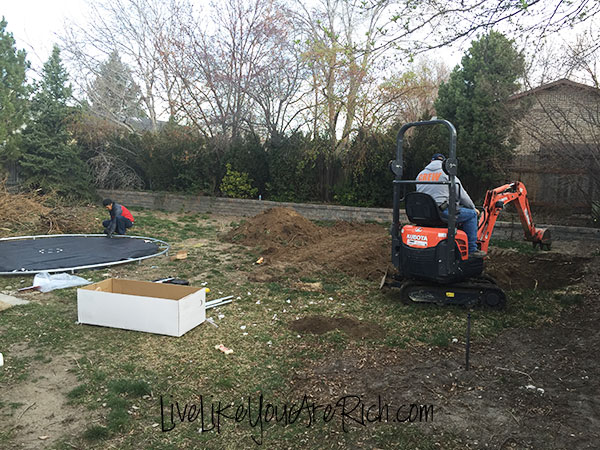 After the digging, my son had a super fun time sliding down the sand mound.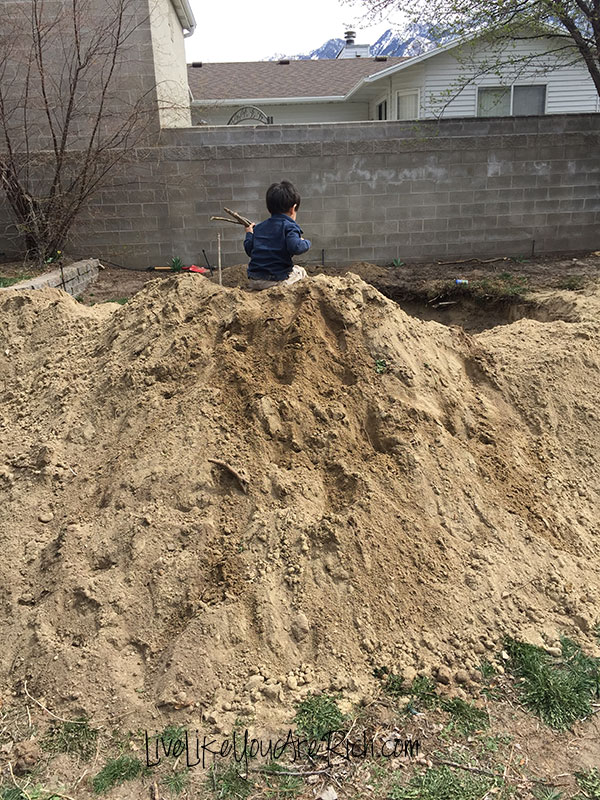 Completed hole. It is deeper than it looks. My son is over 3′ tall. For those worried about drainage. We have sandy soil and the water drains very well. It has rained 45 times in the last 60 days and we have not had any water pool. IF you have clay or other tough soil I have read to dig a bit deeper and fill in a few inches deep with gravel and rocks for drainage. But if you have normal or sandy soil it will drain just fine without.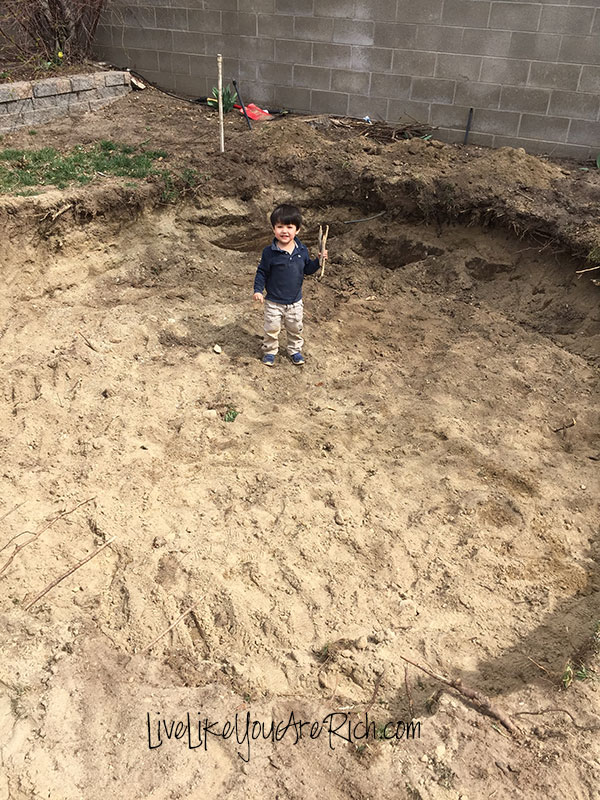 Then, we cut pressure treated 2×4's to size (two for each section) This is a 14′ tramp with twelve sections so we had to have 24 cuts of wood.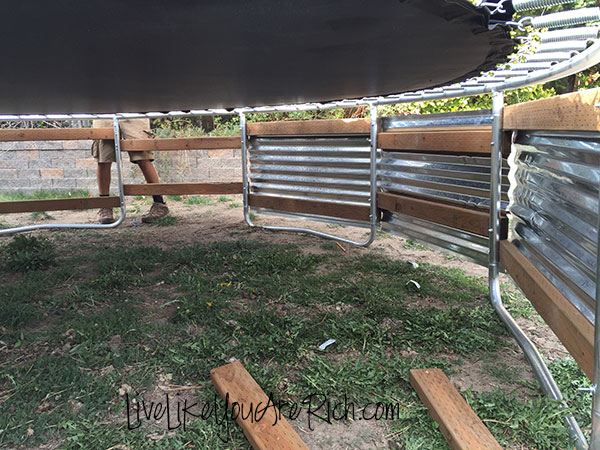 Then we predrilled the wood so that drilling into the legs of the trampoline would go more quickly. Pre-drilling saved time, but drilling at an angle was tricky. Be sure to do this part carefully so you don't waste the semi-expensive wood.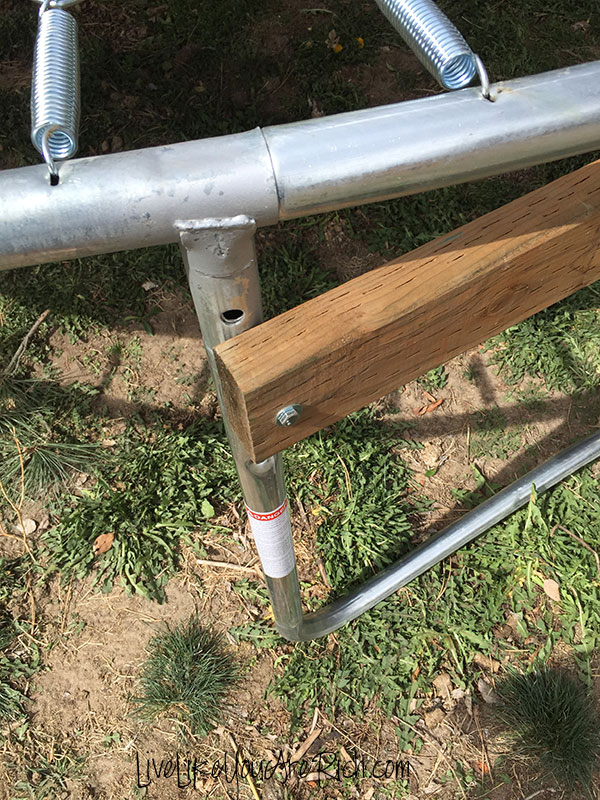 As we went along drilling holes into the trampoline we put the bolts, washers, and nuts on. We knew that jumping on a tramp is likely to rattle the frame so we got self-locking nuts and washers. We installed the bolts in the following formula:
Bolt-washer-wood-trampoline leg-washer-nut
Then we measured and cut the sheet metal accordingly. We screwed the metal onto the wood. The mistake we made was not following the advice from the allthingsthrifty tutorial to fold the metal over… After the tramp was installed, we found out why the metal should be folded over… the sheet metal could cut someone's foot if they hit it just right.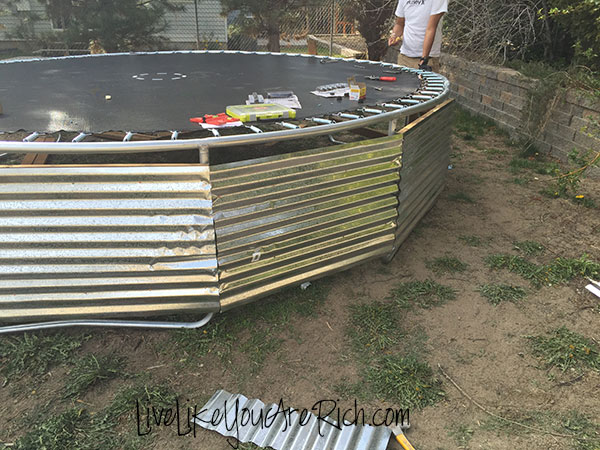 Then we took off the trampoline mat off so that we could easily lift and place the tramp in the ground.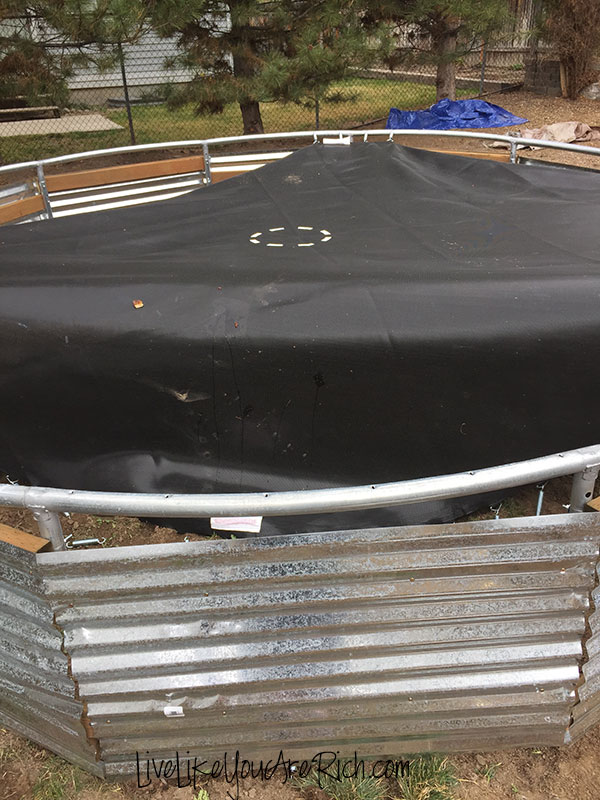 We did shovel/trench out the dirt a little deeper for the legs and bricks.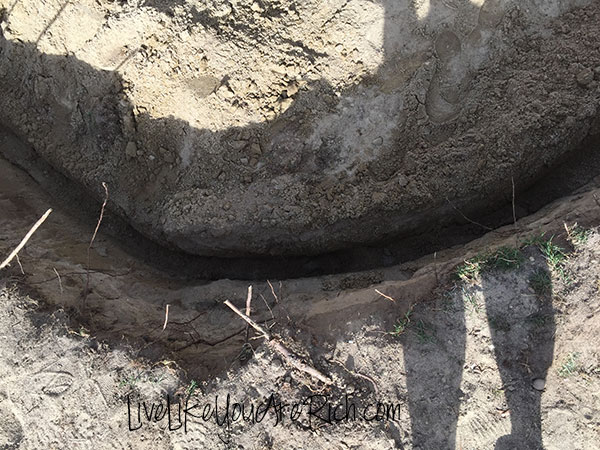 We used bricks, dirt, a long 1×2 and a level to get it just right.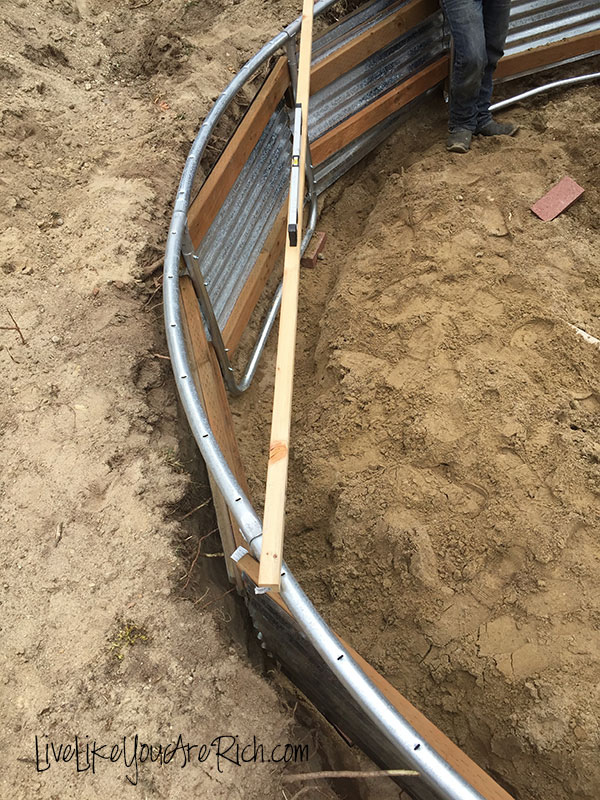 Once it was right we filled the dirt up to the sides of the outside walls and installed the trampoline mat. I had my landscapers who were installing the sod move the sprinklers so that they wouldn't spray the tramp and waste water.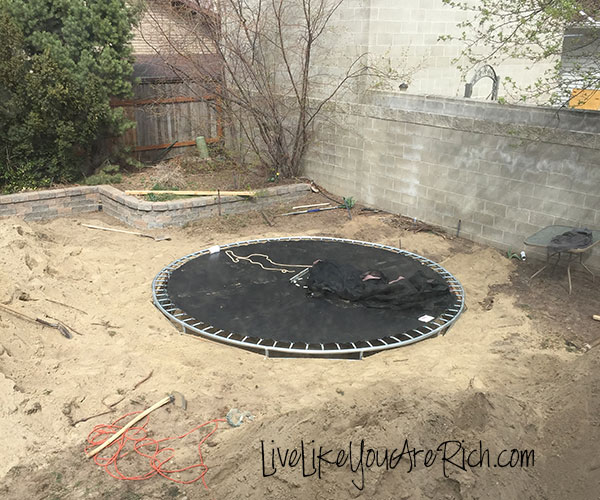 Then the sod was installed. You can do this even if you have existing sod. My brother did it and it worked out great.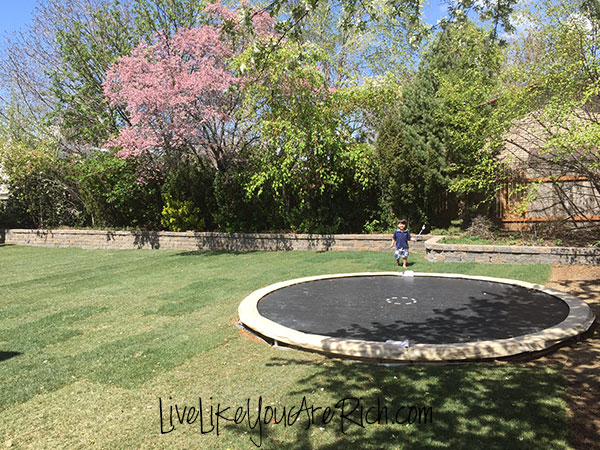 Like the tutorial we used, we installed the tramp so that there was a bit of a gap between the frame and the grass (about 2 inches). In the first few days, we had several birds get trapped under it. We had to undo the springs, crawl under, catch them and let them loose!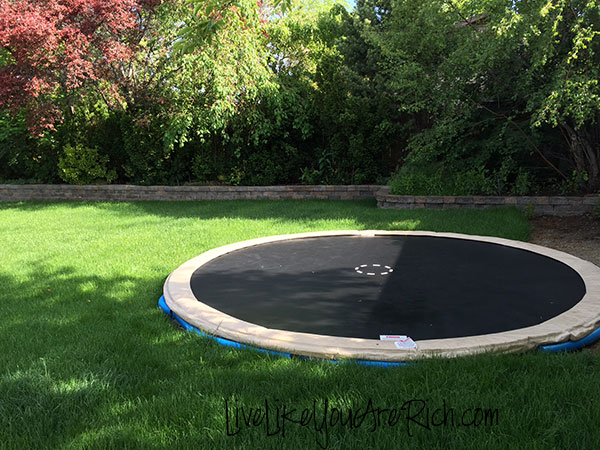 After that happening twice we got pool noodles and stuck them under each side. This prevents the birds and other animals getting in, my kids and their friends from putting stuff down into the hole, and prevents anyone from stepping on the sheet metal that sticks up a tad. With just a few bucks spent on pool noodles, both problems have been solved.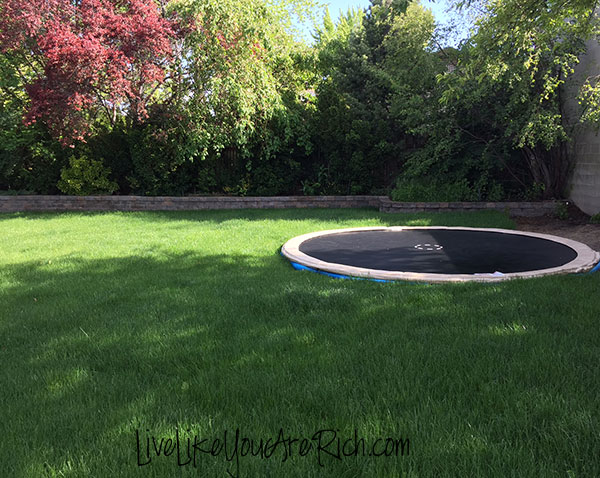 A Saturday project, a few trips to HomeDepot, and my brother-in-law's digging skills saved us $1,125!
My son LOVES the trampoline. He runs on and off it without any trouble. I don't have to worry about him falling off. It entertains him for hours. I don't have to help him or his friends who come to play on and off it either. I also don't have to move the tramp when we mow. It has been a huge blessing and so much fun!
We have trampoline sword fights with these amazing and durable—yet inexpensive foam swords pretty much every day the weather is good. I actually love to jump on it too. I am still a kid at heart I guess.
Supplies:
Twelve 2X4X8 of pressure treated wood – in order to calculate this we measured the distance between the two legs on each section which was just over 3.5′ for one edge and almost 4′ for every other edge. We wanted 2 pieces of wood on each section so we went with an 8′ long 2×4. There were 12 sections on our tramp so we bought 12 of them.
Six 24″x8′ Roof panel galvanized metal sheeting- We cut these down to the correct length (getting two walls for each piece).
Roofing screws (to screw the metal onto the wood). 8-12 per section.
Bricks or cinder blocks (a few for each leg/section). We used bricks.
Bolts (4 for each section) We used bolts that were 5″ long with about 1.5 of thread (so the bolt could go through the 2×4 and trampoline leg)
Self-Locking Nuts- so they don't come loose with the jumping on the tramp (1 for each bolt)
Self-Locking Washers– so they don't wiggle loose (2 for each bolt)
Optional- pool noodles (see above for the reason why)
Tools:
Excavator
Spray Paint
Shovel
Level
Tin Snips
Two wrenches that fit the bolts and nuts
Hammer
Drill
Pencil/Pen
Measuring tape
Extra 2×4 or 1×2 to set the level on
Please ask if you have any questions about this project.
Have fun!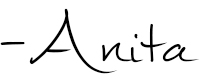 For other 'rich living' and money-saving tips, please subscribe, like me on Facebook, and follow me on Pinterest and Instagram.